Affiliate Links
well, that was a flop. i definitely failed my budget challenge this month.
we've had a lot going on, and i'm totally a stress shopper. with that said, i didn't do that bad. i went over by about $30 when all was said and done.
so here's a recap of my "rules":
– things that I have already signed up for do not count towards the total
– anything I sell adds to my budget.
– whatever is earned or saved can roll over to the next month
– purchasing gifts or giveaway items for the blog do not count, since it's not for me
– gift cards, credit card rewards, etc. do not count against my total budget
i had $236.50 to spend. what i actually spent was $267.70.
here's what i spent my money on: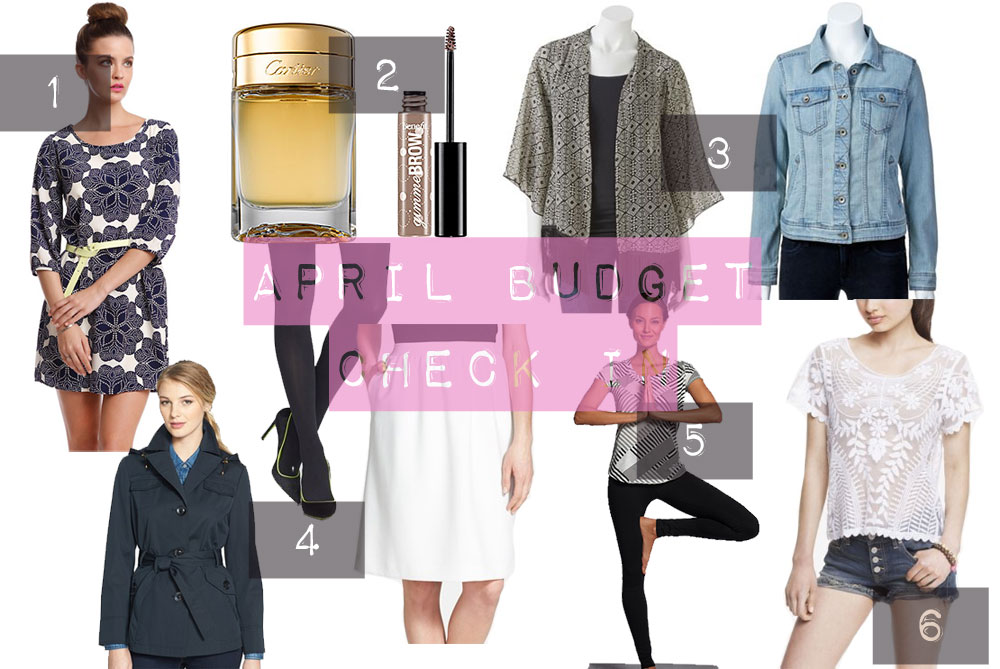 1 / Golden Tote – i denied myself March's tote to wait for April. i bought the Macroflower Dress, and received a tank top as a surprise item. love Golden Tote! -$49
2 / Sephora – the Sephora Beauty Insider sale just about killed me. after way overdoing it, i shipped back the majority of my order, but not before keeping Benefit's Gimme Brow ($18.70) and Cartier Basier Vole Essence de Parfum ($85) -$107
3 / Kohl's – i satisfied my kimono fix ($12) and picked up a replacement Denim Jacket ($13) for the one I didn't end up keeping from Old Navy. -$0 (store credit)
4 / Nordstrom – my all-time favorite rain coat was on mega sale and mine is looking a bit "well-loved" so I decided to pick up a replacement for next season (see it in action on this post). i also picked up the white midi skirt you saw in this post to wear to the fashion show I attended the weekend before last. i also had to pick up some replacement black tights after mine got a snag. -$122
5 / Fabletics – i signed up for Fabletics on a recommendation from a fellow blogger after my leggings fell apart! i found these tiny holes after laundering them, and I can't live without a good pair of black leggings. problem solved, and their leggings (and the rest of the outfit!) are seriously legit. get your first outfit for 50% off if you sign up! -$24.99
6 / Express – to go along with my new skirt from Nordstrom, i picked up this cute lace top that i wore here.
7 / Returned – last month I bought a few things from Old Navy. after some deliberations, I returned the items. none of them really fit right. +$66
final thoughts
these next couple months are going to be crazy. we have a remodel we are going to be starting on any day now, a trip to Disneyland, and our usual day-to-day hectic schedules to keep so it should be interesting. financially, i think i'm going to take the pressure off "budgeting" but there are a lot of really great things i have learned:
– don't buy something immediately. wait a few hours or a few days. you most likely won't "need" it anymore.
– be picky! if you buy something and it doesn't make you feel good, take it back. having things in your closet you never wear is not doing anyone any favors.
– keep track of your basics and don't get caught with items that are ruined! i got stuck with snagged tights and holey leggings. don't be like me! :P
– purge your closet! then take it to plato's closet, sell it on poshmark, ebay it, donate it, whatever. get it out of there if you're not wearing it!
linking up with franish, steph, funday monday, and look what i got
did you set a budget for yourself this month? how did you do?