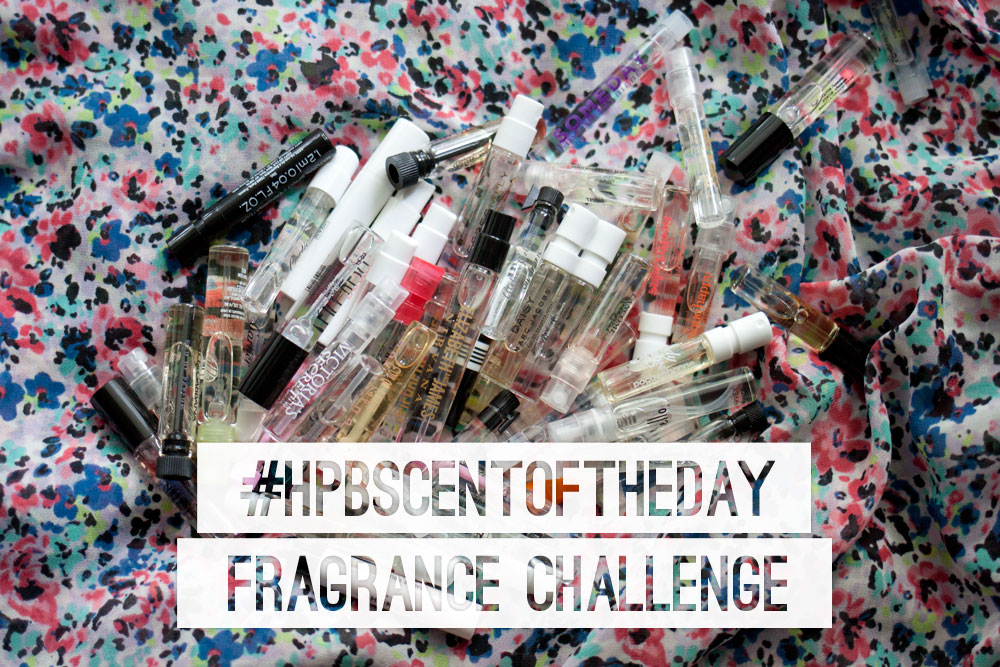 for the month of May, Rebecca from Hello Pretty Bird! challenged herself, and anyone else interested, to wear a different fragrance everyday, and called it the #HPBScentOfTheDay fragrance challenge. as you can clearly see above, i have the most ridiculous stash of fragrance sample vials ever. some of them i'd already tried, some of them i haven't. here are the first fifteen samples from the month of may.
Day 1 / Basier Vole by Cartier
Notes: Lily Petals, Green Lily Leaves
very green, very floral. quite strong and smells great, also long-lasting. i get compliments every time I wear this.
Day 2 / Daisy Eau So Fresh by Marc Jacobs
Notes: Natural Raspberry, Grapefruit, Pear, Violet, Wild Rose, Apple Blossom, Musks, Cedarwood, Plum
super light, fruity floral with subtle hints of musk. not the longest lasting, but i'm guessing this is because i am wearing the eau de toilette.
Day 3 / Daisy by Marc Jacobs
Notes: Strawberry, Violet Leaves, Ruby Red Grapefruit, Gardenia, Violet Petals, Jasmine Petals, Musk, Vanilla, White Woods
i used to absolutely love this fragrance in high school. i think this is very youthful, and really great for this time of year when you want a light, floral fragrance.
Day 4 / Honey by Marc Jacobs
Notes: Pear, Juicy Mandarin, Orange Blossom, Peach Nectar, Apricot, Honeysuckle, Honey, Golden Vanilla, Smooth Woods
warm, sunny, bright floral. smells like a sweet summer day. very pleasant and youthful, with strong notes of honeysuckle, vanilla, and honey. this would be a great fragrance for a young person (late teens/early twenties).
Day 5 / Rosabotanica by Balenciaga
Notes: Experimental Rose, Fig Leaf, White Amber
dried crushed rose petals with a hint of citrus is what this smells like to me. long wearing 6+ hours and i kept getting whiffs throughout the day of it at work. not my favorite, but if you dig the scent this is probably a great value.
Day 6 / L'Eau de Cristal by Joan Vass
Notes: Bergamot, Mandarin, Black Currant, Rose Oil, Raspberry Puree, Fresh Musk, Vanilla Bean, Patchouli Oil
sweet, fruity berry notes, light musk, a hint of vanilla. felt like it faded fast, maybe lasted 4 hours, but by end of day i could no longer even smell it on my wrists.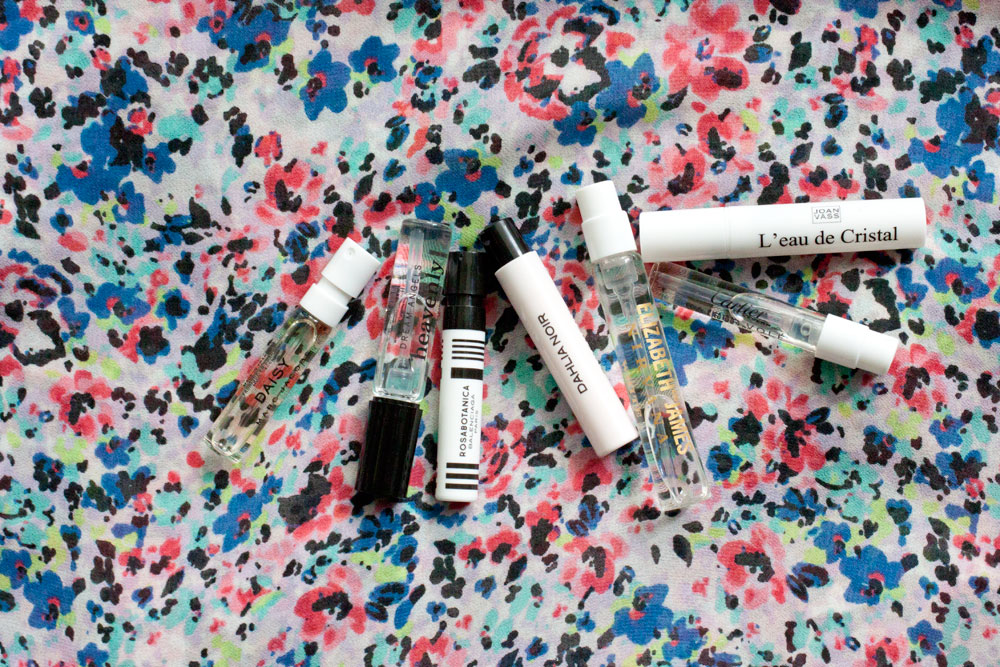 Day 7 / Dahlia Noir Eau de Toilette by Givenchy
Notes: Pink Pepper, Mandarin, Cedrat, Rose, Peach, Cedarwood, Sandalwood, Vanilla, Amber
hm, not as "noir" or mysterious as one might think, this goes on dark and brightens into a floral powdery scent on me. it's dry down is a sweet fruit/floral. notes of rose, peach, and sandalwood are strong on me. i really like this one, and it lasts 8+ hours.
Day 8 / Dream Angels Heavenly by Victoria's Secret
Notes: White musk, sandalwood, vanilla, white peony
goes on spicy, and kind of sharp. mellows to a warm musk. definitely a musky scent, though i get a hint of floral, but none of the vanilla mentioned.
Day 9 / Nirvana White by Elizabeth and James
Notes: Peony, Muguet, Tender Musk
a musky floral, Nirvana White is perfect for everyday wear. smells clean, fresh, and lightly of flowers, a bit like a warm spring day. i keep getting whiffs, and i sprayed it about 3 hours ago. really enjoying this one!
Day 10 / Michael Kors by Michael Kors
Notes: Dewy Freesia, Tamarind, Chinese Osmanthus, Incense, Fresh Tuberose, White Wings Peony, Blue Orris, Arum Lilies, Cashmere Woods, Musk, Vetiver Haiti
this smells like a big spring bouquet of flowers. it's described as freesia, but I smell some gardenia too. while I like it, it's a bit too one-note for me. very long-lasting and a spray seems to go a long way here.
Day 11 / Omnia Coral by Bulgari
Notes: Bergamot, Goji Berries, Hibiscus Flower, Water Lily, Pomegranate, Cedar Wood
smells like the sea at first spray. then dries down to a deeper woodsy/musk scent. i didn't like it, and it really got lost. it didn't seem to last very long either.
Day 12 / Addict Eau Delice by Dior
Notes: Cranberry, Ylang Ylang, White Musk
goes on stinky. i did not like it at all at first. mellows to a white musk and ylang ylang. this is definitely a potent and long-lasting fragrance, but not a fan.
Day 13 / Euphoria by Calvin Klein
Notes: Pomegranate, Persimmon, Green Notes, Black Orchid, Lotus Blossom, Champaca Flower, Liquid Amber, Mahogany Wood, Black Violet, Cream Accord
wow, at first sniff this smells awful. like old lady and potpourri. super, super strong. on the dry down, very fragrant of dark floral with wood and musk notes. i also smell the persimmon, but not so much of the amber described. this is too heavy for me, and honestly a bit surprised at how popular this is.
Day 14 / Tory Burch by Tory Burch
Notes: Neroli, Grapefruit, Cassis, Bergamot, Peony, Tuberose, Jasmine Sambac, Vetiver, Sandalwood
the first thing I noticed was the strong citrus note (grapefruit and neroli). it mellowed quite rapidly to a floral, strong hints of peony and tuberose. this wasn't very long-lasting on me… about 4 hours later and its there, but barely. disappointing for the cost, imo.
Day 15 / Le Panthere by Cartier
Notes: Gardenia, Musk
wow, this is strong! very musky and dark. the oak moss and dried fruit notes are really strong to me. i don't smell the gardenia at all, which is a bit disappointing since i like gardenia. quite a departure from Basier de Vole, this is a very mature scent.
Since I'm participating in this challenge, it only seems fair that when i'm done i get to buy myself a new bottle of perfume, right? right? ;)
my favorites from part 1: Givenchy Dahlia Noir + Elizabeth and James Nirvana White
do you wear fragrance? if so, what are your favorites?
ps: i broke down and started a facebook page yesterday. you could be my first like! ;)