Last week I posted Part 1 of the #HPBScentoftheDay Fragrance Challenge, which highlighted the first 15 fragrances I wore in the month of May, along with Rebecca at Hello Pretty Bird! I know you're just dying to know the other fragrances I tried, so here's the final half of the fragrances from May.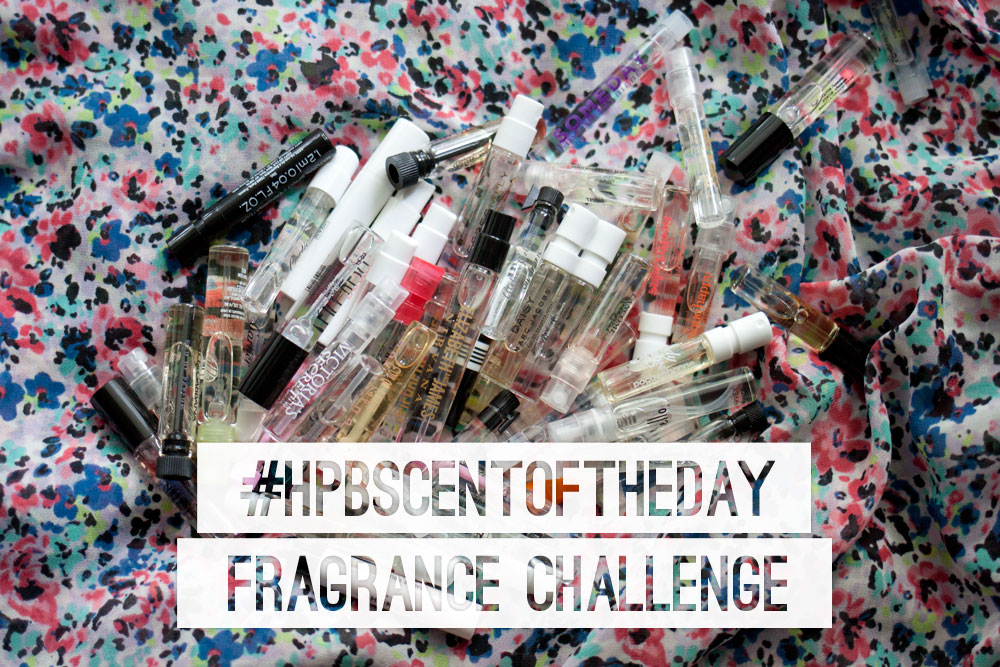 Day 16 / Passiflora by Nest
Notes: Passion Flower, Water Hyacinth, Lily of the Valley, Lush Green Accord.
Really green. Very floral and feminine, with hints of passion-flower (hence the name!) and lily of the valley. I quite like this, but it doesn't smell very "me". Long lasting, very potent.
Day 17 / Luctor et Emergo by The People of Labyrinths
Notes: Precious Woods, Vanilla, Fresh Grasses, White Florals
This must have dog nip in it because Rigby wanted to smell my wrist so much as soon as I sprayed it, and normally he detests most fragrance. This smells super strange to me, like menthol cherry cough syrup and the great outdoors. It drys down to a really pleasant vanilla/woodsy/musk, its something familiar and I recognize it but I cannot put my finger on where I have smelled it before! Very unique, and very long-lasting. The packaging and bottle are kind of amazing too.
Day 18 / Infusion d'Iris by Prada
Notes: Florentine Padilla Iris, Mandarin
This smells like really fancy pants soap. Think expensive, boutique hotel soap. Very clean, fresh, and it definitely is a quality fragrance because it lasts all day.
Day 19 / Nirvana Black by Elizabeth + James
Notes: Violet, Sandalwood, Vanilla.
I really like this. Spicy, kind of masculine, but it smells good to me. I find it's not particularly strong or long-lasting, I feel like Nirvana White was a bit more fragrant. I like both though.
Day 20 / Victoria's Secret Bombshell
Notes: Tangelo, Pineapple, Strawberry, Purple Passion Fruit, Jasmine, Red Berries, Muguet, Shangri-la Peony, Vanilla Orchid, Musk, Blonde Woods, Oakmoss
Super fruity and tropical, like pineapples, strawberries, and passionfruit. Smells a lot like the Tazo Passionfruit tea, but with more sweetness. Smells young and youthful, this would have been a fragrance I would have loved in high school. This took awhile to dry down, like a few hours before I detected any of the vanilla, white musk, or mossy notes. I do detect some, but the fruit notes are still very present. Long lasting.
Day 21 / Lady Million by Paco Rabanne
Notes: Neroli, Bitter Orange, Raspberry, Orange Flower Absolute, Sambac Jasmine Absolute, Gardenia, Patchouli, Honey, Amber.
Okay, this smells pretty darn good. Woody, fruity, and spicy at the same time. I really like the orange, patchouli, honey, and amber notes. They are the most obvious to me. Very strong, a little of this goes quite a long way. This is one that I would definitely wear again.
Day 22 / Basier Vole Essence de Parfum by Cartier
Notes:Lily, Bourbon Vanilla.
So, I own this one, so obviously I love it. Smells like Bourbon Vanilla and green Lilies. Feminine, sweet, and floral all at the same time. It's long-lasting and I can't stop smelling my wrists when I'm wearing this.
Day 23 / Tainted Love by TokyoMilk
Notes: Dark Vanilla Bean, Sparkling Citrus, Orchid, White Tea, Sandalwood, Tonka Bean.
I really like this. Sweet, vanilla. Kind of smells almost dessert like, like a rich vanilla custard. Long lasting and potent, I think one spray goes pretty far.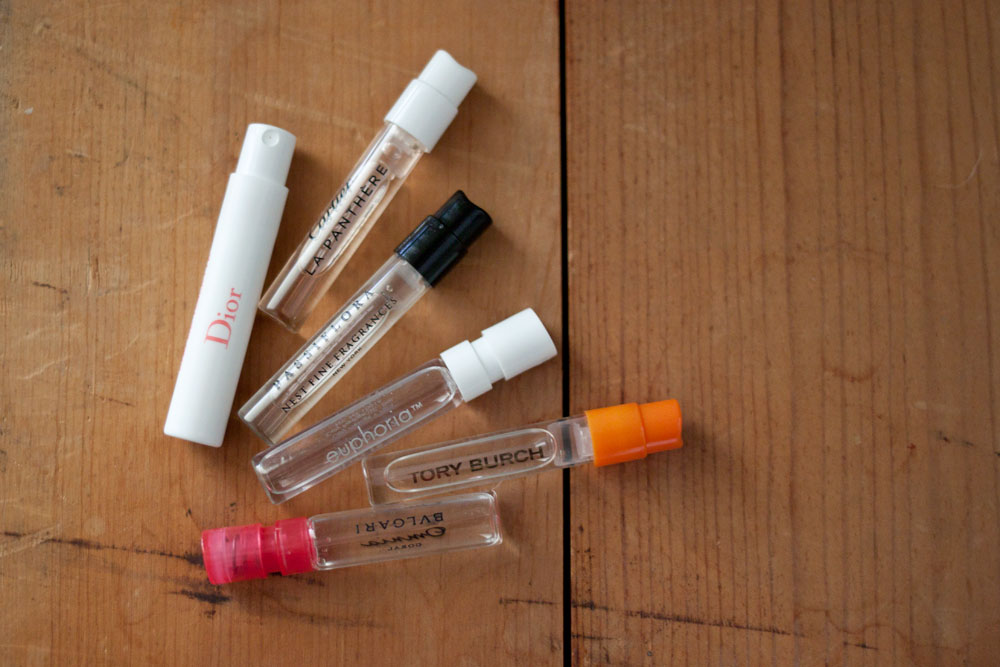 Day 24 / Grand Cuir by Parfums Retro
Notes: Orange Blossom, Labdanum, Birch Tar, Clary Sage, Lavender, Carnation, Rose, Violet Leaf, Geranium, Cinnamon, Tarragon, Pine Moss, Sandalwood, Rosewood, Patchouli and Musk.
Goes on deep, like rich wood, leather, and spice. Mellows a bit to a spicy leather scent. It reminds me of an expensive men's after shave.
Day 25 / Hello by Harvey Prince
Notes: Meyer Lemon, Satsuma Mandarin, Summer Forsythia, Pink Plumeria
Citrusy and happy. This reminds me a lot of Clinique's Happy, actually, though to be totally honest I haven't sprayed that in a while, just from memory these seem similar. Disappointing part of this one is that it really doesn't last more than a couple of hours.
Day 26 / Viva La Juicy by Juicy Couture
Notes: Wild Berries, Mandarins, Honeysuckle, Gardenia, Jasmine, Amber, Caramel, Vanilla, Sandalwood, Praline.
I enjoy Juicy Couture fragrances, they are youthful, fresh and sweet. I feel like they're high quality and last quite a long time too, which is good.
Day 27 / See by Chloe
Notes: Jasmine, Ylang Ylang, Vanilla, Musk.
This is a powdery scent (must be the Jasmine on me that makes it feel powdery). I really like this, its soft, feminine, and very wearable as an everyday scent. My coworker complimented this scent, so always a good sign.
Day 28 / Very Sexy by Victorias Secret
Notes: Vanilla orchid, sun-drenched clementine and midnight blackberry
Rich floral, with fruit notes. Love this, but it honestly doesn't smell that sexy to me. It smells very rich and bold, but I think some spice notes would work well here. Long lasting.
Day 29 / Dahlia + Vines by NEST
Notes: Dewy Daffodils, Peony, Rose, Garden Vines
So much floral going on here. Totally smells like a spring morning, the peony and rose are really strong here, with whiffs of daffodil. If you love rose, this one is for you.
Day 30 / Love is Heavenly by Victoria's Secret
Notes: Water lily, mandarin flower and luminous musk
A light floral, the water-lily is definitely the strongest note. I like this, it's very soft and feminine. It's not particularly unique though, but it does last all day.
Day 31 / Bright Crystal Absolu by Versace
Notes: Yuzu, Pomegranate, Raspberry, Peony, Magnolia And Lotus Flowers, Precious Vegetal Amber, Deep Acajou Wood, Musk.
While I liked this, it wasn't particularly memorable or unique to me. It seemed almost the same as Bright Crystal by Versace, probably because they share a lot of the same notes.
Have you tried any of these? Which fragrance have you been wearing lately?