It's just beginning to feel like fall, but that doesn't mean it's too early to embrace the delicious flavors of autumn. No, I don't mean pumpkin spice! I'm talking about apple crisp fresh out of the oven, and creamy, delicious comfort foods to fill you up and make you feel all warm and cozy inside as temps slowly but surely drop. I'm thrilled to partner with ANGOSTURA® bitters again this season to share how you can make two twists on classic and delicious fall dishes, incorporating the brand's signature aromatic bitters to enhance flavors, of course!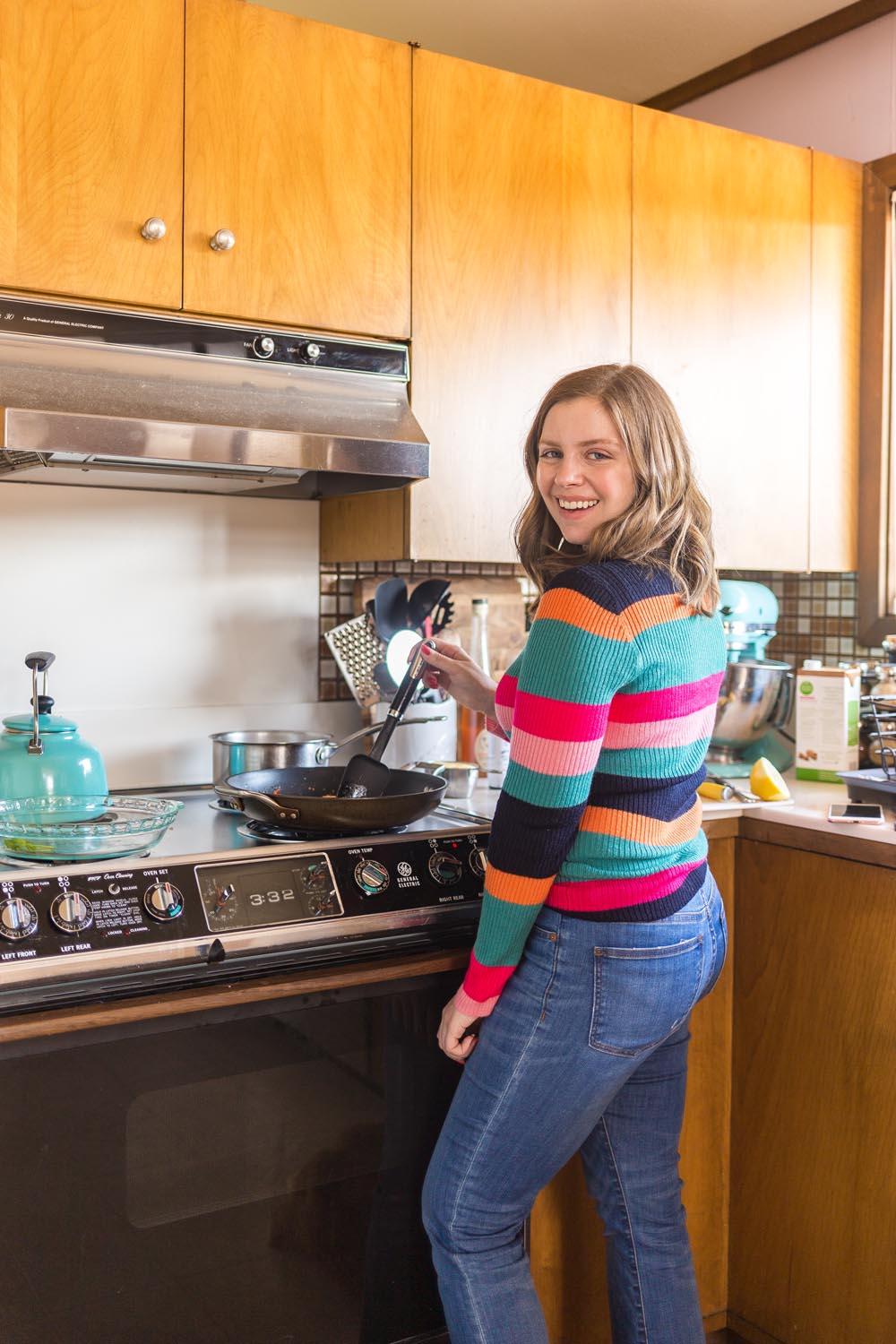 Disclosure: This post is sponsored by ANGOSTURA bitters. All opinions are my own!
As the leaves begin to change, it's only fitting to dust off the recipe books and cook up some old fall favorites. This season, why not try a new culinary ingredient as well? ANGOSTURA bitters, known for their use in cocktails, are also a simple way to add complexity and flavor to dishes, from sweet to savory! Even better, ANGOSTURA® aromatic and orange bitters are sodium free, gluten free, vegan and kosher, making them easy to incorporate within a number of culinary genres and dietary preferences.
With this in mind, I was inspired to take a recent brunch favorite and give it an aromatic bitters twist. I'm a West-Coast girl through and through, so grits are not a food I grew up on. In fact, I only had them for the first time a few years ago! But, once I tried them, I wanted them again. And again. Today, I've prepared the shrimp with a lemony twist based on the ANGOSTURA recipe available here, while adding a few tweaks to make it my own.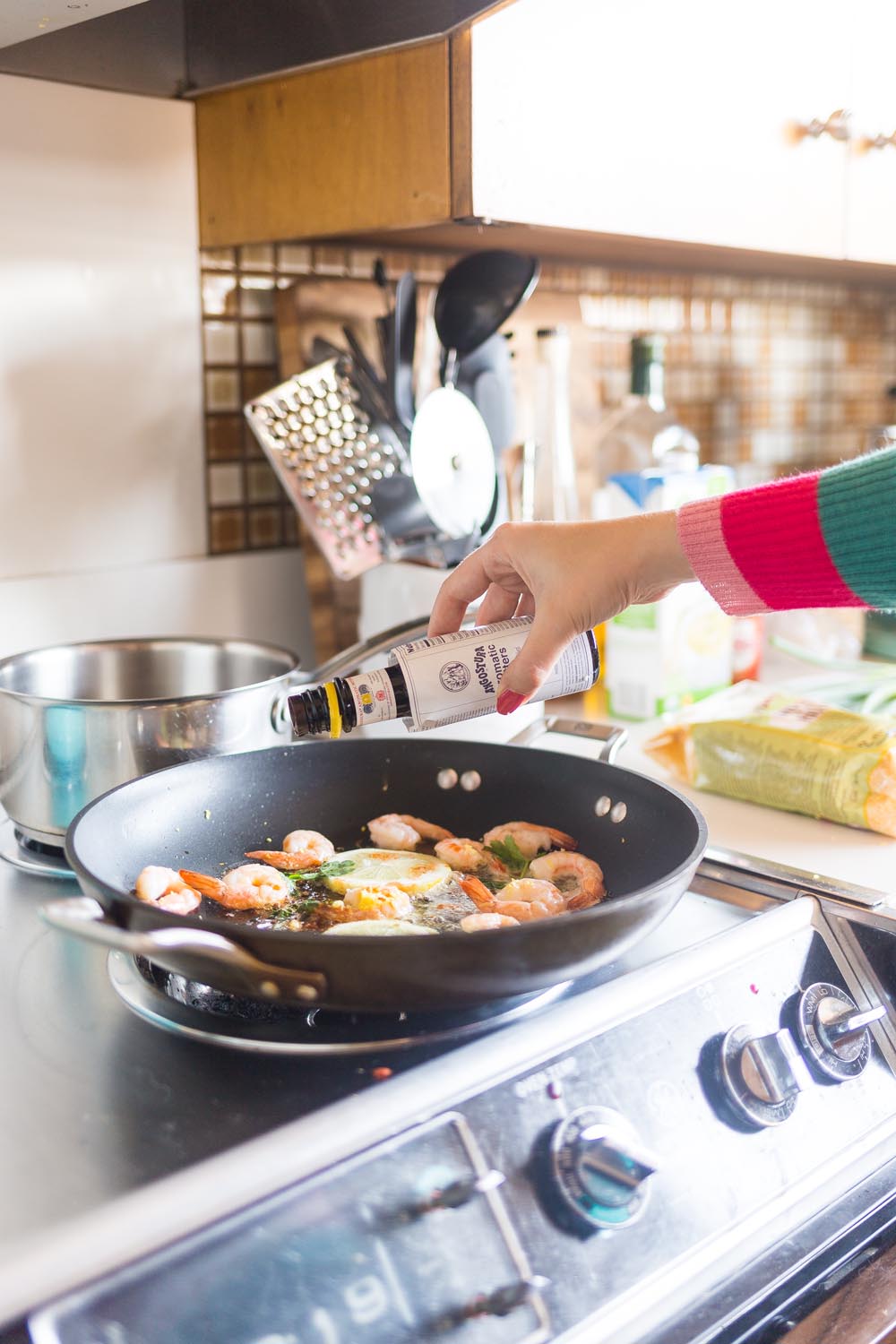 First up, I wanted to create a sauce for my shrimp, so I started them off by browning butter in a pan. Additionally, I added lemon slices to the sauce for extra flavor and a pretty presentation. Finally, I cooked the grits to pair with shrimp. I also added chicken stock and sharp cheddar cheese to give them a rich, delicious flavor. Get both recipes below!
Lemon Garlic Shrimp
Ingredients
3 Tbsp. butter
Zest of one large lemon, grated
½ large lemon, juiced
½ large lemon, sliced
¼ cup cilantro, chopped
1 Tbsp. ANGOSTURA® aromatic bitters
2 cloves garlic, crushed
1 tsp. hot-pepper sauce
12 shrimp, peeled and deveined with tails
Directions
In a sauté pan, melt butter on medium-high heat until it begins to brown and bubble. Add shrimp to pan, turn down heat to medium. Add grated lemon zest, lemon juice, lemon slices and half of the cilantro. Cook until shrimp are pink and no longer translucent. Add pepper sauce, bitters and stir until combined. Serve over Cheddar Grits (recipe below), top with remaining cilantro. Delicious!
Makes 3 servings, 4 shrimp per bowl.
Adapted from this recipe by Rita Held for ANGOSTURA bitters
Cheddar Grits
Ingredients
3 cups reduced-sodium chicken broth
1 cup corn grits
1 cup sharp Cheddar cheese, shredded or crumbled
¼ cup scallions, sliced
Directions
In a medium saucepan, bring chicken broth to a boil. Add corn grits, stirring until smooth. Reduce heat to low and cook for 5 to 7 minutes, stirring occasionally. Once thickened, turn off heat and stir in cheese. Top with sliced scallions, pair with Lemon Garlic Shrimp and enjoy!
Makes 3 servings.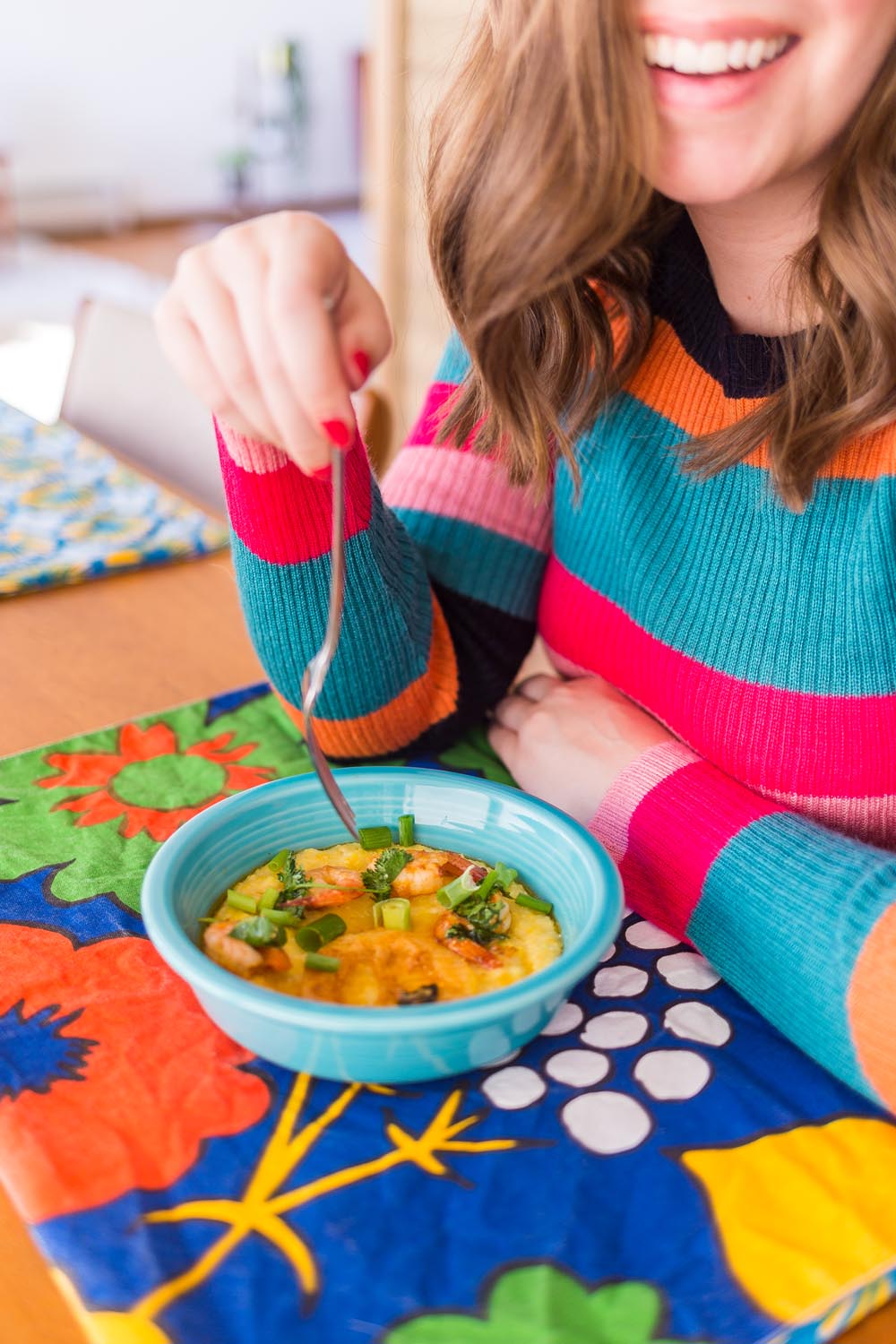 Next up – dessert! My favorite part of the day. Yes, I have dessert almost every day and I have no shame. I have a sweet tooth, but often prefer my dessert with a bit less sugar than most recipes call for. I was inspired by this ANGOSTURA recipe for Apple Crisp with Bitters and made it my own by cutting the recipe in half (since there's just two of us) and reducing the amount of sugar by half. Trust me, it's still yummy, and it's still sweet enough naturally thanks to the sugar in the apples! Of course, you can follow the original recipe if you'd prefer.
Apple Crisp with Bitters
Ingredients
2½ baking apples (I used Pink Lady, but you can also use Granny Smith or Honey Crisp)
Ground cinnamon
For topping
3 Tbsp. butter, melted
1 Tbsp. ANGOSTURA aromatic bitters
¼ cup flour
½ cup rolled oats
3 Tbsp. brown sugar
1 tsp. vanilla extract (optional)
Directions
Preheat oven to 350°F.  Core apples; quarter and slice about ¼" thick. Layer sliced apples into a 9-inch wide pie plate. Sprinkle with cinnamon.
For the topping, stir together butter, vanilla, and ANGOSTURA aromatic bitters in a small bowl. Once thoroughly combined, add oats, flour and brown sugar.
Crumble topping with your fingers over apples in an even layer. Place in oven, and bake 35 minutes. Let cool one hour, then spoon onto plates or bowls. Top with a scoop of vanilla ice cream, if desired. A perfect ending to a delicious meal!
Makes 4 servings.
Adapted from this recipe by Rita Held for ANGOSTURA bitters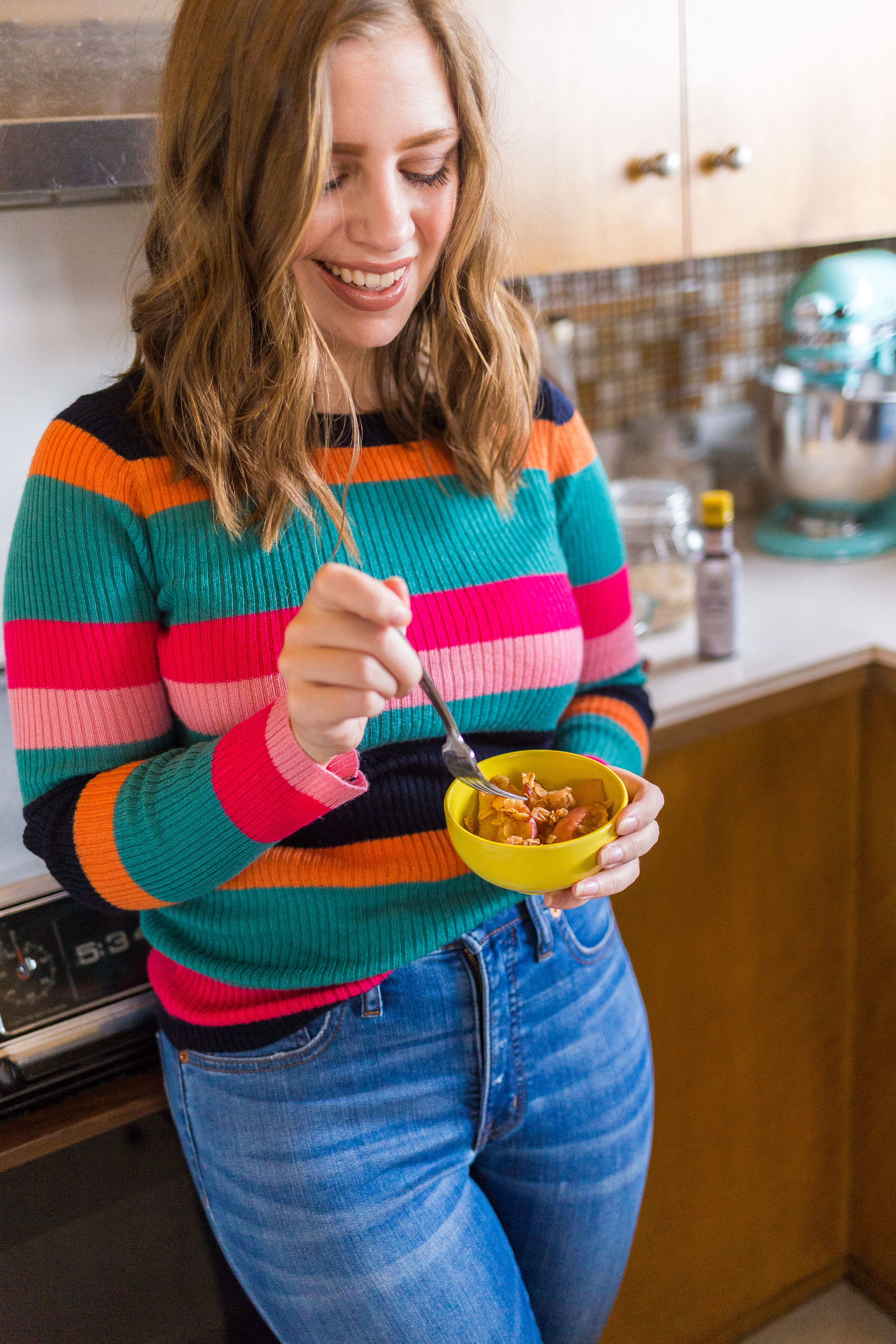 If you're like me and craving fall flavors, do yourself a favor and make all three of these recipes ASAP! I promise they are simple to make and it's likely you already have many of the ingredients needed to bring them to lifein your pantry! While you're at it, don't forget to check out the rest of the yummy ANGOSTURA bitters culinary recipes here, so you can elevate all your favorites with the addition of bitters.
Have you ever cooked with ANGOSTURA bitters before? Which recipe are you most interested to try? I'd love to hear about it in the comments!