Ah, that pesky daily routine. It's honestly something that I still haven't mastered. Beyond getting up in the morning, getting coffee, and feeding myself, I'm really not the best at playing by the rules or following any sort of schedule. Must be that creative brain of mine.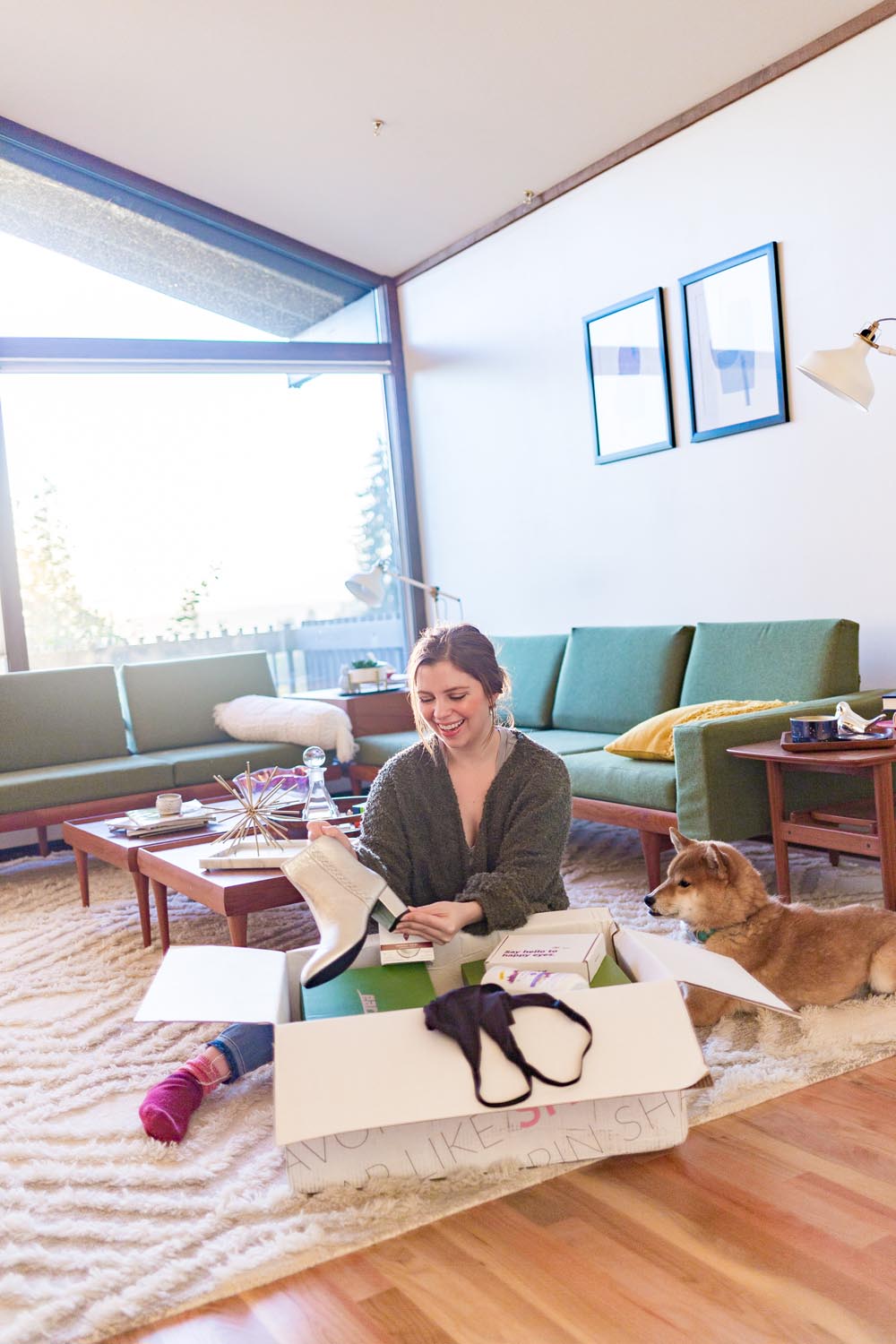 Disclosure: This post is sponsored by BabbleBoxx.com.
With that said, there are several hacks and modifications I've made over the years to make my days run more smoothly and efficiently. And when fall rolls around, the mornings get a little bit colder, the air feels crisper, and the blankets in bed feel even warmer and cozy, it can be hard to get things moving. That's why I'm so excited to share a fun post in partnership with BabbleBoxx that features some great fall essentials to help makeover your daily routine!
Feeling funky? Hop in the shower
No, I'm not talking about your smell! I'm talking about your emotional state. Because my work is so creative, I find myself getting in a funk far too often and unable to get things done. The easiest way for me to de-stress is by running a hot bath or getting in a hot shower.
There's something about the warm steam, soothing feeling of the water hitting my back, and the scents that bath or shower time brings that puts me in a better frame of mind. Often, I get blasted with a spark of creativity while I'm most relaxed and come out with the start of a great blog post, a new photo idea, or design project problem figured out.
Speaking of scent, I think it's important to find the ones for bath and shower time that relaxes you! For me, that means lavender, chamomile, and warm scents like vanilla and coconut. I love that Summer's Eve has recently come out with a new Lavender and Chamomile scented body wash perfect for your feminine care needs! It doesn't leave any residue and easily rinses away odor-causing bacteria. For those on-the-go, busier days, I like to pack the individually-wrapped coconut water cleansing cloths. I find them perfect for a quick wipe around my sweatiest spots (hi, underarms, feet, and down below!) without calling too much attention. ;)
Change up your wardrobe
There's nothing better than a makeover that includes a new wardrobe! Okay, well maybe not a whole new wardrobe, but changing up a few key pieces in your closet this fall might be the perfect way to invigorate yourself for the months ahead!
Fall is the best time to reinvest in my favorite accessory: shoes! I find that shoes can bring so much personality and interest to an outfit. And the trendy ankle boot is a staple I can't get enough of. Honestly, I own more pairs of ankle boots than anything else in my shoe wardrobe, and I wear them all year round! And when I unboxed these metallic cuties from Earth Brand Shoes, I squealed with joy.
Not only are they on-trend, but they're incredibly comfortable too! Earth Brand plants a tree with every purchase in partnership with Trees.org, and their shoe boxes are fully recyclable which makes me feel better about the waste. They have shoes like these fun silver metallic ankle boots, or you can choose from a wide variety of other colors and patterns. Or, try out a totally different pair of comfortable shoes! My sneakers below are the Jaunt which are so fun and different for fall and fulfill the athleisure and hiking boot trend perfectly
Boost your confidence
When you look good, you feel good. Or at least that's my motto! While some may find it vain, I put a significant amount of time and energy into what I'm wearing and how I present myself on a daily basis. Of course, I also take the day off occasionally and stay in my pajamas all day too. But, when I'm going out to a meeting, event, or just for a day with friends, I want to present myself in the best possible way.
Like a lot of women, I do have a few body insecurities. When I worked in the lingerie section of a department store, I learned a lot about shapewear. A lot of women believed that it would be uncomfortable, wouldn't fit them correctly, or would be prohibitively expensive. The great thing is, there's an option for everyone! Maidenform is a brand that I purchase over and over because I know it will last a long time, be comfortable, and I love that they offer a wide variety of options, whether you just want a little bit of smoothing or want something firmer.
I was provided with a body shaper from Maidenform that is super comfortable and can be used in a variety of ways since it doesn't have a built-in bra. The cling-free, anti-static fabric prevents that annoying sticky dress problem, and the adjustable straps allow for a customizable fit. If a body shaper isn't right for you, that's okay! I often only wear these with bodycon dresses but prefer something more simple like a shaping brief with slinkier or clingier pieces.
Don't forget to take care of yourself
When our days get busy, it can be easy to forget about taking care of ourselves. The term self-care has turned into a buzzword, and while it's true we need to make time for ourselves, at its core, self-care is about health care and preventative medicine. That means setting up those annual physicals, eye checks, skin checks, and more.
I find I often forget about these things, and recently realized I was a couple of years overdue for a visit to the optometrist. I bit the bullet and went, only to find out that my prescription had changed once again. No wonder things were feeling a little bit blurrier than usual!
Not only that, but my optometrist noted that my eyes were irritated from allergies. He mentioned that I should consider switching to daily, disposable contact lenses. Enter Aveo Hello daily disposables, which are made even more convenient with their monthly subscription (I'll never run out of contacts again!). At less than $1 per day, they provide crystal-clear HD vision correction, all-day hydration, UV protection, and a perfect fit every time.
Use your existing prescription, or get a new one using your smartphone! With free shipping and a free first month (30 pairs!), there's no reason not to give it a try. Find out more or sign up for your first free month here!
Do Something Different
Last month I went on a trip with some fellow bloggers to Oregon. I had been a little bit apprehensive about the trip because several outdoor activities (erm, hiking) was involved. I thought I hated hiking, until we actually got out there and did it! I loved the feeling of the rocks under my feet, the calming sounds from the falls and the babbling brooks, and the energy boost that working out your body brings.
Plus, did you know one of the biggest fall trends is hiking boots?! How perfect! I can't wait to take my new Jaunt sneakers out from Earth Brands on a hike soon! I encourage you to lean into the things that make you feel apprehensive, nervous or afraid. You never know what you might find you actually really love!
And with that, I hope you've been encouraged to switch up your daily routine this fall! I'm personally planning to spend more time in the bath (hello, creative energy!) and working more on challenging myself by doing unexpected things like hiking, visiting new places, and taking on innovative projects that intimidate me. After all, you can't learn and improve if you don't try in the first place!
Is there anything new you're doing as part of your daily routine this fall? Have you challenged yourself to try something different recently? I'd love to hear about it in the comments!