Who's excited its fall?! It's no secret that fall is my favorite season. From the fashion to the colors to the crisp chill in the air, there's nothing quite like autumn! And as the season changes, the leaves fall from the trees, and Halloween creeps closer, I'm reminded that it's time to change things up around the house with some easy fall room decor to bring all the fall vibes inside, too.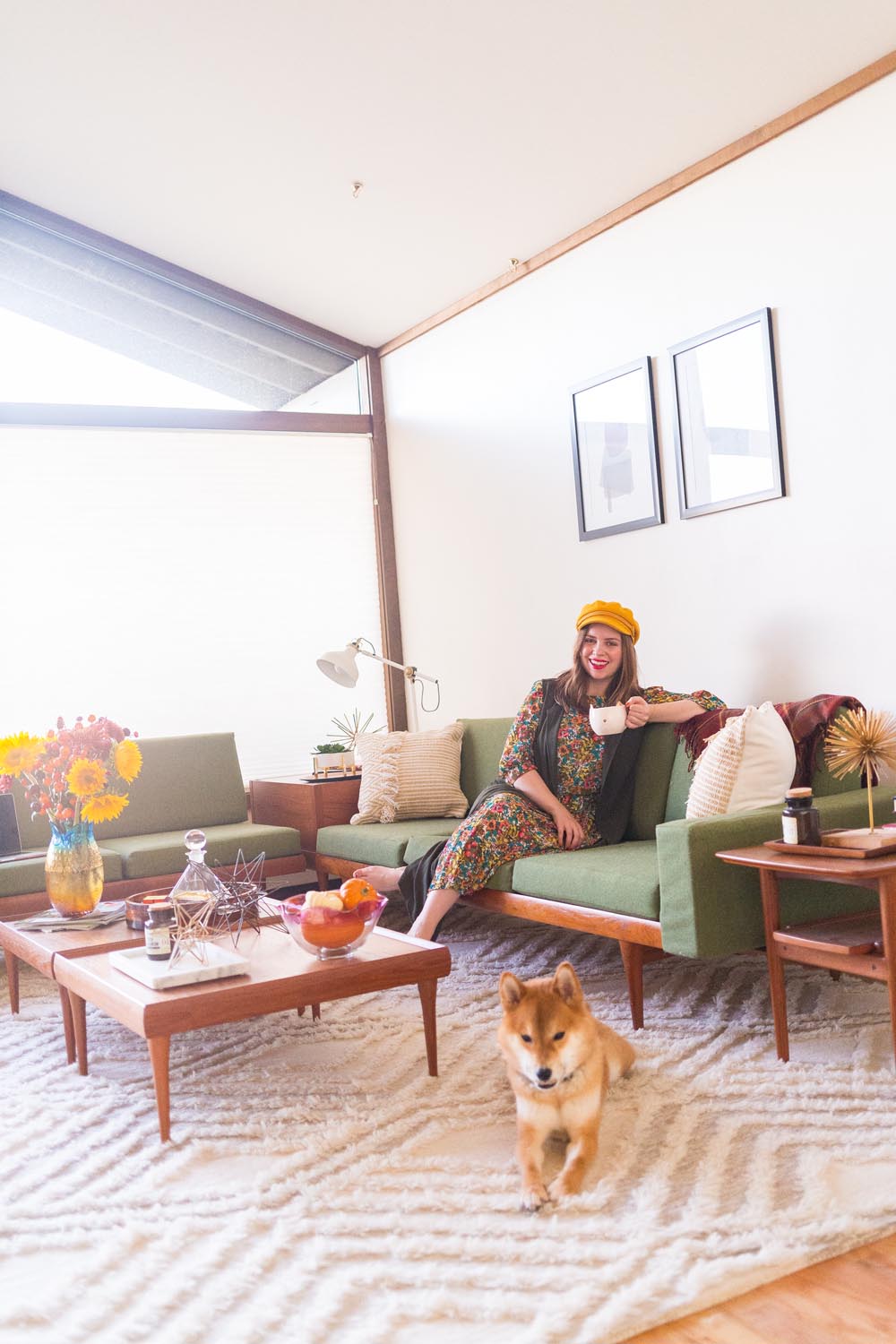 Disclosure: This post is sponsored by Fred Meyer. All opinions are my own!
Recently, I learned that Fred Meyer has launched Fred Meyer Direct. Yep, you can now shop Fred Meyer from the comfort of your home! And for those who haven't shopped with Fred Meyer before, now you can join in on the fun, too!
While they won't be delivering the entire store via Fred Meyer Direct, you can shop their furniture, home decor, electronics, and more all from home. Right now, shipping is completely free (no order minimum) and you can save 15% off your entire purchase with code FALL15. Beyond that, Fred Meyer has many things similar to what they carry in store, as well as completely new items like Novogratz rugs and doormats, throw pillows, bedding, and much more.

Curious what I shopped for at Fred Meyer Direct? You can click play on the video above to see me go shopping, and do a little unboxing! Or, keep reading for my step-by-step to shopping at Fred Meyer Direct!
When I clicked over to Direct.FredMeyer.com, I decided to first explore some of the main offerings first to get a feel for the website. Since I was in the mood to update our living room for fall, I rolled over "Home & Office" and then clicked on "Furniture & Decor". I also perused the "Kitchen & Dining," "Bed & Bath," and "Storage & Organization" categories too.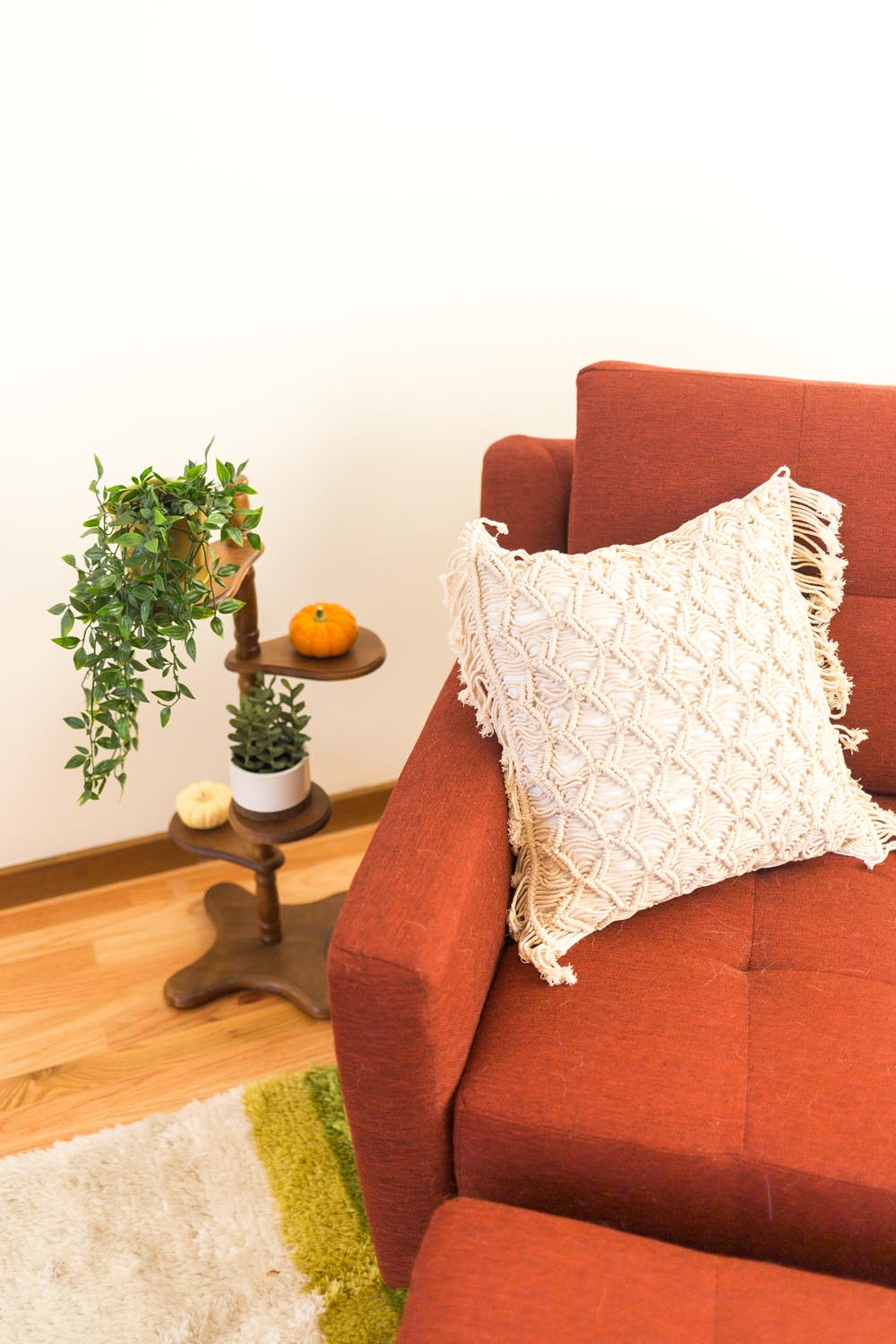 Since I wasn't shopping for anything in particular, I browsed page by page. But if you know exactly what you want, you can narrow your results by category, price, brand, size and even color on the side of each page. Don't forget to take advantage of the search feature, too! I tried searching a few fall-related queries like leaves, fall, autumn, pumpkin, and Halloween to see if they had anything that caught my eye with those keywords.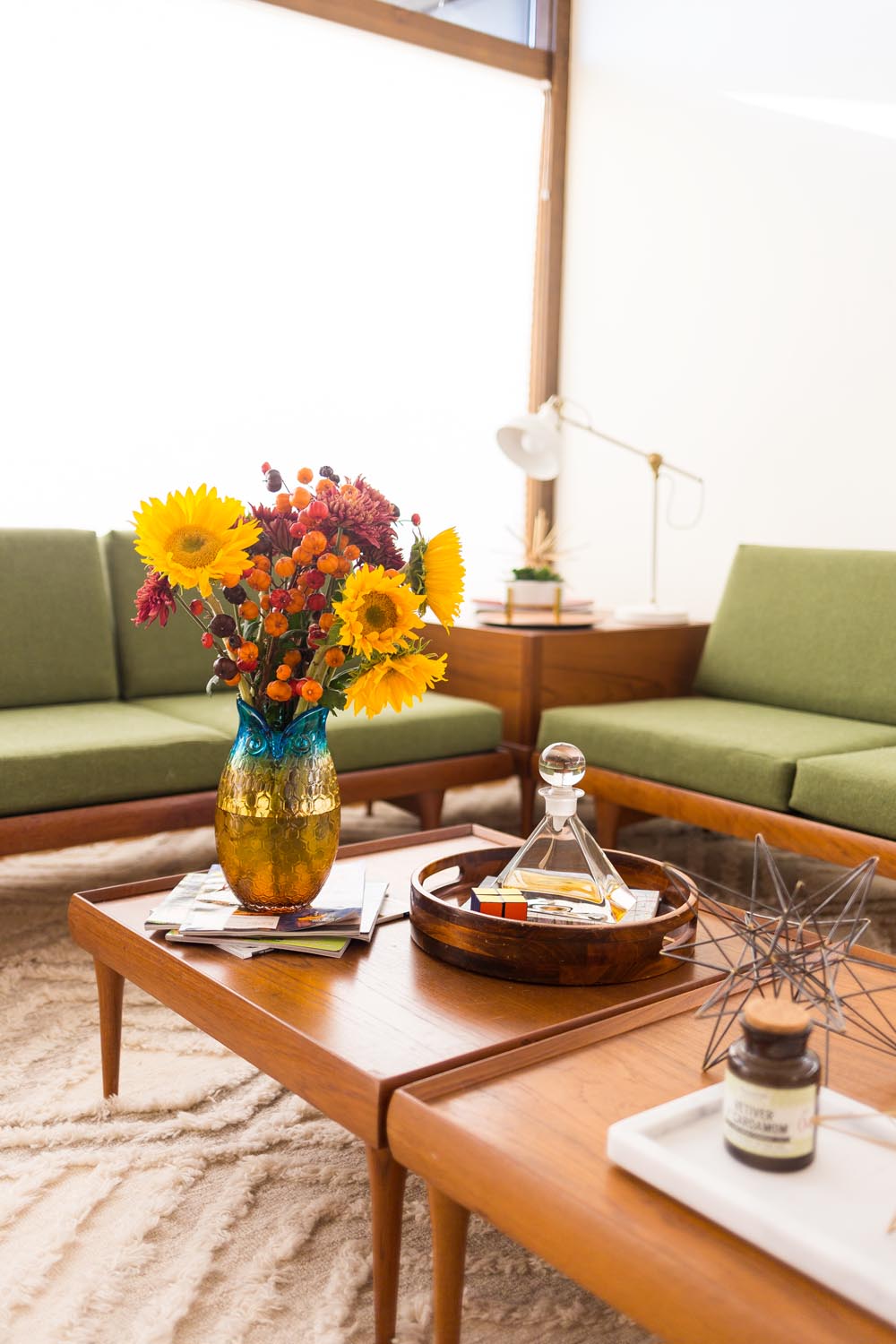 After adding everything to my cart, taking some measurements in our living room, and making my final decisions, I made sure to add code FALL15 to my cart to get free shipping and save an extra 15% off my entire order. At checkout, I was prompted to either sign in to my Fred Meyer account or create a new one, choose my payment type, and confirm my order. Shortly thereafter, I received an order confirmation email in my inbox, and the next morning my first shipping confirmation arrived. A few days later, my first package arrived from my order. And then another came the next day and a few more over the weekend. It honestly felt a bit like Christmas unboxing all of my new home decor finds!
Once everything arrived and I unboxed everything (watch the video above to see it in action!), I was able to start making updates to our living room. My first task was to take away some of the items in our living room that felt a bit stale – our throw pillow and some of the tabletop decor was the first to go. (Don't worry – I'm just moving them to other rooms!) I then added a few fresh elements from my local Fred Meyer store. Fresh flowers, mini pumpkins, and some fall-scented candles were added to bring a pop of color to our living room.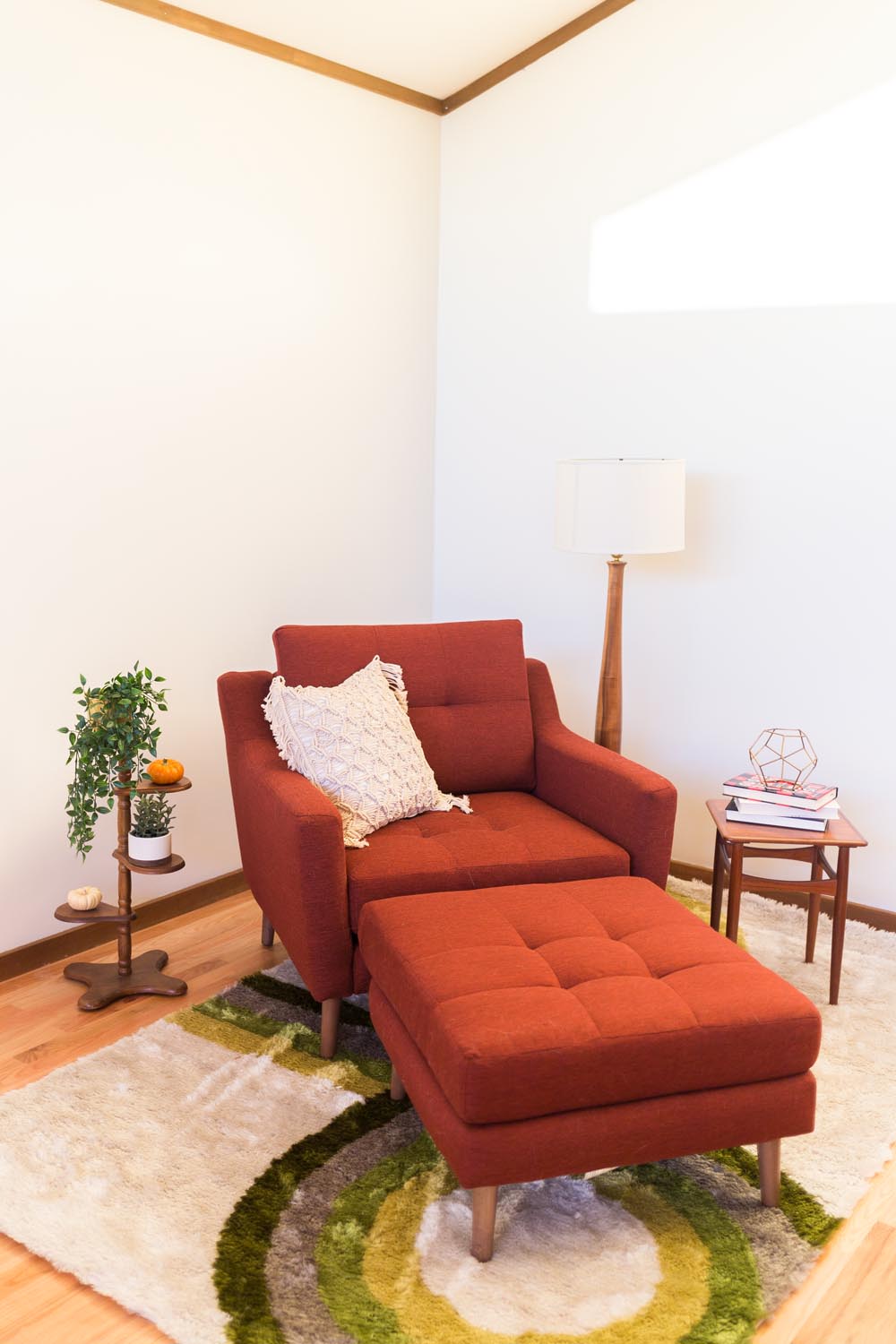 Then, I started with the items that would require the most work – my new rug! I unrolled my new Novogratz Green Retro Rug and did a little furniture shuffling while I let the corners unroll. Then, I added one of my new throw pillows to our cozy brick red chair. A few pumpkins added to the plant stand added a fun touch of fall. This is one of my favorite spots in our living room to get some work done, browse the internet, or just cozy up and read a book!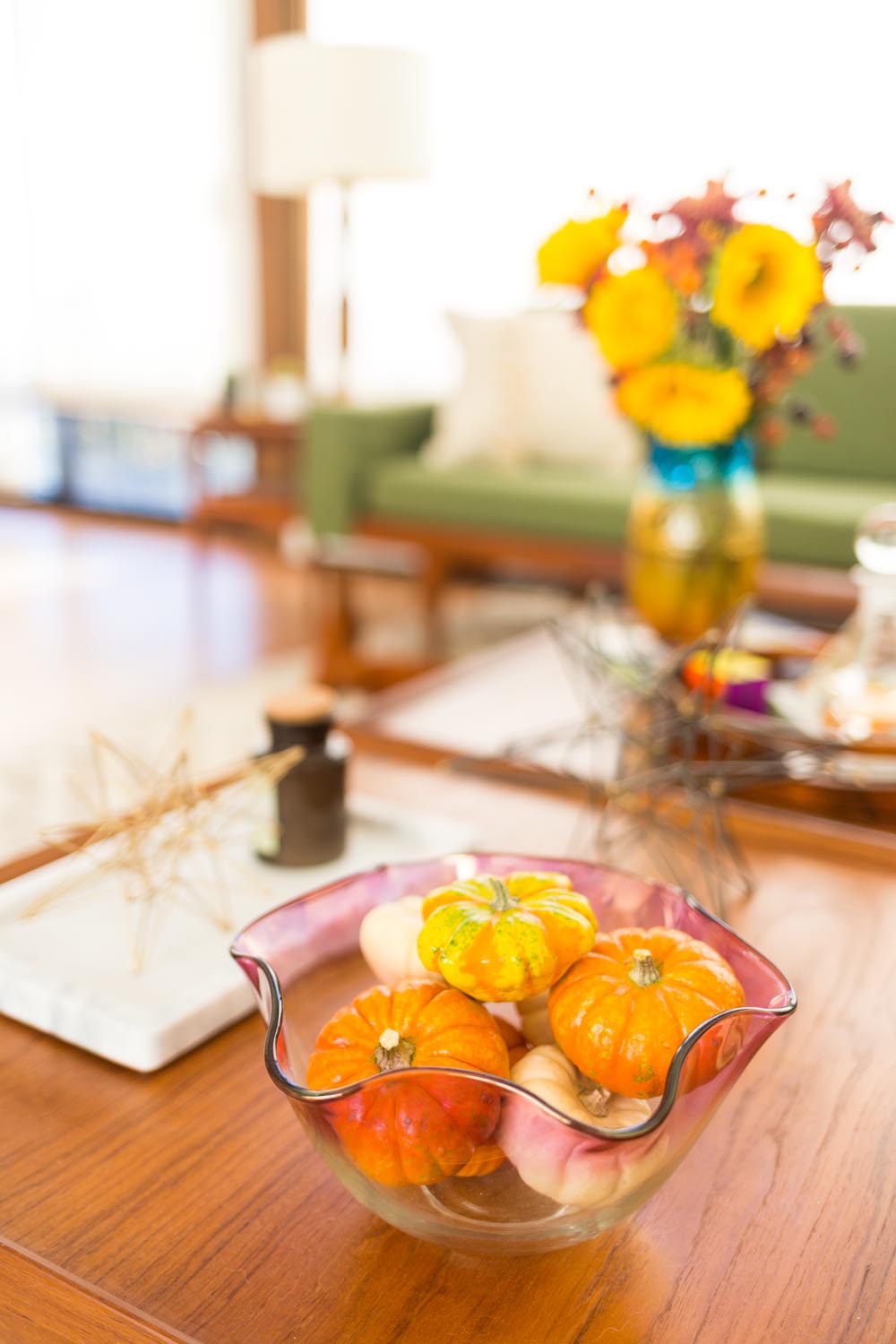 Next, I moved over to our more central living room zone. This is where we spend the most time when guests are over, so I like to focus a lot of attention on this area! For our coffee tables, I added a fresh vase of fall flowers, complimented with some cute floral inserts from my local Fred Meyer store. I also added these fun star sculptures to the table, as well as a fresh fall-scented candle. I thought filling a bowl with mini pumpkins would be a fun touch, too!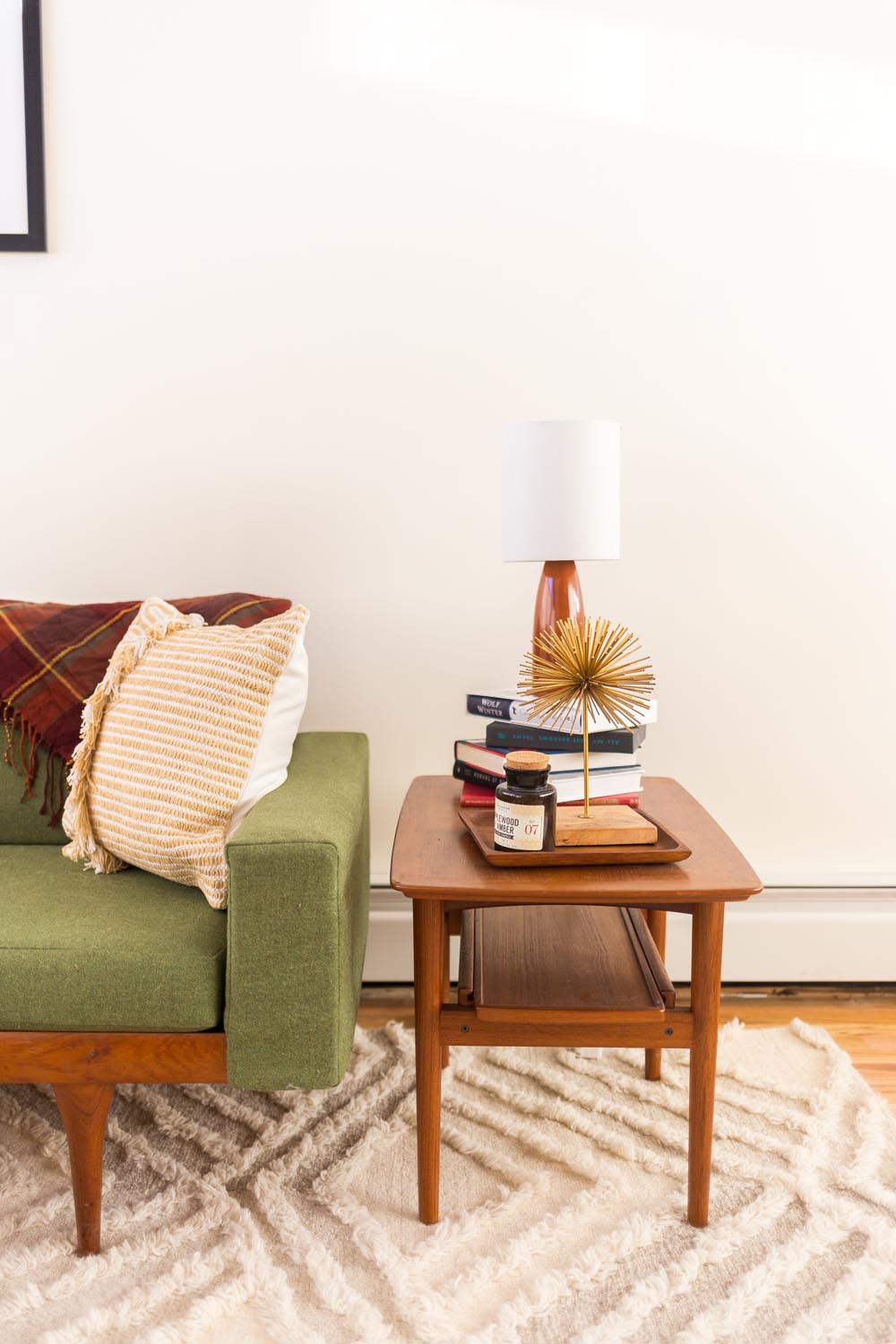 The final touch for our living room upgrade was adding new throw pillows to the couches, as well as making some minor updates to the side tables. I moved some of the pieces that previously adorned the coffee tables there, added some books, and a new lamp I found via Fred Meyer Direct. It's the cutest little tabletop lamp, and will be the perfect reading light!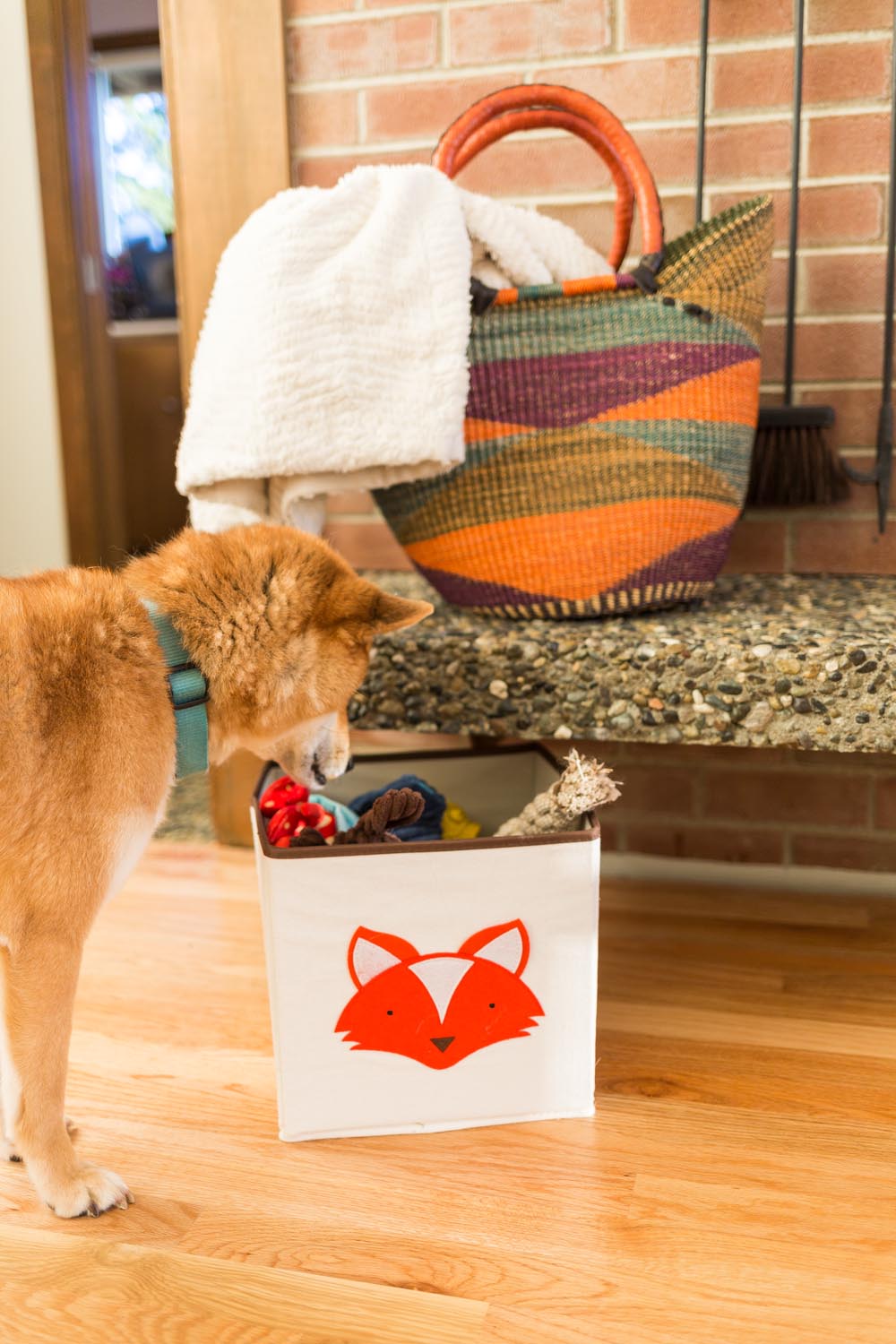 Oh, and I couldn't forget about Rigby! He also played a role in our updated living room decor. He loves playing "toy parade" (he prances around with different toys to get attention) when guests come over, so I thought I should upgrade his toy box to something a little more glamorous than the clear plastic storage box I previously used. This fox canvas storage container was perfect! It's the right size for underneath our fireplace sitting area, fits quite a few toys, and is also super cute.
I hope you enjoyed this fun little tour and step-by-step of how I updated our living room for fall. If you can't tell, I'm super pleased with how it turned out, and love that I can shop online at Direct.FredMeyer.com now too! If you're in the shopping mood, don't forget to use code FALL15 at check out and let me know what you pick up. I can't wait to see your cute finds, too!
Are you planning to update your home decor for fall? Or have you already? Let me know in the comments below!