Affiliate Links // Some products were sent to me courtesy of the brand and are labeled as "c/o".
As a petite person, I get a lot of interesting advice on how to dress. I've been told skinny jeans make me look like a lollipop. (This is probably somewhat true, but they also make me look much taller. I've heard that culottes (let alone a culotte jumpsuit outfit! The horror!) are the ultimate no-no because the awkward place they land on my calf will make me look short and wide. Oh, and that maxi dresses will never be the right length. Ever. (Which is just not true. I wear them all the time.) What I'm getting at here is that I've received a lot of crappy advice about how to dress, despite potential well-meaning intentions. I thought today I would break all the rules, because, well, I can.
How to Rock the Culotte Jumpsuit Outfit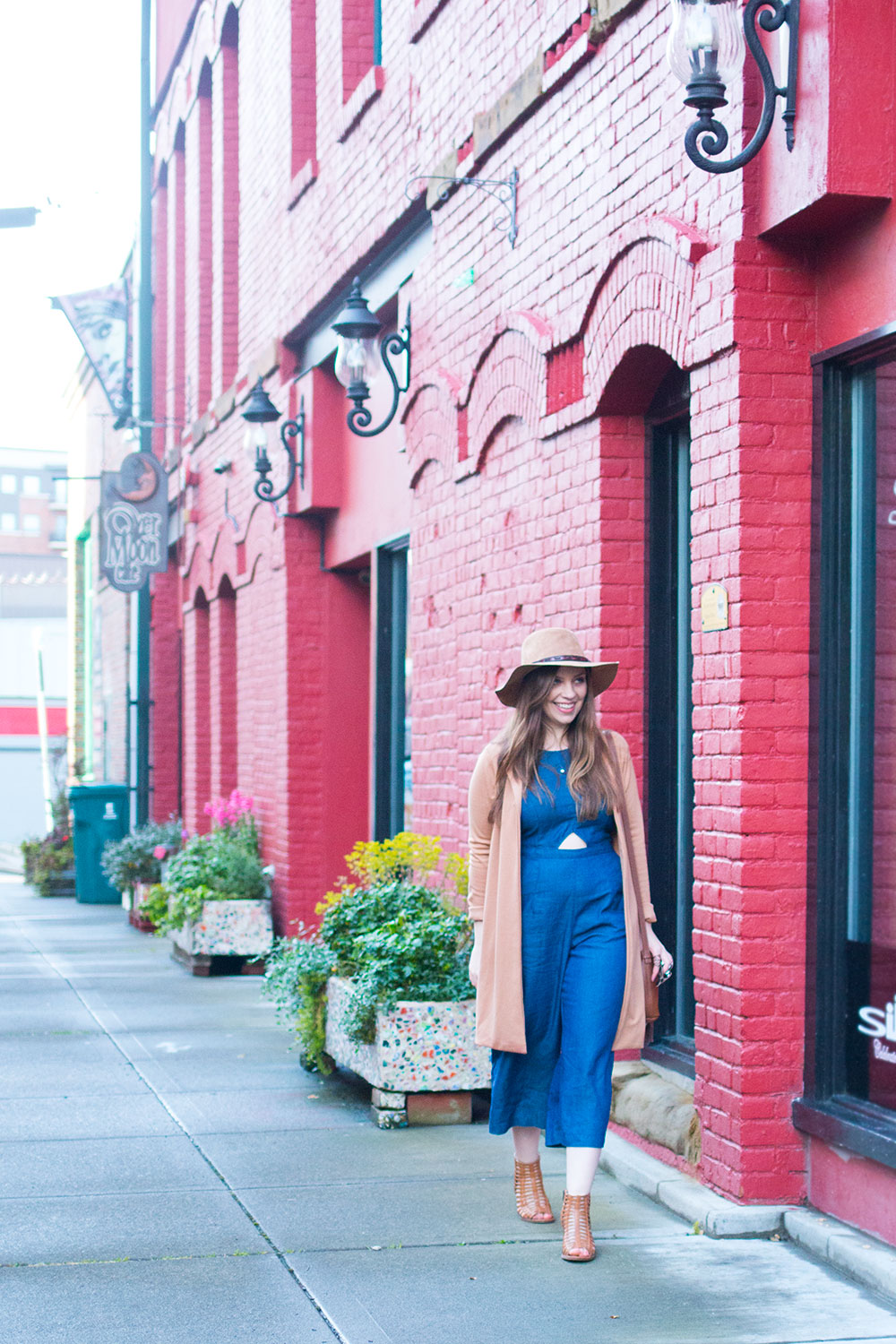 What I'm Wearing
Jumpsuit: Target (sold out; similar in camel under $20, similar in denim under $100, with open back under $25, halter version under $35)
Jacket: ASOS (similar)
Hat: Alchemy Safari Hat in Camel c/o Brooklyn Hat Co.
Shoes: Target (similar)
Sunglasses: Miramar Sunglasses in Black c/o Stella & Dot
Bag: Shaffer LA Greta Small Bucket Bag via The Zoe Report Spring Box of Style
Necklace: Moonstone Orbit Necklace c/o Silver + Salt
Ring: Etsy
Photography by Hilary of The Cutie Life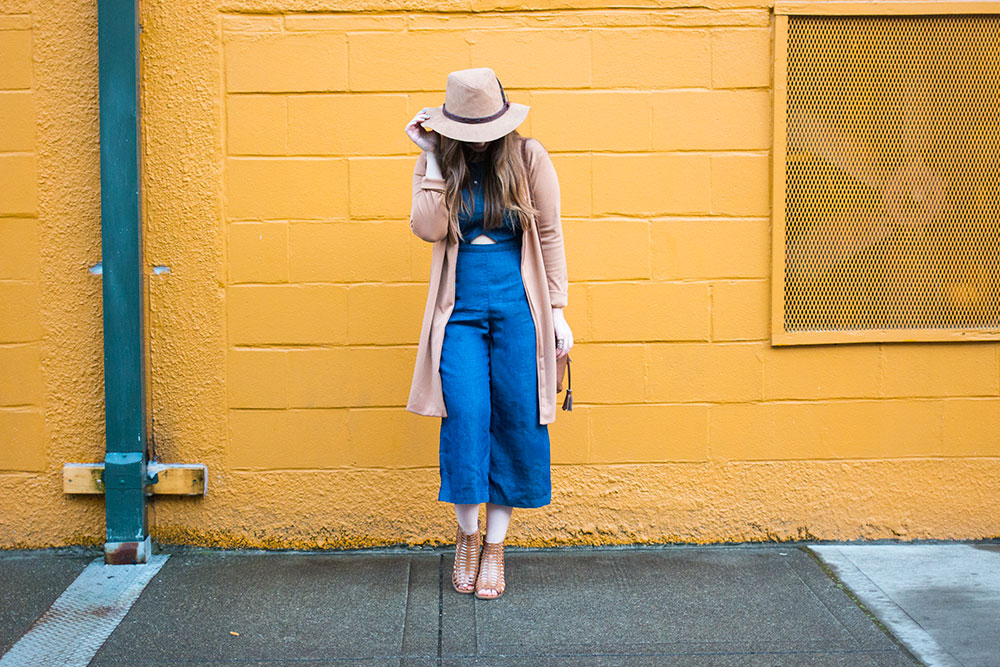 When culottes started making a comeback, I cringed. All of the horrifying memories of the gaucho pant from high school came back. I never had them, but boy did all of my friends. I did, however, try them on once and I remember the horrified looks and the 'no way, those look terrible!' giggles. So, I gave up my stretchy knit gaucho dreams and soldiered on in my denim capris. Womp womp.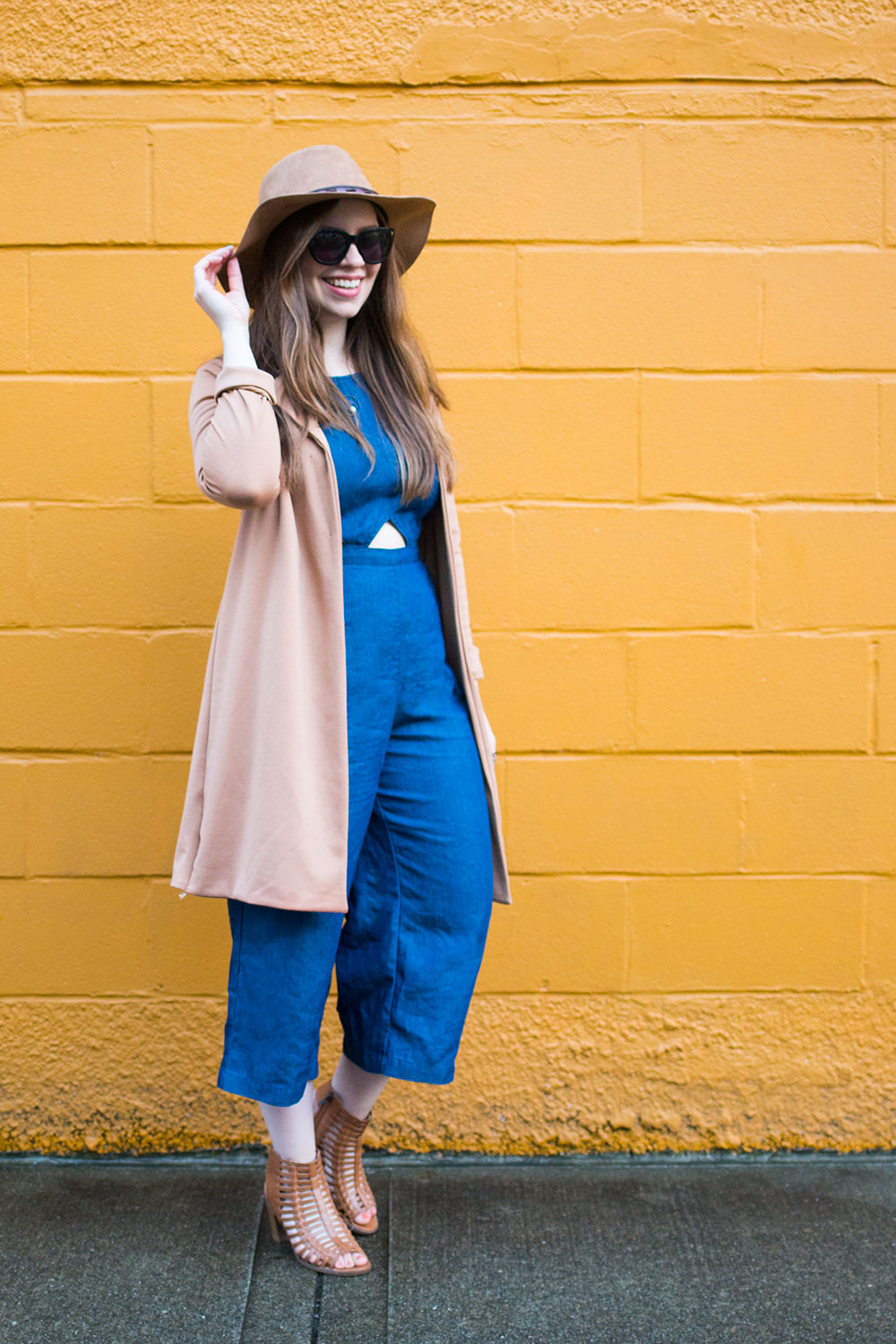 Back in high school, I was much more self-conscious when it came to dressing. I definitely had my rebellious moments, though; I recall a certain mini skirt that I DIY-ed with patches and distressing that horrified my mom, and I promptly pulled up as soon as I got to school so that it was even more scandalous. Oh to be 14 again… But really, I was a pretty vanilla dresser (and still am, most of the time) and always played by the rules.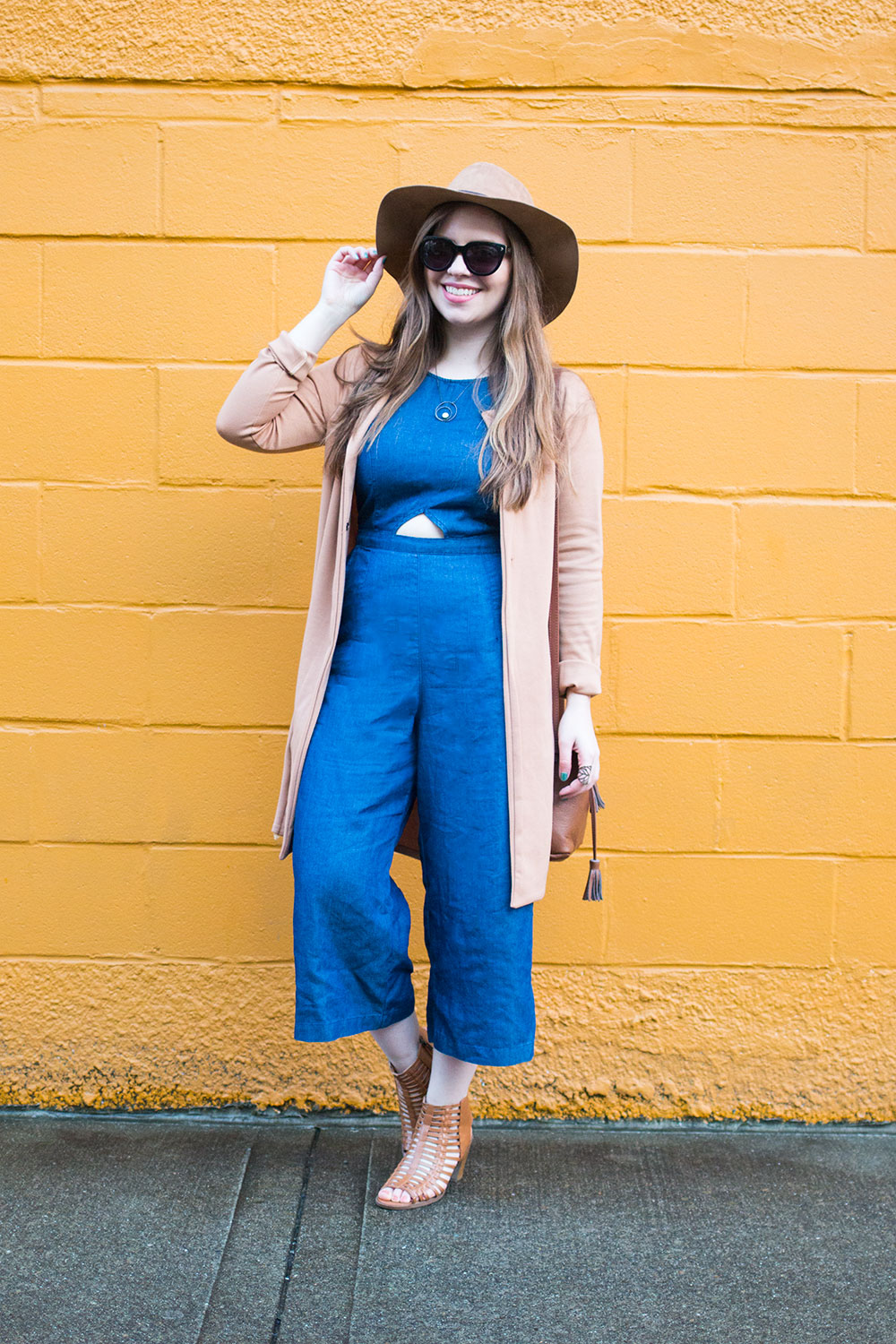 Playing by the rules all the time is boring, so I decided to give the culotte a try. And not just the culotte, but a culotte jumpsuit. Might as well go for two supposedly hard to pull off trends in one fell swoop, am I right?! When my order from Target arrived, I was a little nervous. I still wasn't sure I could pull it off. But when I tried it on, something magical happened. I dug it. And even Dave gave it the nod of approval. (Not that he would ever tell me not to wear something, but he's not the ~trendy~ type. Men.)
The real test came this weekend when I met up with some blogger friends. Were they going to think I looked like a lunatic? Or like I got lost on the way to Coachella and really shouldn't be wearing this in public? I was relieved when they said, "That's from Target?!" in the best way possible. So, it got the blogger nod of approval, and I was stoked.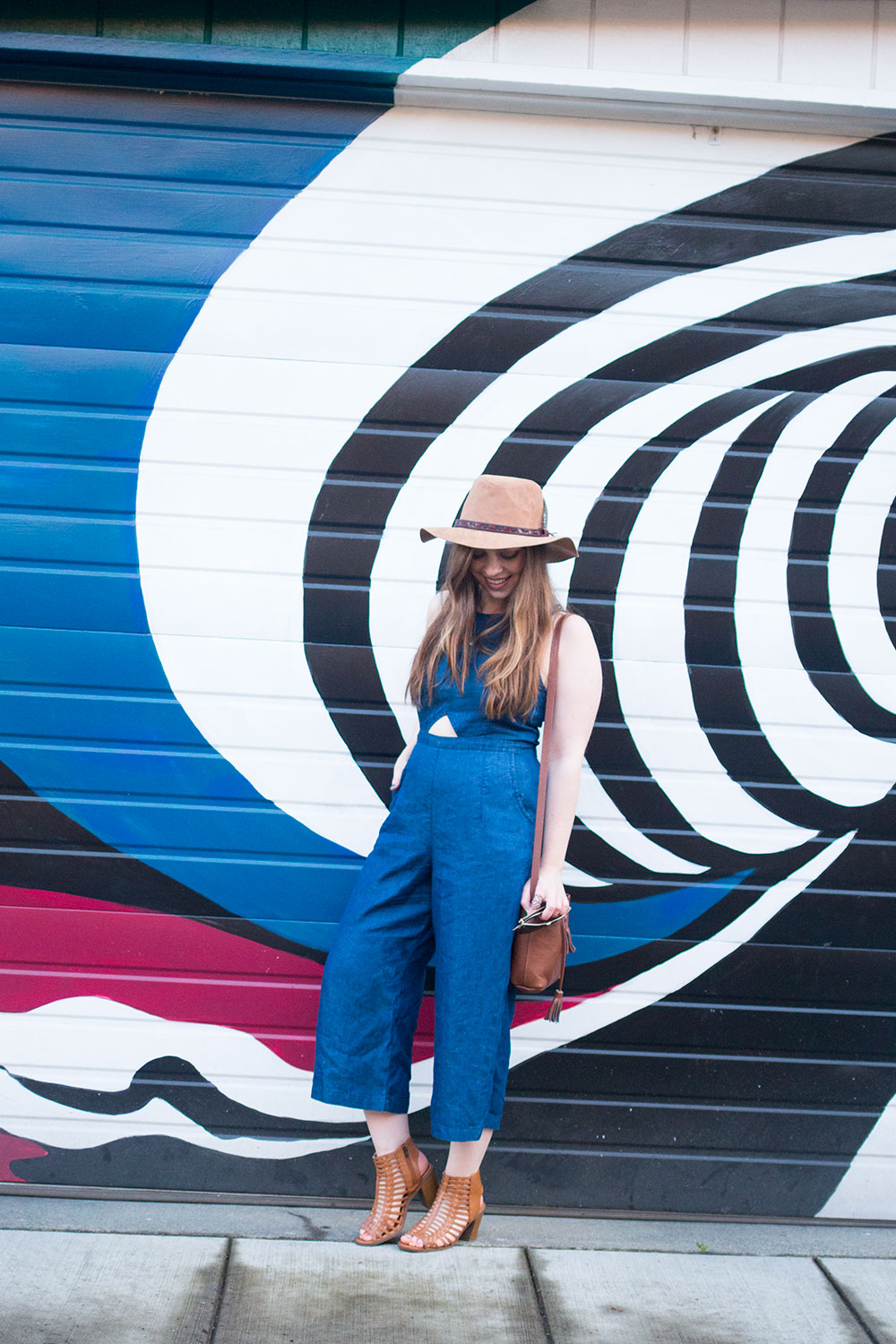 I think the key for me in pulling off this jumpsuit really comes in how it's styled. On its own, it's a little different. Breaking the look up with a jacket (and also, to keep warm because it suddenly got chilly here and I'm not liking it!) and other accessories kept it looking modern. The thing about accessorizing a piece like this is that you can take it from looking like you belong at Coachella to a casual weekend to an edgy night out in 30 seconds flat.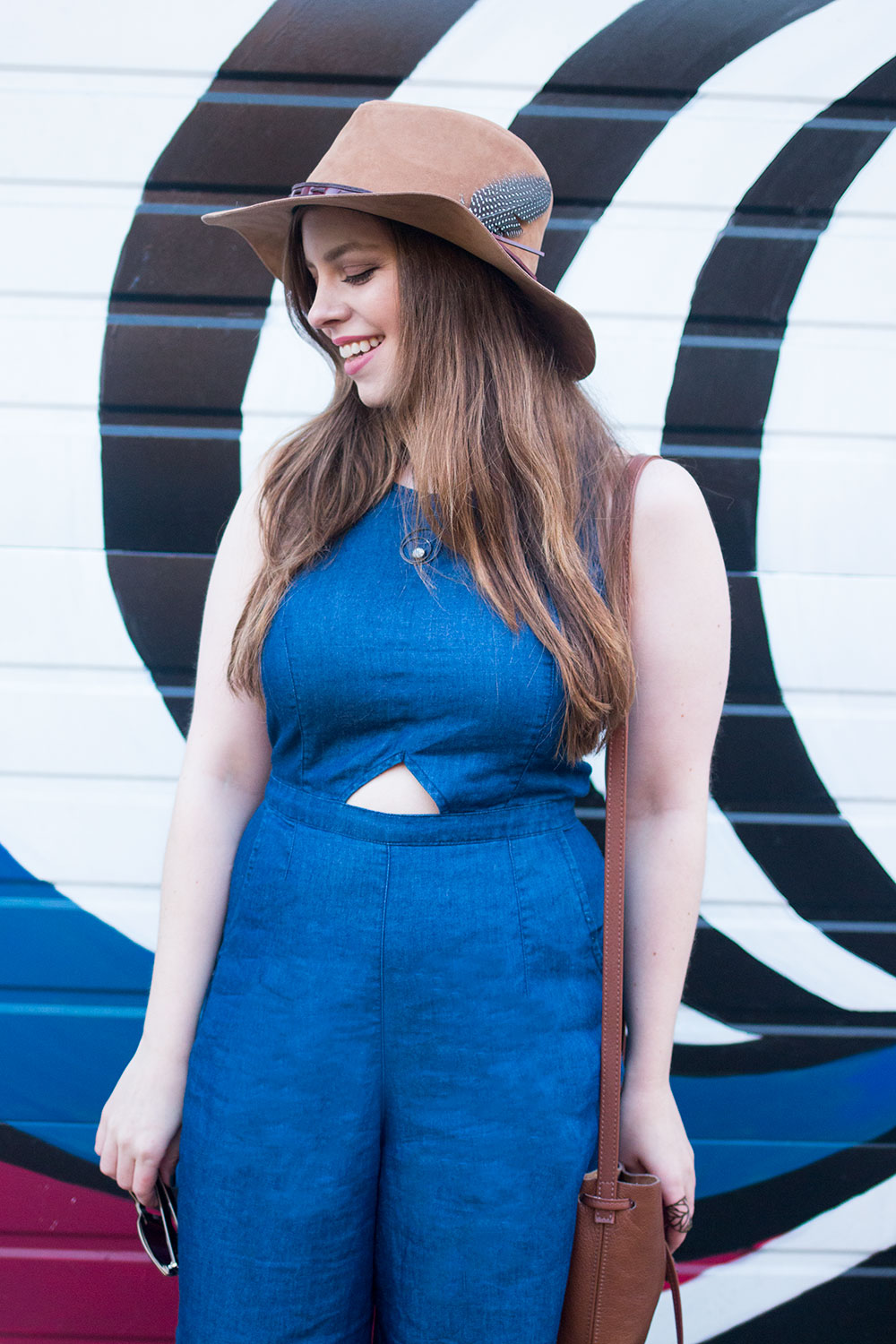 To keep up the bohemian vibes, I opted to pair the denim jumpsuit with a hat from Brooklyn Hat Co. Hats are one of those accessories that can be a little nerve-wracking to wear, but I feel like this one is one that nearly any girl could rock. The brim is flexible enough to add a free-spirited vibe but structured enough to look put together. The unique feather and leather trim add a nice natural element to the overall look and keep it from looking too stuffy or too much like a cowboy hat. (Which there's nothing wrong with, but isn't my aesthetic.)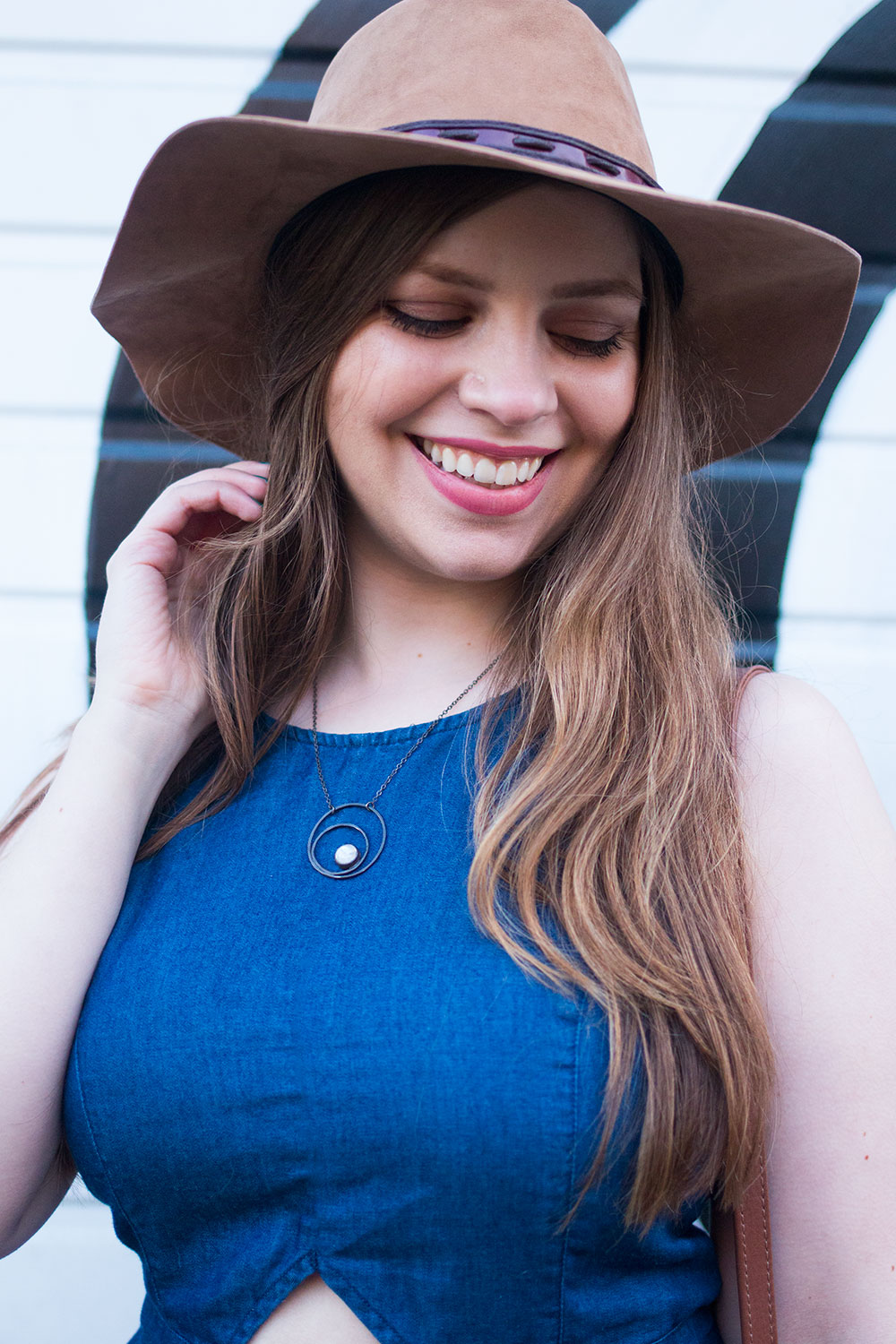 To finish off the look, I opted for subtle accessories. With a lot going on with the cut of the jumpsuit and the hat, I didn't want to grab a statement necklace. Instead, I opted to pair this look with the beautiful Moonstone Orbit Necklace from Silver + Salt. Silver + Salt is a local jewelry maker here in Seattle. All pieces are handcrafted with semi-precious stones, and absolutely gorgeous. When I opened this package (that they were kind enough to send me), I gasped. The Moonstone is so unique and adds a nice contrast from the dark metal. I can't wait to pair this piece with so many other outfits, as it will go with nearly everything. To keep up with Silver + Salt, be sure to sign up for their email list to be the first to find out about special offers. (Plus, who doesn't love to support local makers?!)
Have you created a culotte jumpsuit outfit of your own yet? Are culottes on your radar for spring and summer? I'd love to hear about how you'd style them in the comments!