So first of all, I'd like to say I'm really proud that I did not succumb to ALL of the pressure that was Black Friday or Cyber Monday. I did fail a little when it came to Green Monday (btw, when did that come about?!) And, I did pretty well with not buying myself too many things while Christmas shopping. However, I definitely still did splurge this month. Tis the season, or something.
December Shopping Budget: What I Bought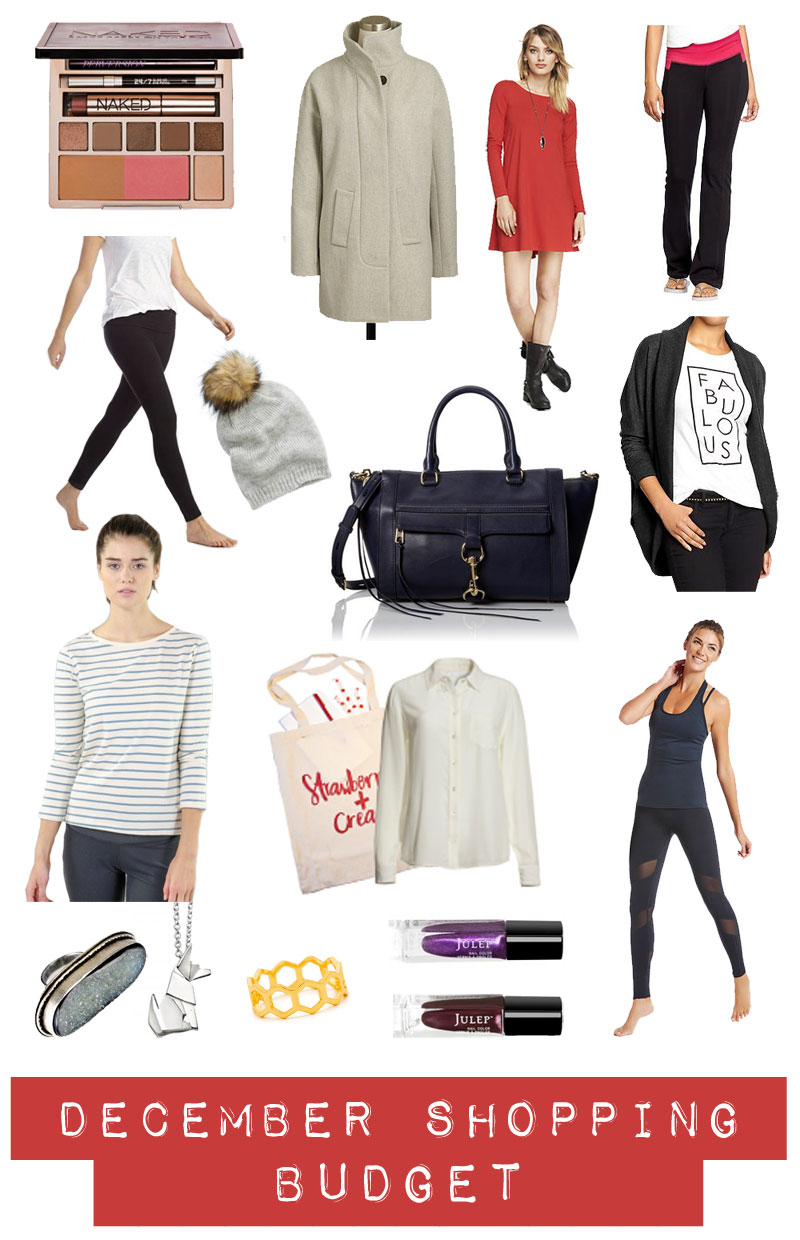 Sephora: I saw this new Naked on the Run palette from Urban Decay and had to have it… mostly because it seems absolutely perfect to keep in my work bag. I love that it includes basically everything but foundation. Luckily Sephora sent VIBs a $20 gift card which made $34 much more palatable. See what I did there? ;) -$34
J. Crew Factory: I've been wanting the City Coat since I saw it last year in bright colors. Unfortunately J Crew was out of the bright blue I was really lusting after, but they did have one in Heather Gray. P.S., These are cut very generously if you prefer a tailored fit, and I ended up with a size 0! -$96 (50% off, plus an extra 15% off in store!)
Express: Okay, so I have a slight beef with Express after buying this Trapeze Dress (which is now sold out in most colors/sizes, try this one from ASOS. I bet they ship faster too!) They held my order hostage for 11 business days post Cyber Monday purchase. It's a good thing I didn't need for anything specific because it arrived a few days before Christmas. Other than that, this dress is very cute and versatile, and I already wore it here. -$25
Old Navy: I picked up a pair of $10 clearance yoga pants to replace my sad, worn out ones from Victoria's Secret, and this cozy sweatshirt cardigan for when I actually take up Yoga again… -$28
Aerie: I haven't shopped at Aerie or American Eagle in a long  time… and now I think I remember why. Sizing is never consistent and I often have to send everything back. I did keep these yoga pants and this beanie that came free with the order though. -$20
Amazon: Here's what did me in on "Green Monday:" This gorgeous Rebecca Minkoff Bowery Satchel in Ink. LOVE love love. -$114 (On sale plus an extra 30% off + used some credit card rewards)
ShopZebraClub.com: I won an Instagram giveaway from them, so I used my gift card to pick up this cute Mollusk Striped tee. -$0
Fabletics: I was bummed to miss out on the cute mesh inset leggings a couple of months ago, so I was stoked to seem them back this month! I picked up the Dazzle outfit for free. Thanks to those who signed up through my referral link! :* -$0
Popbasic: I funded Popbasic's silk top Kickstarter. I won't be receiving this until sometime next spring, but I'm super excited to fund a great company AND get a great blouse! -$75
Fuego: I popped into Fuego to find a few Secret Santa gifts and may have perused their clearance jewelry. I scored a druzy ring and Sterling Silver Origami Dog necklace for $11!
Gorjana: I had a gift code from an old Popsugar Must Have box, and I had heard that Gorjana offers a good Black Friday sale, so I held onto it. I ended up with this honeycomb ring for $1 + shipping!
Fresh Tangerine: I popped into this adorable little jewelry shop close to my work downtown for a pop up party. I picked up a few stacking rings that they had on special for 40% off. -$28
Julep: Every Black Friday, Julep offers a polish for $1. I picked up this one plus another with some Jules (their reward points). Score.
December Shopping Budget: What I Returned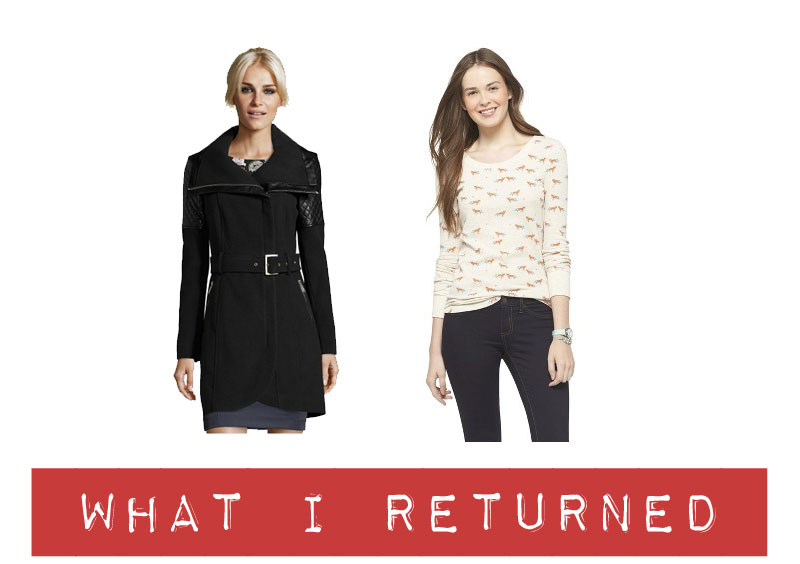 Nordstrom Rack: I bought a coat from BCBGeneration back in October, but returned it at the end of last month after realizing I had no interest in actually wearing it… Cute on, but not very practical after all. +$99
Target: I picked up this adorable Fox Thermal on Black Friday while Dave was oogling all the video games… but I took it back after trying it on. The sleeves were really long and the fox print got stretched out in a really gross way across my chest.
December Shopping Budget: What I Received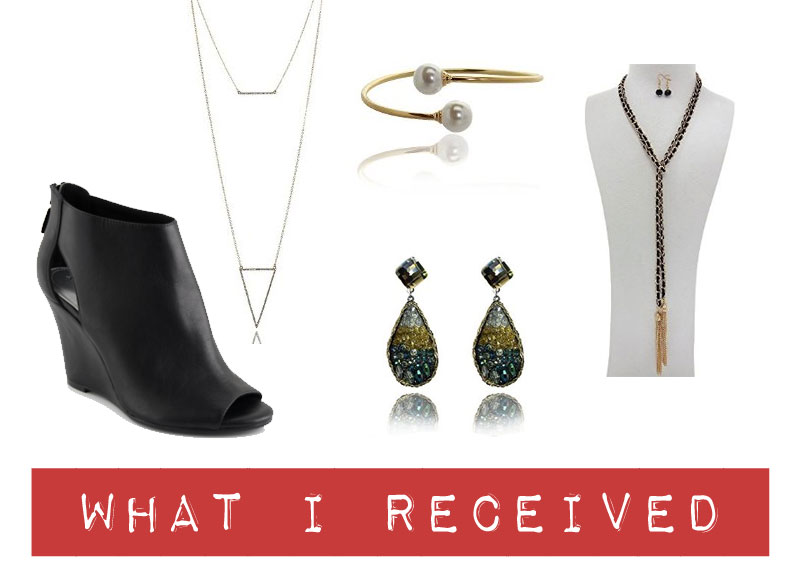 Rack Room Shoes: For this styling post, Rack Room Shoes sent these adorable (and very comfortable!) peep toe booties from Xappeal. Love them!
Hoops Baby: I can't wait to style these pretty pieces from Hoops Baby, the options are endless between this geometric necklace, pearl bangle, tassel necklace and earrings, or these stone earrings!
This month I also sold some clothes. ThredUp got backed up with people sending things in and offered bags a flat rate of $35. That's what they offered to me last bag, so I figured I'd take it. I had two bags, plus another one I sent to Twice, and sold some stuff on eBay for a total of $143.
Spent: +$405
Returned: -$99
Sold: -$143
Total Damage: $163
…And that's all. Whew, seems like I made a few too many purchases this month, but luckily didn't break the bank doing it and made up for it by getting rid of a ton of stuff that was just taking up space. It's hard to say no to all of those holiday sales!
What did you buy last month? I'd love to hear about it in the comments!