I mentioned on my accomplishments post earlier this week about completing my reading goal for 2014 of 100 books… so I guess it's about time I recap the last chunk (and I do mean chunk… I read/listened to a lot this month!) of books I read/listened to in December.
What I Read: December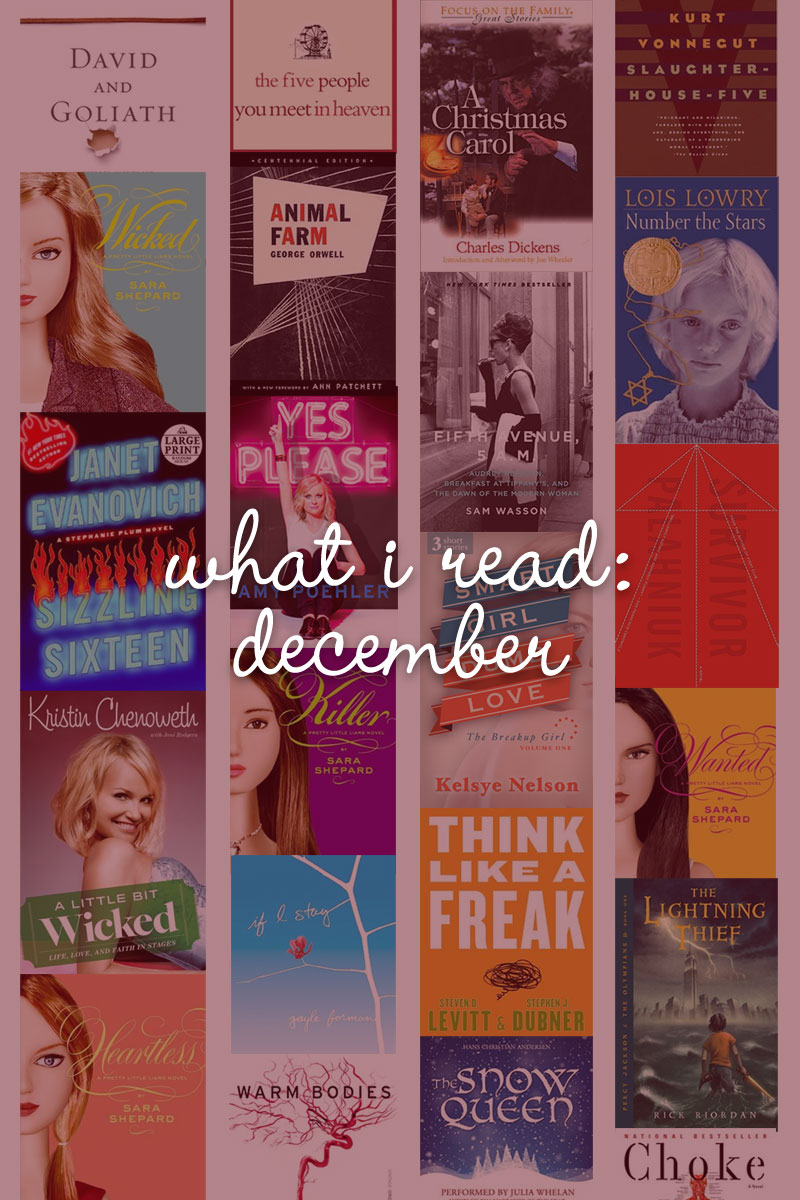 Pretty Little Liars: Wicked (#5), Killer (#6), Heartless (#7), and Wanted (#8) by Sara Shepard – ★★★ – I had forgotten that a few years ago I started this series and never completed it. I was shocked to see how many total books there are though. (16, really?!) Anyways, I liked the first 3 the best, and then after that these have been entertaining and quick reads, but not necessarily the most well-written books. I kind of equate these to the Princess Diaries, if you were ever into that series. They're fun, short, and cute, but they get a little… worn with time if you know what I mean. I will finish off this series, I actually quite enjoy the audiobook version because I can read about one a day at work!
David and Goliath: Underdogs, Misfits, and the Art of Battling Giants by Malcolm Gladwell -★★★★ – Dave and I often listen to a "business"-y or "how-to" book on the way to and from work. He's picked a couple from his Audible subscription, so this was his pick. We enjoyed it, but personally I prefer the Freakonomics series. If you have yet to pick up one of these types of books, it's basically a collection of shorter stories that are data-filled, and Gladwell does an excellent job of making them very interesting and engaging for the reader.
Choke by Chuck Palahniuk – ★★★ – God, Palahniuk books are WEIRD. I have read quite a few, and they always leave me wondering about the guy behind them. Regardless, the stories are crazy and far fetched, yet weird enough that I wonder if they're based on real life. As you could guess from the title, the main character, Victor, chokes on food at high-end restaurants to essentially con people out of money because he knows they will feel responsible for his life. He also cruises rehab clinics hooking up with sex addicts. Sounds intriguing? It will probably leave you shaking your head too.
Warm Bodies by Isaac Marion – ★★★★ – So to be perfectly honest, zombies aren't my thing. However, love stories are. This was a sweet yet slightly creepy and disturbing book, and I love that the author is Seattle based.
A Little Bit Wicked: Life, Love, and Faith in Stages by Kristin Chenoweth – ★★★★ – This was a fun listen – Kristin narrates the novel and really brought a lot of personality and charm to the words. I'm sure her biggest fans have read this (which I'm not, though she seems like a very sweet gal) but I'd recommend this to those who just recognize her from TV too. :)
Sizzling Sixteen (Stephanie Plum #16) by Janet Evanovich – ★★★ – This is another series I read many moons ago and recently picked back up. These books are a bit monotonous after… oh… you know the first 10. But they're fun and quick reads, which is a nice break sometimes. If you're not familiar, it's based on a bond agent, and details her life trying to catch the "skips" all while finding herself stuck in awkward/dangerous situations, and lusting after two men.
If I Stay by Gayle Forman – ★★★★ – Alright, controversy time. I have heard so much about this book… mostly negative. But I actually really enjoyed it. I was a little disappointed that the author just didn't finish the story off at the end, but whatever. I will read the second book, and hopefully not hate that one. ;)
Yes Please by Amy Poehler – ★★★★ – Amy Poehler is hilarious. She narrates the book in the audio book version (which I of course picked up via Audible. I have no patience to wait in line at the library.) and I really enjoyed some of the additional commentary that I assume wasn't in the print version. If you liked Bossypants, you'll like this.
Animal Farm by George Orwell – ★★★★ – I LOVED 1984 so I finally, finally picked this one up. What an odd but fascinating book. I feel like I need to read it again, because like 1984, there's so much that you can easily skim over if you're not reading closely, which I admittedly did not.
The Five People You Meet in Heaven by Mitch Albom – ★★★ ½ – Eh. I've heard about this book for so long that I think I had super high hopes for it. I tried another Mitch Albom book earlier this year and didn't like that one either, so maybe his style is just not for me.
Think Like a Freak by Steven D. Levitt and Stephen J. Dubner -★★★★ – I really enjoy the Freakonomics series, but I noticed a lot of the reviews said this book was unnecessary if you listen to their podcast. I do not, so it was new information for me, but if you're not in the mood for reading, download their podcasts instead!
Fifth Avenue, 5 AM: Audrey Hepburn, Breakfast at Tiffany's, and the Dawn of the Modern Woman by Sam Wasson – ★★★★ – After watching Sabrina for the first time a longggg time ago, I basically became obsessed with Audrey Hepburn. Not only was she a fabulous actress, but she was an admirable woman. I've read many biographies about her, and was happy to add this one to my Semi-Charmed Winter Book Challenge list too.
The Lightning Thief by Rick Riordan – ★★★★ – I'm not quite sure what to compare this to. I thought about Harry Potter at first, then it reminded me a bit of the Maze Runner. Neither is an accurate comparison, but if you like either of those, you would definitely like this.
Smart Girl, Dumb Love by Kelsye Nelson – ★★½ –  This was a collection of 3 (very) short stories. I can't say the subject matter was particularly enjoyable (basically about failed relationships, and sexually explicit in nature), but it was quite different from what I normally read so there's that.
c/o Library Thing
The Snow Queen by Hans Christian Anderson – ★★★ – Apparently this is what the movie Frozen was based on. I guess I can see that a bit… but honestly didn't enjoy this much. Audible was giving this away for free during the holidays, so it was worth a shot.
A Christmas Carol by Charles Dickens – ★★★★ – A festive listen and one of my favorite Christmas stories. Growing up, my favorite Christmas read was the Mickey Mouse version of A Christmas Carol, so it was fun to listen to the classic this year.
Survivor by Chuck Palahniuk – ★★★ – Basically the same as the last Palahniuk book… so bizarre, yet so weirdly interesting. The book is basically going in reverse, and it's a fun plot twist to wrap it all up for you. I think my biggest pet peeve about Palahniuk's books is that they all sound the same. They all have exactly the same hurried pace and frantic characters that feel very one-note over time.
Number the Stars by Lois Lowry -★★★★ – Somehow I never read this when I was younger, though I obviously had read The Giver (which I'm re-reading now. Love.) I really enjoyed this one, even if it was a bit melancholy to listen to around the holidays.
Slaughterhouse-Five by Kurt Vonnegut – ★★★ ½ – This is my third attempt through this book. I'm not sure what it is about it, but something about Vonnegut's writing is really hard for me to get into and enjoy. Maybe it's just this particular book, I really don't know. For the Vonnegut fans, I will try again.
My Reading Updates
Total Books this month: 22
Total Books read this year: 102 / 100
Total Books read for the Reading Pile Challenge: 40 / 40 Completed in October!
Total Books read for the Semi-Charmed Winter Book Challenge: 4 / 13
---
And on another note… six other bloggers and myself have teamed up to bring you a little jump start to the year 2015–$80 PayPal cash is up for grabs! Wouldn't it be lovely to start the year off with a little extra cash saved up? Use the Rafflecopter below to enter and be sure to thank the lovely ladies who helped make this possible!

Life Could Be a Dream // An Uncomplicated Life // Health, Love & Fire // Blooming in Bedlam
A Little Too Jolley // Hello Rigby // Simply Free
The giveaway will run from 12:00 am EST on December 31st until 11:59 pm EST on January 5th. Entries will be verified, so please be honest with your entries. The winner will be notified by email and will have 48 hours to claim their prize before a new winner will be selected. Thanks for entering and good luck!