It's nice to be back to a semi-normal schedule today. As you may have noticed, I took a few days off last week to prepare and recover from Christmas festivities. We did four Christmases, and I hosted Christmas Brunch with my mom this year. Lots of good food and fun, but glad the planning is behind me now. Hope you and yours had a wonderful holiday season!
It's amazing to me that 2014 is coming to a close so soon. I feel like I say this every year, but I can't believe it went by so quickly. That's why I'm excited to look back at 2014 with Sarah today!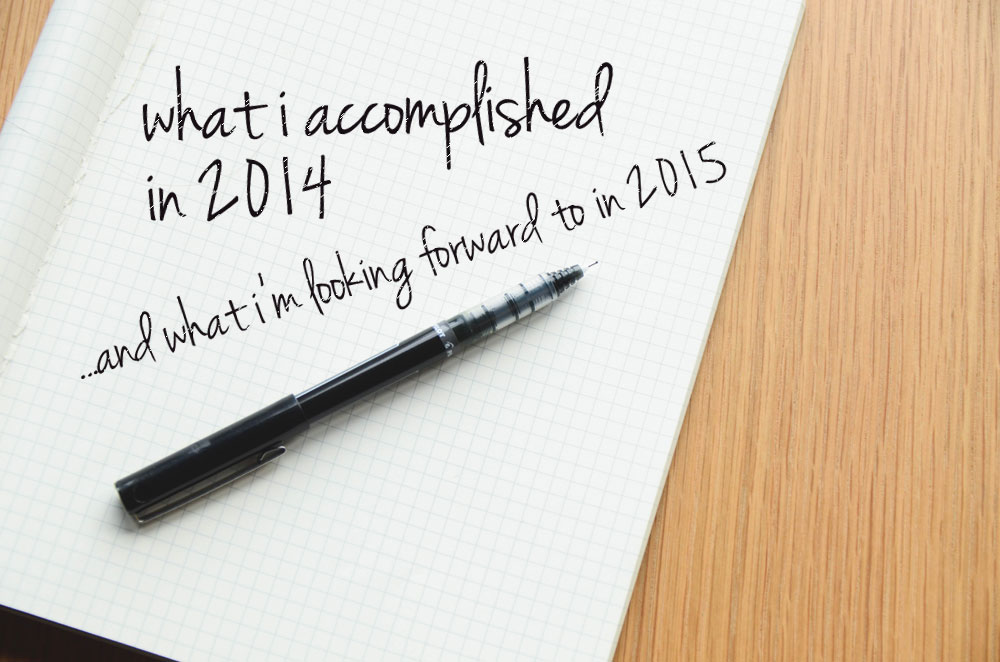 What I Accomplished
2014. It was a good year. We hit a few bumps, but I must say, it was much kinder to us than 2013. 
In 2014, I made no resolutions. I did, however, decide to challenge myself to kick my blogging butt into gear and give this thing a little one-two punch. By April of this year, I had some actual readership and started to see my blog growing by summer. I'm so excited to have made so many great blogging friends and been able to attend so many fun local events! Blogging is really the ultimate hobby for me – it combines so many of my passions that I can't indulge during my 9-5 (fashion, beauty, and books) and is a fun outlet. I hope to continue that into 2015 as well.
To go along with that, I feel like I learned A LOT this year. Mostly about marketing. It's funny, if you had told me at this time last year that I would know so much more about the ins and outs of social media and would obsessively read as many marketing articles as possible, I would have thought you were crazy. I really wasn't that into social media before. I still am not, on a personal level. But, utilizing tools to market yourself/your blog is super interesting, and I love continually learning new and different approaches. I still have a long way to go in terms of actually implementing what I've learned, but the knowing part is the first step, right?
Speaking of reading, I set a huge goal of 100 books. I'm really proud to say that I completed that goal last week! Woohoo! I can't say I loved all 100 of those books, but I did expand my horizons and read a ton of new and interesting books this year. I would never have been able to do it without audiobooks, so thank goodness for whoever came up with that genius idea. ;)
Overall, this year has been a good one on the goals front. I didn't technically set myself any this year, but I'm proud of myself for finding a hobby and actually sticking to it. I'm grateful for the opportunities it has brought me, and for the way it has pushed me outside of my comfort zone. I look forward to more of that next year too.
Looking Forward to 2015
I hope next year brings more of the same – good health, good fortune, and new experiences.
I hate setting New Year's Resolutions. I feel like I'm always set up for failure with them because I can stick to something for about a month before I give up.
With that said, I do want to focus on getting back into cooking and meal planning. In 2013, I challenged us to go gluten free for a month. What I loved about that was not that we weren't eating gluten but that it forced me to come up with new and interesting ways to create our meals. In 2014, I had fallen way off that wagon. I want to do more of that next year. Eating take out is easy and tastes good, but it doesn't always leave me feeling satisfied or even well.
To go along with that, I want to bring more fitness into my life. I hate working out, but I did discover a yoga class I enjoyed this year and I'd like to add that into my weekly routine.
I hope to also bring some of those food aspects to the blog next year. I was shocked to see some of you wanting to see that when I asked for input on my reader survey. I really am not a cook, but I know a lot of you may not enjoy it so much either. If I can help by sharing a simple recipe or a meal plan, well, so be it. But please be patient with me… I am not a food photographer. Things may be ugly. ;)
And on that note, I think I'm ready for 2015!
Come link up with Sarah and I to share what you accomplished in 2014! Link up runs for a week, so feel free to post when you have time. ;)
If you're feeling stuck, here are the prompts again:
– How did your new years resolution pan out?
– Did you hit any big life milestones this year?
– How are you doing on your 101 in 1001 list? (if you have one!)
– Did you set a reading goal for yourself, did you complete it?
– In what positive ways have you grown from the person you were a year ago?
What did you accomplish in 2014?