Affiliate Links
You may remember that I was trying out ClassPass Seattle for the month of November in an attempt to quell my anxiety, as well as explore new workout options. I thought it was about time for an update.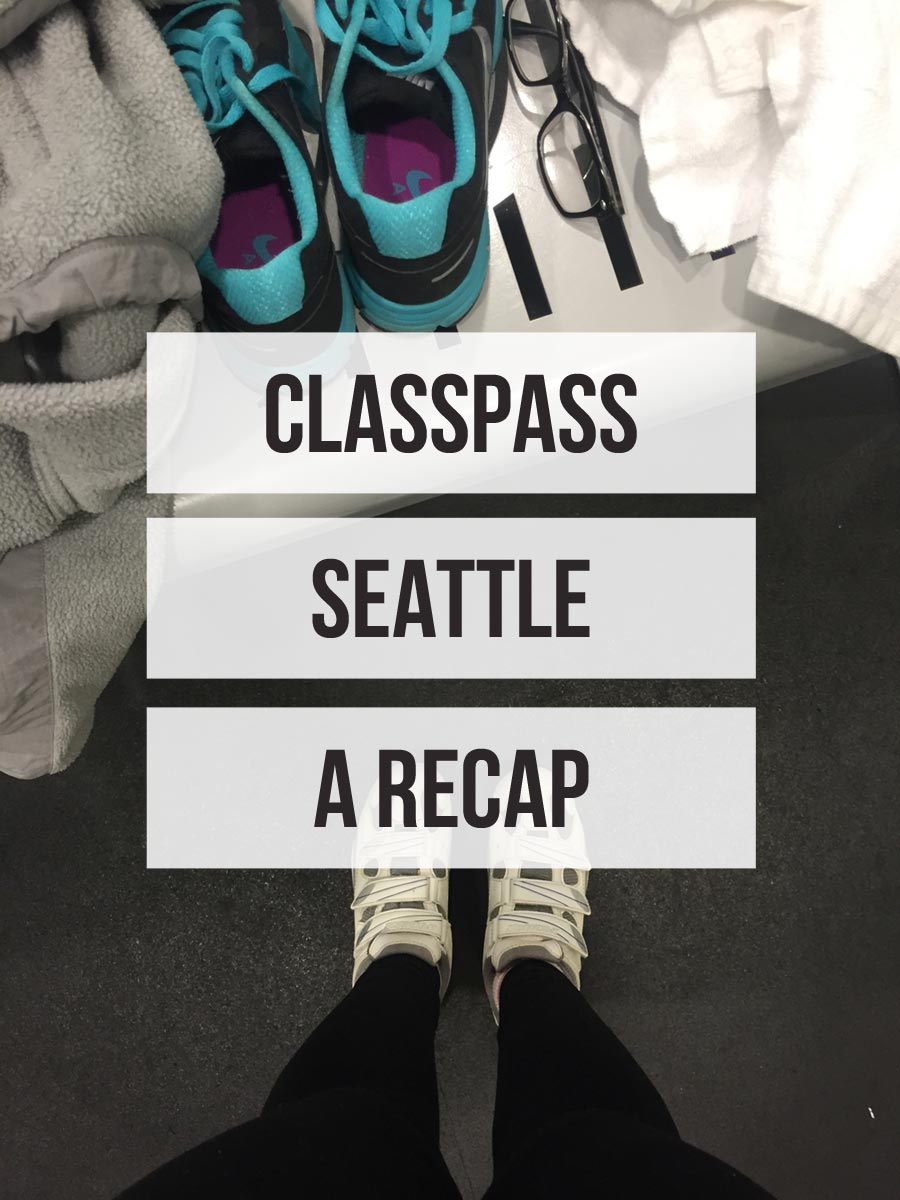 My main goal with working out was to see if it could help with anxiety. While I think it did, I wasn't as consistent with it as I'd hoped. I didn't vocalize a goal for myself, but I did want to try one new class a week, at minimum. I didn't quite do that – life gets in the way sometimes. But I did try 3 new workouts, and found one that I really enjoyed which makes it worth it. 
I chronicled my first class at CorePower Yoga in Bellevue in the last post, but it actually ended up being my favorite. What I liked about it was it fit my schedule. It started at 8:30 – late enough to allow me to go home, sit down for a few minutes, change, then go to class. It was also held by candlelight. Sounds a l weird, but it was pretty relaxing and I liked that I didn't feel watched by anyone else and I could discreetly figure out what the heck I was supposed to be doing.
My second class was Flywheel at Flywheel Sports in Bellevue. If you saw my Instagram, I mentioned being relieved I didn't pass out and fall off my bike. That workout kicked my butt, literally. Butt pads are definitely an investment I would make if I ever went back. My tailbone hurt for about a week afterward and made it hard to sit all day at my desk for the first few days. I can't say I felt much different the next day otherwise, which was kind of disappointing based on how hard I felt like I was working. I kind of wanted to hurt, you know?
I more than made up for that with the last class I took, which was FlyBarre. I accidentally overslept (P.S. remind me to never sign up for morning workouts, I am not a morning person) so I was a few minutes late. Luckily they were really nice about it and let me join a few minutes late. Since it was my first class, the instructor kept a super close eye on me. I'm not one to like personal attention when working out, and being corrected on some of the stretches and positions wasn't my favorite, but it was a very good workout. Like after yoga, I really felt that workout the next day.
Overall, I think ClassPass was a fantastic way to try out 3 new workouts that I'd heard a lot about. I think I've learned Flywheel is not for me – but I'd like to explore traditional yoga, hot yoga, and barre some more. And maybe some Pilates… I was hoping to try a Pilates studio but only one was on the list.
So…will I become a paying member of ClassPass now? Not right now. It's not because I don't love the idea or the experience, it's based solely on the fact that I live and work in an area with very few participating studios, and studios in general for that matter. Since Dave and I commute to work together, it makes it hard for me to be able to go straight from work to a class. Additionally, I found very few studios even offered evening classes or classes on the weekends that weren't at the crack of dawn. (And by crack of dawn, I mean after 9am. I repeat, I am not a morning person.) Often I found that evening classes filled up in advance, especially around Thanksgiving when I actually had the time off to be able to work out.
So what is next for me? I'm thinking of taking a few more classes at CorePower and finding a traditional Yoga studio to try out too. Namaste.
If you're lucky enough to live in an urban area with ClassPass, I can't help but recommend giving it a try. It's a fun experience to be able to try unlimited classes per month. I'm hopeful that they'll continue expanding in Seattle and I can join in the future and find some new evening classes.
How do you get exercise? Are you a gym rat or an at home exerciser?
*I was provided a complimentary month ClassPass subscription in exchange for a review of the service. No further compensation was received, and all opinions are my own.