PR Sample
If you can't tell from recent history, hair has been on the brain lately. With a refreshed hair cut and a little bit of color, it's hard to not want to switch up your hair routine at least a little bit, right? I thought I'd share what I'm using on my hair lately, especially now that it's getting much drier here and I really have to bust out the "good" stuff to keep hydrated.
10 Favorite Hair Products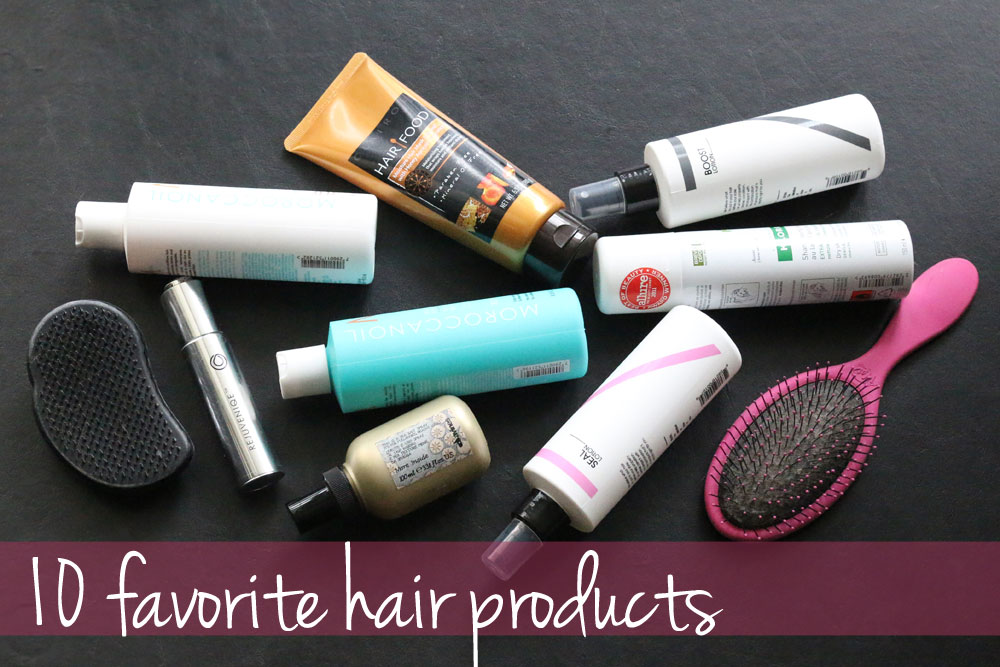 In the Shower
Moroccanoil Repair Shampoo – I just started using this and so far am loving it. It's paraben and sulfate free, feels like it really gets my hair clean, yet somehow leaves it feeling silky smooth. I guess the only downside is the cost – it's a bit more than I normally would spend on shampoo, but I'm thinking it may be worth the splurge to re-up. (Amazon, $24.50)
Moroccanoil Repair Conditioner – Same story as the shampoo. Really liking this too, though with the extra deep conditioning I've been doing I haven't had to rely on this conditioner alone as much as I would in the warmer seasons. (Amazon, $20.14)
Hair Food Moisturizing Hair Mask – You may remember this from my Influenster vlog, but I finally remembered to pop this in the shower to try it out. Not only does it smell amazing, but it leaves my hair feeling super soft. Plus, it's paraben and sulfate free and can be found at Target! (Target, $11.99)
Hair Treatments
MONAT Rejuveniqe Intensive Oil* – This is a hair and skin oil treatment which I've been using on the ends of my hair after every shower, plus on rough spots on my skin! I love multi-use products like this – I can tell my hair is really grateful for the extra love, and my elbows and dry patches are too. And you know that residue and mess that a lot of oils leave? Yeah, not this one. It basically absorbs at the speed of light. The only con I see with this is its cost prohibitive to be able to use a ton of this, since replacement cost is not inexpensive. The upside is that a little goes a very long way, so one vial could last you many, many months. (Monat Global, $99)
Styling Products
Klorane Dry Shampoo with Oat Milk – This came in my Ipsy bag, but I'd also heard rave reviews from fellow Birchbox subscribers and I'd already ordered a full-size. I absolutely love this – it does leave a little white residue if you get a little spray happy in one spot, but I find it does a lot better job absorbing oil over some of the other dry shampoos I have tried. (Drugstore.com, $19.79)
SEVEN Luxury Haircare Seal Lotion* – As you may remember from my video on Friday, these are brand new to me styling products that I'm really loving. The seal lotion seals the cuticle and provides a thermal barrier for heat based styling tools. Plus, it smells great. (SEVEN Haircare)
SEVEN Luxury Haircare Boost Lotion* – The boost lotion really helps lock in your style – it's basically a lightweight hair spray that holds without getting stiff or crunchy. I'm using this after curling my hair and it works perfectly. (SEVEN Haircare)
Davines This is a Sea Salt Spray – When I'm more in the mood for a product to spray and go, I go for a Sea Salt spray. My favorite is from my very first Birchbox, and is the Davine's brand. Not only does it smell like heaven (well, marshmallows actually, but that's basically synonymous) it works really well to add a little texture to damp hair. (Amazon, $20.56)
Styling Tools
Wet Brush – My Wet Brush is looking a little ratty from all the dry shampoo I've combed through it and the label is long gone, but it only shows how much use this gets. I basically ditched my old brush as soon as this one came in my Popsugar Must Have Box forever ago, and it's the best thing. It's so much more gentle when my hair is wet or damp, and brushing out tangles is less painful too. (Amazon, $8.98)
Tangle Teezer – Speaking of tangles, I tend to get them at the nape of my neck quite often in the winter. I assume it has something to do with the dryness and my hair not having enough moisture to not get "stuck" together. Anyways, this tool is awesome. All the extra little "teeth" on the brush help to pull out knots quickly and with much less pain. (Amazon, $8.20)
What are your favorite hair products?
*These items were provided for me complimentary. No further compensation was received and all thoughts, as always, are my own.