I keep hearing this term "basic" and "basic b*tch" again lately, probably because Lauren Conrad recently responded on Twitter to Allure Magazine. But what does that even mean? And why is there yet another way to label women?
Urban Dictionary defines a "basic b*tch" several ways, but I think the best description is this: "just an extra regular female"
Well, I guess I'm basic. But I think I'm in good company, because I've always liked Lauren. Whatever.

It's funny, because after seeing these articles popping up, I started really thinking of myself as basic. I even posted this picture on Instagram and captioned it "looking pretty #basic today, but so be it." I'm not a fan of labels, but for some reason I thought that this made sense and that it was okay to label myself that way. Like what made me feel basic that day? Was it because it was Monday and I was tired? Wearing glasses? Not wearing a ton of bright-colored eyeshadows or falsies (which never happens, btw)? I have no idea, but I think it's silly and more importantly, WHO CARES?
When I saw that Kate, Jackie, and Nicole were hosting the Don't Try So Hard link up, I thought it was a great opportunity to think more about this whole basic thing, and about beauty/style in general. Why does our society put so much pressure to label each other? I'd rather much rather just be Jenn, not basic, and definitely not anything with b*tch in the name.
Part of the challenge of Don't Try So Hard is to, well, not try so hard. Show ourselves for who we are, without all the muss and fuss of blow outs, make up, and fancy clothes. Let's be real, I never get blow outs, I do my make up basically the same way everyday, and you know what I wear, it's not particularly fancy. But, here's me without any of that: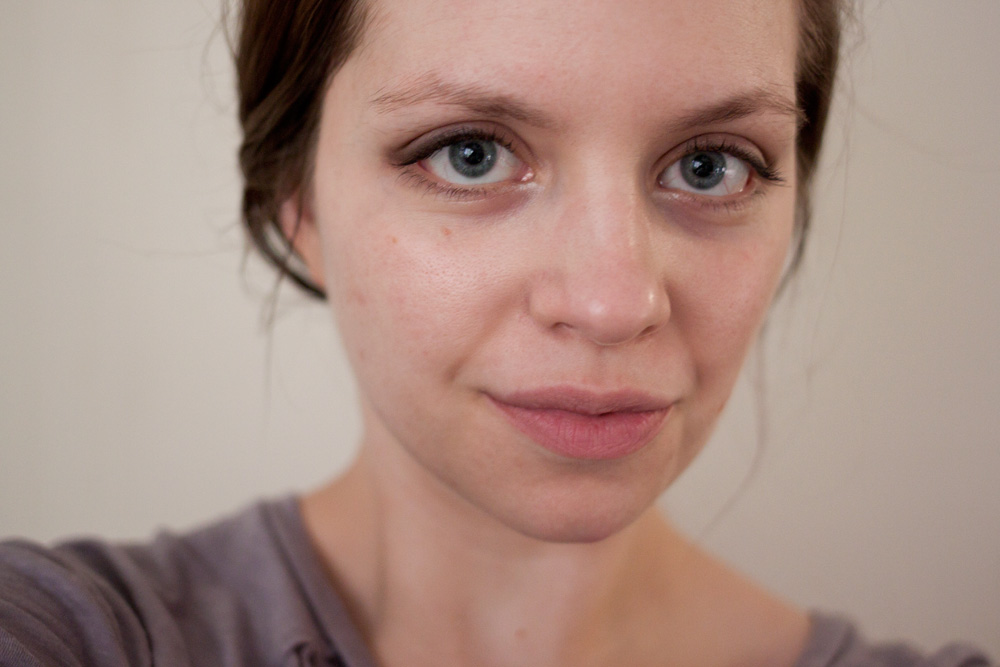 Okay, I may have a TINY bit of makeup clinging to my eyeballs, but this is me after washing my face off.
A feature I've always appreciated about myself is my eyes. I've gotten compliments on their large size since I was little. It used to make me feel uncomfortable, because people would say things like "whoa, your eyes are huge!" to a 5-year-old, but over time you get used to people who… well, put their foot in their mouth for a lack of a better term.
I do have insecurities though. My skin, for one, has been my enemy lately. I have no idea why it's decided to wage some kind of war, but it has, and it's obnoxious. I always thought I'd be done with the zit thing by now, but nope. I'm 25 and I'm still breaking out like a hormonal teenager. Awesome. While it sucks and has taken some of my confidence lately, I'm trying to focus on the things I can control, like what I'm fueling my body with – eating more fruits/veggies and drinking more water.
I think the best part of the #donttrysohard concept is that none of us are perfect. We all battle insecurities, whether its our nose, our skin, our hair texture, or whether we've been called a term like "basic," we're all unique. Whether you identify as basic, edgy, trendy, cool, everyone is beautiful in their own unique way. We're all different, and I don't think we should try to fit ourselves into any one mold. I mean really, how boring would that be?
What's your favorite feature? What do you think about the whole "basic" concept?