Even though Spring is almost here, my skin has still been acting like we're in the dead of winter. I think that's probably due to our wacky weather, which hasn't been able to pick a season. After all, just last week, I woke up to snow on the ground, and some areas of Seattle even had a bit of snow fall yesterday! It's crazy, I tell you, and battling dry skin in winter is absolutely no fun.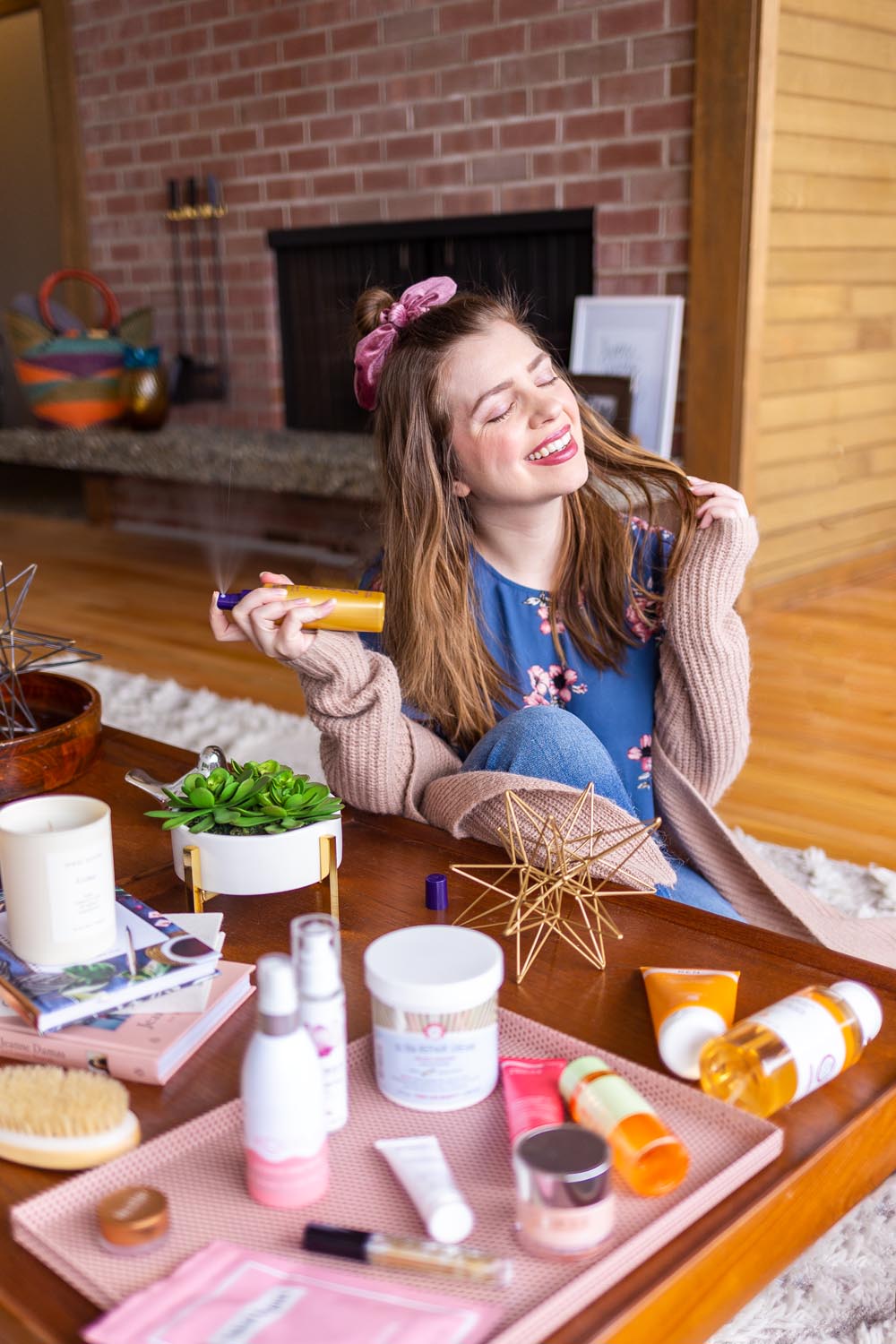 Disclosure: This post contains affiliate links. That means if you click them and make a purchase, I may make a small commission at no cost to you. All opinions are my own!
​​​​​​At the end of last month, I was invited on King 5's New Day NW, a morning show that runs on our local news station. Because we had that epic snowstorm known as "Snowmageddon" just a week or so prior, I tackled the topic of dealing with winter skin problems.
It wasn't hard to find products in my arsenal that help me – in fact, I had to pare it down as segments are only about 5 or so minutes long. Even then, I still had a ton of information to share, which is why I wanted to hone in all of my thoughts regarding dry skin in winter and share those here with you today!
So who's ready to keep those flakes at bay and say see ya later to your winter skin woes?!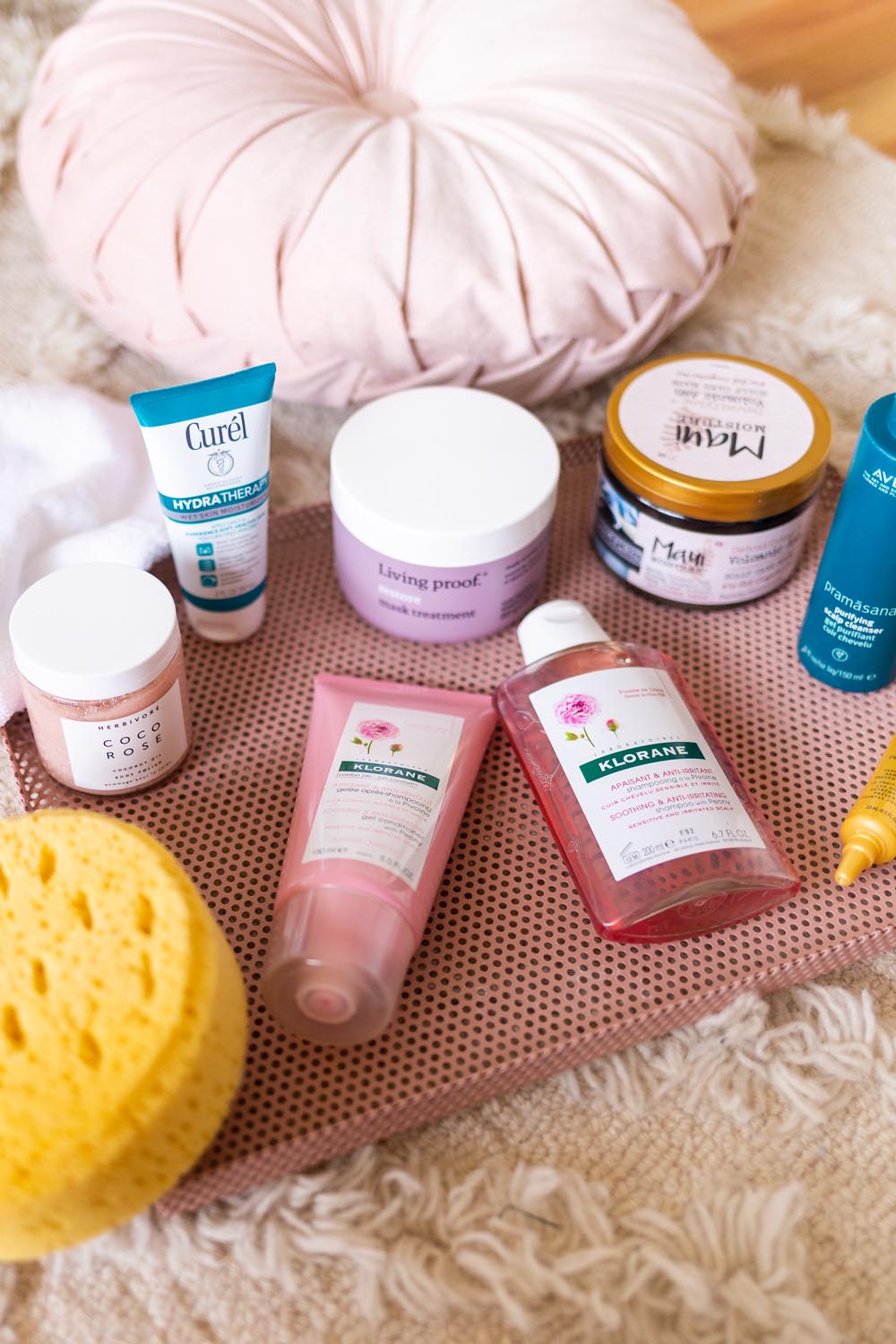 Dry Skin Problem #1: Dry, Itchy Scalp
Scratch, scratch, scratch. That's the sound of your poor, irritated, dry scalp crying out. Often forgotten, but definitely in need of some extra love come winter is right on top of your head! Not to be confused with dandruff, dry scalp can be felt as itchy, irritated, and slightly reddened skin, or as a small dusting of white flakes on your darker clothes, or all of the above.
Get to the root of the problem (pun intended) with special attention to your scalp. Often, a dry and irritated scalp can be due to product build-up, which is why I like using a special scalp cleanser. This one just requires a couple of quick squeezes to your scalp, massage in, and rinse out.
Another newer option is a scalp scrub. New to the market, these trendy scrubs often contain charcoal, clay, and hydrating ingredients to remove product build-up without drying. This one from Christophe Robin is a splurge, however, it is made with ingredients like rose and clay, and is easy to wash right out. (Bonus points for smelling amazing, too!) For a more affordable option, try this drugstore option, or this one for about $10. I find both to be a bit harder to work into the scalp, but the cost savings might be worth a bit of extra work.
On a daily basis, soothe your dry and irritated with Klorane's Soothing and Anti-Irritating Shampoo and Gel Conditioner with Peony. Both are lightweight formulas that won't weigh hair down or leave too much residue on the scalp.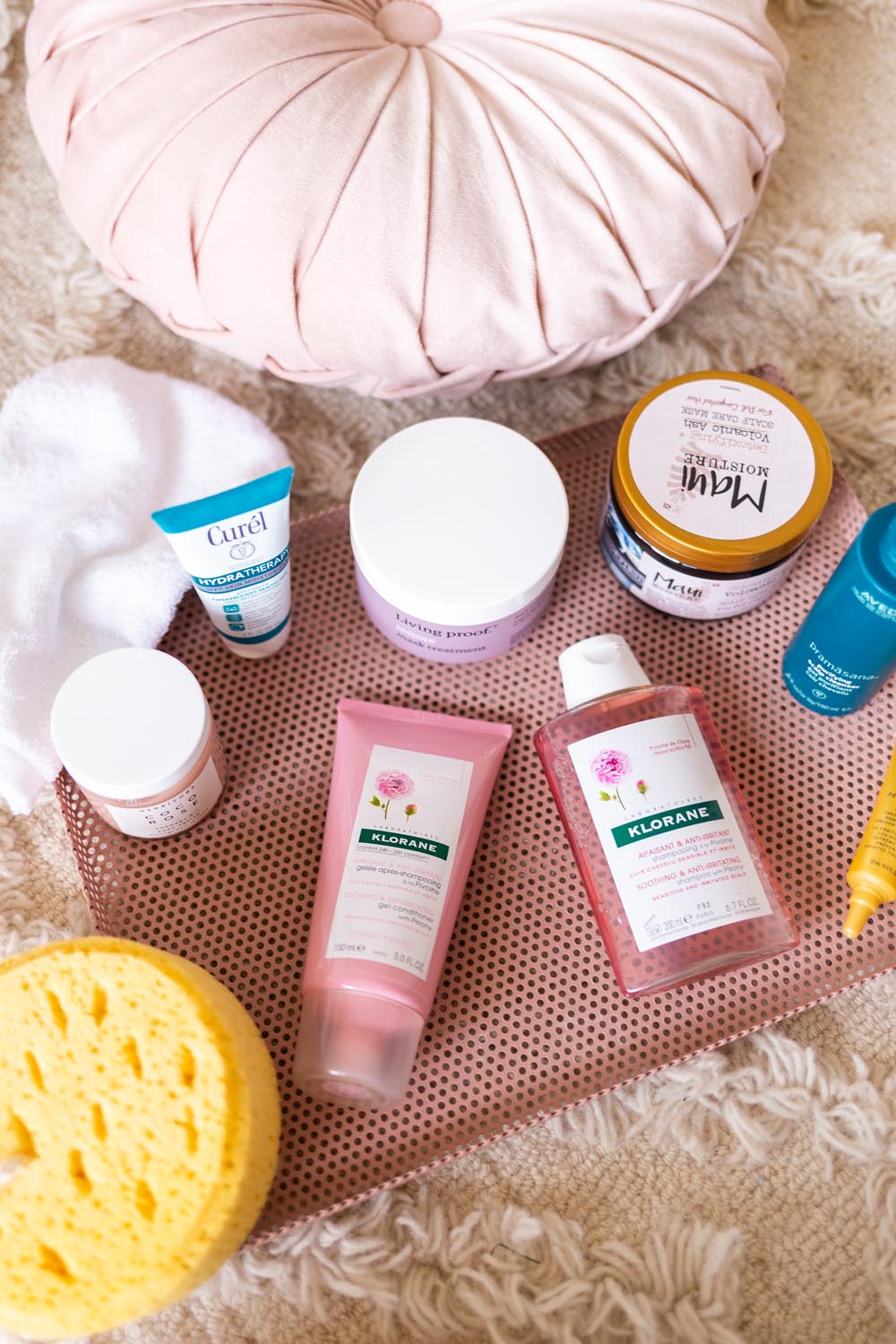 Follow up with a deep conditioning masque to hydrate hair from root to tip 1-2 times weekly. I love the Living Proof Restore Mask which adds hydration and smoothness to dry, damaged hair, and is safe for color-treated hair. For a budget-friendly, drugstore alternative try the Pantene 3 Minute Miracle, or their new Intense Rescue Shots!

If you have oily hair, try a mask containing clay or charcoal. I recently purchased this one for just $7 that does the trick and keeps my hair from getting greasy too quick.
After your shower, add shine and hydrate dry hair with Pai Shau's Something to BeLeave-In Conditioner. It also works great as a heat protectant and smooths frizz!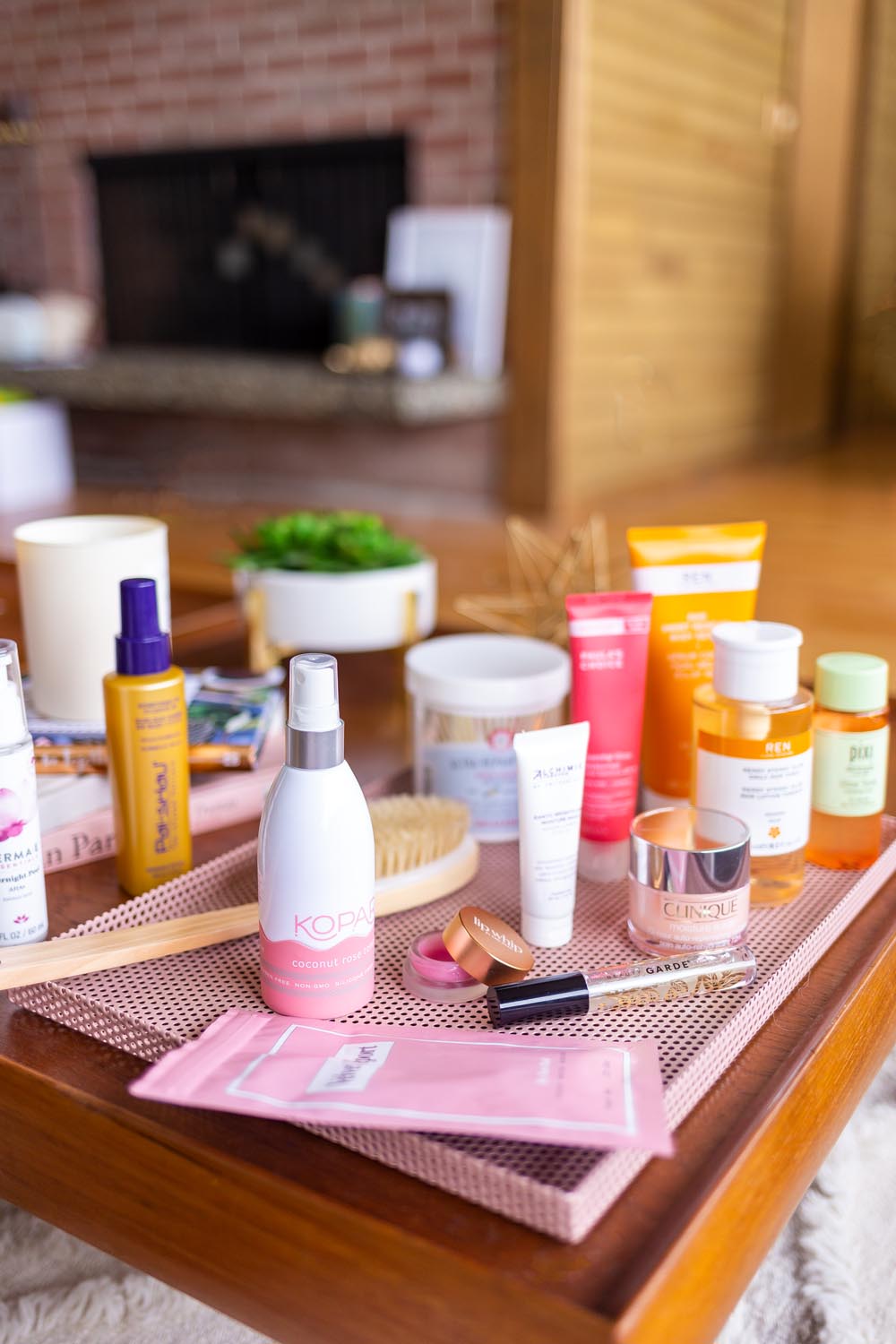 Dry Skin Problem #2: Dry, Chapped Lips
Dry lips are the bane of my existence! Fortunately, I've found two locally-produced products that I love. At night, I first apply the Beautygarde Swell Lip Volume Serum. To lock this in while I sleep, I then apply Kari Gran's Lip Whip in Peppermint. Both work great separately, too!
If having two products seems a little too extra for you, then try this lip sleeping mask. It's a game changer and is a one-and-done night treatment. Just slather it all over before you go to bed and your lips will thank you!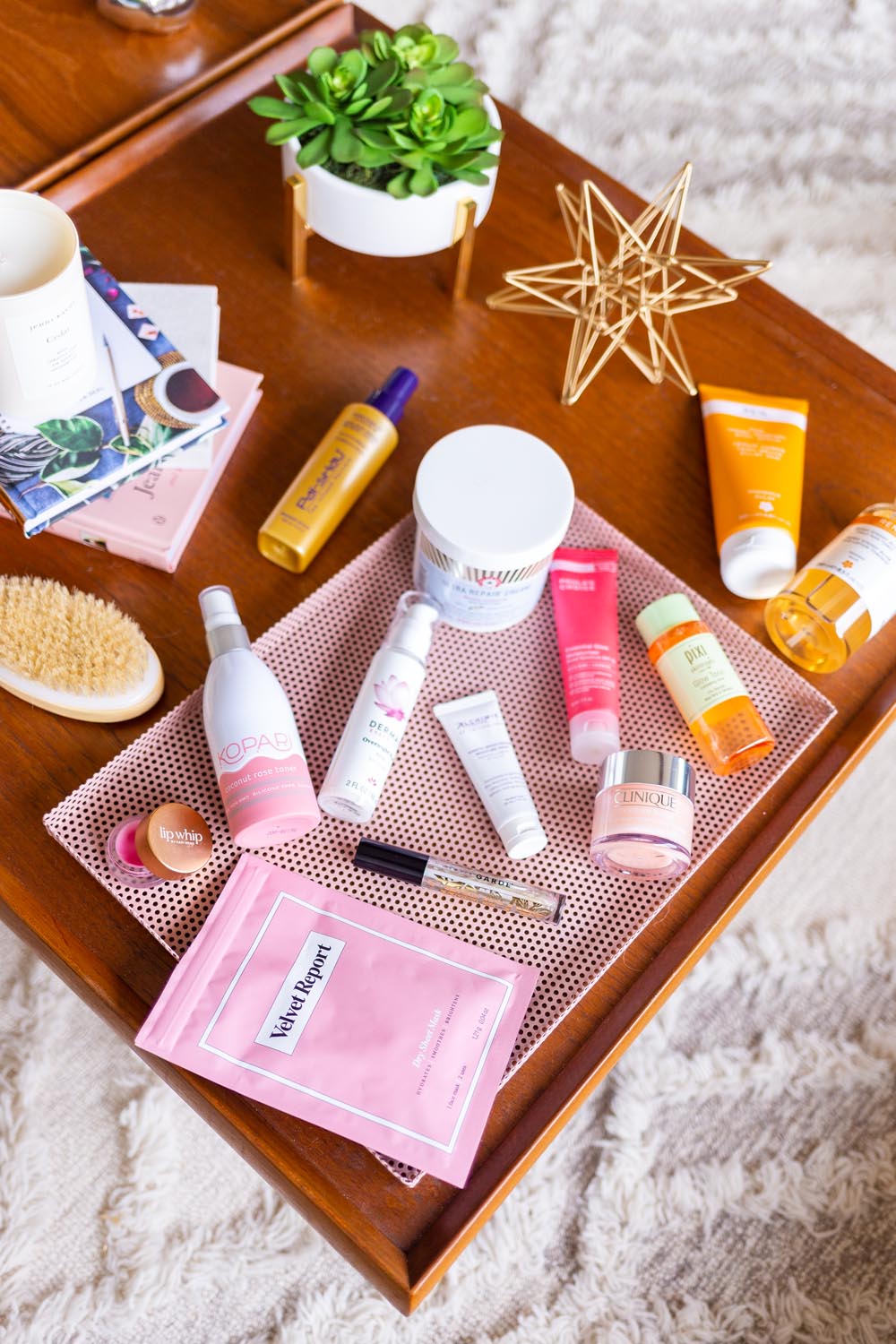 Dry Skin Problem #3: Flaky, Dry Skin All Over
Keep putting lotion on but still battling flaky, dry skin in winter? You might need to exfoliate! Without proper exfoliation, it can be hard for your products to truly sink in.
A manual exfoliant in the shower, like the Herbivore Coco Rose Coconut Body Polish is one of my favorites. If scrubs don't agree with your skin, try a chemical exfoliant made for the body like REN AHA Smart Renewal Body Serum. Lactic acid and shea butter team up to leave your skin exfoliated but moisturized!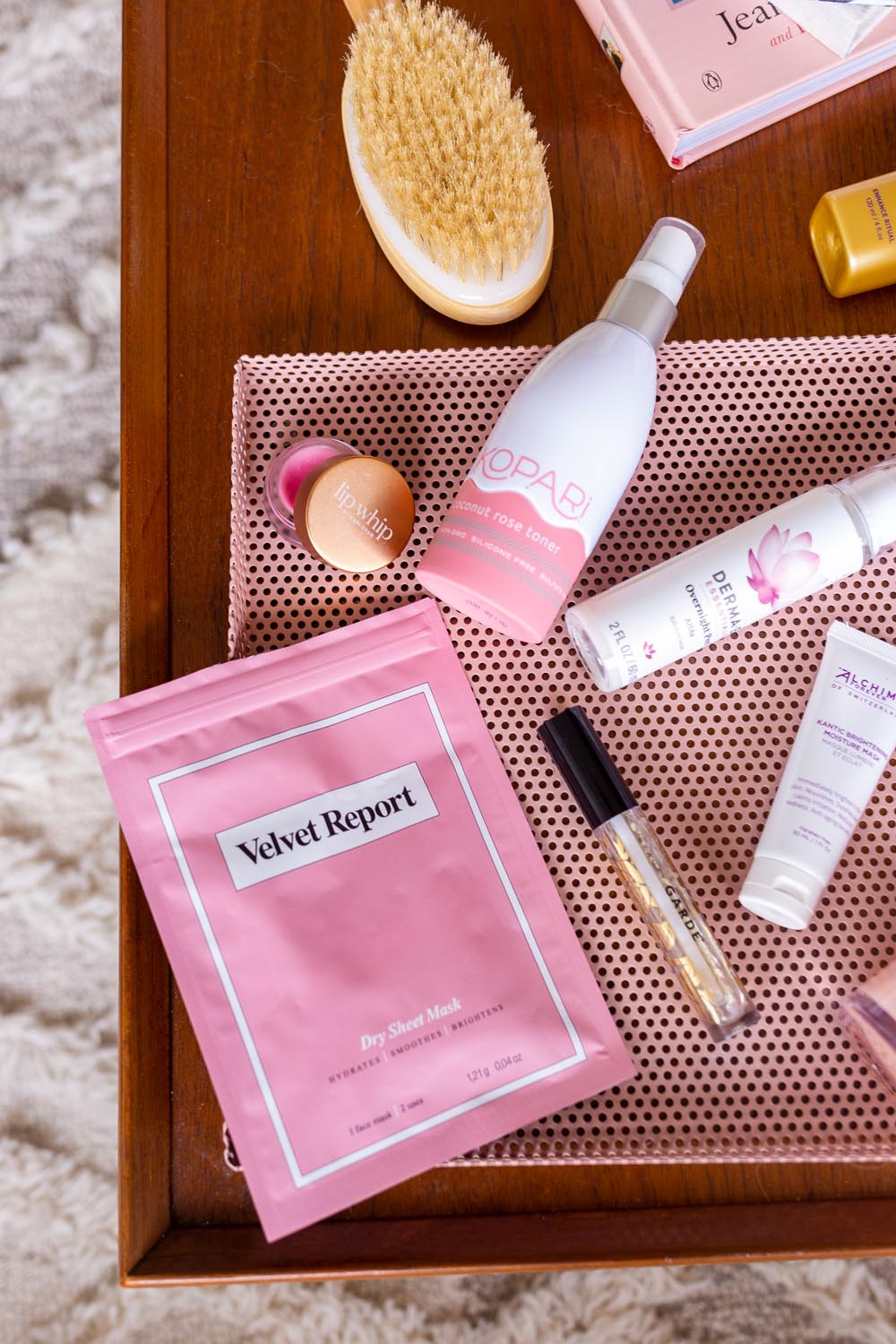 Dry Skin Problem #4: Dry, Flaky Skin on Face
Now that you've got your body exfoliation down, it's time to do the same for your face! If you have patches of flaky skin on the face, yet moisturizer doesn't seem to be helping, your skin might need some help with the process. Dry skin is typically sensitive already, so I personally am not a fan of face scrubs due to their potentially harsh and damaging nature. Instead, I recommend a chemical exfoliant like the REN Ready Steady Glow Daily AHA Tonic. For a more affordable option, try the Pixi Glow Tonic. It's a cult favorite for a reason!

​​​​​​​If a daily AHA toner is too much for your skin, try a weekly mask like the Derma E Overnight Peel with AHAs instead. It's gentle and a great way to introduce your skin to exfoliation!
If you're using AHA on your face, be sure to protect your skin with a daily SPF. My go-to lately has been Paula Choice's DEFENSE Essential Glow Moisturizer with SPF 25.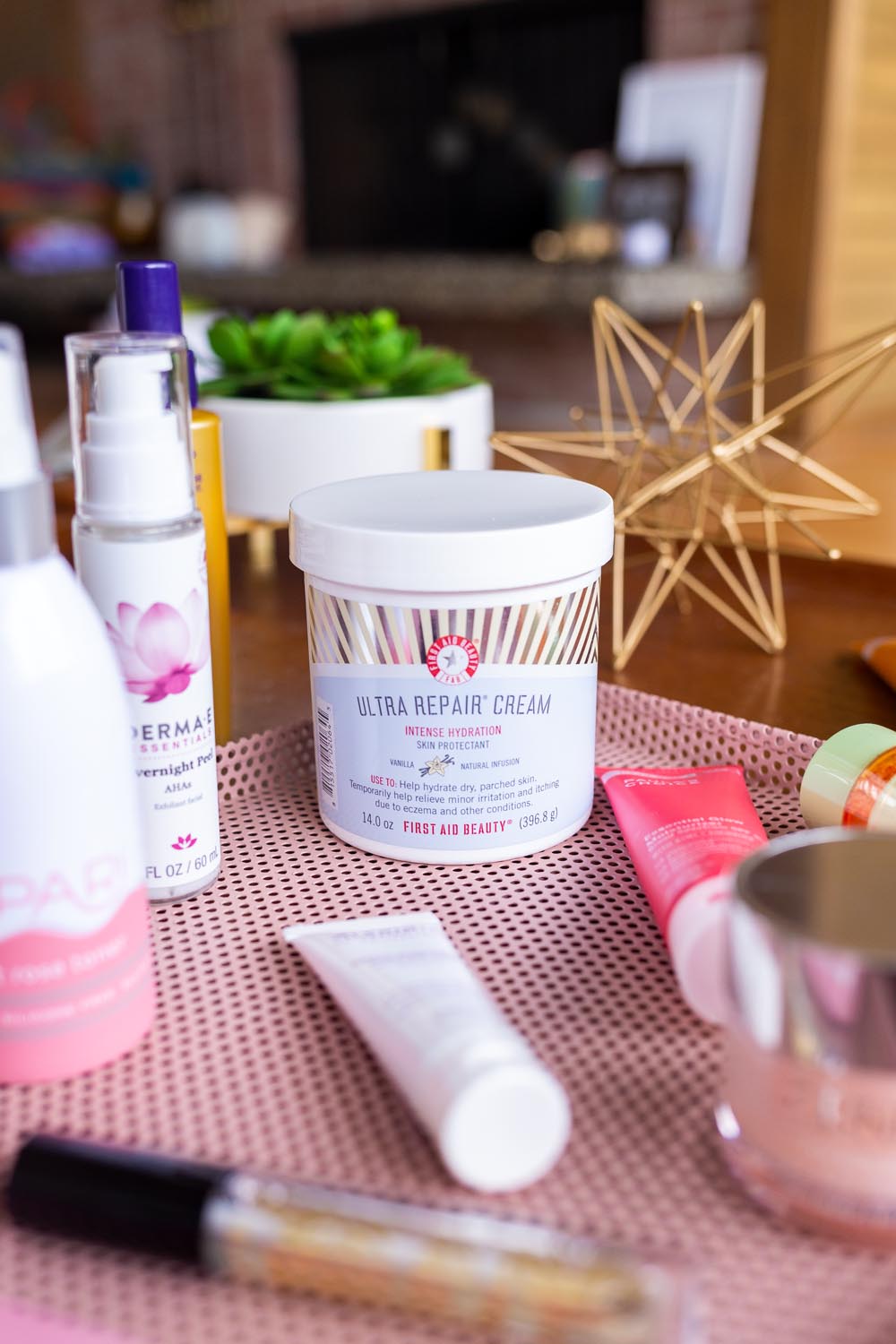 Dry Skin Problem #5: Tight, Dry Skin on Face
Now that the flakes are gone, what if you're battling skin that still feels tight and dry all the time? Never fear, I have several recommendations depending on your skin needs!
For an anytime refresher, I love toners that can be spritzed on whenever you feel like it. My favorite is the Kopari Coconut Rose Toner, which can be sprayed even over makeup!
For a boost of hydration, a moisturizing mask is always a welcome treat. I love Alchimie Forever's Kantic Brightening Moisture Mask, which can be used 1-2 times weekly. Besides buying it online, you can find this at your local Bartell Drugs! Alternatively, try one of the latest beauty crazes – a dry sheet mask! Local vegan beauty brand, Velvet Report, has you covered with their hydrating, smoothing, and brightening dry sheet mask that can be reused.
Finally, if you're looking for a moisturizer to use daily, I can't get enough of Clinique's Moisture Surge line. It's great for sensitive skin, and really keeps my skin feeling hydrated. My go-to in the winter is the Clinique Moisture Surge 72-hour Auto Replenishing Hydrator, which I use nightly.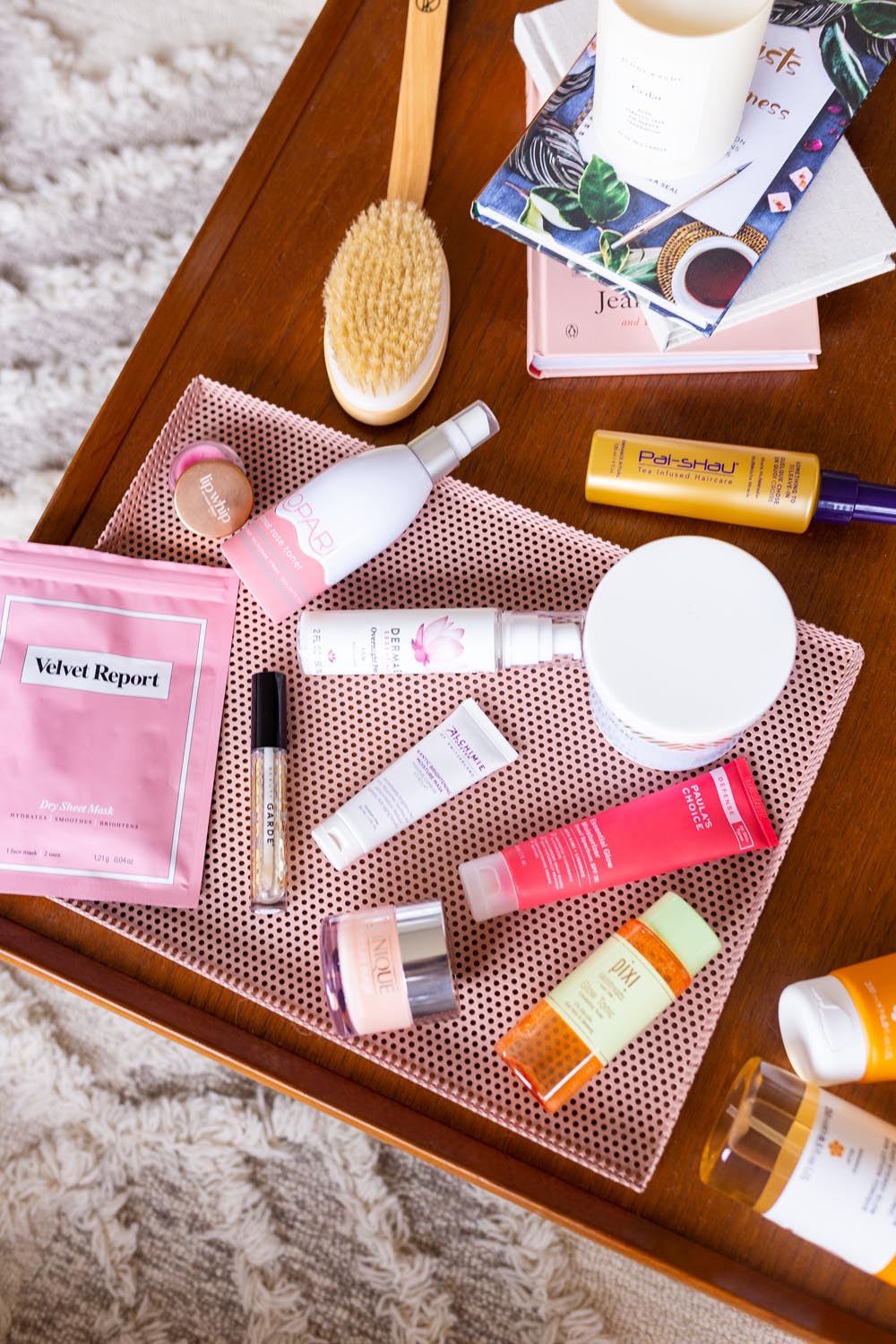 Dry Skin Problem #6: Dry, Itchy Skin All Over
Last but certainly not least, itchy, dry skin all over can be a pain. If you're already exfoliating but aren't seeing a difference, try moisturizing when skin is at it's prime: right out of the shower! I love the Curel HydraTherapy Wet Skin Moisturizer, which I keep in my shower and apply right before I get out. For even more hydration, layer on First Aid Beauty's Ultra Repair Cream. This skin protectant offers intense hydration and is great for those with skin conditions beyond just dry skin, such as eczema.
If there's anything I know about dry skin in winter, it's that it often takes a layered (and patient!) approach to healing. If it doesn't work immediately, just be patient. Irritated and inflamed skin sometimes takes a bit of extra love to feel good again, however, if you're not seeing any improvements after about a month or so, or your condition worsens, the product might not be right for you.
In addition, dry skin can be an underlying symptom for many systemic disorders and diseases. Disorders of the thyroid, for example, can cause systemic dry skin problems that no amount of lotion can fix. If this is a chronic problem for you that isn't improving, be sure to seek the advice of a medical professional.
Most of all, with whatever you choose for your cold weather skin problems, just keep it consistent. The best skincare routines are just that – routine!
Do you suffer from dry skin in winter? How do you battle the flakes and tight, irritated skin? I'd love to hear your favorite products and remedies in the comments below!