Product Sample: I received a couple of collars from Martha Stewart Pets. Affiliate Links: If you click on a link in this post, I may make a very small commission.
I don't think it's a secret that Rigby is a typical Shiba Inu. He's full of attitude and finicky as all get out about nearly everything. Except food. He's not very discerning about that… But clothes? You are kidding, right? The first time I tried to put clothing on him he was about 4 months old and it was one of the first times he'd ever copped an attitude with me. The next time I attempted it, he had wised up and was not shy about growling at me.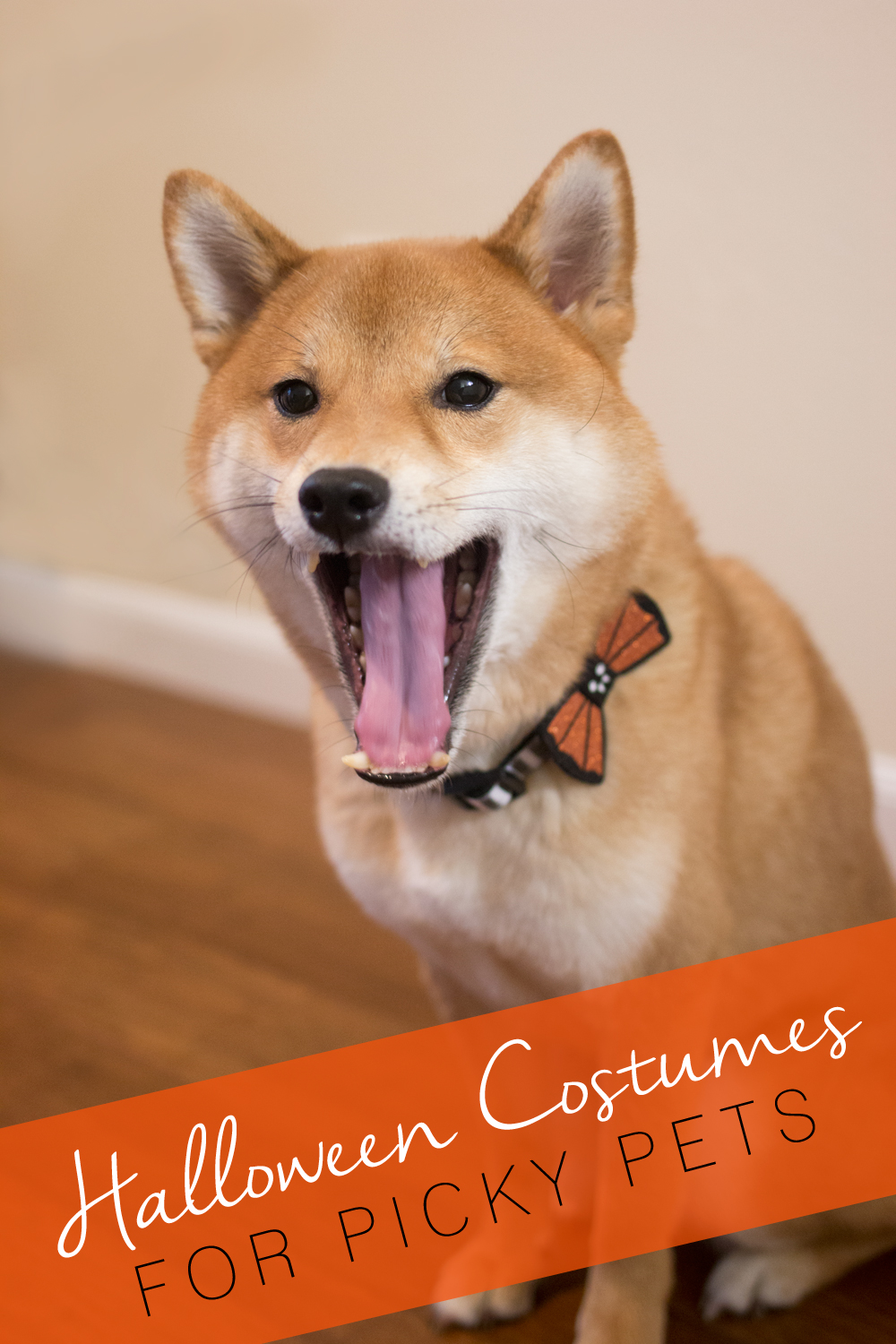 Halloween Costumes for Picky Pets
I did attempt a Halloween Costume with him last year. I found the cutest glow in the dark skull outfit at Target and thought Rigby might have changed his mind. Nope. He stood like a statue, and if I touched him he growled at me. And when I took it off, he wanted nothing to do with me. Point taken.
In the past I've done roundups of Halloween costumes for pets, however, most of the time Rigby can't actually wear any of them. Makes a lot of sense, right? Not. So this year, I thought I'd pick out some costumes that Rigby and other finicky pets could actually wear. But I couldn't control myself so I also picked some full costumes for those dogs and cats who don't mind being dressed up. There're so many cute ones, sue me. ;)
For the Rigbys of the Animal Kingdom (aka Picky Pets)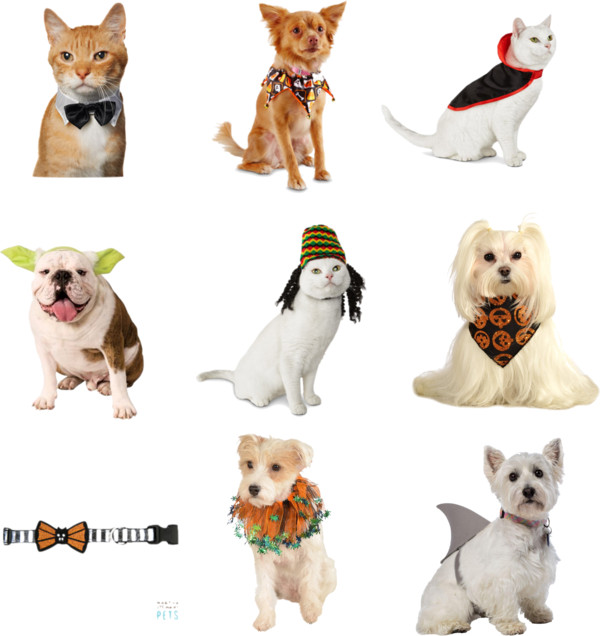 Bowtie Collar $3 / Jester Collar $6 / Count Catula $4 / Yoda Ears $6 / Reggae Rocker $5 / Glitter Pumpkin Bandana $9 / Striped Bat Collar $7 (Rigby is wearing this above) / Spiders Collar $6 / Shark Fin $10
For the Kind-of-Sort-of Finicky Pet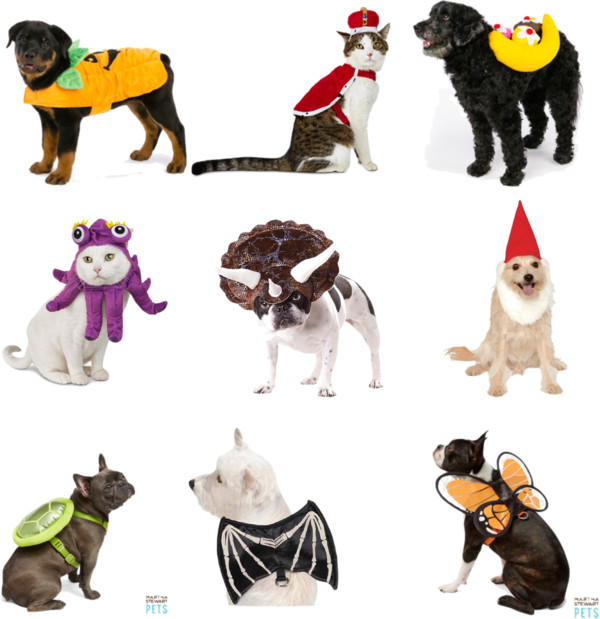 Pumpkin $12-14 / King $8 / Banana Split $8-10 / Octopus $8 / Triceratops $ / Gnome $7 / Turtle $13 /  Skeleton Glow Wings $11-25 / Butterfly $13
For the Pet that LOVES Clothes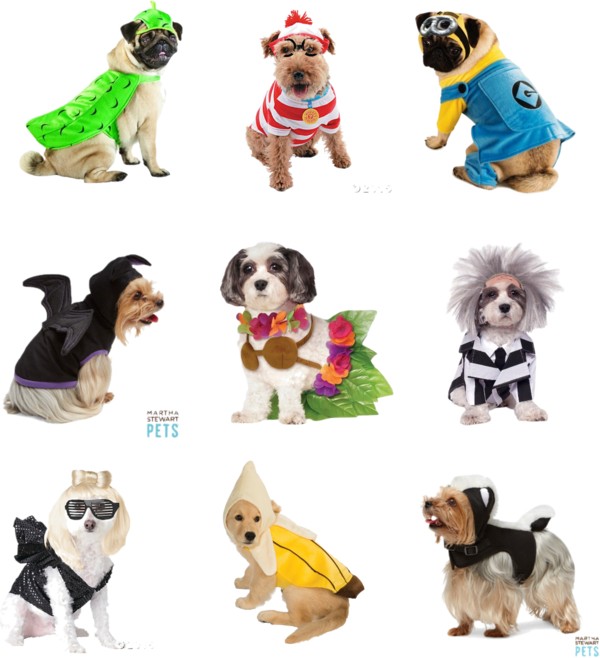 Pickle $13 /  Where's Waldo Woof $18 /  Despicable Me 2 Minion $13 / Bat $10-11 /  Hula Girl $13  / Beetlejuice $18 / Lady Dogga $22 / Banana $12-18 / Skunk $13
Additionally, Martha Stewart Pets was kind enough to send over an extra Halloween Collar so I thought I'd give it away! It's a super cute bone candy corn print, and is a size large, which fits necks between 18 and 26 inches. I'll be throwing in a few tricks and treats of my own from Rigby and me for your pet too! Because I want to make sure it makes it before Halloween, U.S. residents only please.
Do you dress up you pet? If so, what are they dressing up as this year?
P.S. I hope you guys love Halloween because this is the start of my Halloween coverage. I hope you enjoy the posts, I'm super excited to share them with you! :)