Affiliate Links: If you click a link below, I may receive a small comission if you sign up. I pay for this subscription.
Another month, another Stitch Fix
. I know some may wonder why a style blogger would be interested in Stitch Fix, after all, isn't the fun part of style the shopping part? While I'd totally say yes, the thing that I like is that it allows me to add pieces (for me, it's just one piece per fix) that I wouldn't normally find. The longer with Stitch Fix
, the more I've noticed that I'm not able to find these exact items anywhere else. Additionally, I often receive items that I've wanted to add to my closet since I've pinned similar items.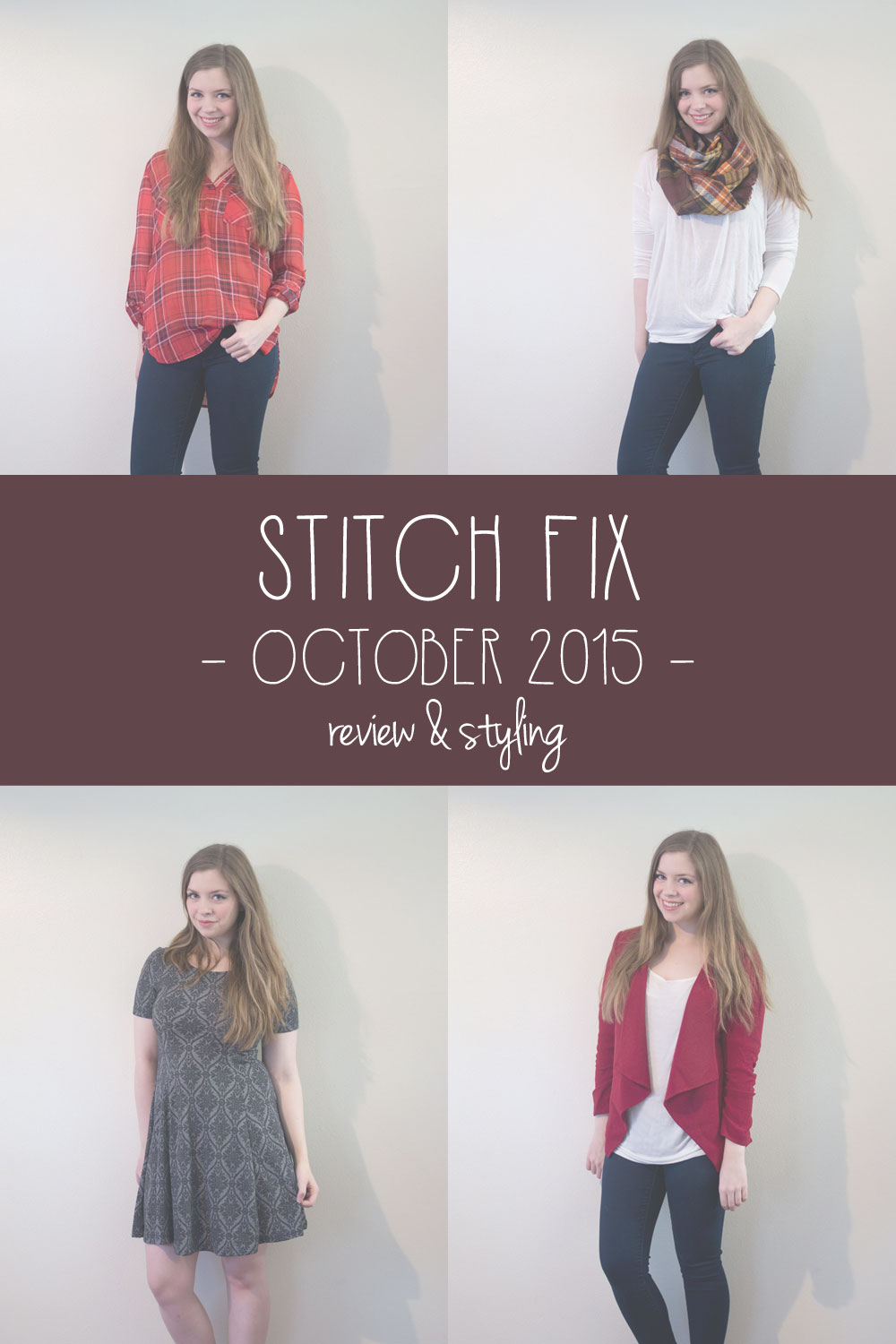 Stitch Fix October 2015 Styling & Review
Plus lately, I haven't had as much time to shop… so it allows me the opportunity to freshen up my closet without leaving the house. It doesn't always work out for me, like last month when I tried to avoid dress shopping by requesting wedding-appropriate dresses. For something like that, I'll probably go with Rent the Runway, as I used for Bellevue Fashion Week. Anyways, onto this month's review!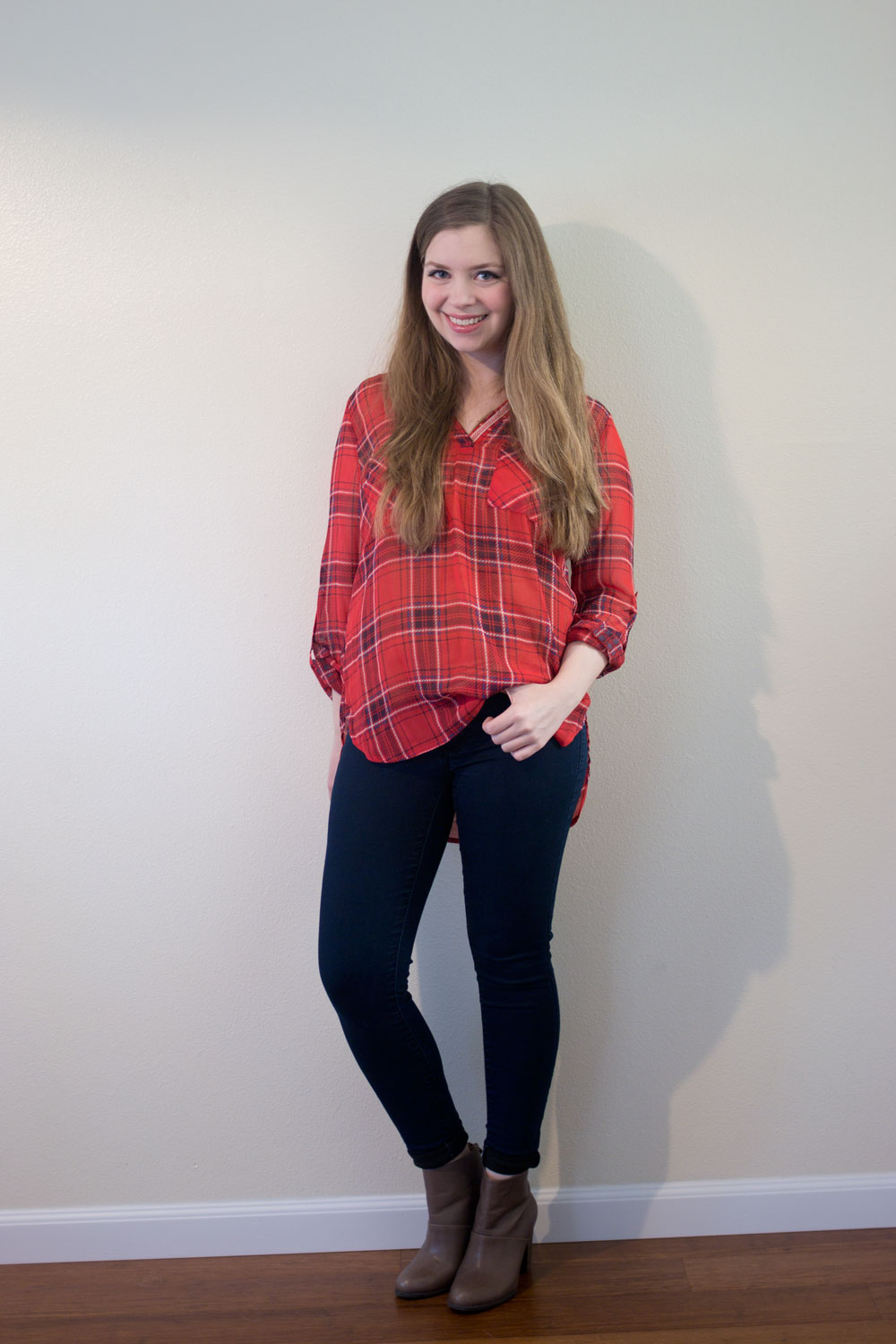 Skies are Blue Arturo Plaid Tab-Sleeve Blouse in Red, Size Small, $48 – Kept
I had pinned this prior to receiving last month's box and am loving it! It looks like it will be perfect for the holidays too – what says Christmas more than red plaid, am I right?! As far as fit goes, this is definitely on the loose side, which is good for me since sometimes tops like this run tight in the bust/shoulders on me.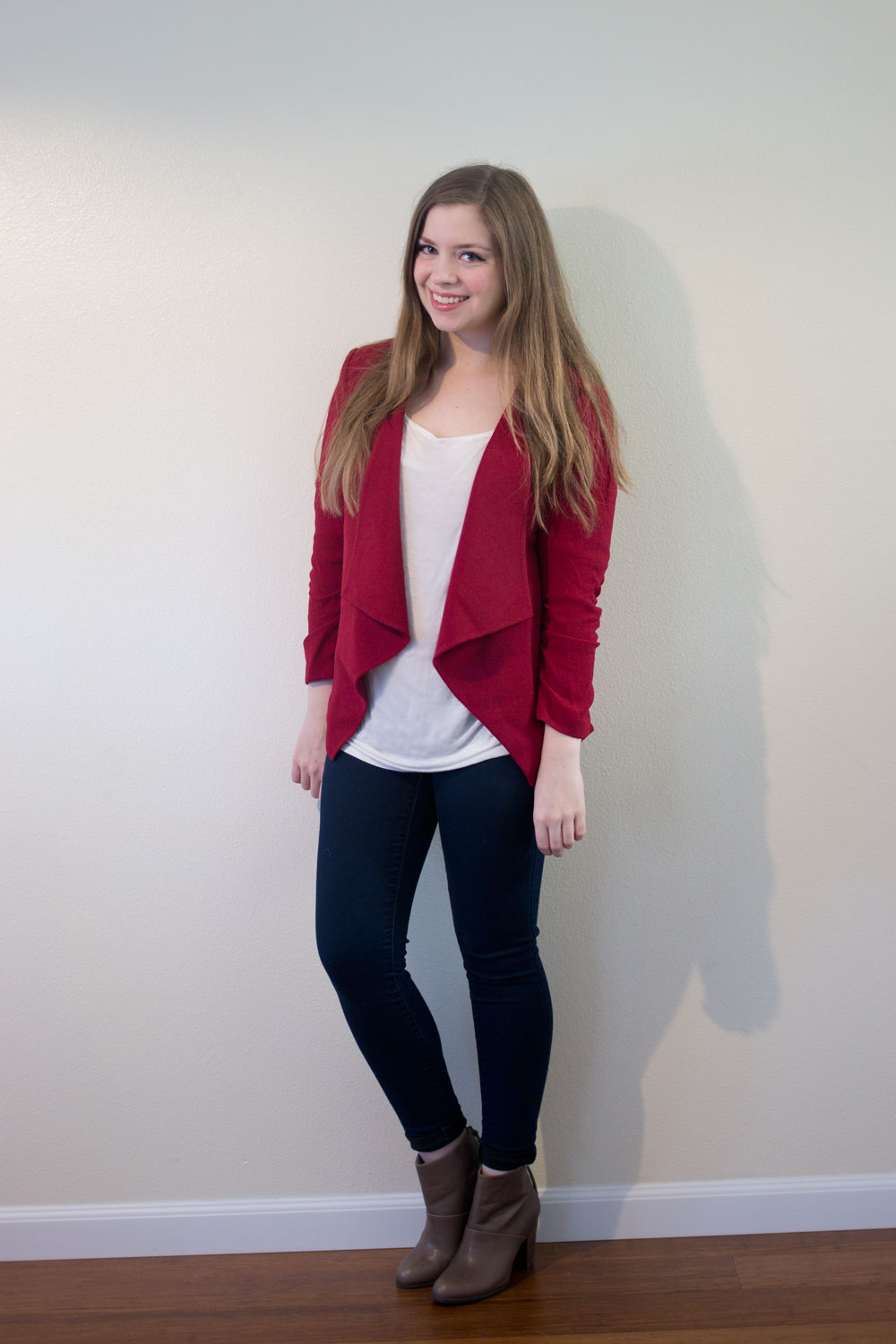 Alice Blue Blazer Asilah Drape Blazer in Burgundy, Size Small, $68 – Returned
I struggled with this one. While I like it, I already own a leather/knit jacket that has this same drape cut front, and it drives me crazy since it doesn't lay flat. This blazer had the same issue – in half the photos I took it was laying the wrong way. If you're a little OCD about your clothes, I would pass on this one, but I love the style and wish they had something that would hold it in place.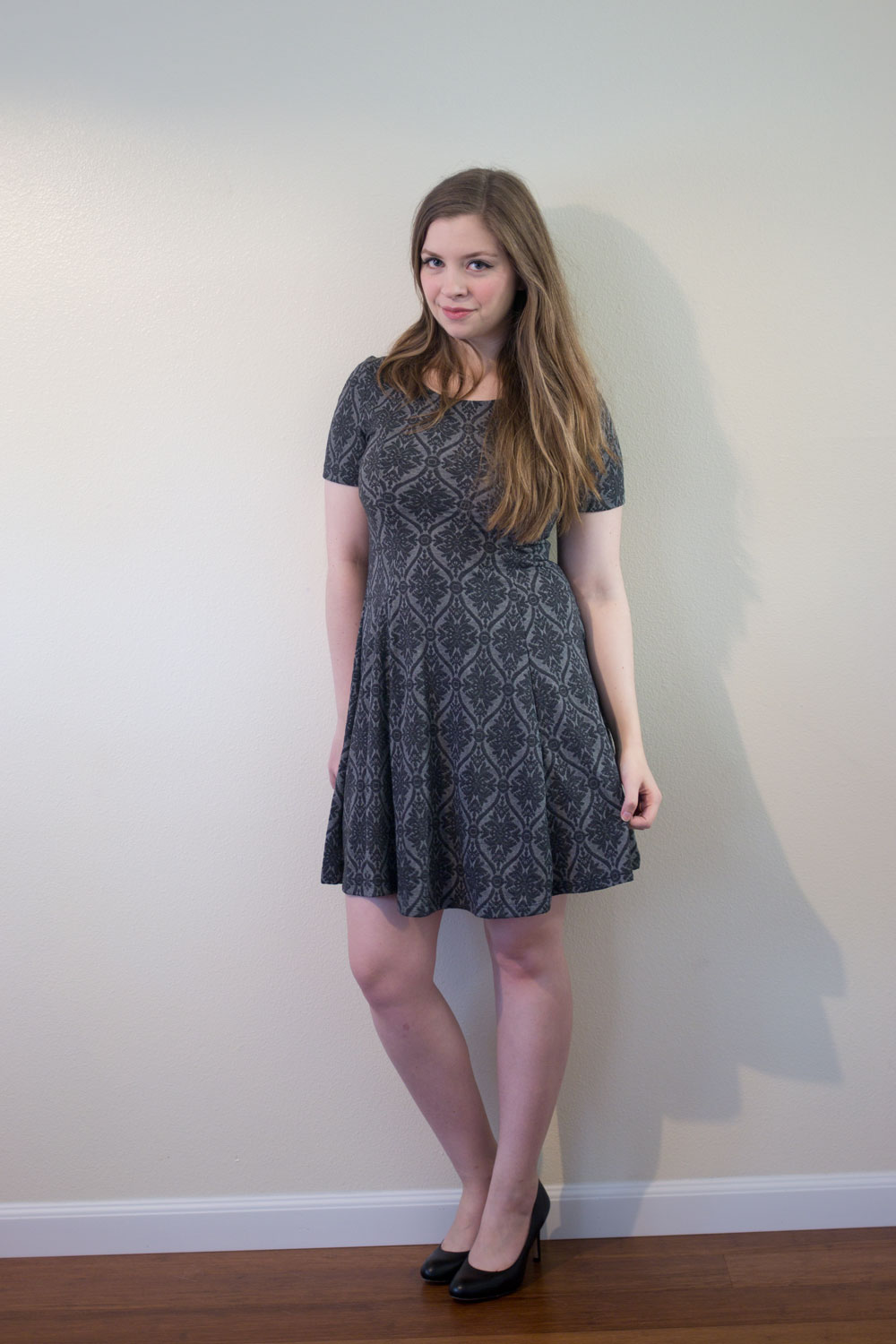 Everly Peter Damask Print Dress in Dark Gray, Size Small, $68 – Returned
I think Everly dresses run small on the top, as I believe this is the third dress I've received that was too tight. Additionally, this pattern isn't my style and at $68 for a knit dress, I felt the price was too high.
(if you like this style, Nordstrom carries another Everly dress that is similar for $20 less.)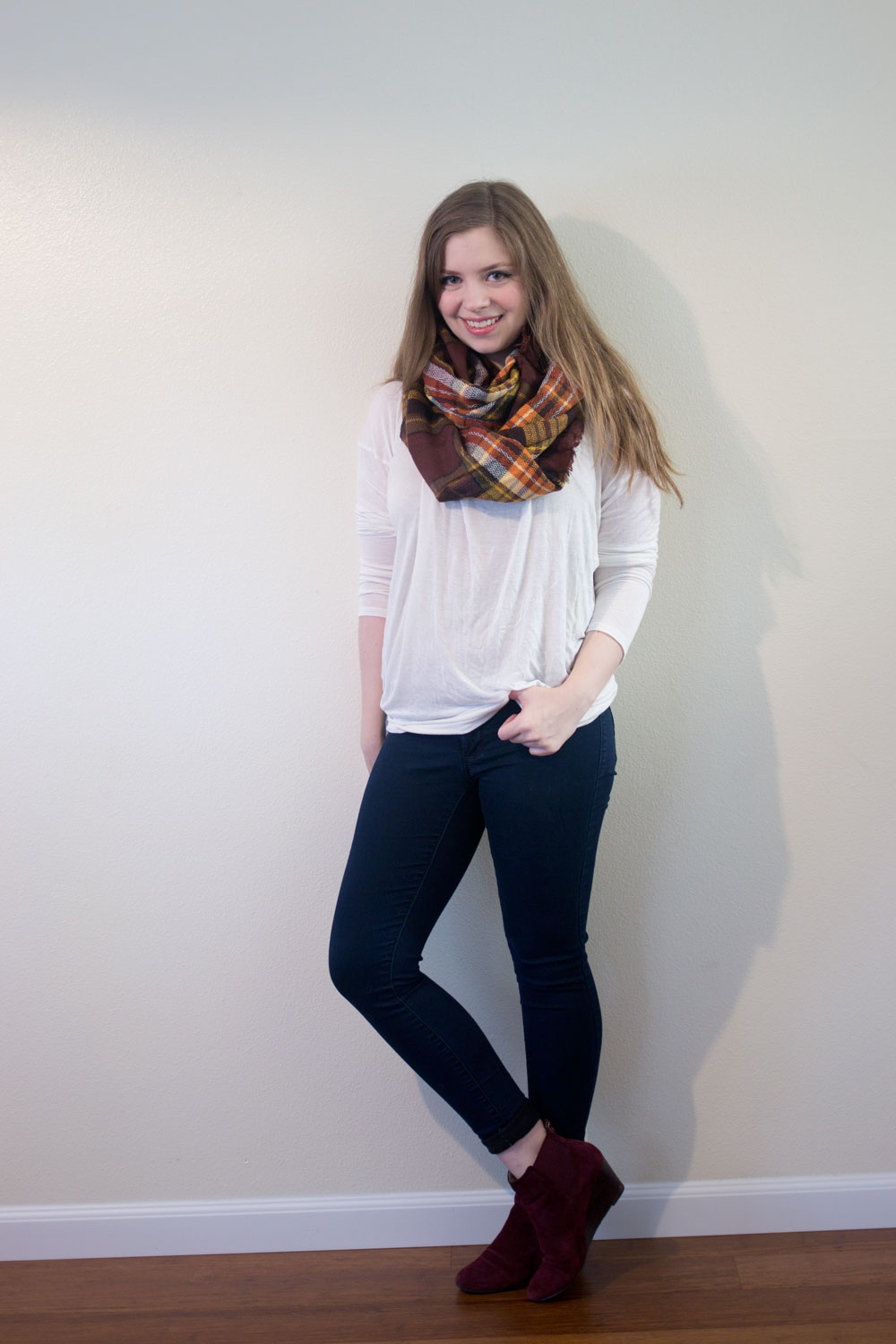 Look By M Sammie Infinity Plaid Scarf in Brown, $34 – Returned
I feel like blanket scarves were at their height last year, and I still have mine… and don't need another. I loved the colors in this one and think it's cute, but I already have too many scarves that I don't wear. ;)
(Found these two color options at Essential Apparel for $17. I'm unfamiliar with this company, but ratings look good.)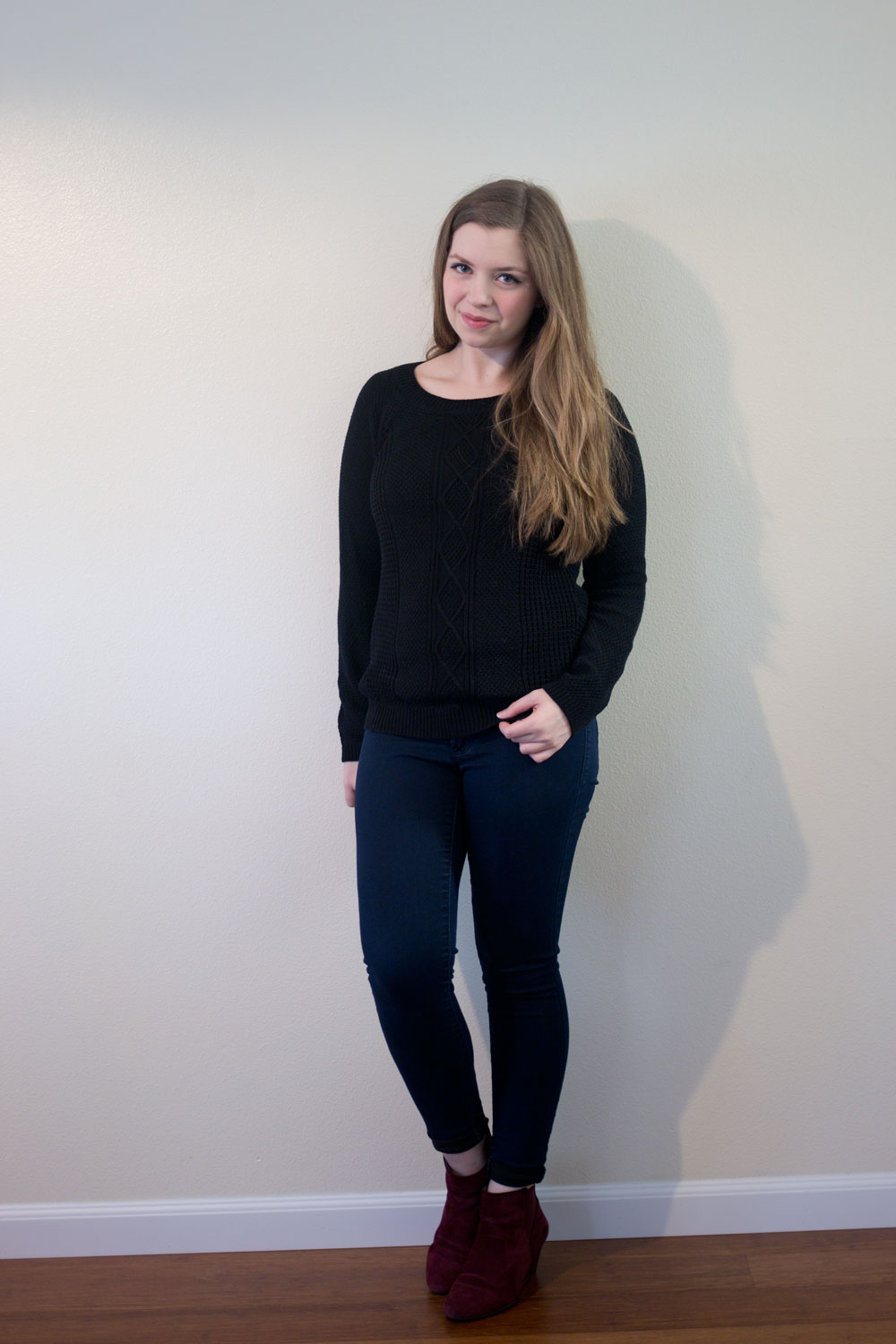 Olive & Oak Marshall Cable Knit Sweater in Black, Size Small, $68 – Returned
Honestly, this sweater was just so boring. I already own a cream cable knit v-neck sweater from Olive & Oak, and while I like it, I just don't feel the need to own another that's so similar. I don't go to Stitch Fix for basics – I like to receive interesting pieces that I can't find elsewhere since I usually only keep one per box.
(Found this sweater in Plum at Amazon for $42 if you like this style.)
Have you tried Stitch Fix
yet? What would you have kept and returned from this month's Fix?