Product Sample: Skincare samples from Juice Beauty were provided to me in exchange for this honest review.
I am so excited to be talking about my experience with Juice Beauty today. Why, you ask? Because I love ALL of the products I've been trying for the past month from them. They reached out to me after I shared their Nutrient Moisturizer in the Whole Foods Beauty Travel Bag and asked if I'd be interested in trying more products. Of course, I said yes!
Let's backtrack a bit. Last year I had the worst breakout I've ever had in my life. I wish I was exaggerating, but I've never had acne quite so terrible. I had one cystic zit that was so bad, whenever I turned my head I wanted to die. It was right where my jawline and neck met, so it was just incredibly uncomfortable. I tried to throw every potent product I owned at it, and it only made the situation worse. When I backed off and focused on hydration and gentle skincare, I found it really helped. Since then, I've been on a mission to put the best things possible on my face.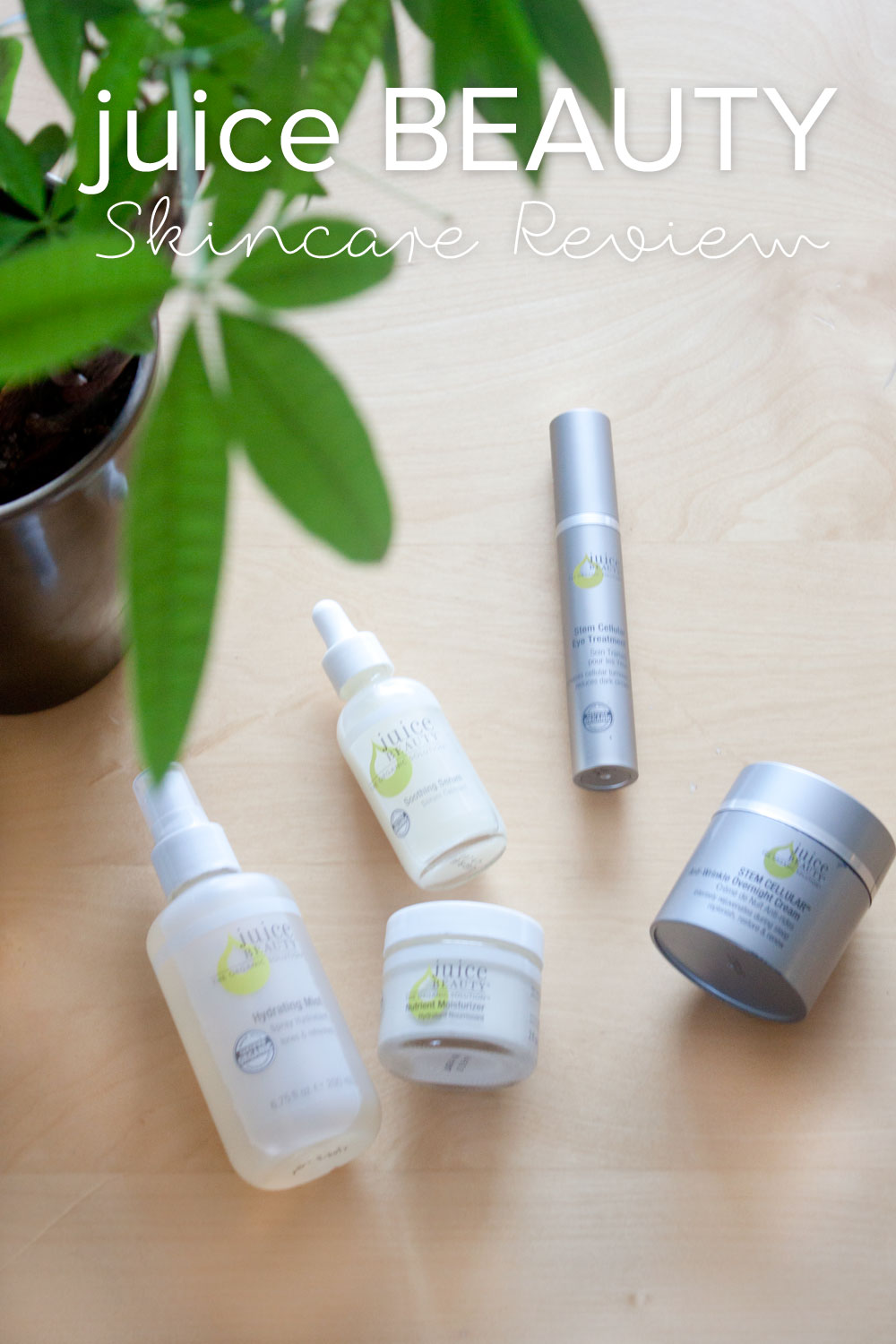 Juice Beauty Review
One of my big skin issues is dryness. I'm acne-prone, but dry. It makes it hard to find something that's moisturizing enough without breaking me out. I've tried so many night creams that were hydrating enough and then broke me out terribly. Luckily with Juice Beauty Skincare, my skin feels nice and hydrated AND it hasn't broken me out. Additionally, Juice Beauty uses natural, organic ingredients and is cruelty-free. Win-win-win-win!
So without further ado, let's talk about the products I tried!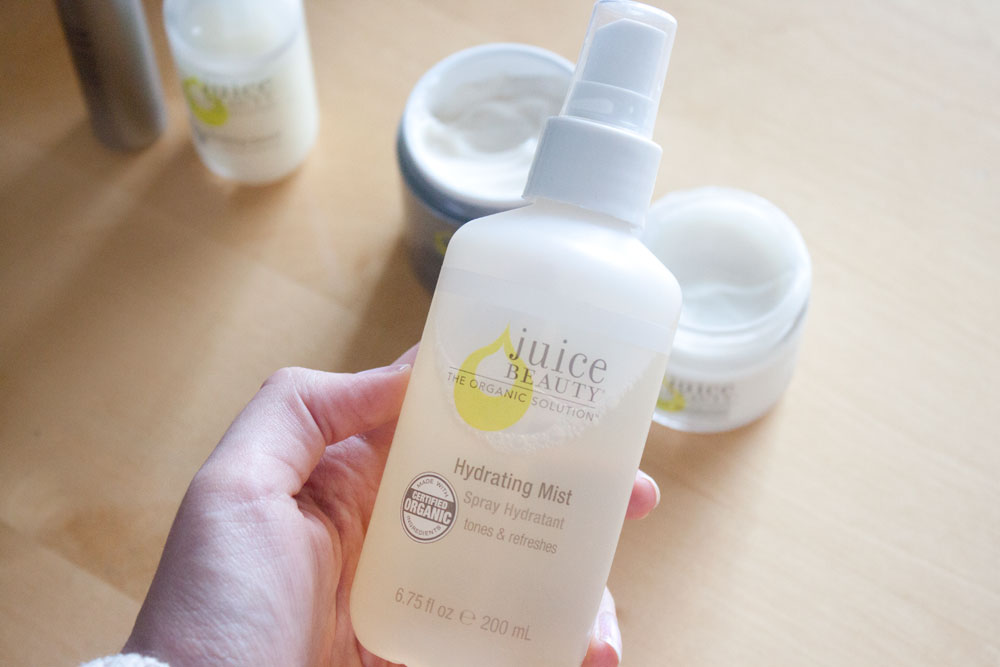 Hydrating Mist ($22) – This is probably one of my favorite finds. This hydrating mist actually works! I've tried a lot of mists and often find that after about 30 minutes my skin is back to feeling dry, parched, and tight. This, however, leaves my skin feeling hydrated without the addition of anything else, and I love using this to refresh my skin throughout the day!
Soothing Serum ($36) – It's a struggle for me to determine which I liked better: the hydrating mist or this serum. I think this may be the first time where I've gone to bed and woke up the next morning, only wearing serum, and still feel like my skin is hydrated. Extra bonus? Dave's super sensitive, rosacea does not seem to react to this in a negative way. If you struggle with irritation and redness, this is fabulous. (Though if you do have rosacea, be careful, as what works for one person does not always work for another!)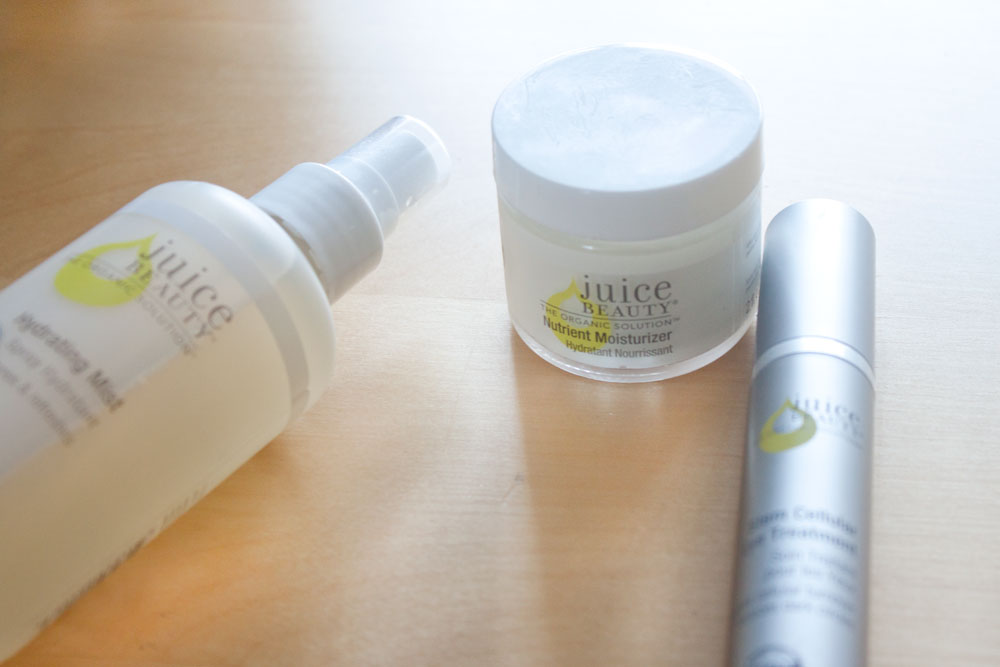 Nutrient Moisturizer ($36) – This is what initially had me interested in Juice Beauty products! This thick moisturizing cream leaves skin feeling soothed and hydrated. While I love using this as a night cream, I find that it is a bit too thick to use under makeup/primer in the daytime. Additionally, the scent of the moisturizers from Juice Beauty do have a kind of odd, fruity smell. If you're sensitive to scents, I do recommend giving these a sniff in store first. (Try Ulta or Whole Foods!)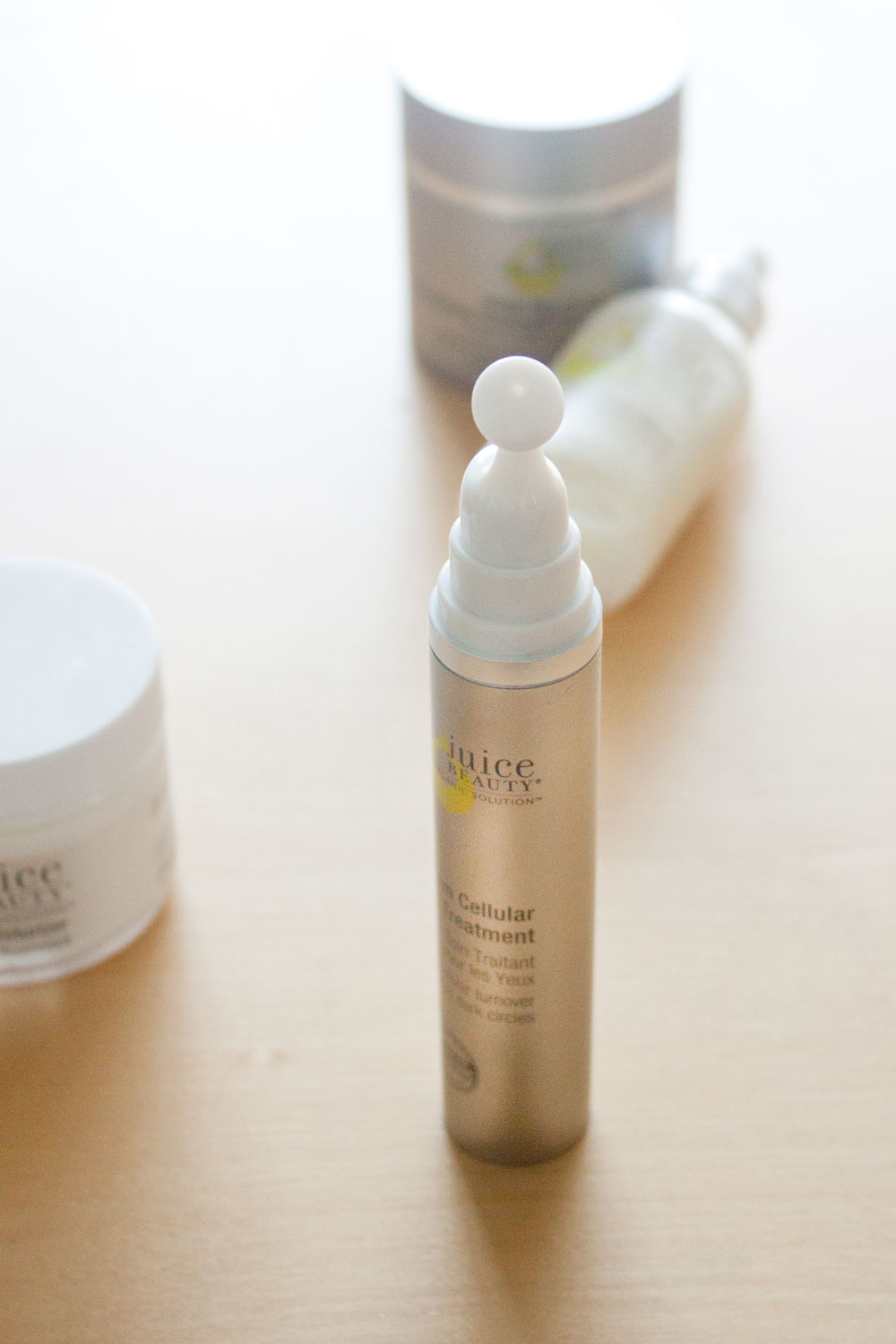 STEM CELLULAR Eye Treatment ($45) – The packaging on this eye treatment is like nothing I've seen before! One pump is enough for both eyes. I dot half of the pump under each eye and then smooth it in gently with the spoon-like applicator. I find it to be so much more gentle than using my fingers. It works great to reduce my dark circles and rivals my holy grail eye cream!
STEM CELLULAR Anti-Wrinkle Overnight Cream ($68) – I was so impressed with the results from this. The first time I used it, not only did it hydrate my skin overnight, but my 2 forehead wrinkles that drive me nuts looked so much better. With continued use, I'm still impressed by this. The only negative thing is the smell. I find this and the nutrient moisturizer have a strong fruit scent that I don't necessarily love. It doesn't prevent me from using it, as I notice it dissipates fairly quickly.  (P.S. Through October 31, for every purchase of this overnight cream, Juice Beauty will donate $10 to the  Breast Cancer Fund!)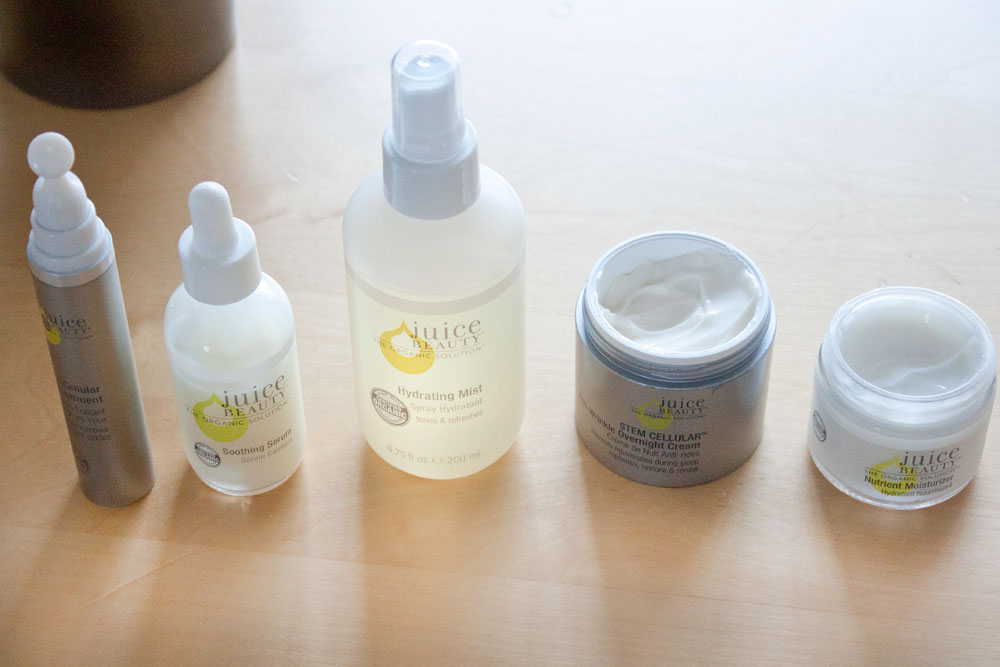 Overall, if you're looking for a new skincare line to try, I highly recommend checking out Juice Beauty. Juice Beauty is carried in store at Whole Foods and Ulta, and I've found that both locations do have testers so you can test these out before investing if you're into that sort of thing.
Plus, if you're interested in trying out Juice Beauty, they've offered THREE bundles of these products! The giveaway is on Instagram, so be sure to go double tap the photo and follow both me and Juice Beauty for a chance to win!

Have you tried Juice Beauty? If so, what are your favorite products? I'd love to hear about them in the comments!