Affiliate Links / Product Samples
I'll admit it: I'm a creeper, and I love seeing how others decorate for the holidays. I thought this year I would actually document our decor since our home is beginning to come together after some renovations. I'll admit: It's not as done as I would have liked (hi, bare walls. I see you.) but it is progress, so that's something.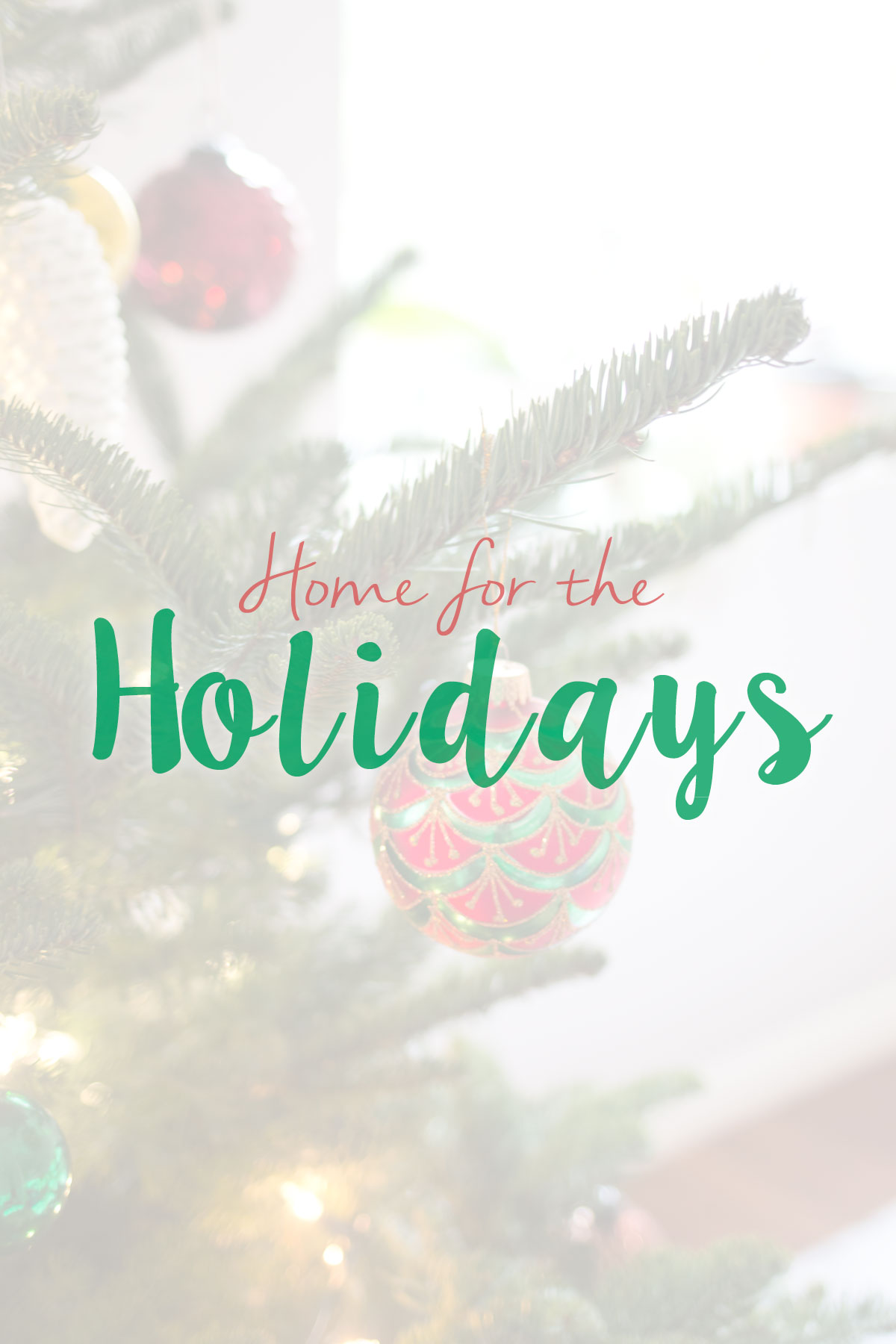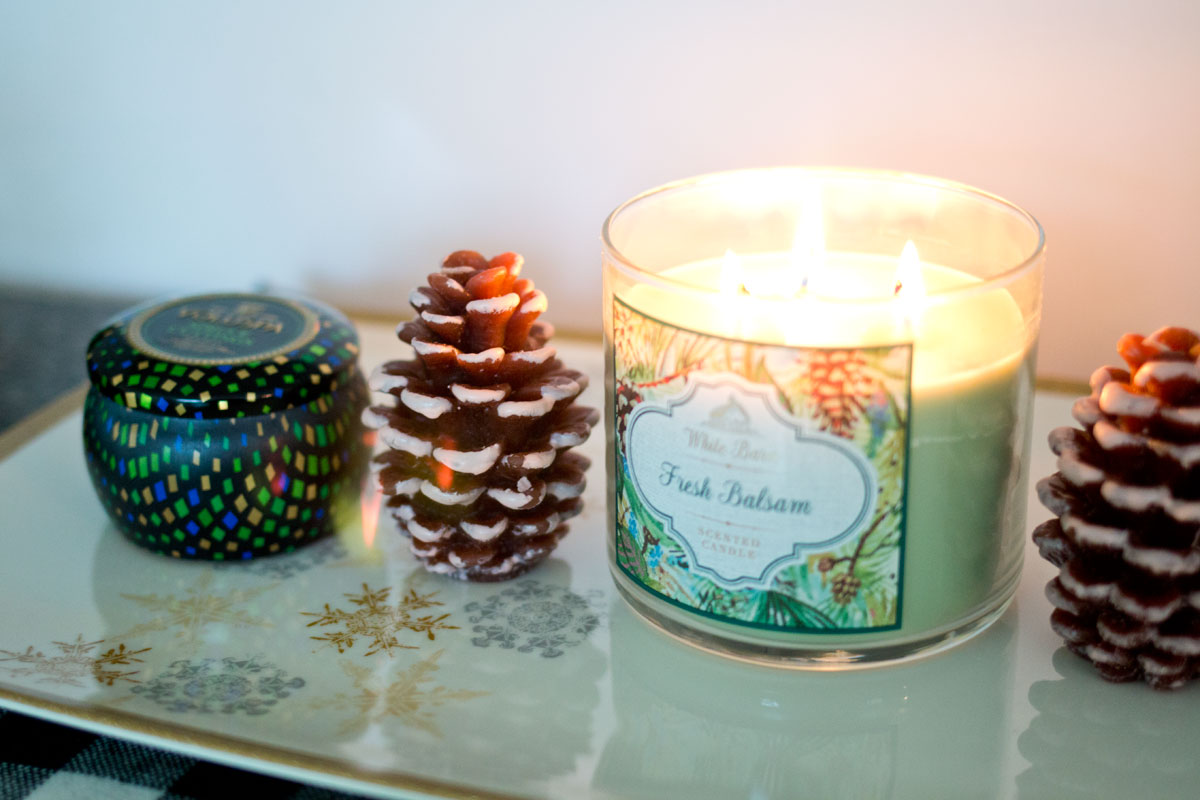 Candles: Voluspa Spruce Cuttings, White Barn Fresh Balsam
I've always loved the holidays. Growing up, my family always went out to get a tree at a tree farm. I looked forward to the adventures into the forest, finding the perfect tree, and the hot cocoa at the end of it. The older I got, the harder finding the tree became, and eventually my family stopped with the annual tree-hunting tradition. The first year that Dave and I were together, I wanted to bring back the tree adventure. Honestly, it ended up being an epic failure. We went out to Snohomish to a tree farm that was touted as being really great. Apparently we waited too long (or it was a bad year for trees… or both), and all the trees were brown, dry, and expensive.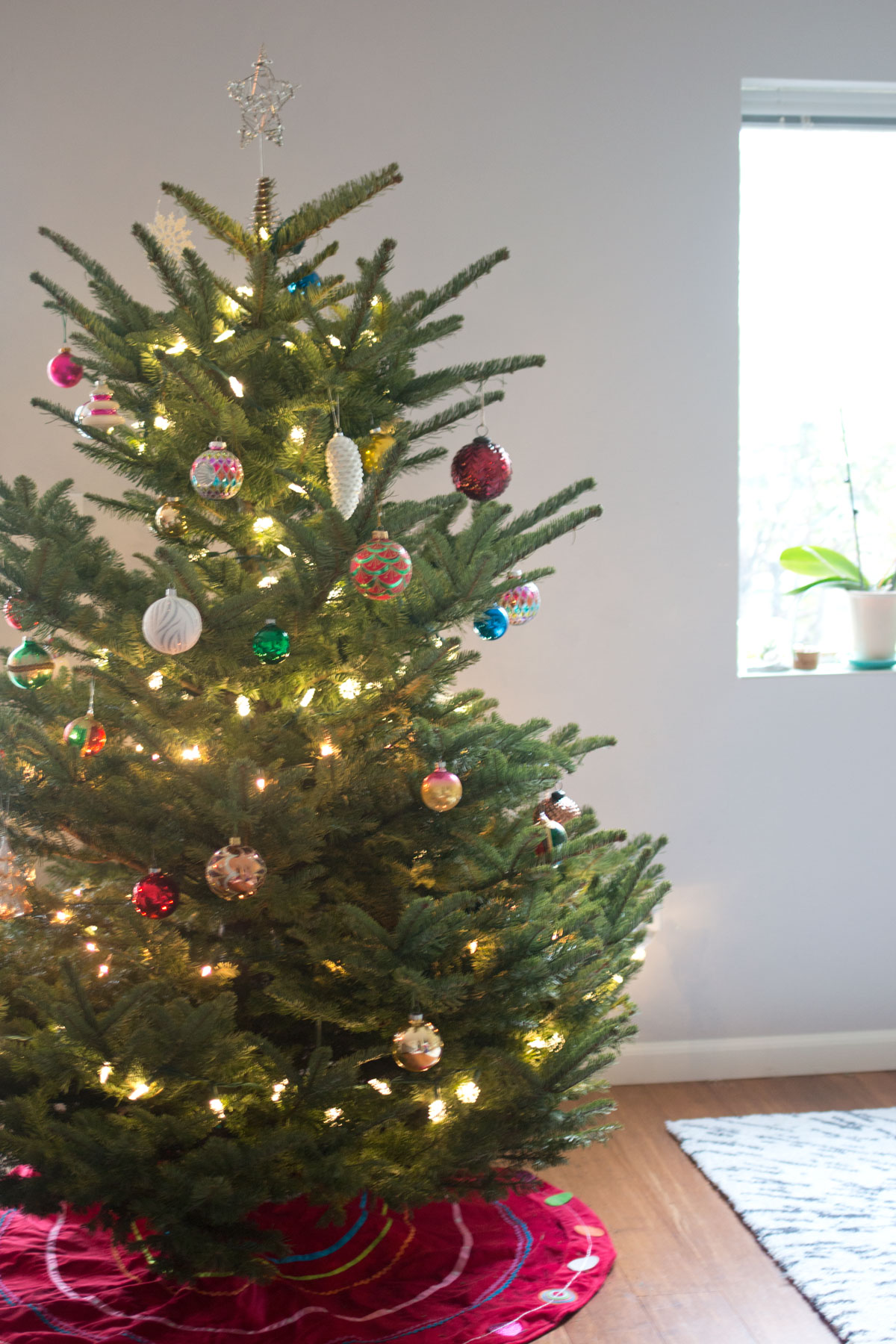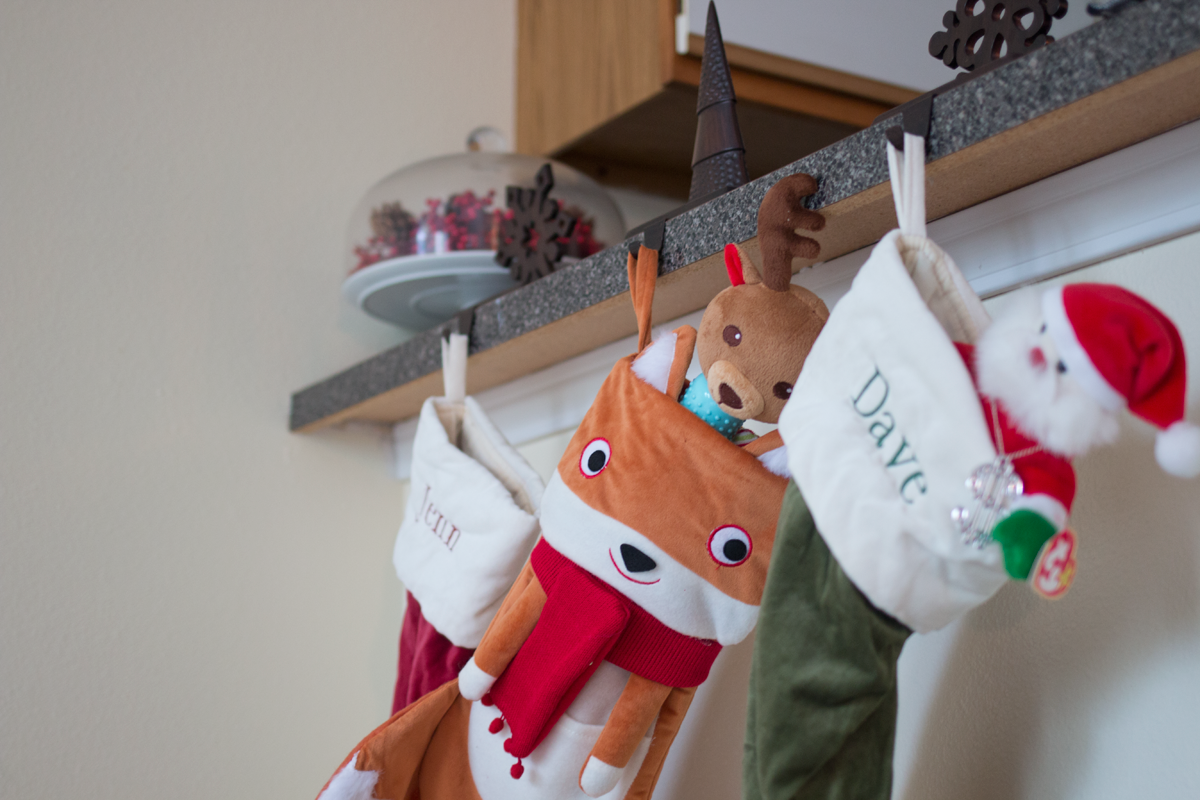 Stockings: Pottery Barn Monogrammed Stockings, Fox Stocking, Stocking Holders
We ended up getting our tree from a grocery store a few miles down the road from the farm. Not exactly what I had in mind. But it worked. The year after, I bought a fake tree. Last year, the stand broke… which meant this year it was either a) find a new fake tree or b) get a real one. I lucked out, and my friends at Swanson's Nursery contacted me to let me know about their Pick Your Perfect Tree program where you can reserve a tree on social media then come and pick it up. They sent me a little gift in the mail, and it was so nice of them to offer us a tree. I tweeted them; they picked out a tree for me, and I popped by to pick it up after work last week. All said and done, it took about 15 minutes for them to find my tree, bale it, and load and secure it to the top pf my car. (Yes, they do that all for you! And no, I'm not being paid to tell you about it. ;))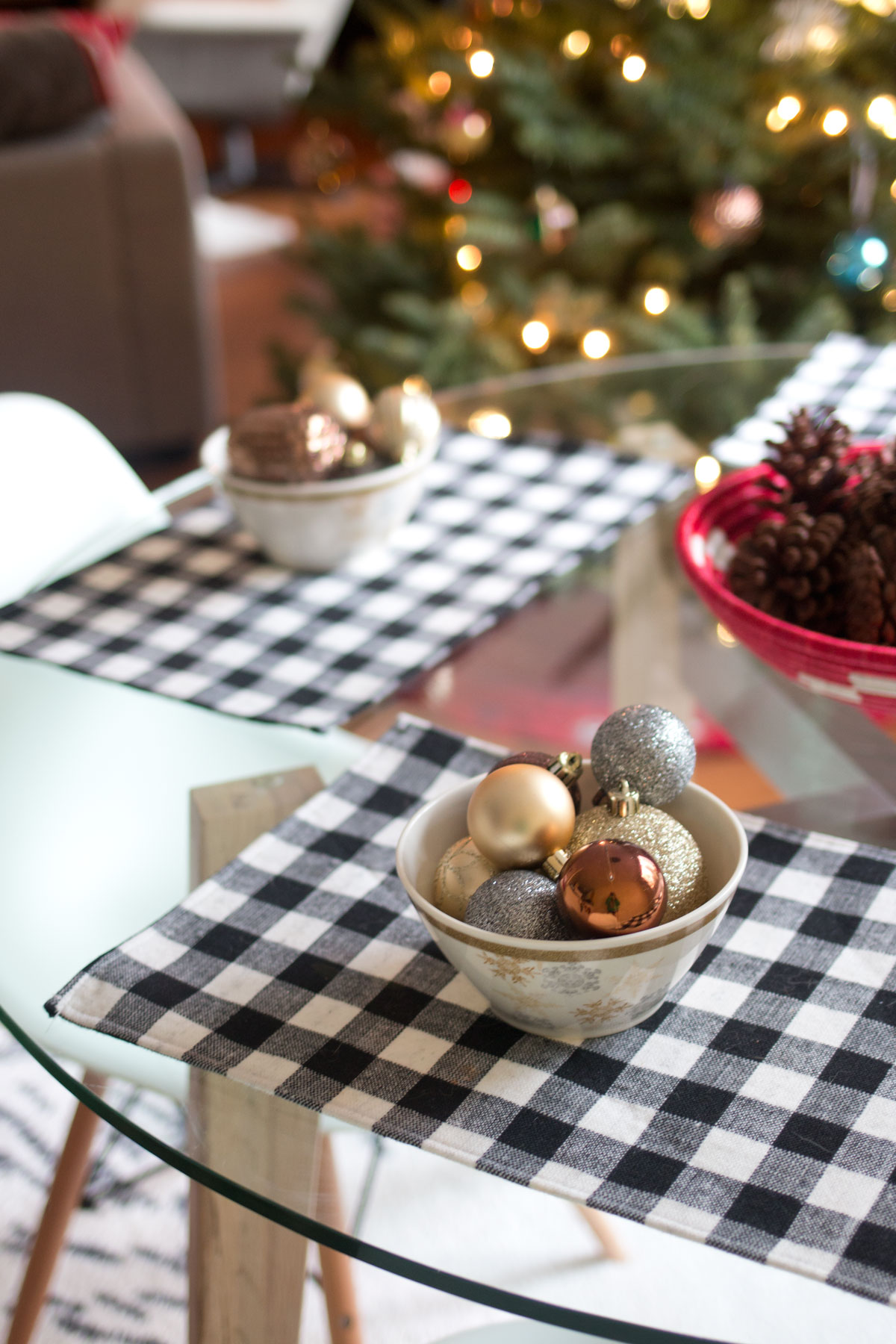 Table Decor: Brace Dining Table, Placemats, Rwanda Basket, Cinnamon Pinecones, Molded Chairs
I must admit that condo living has a lot of downsides, especially when it comes to space. Our condo, for instance, doesn't have a fireplace. My makeshift "mantle" is on our back countertop… and while it's not ideal, I think it works pretty well. I also have this cake plate that I picked up the very first Christmas we spent together at Target. I'd always wanted a cake plate but never had a need for one. Dave thinks it's frivolous (which is how he feels about almost all holiday decor, if we're honest) however let me keep it if I could figure out a way to make it look decorated year round.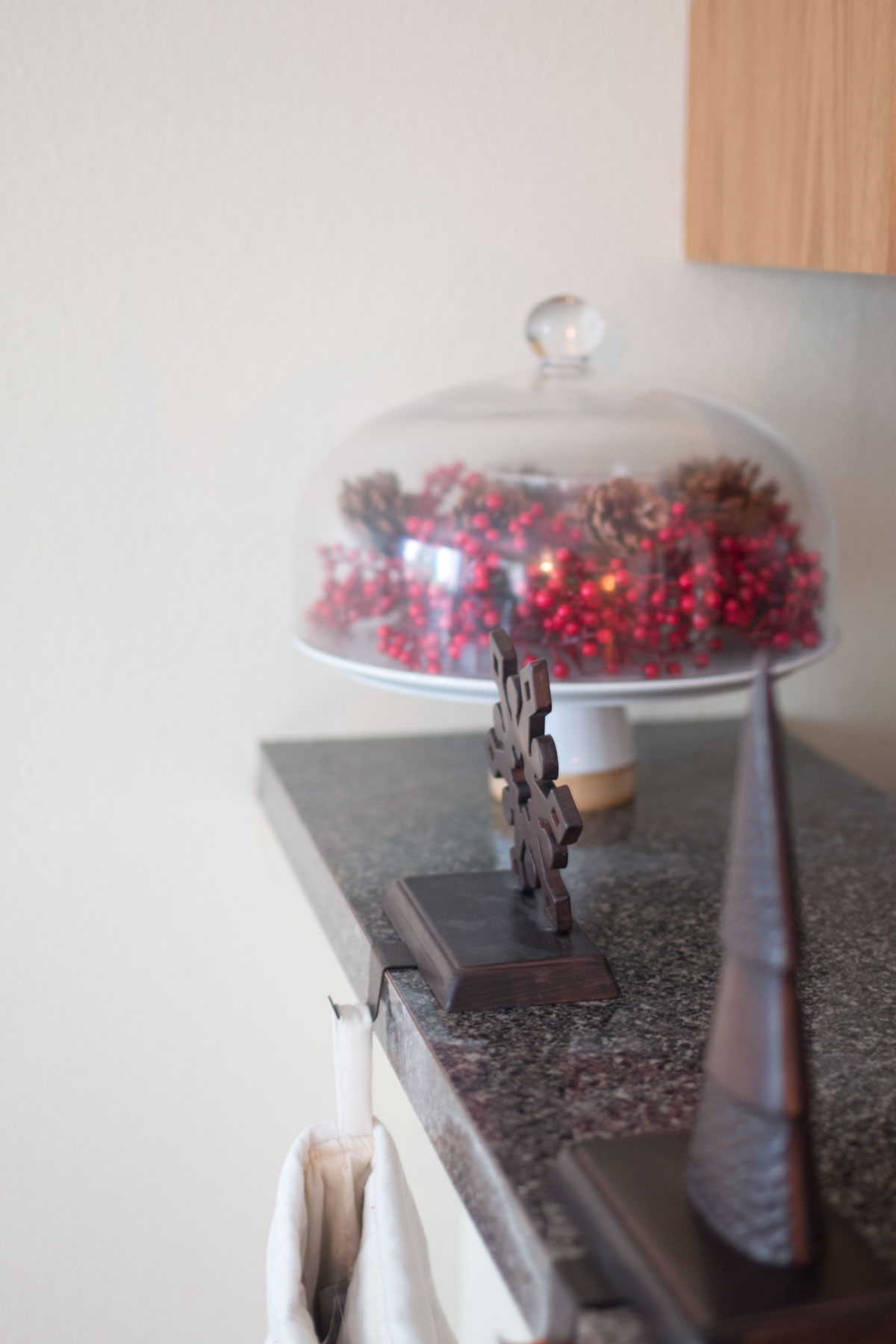 Similar Cake Stand, Garland, Cinnamon Pinecones, Candle
I put my creative hat on and decided that I could dress it up seasonally for the holiday. For Christmas, I picked up a berry garland at Target and wrapped it around a candle. I added a few pinecones for a festive touch, put the lid on it, and called it a day. I'll probably keep it like this for the rest of winter and switch it out in March for spring.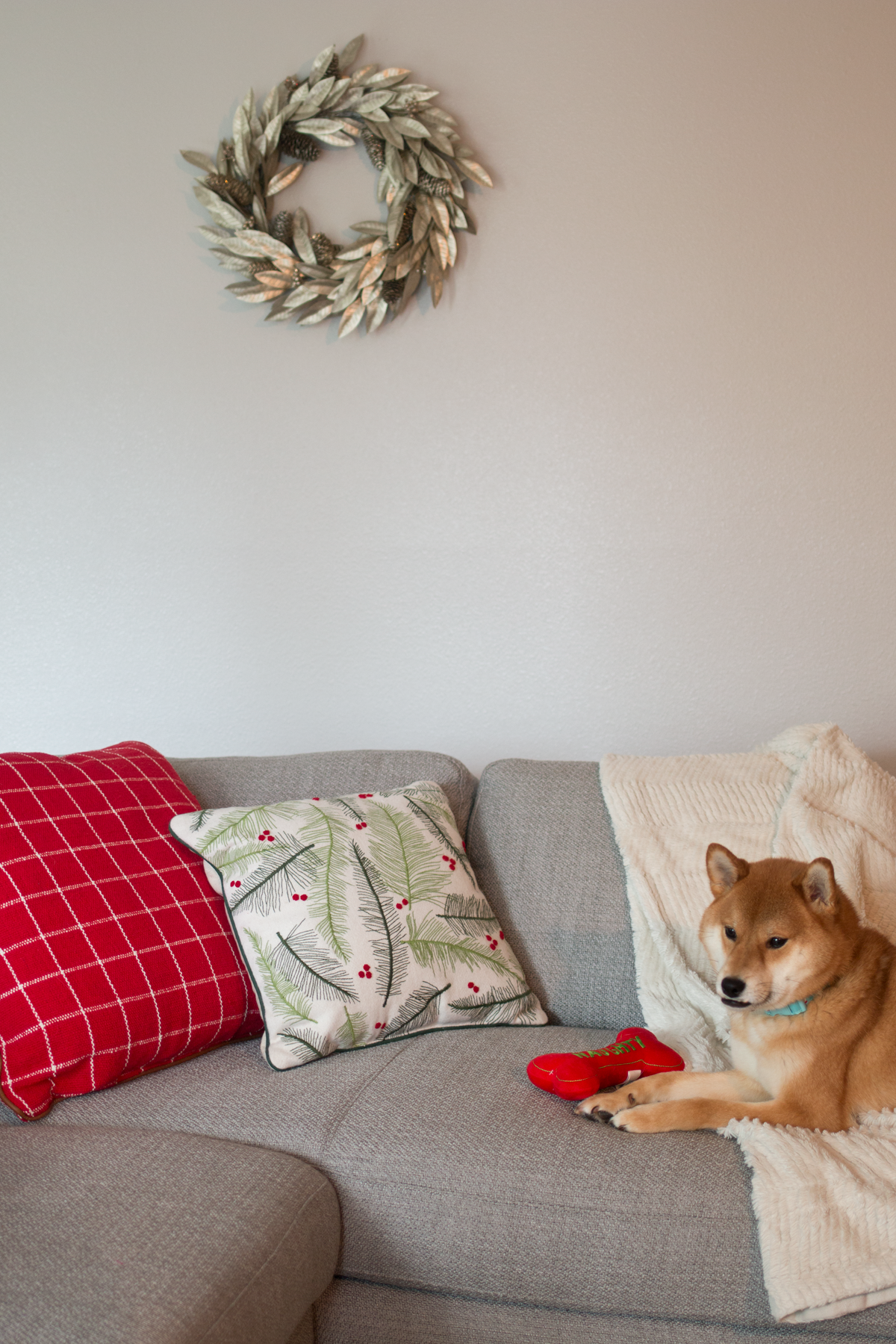 Cordona Sectional, Similar Wreath, Red Plaid Pillow, Pine & Berry Pillow, Dog (just kidding, he's not for sale!), Dog Collar, Dog Toy, Blanket
Our first Christmas together,  I also decided to host Christmas Brunch. I went a little domestic goddess and Pinterest crazy. I went out and bought a ton of decor, new ornaments, and way too many groceries for our brunch feast. I wish I had photos, but honestly, I ended up spending most of that Christmas in the kitchen. I tried out a bunch of new recipes, and while I don't have any horror stories (though there was a pumpkin bread that ended up in the trash…) I would never recommend doing this. I learned my lesson that year: as much as I may want to impress on the food and entertainment front, I also want to enjoy the holiday. The next year I asked others to pitch in and bring a dish to share to prevent one person (me) from doing all of the work.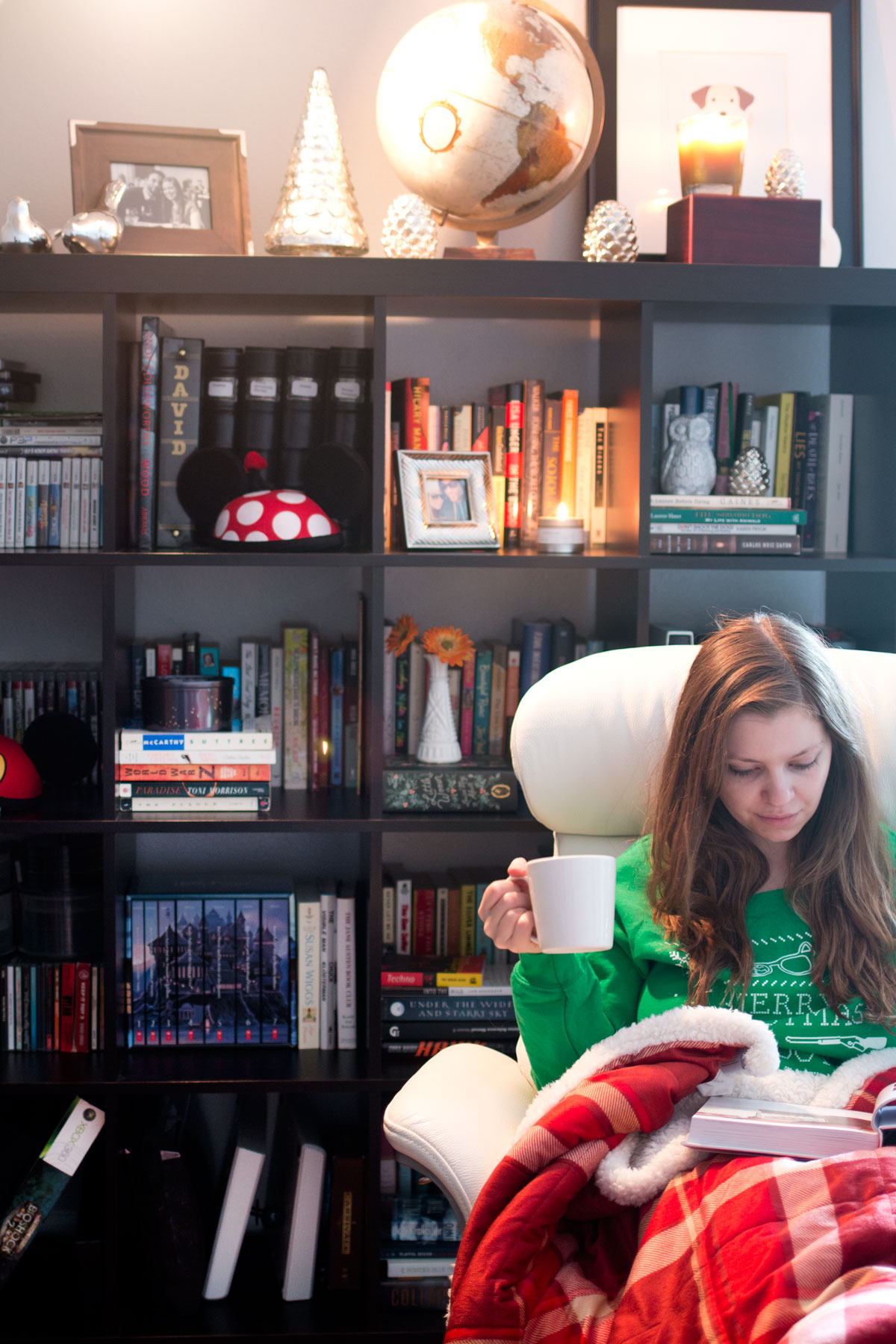 Bookshelf, Chair, Plaid Throw, Coffee Mug
This year we'll be keeping things low-key again for the holidays. We're fortunate in that the majority of our families live in the area, so we don't have to do much more than an hours worth of travel to get wherever we need to go.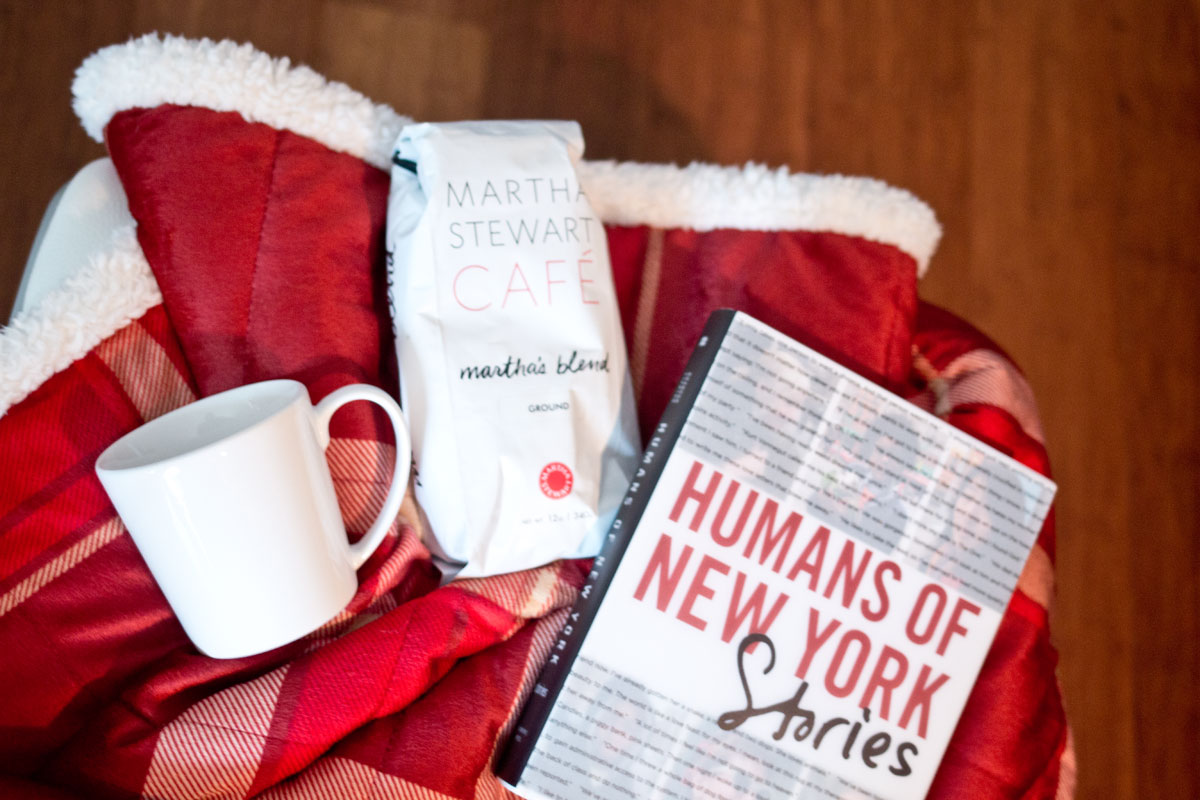 Plaid Throw, Coffee Mug, Martha's Blend, Humans of NY Stories via my Blogger Secret Santa, Jennifer! :)
And finally, I have a little giveaway for you! Martha Stewart (okay, not Martha herself… she has people!) sent me over a few goodies from her holiday line and I decided to do a little coffee giveaway. Honestly, who doesn't need some serious caffeine this time of year?! I'm still trying to finish up my holiday shopping over here. This giveaway will be open through 12/29 and is US only because I'm not comfortable with shipping breakables internationally. Enter below and good luck!
Now I want to hear about you! How do you decorate for the holidays (if at all)? Do you have any family traditions that you do every year? Let me know in the comments!