Happy National Ugly Sweater Day!
I was recently challenged by my friends at Value Village to create a DIY Ugly Christmas Sweater… and of course I couldn't say no! I love DIY projects, even if I'm not necessarily the most skilled crafter in the world. The good thing about Ugly Christmas Sweaters? They're not supposed to be perfect, so even if you do make a mistake, no one will know!
I thought I'd share my process for creating this silly, tacky Christmas sweater in honor of the holiday and in hopes of inspiring you to make your own! I mean, doesn't everyone need an ugly Christmas sweater in their life?!
DIY Ugly Christmas Sweater for National Ugly Sweater Day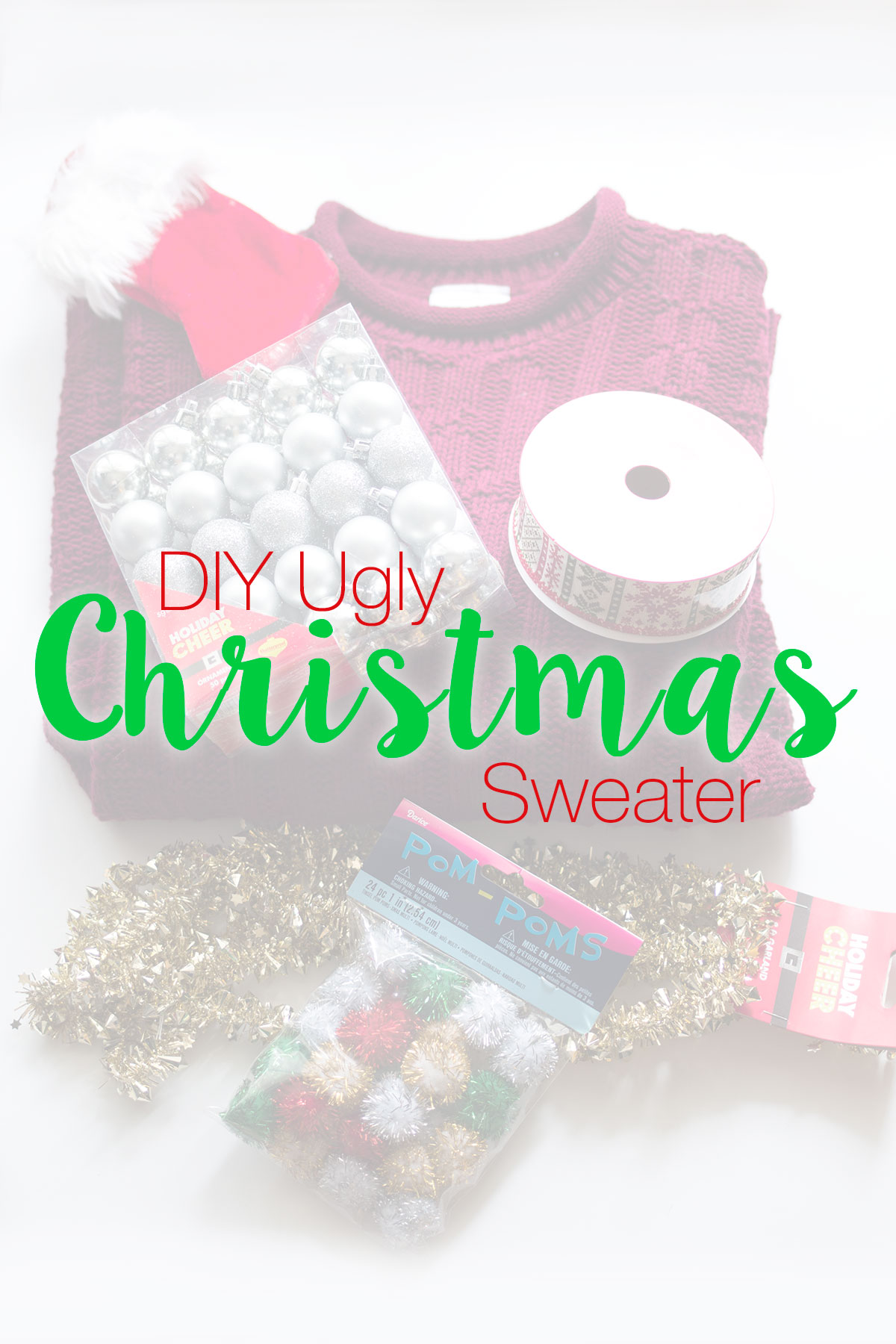 Supplies:
– Old Sweater
– Needle
– Thread that is similar in color to your sweater (I used black)
– Decorations (I used mini ornaments, a mini garland, pom pom balls, and a mini stocking)
1. Plan it out: The first thing I did (after finding these sweaters at Value Village and picking up decorations, anyway) was to plan out my sweater. I laid my sweater out and then placed my decorations on top until I had figured out a plan of action. If you think you might forget what you planned out, snap a photo with your phone to reference later!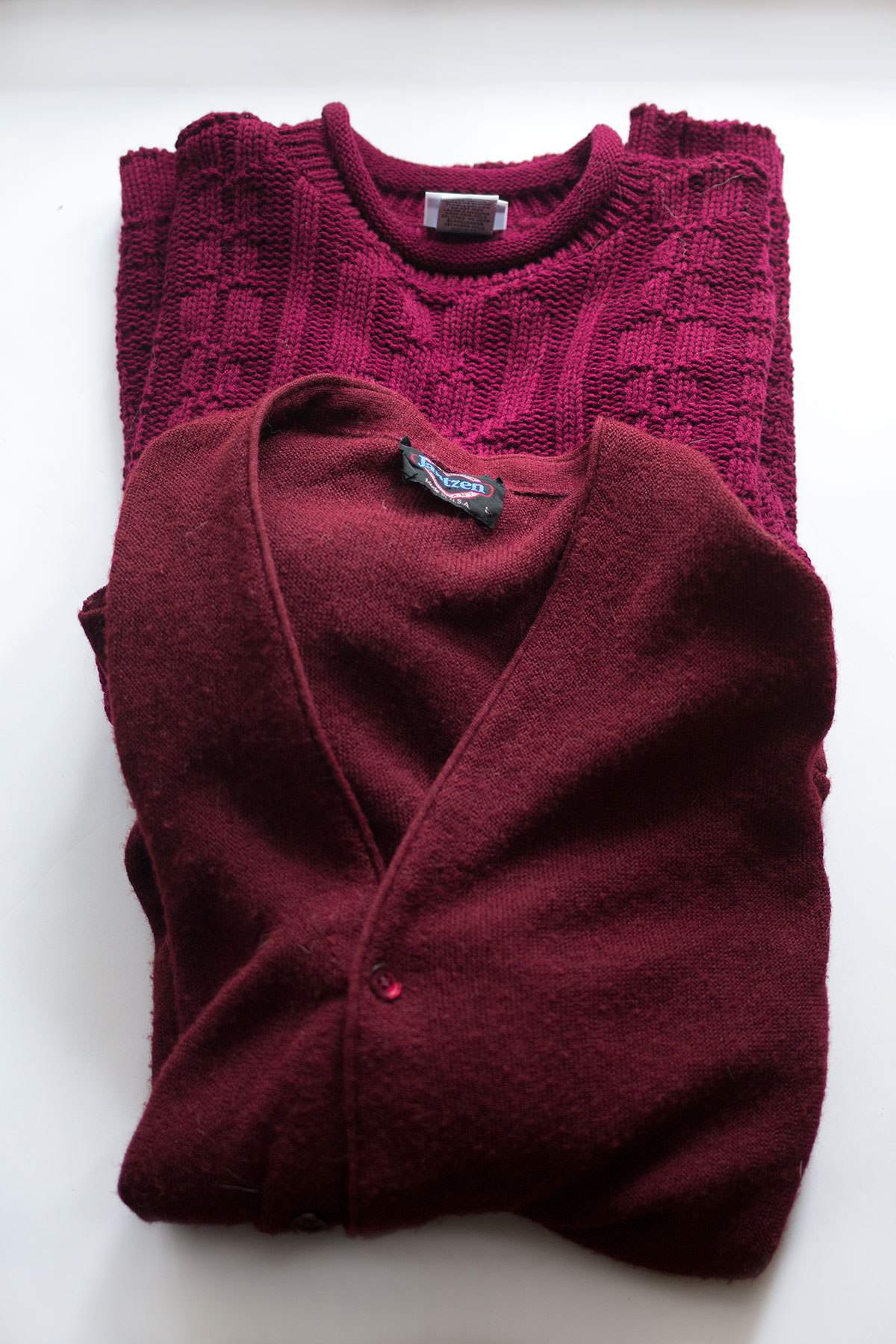 2. Prepare your needle & thread: I decided to sew everything on to the sweater instead of gluing because I actually like this sweater and want to be able to wear it again! With thread, you can easily snip them and it's like it was never there. If you don't know how to sew, hot glue will work great too. Prep your needle and thread by threading your needle, and then knotting the end of your thread. I did a few knots to be sure they would stay in the semi-open weave of this sweater.
3. Sew your first decoration on: The first item I placed on my sweater was my mini stocking. You can pin it in place if you'd like, but I just sewed it straight on using a simple running stitch.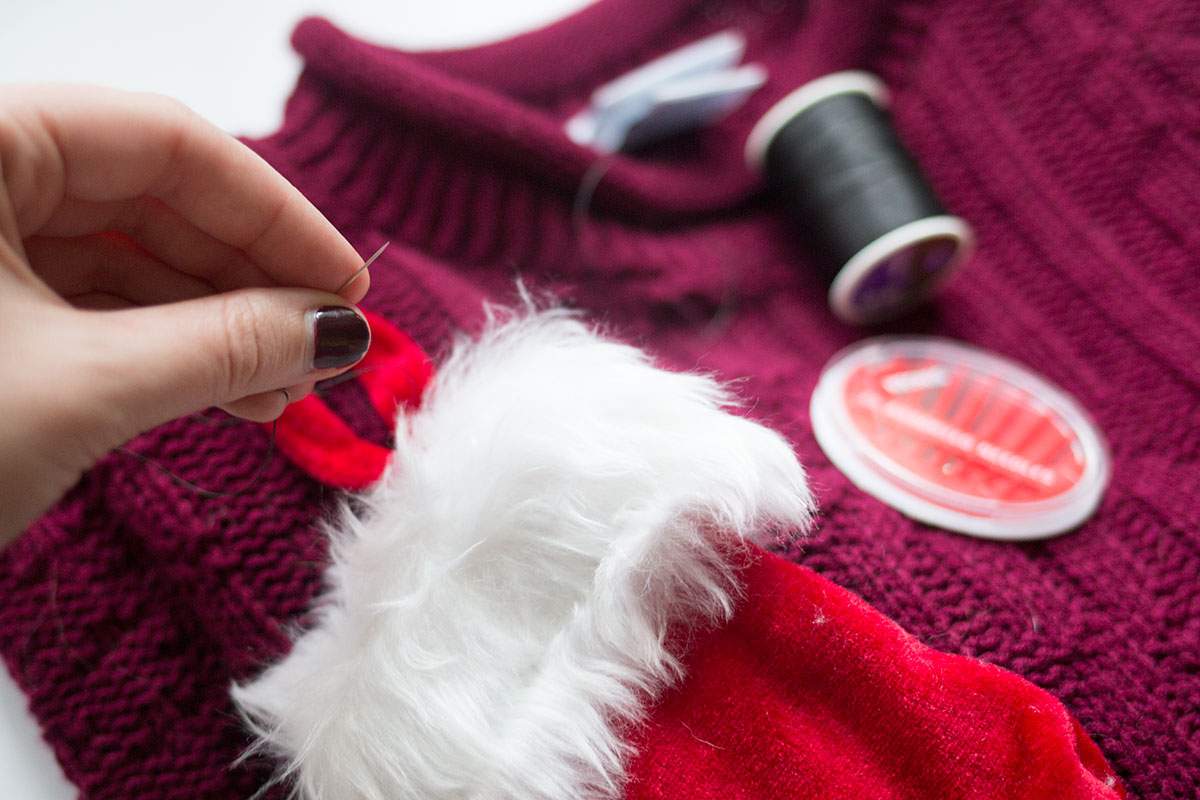 4. Sew on your garland: The next item I placed on my sweater was the garland. I wanted this to look similar to a layered necklace, so I took one long piece of it, laid it out, and cut off the excess. To sew it on, I just did one stitch over and over again to hold it in place on the looped side. Then, I tied together the two ends with a piece of thread and then did the same stitch over and over again on that side.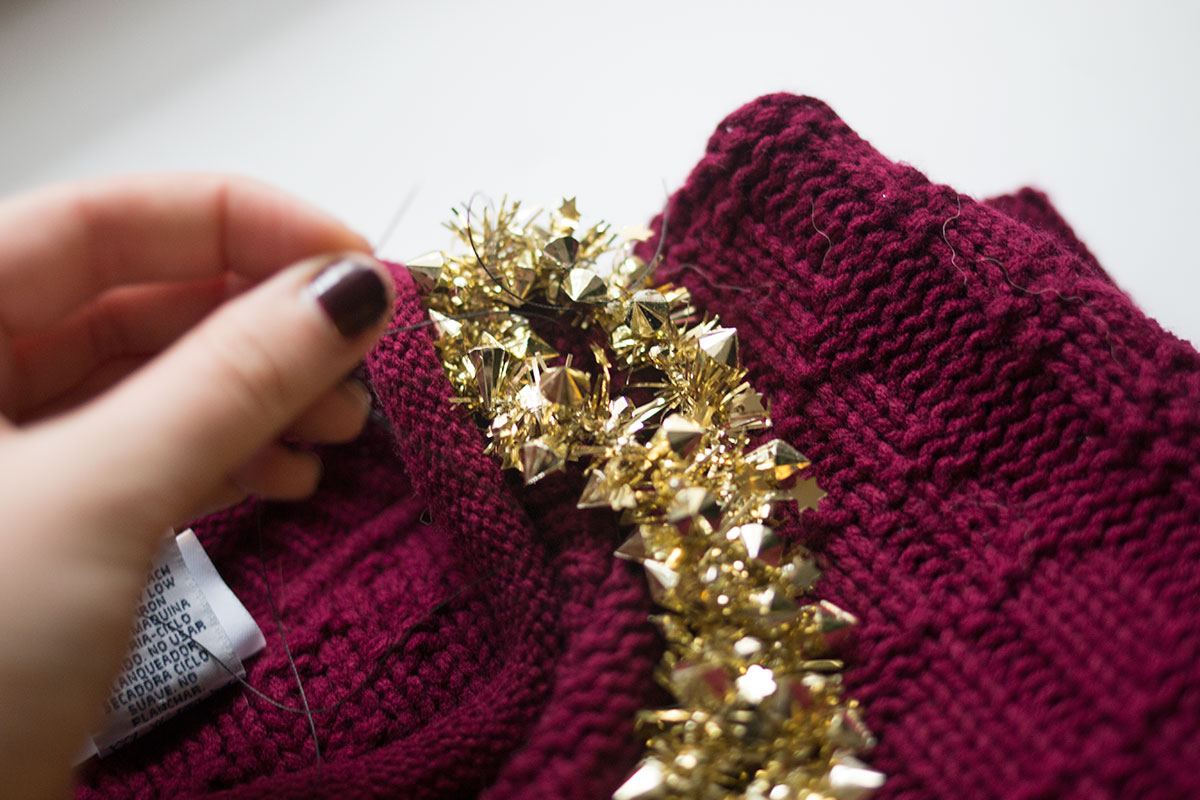 5. Sew on your ornaments: Similar to the garland, I placed the ornaments where I wanted them, then I did one stitch over and over again to hold the ornament in place.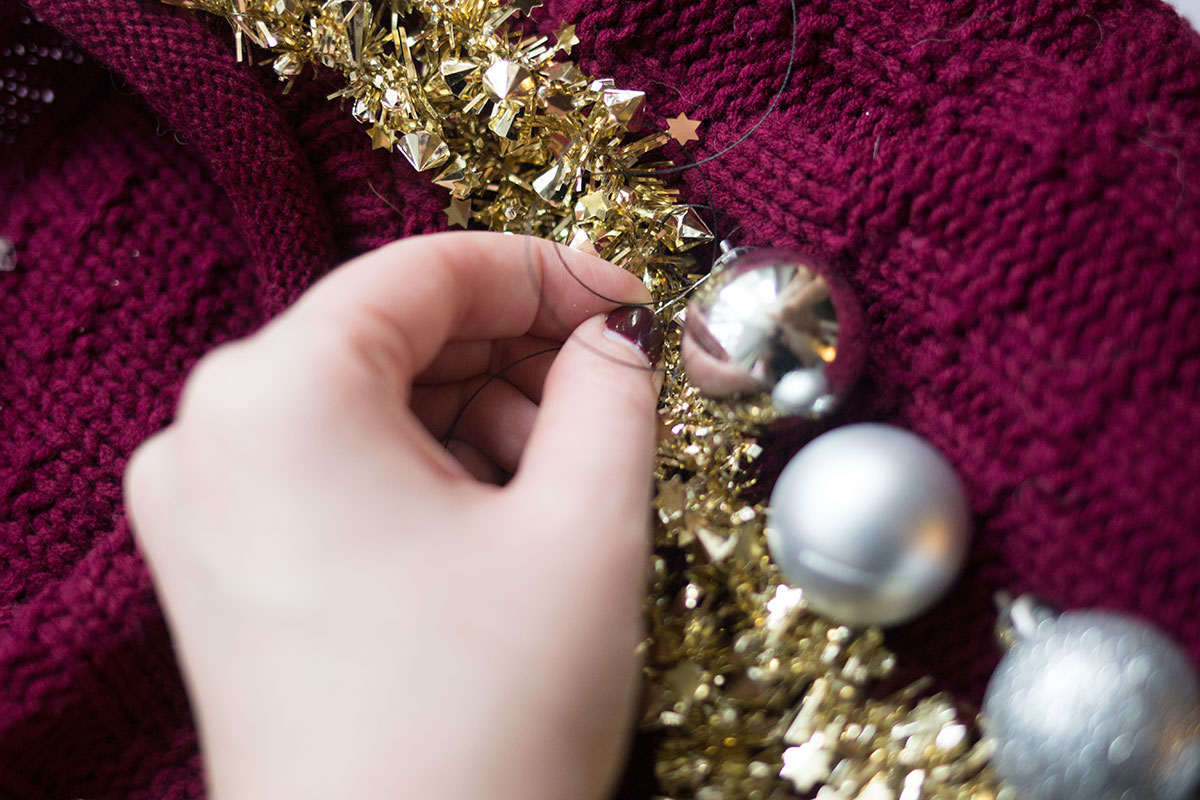 6. Sew on your pom poms: The last item I put on my sweater were these small pom pom balls. For these, I placed them where I wanted them, and then put the needle straight through the middle and back out again a few times to hold them in place. Make sure you're making a very small stitch so it's not very noticeable.
7. Add any other decorations you'd like: I called my sweater good at this point, but get as creative as you want! Ribbon, bows, holiday fabric, tassels, rick rack… the list of options that would make your sweater look extra festive goes on and on!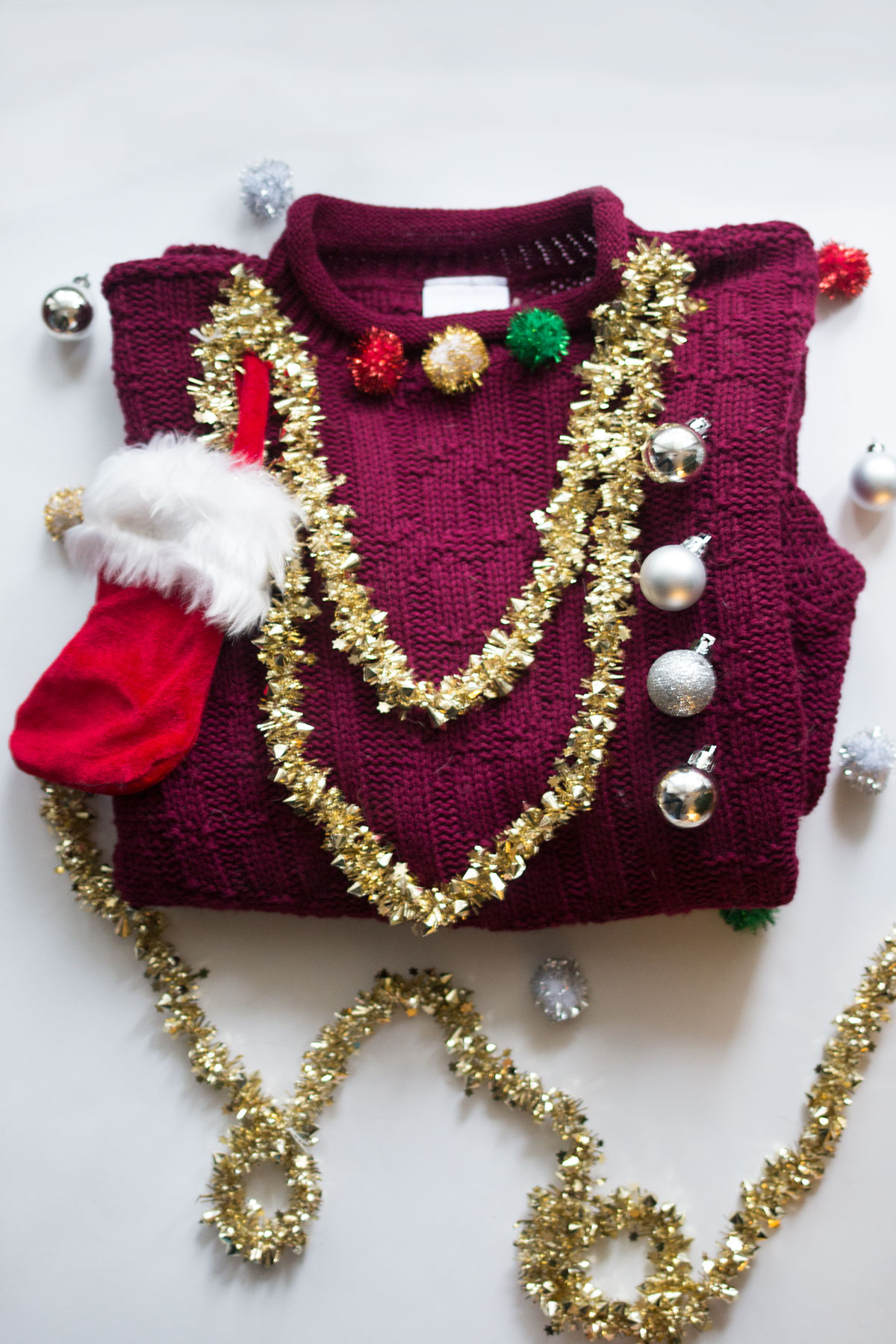 Have you ever attempted to make a tacky Christmas sweater? I'd love to hear about your creations if you've made one or are planning to!