Are you hosting Friendsgiving this year? If you're new to the idea, Friendsgiving is just the word "friends" and "Thanksgiving" put together and represents a time where a group of friends can get together and celebrate over a large meal. It's only grown in popularity over the last 10 years or so and typically is celebrated the weekend before Thanksgiving. Best of all, you really can't go wrong whether you go traditional with a turkey and all the fixings, order takeout, or enjoy a potluck-style meal that everyone in the group contributes to.
Friendsgiving is a time to give reconnect, enjoy the time, and give thanks with friends. For me, reconnecting and enjoying time with friends calls for a delicious spread around the table. That's exactly why for our Friendsgiving this year, I thought personalized cheese boards would be the perfect way to celebrate in these unusual times. Of course, I'll be serving up the main course and sharable small plates of all of our turkey day favorites, too. But these cheese boards were just too cute (and tasty!) to not share!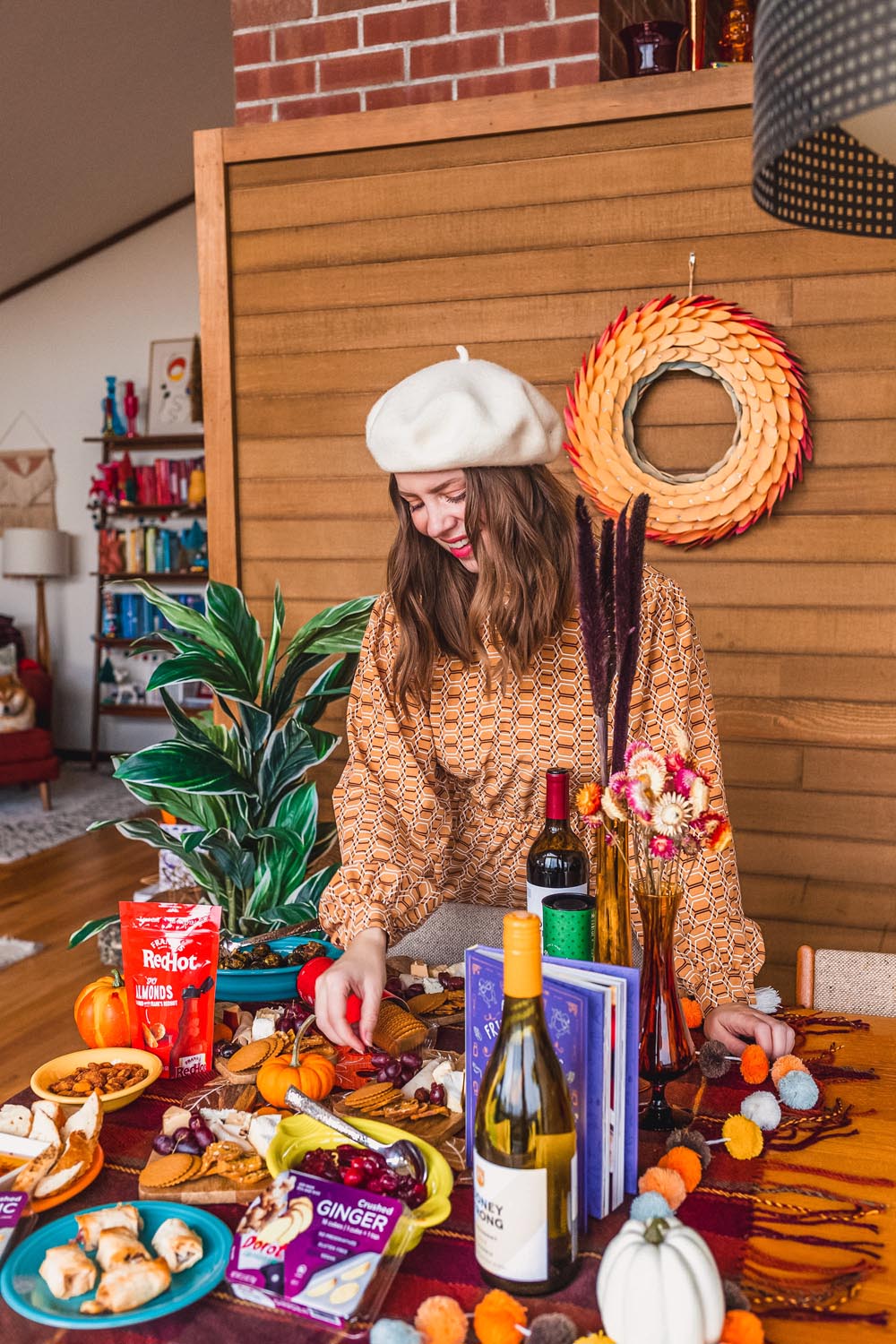 Disclosure: This post is sponsored by BabbleBoxx.
I'm especially excited to work with Babbleboxx to share some tasty finds that will be the perfect addition to your holiday spread, whether you're planning to host Friendsgiving, Thanksgiving, or another celebration sometime soon! Read on to get inspired by these tasty additions to the dinner table, plus my tips and tricks for making personal mini cheese boards this holiday season.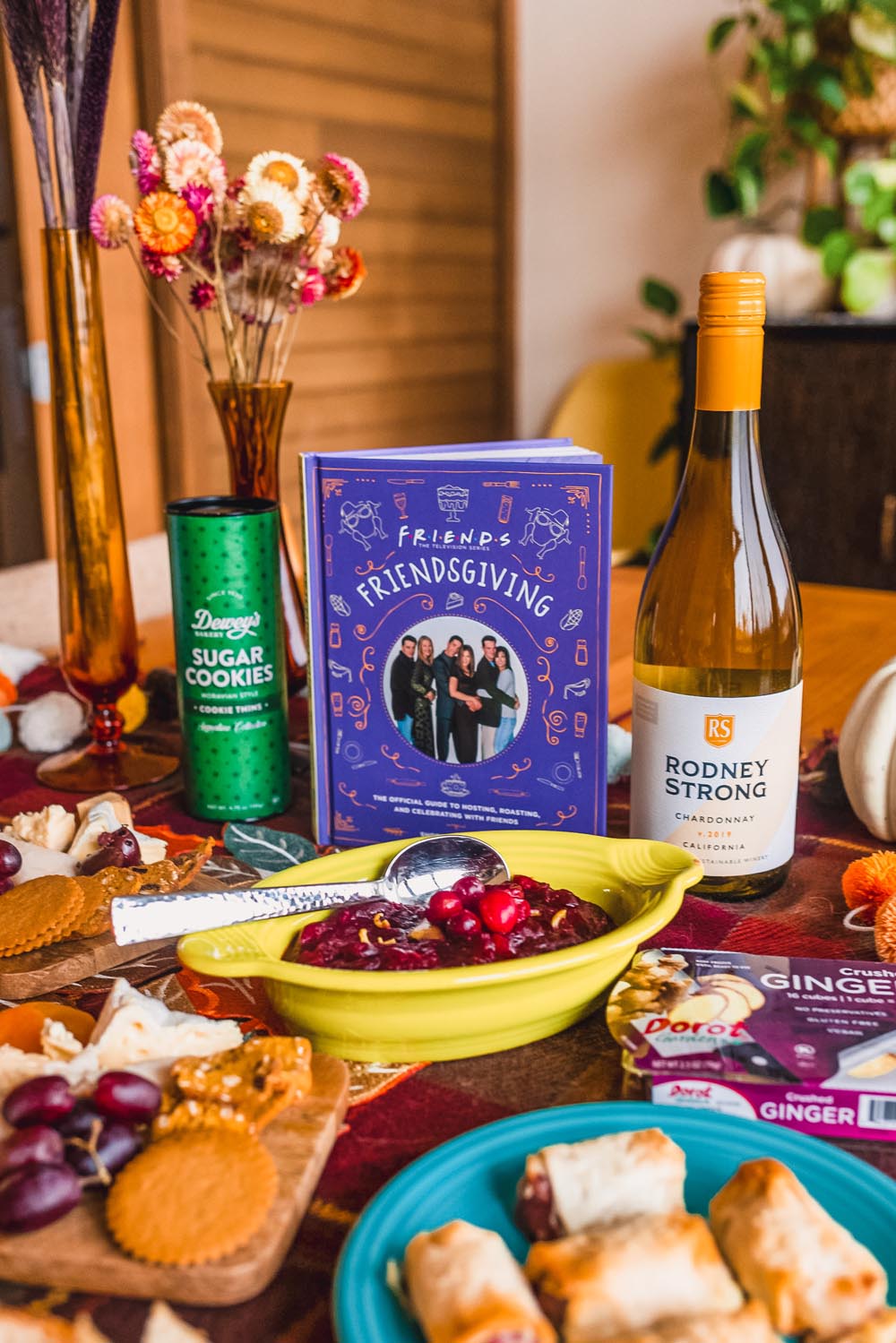 Put your host or hostess hat on for hosting Friendsgiving
Have you read Friendsgiving: The Official Guide to Hosting, Roasting, and Celebrating with Friends by Shoshana Stopek?! It's the perfect guide to hosting unforgettable celebrations, whether you're ready to host Friendsgiving or are thinking of entertaining later in the season. This handbook is filled with recipes, entertaining tips, and activities inspired by the FRIENDS television show. FRIENDS fans will love the quotes, photos, and memorable moments from the show and everyone will love the ideas and inspirations for special occasions, including games, recipes, and more.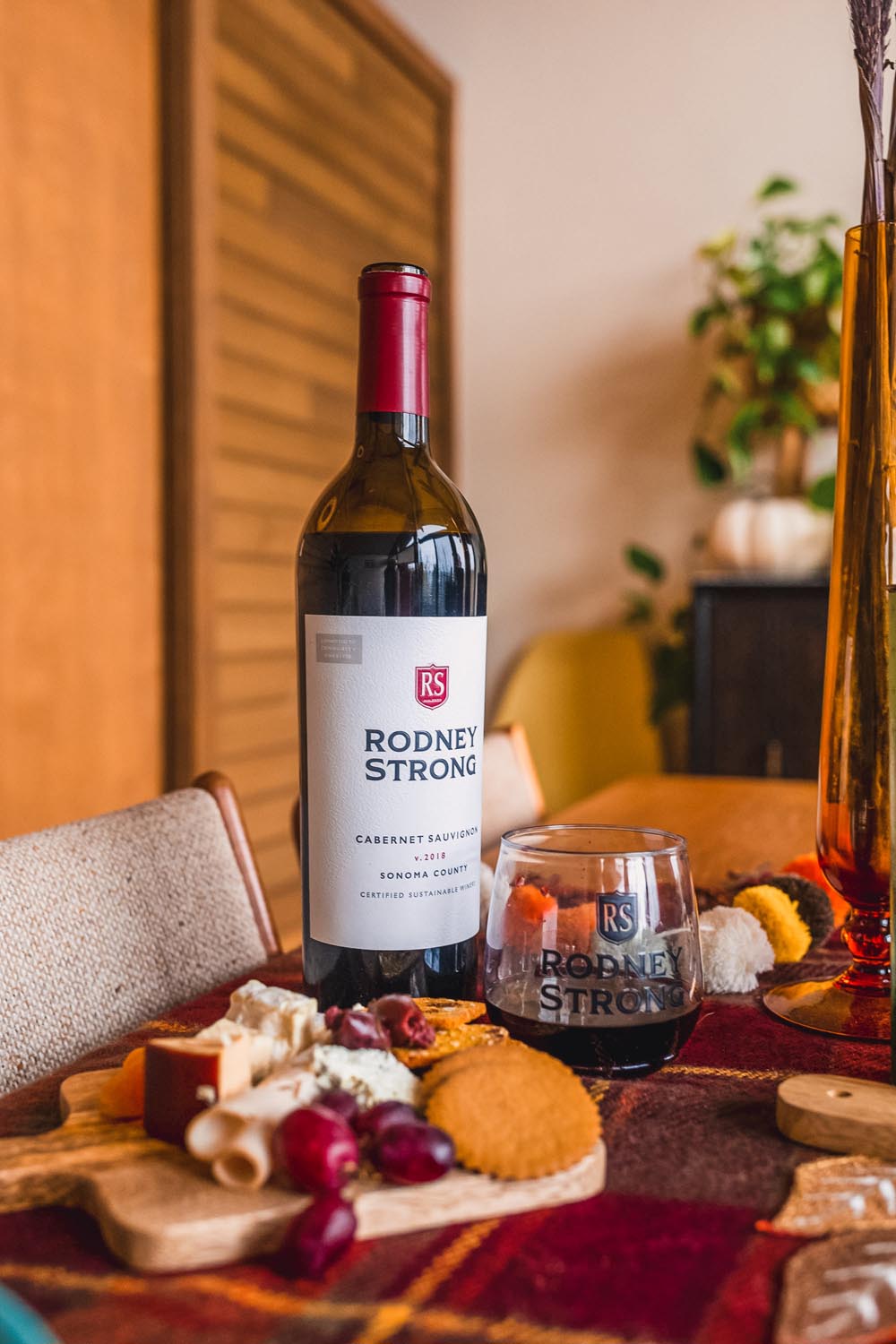 Pour a glass of Rodney Strong Wines
Kick-off your celebratory Friendsgiving planning and hosting with a glass of Rodney Strong Wines. Whether you love white or red, they've got a perfect choice for you! Rodney Strong Wines come from Sonoma County in California and have been family-owned since Rodney Strong founded the vineyard in 1959, and later by the Klein Family in 1989. Learn more about each of these wines below!
Rodney Strong 2018 Sonoma County Cabernet Sauvignon:
Tasting notes: dark cherry, plum, baking spices, black pepper, crushed violet, cassis, spicy oak
Serve with: Grilled steak, rack of lamb, or grilled winter vegetables
Rodney Strong 2019 California Chardonnay:
Tasting notes: Lemon curd, apple, oak, baking spices, fresh pear, pineapple
Serve with: Grilled asparagus, seared tuna with mango-avocado salsa, apple & brie grilled cheese
Find Rodney Strong Wines at a store near you here!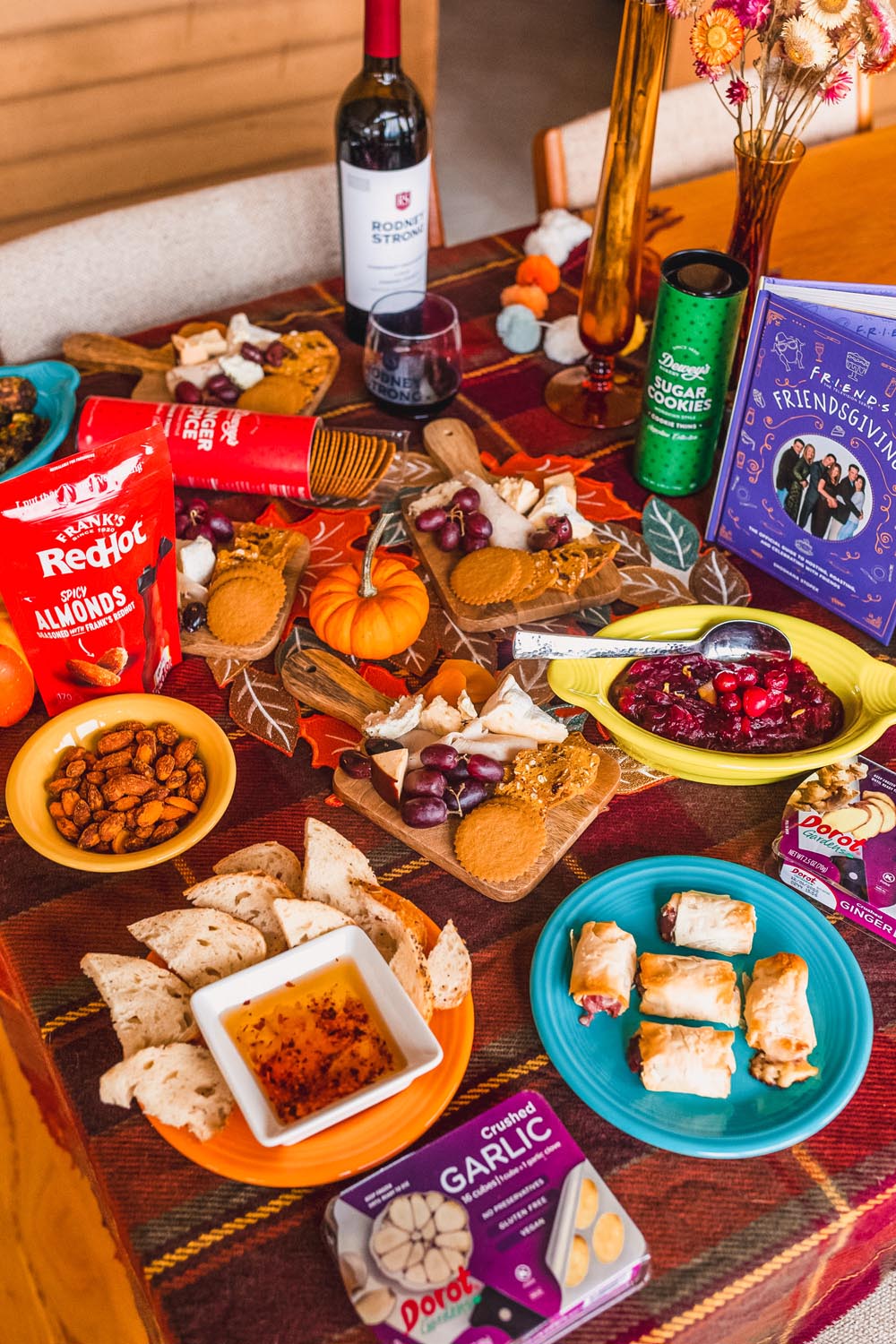 Gather your materials to create mini cheese boards
To make mini cheese boards, you'll of course need small cutting boards for each guest. If you can't find them (or are running tight on time), you can also create personalized cheese boxes! (They're super easy to store in the fridge this way, too!) Once you've sourced your board for your cheese planes, you'll just need to gather the following cheese and accouterment selections.
I recommend the following cheeses on each of your mini cheese boards:
Cheddar (salty)
Blue (tangy)
Smoked Gouda (smokey)
Goat (savory or sweet)
Brie (creamy)
Then, I like to add the following to each board:
Grapes
Apple slices
Dried fruit
A drizzle of honey (great on goat cheese or blue cheese, or let guests drizzle their own!)
Crackers
Toasted bread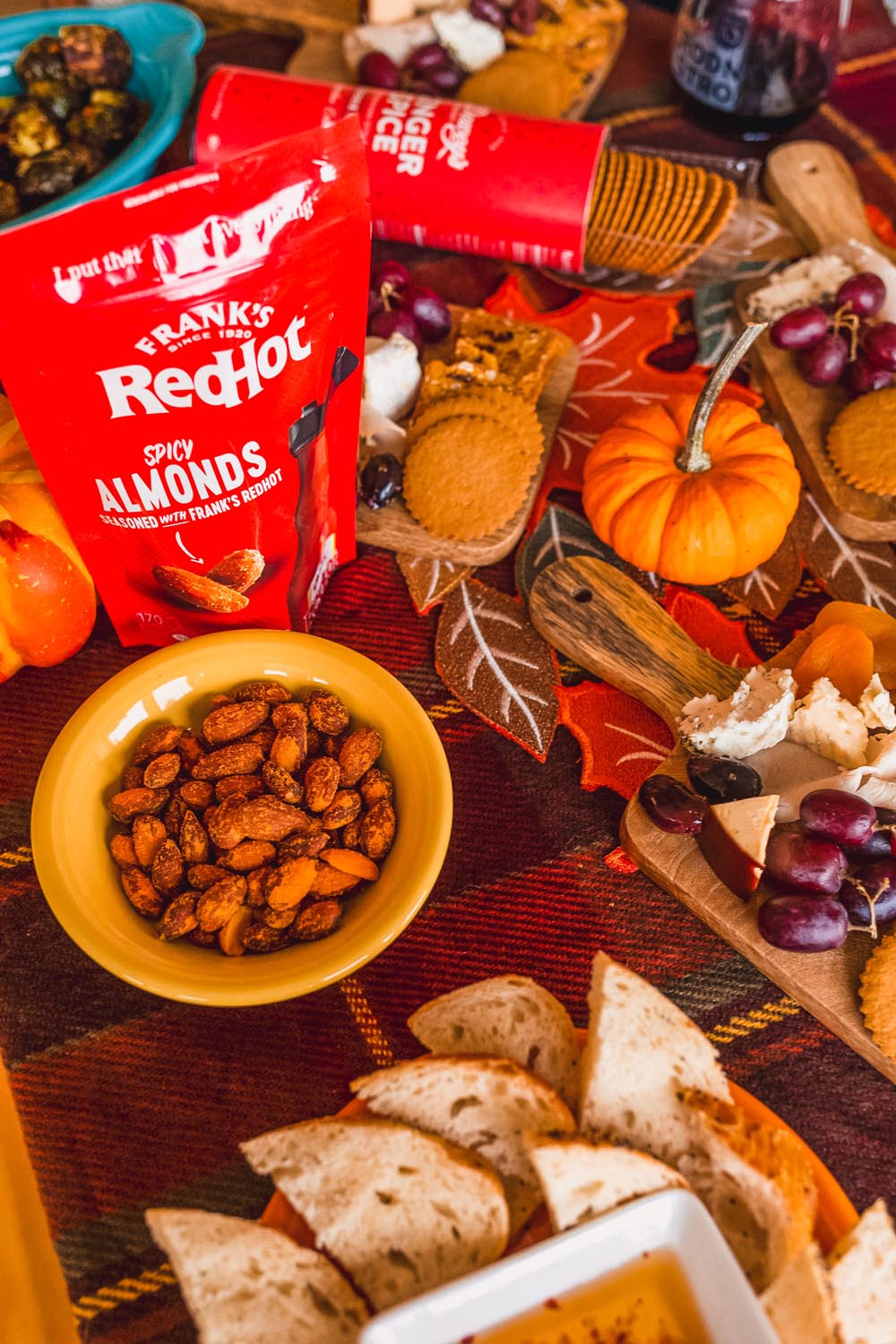 Add some snacks to your table spread
If you ask me, the best part of holiday spreads is often in the snacks. I love to give guests a wide variety of snacking options, and lately, I've really been into flavored almonds. Turns out, Frank's RedHot just launched Frank's Hot Sauce Almonds and they are so tasty! I'm definitely serving these up for Friendsgiving. These almonds would also be great for game day snacks, or adding into trail mix!
You can find Frank's Hot Sauce Almonds here!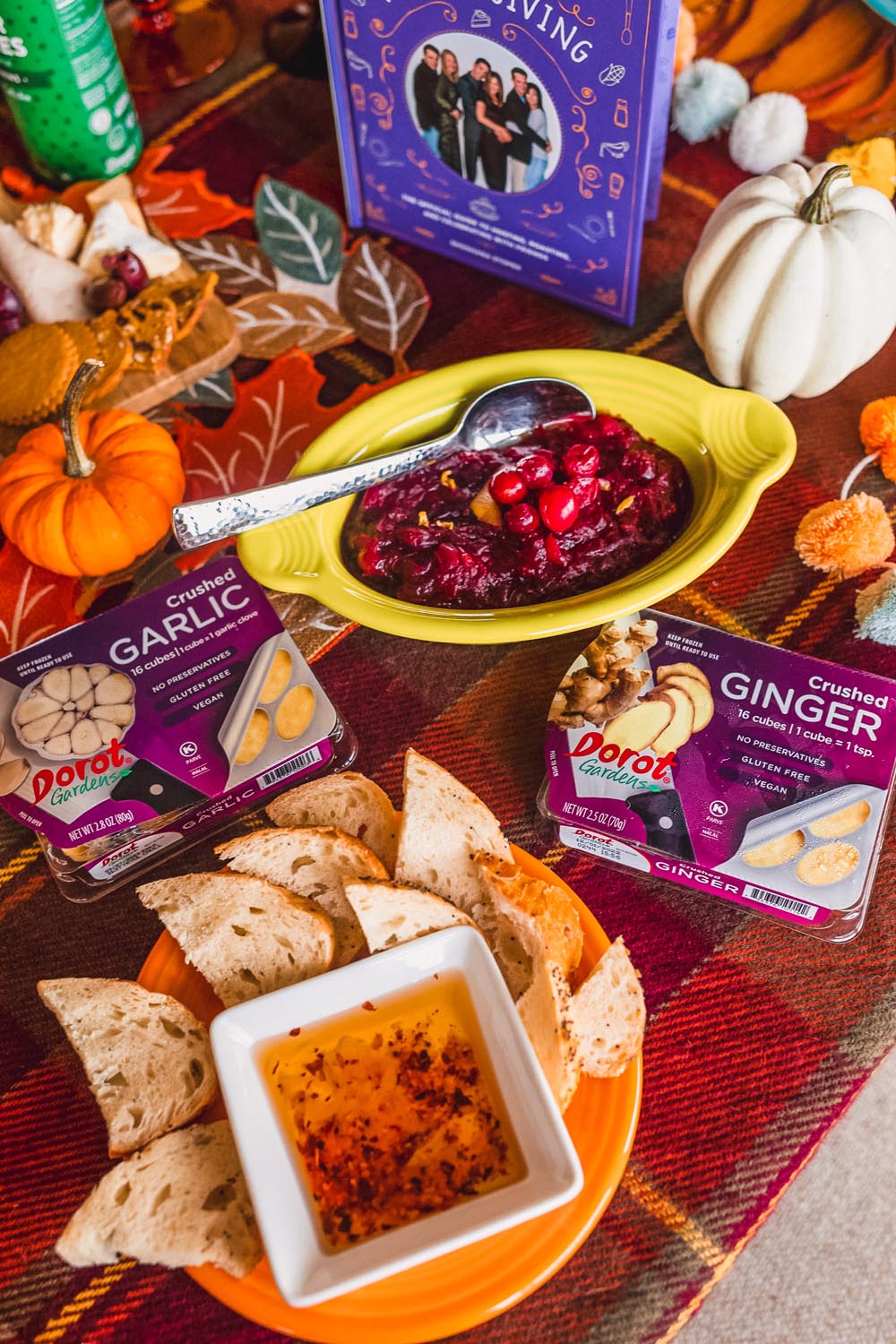 Cook up one of these easy Friendsgiving appetizer ideas
What are your favorite Thanksgiving menu items? I have a soft spot for perfectly roasted Brussels sprouts, tangy cranberry sauce, rolls, and of course mashed potatoes and gravy.
I thought I'd share a couple of easy Friendsgiving side dish recipes using Dorot Gardens, the most convenient pre-portioned herbs and garlic from your freezer! With Dorot Gardens there is no peeling, no chopping, and no mess – it's the ultimate kitchen hack. Just pop one of the pre-measured cubes into your dish and stir!
Spiced Cranberry Sauce Recipe
8 oz fresh cranberries
1/3 cup maple syrup
1/3 c water
1 Dorot Gardens Crushed Ginger Cube (or 1 tsp fresh grated ginger)
1 Tbsp lemon juice (and grated zest for garnish, if desired)
1/4 tsp ground cinnamon
1/4 tsp ground allspice
1/4 tsp ground cloves
Pinch of salt
In a small saucepan over medium heat, combine all ingredients. Bring to a boil, then reduce heat uncovered until the berries pop and the mixture has thickened, about 15-20 minutes. Let stand for about 5 minutes to cool, then transfer to a serving bowl. Top with lemon zest and extra cranberries as a garnish, if desired.
Brussels Sprouts with Honey-Balsamic Glaze Recipe
1 pound Brussels Sprouts
Olive oil for drizzling
Sea salt
Honey, to taste
Balsamic glaze, to taste
Red Pepper Flakes
Preheat oven to 400 degrees. Wash and dry Brussels sprouts, then halve and remove outer leaves. On a baking sheet, spread Brussels sprouts cut side down and generously drizzle with olive or avocado oil. Top each sprout with a sprinkle of sea salt. Roast for 15-20 minutes, or until the outsides are crispy and full inside are soft when forked. Place roasted sprouts into a serving dish, then drizzle with a generous amount of honey and balsamic glaze, then toss. Top with your desired amount of red pepper flakes, depending on how spicy you like it.
You can find a range of Dorot Gardens products locally in the PNW at QFC, Walmart, Safeway, and Trader Joe's including:
Crushed Garlic
Crushed Ginger
Chopped Basil
Sauteed Onions
Crushed Turmeric
Chopped Parsley
Chopped Cilantro
Chopped Dill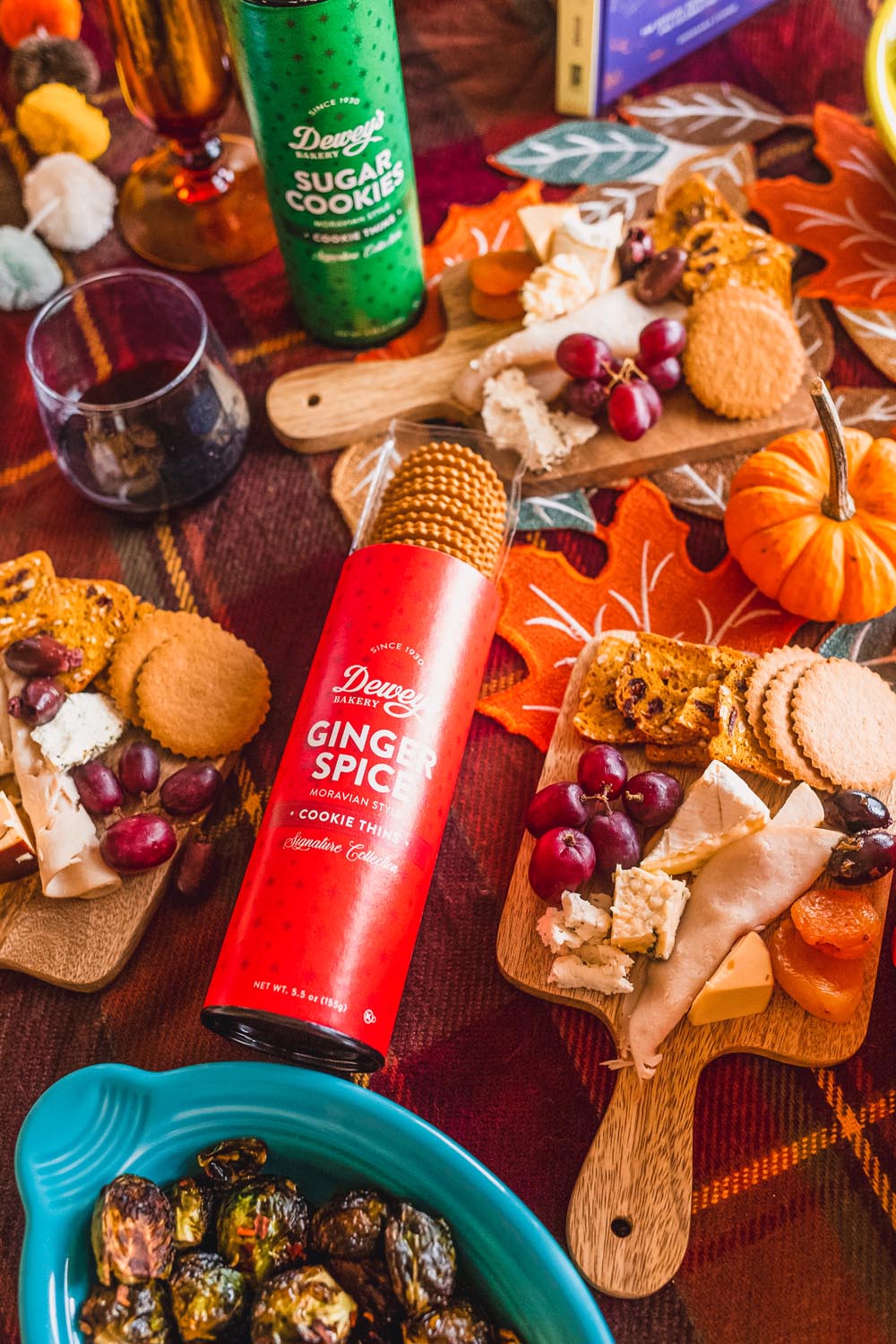 Finish with a sweet treat
There's nothing like a sweet treat to complete a holiday spread! And I recently was introduced to Dewey's Bakery cookie thins and I think I'm hooked. Since 1930, they've been making their baked goods made with 100% real ingredients, and I love how light and crispy their cookies are. The Ginger Spice Moravian Cookies are the perfect complement to your Thanksgiving meal, and the Sugar Moravian Cookies are great anytime!
Order these cookies for yourself or as a gift and save 10% now through 12/10 with code DEWEYS10!
Most of all, I hope these ideas have inspired you to host or plant the seed of a Friendsgiving celebration amongst your own friends this year. If there's anything I've learned these past couple of weird years, it's that connecting with friends and loved ones is truly such a gift. 
Are you celebrating or hosting Friendsgiving this year? Do you have any special dishes you serve or traditions you have established?
---