Who says you have to go out to celebrate the new year with friends? I've been fortunate to make a lot of amazing new friends this year, and what better way to toast to the holidays and 2019 than to celebrate with them? That's precisely why I hosted a fun brunch party at home right in time for NYE!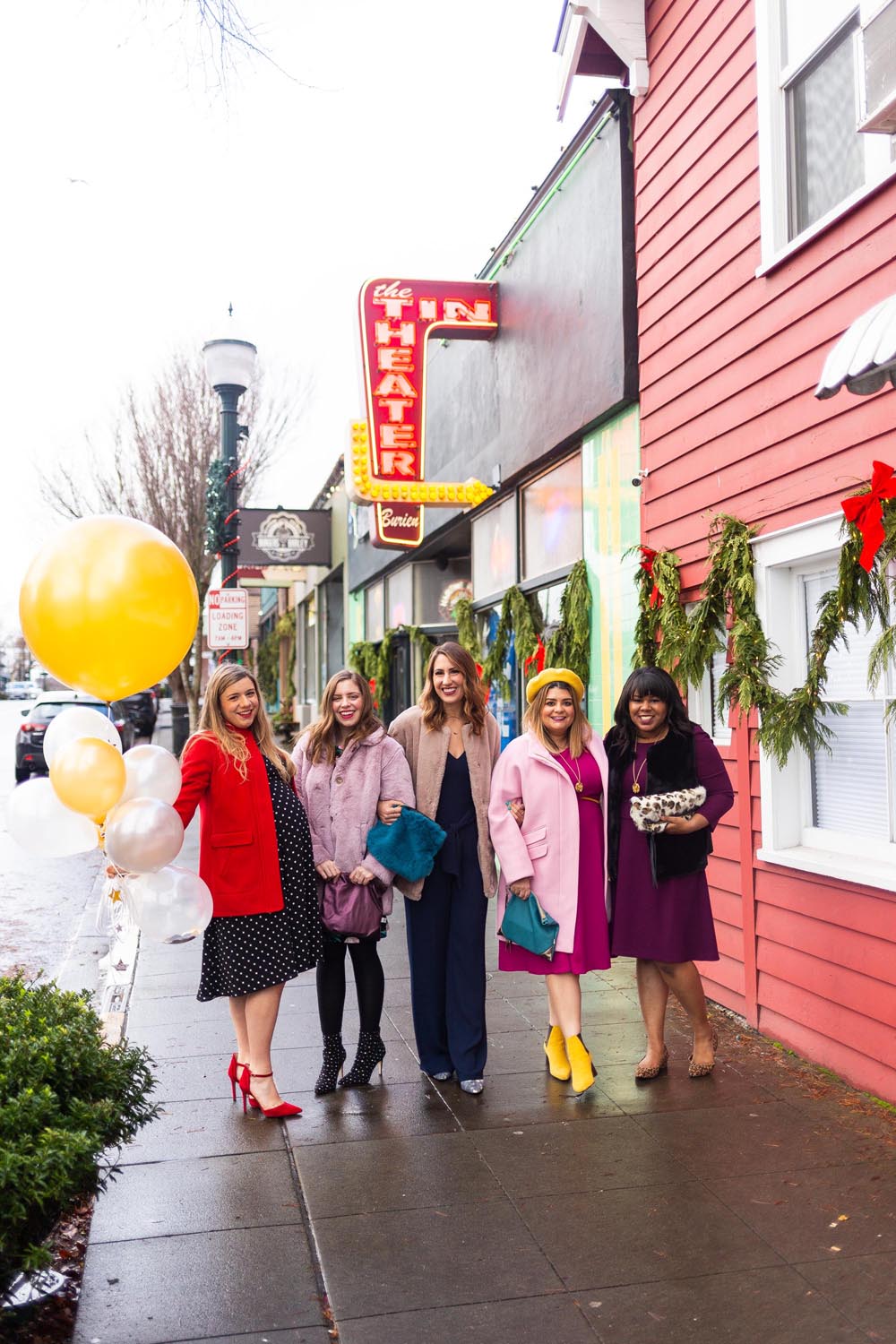 Disclosure: Thanks to Eliza J Dresses, Chelsea Yaley Designs, and Washington State Wine for helping this celebration come to life! All opinions are my own.
When I started Hello Rigby back in 2013, I never imagined how many amazing women I would be introduced to, and what great friends I would end up with. I'm so lucky to call these (and more) amazing women my friends; I was so excited to host them for a holiday brunch… and proceed to take 5 million photos to document the whole thing. What can I say, blogging is a very strange, but also very wonderful, thing.
10 Ways to Celebrate the New Year with Friends
Are friends coming over tomorrow to ring in the new year? Or maybe you're looking for inspiration (or an excuse!) to have your friends over sometime soon. Either way, I thought it would be fun to share what I planned for my friends, and some inspiration the next time you host a fun get together at home!
Get all gussied up
Don't have an excuse to get all glammed up all that often? Then make this the day! I encouraged all of my friends to dress up for the occasion and was lucky to treat each of them to a new dress from Eliza J. If you follow me on Instagram, then you might recall that I connected with the brand in-person at their showroom during New York Fashion Week.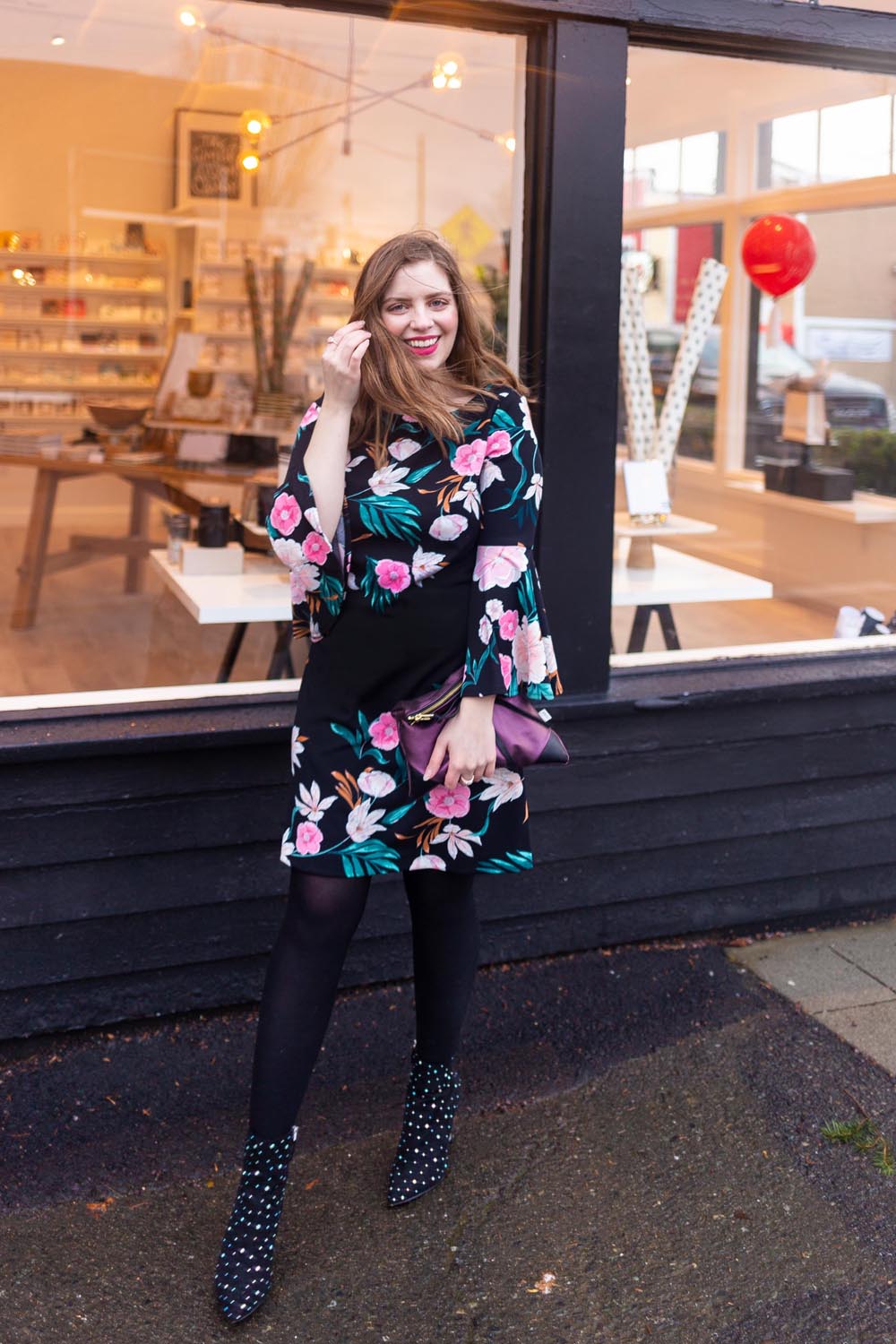 What better time to approach them for a partnership than the during the holidays?! Eliza J was kind enough to gift each of my guests a dress of their own to style for the occasion, and I loved seeing how each friend made their outfit so uniquely them! If one of your resolutions is to up your style game in the new year, I can't recommend Eliza J Dresses enough. They're conveniently available at Nordstrom (with the world's best return policy in case it isn't quite right), and they offer a wide range of styles and sizes including regular, petite, and plus. I've been fortunate to borrow some of their dresses through my Gwynnie Bee subscription as well, and am always impressed!
SHOP THIS OUTFIT

Add some accessories
A great outfit must have a great bag, too, which is why I was so excited to work with my friend Chelsea of Chelsea Yaley Designs, too! She handcrafted a clutch for each of my friends and myself, corresponding to each outfit, taking into account each person's favorite colors and personal style preferences. She offers a variety of 90% recycled leather pouch options as well as colorful and printed furs through her Instagram account. Not only that, but Chelsea also designs custom duffel bags and offers personalization options such as monograms on each of her designs. Local to Seattle, Chelsea and I have met for coffee several times, and I can't wait to see where her design business takes her!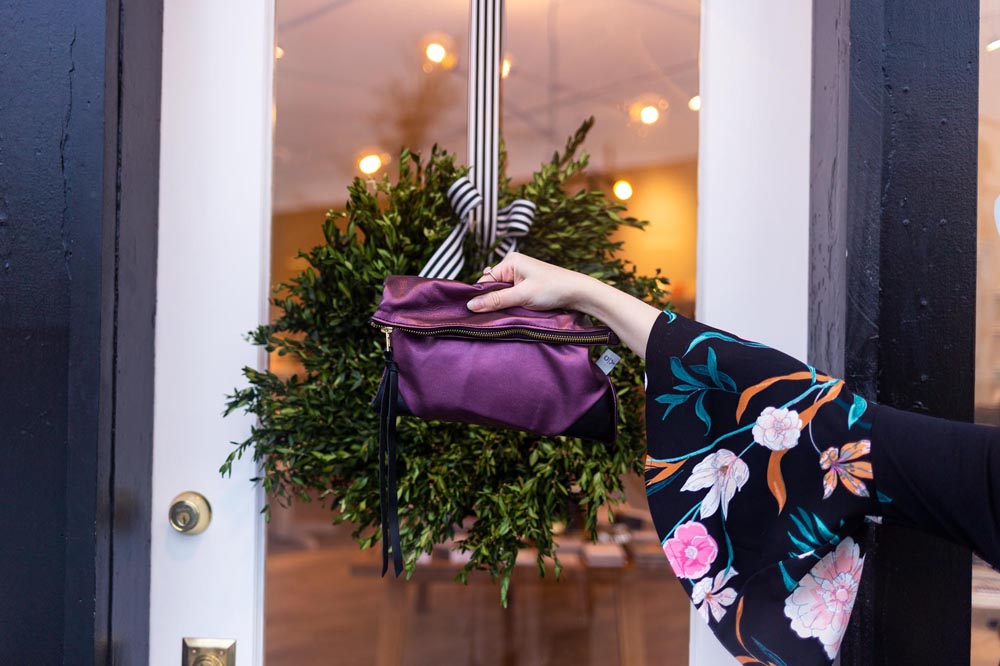 Additionally, my friend and fellow blogger Asa of Lace and Pearls Blog also creates beautiful jewelry! She let each of the girls borrow pieces to style, and I love how well the pieces accented each outfit. If you love dainty jewelry and haven't visited Lace and Pearls Jewelry yet, then may I recommend you do that right now. Check out the Jenn necklace while you're at it! ;)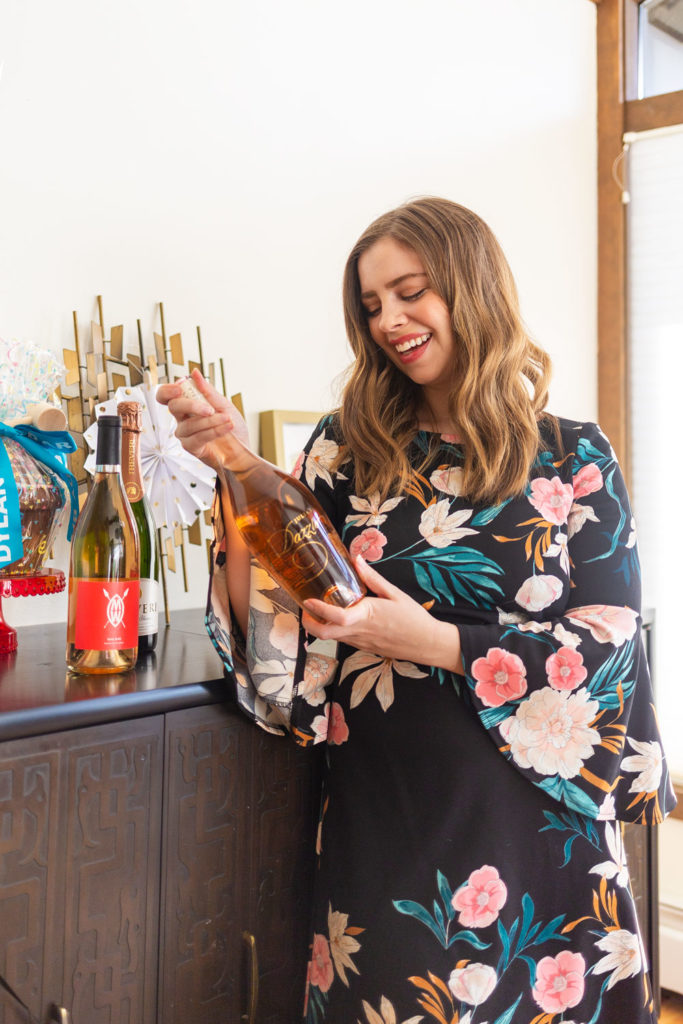 Pop a bottle of bubbly
What's a New Year party without a little bubbly? My friends from Washington State Wine sent over a selection for our party, and I couldn't wait to pop open a bottle! The Julia's Dazzle Rosé from Long Shadows made for a lovely sweet start, and the Treveri Cellars Blanc de Blancs Brut made for a delicious sparkling option.
Love wine but don't know where to start? I definitely can relate! Fortunately, Washington State Wine offers fantastic resources to help you find the perfect wine to compliment your next festive occasion and more information about the wineries that create them. You can read about all of the different varieties that are grown in Washington here. And, if you're a fan of visiting wineries, check out all of the wineries on this interactive map.
Treat yourself for New Years Eve
While many will resolve to give up sweets or certain foods in the New Year, I encourage you to be kind to yourself and indulge if you want to. After all, life is short, and the last time I checked, lifestyle changes don't happen overnight. Eat the cookie – you can calorie count on another day! :)
…And your friends, too!
There's nothing I love more than hosting a group of great friends. And what better way to show them you care than through a token of your appreciation? One of the ways I enjoy giving and receiving love (you know, the "love languages") is through gifts. That means I'm always keeping an eye out for something I think my friends will enjoy when I'm out and about. These gifts aren't meant to be big and extravagant, but instead are a small gesture to show that I care.
When I saw these adorable trinket trays at a local boutique, I knew I had to grab them for each of my guests. I popped in a few additional goodies as well, like a lip sheet mask, one of my favorite cushion lip colors, and a few small sweet treats.
Catch up over brunch
If you've followed me for a while, then you might notice a reoccurring theme about when I host my friends. It's often for brunch, and the reason is that I find it to be the most fun meal to cook and enjoy with friends. I also find that it's the easiest time to coordinate with everyone, so if you struggle to get all of your gal pals together for a night out, why not try a morning or early afternoon instead?
A New Year's Brunch also feels less fussy than a traditional dinner party. I like to serve things up family style, with plenty of snacks and small bites to keep the conversation at the table flowing for a while. I also find it's easy to find plenty of dish options to suit a wide variety of needs. We had dairy free, gluten free, and vegetarian eaters at the table and there was something for everyone.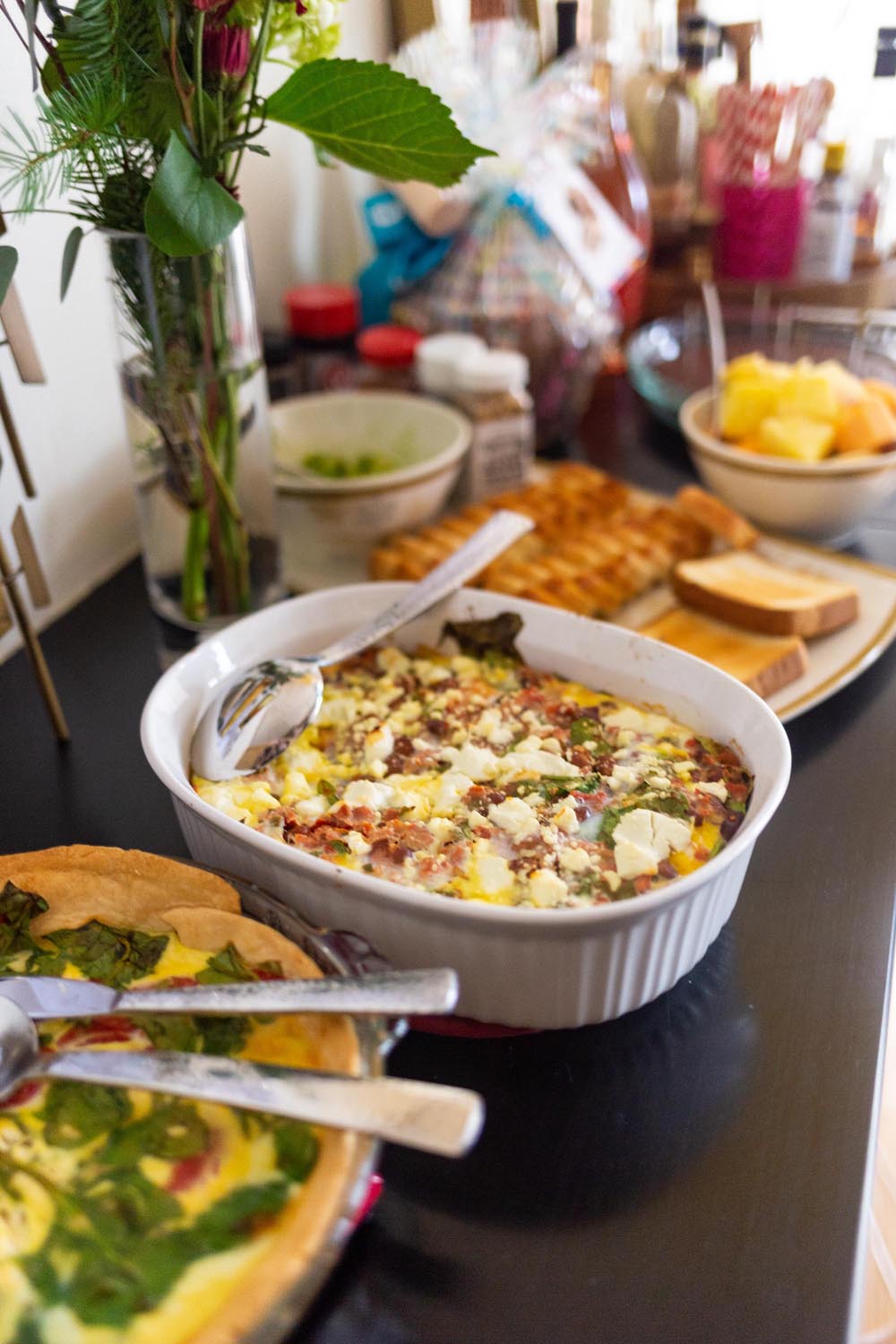 Here are a few of my favorite recipes and ideas to get your New Year's Eve Brunch menu going:
Cheeseboard
Fresh fruit
Quiche Lorraine (easily customize this recipe to make it veggie friendly with spinach and roasted red peppers!)
Snap some photos
Would it be a girls brunch if you didn't document it? I realize blogging has made me a bit extreme in this regard, but the thing is, even before I started a blog I always loved to document fun memories with at least a photo or two. If you're hosting, don't forget to take a step back and snap a photo of what you've created, and the friends you shared it with! Then a few years down the road when you're thinking back on this epic day, you'll have the photos to reflect on.
Plan some activities
Looking for some ideas that involve more than just chatting? I love having fun activities available for party guest. (Though to be honest, most of my friends and I could chat for hours…) Or, maybe you and your friends need a great excuse to get together. Either way, make one of these activities the star of the party or use it as a backup plan when conversation runs dry.
Here are some activities you can have at the ready or plan ahead of time:
DIY face masks
Board games
Movies and snacks
Crafts
Plan a clothing or beauty swap
Cookie exchange
Book club
At home manicures or pedicures
Take on the town
Stay in for New Year's Eve, or go out, it's ultimately up to you! For our girl's day, we opted to strut out stuff in a nearby town. Sure, we wanted to get some fun group shots, but I won't lie and pretend it wasn't fun to get a few stares in our outfits. Have I mentioned how casual of a city Seattle is? Dressing up often gets a few interesting looks and even more so when your girl gang is dressed in the colors of the rainbow. ;)
Toast to yourselves
Finally, don't forget to reflect on the last year and toast yourself for all of your amazing accomplishments! For me, the dawn of the new year is a time of self-reflection. Celebrating the highs and lows of the previous year, plus looking ahead at what can be accomplished in the new year.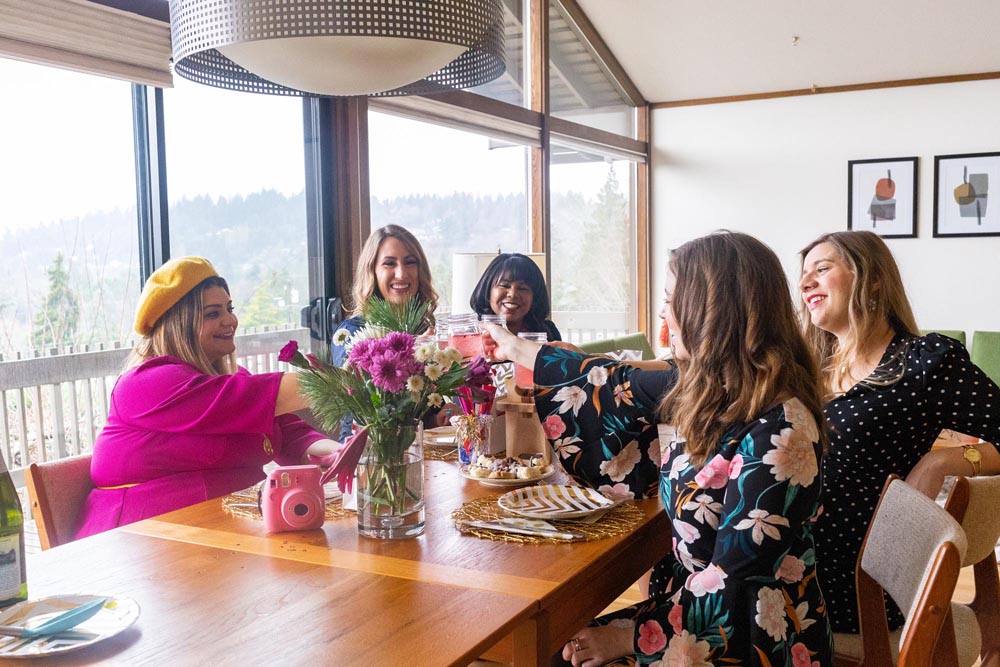 Pour a glass of bubbly, and then toast each of your:
proudest accomplishments
lessons learned
friendships made
goals in the new year
Beyond the food, activities, and what you wear, the important thing about getting together is to enjoy each other's company. I know that I will treasure this fun time with friends forever, and I look forward to our next gathering!
Until then, you can check out what each of my friends has shared about our girl's day and what they wore below!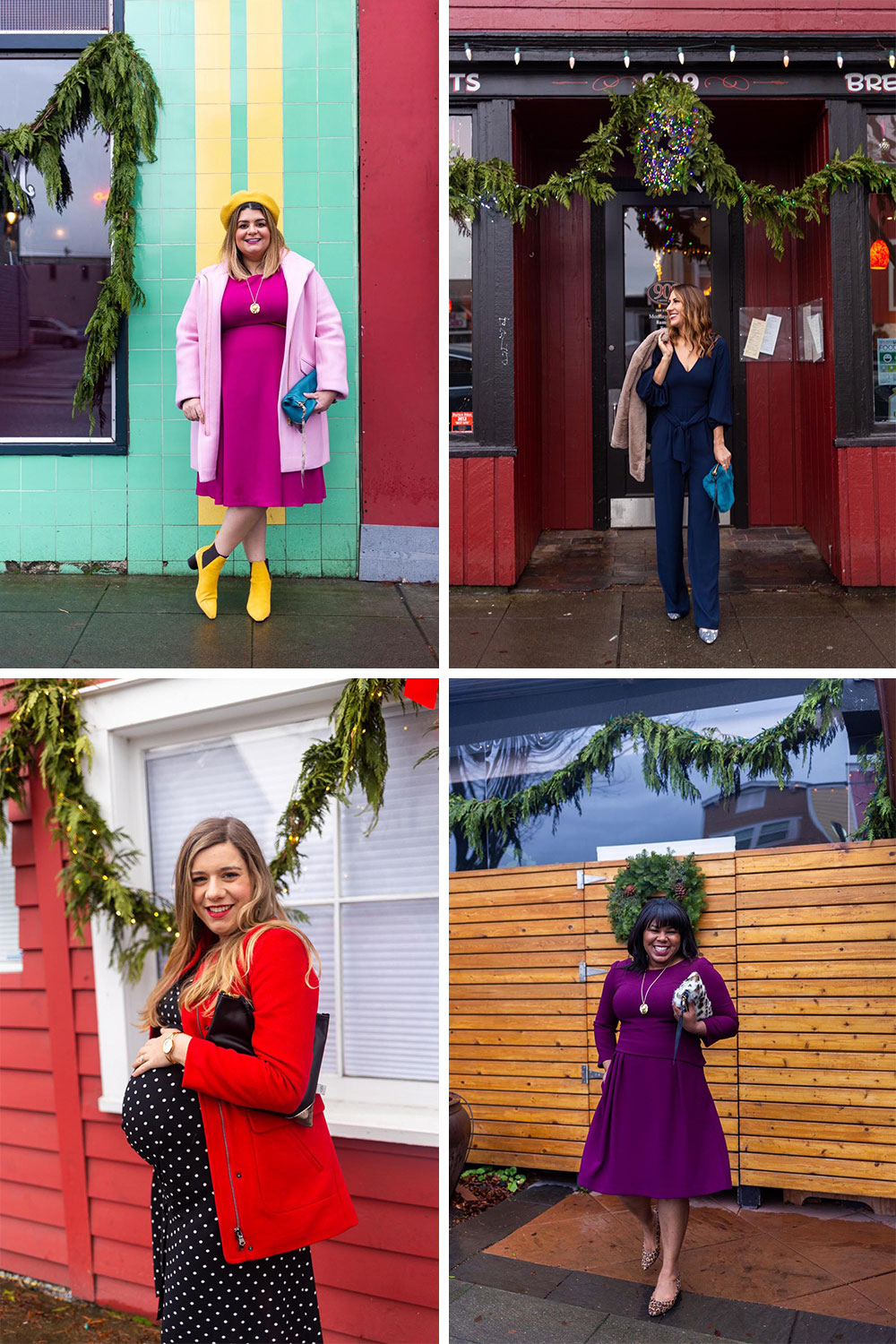 1 // Sahily of Pretty in Pigment shared how to pick your color of the year
2 // Megan of Diary of This Girl Megan shared five lessons she has learned from blogging
3 // Ana Luiza of Northwest Blonde shared her experience at my New Years Brunch
4 // Asa of Lace and Pearls Blog shared creative ways to style an Eliza J dress
How are you celebrating the new year? Did you host any of your friends this holiday season? I'd love to hear about it in the comments below!