If there's one thing I don't want during the holiday season, it's a bad hair day. Who has time for that? Not me! There are plenty of things that can go wrong around the holidays: getting trapped in a sudden downpour, long lines at the grocery store, traffic on the freeway, having a wardrobe malfunction, forgetting a present… the list goes on and on. With all of that and more to worry about, I just want to wake up and know that I'll have shiny, voluminous hair, at least most days.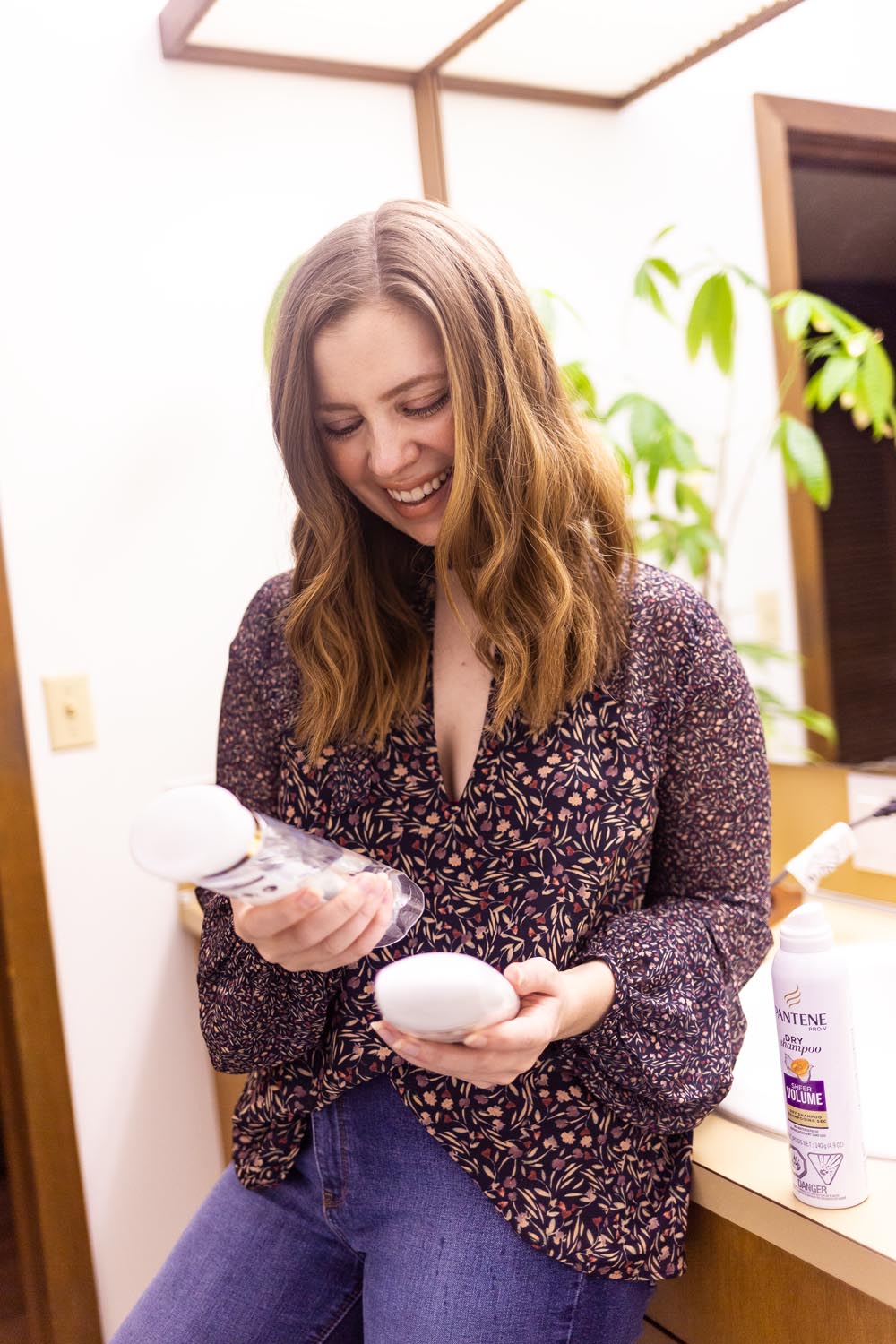 Disclosure: This post is sponsored by Pantene. All opinons are my own!
That's why I'm so excited to be working with Pantene to take their 14 Day Challenge. If you follow me on Instagram, then you may know that at the beginning of December, I started the challenge, which meant switching all of my hair products to Pantene for 14 days. Using the Pantene Sheer Volume Shampoo and Conditioner was an easy switch, and the Sheer Volume Dry Shampoo proved to be a brand-new favorite for me!
How to Get Voluminous Hair Everyday
With the goal of no bad hair days and only great hair days, I'm excited to share my results with you today! While I'm at it, I've also put together some tips for pumping up the volume on your strands if, like me, you find them looking a little lackluster during this dry and chilly time of year!
Start off with a healthy foundation
Did you know that only 1 in 10 women report experiencing great hair days on a regular basis according to a Yale University study? Pantene is on a mission to change all that and give all women the great feeling of MORE great hair days! A great hair day starts with a healthy foundation and hair products that suit your specific needs. Fortunately, Pantene has a collection for everyone, and you can find the collection that is best for your hair type in their handy quiz here!
Once you've found out which Pantene Collection is best for you, join me in taking the 14 Day Challenge! I think you'll find that at the end of 14 days, you'll be glad you switched! Since switching, to the Pantene Sheer Volume Shampoo for oily scalp, my hair feels softer, brighter and bouncier, with no bad hair days in sight. My heat styles hold for longer and I'm using less dry shampoo, with my hair looking more voluminous instead of greasy!
Wash your hair the right amount
Did you know you might be over (or under!) washing your hair? This all depends on your exact hair needs! If you have color treated hair and use hot tools a lot, you should be washing your hair less! Two to five times a week and a repairing shampoo and conditioner like the Pantene Repair & Protect Collection will help your tresses feel hydrated.
Those with curly-wavy hair that's frizz-prone, naturally textured hair, and relaxed styles should be washing even less frequently. Washing your hair two to three times per week will allow the hair to absorb the hydrating ingredients and oils from the Pantene Daily Moisture Renewal Collection or the Pantene Gold Series Collection depending on your exact hair type!
Finally, if you're like me and have hair that looks limp and flat a few hours after styling and tends to be on the straighter side, then you might want to increase the amount of times you wash your hair per week. Five to seven times per week with a volumizing and moisturizing shampoo and conditioner like the Pantene Sheer Volume Collection might be the ticket to more voluminous hair and more great hair days! I've found that washing my hair every other day with the best volumizing shampoo has improved its lackluster appearance and means that I have more voluminous hair more often, even when I haven't washed it.
Up your hair styling game
Having trouble getting volume at the root? Try a dry shampoo! The trick is to blast the dry shampoo right at the root of the hair without covering the scalp, then fluffing with your fingers or even a quick blast with the blow dryer to create some volume. You can use the dry shampoo to touch up hair throughout the day, or apply it at night time to really soak up any excess oil overnight. The Pantene Sheer Volume Dry Shampoo is perfect for this, and even after the challenge, will be my go-to! Beyond soaking up oil, I love that it doesn't leave a white cast on my hair, doesn't irritate my scalp, and leaves a fantastic scent in my hair!
Change up the way you blow dry
I have a trick I like to use when it comes to blow drying to get more volume in my hair. First, I let my hair almost entirely air dry. I like doing this because it keeps my hair from getting dried out and over processed from too much heat styling. The second thing I do when blow drying for a boost of volume is blow drying upside down. Yep, flip your head upside down and blow dry those roots! When you flip your head back, you'll have a LOT of volume to work with!
Hack your way to a fuller crown
Hair looking a little lackluster despite using dry shampoo and the blow dry trick? Try switching up your part! By re-parting your hair, you'll often find that the flattened hair from your old part now has a little more lift and volume away from the scalp going another direction.
Don't let your hair ruin your day
When it comes down to it, it's impossible to have a great hair day every single day. When I feel like my hair isn't looking it's best, especially when I'm trying to stretch out another wash, I like to rock a stylish hat or try out a new hairstyle. After all, why should we let uncooperative hair control our mood? Add a cool hat to your wardrobe for these kinds of days and never have a "bad hair day" ever again!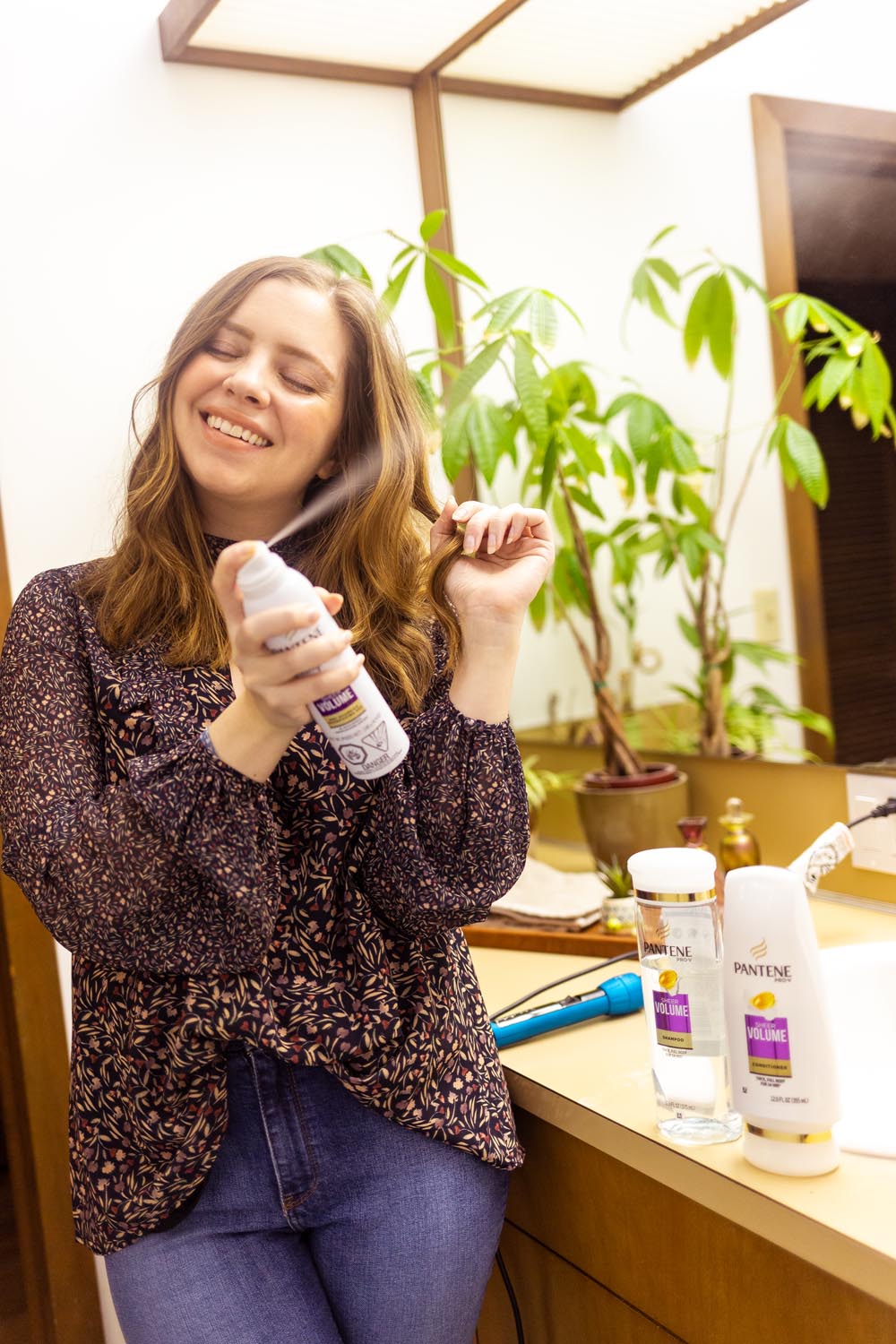 Since starting on the Pantene 14 Day Challenge, I've noticed a huge shift in my hair for the better. By changing up my hair products and washing habits, I've seen an improvement in the volume, shine and overall appearance of my hair every day. If you want to take the 14 Day Challenge and switch up your hair routine for the holidays, start by taking the quiz here. Trust me; you'll be glad you did!

Have you joined the Pantene 14 Day Challenge yet? Which hair collection is recommended for your hair type? I'd love to hear about it in the comments!
This is a sponsored conversation written by me on behalf of Pantene. The opinions and text are all mine.