It's no secret that I've struggled with dry skin. Some people get patches on their hands or face during winter that clear when the weather gets warmer, and some people, like me, suffer off and on all year long with itchy, tight, dry skin on their face and other places on their body. Not only do I suffer from dry skin, but I have sensitive skin and am prone to patches of eczema. The struggle is real.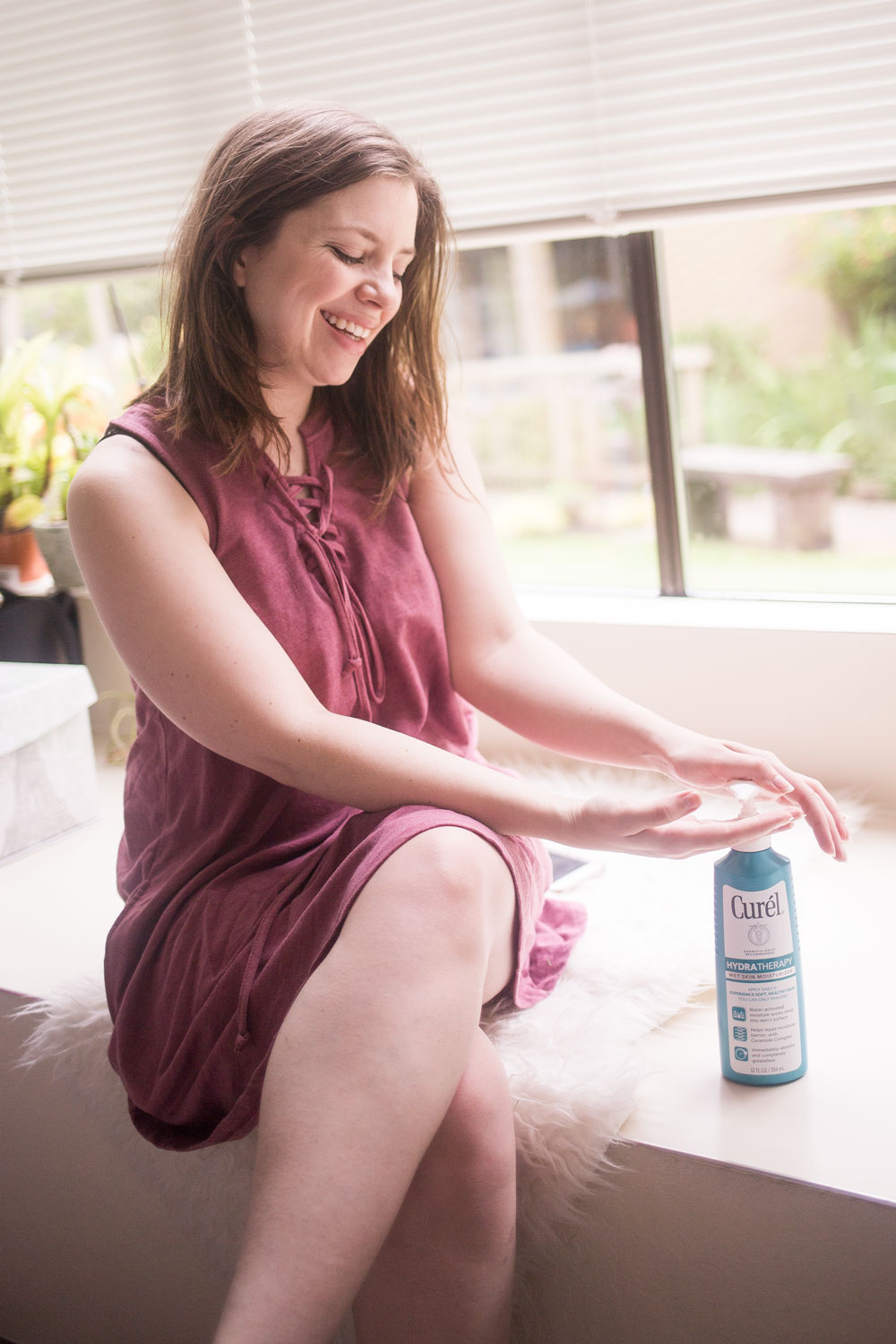 Disclosure: I'm sharing Curél® in my life as part of a sponsored series for Socialstars™" #curelskincare #enddryskin
How to Combat Dry Skin
I sound like a real winner, don't I?! ;) While it may seem like my skin looks bad, it usually doesn't. For me, my dry skin is more of a sensation; I often feel itchiness and notice flakiness when scratched that is enough to drive anyone a little bit crazy. All this to say, this spring I finally found a product that transformed my dry skin, and I can't wait to share more about the transformation I've seen over the past three months of using the Curél® Hydra Therapy Wet Skin Moisturizer!
I first discovered Curél Skincare through a sample that I received in the mail several years ago. It was their Itch Defense® Body Wash and Lotion, and I was shocked at how much it helped. When I had the opportunity to partner with them this spring on a campaign to share their new Hydra Therapy Wet Skin Body Moisturizer, I was in. Their latest offering promises to be perfect for dry and very dry skin and perfect for those with sensitive skin or skin conditions like eczema.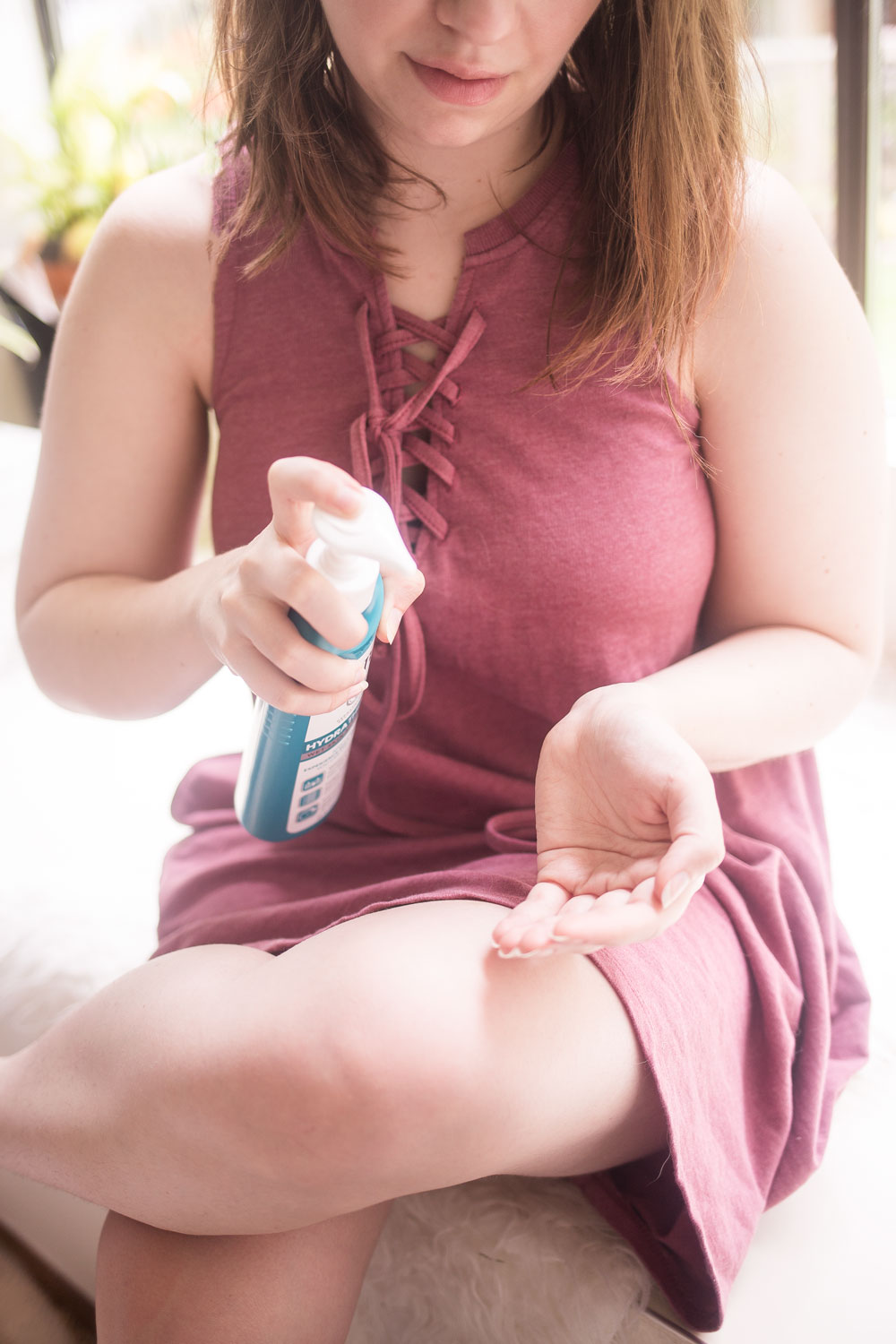 Not only is this more convenient for me (who doesn't love having their entire skin routine done before exiting the shower?!) but it works too! Long gone is the tight feeling of parched skin on my back and itchy legs post-shave. Now my skin feels soft and smooth, and the moisture feels like it stays for days after. And, the eczema patches that normally plague my elbows and knees are gone too!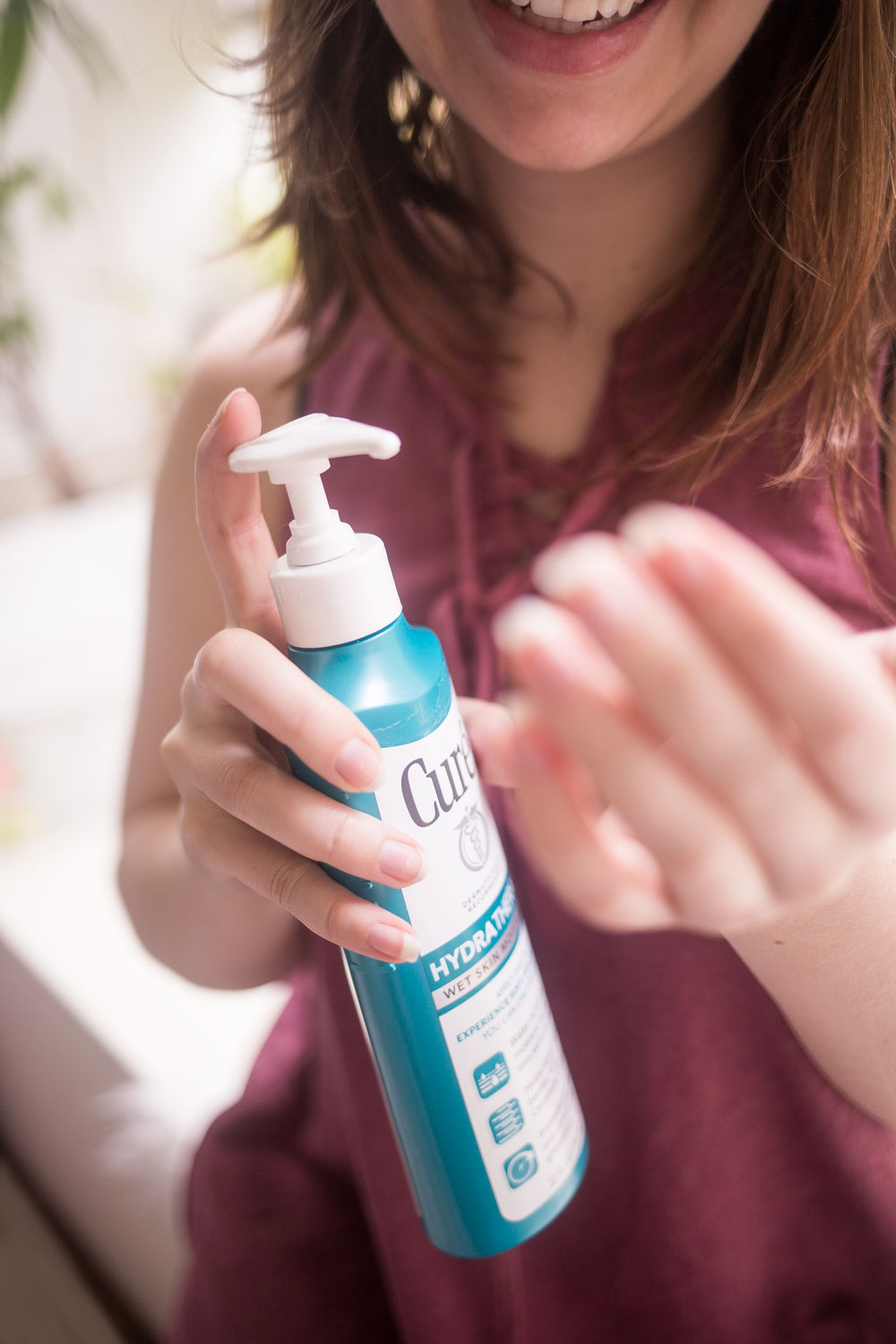 To use the Wet Skin Moisturizer, shower as normal, then after turning off the water but before exiting the shower, apply a thin layer from neck to feet. I personally don't apply this to my face, but I'm sure you could try it and see how your skin reacts. I focus a little extra moisturizer and attention during this time to the areas that seem most dry, which is usually my legs and lower back. Whatever is left over on my hands, I rub into them! I find that my hands love it too.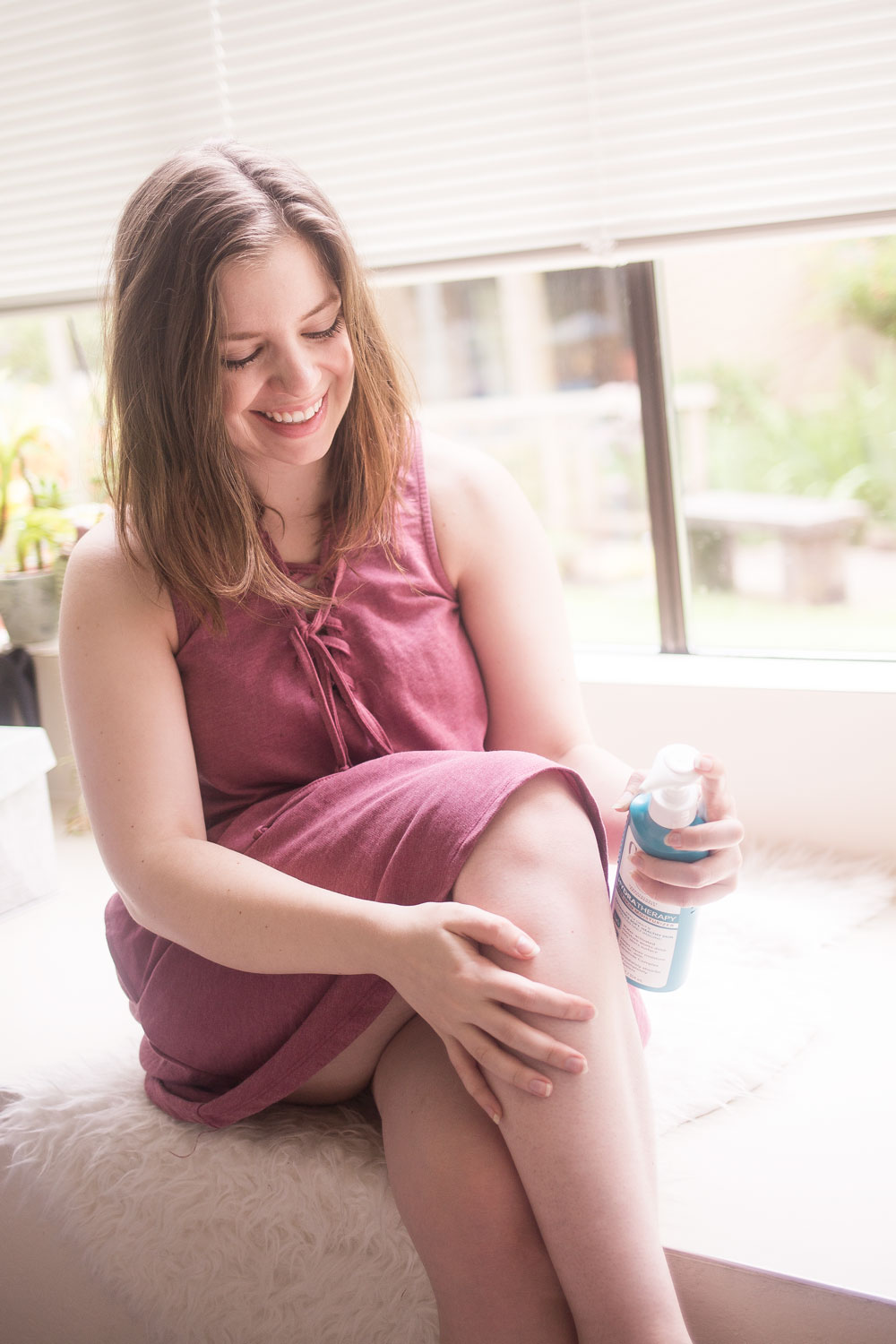 Once I'm done applying the lotion, I exit the shower and dry off normally. Because the lotion is unscented, it's great for those with allergies and I haven't notified any issues with it leaving a residue or stain on any of my robes or towels. My favorite part of the Wet Skin Moisturizer is that I don't feel obligated to moisturize my entire body until the next time I take a shower. And, when I forget to moisturizer wth the Curél® Hydra Therapy Wet Skin Moisturizer, I definitely notice a difference. For me, it's important to stay consistent with the routine to keep that pesky dry skin at bay!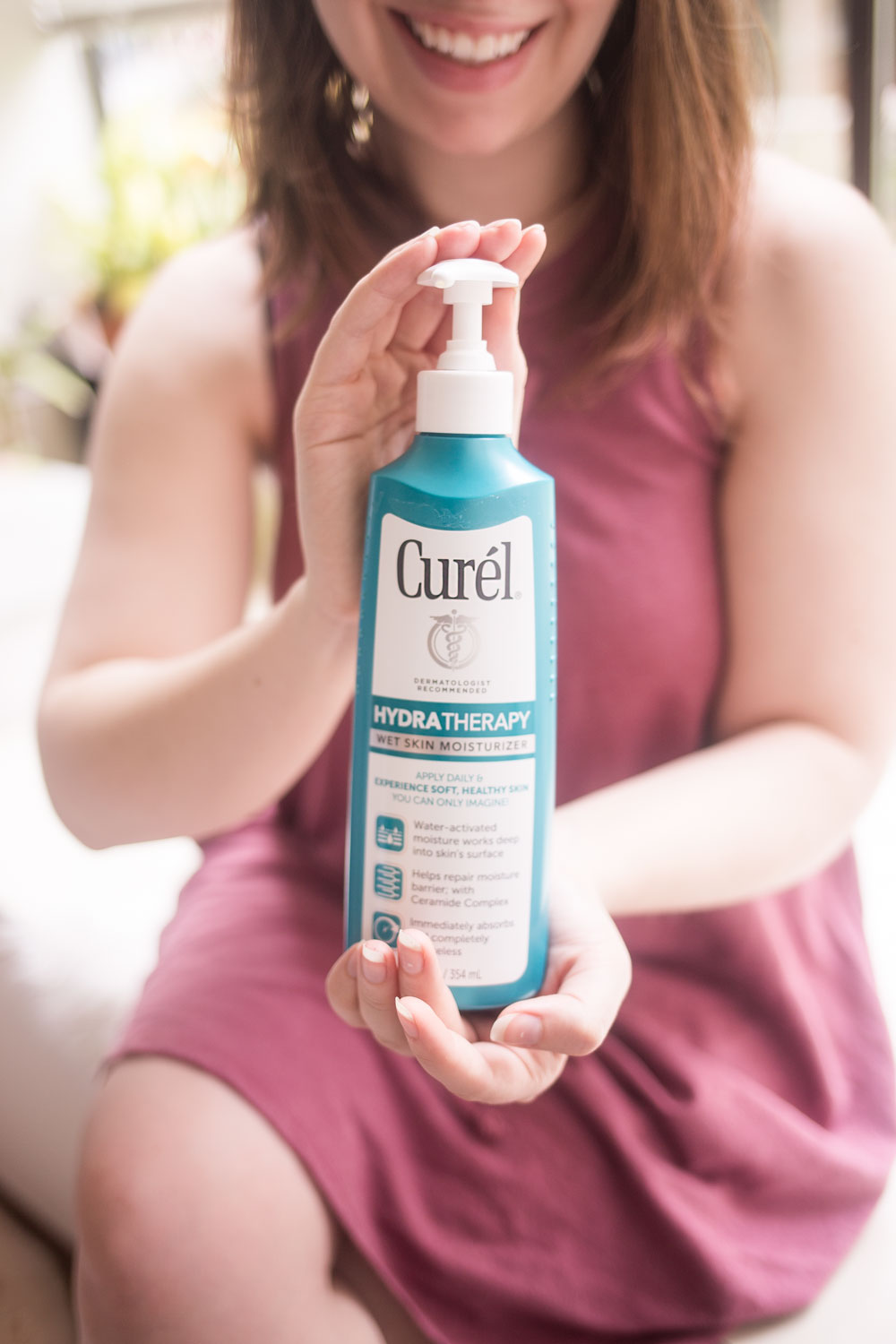 With my skin looking and feeling great, it's the beginning of so much more! With summer just around the corner, I'm excited to rock more skirts and dresses without feeling like my legs are going to suffer from dryness and itchiness. No longer do I have to worry about baring my arms, as my former dry patches and eczema are no longer. With the end of my dry skin, I'm feeling more confident in my own skin and happy that I've found something that works so well!
I don't mean to sound like an infomercial, but if you've struggled with dry skin and finally find something that works, you basically want to shout it from the rooftops. That's basically how I feel about Curél® Hydra Therapy Wet Skin Moisturizer, and the fact that it's less than $8 at your local Target, Walmart, or favorite drug store makes this a product you really can't go wrong with.
Have you tried the Curél® Hydra Therapy Wet Skin Moisturizer yet? Have you found something that helps your dry skin? I'd love to hear your thoughts in the comments!