When I started working an office job post-college, my creativity when it came to fashion and dressing myself took a nose dive. Adjusting to post-college life was stressful. A new schedule, lots of learning, and my own personal drive for perfection led me to focus more on my work and less on my interests, and in turn, put me into a style rut.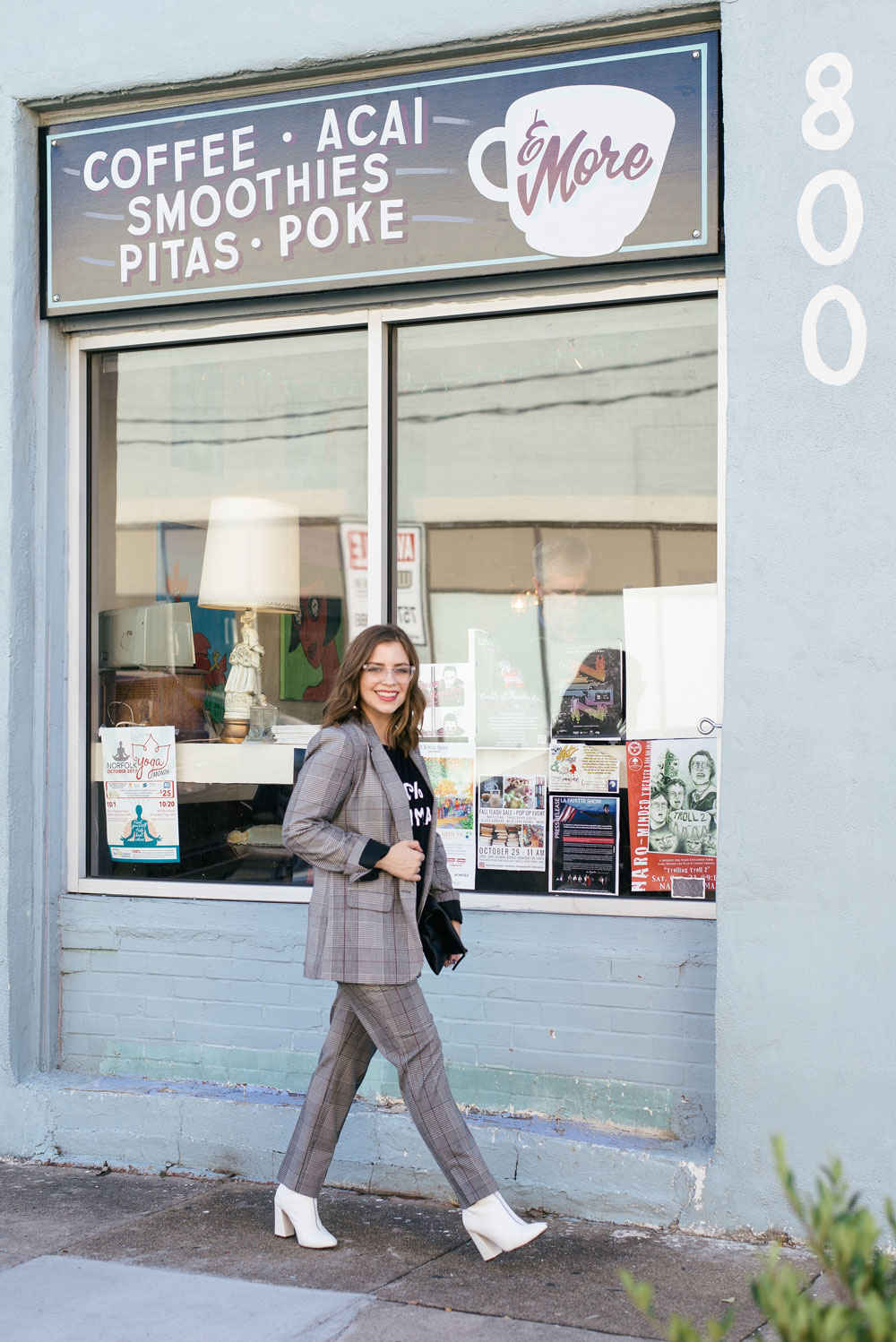 Photos by Brittany Sue Photo
A few years later, realizing that focusing on my career with most of my energy wasn't making me happy, and coming to the conclusion that I had no real other hobbies to speak of, I started Hello Rigby. When I started this blog, I had no intention of writing about fashion. Not at first, anyway.
One day, I posted an outfit. It was scary, but I did it. It wasn't a good outfit. It wasn't anything I would wear now. But it was a start. And ultimately, here we are today.
So how did I get out of a style rut?
By experimenting with color, texture, and various trends over the years, I've been able to hone in, more and more, on the types of pieces I enjoy wearing long-term versus the kinds of things that most likely will only last a season or two. (Which is totally fine, by the way! Not everything you buy needs to last forever. Remember gaucho pants?!)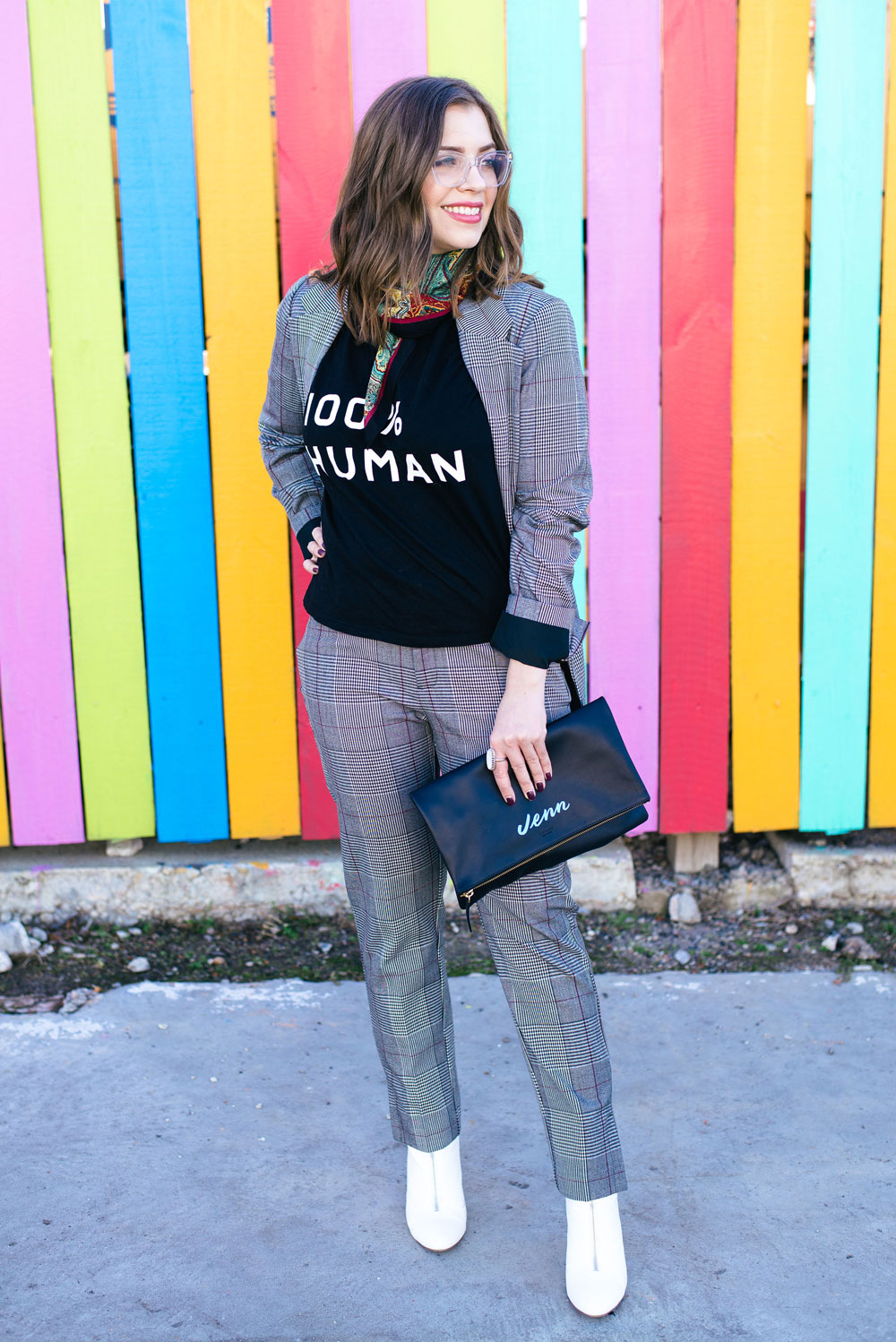 But back to my style then (right out of college) versus now. When I met Dave, I was kind of at pique post-college style. I wore mostly the same things as if I was still in school getting dressed half asleep and in a huge hurry. I wore skinny jeans, a floral blouse of some kind, and almond toe (faux) suede wedges almost every day. I might switch it up by wearing a dress with tights. Accessories weren't something I put much time or attention into, and I only owned a couple of handbags, most of which were leftover from high school or I just carried my gigantic laptop bag.
Keep in mind; my work environment is super casual. Jeans and a t-shirt will suffice. You could probably get away with less, too. Or you know, I could rock this pantsuit too. Basically, anything goes.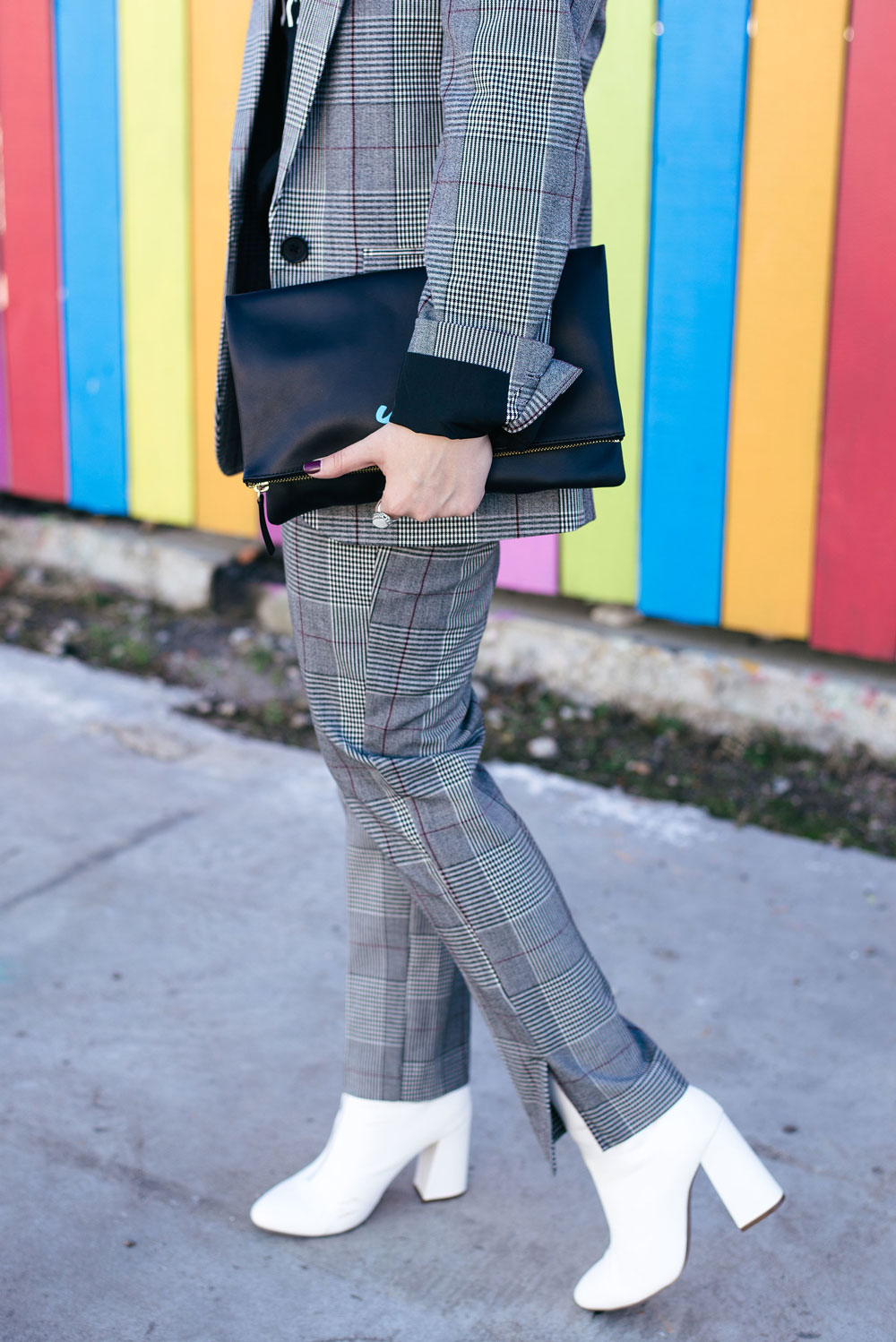 At almost 30, some of these things haven't left me too much. When pulling from my closet for the average work day, I often find myself gravitating towards the same basic outfit combinations. Skinny jeans, a blouse, and a comfortable yet cute pair of shoes. I now have more handbag options to choose from, which I do think improves an outfit dramatically.
But to get out of the rut of what I consider to be lazy dressing, I've challenged myself to dress up for work at least once a week. While no one but me may notice it, one day a week I can put on a bit of makeup, wear an actual put together an outfit, and walk with a bit more spring in my step for it. And you know the perfect place for trying out new trends? The office. If none of your co-workers give you a weird look, or even if they do, you're probably doing something right.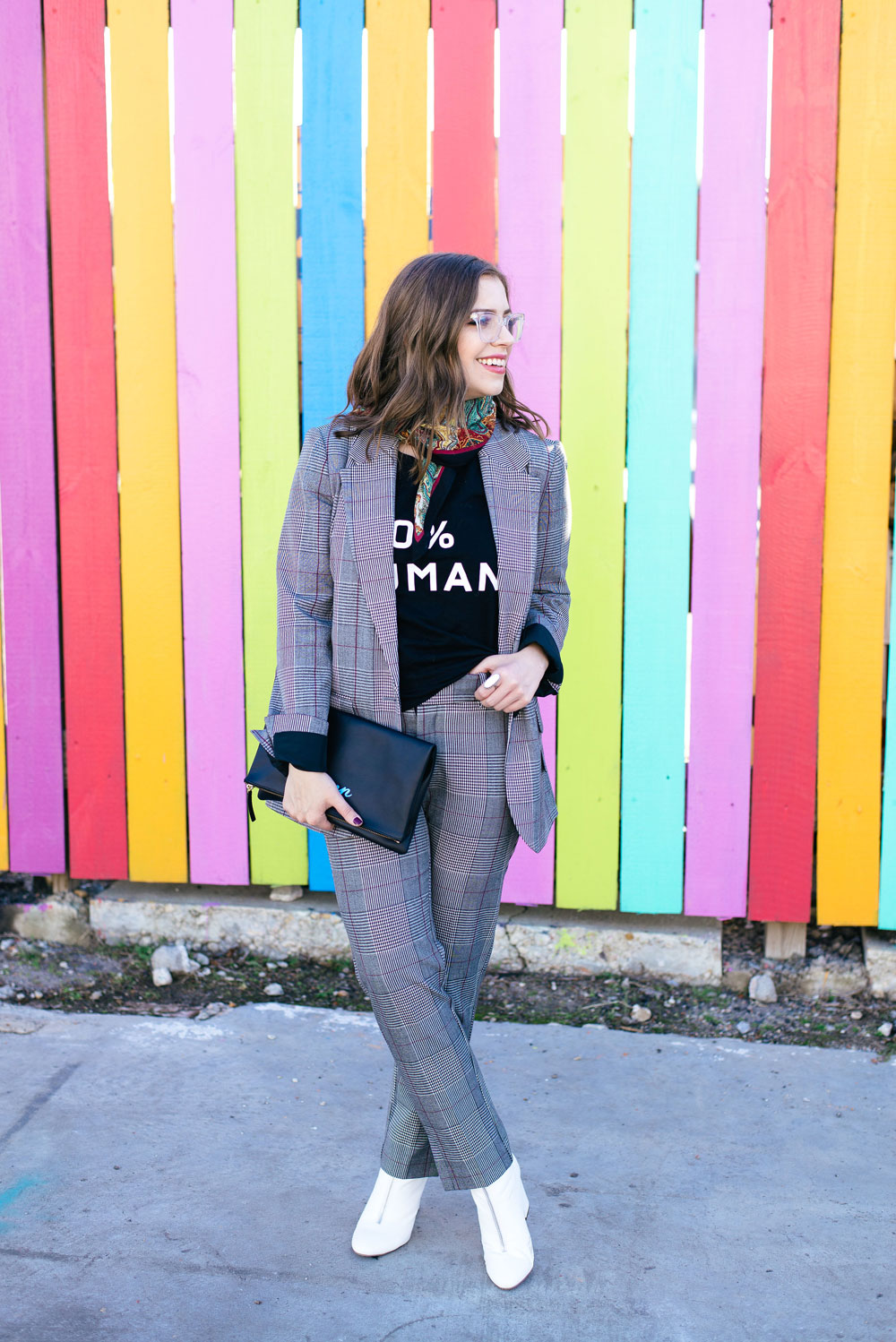 At its core, my style still revolves a lot around great basics. These basics make it easy to get dressed quickly. However, by expanding my wardrobe to include more "adult" clothes, and being open to change, I have introduced new styles to my closet like jumpsuits and rompers that I never wore before. And these all make for great staples for work too. Well, maybe not short rompers, but you get what I mean.
So anyone else down to combat "lazy dressing" with me and take the challenge? One day a week, let's try something different. Surprise ourselves with something out of our closet that we haven't worn in awhile. Maybe try a new trend!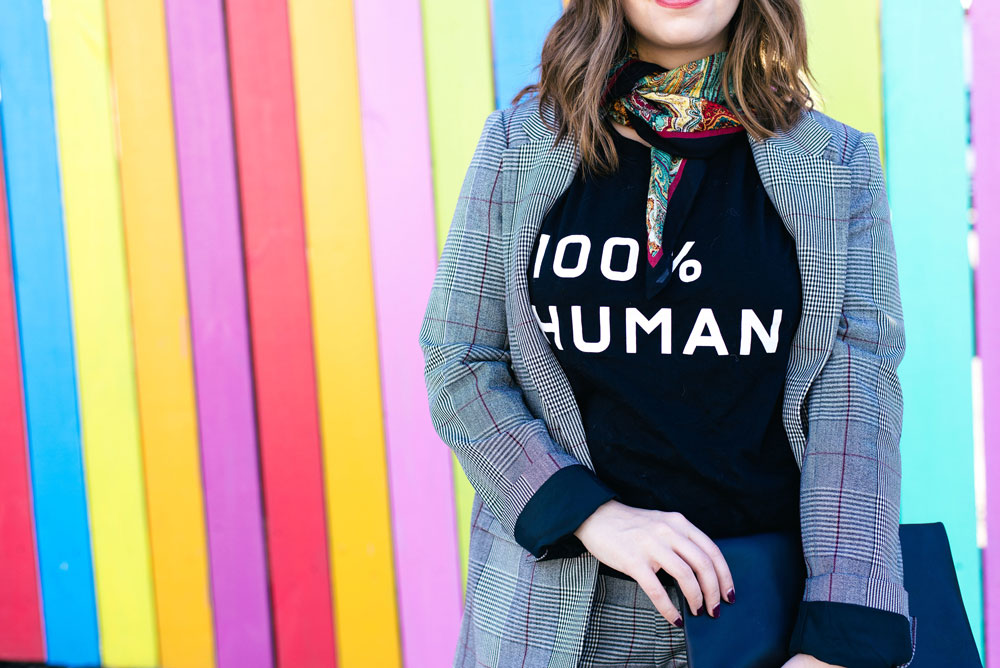 I can't wait to see what you come up with. Tag me in your outfit(s) on Instagram and use hashtag #hellostylechallenge! I'll be sharing my faves on my Story, and at the end of next month, I'll announce a winner.
Have you ever found yourself getting stuck in a style rut? How have you combated it? Let me know in the comments!