Well, spring is officially here! I am for one excited about the changing weather, but like every season in the Pacific Northwest, the transition time between seasons is always rough on my skin and hair. It will be warm and humid one day, and the next it will be cold and wet. This yo-yo climate wreaks havoc on my beauty routine, as one day I'll be battling dryness and encourage volume, and the next I'll be trying to tame frizz and flyaways. The struggle is real!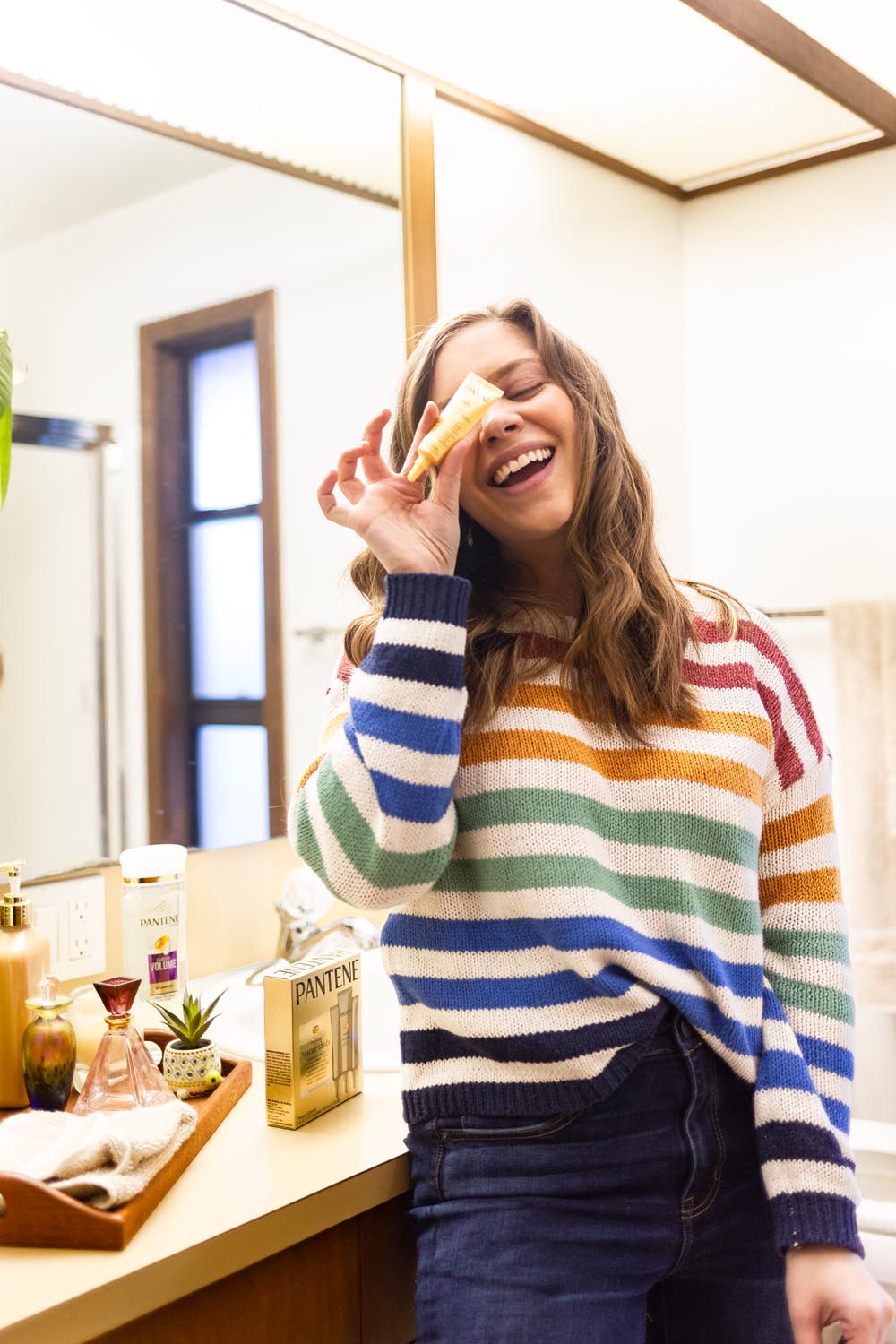 Disclosure: Thanks to Pantene for sponsoring this post. All opinions are my own!
Fortunately, Pantene to the rescue! They've been my go-to haircare brand since I was in elementary school, and I love how they're still making my old favorites, but also creating innovative newer products, too. In January of this year, they launched Pantene Intense Rescue Shots in the United States. Previously a great hair day secret of Brazilians, Pantene's first at-home rescue treatment is full of concentrated nutrients, vitamins, and lipids to encourage healthy hair.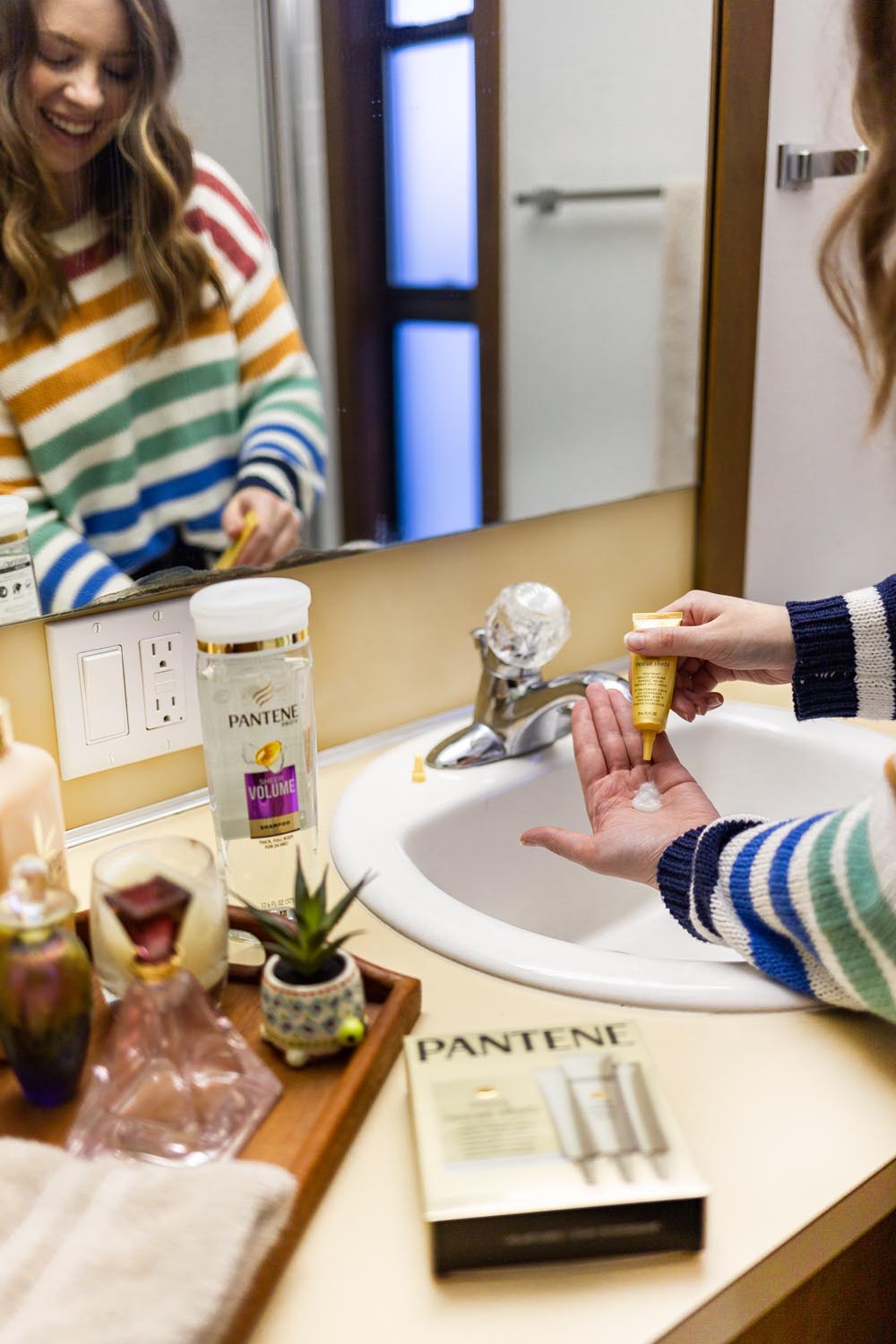 Pantene Intense Rescue Shots are the most potent repair product yet! In just one single-dose tube, there is a deeply absorbing blend of Pro-Vitamin B5, strengthening lipids, and natural glycerin to target damaged areas, ideal for color treated or heat-styled hair of all types. With just one use, Pantene Intense Rescue Shots provide deep conditioning that turns dry, brittle hair into soft, shiny, and more resilient hair that you would expect from a salon. Even better? Pantene Intense Rescue Shots rinse cleanly to avoid weighed-down hair that's tough to style.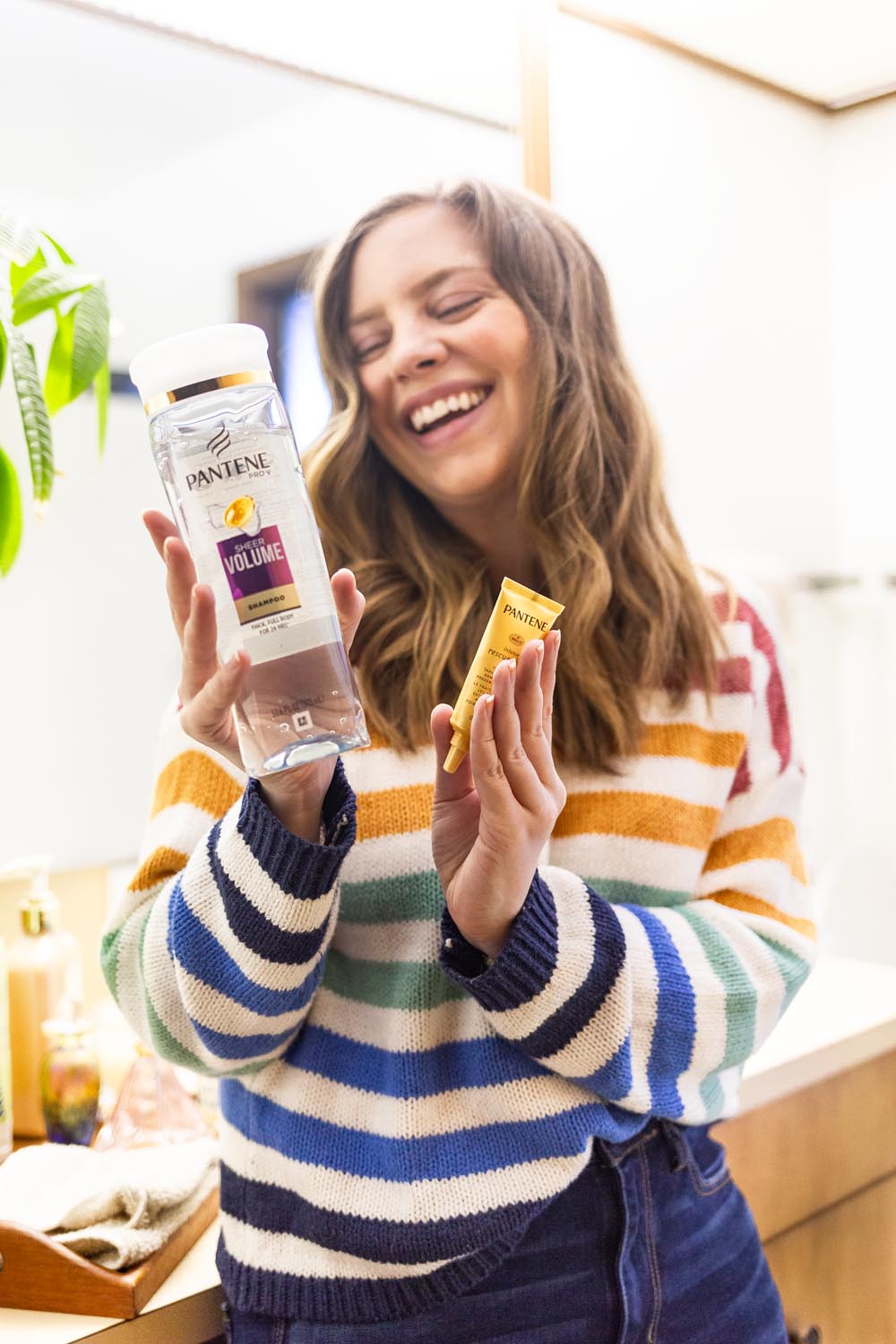 For me, it's been a game changer in my haircare routine. I first discovered the Pantene Intense Rescue Shots at the end of winter at my local drugstore, and it quickly replaced my conditioner once a week for an added boost when my hair needed it most. They're incredibly easy to use, too! Just pop one into your shower, wash your hair with your favorite shampoo like the Pantene Sheer Volume Shampoo, and then squeeze out the entire ampoule into the palm of your hand.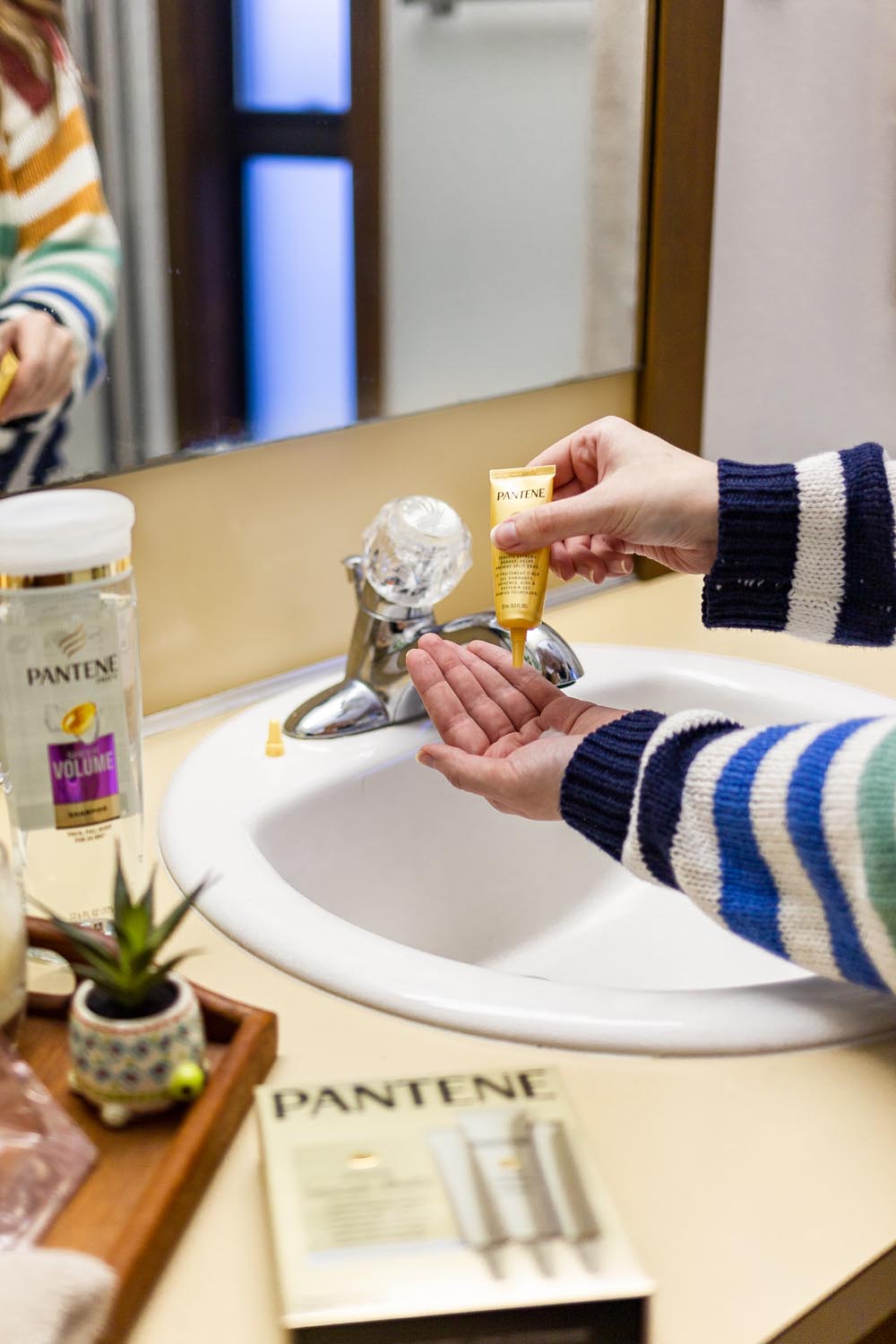 Working from root to tip, saturate your strands with the entire contents of the Intense Rescue Shots all the way through to the ends of your hair. I concentrate on the ends of my hair since that's where I see the most damage, like split ends. I like to let my hair absorb the ingredients while I quickly shave my underarms for about 30 seconds or so. Then, just rinse it out for 30 seconds! No need to over-rinse, as the product is designed to come right out without too much fuss.
On days when I'm pampering my hair with the Pantene Intense Rescue Shots, I prefer to let it air dry. Once my hair has dried, I then spray on some heat protectant spray and curl as usual. What's even better about this haircare routine is that I find that when my hair is adequately hydrated, I can use less styling products. When my hair is healthy, it is more likely to hold curl and volume on its own.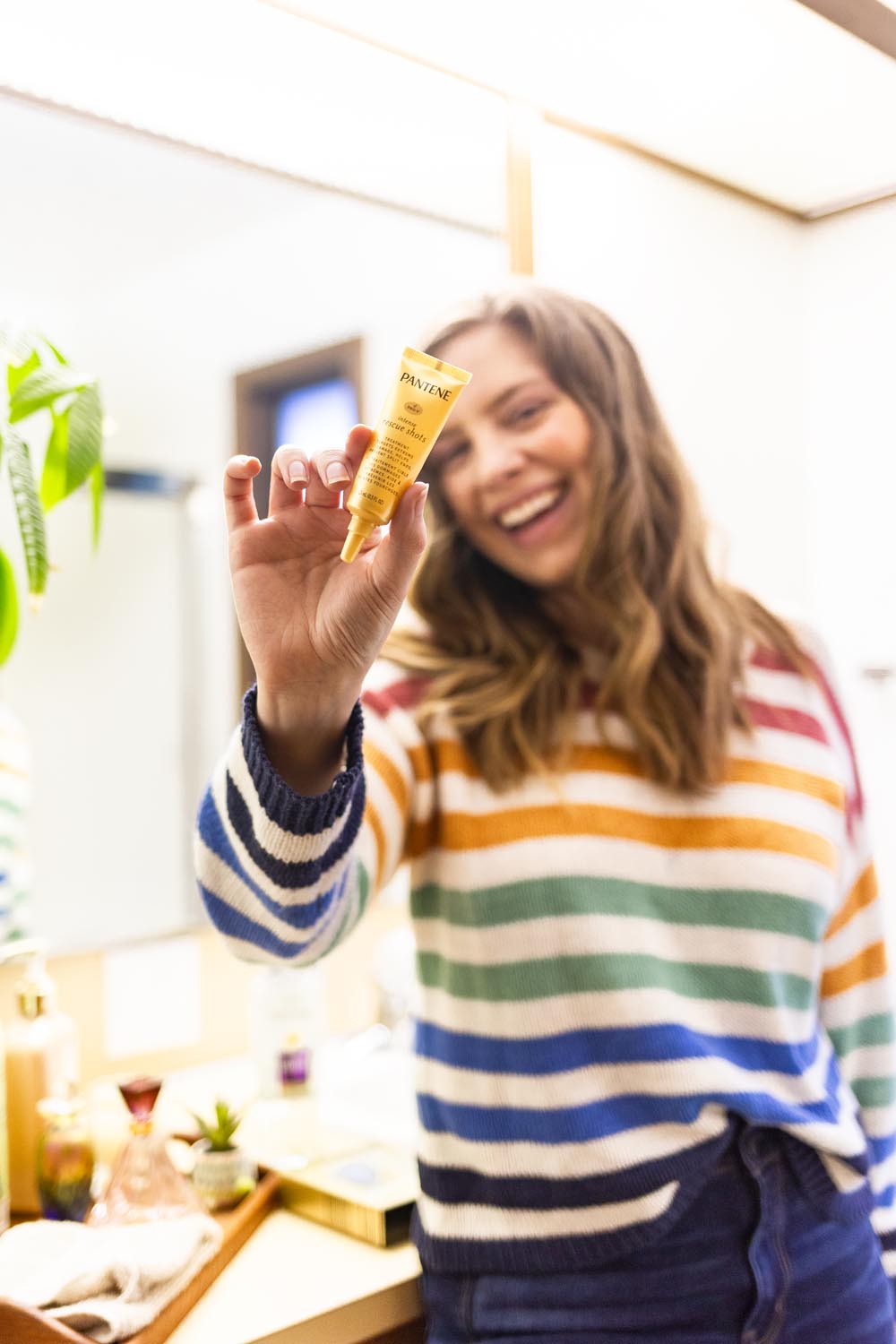 If you're worried about the Pantene Intense Rescue Shots weighing down your hair, don't be! They're formulated to easily rinse out and not leave any residue. I've definitely been burned by hair masks that are so heavy and greasy that my hair looks like it needs to be washed all over again. The Intense Rescue Shots leaves my hair feeling bouncy, light, and perfectly moisturized. Bonus points for the perfectly light and refreshing scent that it leaves in my hair, too!
So who's ready to try out the new Pantene Intense Rescue Shots?! If you have dry, color-treated, or heat-styled hair that could use a moisture boost this spring, you'll love to know that you can find them here!
Here's to having a great hair day every day this spring, thanks to Pantene!
Have you tried Pantene's new Intense Rescue Shots? Do you change your haircare routine for each season? I'd love to hear about it in the comments!