Last year, I got my mom hooked. It was an accident, really. I took her for her first facial on a press trip to the Olympic Peninsula, and she was amazed at how good it felt. Not just the facial itself, but the way in which she was able to unwind a bit, relax, and treat herself to something new. Since then, she's been asking for skincare tips (which I have plenty of!) and has told me she makes time for self-care rituals, even something as simple as taking more time for body care after a shower.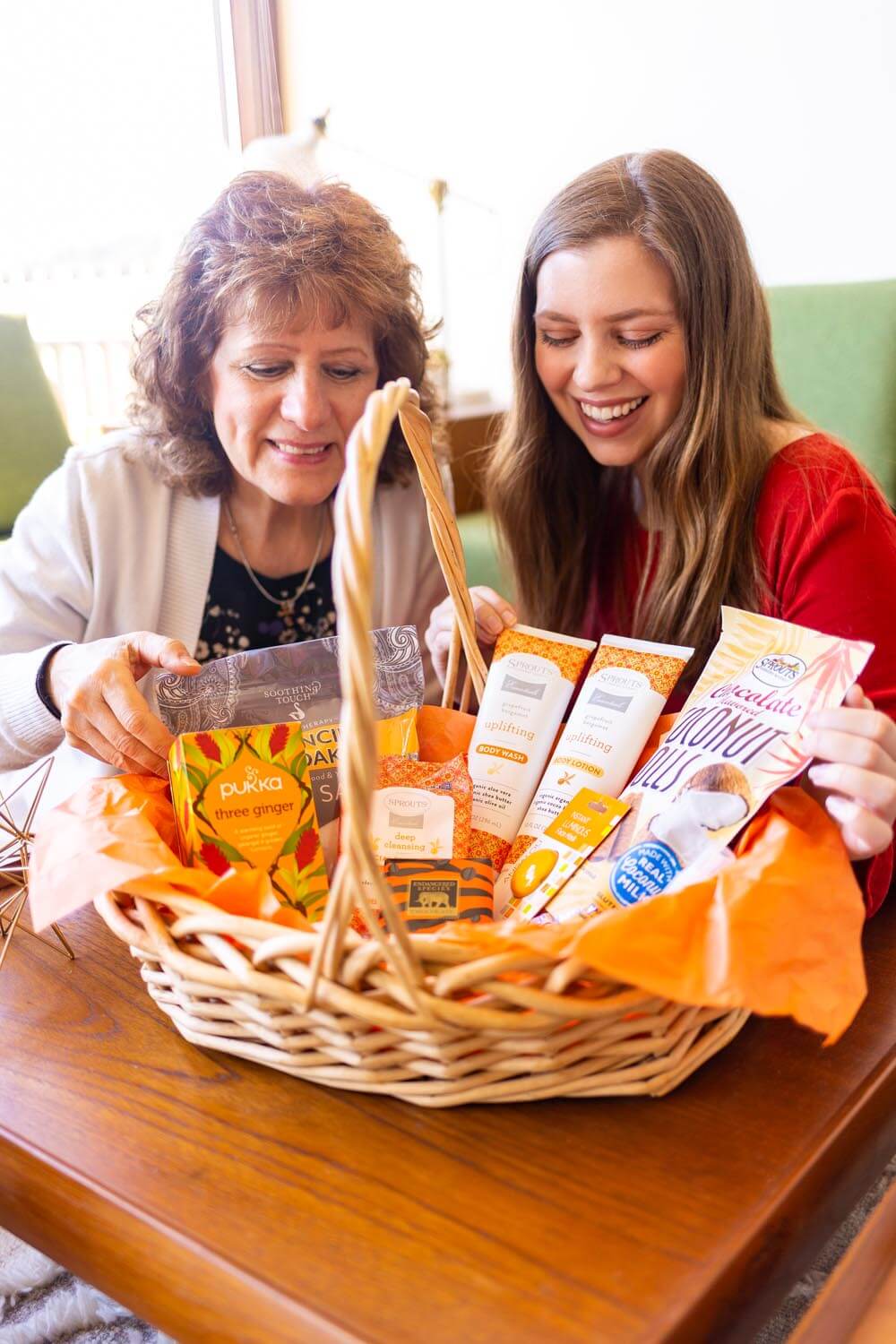 Disclosure: Thank you to Sprouts for sponsoring this post! All opinions are my own.
This year, I was thrilled to partner with my friends at Sprouts to create a Blissful Body Care gift basket with the ultimate self-care tools inside, just for mom. While I can't quite replicate a real spa in a DIY mother's day gift basket, I can give her a few great products that will give her the ability to recreate it right at home, when it's convenient for her schedule. Even better? Sprouts makes it easy as a one-stop shop for natural, affordable products I can count on to make Mom smile!
If you're stumped on what to get for Mother's Day, then make a gift basket for Mom! You can customize it exactly to her preferences and can be enjoyed at any time. Today, I thought I'd share some of the amazing products I found, all available at Sprouts, to include in my do-it-yourself Mother's Day gift basket!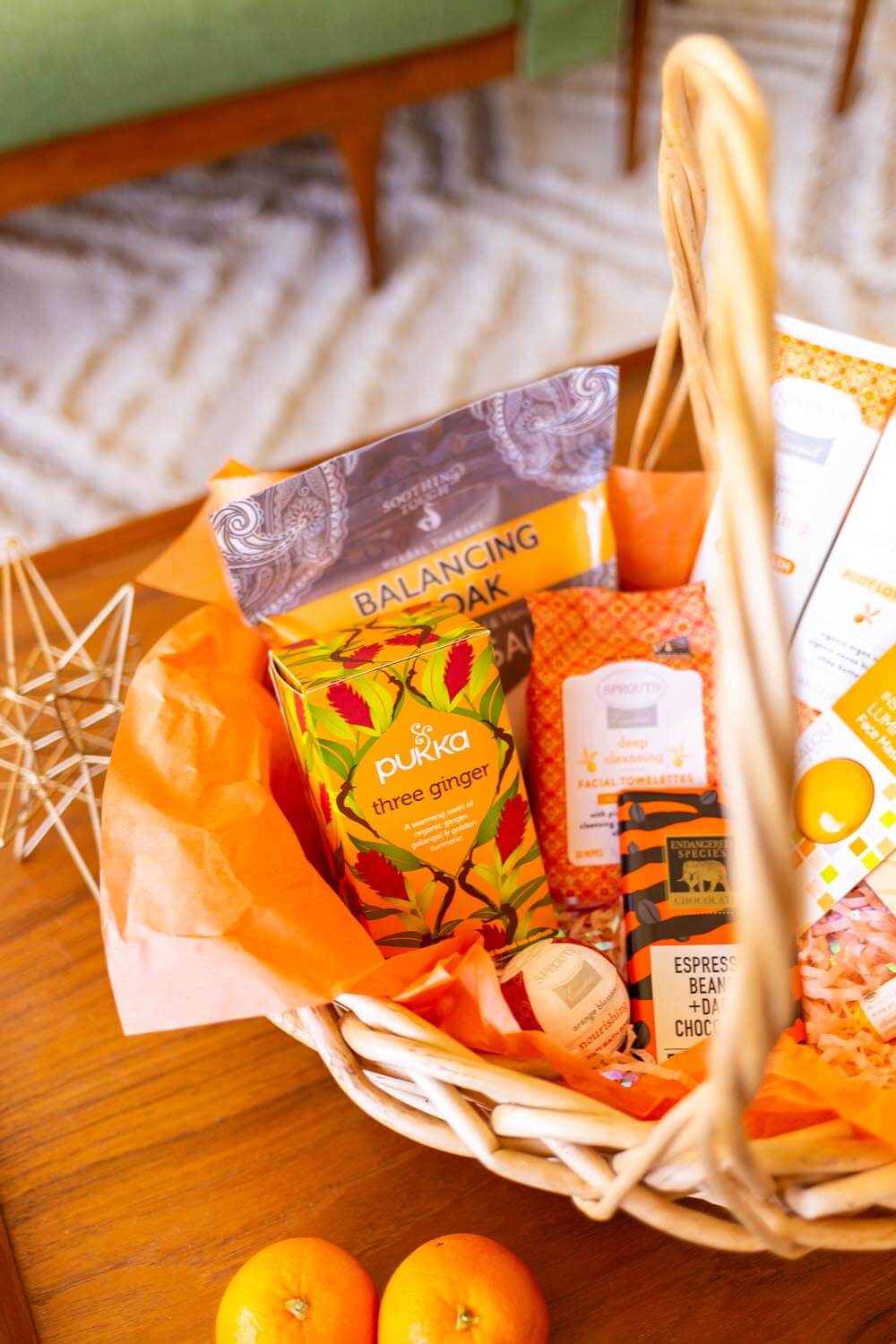 So what's inside my DIY Mother's Day Gift Basket?
First, I started off in the Vitamins and Body Care Department. There, I discovered a wide range of Sprouts brand products that smell amazing and are a great value, too. For my gift basket DIY project, I grabbed the Sprouts Uplifting Body Lotion and Body Wash to ensure Mom smells great and feels great, too! I also grabbed an Honest Company Hand Sanitizer. I know that sounds a bit strange, but these hand sanitizers are non-drying, smell amazing, and are the perfect size for having in your purse, or keep it in the car as I do!
Speaking of feeling great, there's nothing like a stressful moment to ruin an otherwise great day. For those times, I often like to draw a warm bath and carve out 30 minutes or so for a good soak. That's exactly why I grabbed the Soothing Touch Herbal Therapy Balancing Soak for Mom's gift basket! I also included a Sprouts Nourishing Fizzy Bath Bomb to make bathtime extra luxurious.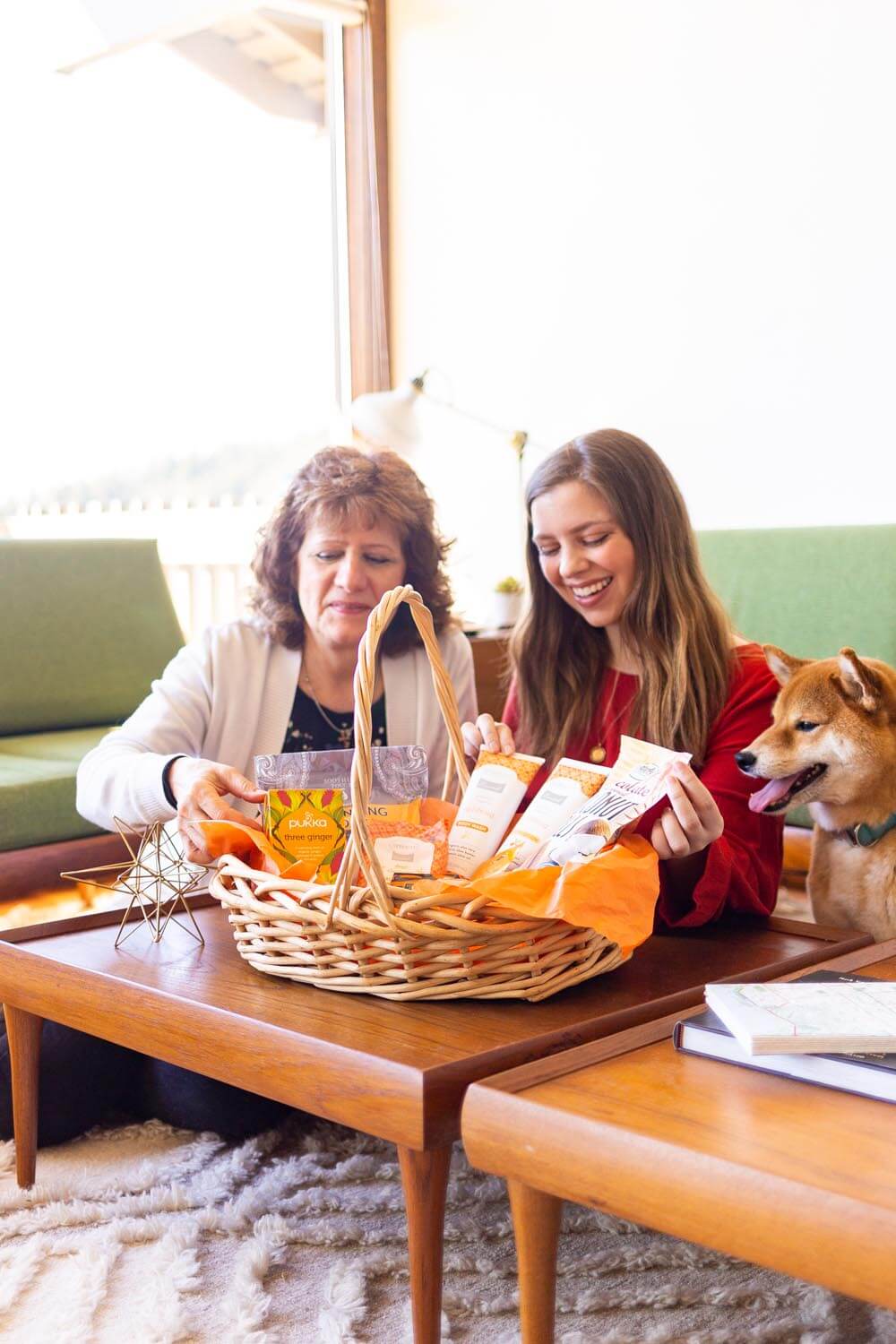 While in the bath, I love to multitask. That's why I typically pop a mask on before hopping in the tub. For that reason, I included the Sprouts Deep Cleansing Facial Towelettes so Mom can quickly and easily remove any trace of makeup or oil on her face from a long day. Next, she can apply the Andalou Naturals Instant Luminous Face Mask that I also included in her basket! Finally, I included the Sprouts Coconut Mango Lip Balm to make sure mom is moisturized from head to toe. Who doesn't want to feel relaxed, hydrated, AND look luminous post-bath?!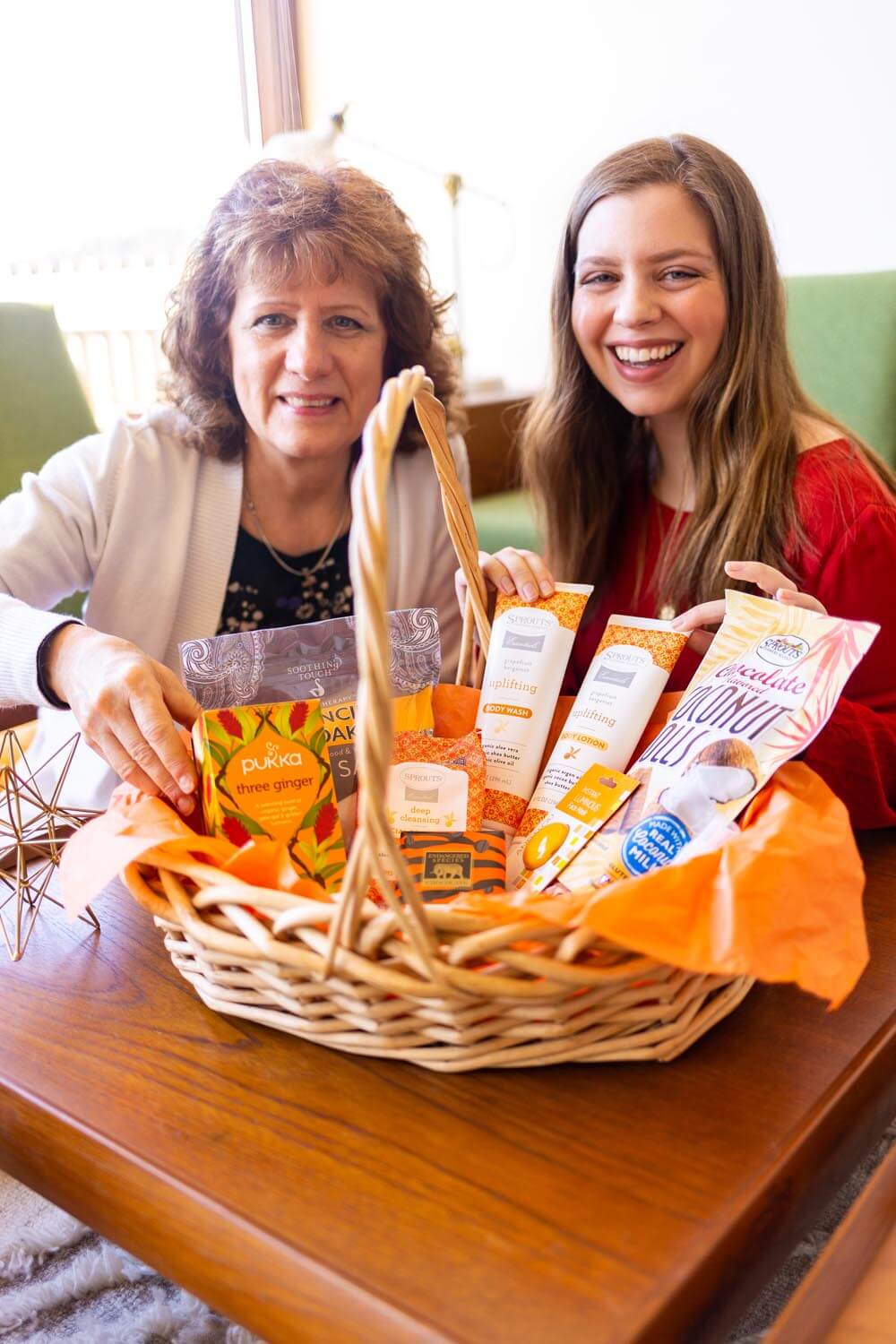 With body care taken care of, I wanted to be sure Mom had EVERYTHING she needed for a perfect spa day. And when it comes to perfect, I thought of one thing that's not the healthiest but makes most women feel great. Chocolate, of course! The Endangered Species Chocolate Bars were calling my name – especially the Espresso Beans + Dark Chocolate Bar. Yum! I also had to include a bag of Sprouts Coconut Rolls. They're amazing and definitely addictive!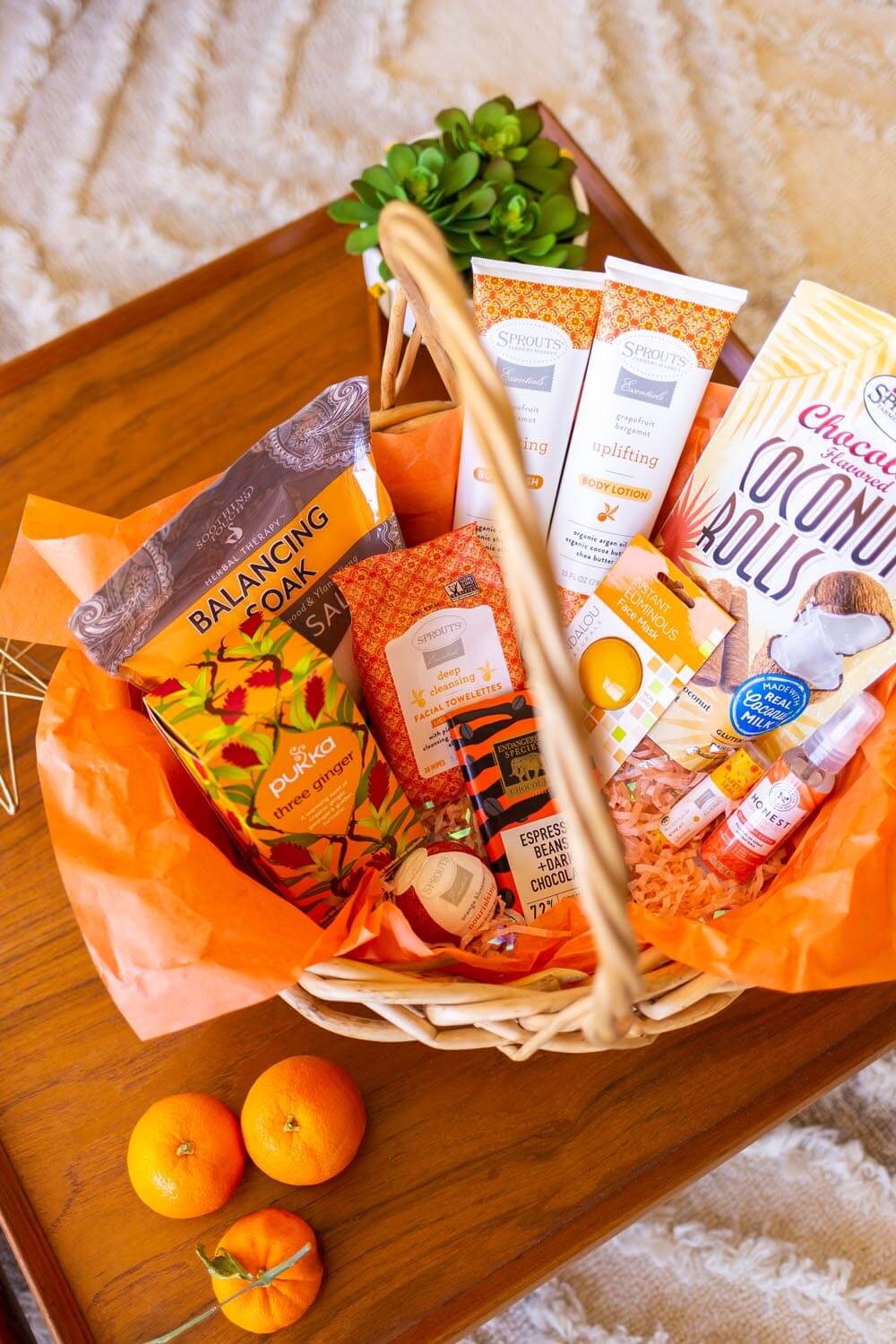 There's only one thing missing in our spa day, and that's something to warm the insides, too! The Pukka Three Ginger Tea sounded amazing just for that. Ginger is known as a great stomach soother, but did you know it's also great for reducing muscle soreness and has anti-inflammatory properties? When mom doesn't have time for a bath, she can enjoy a steaming cup of tea and reduce muscle tension and soreness instead.
Once you've gathered all of your goodies for your DIY Mother's Day gift basket, it's as easy as filling, stuffing, and delivering! A little bit of tissue, some crinkle paper, and a great big basket was all it took to finish off my gift for Mom. Don't forget the card, too! I don't know about you, but that's often my Mom's favorite part of the whole gift.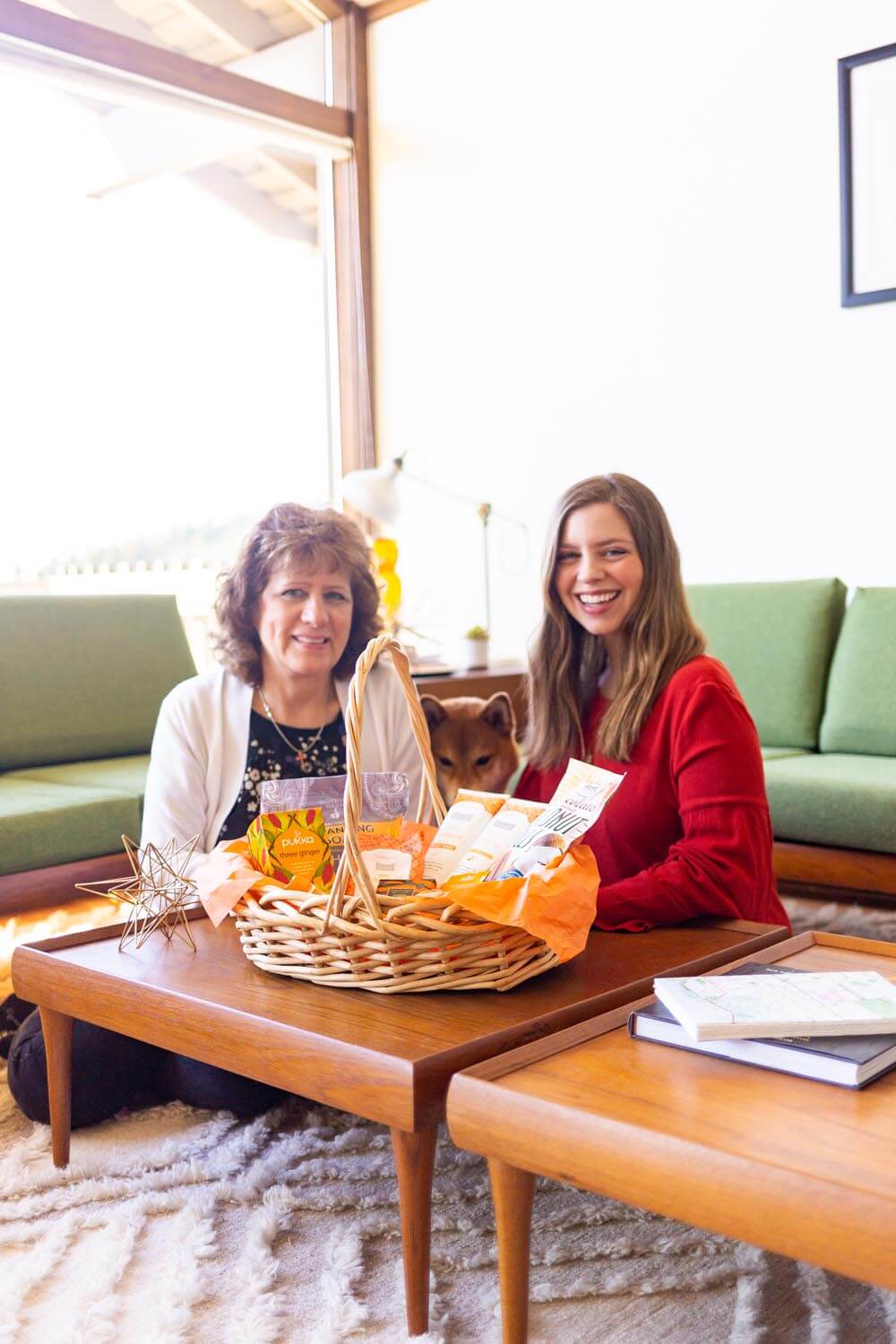 At Sprouts, the options for gift baskets are endless. If body care isn't Mom's thing, make her a healthy snack gift basket, a fitness lover's basket with her favorite protein powder, or a gift bundle themed around her favorite flavor! Take some inspiration from fellow blogger The Girly Pearly and create a coffee-themed basket for mom, or recreate one of these DIY gift bundle ideas on the Sprouts Blog. No matter what you create, if it comes from the heart, Mom is sure to love it!
How are you celebrating Mom this year? What are Mom's favorites from Sprouts? I'd love to hear about it in the comments!