When thinking about visiting a casino resort, my first thought is often not about food. When it comes to visiting Tulalip Resort Casino, however, food immediately comes to mind! From the infamous Eagle's Buffet brunch to Italian fare at Tula Bene, Tulalip has a lot to offer guests.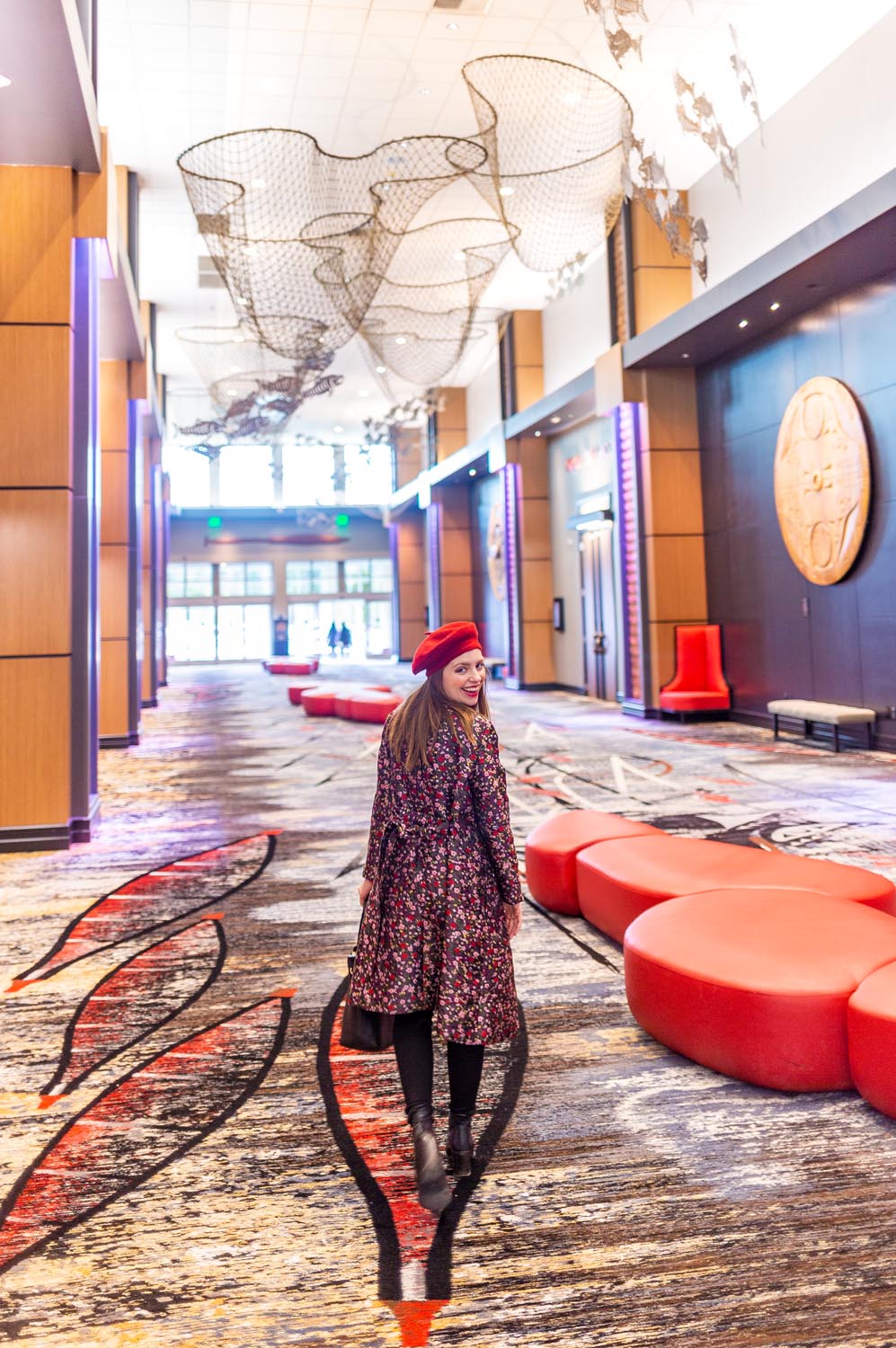 Beyond the glitz and glam adorning the ceilings, Native American artwork, and the falls that greet you upon entry to the resort, Tulalip is more than just a casino. It has something for everyone! It's a foodie destination, a 4-star resort, a beautiful spa, and a place to unwind, whether you choose to gamble or not.
Recently, I was invited on a media trip up to Tulalip Resort Casino. I grew up north of the city, so I'd heard of and visited many times before. As mentioned, I've visited for the infamous brunch at Eagle's Buffet on weekends (what a treat!). This time, I was excited to see what else awaited my taste buds!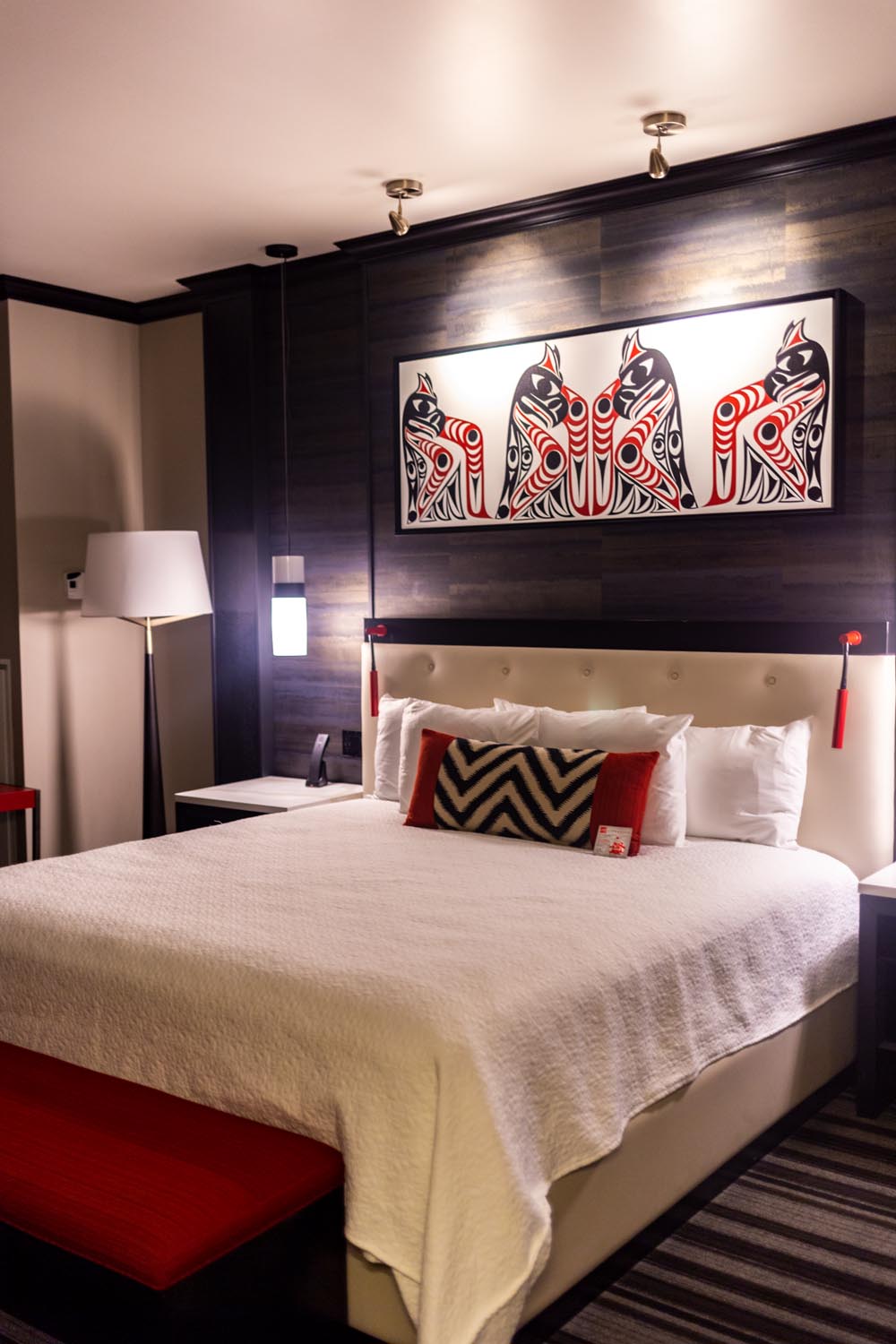 Check in at Tulalip Resort
We arrived in the early evening from Seattle to the Tulalip Resort Casino. Check-in time was bustling; the line wrapped around as various parties checked in to the hotel on a busy Saturday night. Fortunately, the line moved quickly, and our room was easy to find.
We dropped our bags, I freshened up from the drive. We then headed back downstairs to the Destinations Lounge to meet our hosts.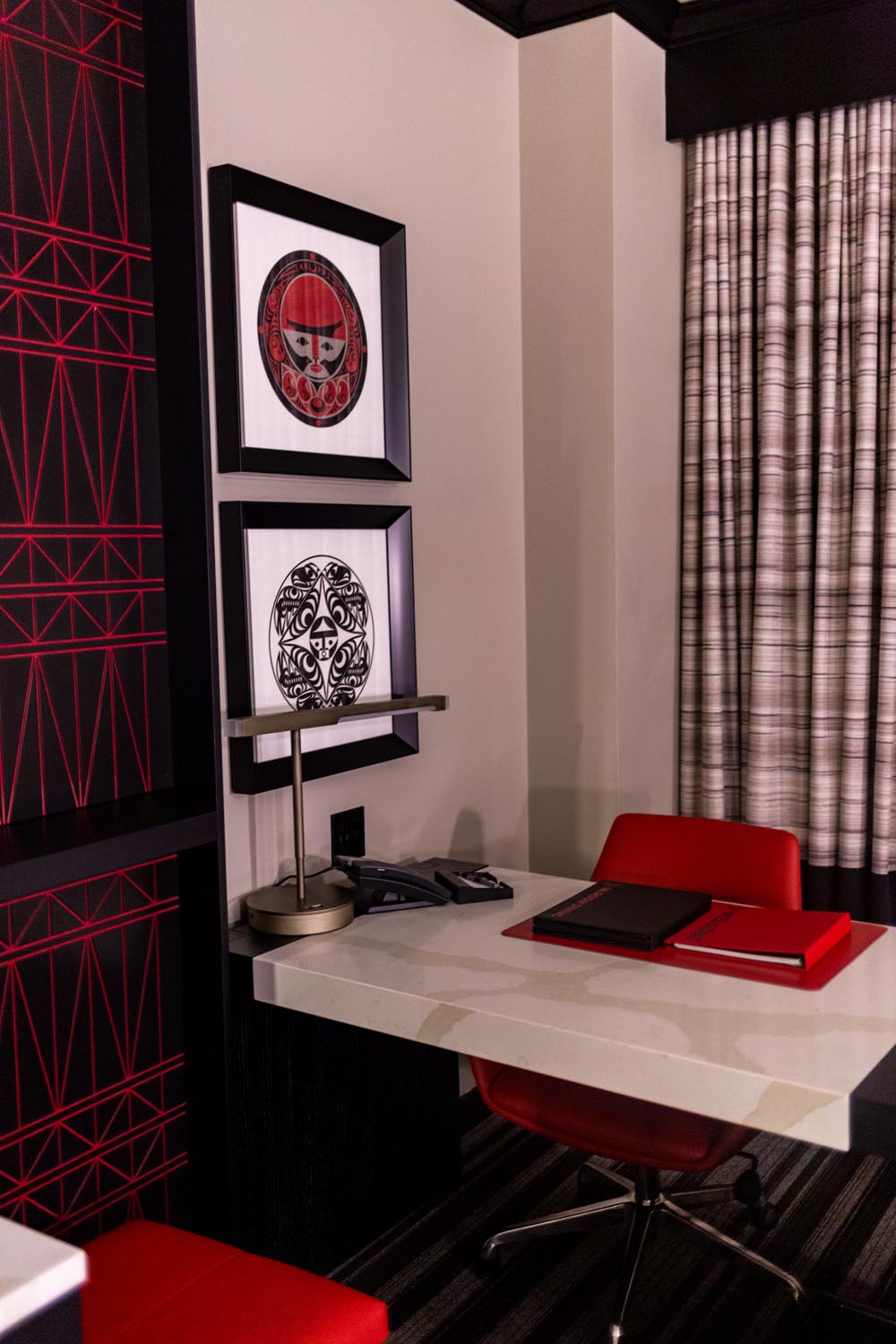 Start the night with cocktails at Destinations Lounge
First stop: cocktails and light bites at Destinations Lounge! Located just across from the check-in area of the resort is a beautiful spot to start your night off. There, we were greeted by our lovely host for the night, Allan, his partner, David, and fellow blogger Write for Wine.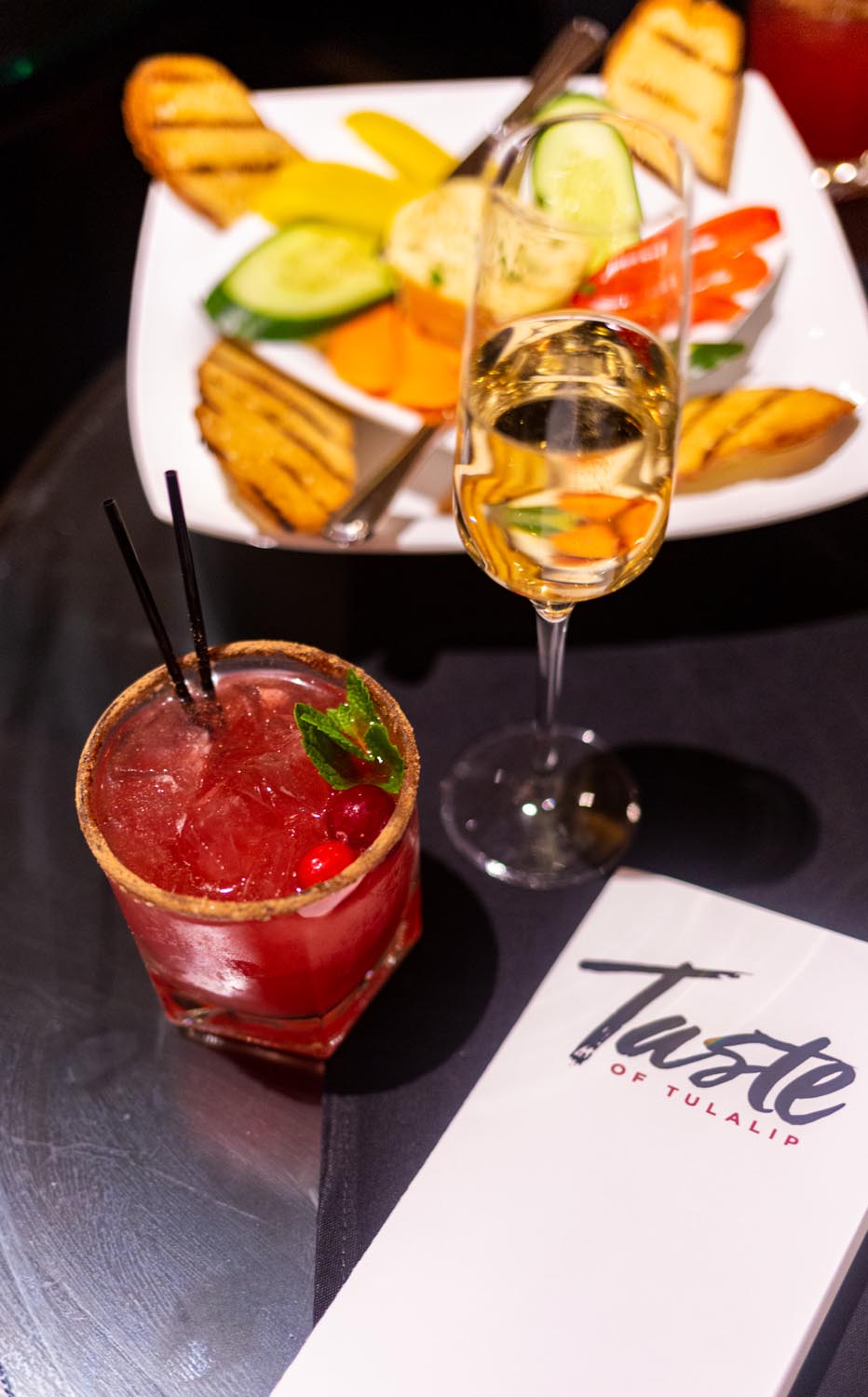 We started the night with a cheers of Nicolas Feuillatte Brut Champagne. From there, we sampled several light bites including savory cheesecake served with fresh vegetables, grilled baguette and a trio of tapenade. We also sampled a special Margarita Cocktail comprised of El Jimador Blanco Tequila, Del Maguey Vida Mezcal, lime, sour, honey, and finished with house-made cranberry relish. The ambiance was upbeat yet quiet. It was easy to converse amongst the group, and the fireplaces behind us gave the spot a warm feeling. Perfect for getting to know the group!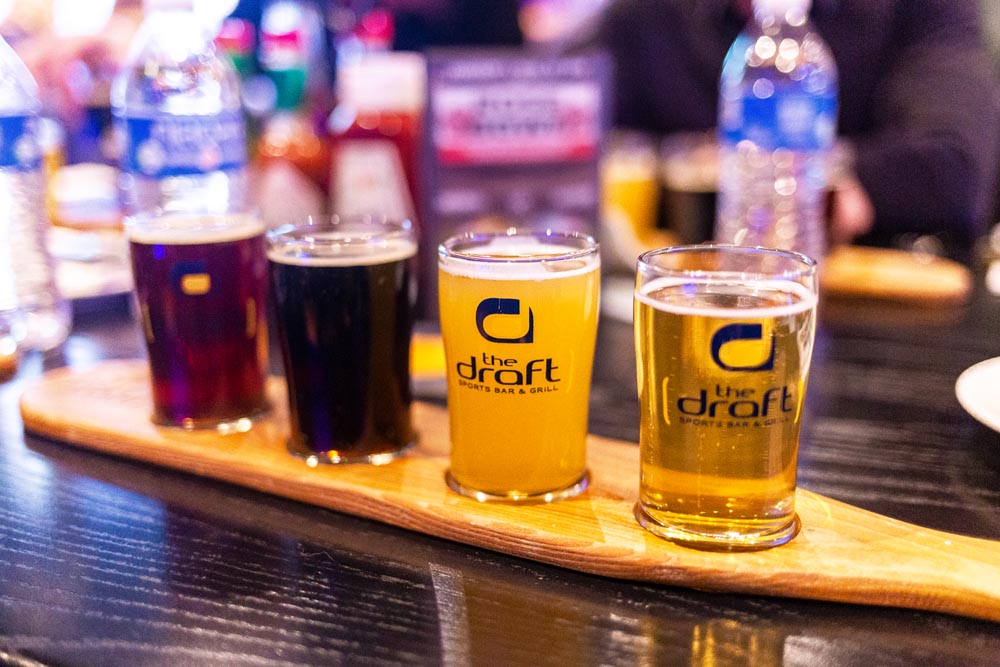 In the mood for sports? Visit The Draft Sports Bar & Grill
Our next stop on our foodie tour was to The Draft, a sports bar and grill with a lively atmosphere. The Draft had a completely different vibe than the previous low key lounge. With many big screens, a full bar, and shareable plates, it is the perfect place to share a pitcher and have a good time.

​​​​​​​Here we were treated to a beer flight, including a Pecan Ale, Deschutes Jubel Ale, and a Chaider, a hard cider with Chai spice. My stomach is growling thinking about the Bavarian Soft Pretzel and parmesan garlic wings that accompanied our flight! So delicious and absolutely worth visiting The Draft the next time you're looking for a place to catch a game or have a night out.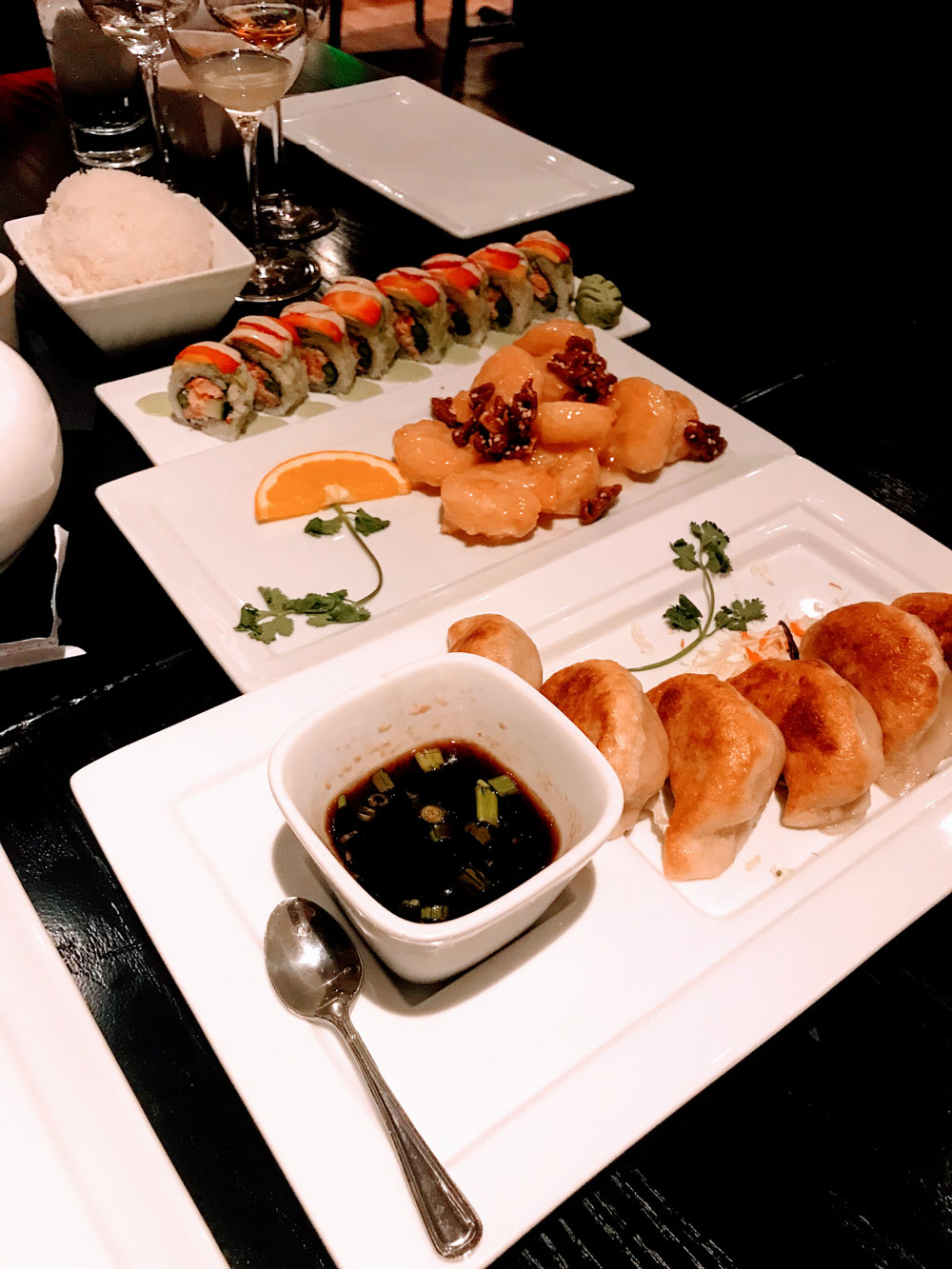 Enjoy a taste of Asia at Journeys East
When I saw the next stop on our menu for the night, I couldn't wait! Awaiting us at Journeys East were a variety of shareable plates including honey walnut shrimp, sushi rolls, and more.
We started off our meal with a traditional Sake flight. Up for Tasting were a variety of Sakes specially selected for each dish. I particularly enjoyed the Time Machine Sake, which paired well with our Honey Walnut Shrimp! (And who can say no to Honey Walnut Shrimp?! Always a crowd pleaser!)
At this point, my stomach was beginning to get rather full, but not too full for trying two more restaurants inside!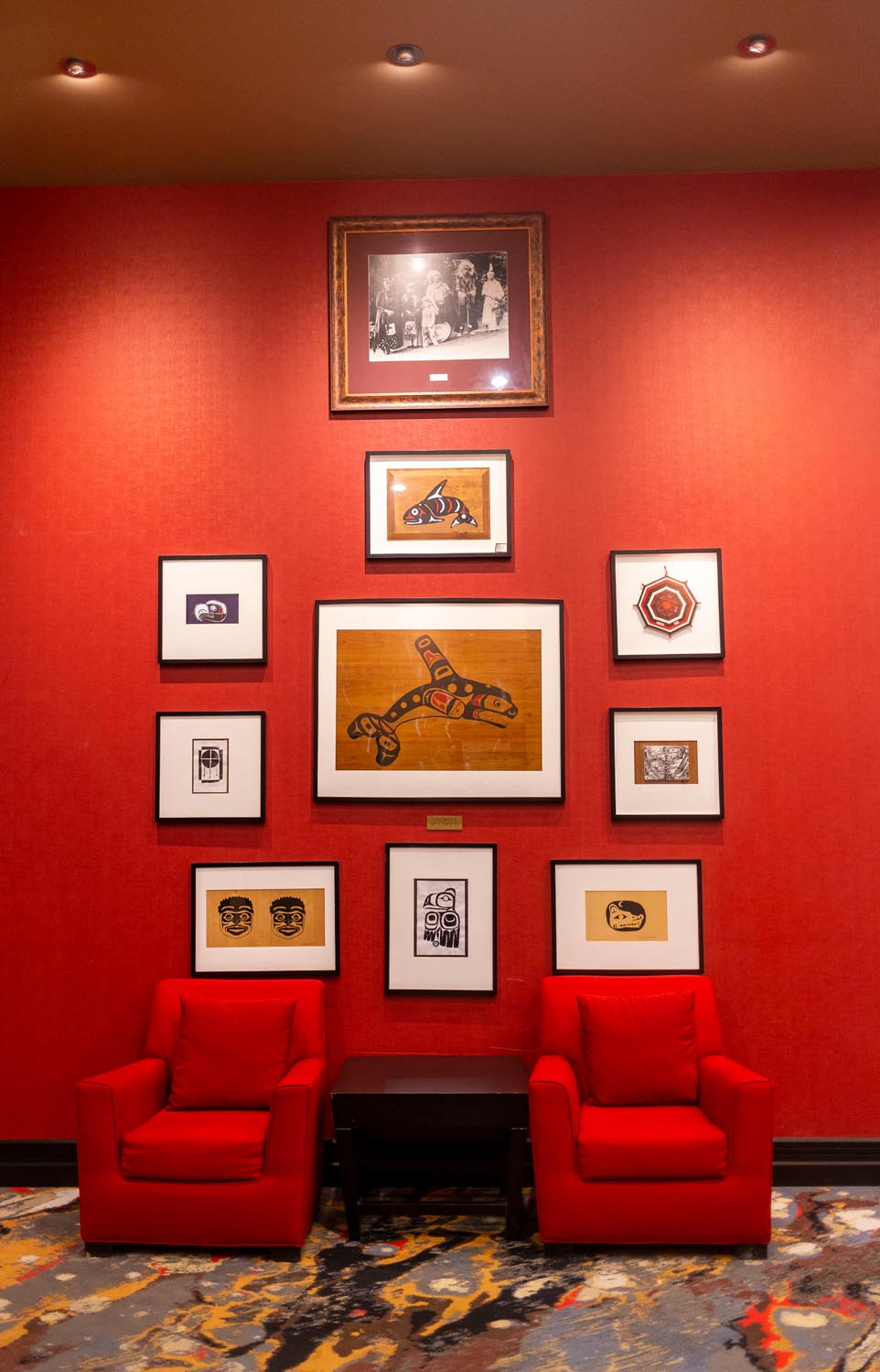 Explore Native American Culture at Blackfish
When it comes to tradition, the Tulalip people have many. One of which, that I was excited to try was salmon cooked on a stake over an open flame at Blackfish. You can watch your salmon on a stake be prepared in the open kitchen right from your table!
This traditional preparation is just as delicious as you might think! Paired with a lovely Corliss Estate Syrah from the Columbia Valley and a corn fritter, this meal was divine and a nice nod to the cultural traditions! Following, we tried the Filet Mignon, served with Twin Sisters bleu cheese, toasted hazelnuts and bacon. This was a perfect dish accompanied by a lovely wine from Quilceda Creek!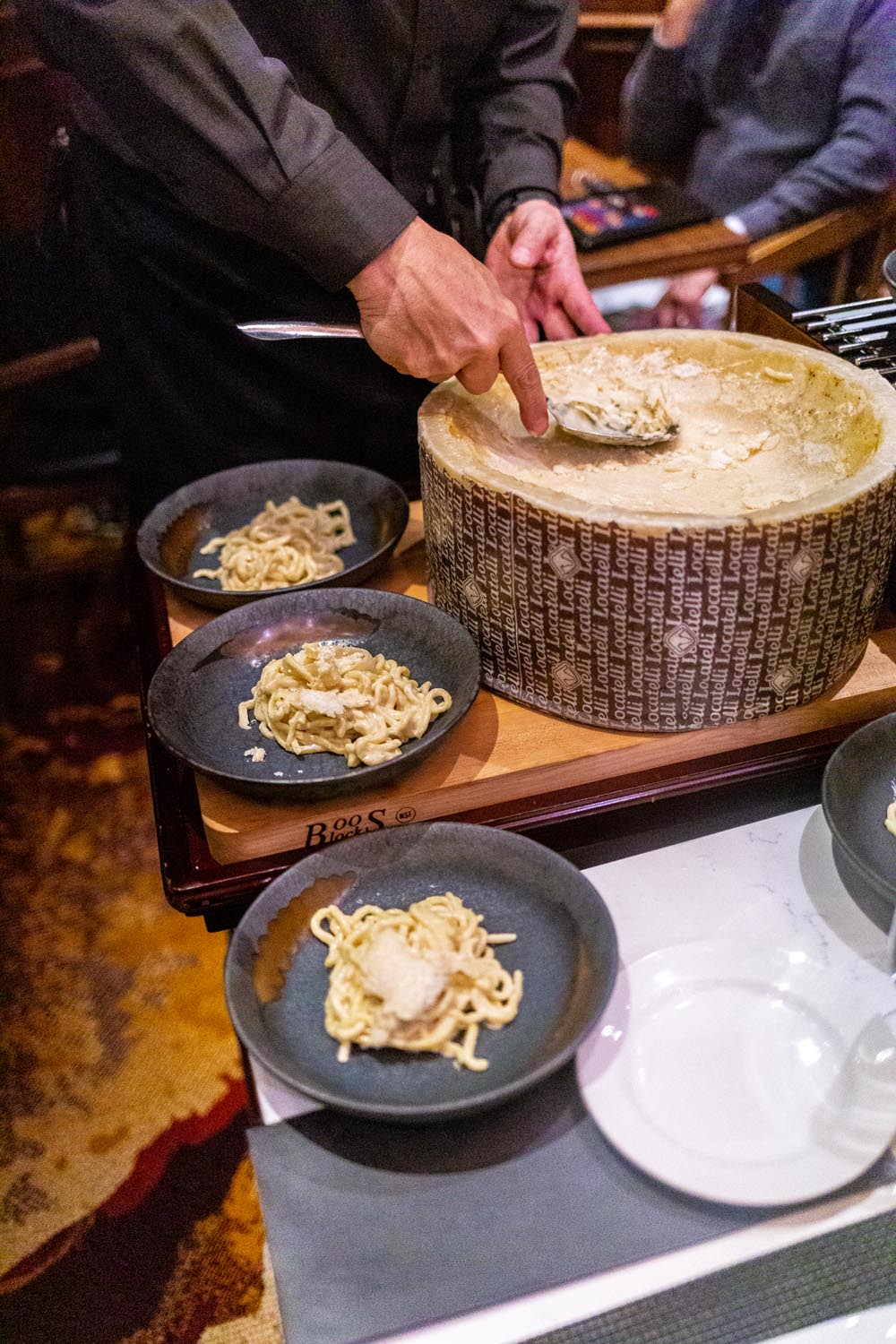 Indulge in Pasta at Tula Bene Pastaria

When it comes to indulgence, look no further than Tula Bene! This pastaria and chophouse serve tableside delights like Cacio e Pepe, prepared in a giant wheel of cheese and served fresh for you to enjoy.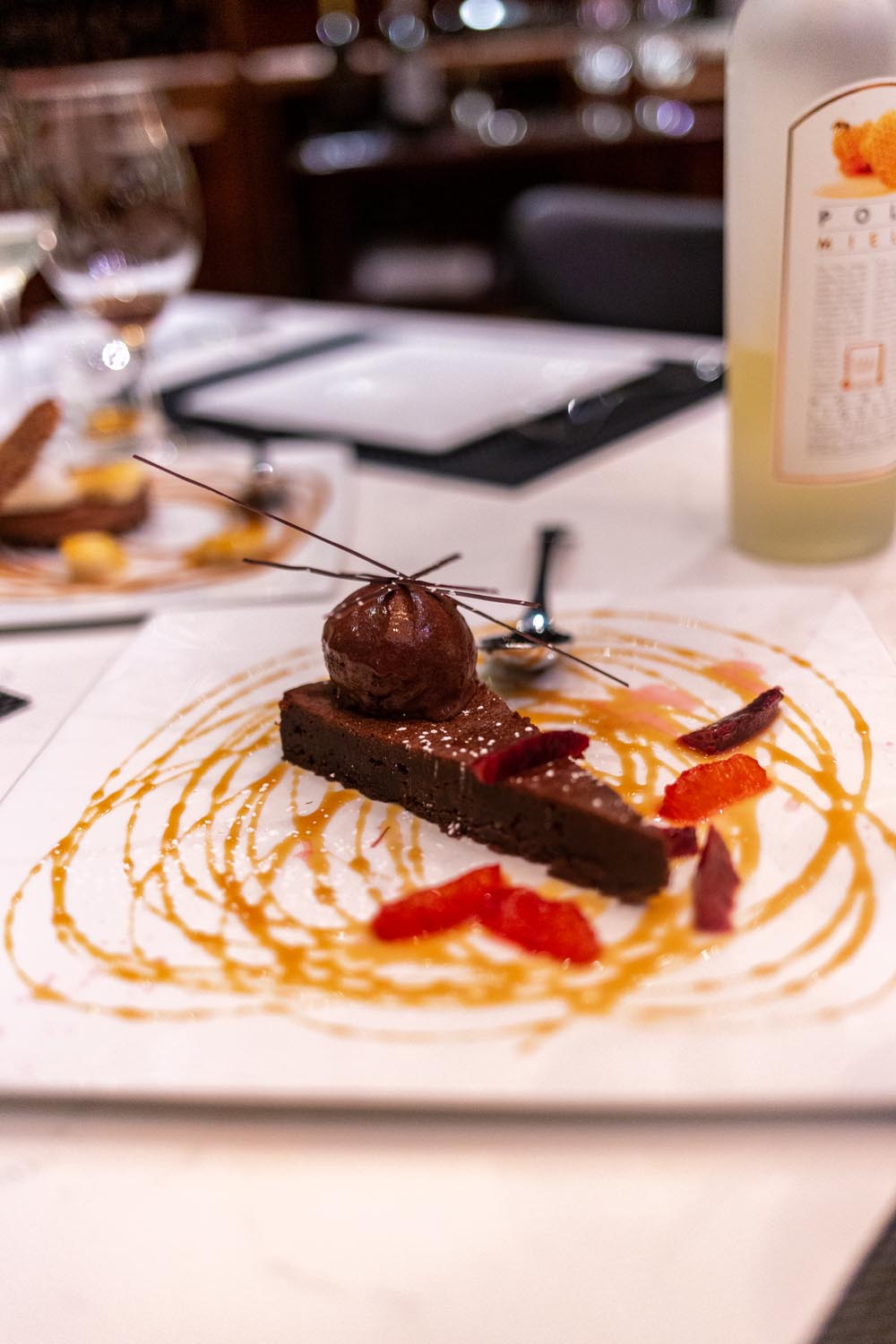 At dessert time – don't say no! The desserts are worth the (calorie) splurge! The Pistachio Semi-Freddo is not to be missed, especially the boozy amarena and bing cherries. For a sumptuous treat, try the flourless chocolate torte or one of the many seasonal desserts that change regularly. Most of all, don't forget to look up! On the ceiling, you'll find a beautiful glass chandelier made by none other than Dale Chihuly.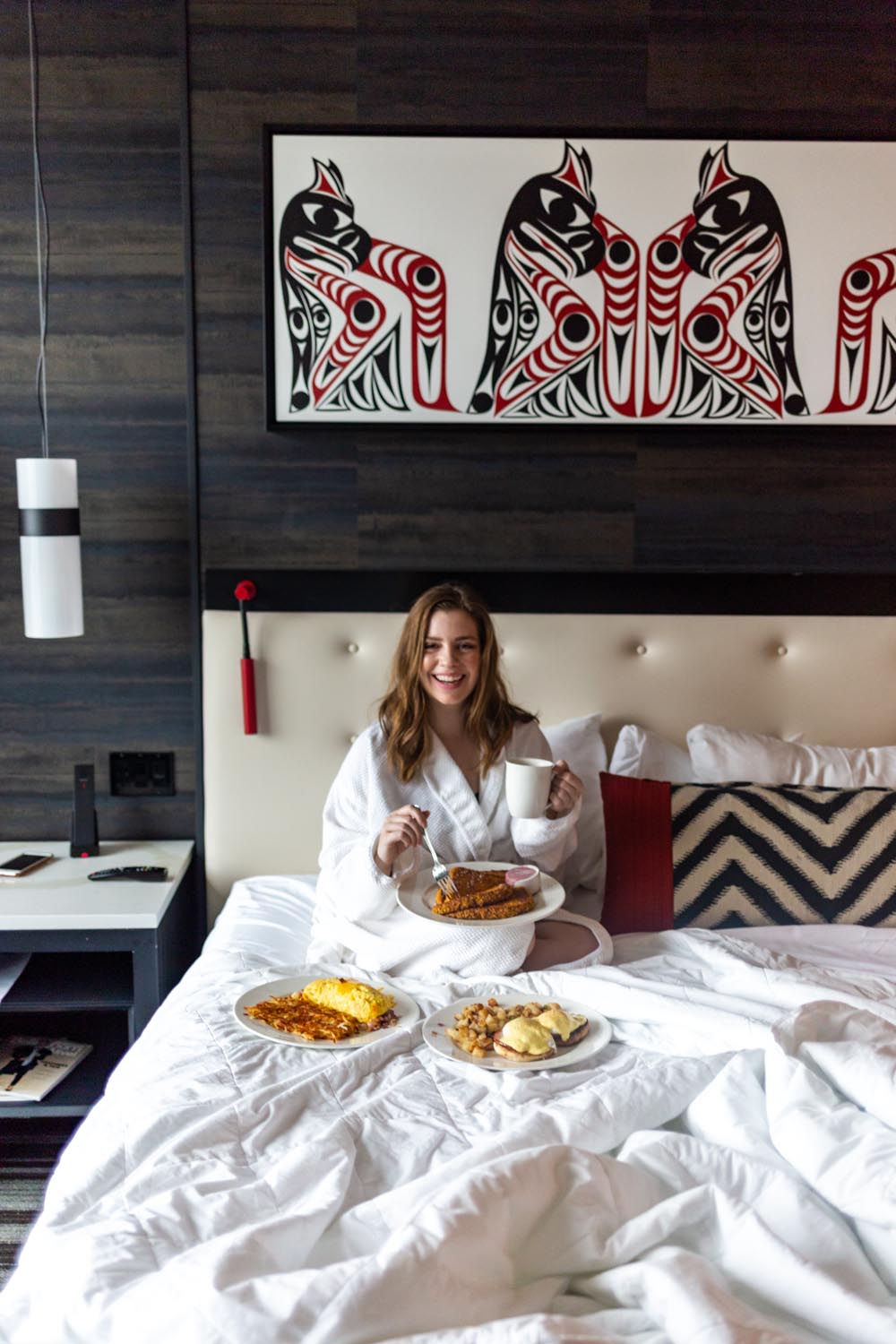 Have a good morning with breakfast in bed
With your foodie excursion coming to an end, you can stumble upstairs to your accommodations and roll into bed. I was absolutely stuffed to the brim after our incredible foodie adventure! We slept soundly and ordered room service from Cedars Cafe in bed for breakfast. If you do the same, don't miss the French Toast! It's battered and rolled in cereal for a delicious crunch. Yum!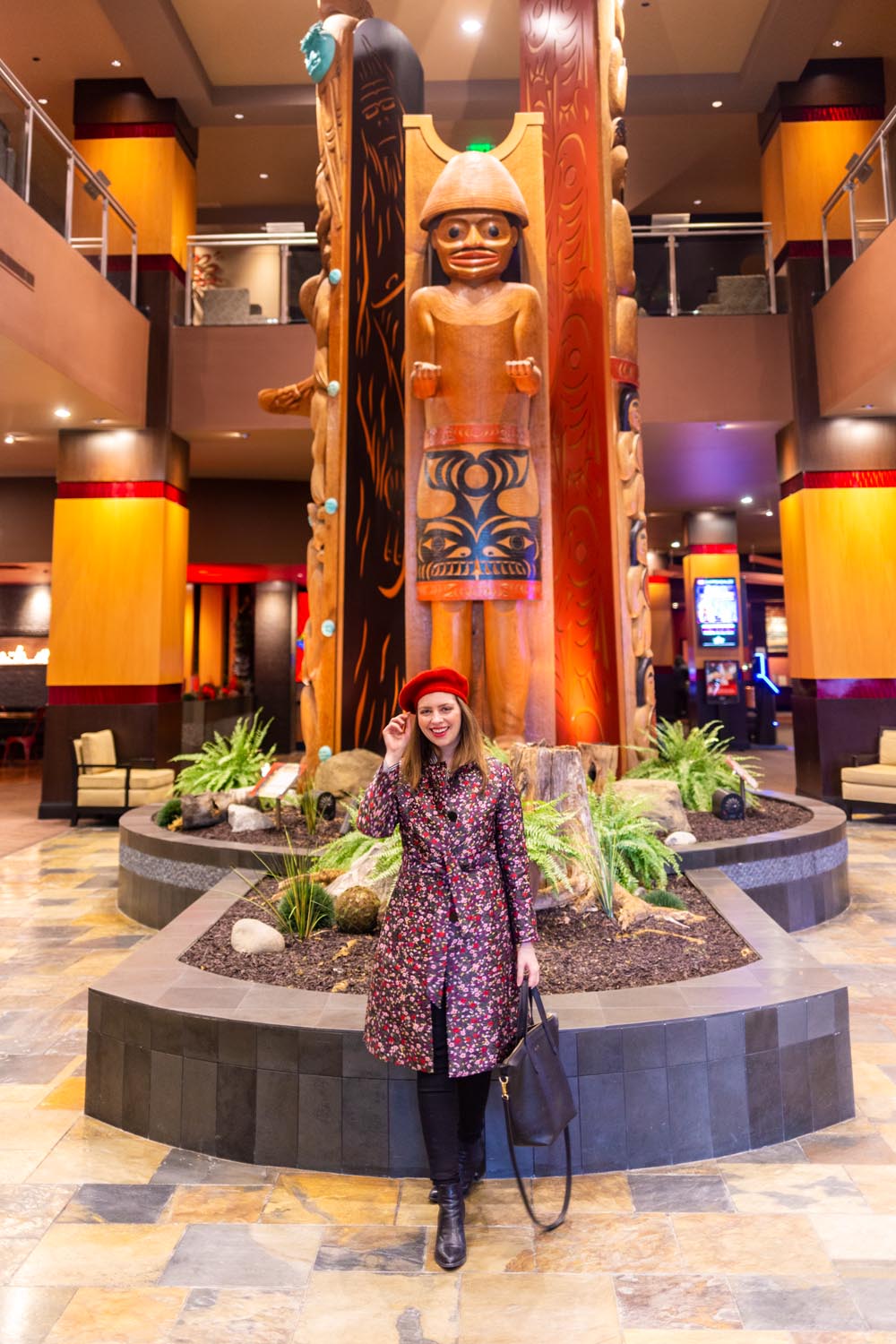 Finish your trip with a spa treatment
After breakfast in bed, we visited the T Spa to enjoy a couples massage. The T Spa Signature Massage had us both relaxed and rejuvenated at the end of our action-packed weekend at Tulalip Resort Casino.
Massages not your thing? Don't worry! The T Spa offers a variety of incredible treatments and rituals for both men and women, ranging from facials, manicures, and pedicures, to experiences like the Drift Away Body Ritual featuring a stream of hot oil to the "third eye" for soothing and calming. (Sign me up! This sounds incredible.)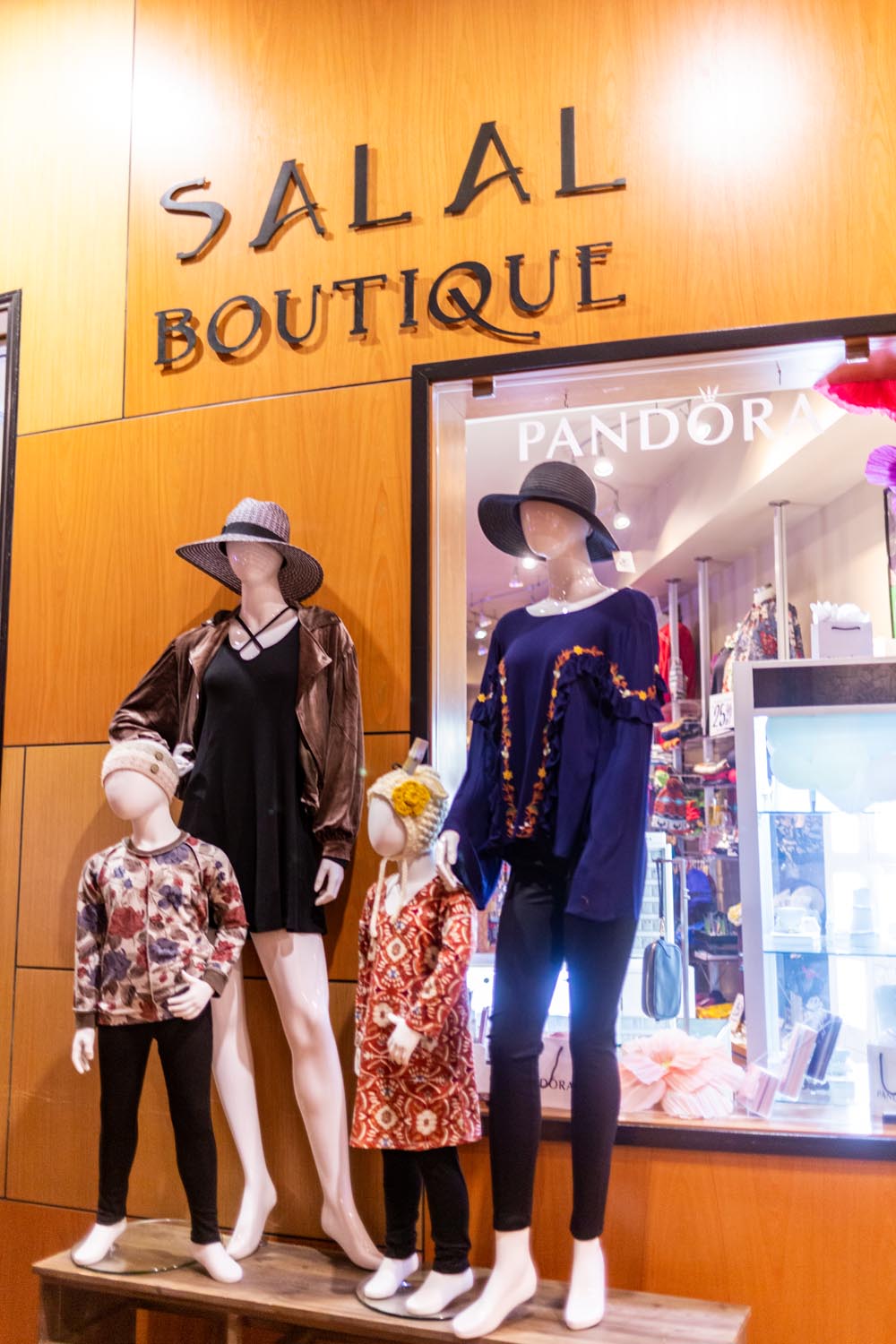 Visiting the Tulalip Resort Casino for a weekend away was quite the experience that I won't soon forget! If you're a fellow Seattleite looking for a weekend retreat, look no further. At just about 45 minutes from the city core, it's a quick trip north. For the ultimate staycation, book a spa package and treat yourself to a fantastic meal at one of the on-property restaurants and activities!

There's lots more to experience nearby, too! Beyond the resort, spend the weekend shopping at nearby Seattle Premium Outlets or visit nearby Wrenhaven Vintage Market. Or, enjoy nature at nearby Ebey Waterfront Park. With so much to do in Tulalip, Washington, why not book your next trip to www.anrdoezrs.net/links/7719207/type/dlg/https://www.tripadvisor.com/Hotel_Review-g58595-d1102457-Reviews-Tulalip_Resort_Casino-Marysville_Washington.html?!
Have you visited Tulalip Resort Casino before? What's your favorite experience? I'd love to hear about it in the comments!