As I ride the train into the city, the streets are wet, the air has a bit of a chill, and the sun tries to peek from behind the clouds. It's that awkward in-between time of year when it's still not warm enough to wear a just sundress, but not cold enough to require a coat on a daily basis, either. This time of year, the weather can change wildly day to day, sometimes even throughout the day, requiring many different layers to accommodate the weather conditions of the moment and making winter to spring outfits a necessity.
That's peak spring for you in the Pacific Northwest! Unpredictable.  🌧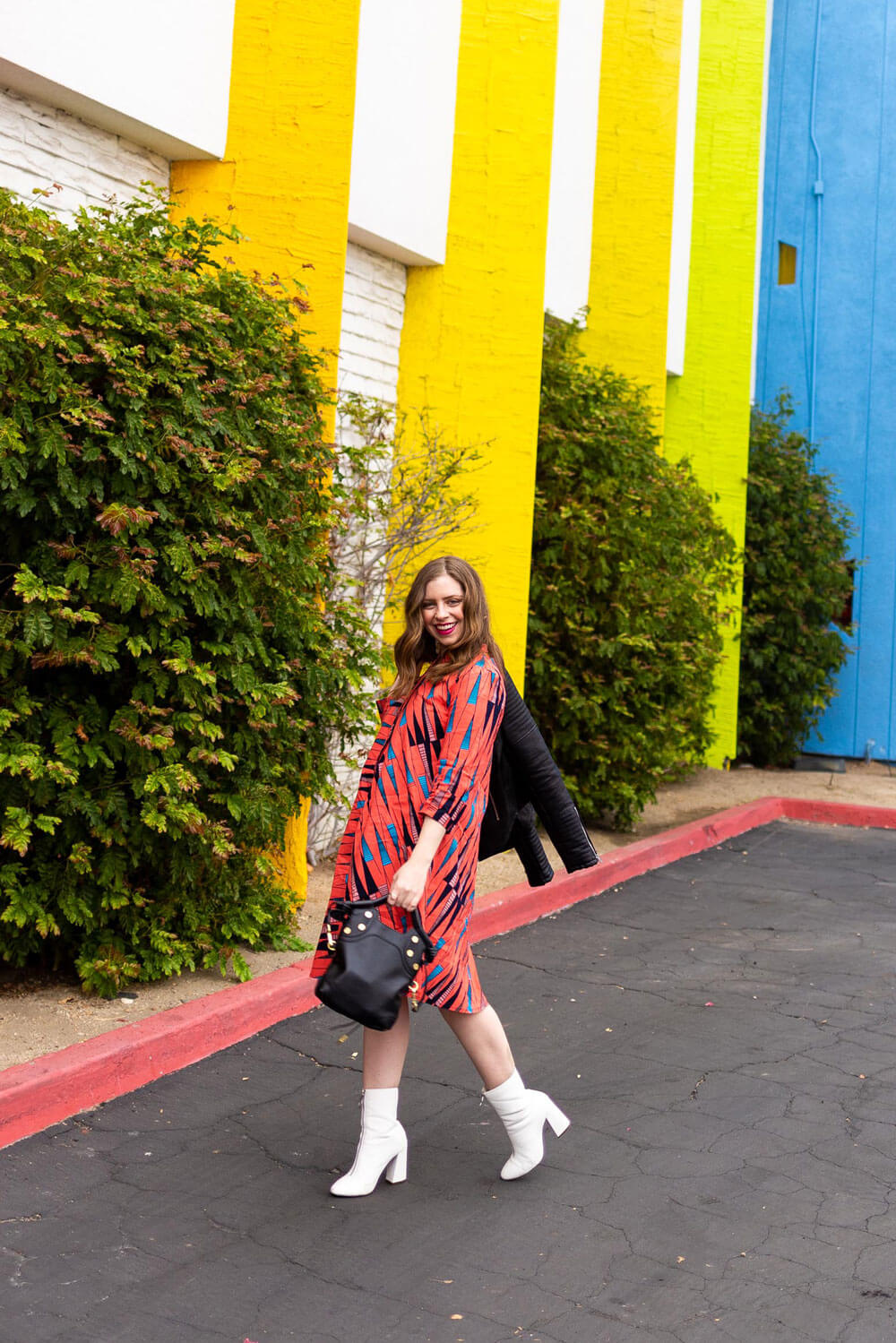 Disclosure: This post contains affiliate links. That means if you click a link and make a purchase, I may make a small commission at no additional cost to you. Thanks for supporting my business!
If you're struggling to dress for this unpredictable time of year, I feel you. It can be hard to figure out what can be put away for the season, and what might need to stay in your dresser and closet for just a couple more weeks. Today, I thought I'd share some of my favorite transitional dressing staples and favorite outfits I've put together as we take winter to spring outfits for a spin!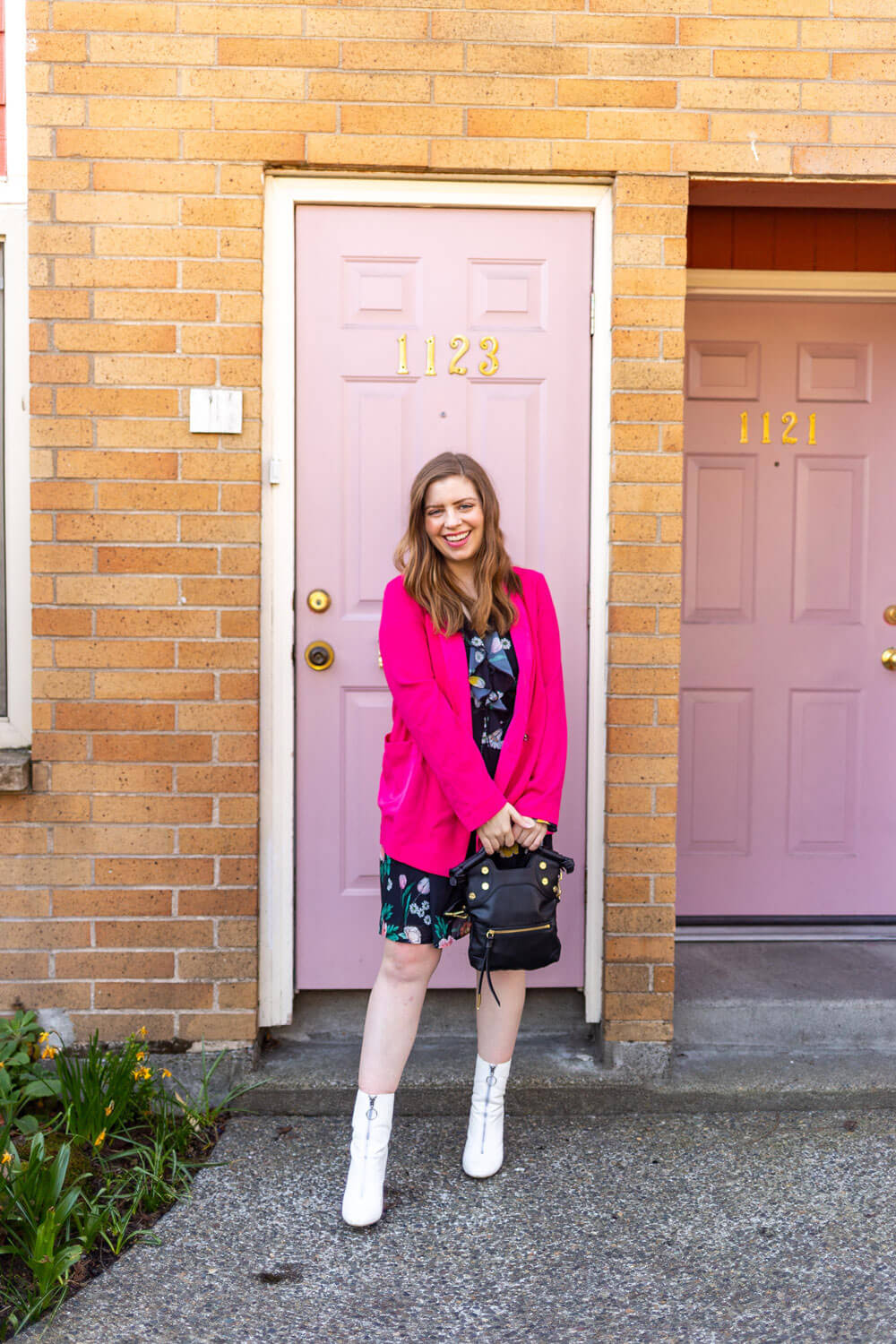 Wear bold pops of color to celebrate spring
The weather outside might still be frightful, but your wardrobe doesn't have to be! I love wearing colorful pieces on gray days. It puts a smile on my face, and I find it does the same for others, too. Add a pop of color to your wardrobe this spring with a bright colored blazer, a fun new scarf, cute hat, or bold bag. A few of my favorite selections are below for your shopping pleasure!
​​​​​​​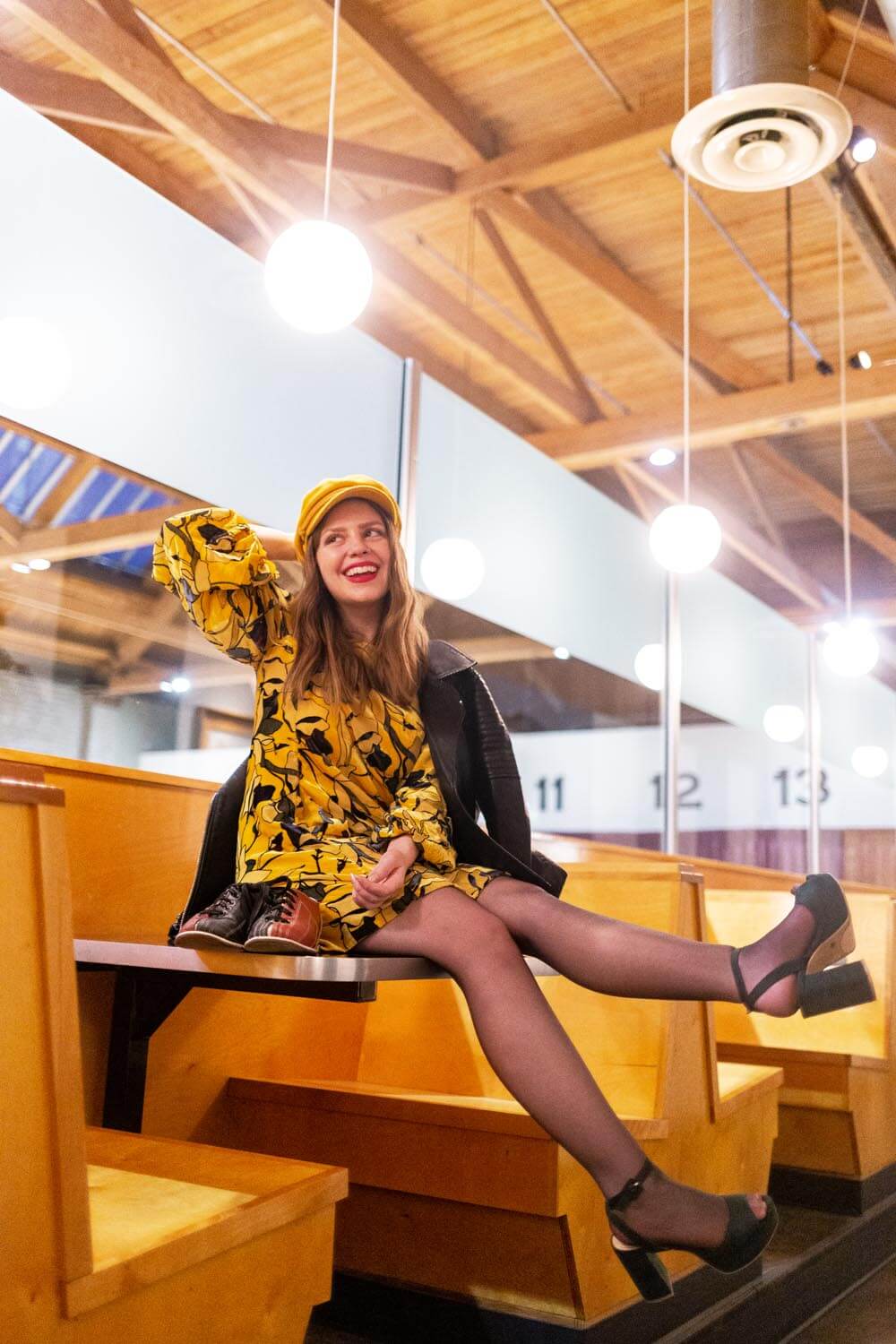 Sheer tights add some coverage for chilly mornings and evenings
Sundresses are so much fun to wear… except when your legs are covered in goosebumps! I think it's safe to pack your thick tights away for next fall/winter season, but keep a pair or two of sheer tights available. My go to is this pair from Berkshire Legwear. They're perfect for keeping your legs warm during a chilly spring morning or evening without totally sacrificing your look.
A packable coat is convenient

Not sure if the weather is going to cooperate? Carry a packable raincoat with you and there will be no need for a plan b! I recently found a few great options available at Amazon that I've linked below. Available at a wide variety of price points from $20 to $100, you can keep a raincoat in your car or in your purse so you'll never get soaked in a freak downpour again. A variety of color and print options means you'll also be able to pick something fun, or keep it neutral to match any outfit!
​​​​​​​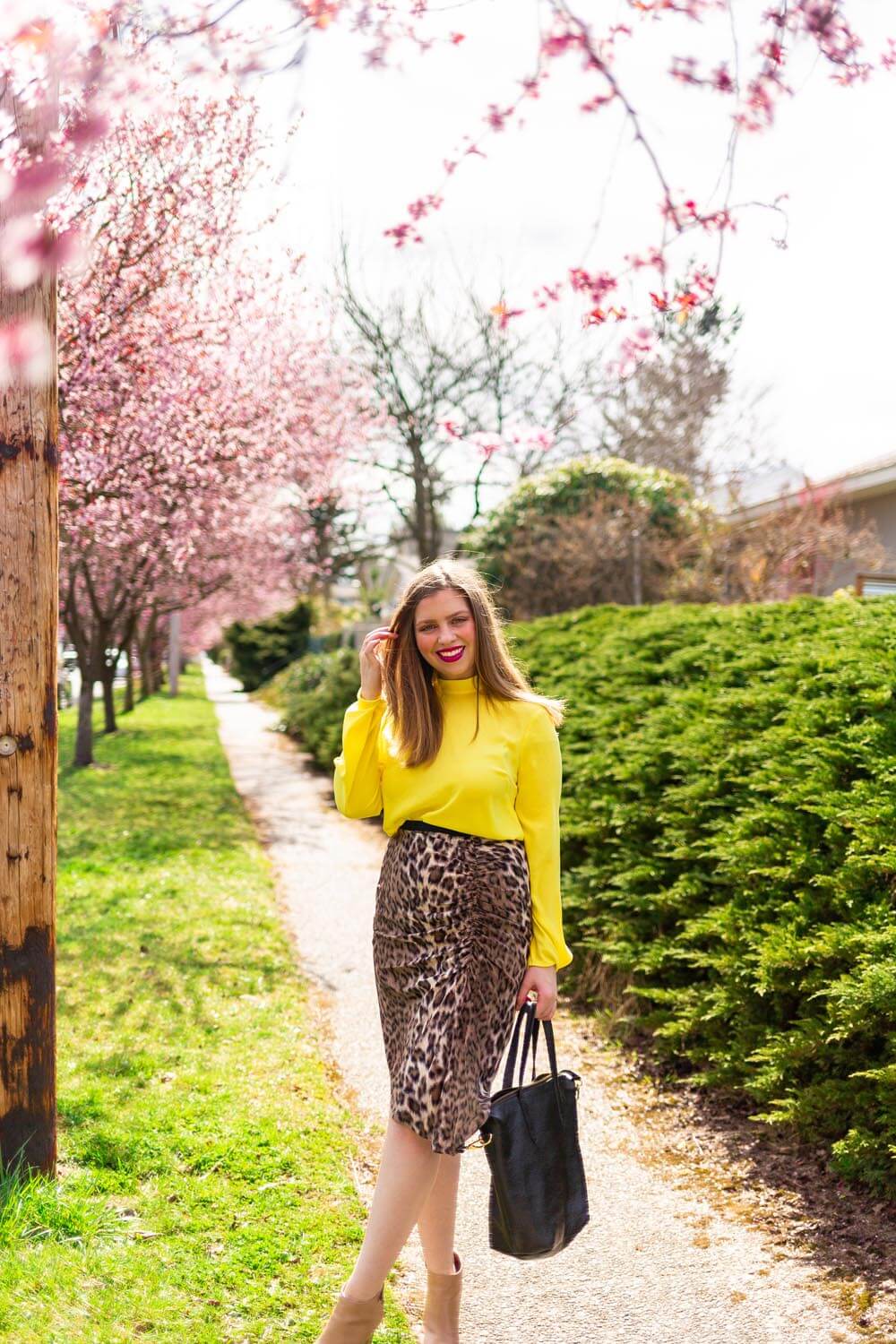 Pair a long layer with a short one
The early signs of spring make me want to jump all in with my outfits. After all, when the trees are blooming, the sun is shining, and the skies are blue, how could anything go wrong? Unfortunately here in Seattle, the sun and blue skies can be deceiving, and the weather can change quite quickly. Not to mention, the sun doesn't guarantee warmth!
To give my outfits the flavor of spring without sacrificing comfort, I love pairing long layers with shorter ones. (And carrying a jacket, just in case!) In this outfit, I paired a turtleneck blouse with full sleeve coverage with a knee-length shirt to show just the right amount of leg. A closed toe bootie keeps my toes warm, just in case of rain showers!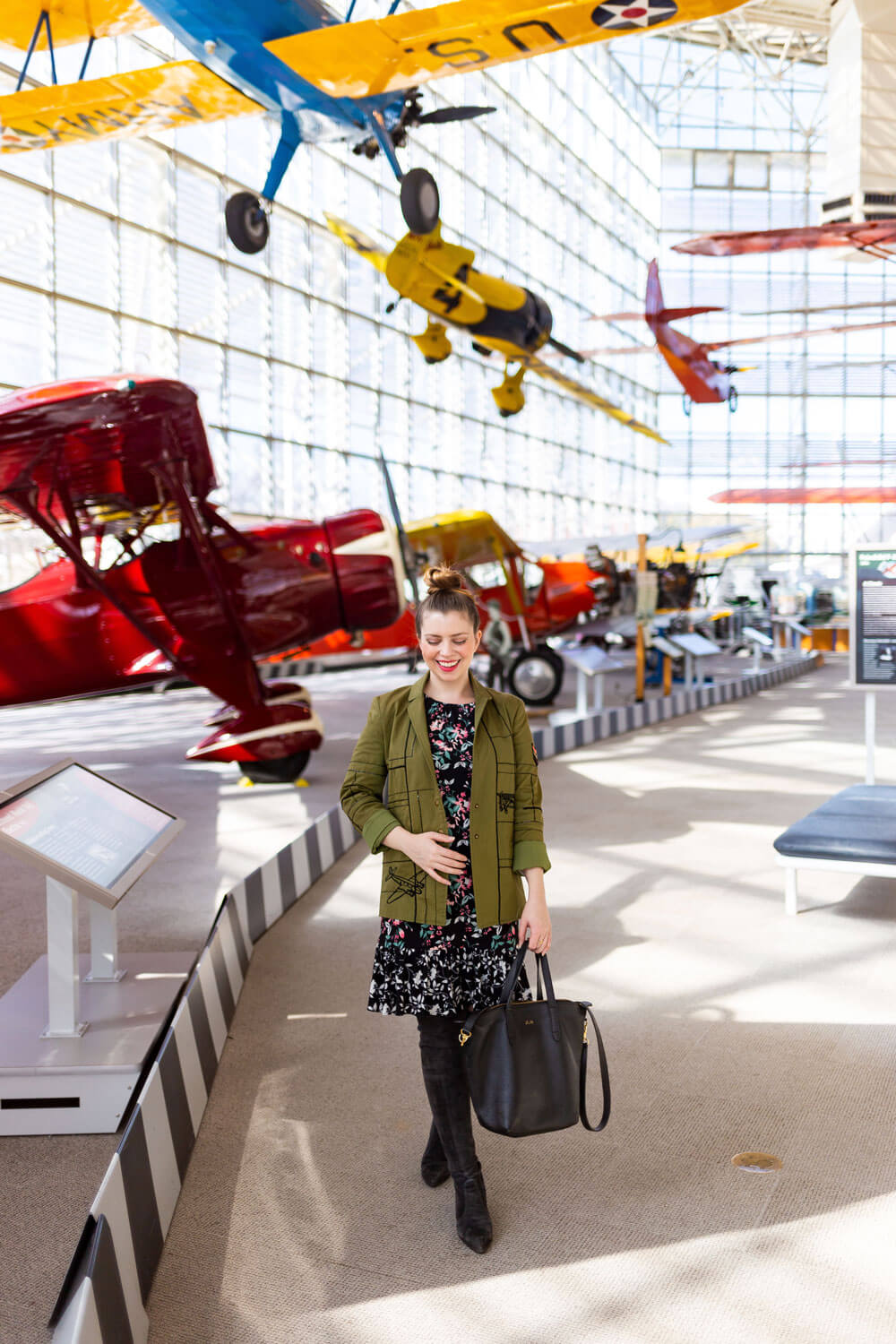 Layer up with a blazer
Pack away your heavy wool coats in favor of lighter weight jackets and blazers for spring! I'm on a huge blazer kick right now – there are just so many fun colors, patterns, prints, and shape options available right now! Take this one for example; it was perfect for a day at the Museum of Flight because of the fun embroidered airplanes. How perfect is that?!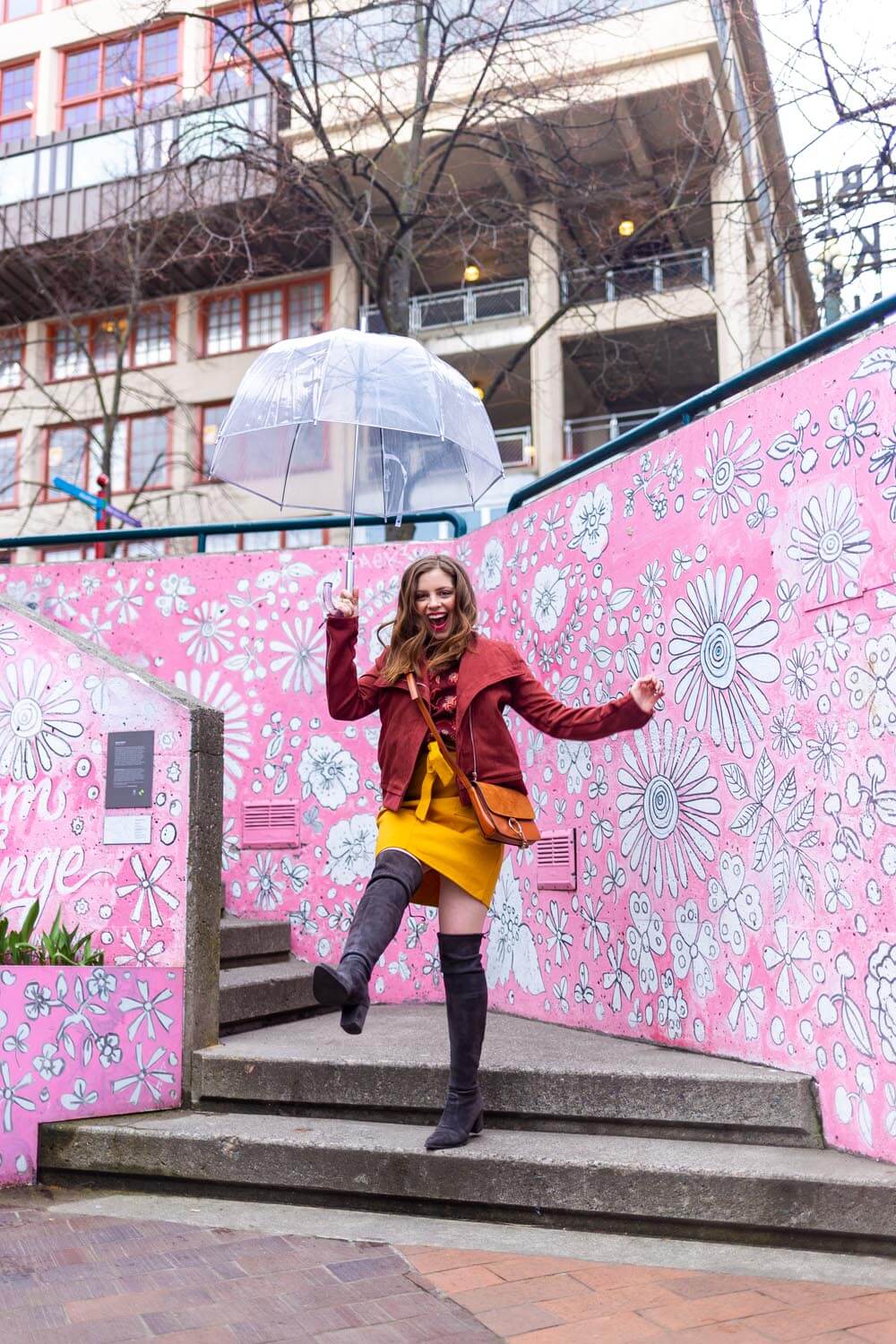 No raincoat? No problem!
While most Seattleites will tell you that carrying an umbrella is for the weak (or tourists!), sometimes it's just necessary to have one. Maybe your favorite coat or jacket isn't waterproof or doesn't have a hood. Or maybe you just want to make a fashion statement with one! Either way, a fashionable umbrella is always in style for the perfect winter to spring outfit!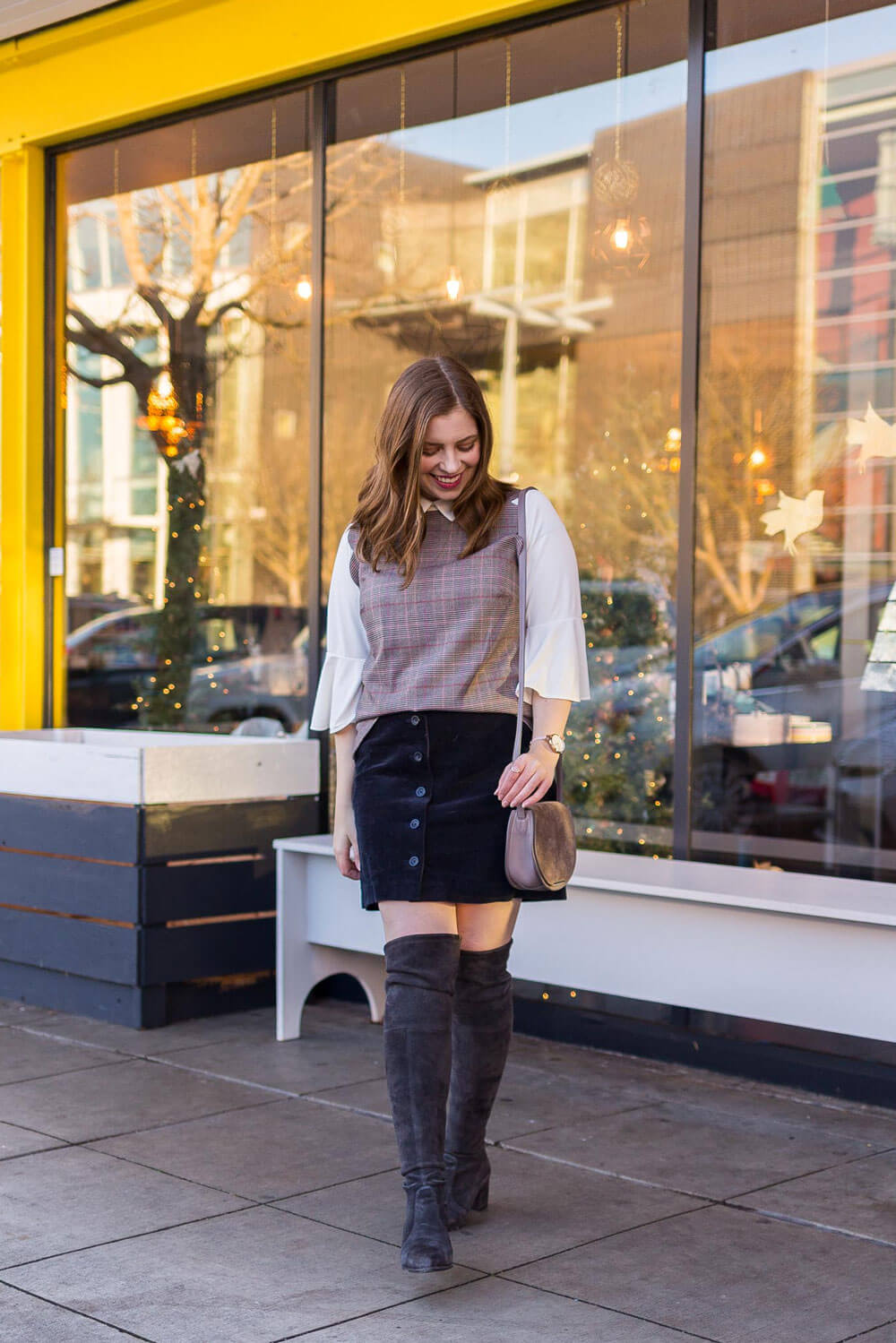 Layer a blouse under a sleeveless top
Ready to rock your sleeveless tops but the weather isn't quite cooperating? Try layering underneath! A slim fitting blouse, turtleneck, or long layer is the perfect way to make your sleeveless tops and blouses work for your winter to spring outfits.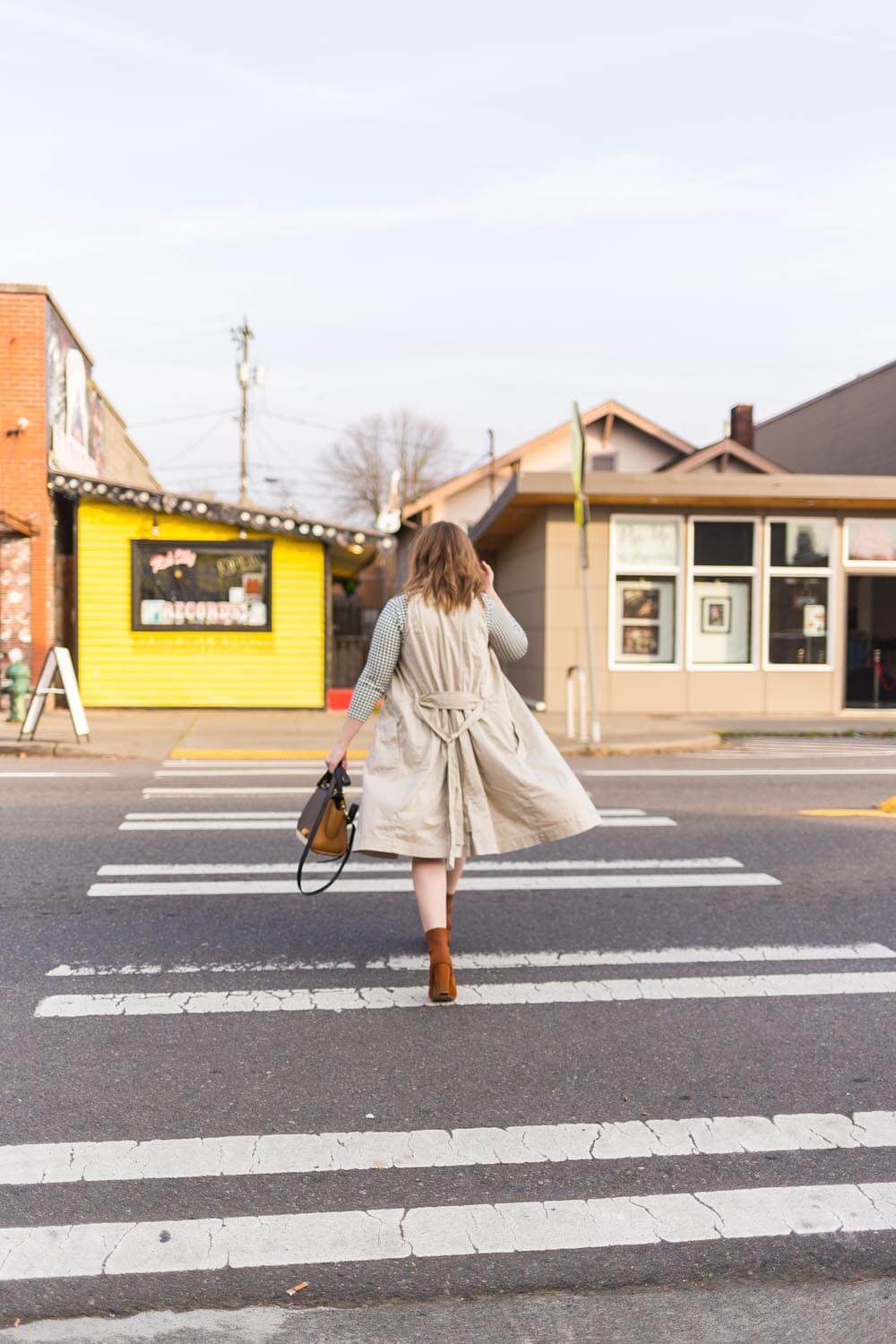 Finish off the look with a trench vest
We all know that trench coats are a great transitional statement, but something a bit more trendy and fun is the trench vest. Similar to a trench coat but without the sleeves, they are great for showing off pretty patterned sleeves, unique sleeve shapes like bell sleeves, or to just transform an outfit!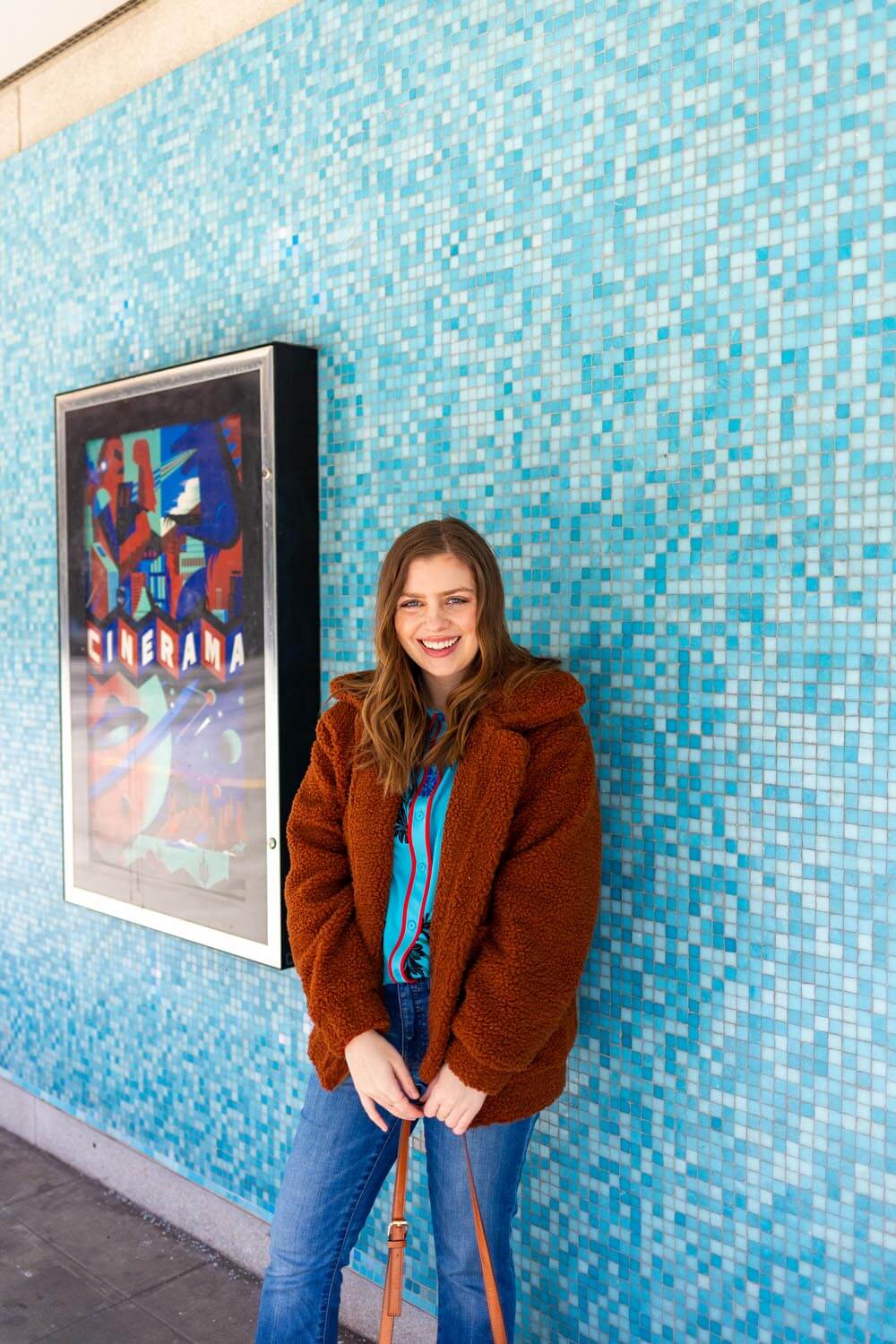 Transition your favorite winter trends
Who says you have to put all of your favorite trendy styles from winter away? The Teddy Coat style was hot this past season, and I think it can carry well into spring, too! Just because the sun is shining doesn't mean that there's not a chill in the air. If you have a style from winter you loved and want to carry it into spring, too, go for it. After all, I think this teddy coat style looks pretty fun contrasted with my bright spring blouse!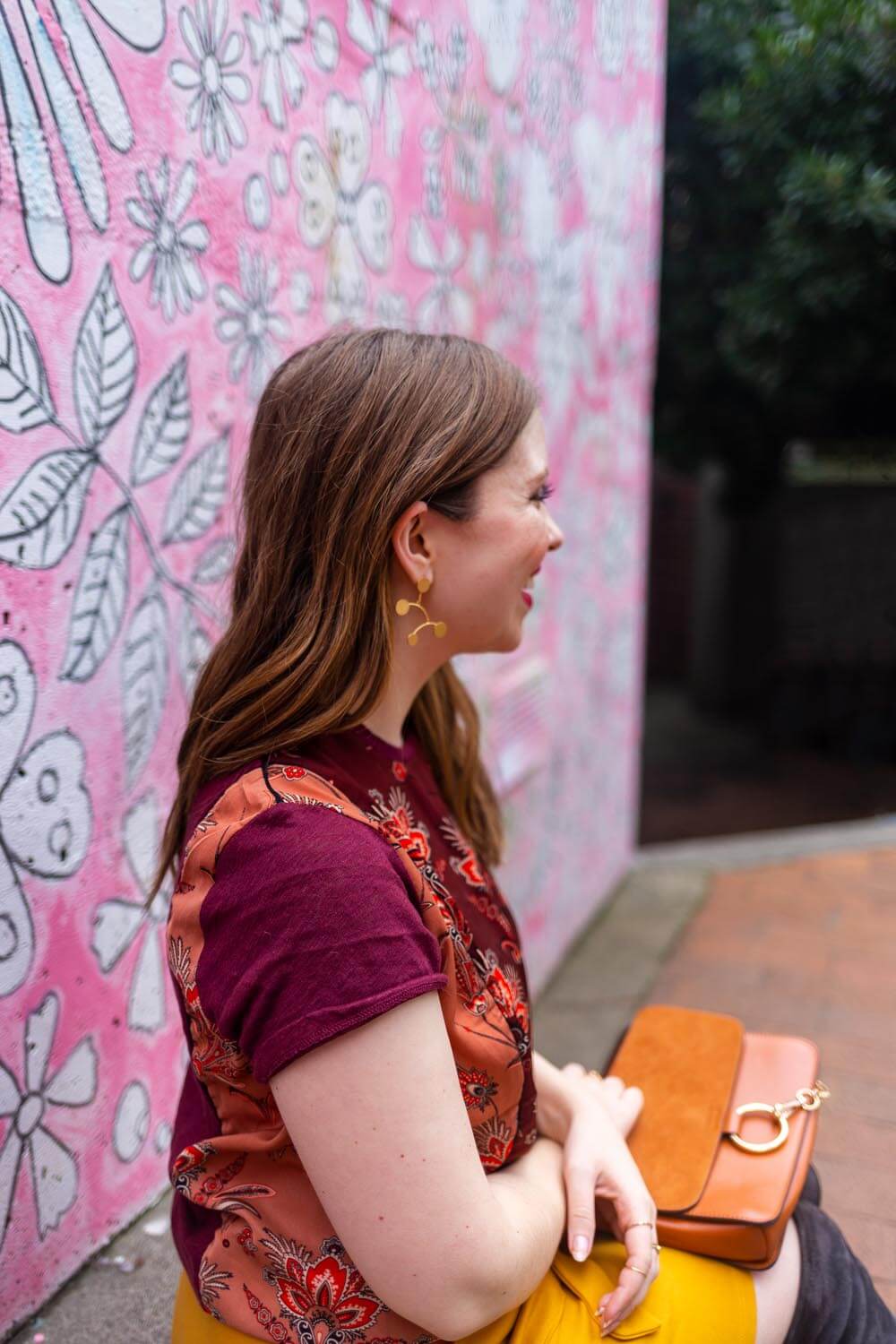 Add some fun accessories
The key to styling outfits for spring? Accessorizing! A pretty pair of earrings, a trendy hat, or a pop of color form a scarf or handbag can be the perfect touch on your spring transition outfit. Lately, I've been loving tucking my hair behind my ear to really show off a cute pair of earrings, like these fun mobile drops from Ana Luisa Jewelry.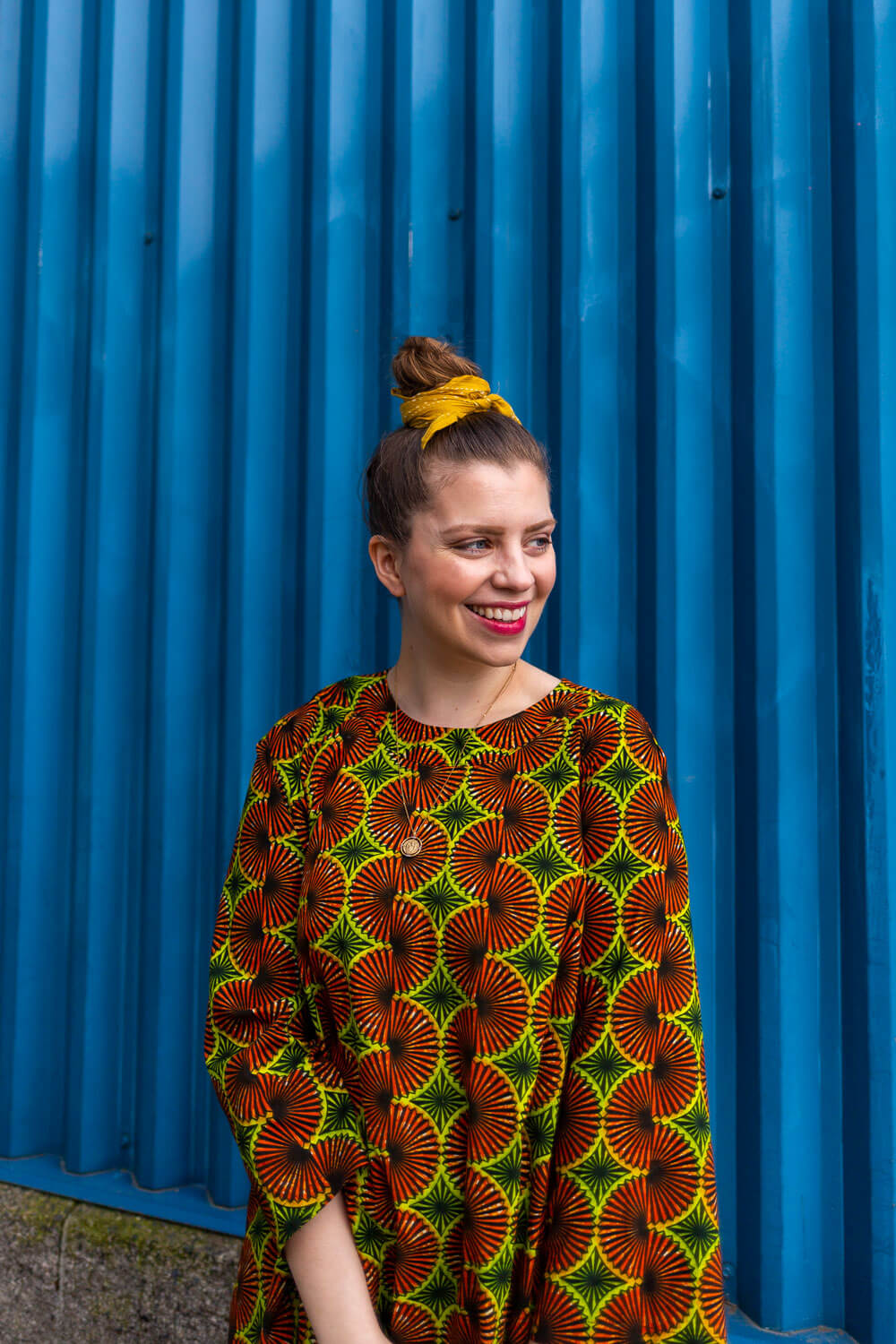 Another style I've been loving? Wrapping a scarf around a top knot, like this cute one from Chan Luu. Don't forget – scrunchies are back too! I personally have been loving the styles with bold prints and built-in bows perfect for top knots or ponytails.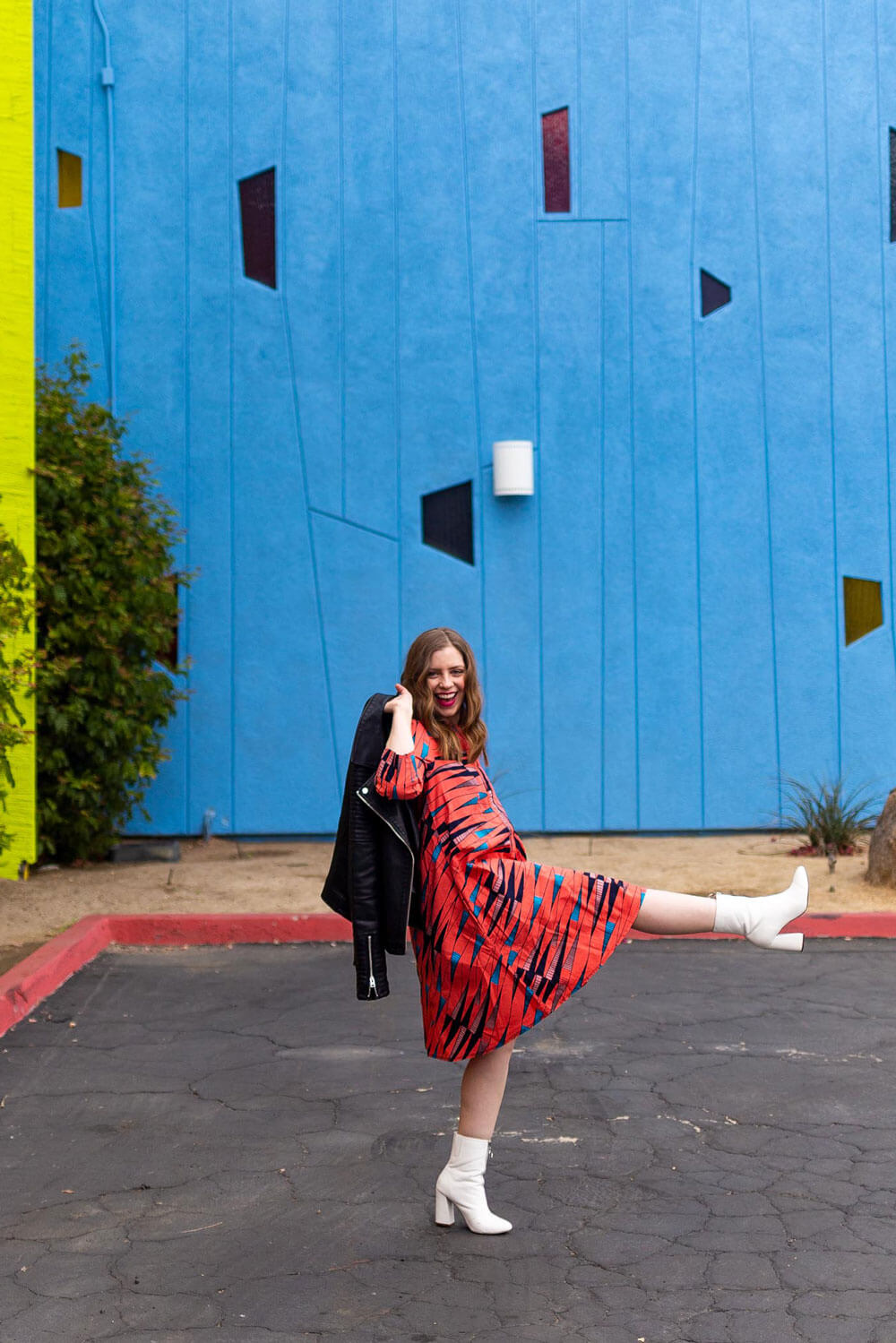 Bring a style staple with you
Ready to go all in with your spring outfit? Not too fast. When it comes to unpredictable weather, it's best to bring a backup plan. For me, that means carrying a style staple that is perfect rain or shine: a (faux) leather jacket! My trusty leather jacket has been through a variety of travel plans, weather scenarios, and goes with just about everything. It can edge up a flirty little dress, or blend right in with a graphic tee and jeans. No matter what you plan on wearing, throw a leather jacket on. After all, you can always take it off if you don't need it!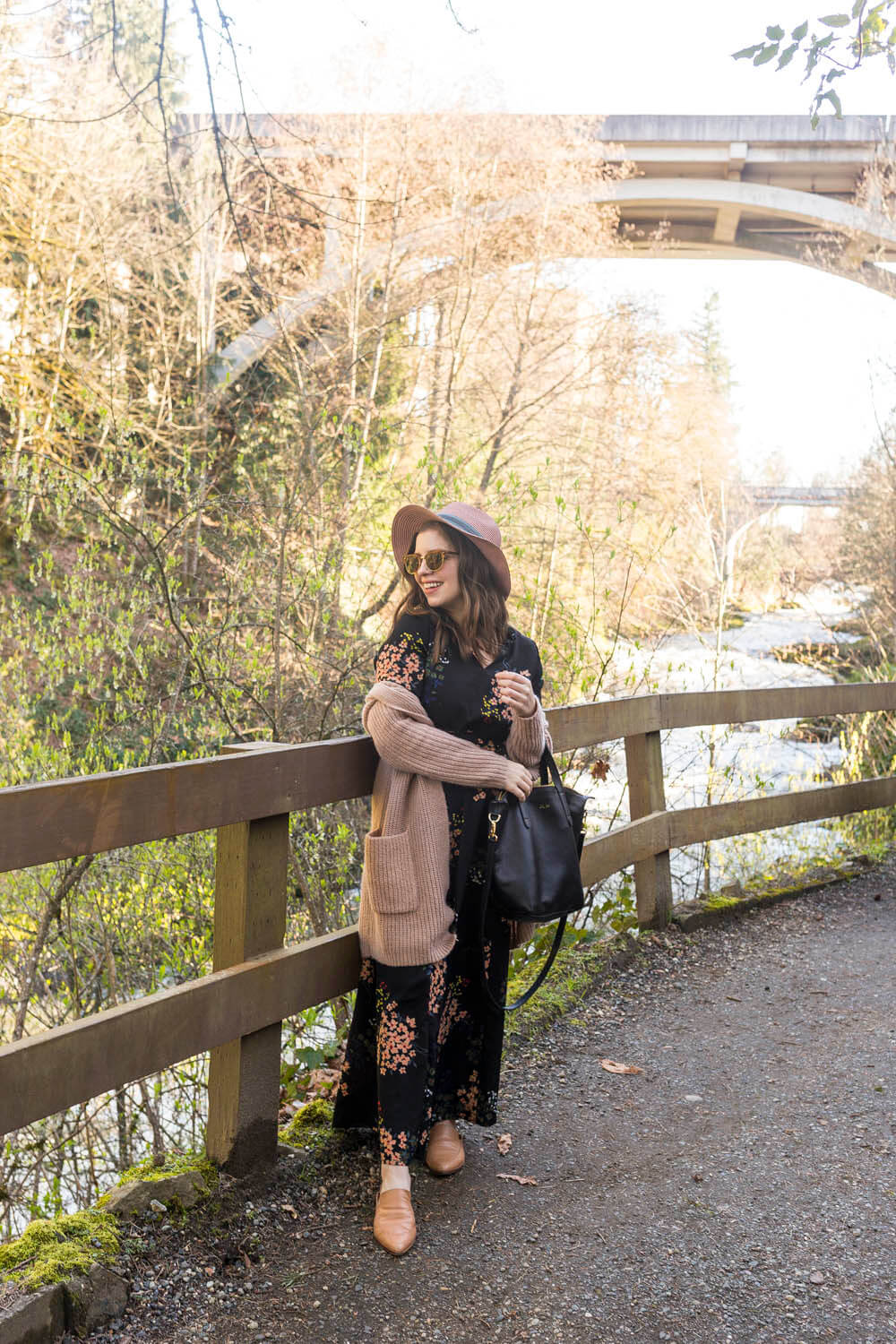 Throw a sweater over top
Pack it and forget it. A sweater, that is! A sweater is a great style staple that's appropriate year round. My favorite sweater for multiple purposes is a long sweater cardigan in a neutral shade like a dusty pink. A looser weave makes it appropriate for warm or cool weather. Throw it over your shoulders when the air is a little chilly or wear it around your elbows when you need some warmth this spring!

And with that, I hope this collection of winter to spring outfits is helpful when you're planning your looks in the coming weeks! As I finish up this post, I look out the window to see the sun and bright blue skies. In the distance, a dark gray cloud is on its way meaning another rain storm is only imminent. Guess I better pack a coat with me today!

Happy Spring, friends! 🌷

​​​​​​​How do you dress for the transitional time between spring and winter? Do you have any wardrobe tips and tricks to get you through spring showers and unpredictable weather? I'd love to hear about it in the comments!