Disclosure: Some of the pieces in this outfit have been provided courtesy of the brand. Some links below are affiliate links and I may receive a small commission if you make a purchase. All thoughts and opinions are my own!
It's no secret (well, I don't think it is anyway) that one of my favorite pieces to live in all summer long is a romper. Besides the bathroom issue, they're cute, comfortable, and come in a wide variety of styles.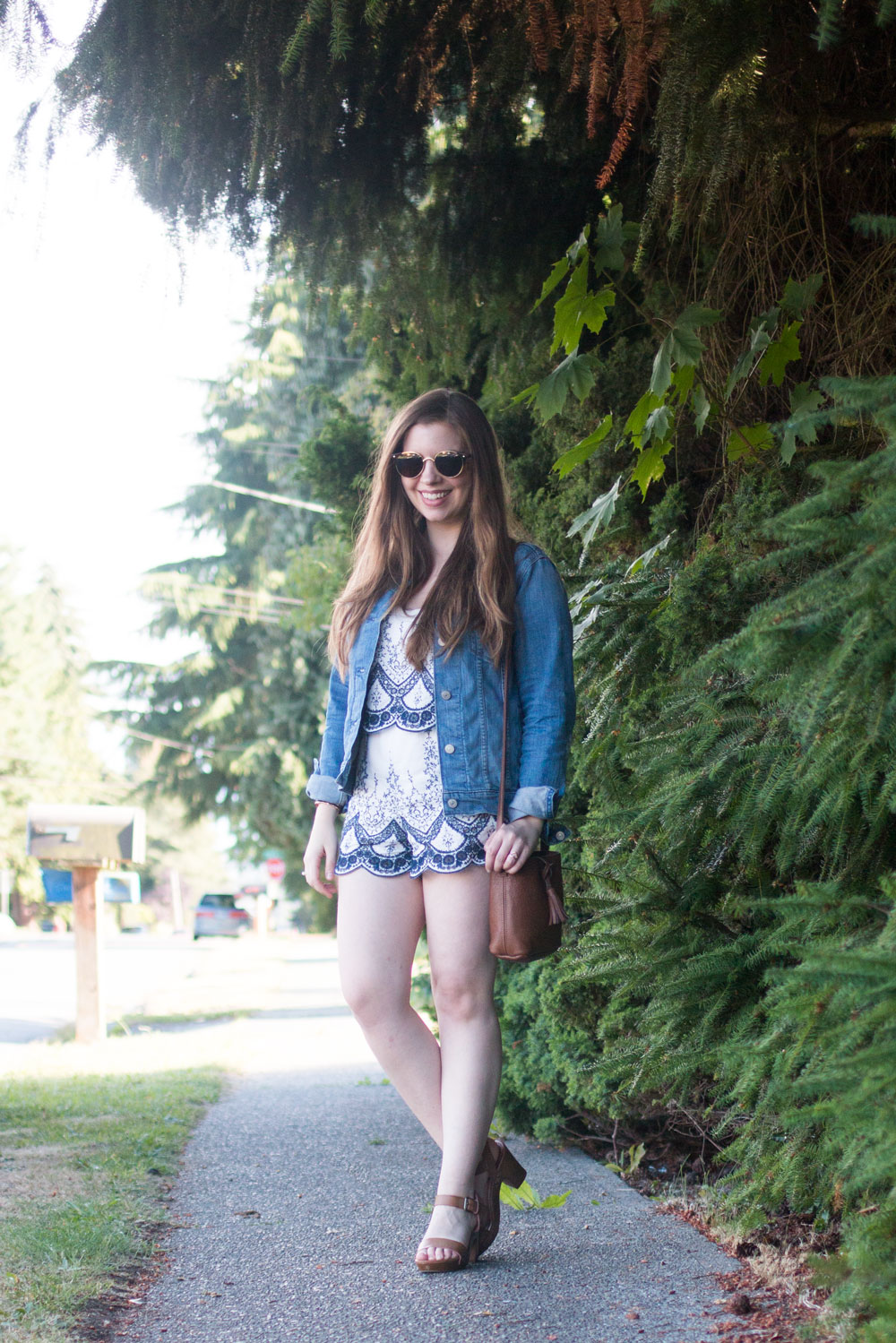 How to Style a Romper
I've heard from a lot of people that they don't think they can pull off a romper. To that, I say you can't pull it off if you never try it on! ;) Really, though, once you find a romper that flatters your figure, I promise you'll be sad you didn't try it sooner.
For me, the hardest thing to shop for when it comes to rompers is the waist line. I'm petite, with a short torso, so it can be a struggle to find one that doesn't have too much fabric in the midsection. About the last thing, I want to do is highlight my midsection (my problem area) with even more fabric!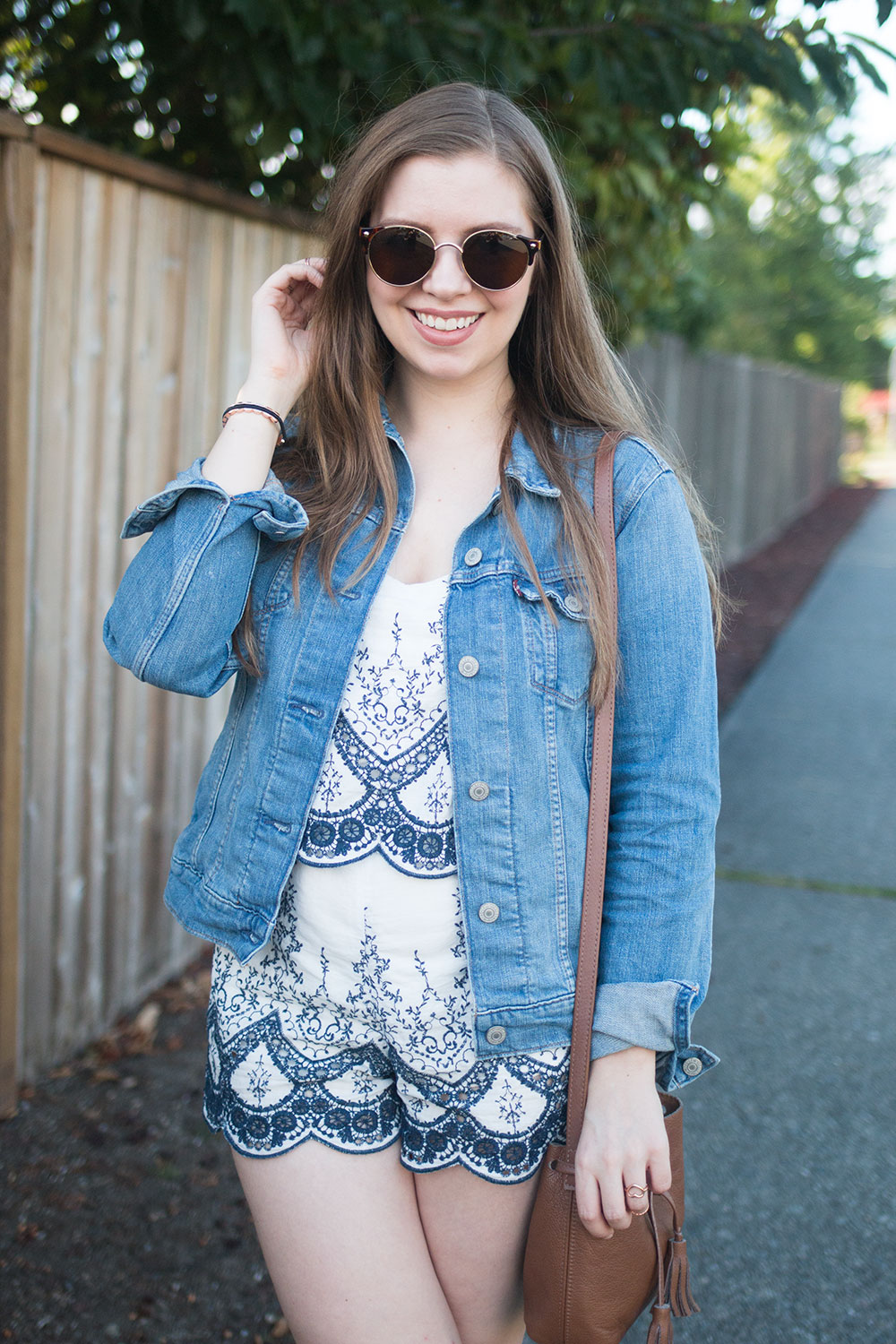 What I'm Wearing
Romper: Sahara Tier Romper c/o Tobi
Denim Jacket: Levi's Trucker Jacket c/o Fred Meyer
Sandals: Jore c/o Fred Meyer (shop similar)
Bag: Shaffer LA Greta Small Bucket Bag
Sunglasses: YHF Cashton Sunglasses (shop similar)
Bracelet: Scalloped Rose Gold Hair Tie Bracelet c/o Bela Bracelets
Rings: Midi, Pearl, Heart via Forever 21
This adorable Sahara Tier Romper from Tobi is perfect; it almost looks like two pieces, but they are connected. Even if there were too much fabric for the length of my torso, you wouldn't be able to tell since the top covers it. For another tiered option, try this darling Sail With Me Striped Romper. For those who have the opposite problem (long torsos that struggle with the dreaded camel toe from a lack of fabric) try looking for rompers that look like they are one piece, like the lace-trimmed Fiona's Flowy Romper, or have a lower waistline like the Mellow Out Knit Jumpsuit.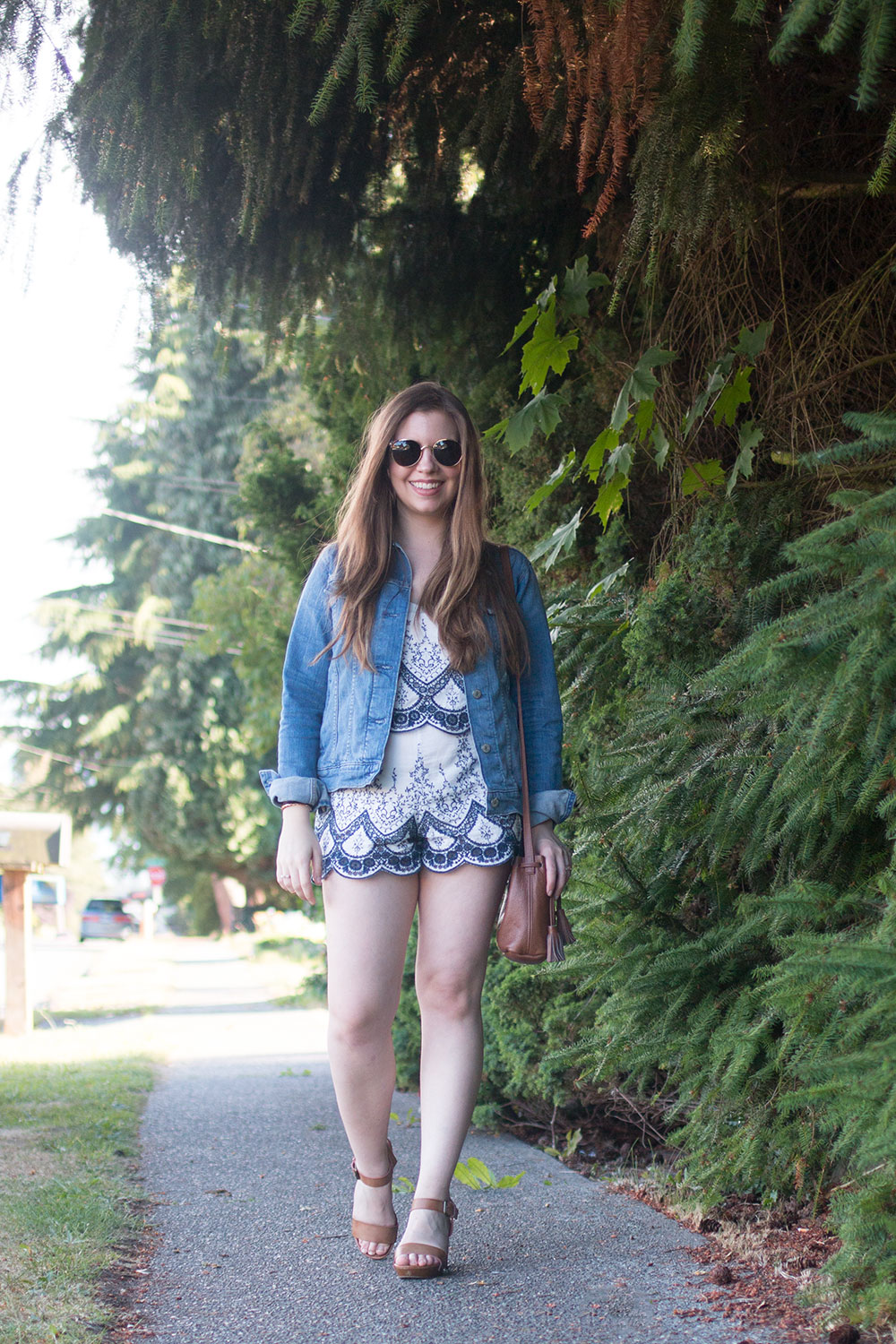 Another option for those that struggle to find a romper, regardless of shape, is to find a  two piece you like instead. A top and short that matches each other is a great option because it gives you two distinct pieces in your closet to style, and the issue of almost fully undressing every time you need to use the restroom is taken care of. Win-win! This cute Swing On Crop Top  and these Elora Swing Shorts would be a darling option, and I also really like this cute Chelsey crop top and the lace trimmed On the Right Track Shorts, which could easily make a darling outfit.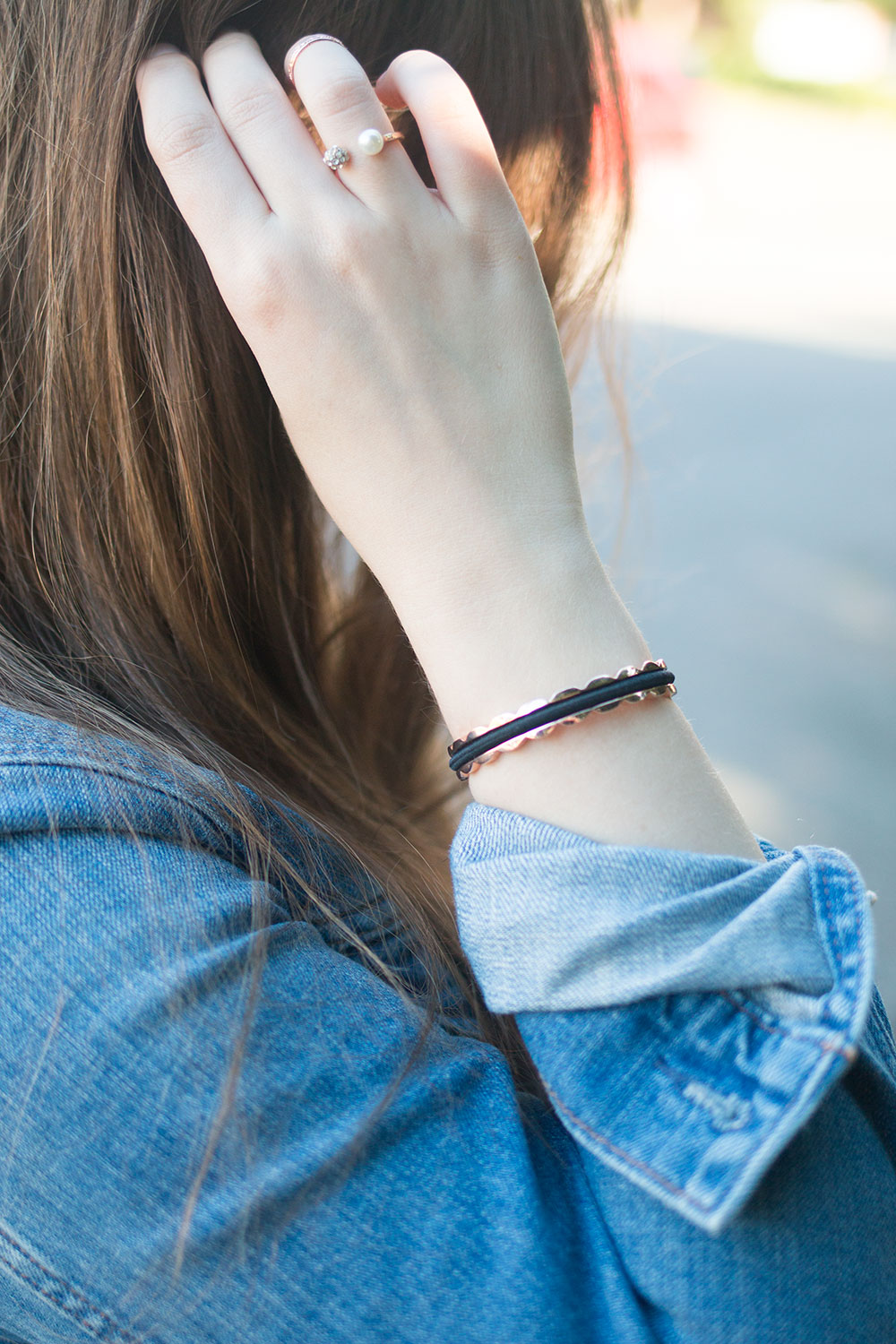 Now that you've found the perfect romper, now how to style a romper?! My absolute favorite way to style a romper is plain and simple – with a denim jacket to keep my upper body warm (but also is easy enough to take off if the temperatures spike) and a pair of neutral, comfortable sandals. Because the embroidery on this romper is delicate yet elaborate, I opted to keep my accessories minimal. This bracelet from Bela Bracelets is one of my favorites. Rose gold is one of my favorite metals, and I love that it's easy to adjust it to fit my small wrists. I often avoid bracelets for that reason, so I'm so happy to have found one that I can actually wear. I also added a few rose gold rings and midi rings, and my favorite mini brown bucket bag from Shaffer LA.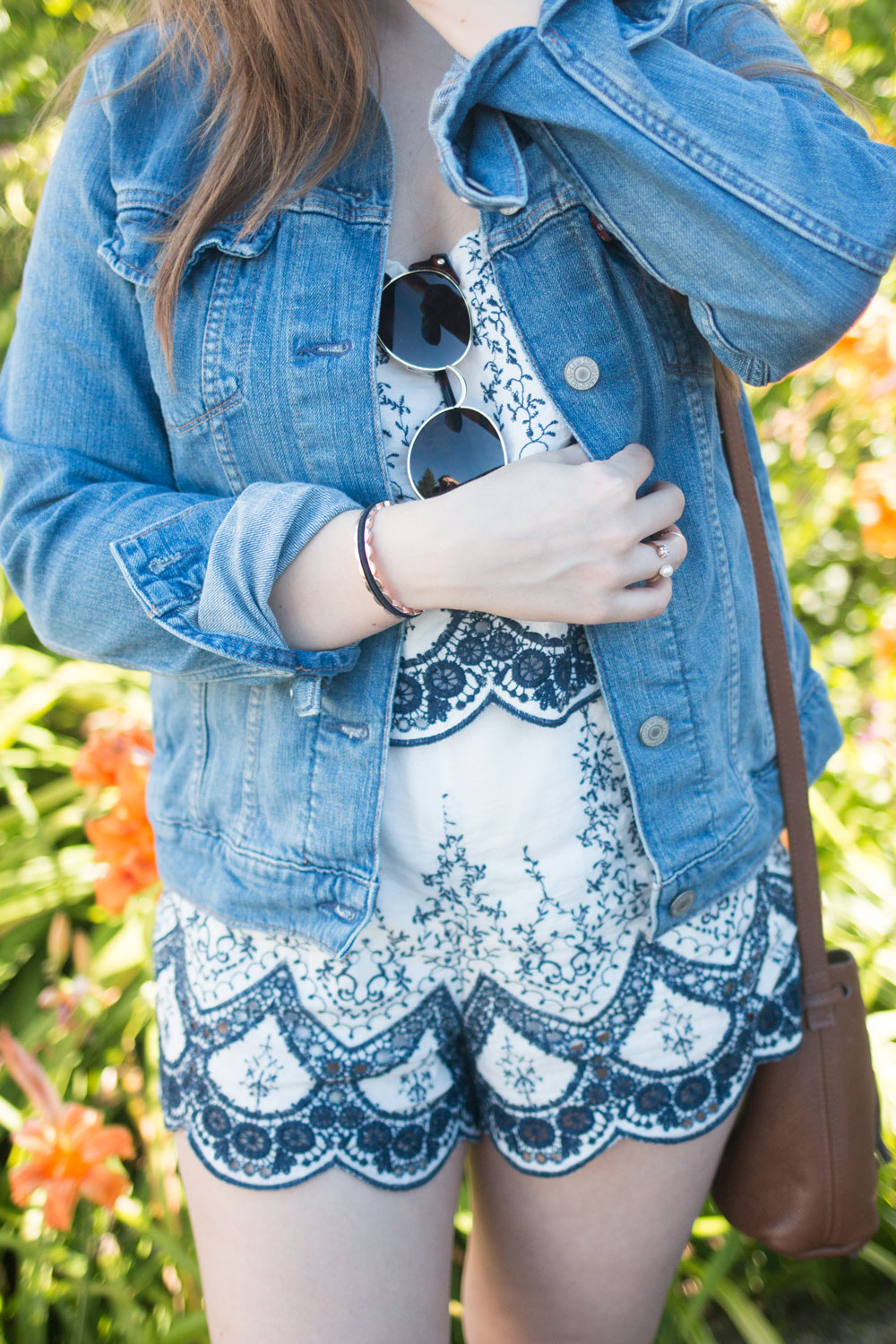 If you're thinking you need a romper in your life, definitely check out this one from Tobi. I'm so happy with the selection I made, and they offer 50% off their entire line if you're a new customer with code T50 plus free shipping, no minimum! Not in the market for a romper? Tobi also has a great selection of coats, trench jackets, infinity scarves, and scarves that would be perfect for fall, or check out their jewelry section for great prices on bracelets and necklaces!
Have you taken the plunge and added a romper or ten to your closet this summer? How do you like to style it? I'd love to hear your style tips and tricks in the comments below!