I don't think it's a big secret that I'm not exceptionally thin. In fact, long ago I even wrote a post about the struggle of being not skinny but not fat either. I consider myself an average body type. I'm right in the middle of the weight range for my size; I'm petite, but I also have curves, and I have style struggles just like everyone else in the world. If I'm honest, the biggest area that I'm body conscious about is my midsection. It's not as flat as I would like and it never really has been. I blame puberty. And chocolate. Oh, and cheese too.

Disclosure: Some items in this post were provided to me courtesy (c/o) the brand. Some links in this post are affiliate links, and I may make a small commission if you click a link and make a purchase. Thanks for supporting my blog!
What I'm Wearing
Jacket: ASOS Chevron Faux Fur Cape
Dress: Grey Long Sleeve Bandage Dress c/o The Kewl Shop
Shoes: Schutz Rose Gold Sandals c/o ThredUp
Bag: Woven Clutch via Forever 21
Rings: Pearl & Spike Ring via Stella & Dot
A style that I've always avoided was the Bodycon Dress, also known as the bandage dress, because when you're sensitive about your tummy and love handles, the last thing you want to do is accentuate it. Blogging has made me more adventurous in the name of experimentation and making things work for the average girl, which is why I took on the challenge of styling this dress despite my personal hang-ups. Full disclosure, this dress was sent to me from The Kewl Shop, who happened to share one of my older hair tutorials in a lookbook and thought it might be fun to work together. I'm always down to try out a new style.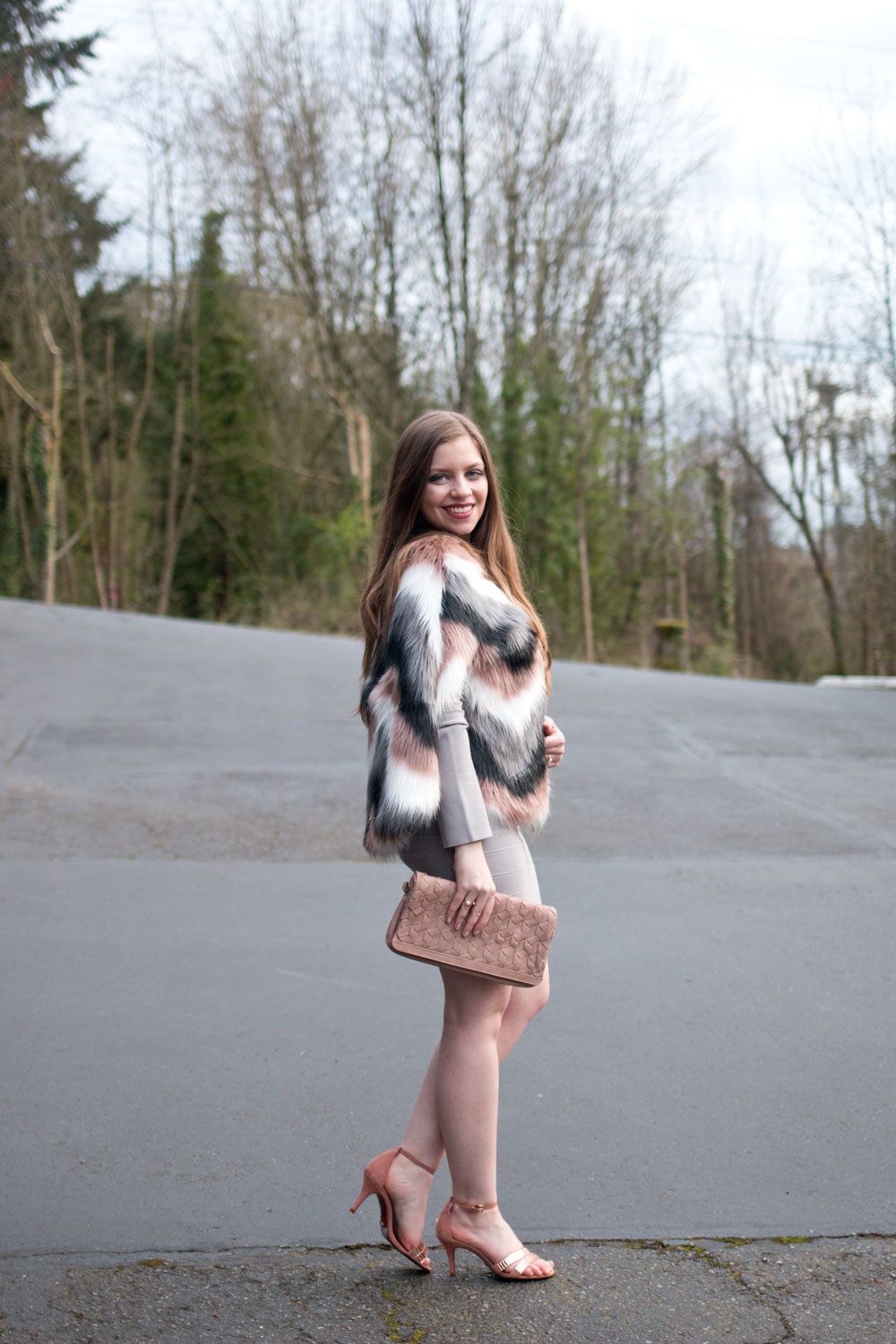 Shop Similar Bodycon Dresses:

How to Wear a Bodycon Dress
If you're like me and battling a trouble area, I thought I'd share what I learned from trying this dress in a few different ways.
Find the correct fit
A little obvious, but also super important. Getting a dress that hugs in the right places and keeps you in place without spillage is key. Too big and the dress won't be doing you any favors. Too small, and well, I'm sure you know what that could end up looking like. You'll be uncomfortable, and it won't be flattering, no matter your size.
Have it tailored
If you happen to be between sizes, getting your dress altered to fit your body is a great idea. Nipping a dress at the waist, shortening sleeves, or taking an inch or two off in length are all relatively inexpensive fixes at the tailor but can make a huge difference.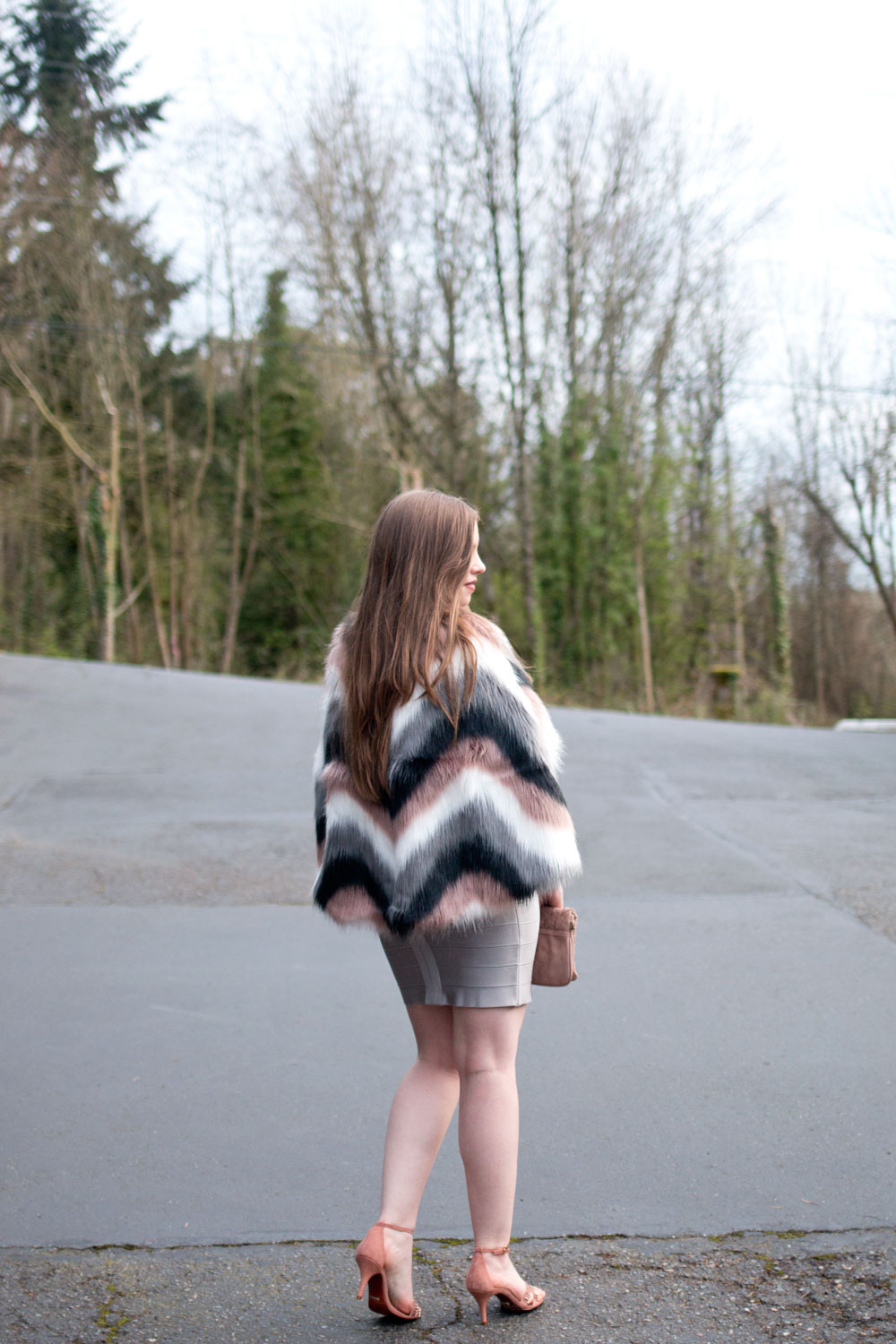 Shop Similar Jackets:

Start with a good foundation
Don't forget about the girls! Having a good foundation is crucial to preventing spillage out the top of your dress, and a too tight bra can cause unfortunately spillage out the sides too. If you haven't had a bra fit in the last couple of years, pop into your local Nordstrom or and have someone who's been there for awhile fit you and help guide you to a seamless bra. You don't have to buy a bra from them, but typically they are well-trained and know what they're talking about.
If that sounds like your personal nightmare, you can always email me about it, and I'd be happy to provide you some guidance! Fun fact, I worked in the lingerie department of my local department store in my late teen years. There's nothing I haven't seen or heard. ;)
Smooth it out
When you're preparing your foundational garments, don't forget to select undergarments with no seams! Pantylines aren't a good look, and neither are the lumps and bumps of seams. If you feel like you need a little extra support, shapewear can be helpful to keep things secure too. Maybe it's just me, but I find that it helps remind me to pay attention to my posture too.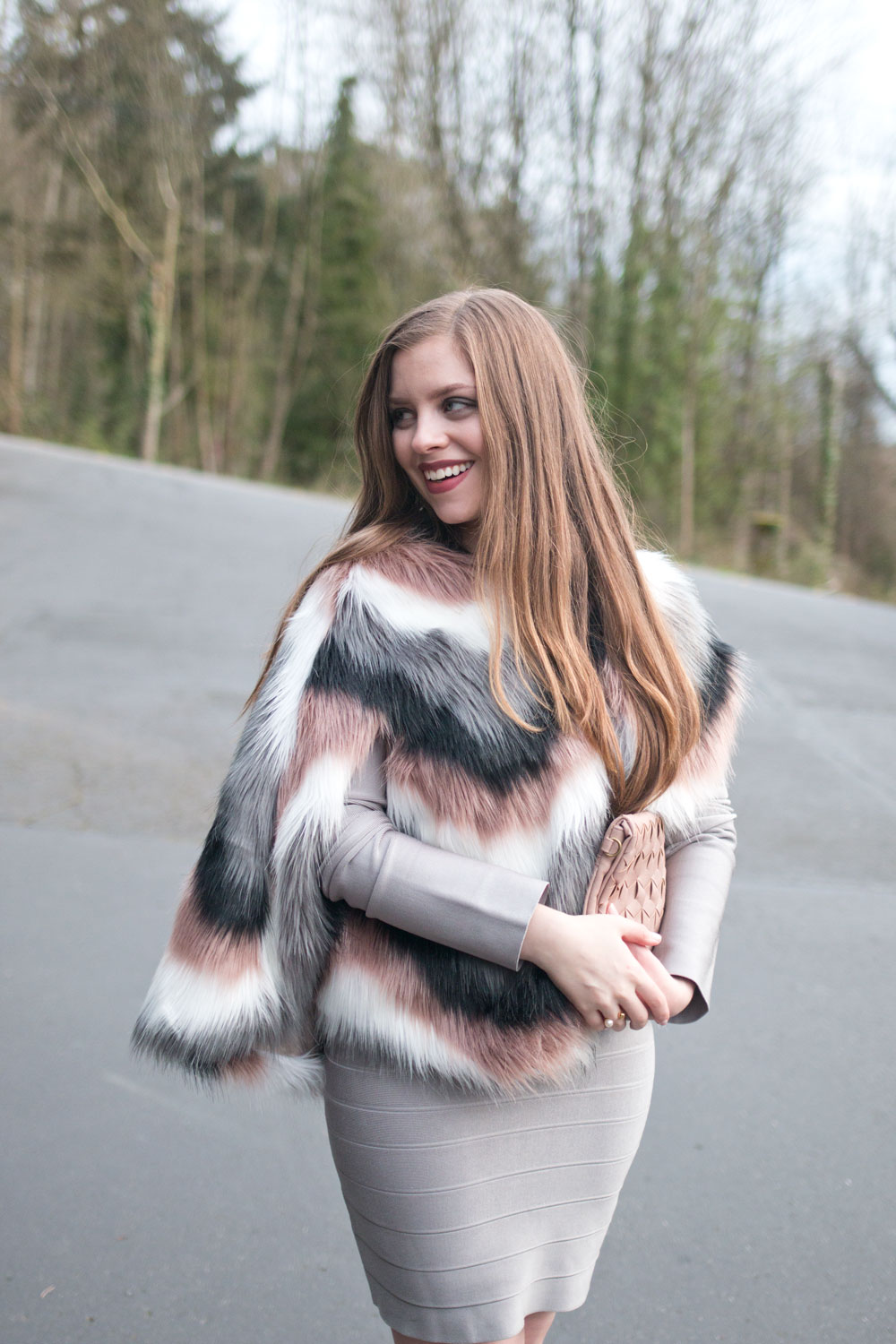 Shop Similar Clutches:

Details, details, details
Picking a dress that has details like ruching, contrasting patterns, and cut-outs can help draw the eye away from areas you may find problematic. Darker colors are more slimming to the body, while lighter colors can add volume.
Choose a structured material
Picking a bodycon dress that has a thicker more structured material is going to be much more forgiving and figure flattering compared to a thin or otherwise lightweight material. This dress from The Kewl Shop keeps me tucked in, in place, and the material looks high-end. The subtle striping also adds a luxe feel and gives a slimming effect.
Picking your favorite feature to show off
Have you ever seen someone in a dress with so much going on that you get a little… well, uncomfortable? Pick an asset to show off and keep the rest covered up, especially if your dress is detailed (think sequins, patterns, or cut outs) to begin with.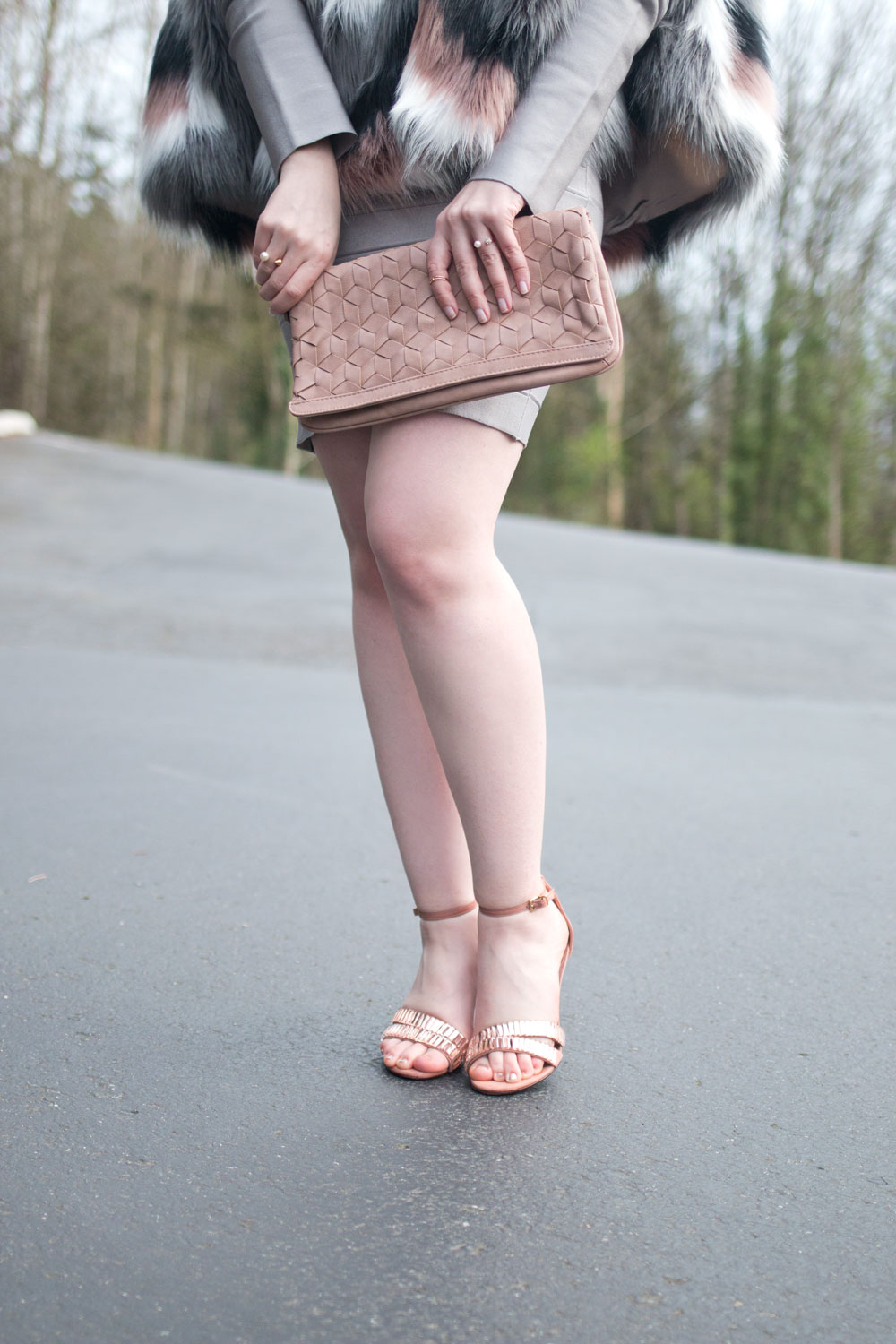 Shop Similar Shoes:

Add something on the top
This is my personal favorite way to wear a bodycon dress: with something else on top! In my case I opted for a fur cape that can be left on, worn just over the shoulders, or taken off. I liked the look of the cape with the dress, so I opted to leave it on, but a leather moto jacket, long coat, or tuxedo vest could easily work in its place.
Let your dress make a statement
It can be easy to want to go a little over the top with accessorizing, especially if you're going to an event. Instead of wearing the faux fur cape, sky high heels, bedazzled bag, oversized earrings, and a statement necklace, maybe pick one or two pieces to add to your dress and leave the rest at home. I opted to wear neutral tones with my bodycon dress in addition to the faux fur cape. For a little added interest, I chose to wear shoes with jeweled details, but a simple nude sandal would have sufficed as well.
Ultimately, it's about finding the bodycon dress that you feel most comfortable and confident in. If you don't feel good about it, don't buy it. There's bound to be the right dress out there for you no matter if you're average, thin, or curvy.
Are you a fan of the bodycon dress? How do you like to style your dress? Are there any tips or tricks you've found useful to feel confident in one? I'd love to hear about it in the comments!