I think it's known that I'm a little over the age of the traditional Spring-Breaker (and if we're perfectly honest, even when I was that age I wasn't really the traditional Spring Break kind of girl.) However, this year I'm looking forward to heading to Vegas with my friend Sarah for her bachelorette party. Is it weird that I'm already planning out outfits in my head and what spring break essentials I'll be packing for the occasion?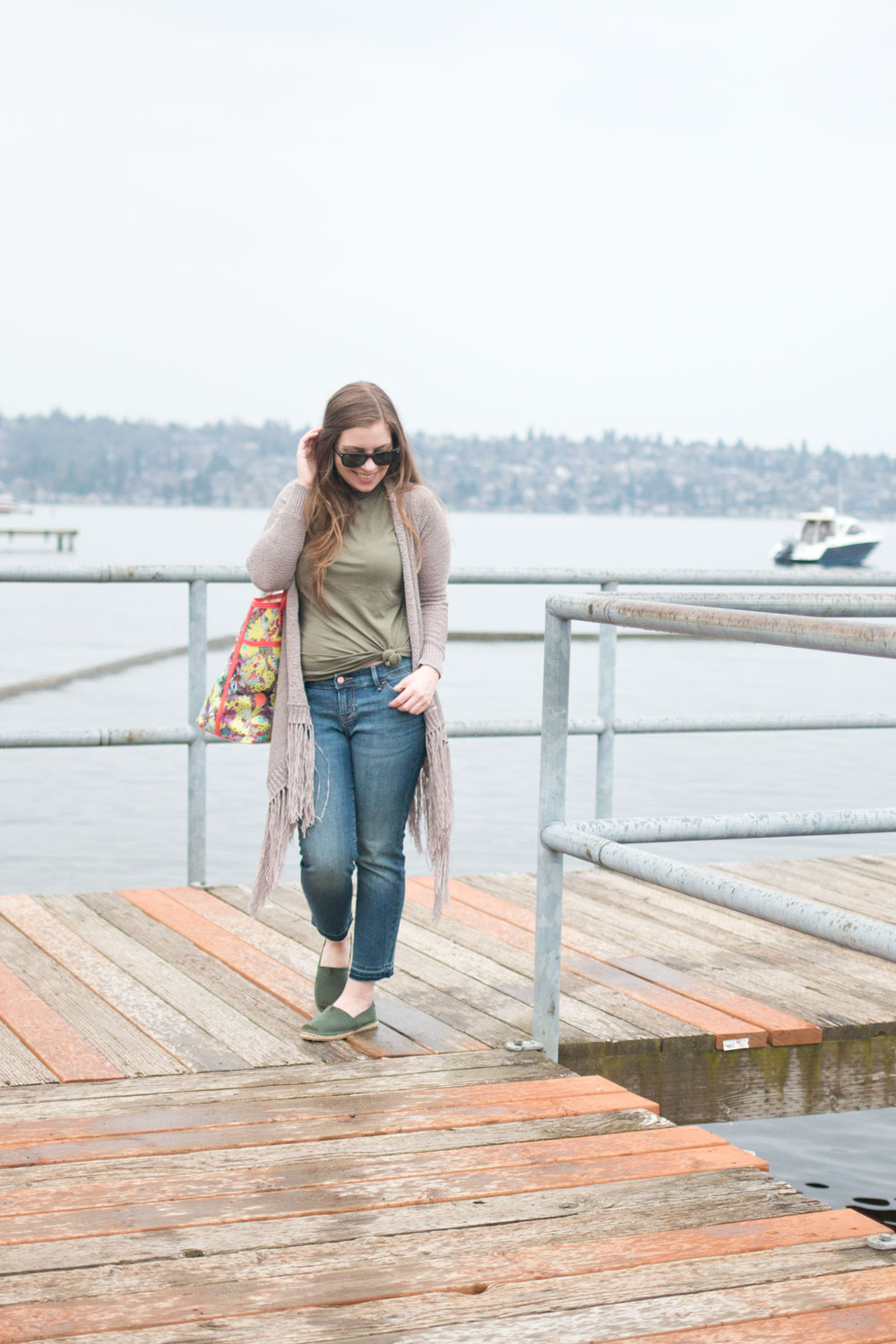 It's probably because the weather has been so dreary lately, and that I've been looking forward to wearing spring outfits without a winter coat. (To be fair, the sun does peek out every so often, but mostly it's rain and then more rain.) As much as I love Seattle, I could do with a little less of the awkward spring transition and more of the sun!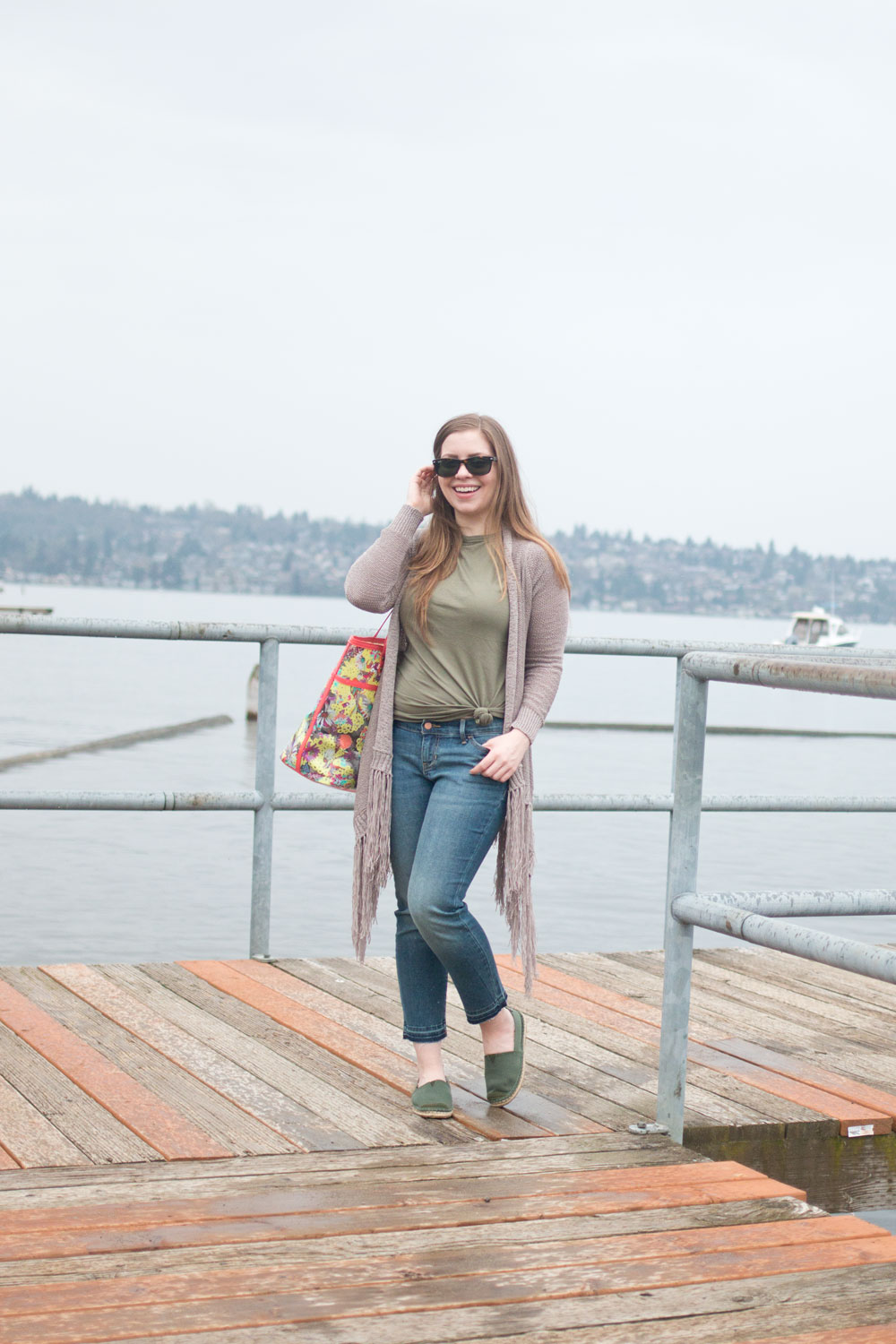 What I'm Wearing
Sweater: Lovestitch Fringe Cardigan
Tee: Bamboo T-shirt c/o ONNO
Jeans: Straight Raw-Hem Cropped via Old Navy
Shoes: Ella Origin Flat Espadrille c/o Sakroots
Bag: Artist Clear Circle XLarge Tote in Citrus Xen Garden c/o Sakroots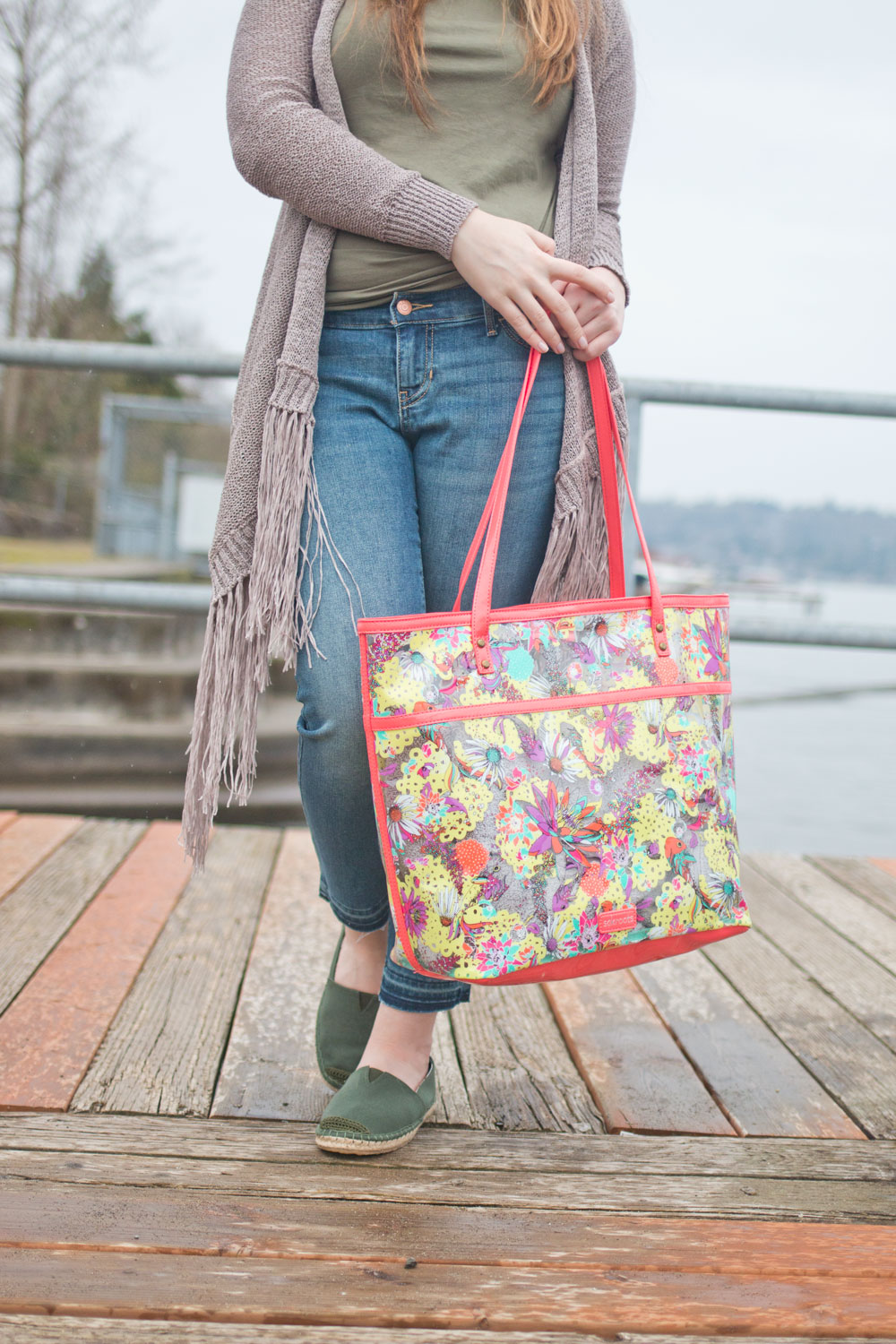 With the vacation sneaking up on me and with so many others making spring break plans already, I thought it would be fun to share my must-have spring break essentials, whether you're having a staycation or are traveling somewhere warm.
Spring Break Essentials for Travel
1. A large beach bag
A spring getaway wouldn't be that if it didn't involve a little R&R. I love packing a beach bag with a good book, a towel, a sarong to wear around your waist or your neck depending on the weather, and, of course, a little cash to treat yourself to a little poolside drink. This Artist Circle XLarge tote from Sakroots is perfect, and the artwork is a beautiful tribute to the SF Botanical Gardens as part of the Choose Your Karma Program. Choose from a variety of other music and nature charities to support with every purchase from Sakroots!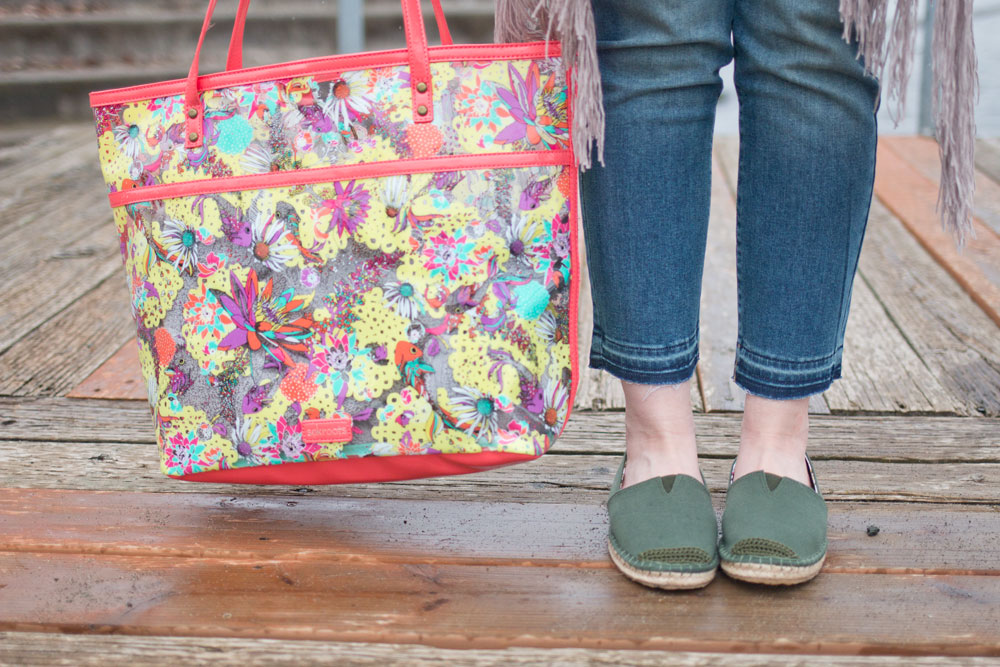 2. Speaking of books…
Who doesn't love a good book to read at the beach or poolside? Even if you're not getting away for spring break, a good new book is something I always crave at the change of the seasons. May I recommend a few? For fans of young adult, try Eleanor & Park by Rainbow Rowell or Cinder (The Lunar Chronicles Series) by Marissa Meyer. If women's fiction is more your speed, try something by Jojo Moyes (The Girl You Left Behind or Me Before You), Jodi Picoult (My Sister's Keeper), or Kristin Hannah (Firefly Lane). If you're into non-fiction or are looking for something more serious, try Modern Romance by Aziz Ansari (surprisingly serious, albeit with humor mixed in) or The Immortal Life of Henrietta Lacks by Rebecca Skloot. And finally, if you'd prefer to be crying laughing, try Let's Pretend This Never Happened by Jenny Lawson.
3. A cozy sweater
You never know when the weather could change, or your destination could be a bit cooler than expected. Plus if you're spring break getaway requires flying and you're anything like me, you'll be freezing on the plane and will be yearning to wrap yourself in something cozy and warm. This fringe sweater would do the trick and is on-trend for spring since fringe, by all accounts, is still in.
4. Your favorite sunnies
I don't know how many times I've forgotten a pair of sunnies when I've traveled, but I'm pretty sure it's more than I could count at this point. Now I make it a point always to pack at least one pair first so that I don't forget them! If I were you, I'd run and put a pair in your beach bag now, so they don't get missed. ;)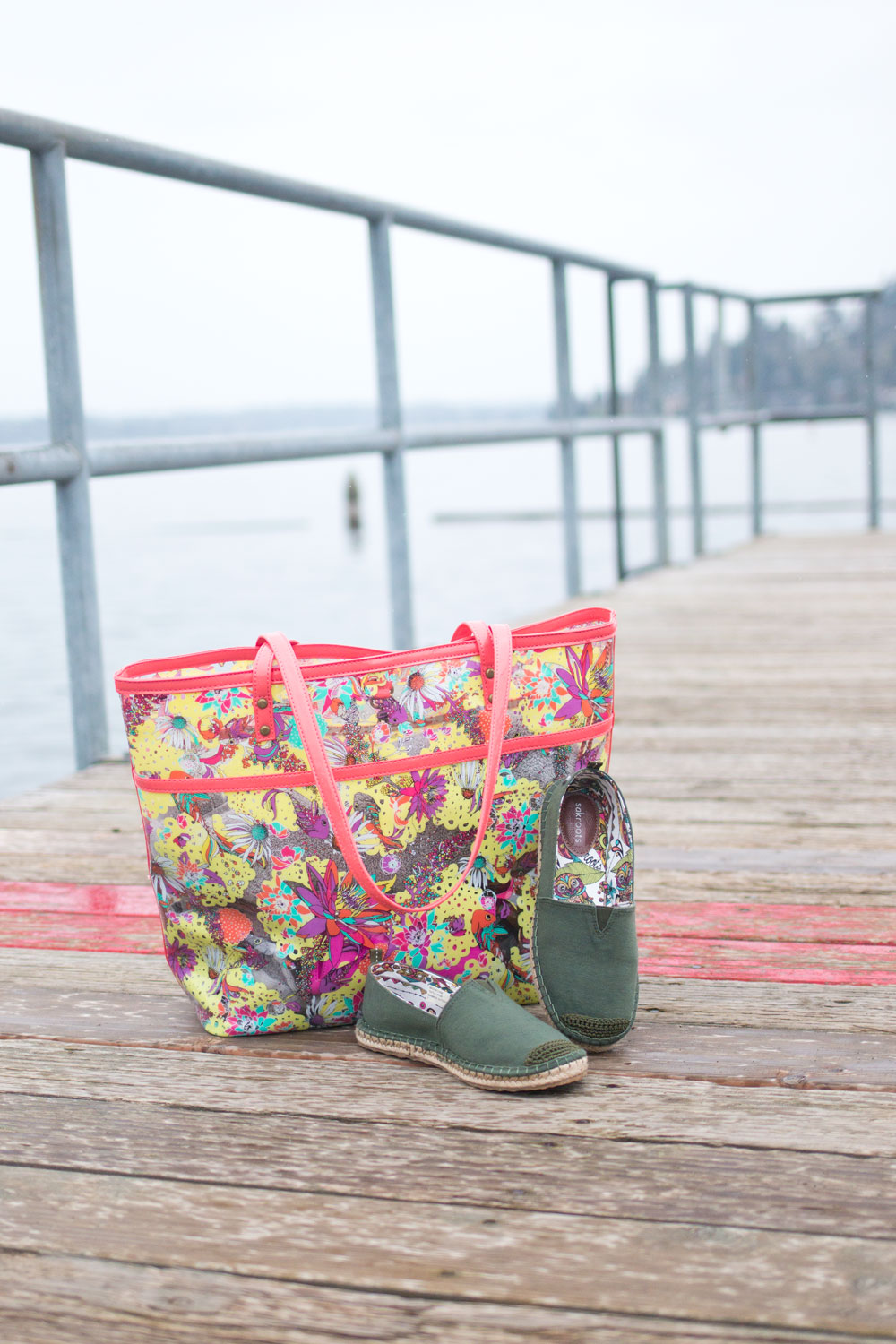 5. Comfy slip-ons
Slip-ons are my go-to when flying is involved because it's so much easier to take on and off as opposed to shoes that have laces or complicated straps. These Sakroots Espadrilles are so comfy and come in the perfect neutrals to match any spring or summer outfit. They come in whole sizes only, so if you're in between sizes like me, I recommend going up rather than down. (I typically wear a 6.5 and opted for the 7. It was a perfect fit!) The crochet detail on the toe is an adorable detail and adds the perfect amount of interest to the simple design!
6. Plenty of sunscreen
A trip outside shouldn't happen without a good SPF slathered generously! As much as I love the sun, I'd prefer to keep my skin safe and to look it's best for as long as possible which is why I'm so diligent about applying it, and reapplying it according to the packaging. Don't make the same mistakes I did when I was younger and hit a tanning bed before an event or vacation. It's not worth the risk of sun damage, skin cancer, or premature aging!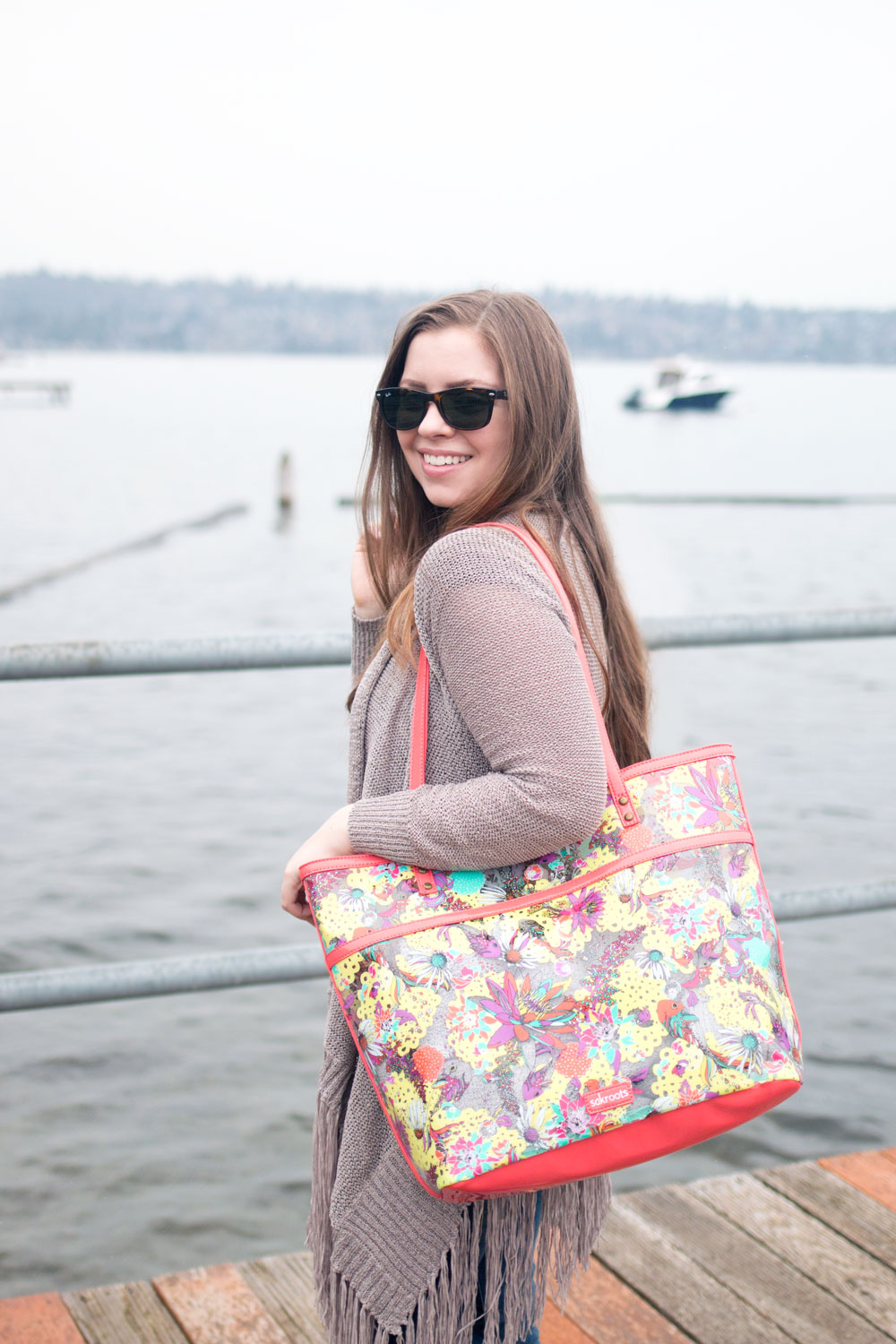 If you're in need of a new beach bag, sandals or slip-ons, or any travel accessories, don't miss the fun prints and colors from Sakroots. Newsletter subscribers will also receive 15% off their first purchase, so be sure to sign up for that too! Also, through 3/29 enter below on this Instagram photo to win your own Sakroots Cosmetics Case!
What are your spring break essentials? Are you going away anywhere fun this spring? I'd love to hear about your travel plans or travel must-haves in the comments!