I think I lucked out, because when I was diagnosed with nearsightedness, wearing glasses was considered pretty cool. I only had to wear glasses to be able to see the overhead projector in my middle school classes, and I often had to fight my friends for my glasses to be able to see. Those four eyes references? Never heard them, and hopefully if you're a fellow glasses-wearer, you didn't either.
Now at my age, almost everyone I know has, at least, some visual impairment. For me, glasses are also somewhat of a fashion statement. The options are endless; large frames, small frames, colorful frames, simple frames, or even frameless frames. I often find myself choosing outfits and makeup looks based on my glasses too. If glasses help you make a fashion statement too, you're definitely going to want to check out the #VSPStyleSweepstakes video to win a style consult and a new pair of designer sunglasses from VSPDirect!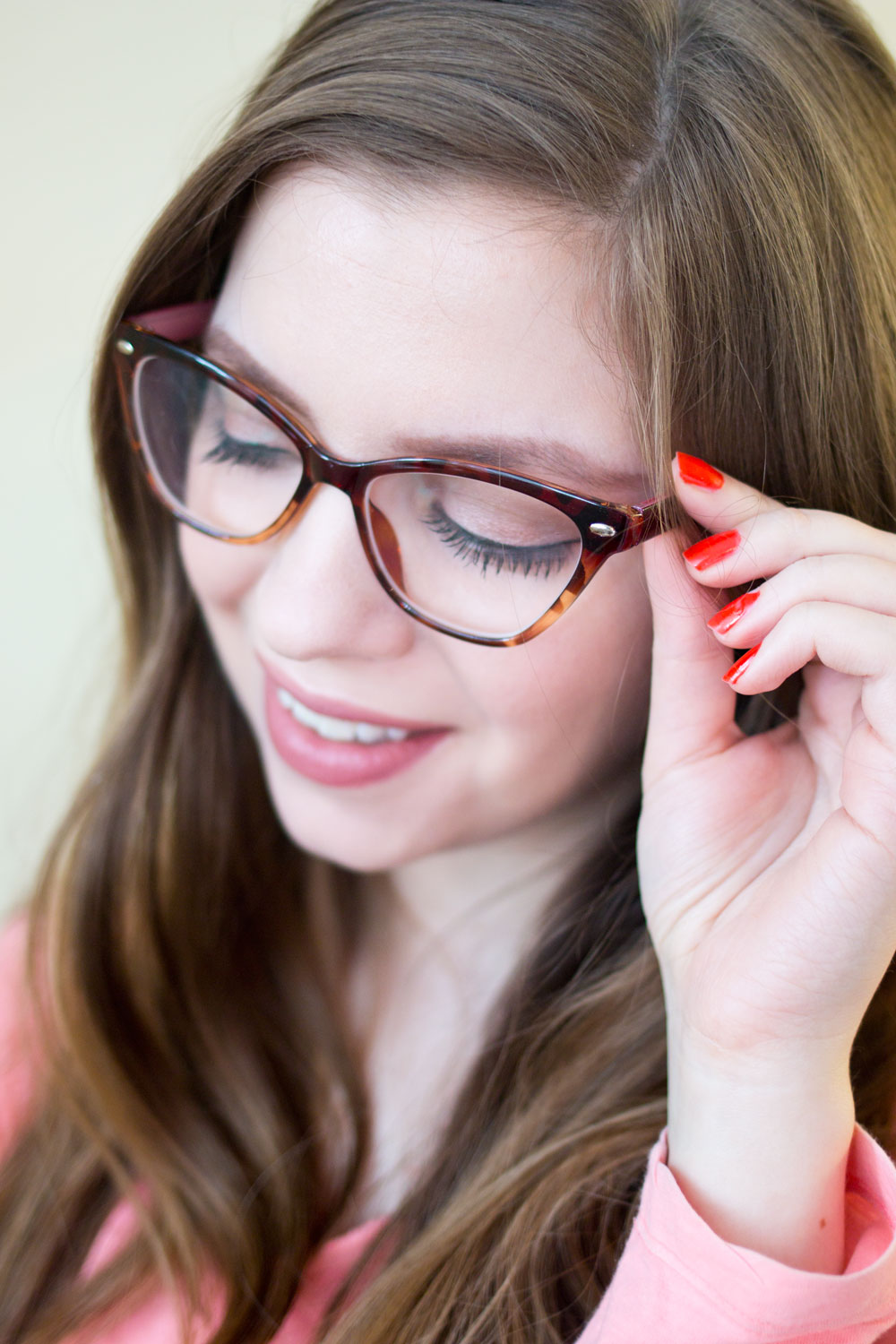 Neutral Eye Makeup for Glasses
One such makeup look that is my go-to is a neutral eye look with thick winged liner. The reason I like this look so much is because it allows my lashes and eye color to pop, even behind thick frames! I'm going to be using a variety of products in this tutorial, from drugstore to higher end, but feel free to use whatever you have already. The goal is to use neutral colors that flatter your skin tone. I have neutral to cool skin and blue eyes, so I chose my eyeshadow and face powders based on that.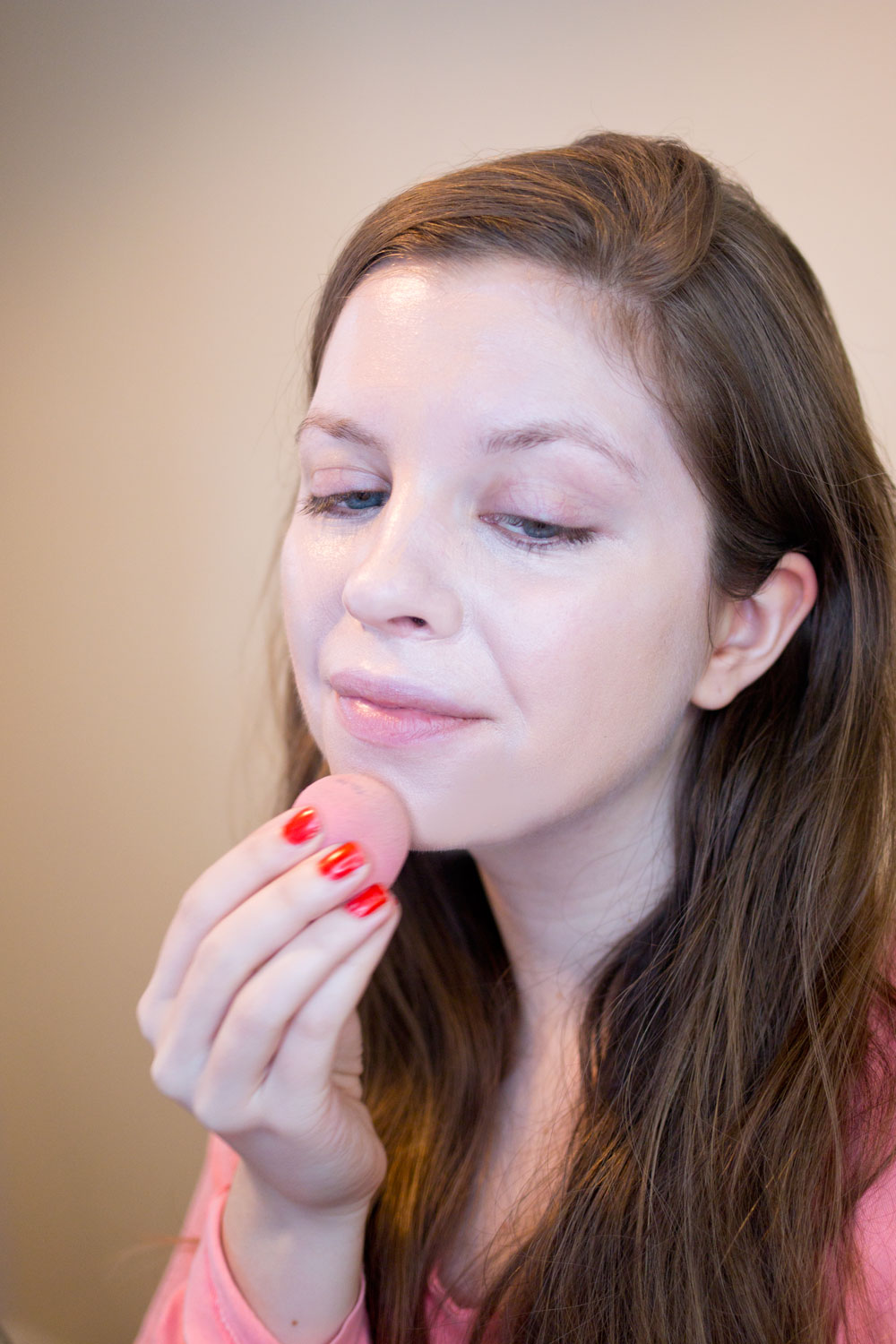 First, no eye makeup is going to look great unless you start with a good base! Put on your favorite moisturizer to keep your skin nice and hydrated. Then, I opted for a water serum foundation because my skin has been super dry lately. I went with the Pur Cosmetics HydraFluid foundation in light.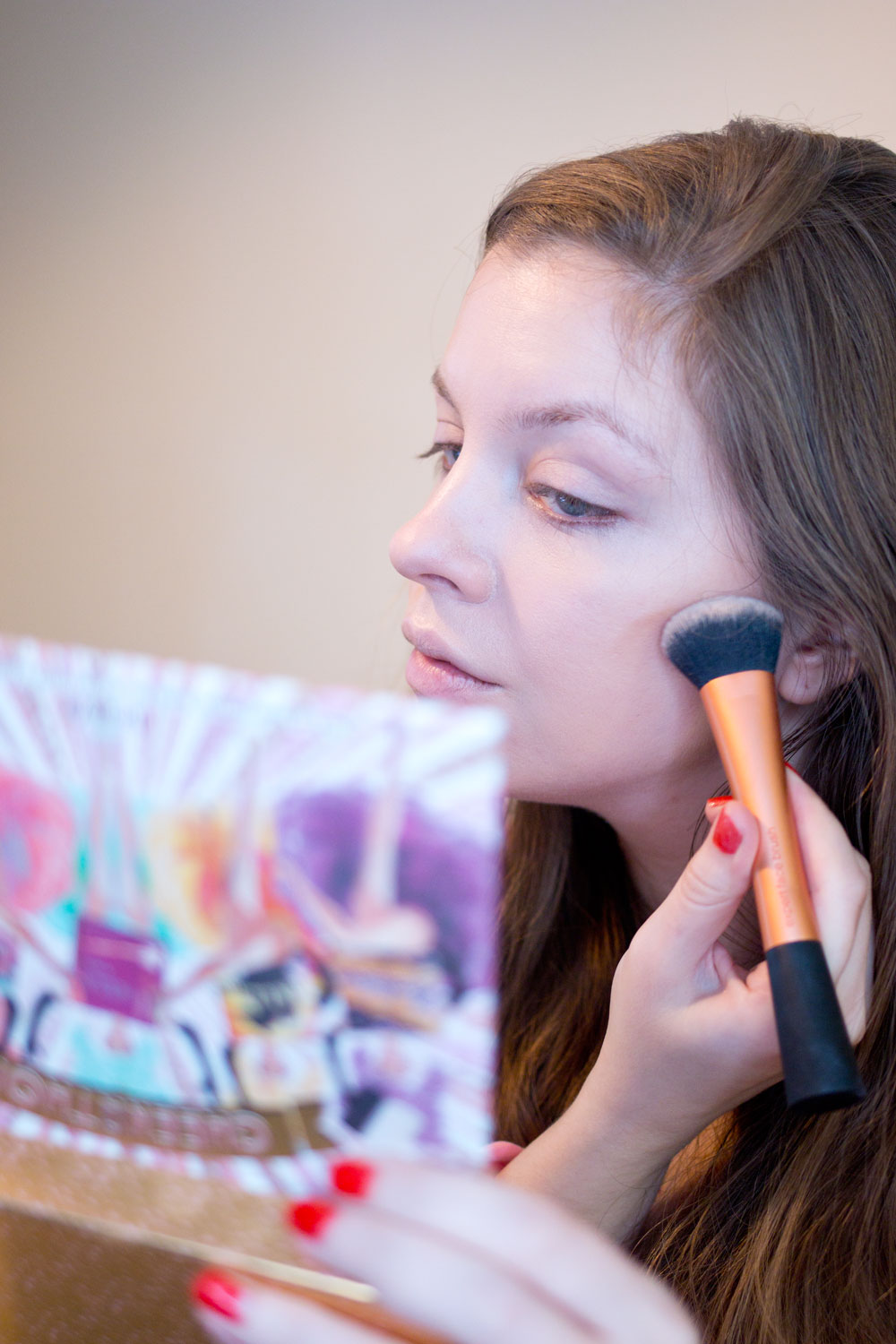 Because it's springtime, I'm trying to fake that I have a little bit more color than I actually do. I'm using my Benefit Cheekaton Palette for this and selecting the Hoola Bronzer to add some warmth to cheek bones and my hairline. I ran the Dallas Blush across the apples of my cheeks and along my cheekbones as well.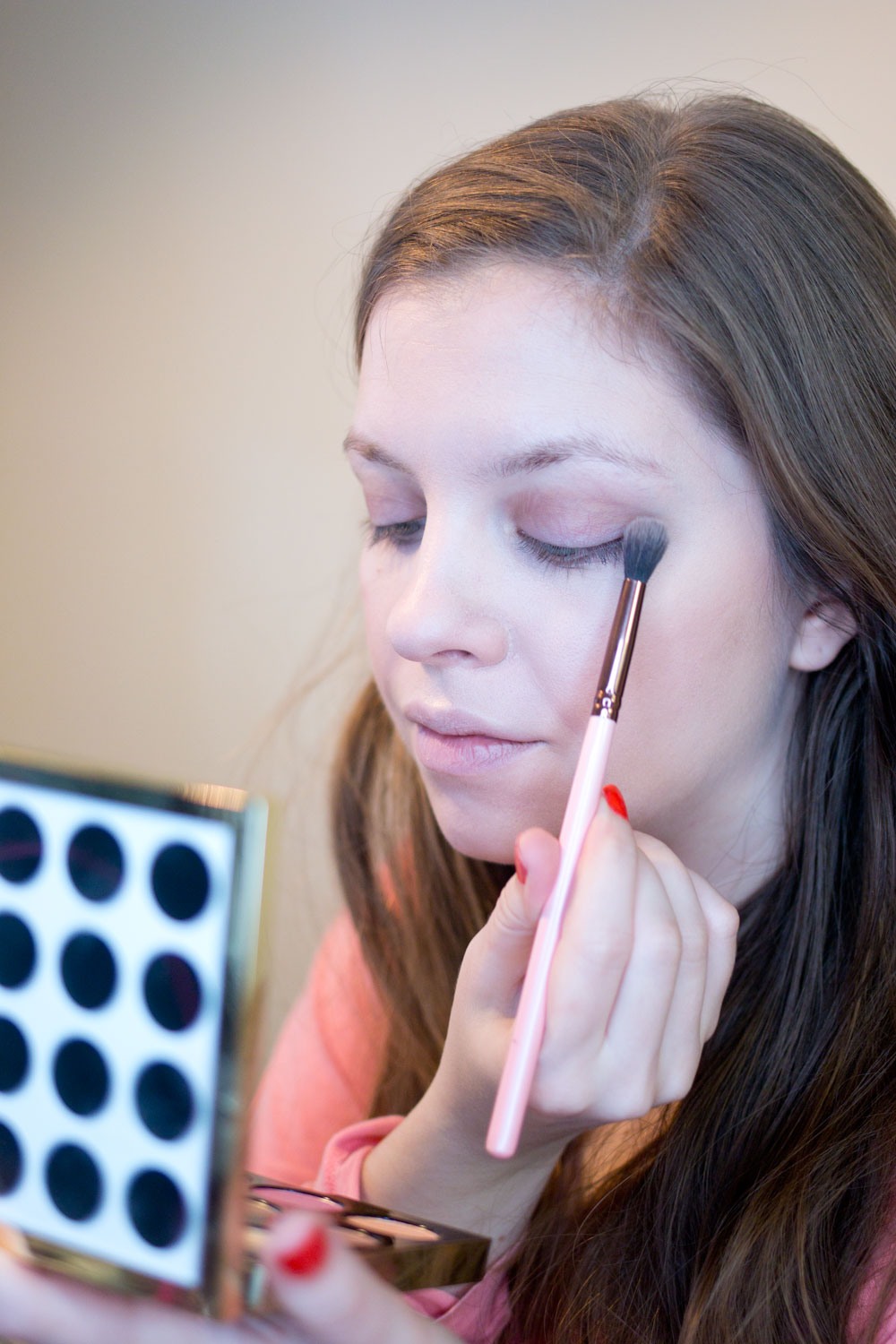 Next, it's time to create the key to this look: the eyes! I'm using my Urban Decay Gwen Stefani Palette to accomplish the cool-toned neutral eye. First, I blended Harajuku into my crease. Then with a flat shader brush, I patted Pop onto my eyelid. I then added some more Harajuku into my crease and blended the shades together.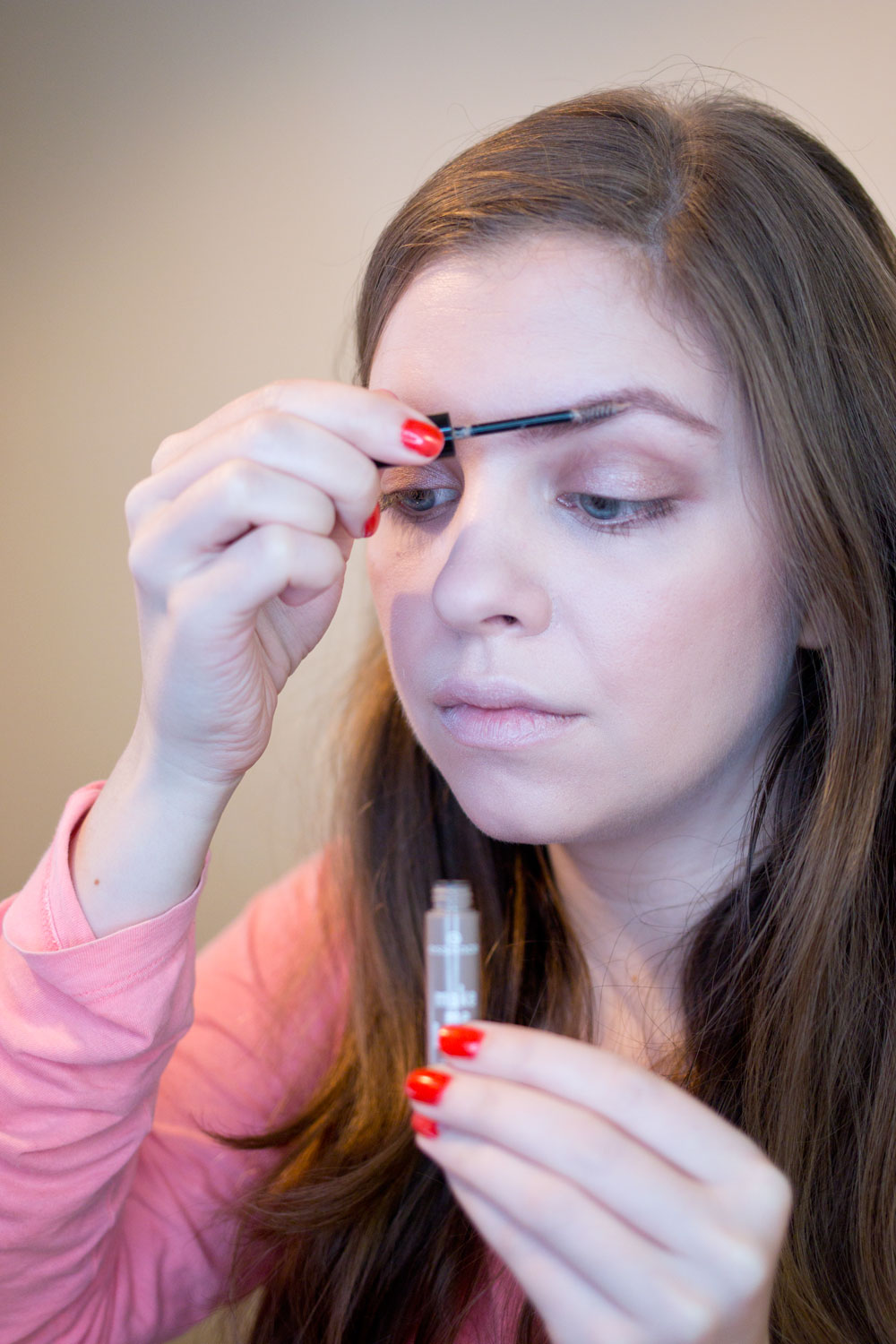 When wearing glasses, I also think having bold brows is important. And by bold, I most definitely do not mean "Sharpie Brows", but I do like to ensure that they're fully filled in and kept in place all day. To accomplish this, I first filled them in with the Chella Eyebrow Color Pencil in Taupe, then used the Essence Make Me Brow Gel in Blondy Brows.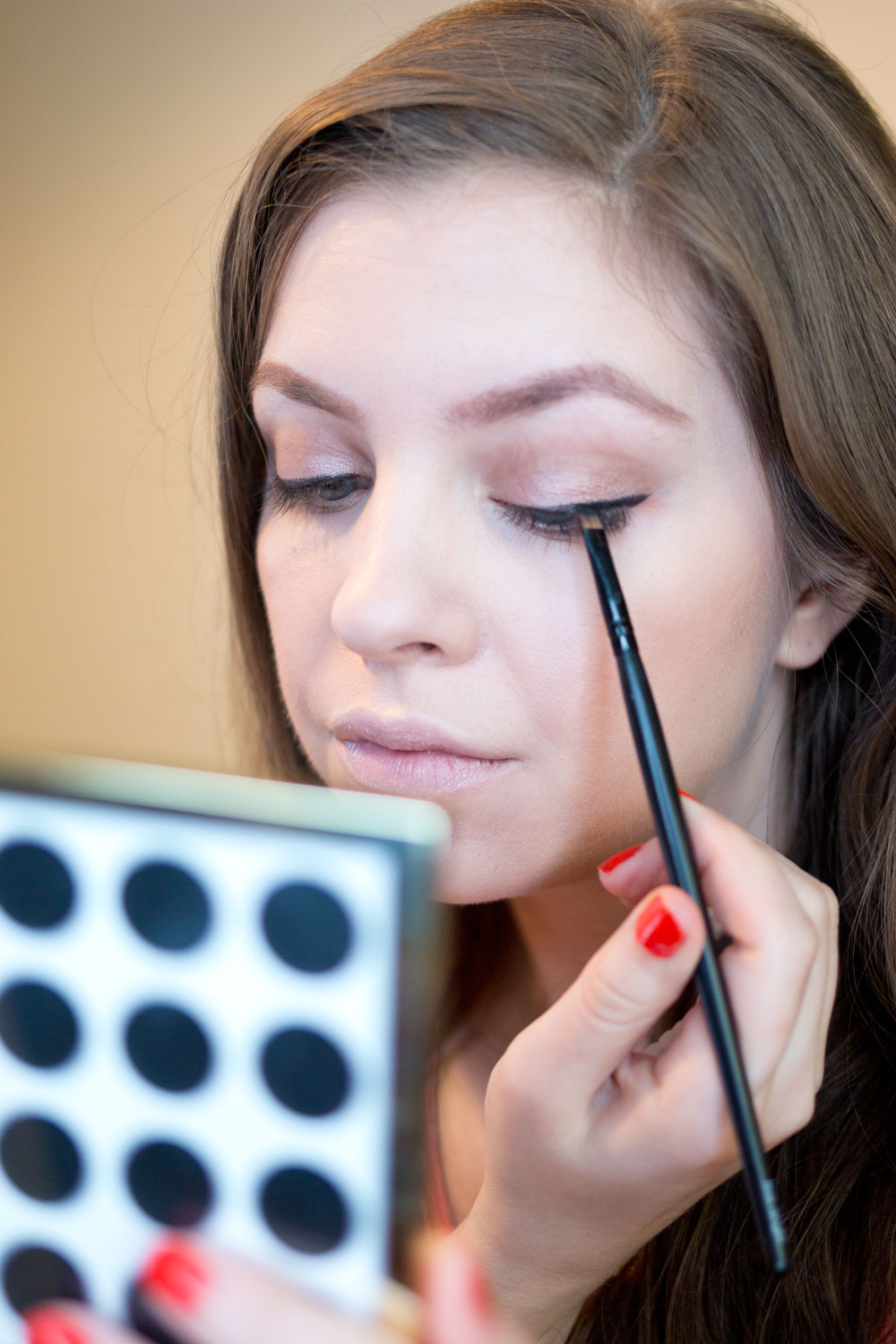 The star of the eye show is truly the eyeliner. I used Maybelline's Gel Liner to create a thick line, then slightly winged it upward at the end. I think a thick line is a key to making your eyes pop when wearing glasses, but if you're not a fan, feel free to make your line thinner.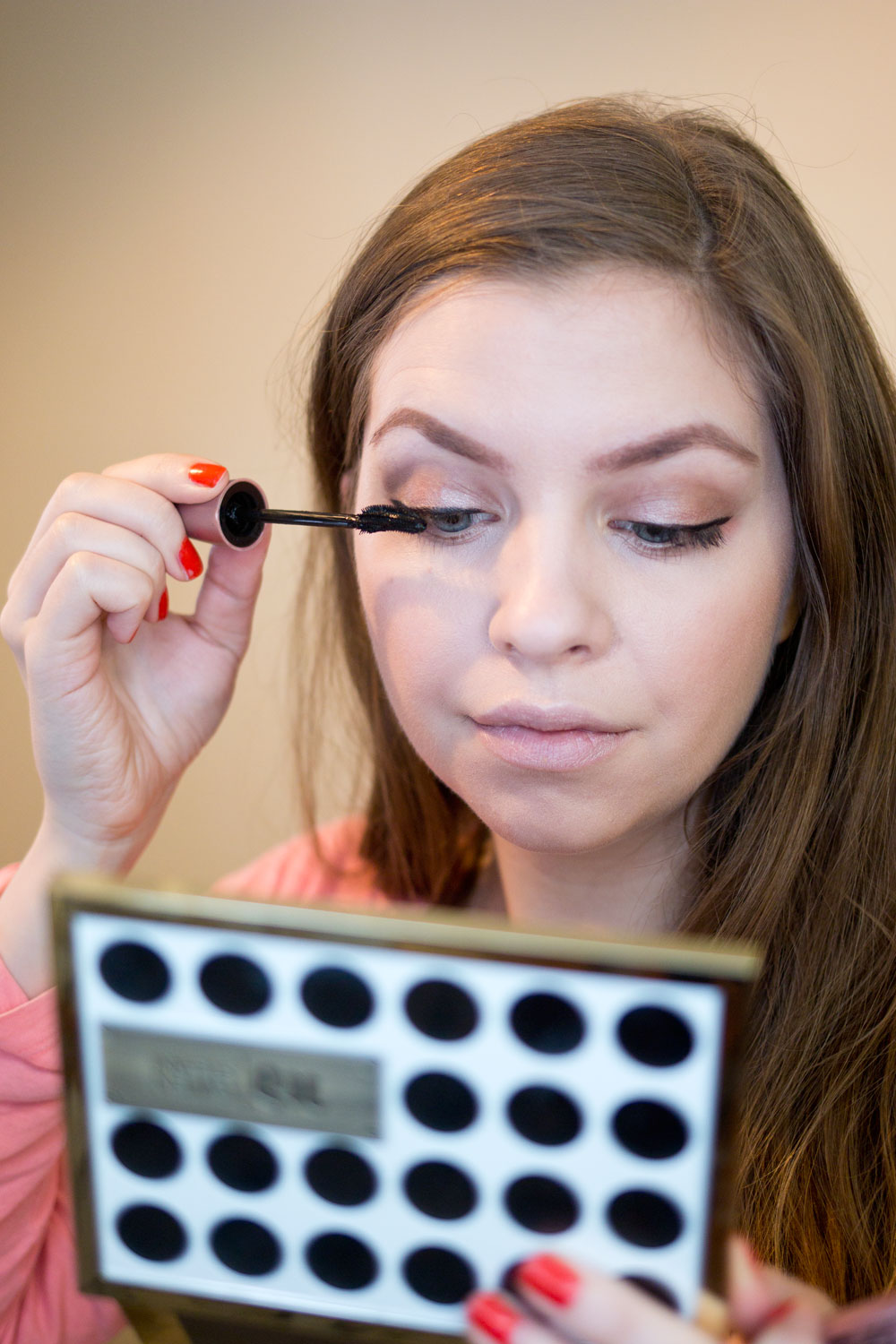 Because we're wearing glasses, falsies are out. I can't stand the feeling of my lashes hitting my glasses, so I opted for a mascara that I find adds more volume rather than length. The one I chose was the Maybelline Lash Sensational Mascara.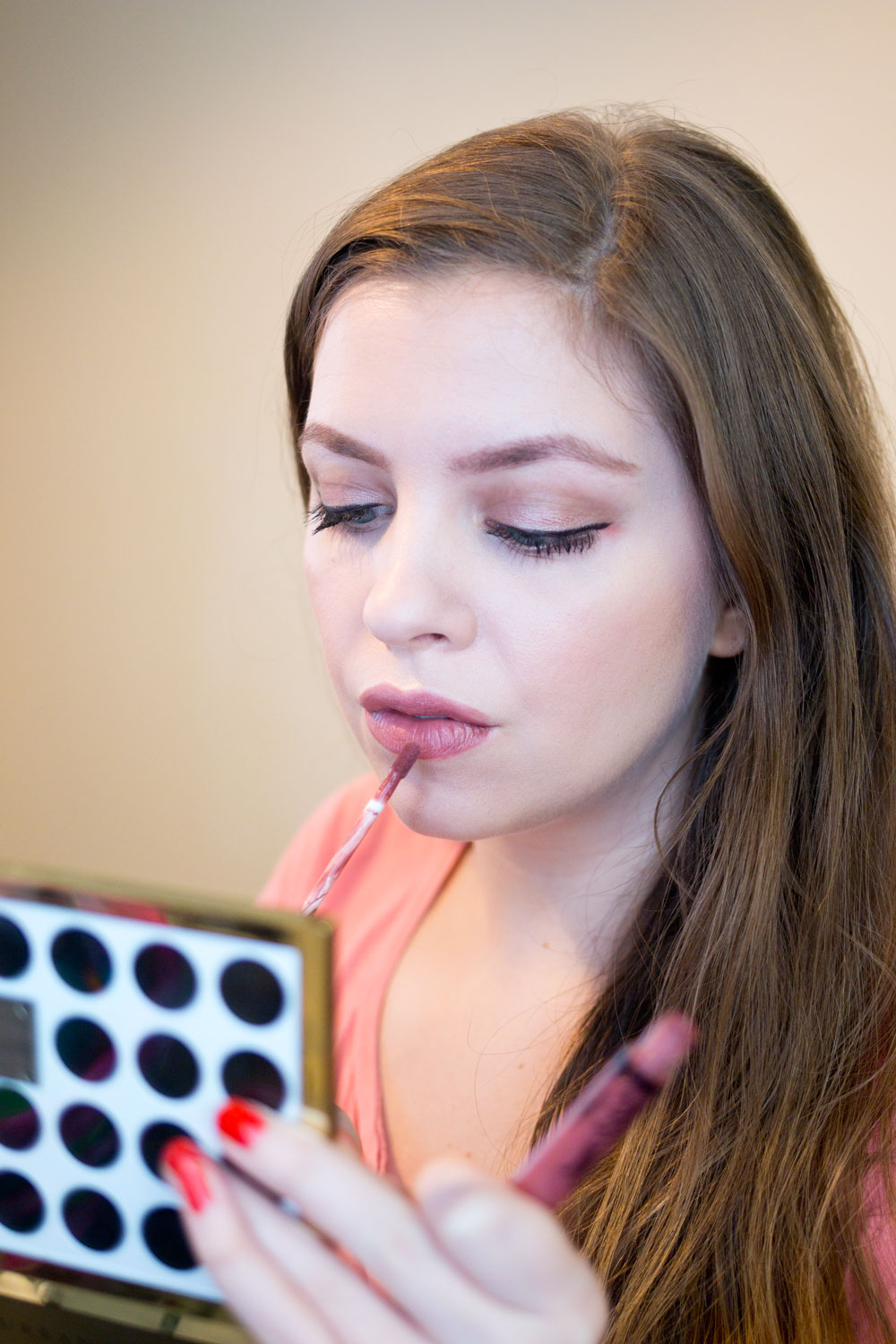 Finally, I'm finishing off the look with my favorite liquid lipstick of late, the Kat Von D Liquid Lipstick in Lolita. If you're not a liquid lipstick pro yet, you might want to check out my five tips for a perfect application.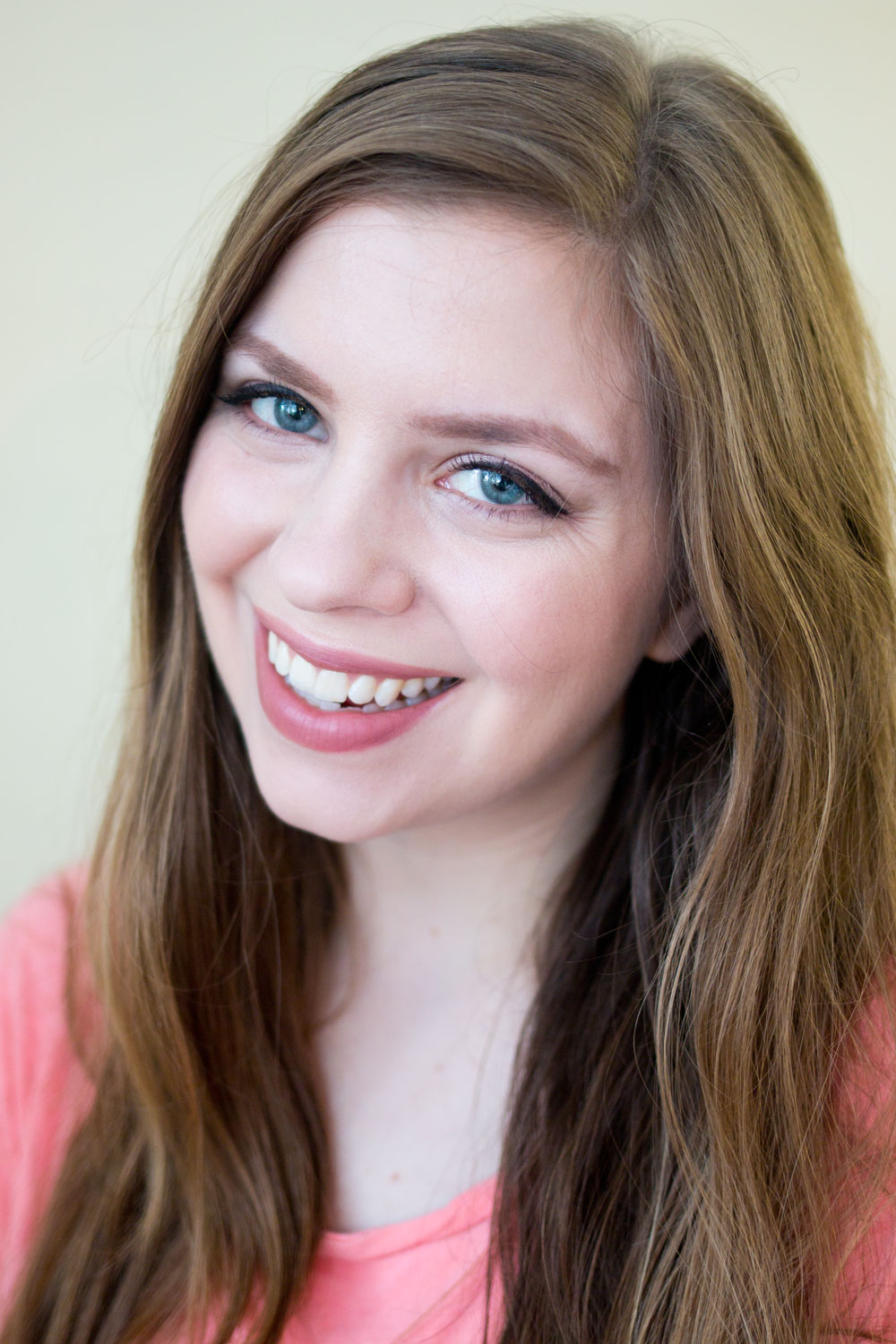 Don't forget to snap a selfie of your finished look! VSPDirect is hosting a sweepstakes that will help you find the perfect frame for your face, and you could win a  "Frame Your Fashion" eyewear style consult with a VSP style expert, plus designer sunglasses! (Jealous.) Someone new will win each week from March 21 to May 25, 2016! One grand prize winner, selected from the 10 weekly winners, will also receive one year of VSP Direct vision insurance and a $250 gift card. Enter to win here!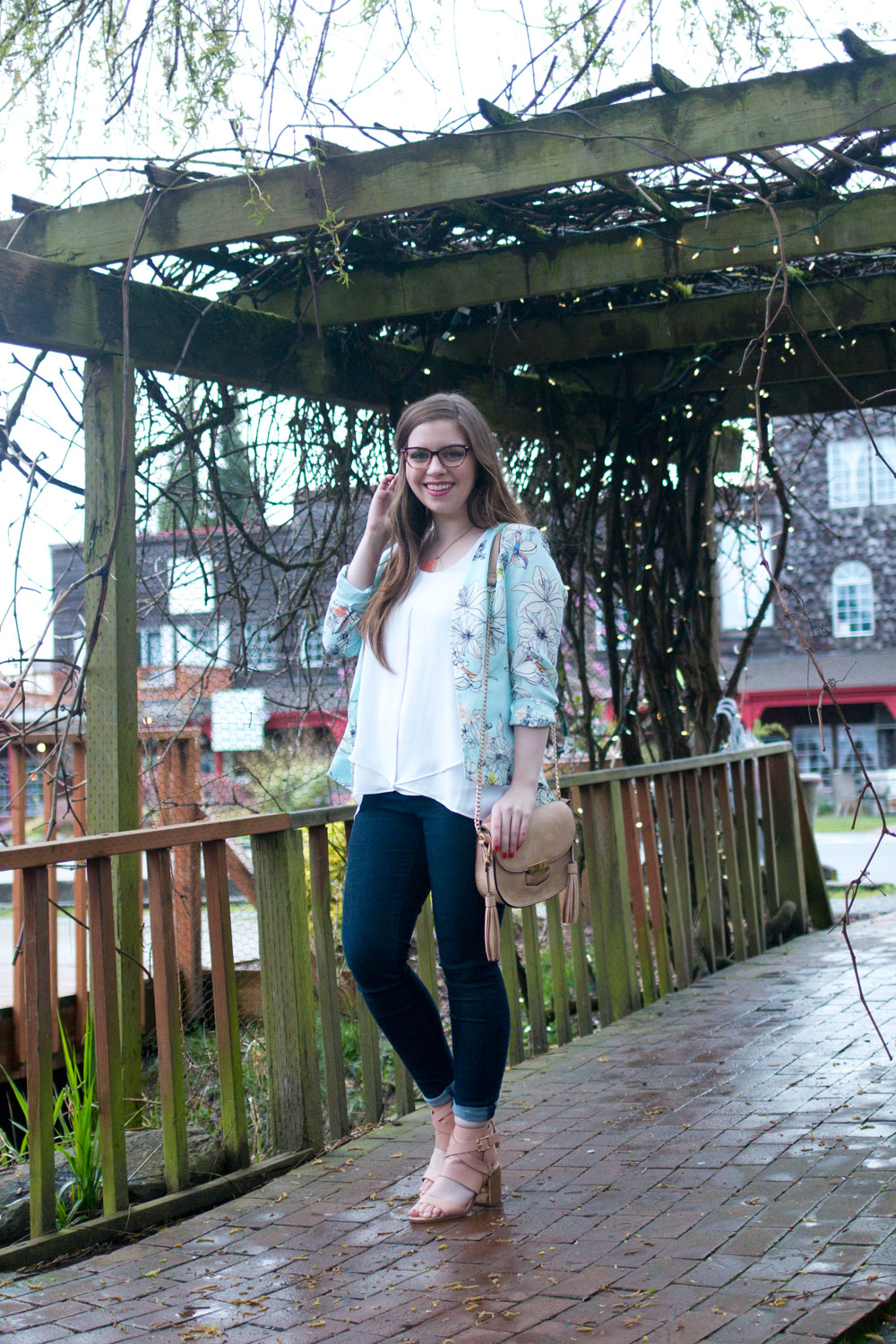 After the makeup is all done, it's time to pick out an outfit to go with these frames and the makeup! I went for something that I feel could be worn any day – to work or on the weekend. (So long as your office is business casual like mine and allows jeans! Otherwise, you can swap the jeans for straight leg trousers.) I ended up wearing this spring outfit on Easter to my parent's house, but it's an outfit I will most definitely be repeating as the weather continues to warm up.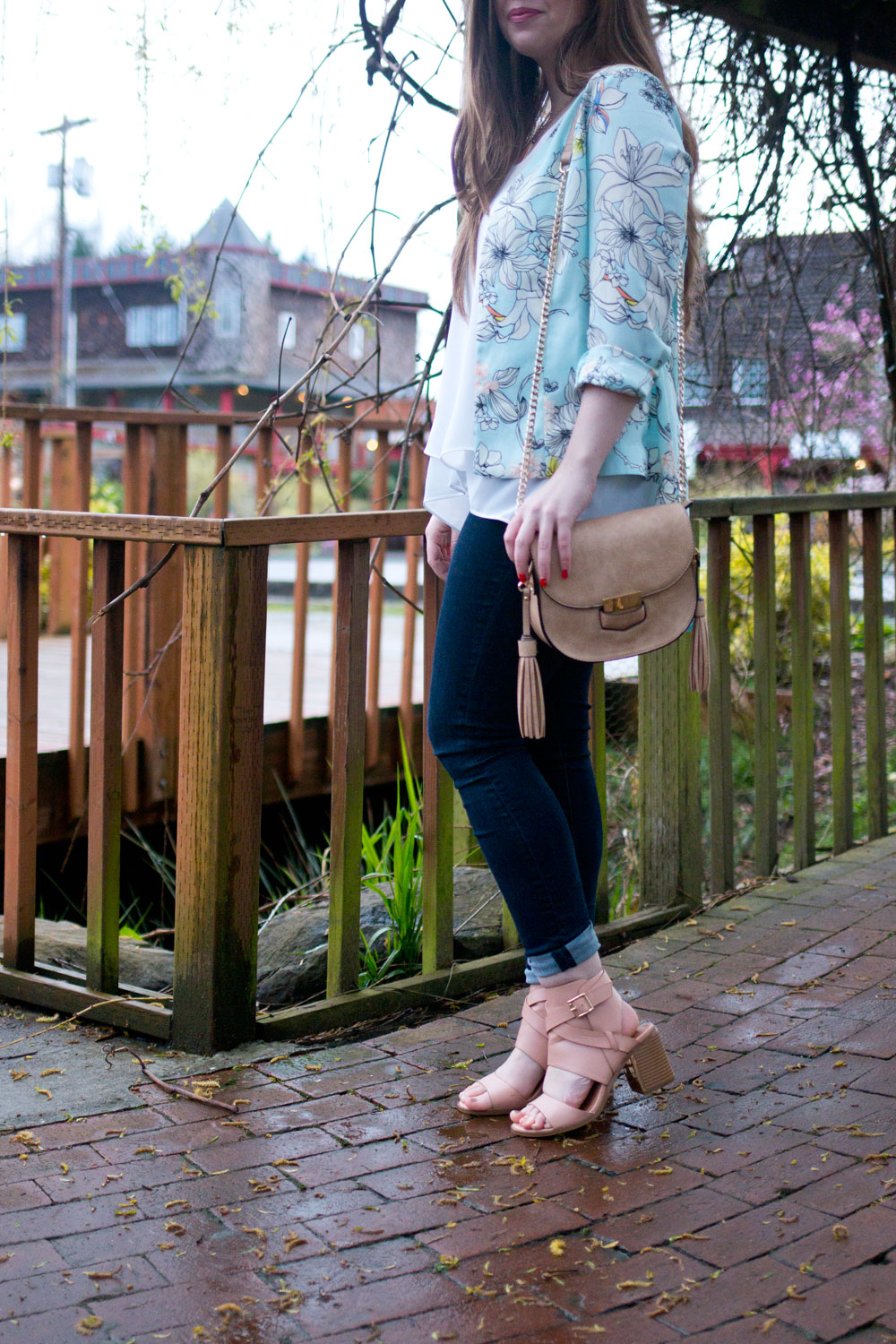 What I'm Wearing
Jacket: GNW Drape Knotted Jacket c/o Fred Meyer
Top: GNW Drape Blouse c/o Fred Meyer
Jeans: Articles of Society "Sarah" Jean via Nordstrom
Shoes: Milos Sandals via ShoeDazzle
Bag: Tassel Crossbody c/o Mo & Cho Boutique
Necklace: Forever 21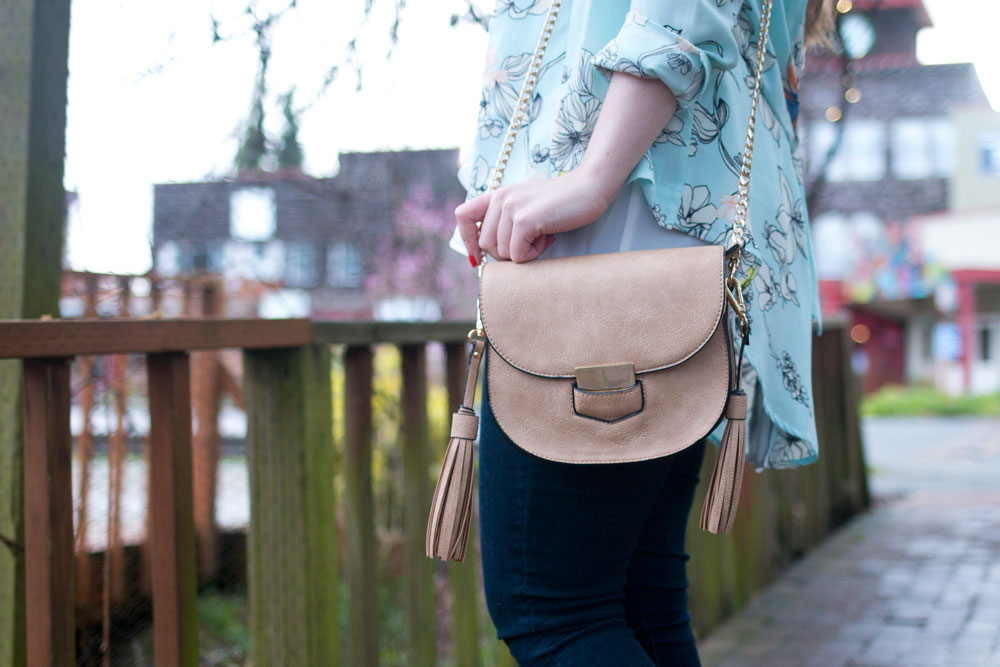 We've been lucky to have wonderful weather this week, but on this particular day, it seemed the weather wouldn't make up its mind. Half the day was sunny; the other half was cloud covered and rainy, so  I opted for some pretty spring colors to keep me from feeling too blah. Am I the only one that's mood is affected by what they are wearing?!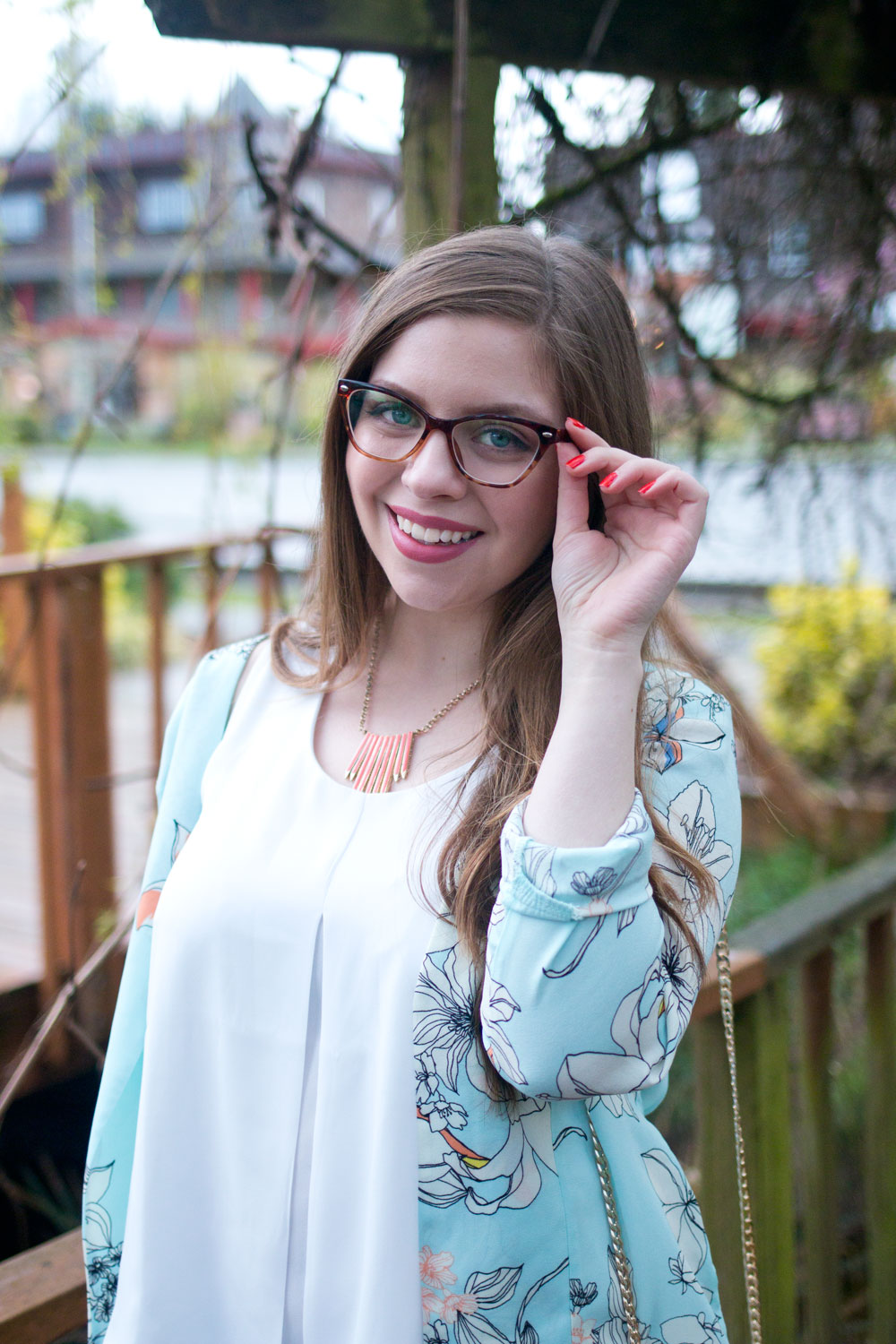 With your spring style in mind and a makeup look to compliment your frames, don't forget to snap a selfie and enter to win the #VSPStyleSweepstakes. You'll have to let me know if you win!
I was selected for this opportunity as a member of Clever Girls and the content and opinions expressed here are all my own.
What is your go-to makeup look if you wear glasses? How are you transitioning you wardrobe as we make our way into the new spring season? I'd love to hear about it in the comments!