Product Sample: The ChapStick® product, information and gift have been provided by Pfizer Consumer Healthcare. All thoughts about the products shared here are my own, of course! :)
For anyone that's worn a liquid lipstick, you know how drying they can be, especially in winter when everything is already dry! As much as I love a good long wearing lipstick, I don't love the dry state it leaves my lips in. Because I'm not about to give it up, I feel like I've tried almost everything to figure out what works the best for keeping the color on my lips all day without ruining my lips in the process.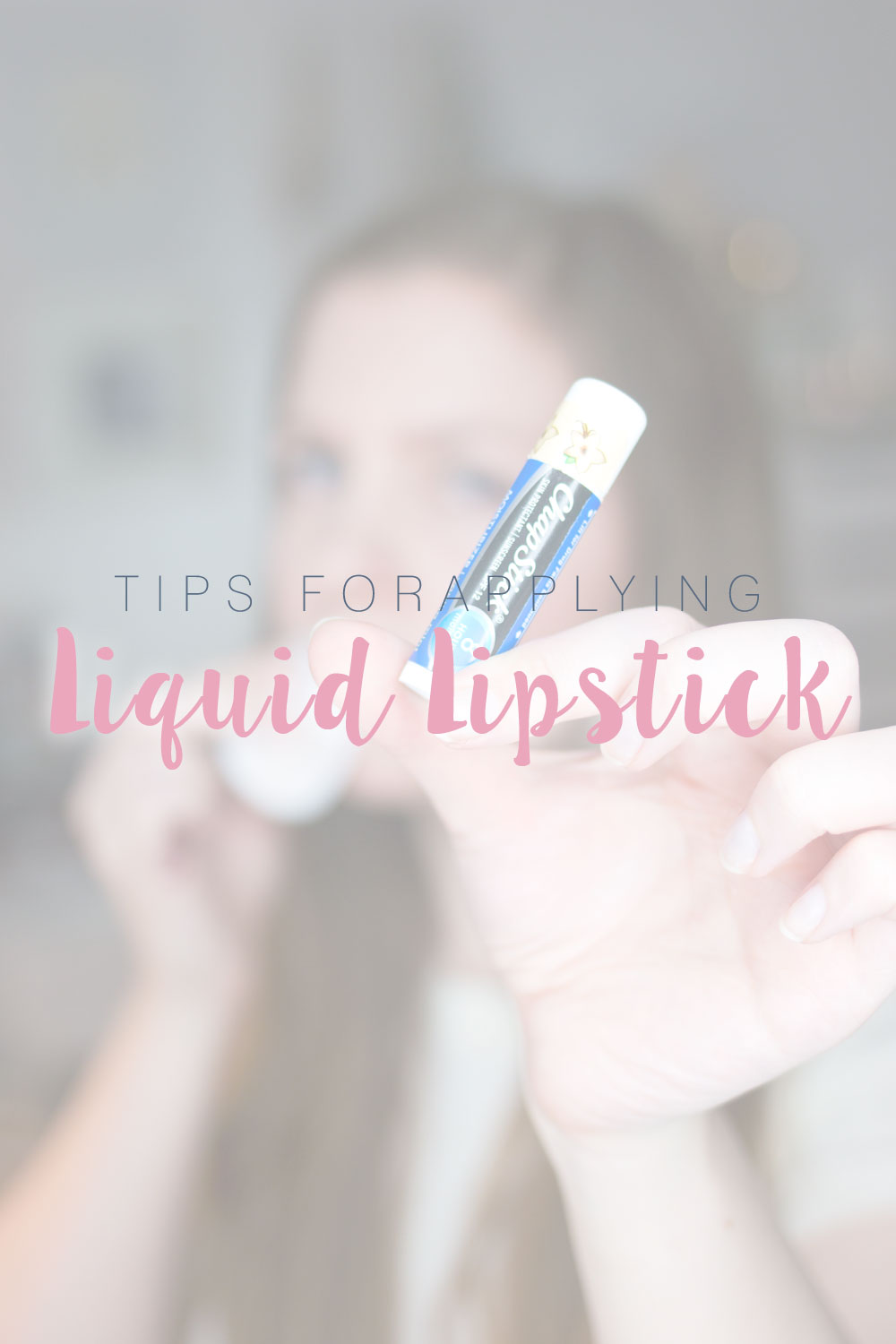 5 Tips for  Applying Liquid Lipstick
Over the course of the past few months through a lot of trial and error, I've found five tips that consistently work for me. From the basics like exfoliating and moisturizing, to additions of other lip products, I hope these tips will keep your lipstick in place and your lips anything but parched!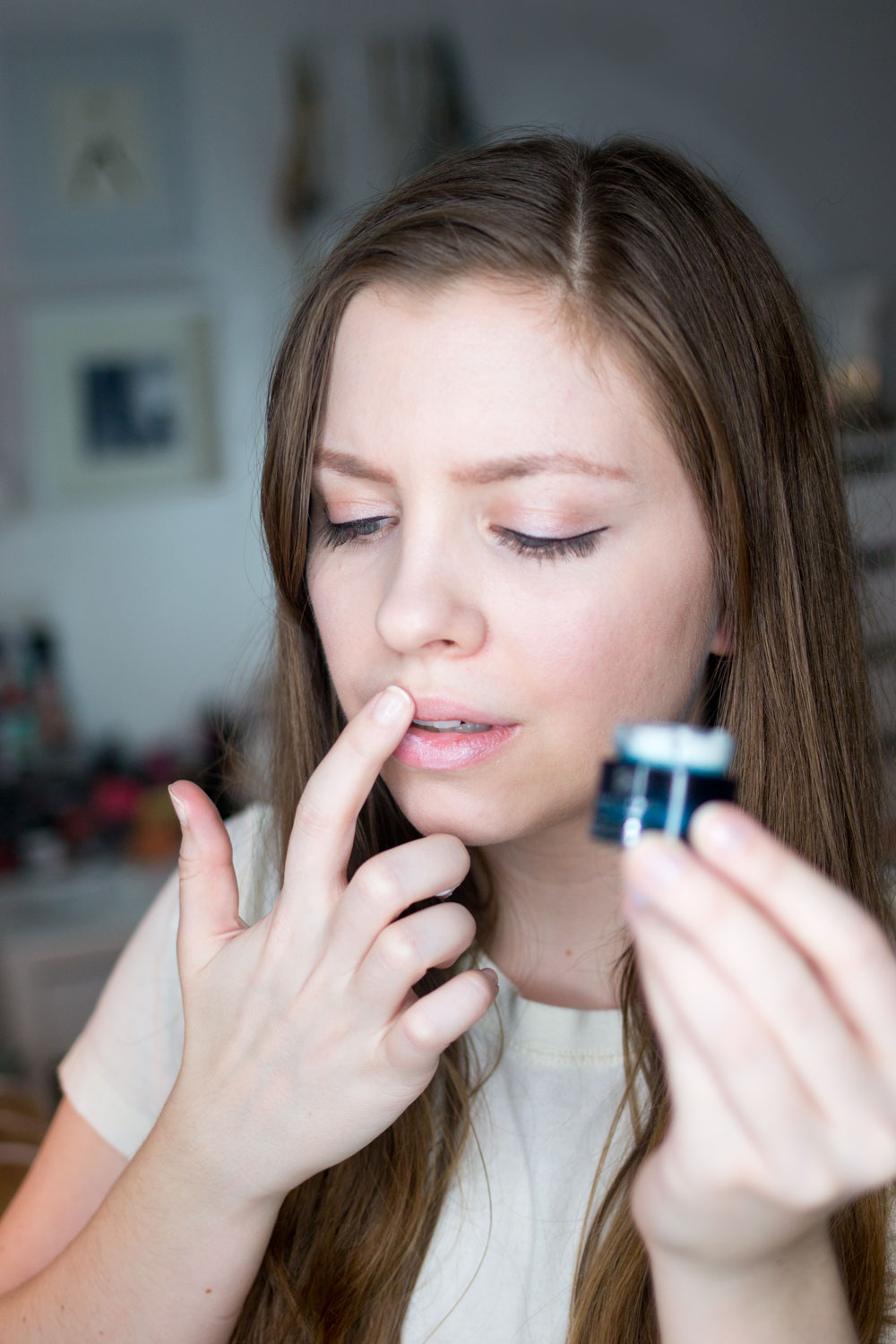 1. Exfoliate
Are your lips peeling or feeling like sandpaper? Exfoliating is a great place to start! If you don't have a lip exfoliating treatment already, mix some coconut oil or honey and table sugar together to create a paste, rub on lips, then brush (or lick!) it off. Don't have either ingredient? Put some ChapStick® on your lips, then gently rub with a clean toothbrush. As an alternative, use a chemical exfoliating lip mask, leave on for a few minutes, then gently blot away.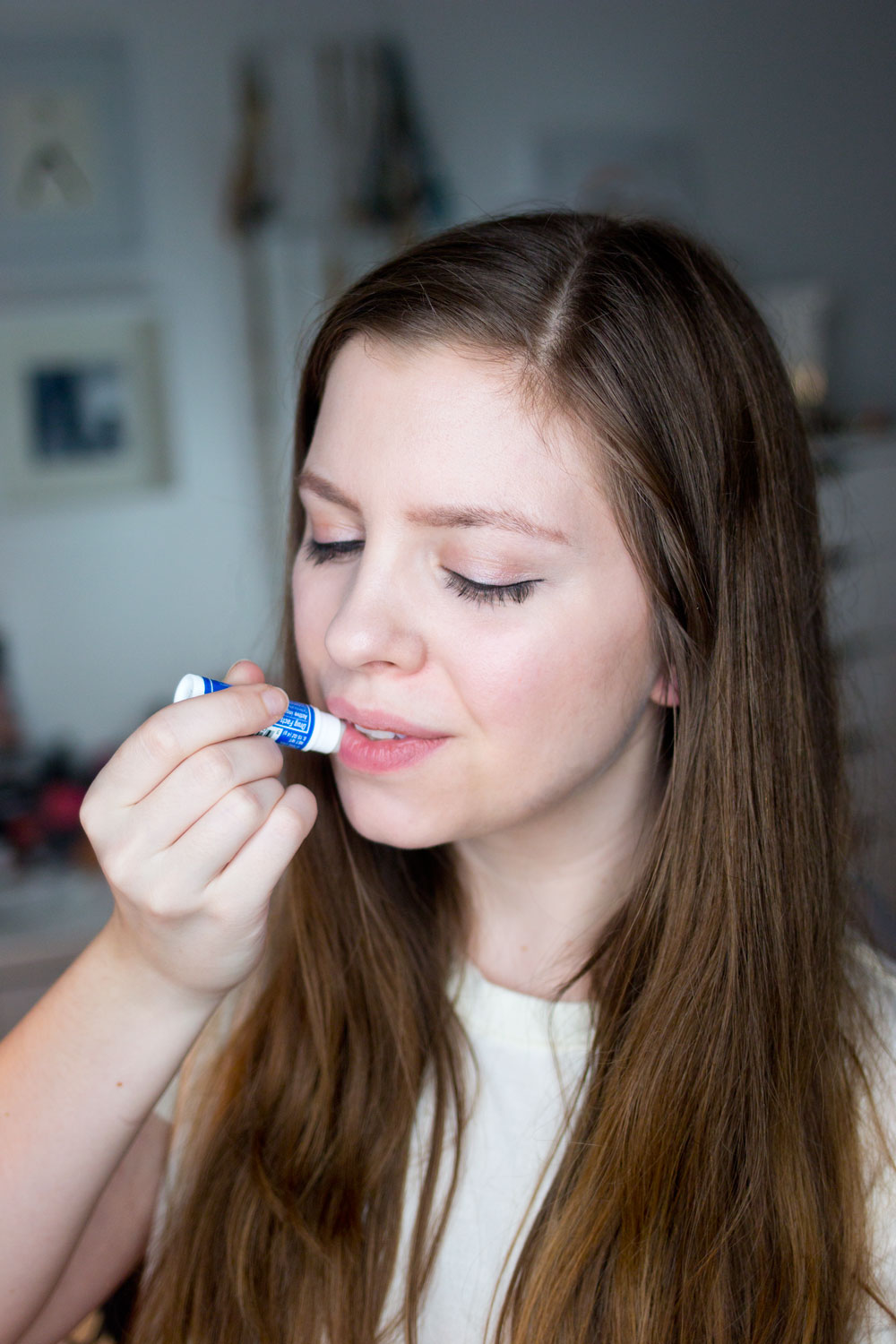 2. Moisturize
Once you've exfoliated, it's always a good idea to hydrate those lips! I like using a balm like ChapStick® 8 Hour Moisture to moisturize and protect. I go heavy on the ChapStick® application, leave it on for about 30 seconds to a minute, then blot off the excess.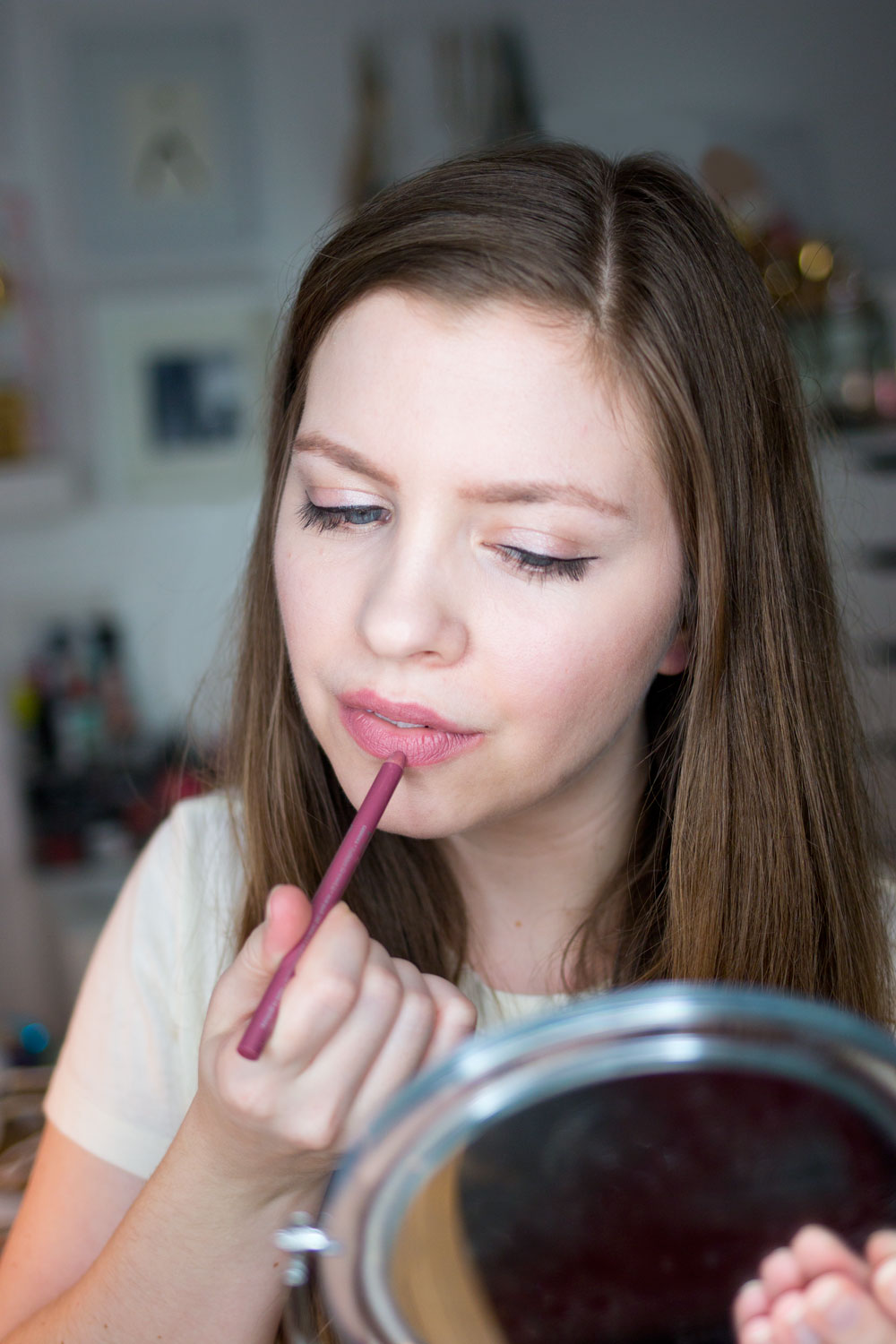 3. Line 'em up
No, don't just line the outside of your lips, that's a trend from the 90s that hopefully will be staying there. ;) Instead, line the entire lip with a similar colored or nude toned lip liner so that if your lipstick starts to fade, you still have a backup tint underneath. (P.S. The lip liner I'm using here is Essence's Lip Liner in 06 Satin Mauve ! It's smooth and creamy and just $2!)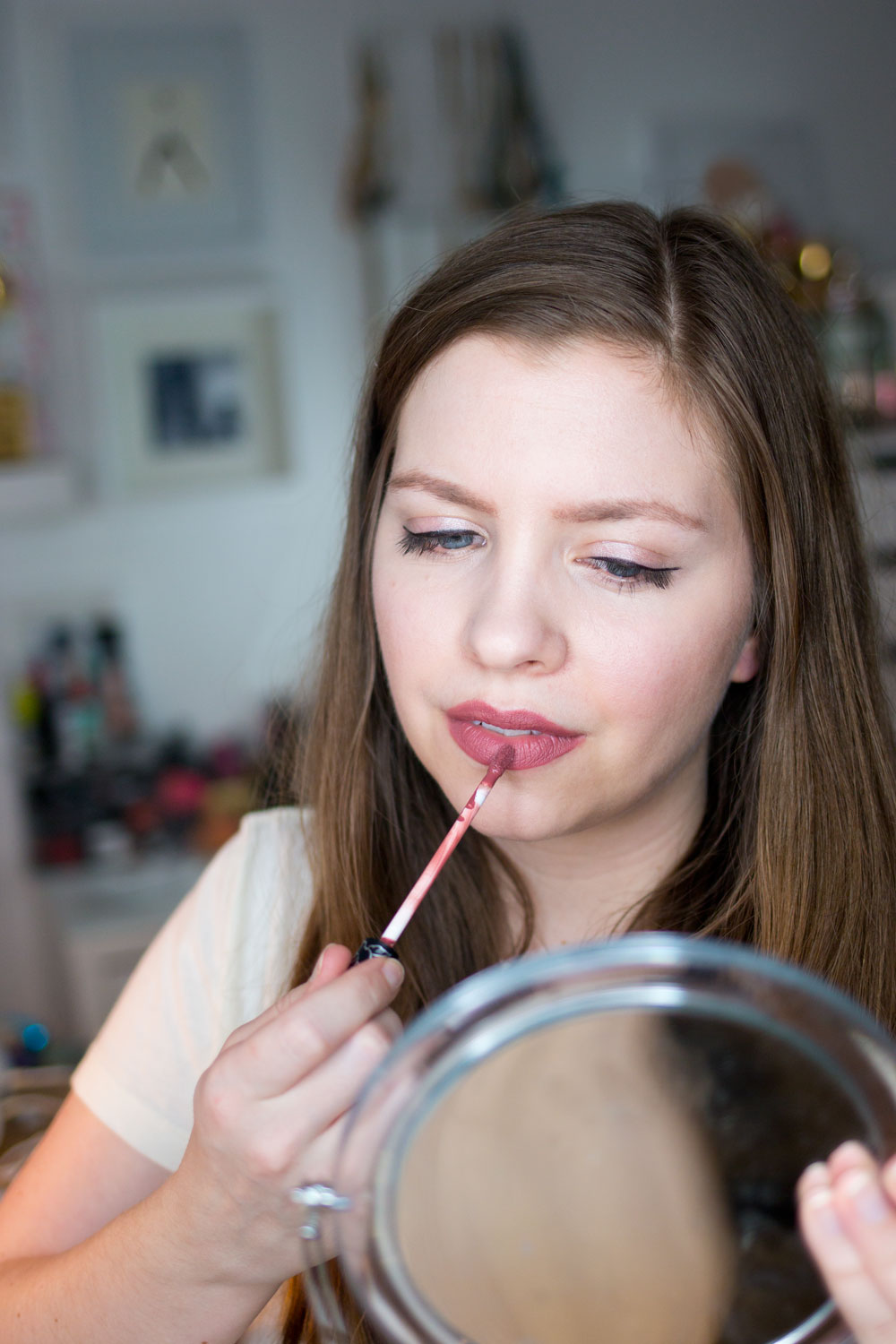 4. Apply thin layers
Two or three is better than one, right? I find that most liquid lipsticks take at least two coats to fully cover every little bit of your lips, so make sure to apply in thin layers. Too thick and it may crack, flake or peel. You can always add more, but it's much harder to take it away! (P.S. The color I'm using in this post is Kat Von D's Everlasting Liquid Lipstick in Lolita! It's a gorgeous cool toned mauve.)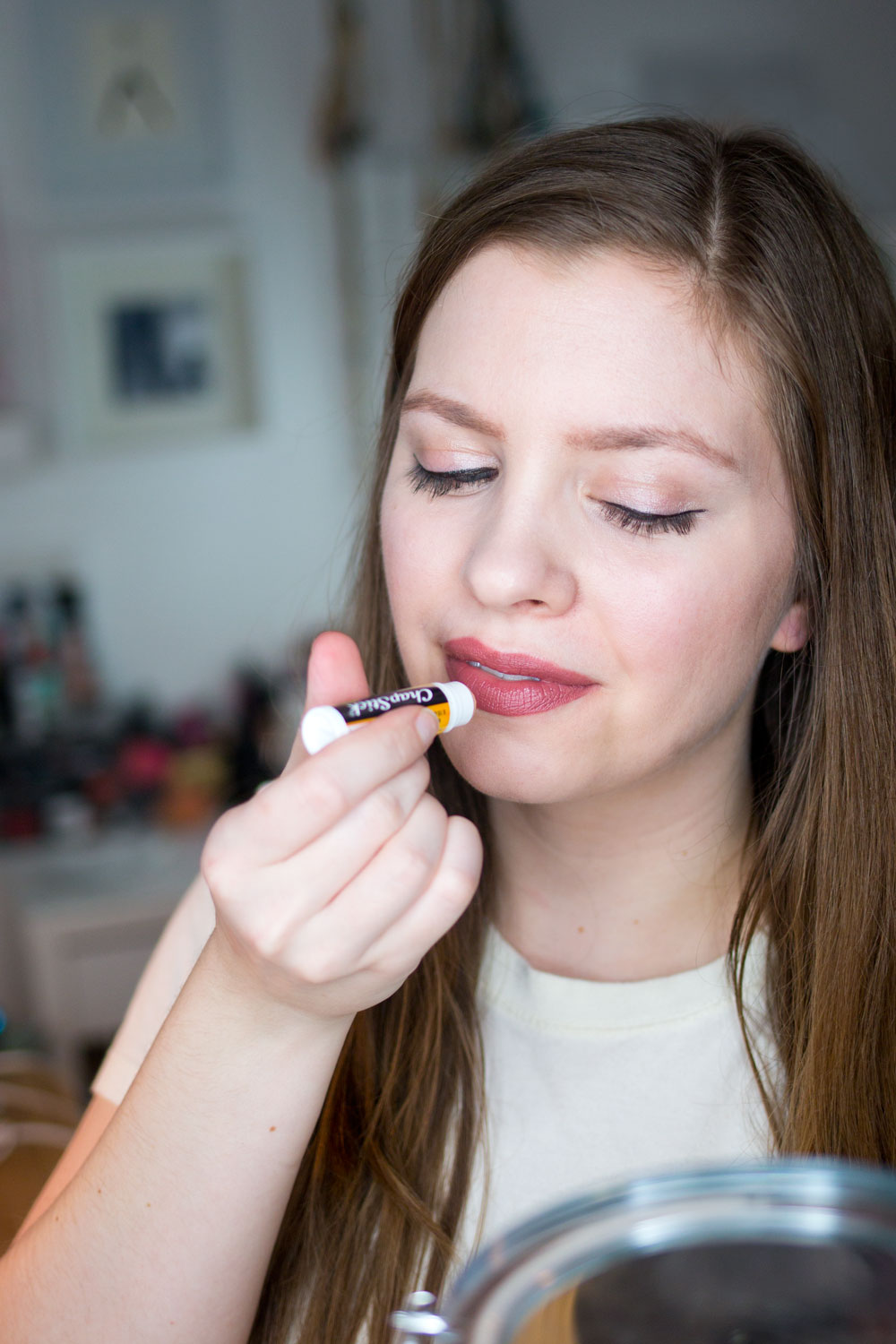 5. Rehydrate with a balm or gloss
Lipstick starting to fade? If it's been a few hours or you've been eating or drinking, it's inevitable that your lipstick will move, or your lips will be feeling like the Sahara  Desert. Grab yourChapStick® to add some moisture back to your lips while keeping a satin finish (you may have to blot off any color transfer to your ChapStick® with a tissue) or add a gloss over the top for an entirely different lip vibe.
Want to put some of these tips and tricks to the test? ChapStick® has kindly offered a prize package of their best-selling products to one lucky winner! I'll even sweeten the deal by sending you a liquid lipstick of your choice. ;) Giveaway ends on March 7th at 11:59 pm EST and is open to US residents. Good luck!
Do you have any tips and tricks you've picked up for applying your liquid lipsticks? Which long-lasting lipstick formula is your favorite? I'd love to hear about your faves below!