Affiliate Links // I pay for this subscription.
Happy April Fool's Day! No fooling here, just the typical Stitch Fix April 2016 review to kick off the month! ;)
I'm sure you know the drill by now, but if you're new to my blog or Stitch Fix, it's a clothing styling service that you can set up to receive monthly, or at your leisure. You are charged $20 as a styling fee that you can put towards anything you keep from your Fix. You can plan to receive five items – typically four clothing items and one accessory (jewelry or bags, typically).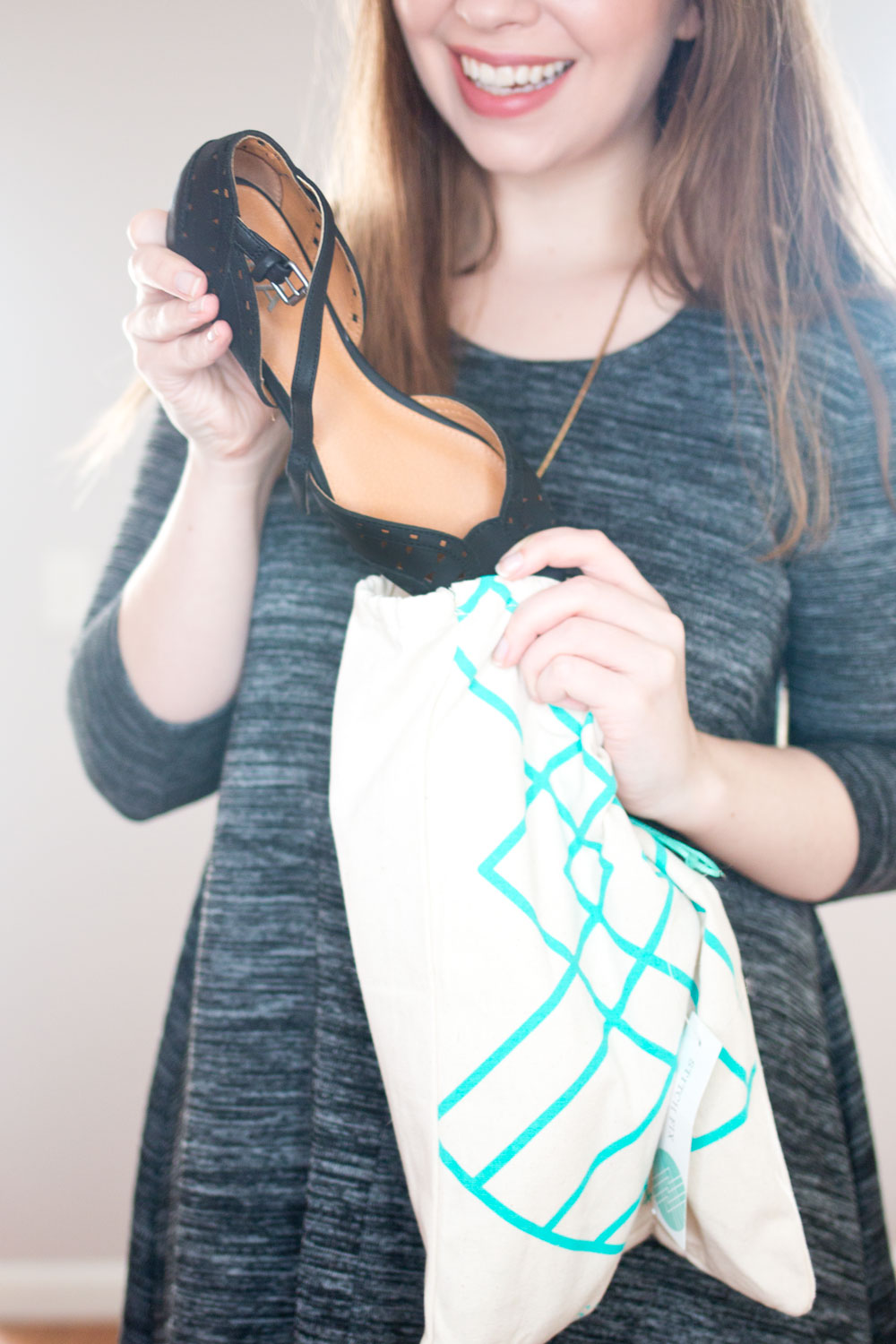 Stitch Fix April 2016 Review
And, this month, Stitch Fix rolled out shoes as an option to everyone! I had mentioned last month that I had seen shoes in some Fixes, and apparently they'd been testing it out in waves. Now it's here for everyone, so be sure to update your profile with your shoe size if you haven't already. If you aren't aboard the Stitch Fix train yet, now's a good time to be, especially if you're in the market for some cute new shoes! They've had some really cute sandals and flats on their Pinterest Boards lately! ;)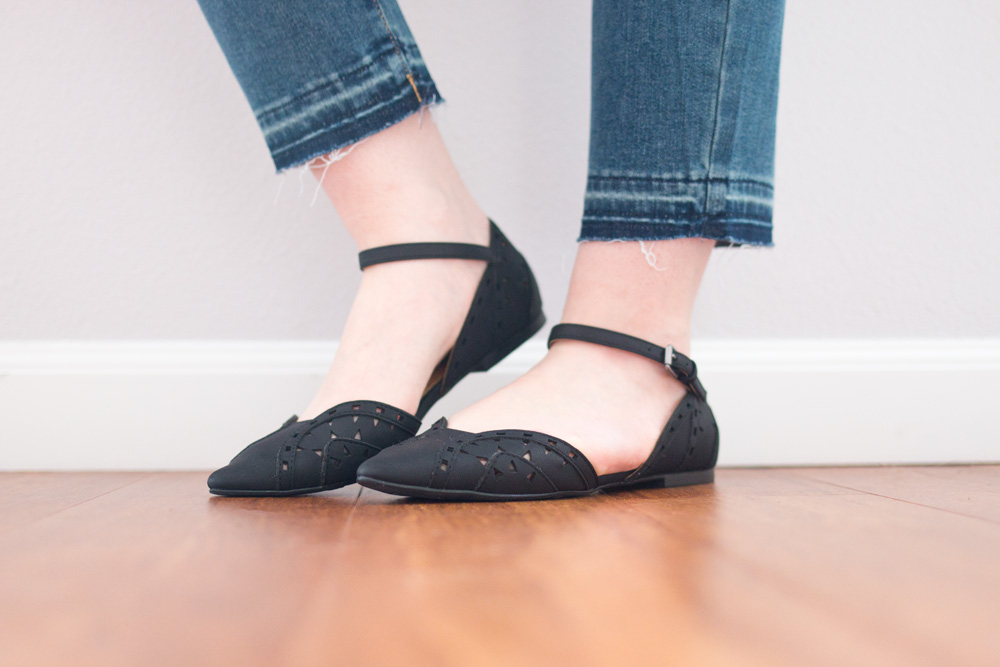 MIA Nona Laser-Cut Flats in Black, size 6.5, $49
(Similar style: MIA Aristocrat Flat on Amazon)
Speaking of shoes, here they are in all of their glory! I love the laser cut details in these, and though I already have a pair of pointy toe ballet flats in black, they're really not very comfortable, so I avoid wearing them like the plague. These, however, are comfy (though to be fair I haven't done much walking in them yet), and I love how versatile they are.
I paired these with my raw undone hem crop jeans from Old Navy. If you're into the raw denim trend, I've loved these, and Old Navy have several more budget friendly options (like this skinny undone hem style, or this skinny cut style), and they're almost always on sale for an additional percent off. (P.S. You can use code NOTAJOKE for 41% off one item & 30% off the rest of your purchase today, 4/1!)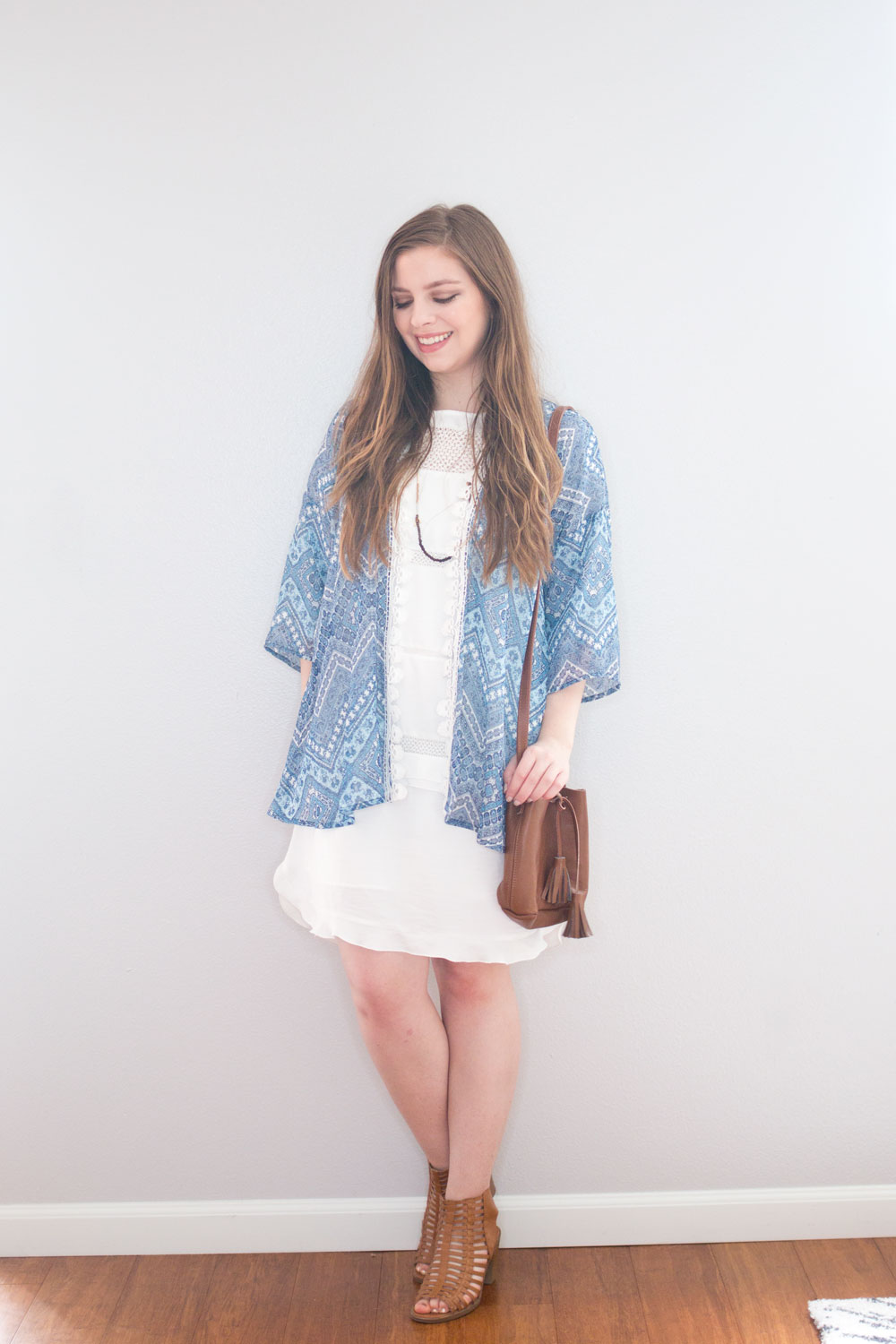 Collective Concepts Andersson Printed Kimono in Blue, Size Small, $48
(Shop similar style here or full-length style here)
This was Dave's favorite piece that Stitch Fix sent this month, and I can see why. The colors are absolutely perfect for spring and add interest to any outfit. I could see wearing this with jeans and a tee shirt, or like here, with a dress.
I've paired this kimono with my favorite sandals I got last year at Target (shop similar style here or here) and the Shaffer LA Greta Bucket Bag that I received in my most recent Zoe Report Box of Style. The white crochet trim and white details in the print made me immediately think of this cute little white ruffle shift dress I picked up from the Who What Wear x Target collection, and I tied it all together with a simple beaded necklace from the new Stella & Dot Summer collection.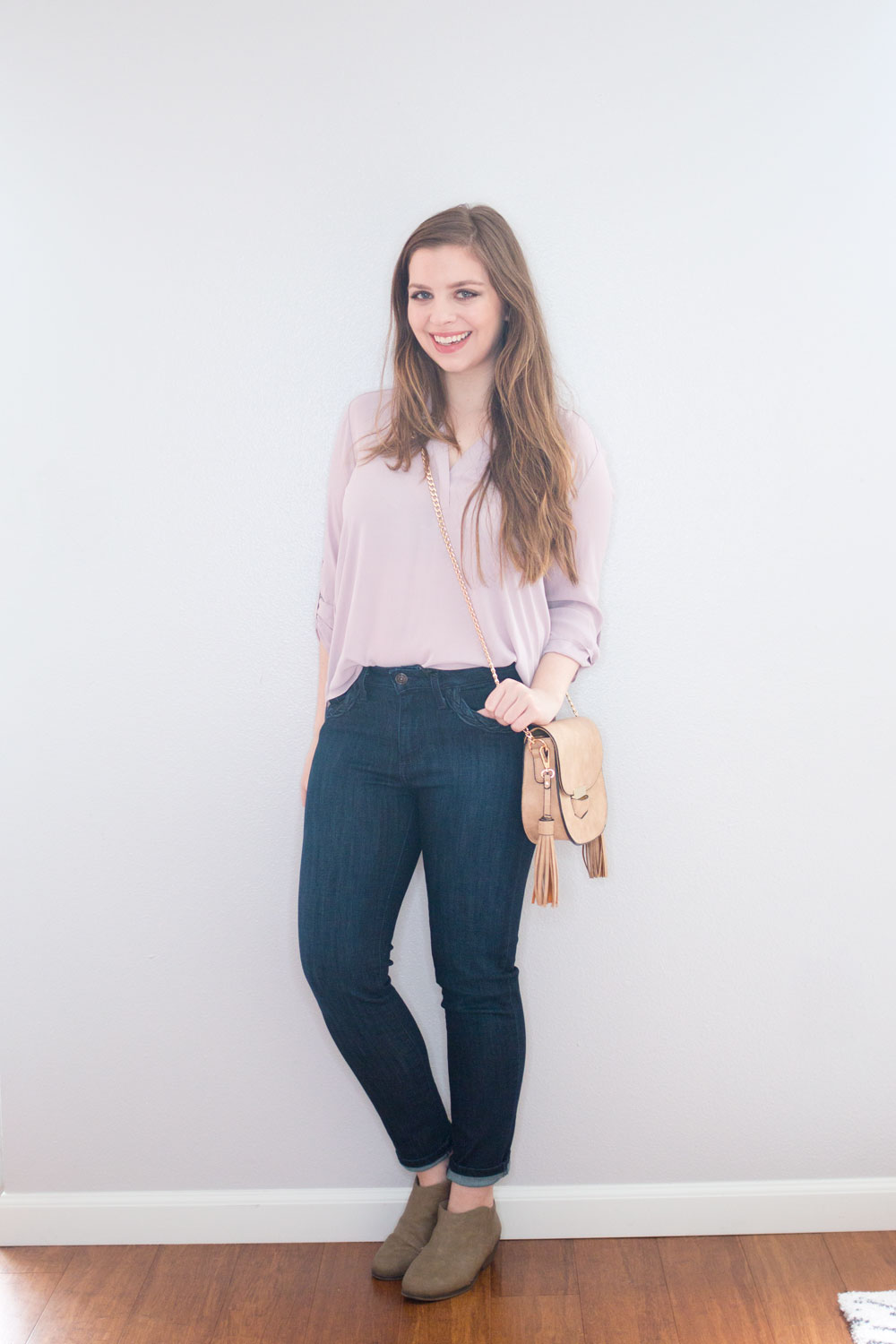 Just Black Arabella Braided Pocket Straight Jeans in 4P, $88
(Shop similar styles from Just Black Jeans on Amazon)
I love a good dark wash jean. I especially love a dark wash jean when it has a little detail to make it stand out. These definitely fit the bill. The only reason I didn't keep these this time around is because I had just purchased two other pairs of jeans (seen in this post) and my closet is angry enough about that as it is. ;)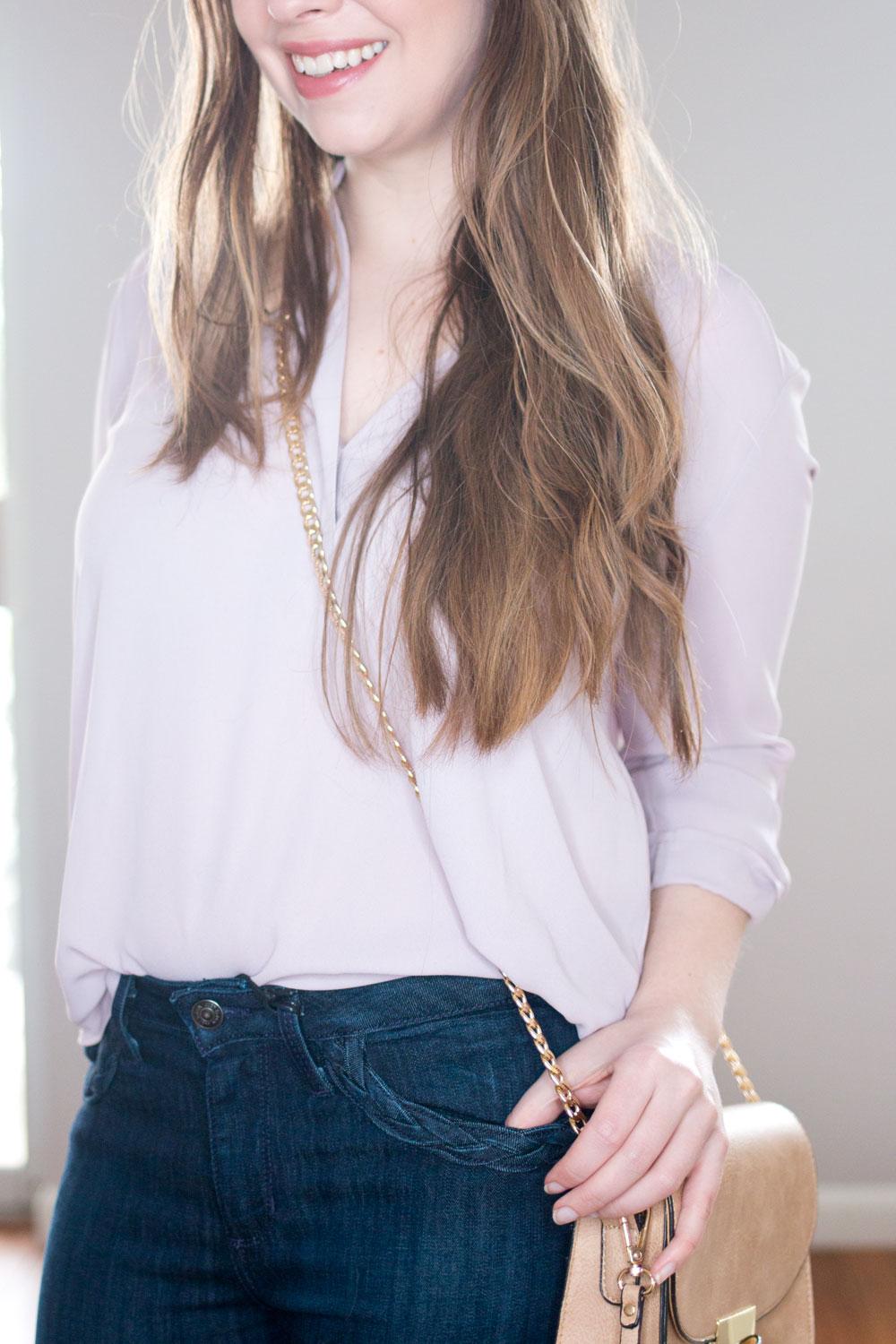 I wear skinny jeans almost constantly, so I opted for an everyday sort of vibe with this styling. I paired the jeans with a simple roll tab blouse from Lush that I bought last year at Nordstrom (and is still available in this Misty Lilac color and many others!), a versatile crossbody with fun tassel details, and these ankle booties (shop similar.)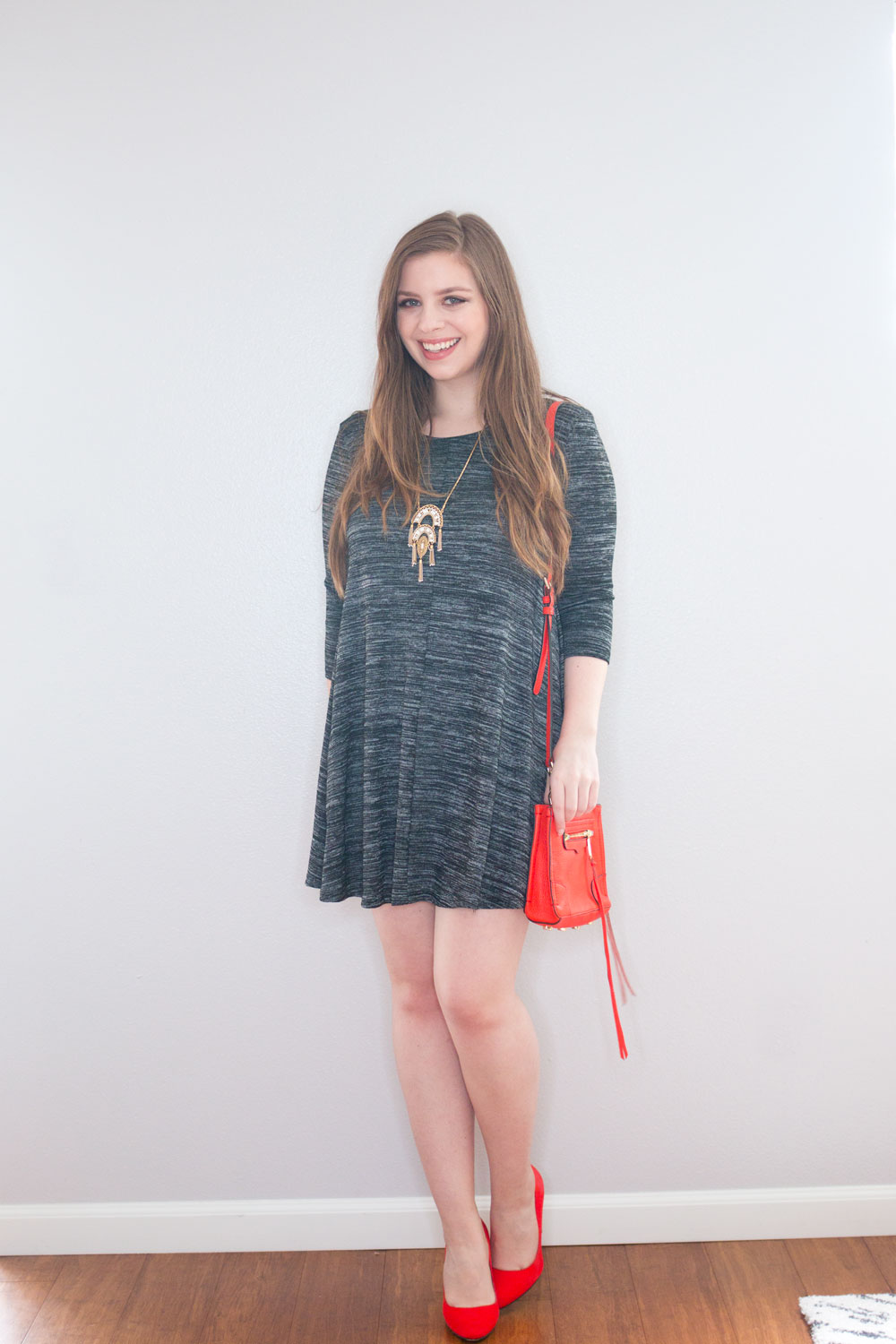 RD Style Marelena Knit Dress in Black, Size Small Petite, $78
(Shop this exact RD Style swing dress from Bluefly. Save $50 off $250+ with code CHOOSE from 4/1-4/2 or use code SITESALE15 for an extra 15% off your purchase from 4/4-4/5!)
I absolutely love marled fabrics, so I was thrilled to see this dress in my latest Fix. Unfortunately, great minds think alike, and I already own something very similar in tone to this one. I also found the petite length to be a little too short to wear this as a dress (though it would make a great tunic over boyfriend shorts for summer or leggings for spring!). I would totally not complain about receiving this in a different colorway and the regular length in a future fix.
This dress reminds me of one I recently styled in this outfit, so I paired it very similarly. Lucy, my stylist, suggested pairing the dress with my Rebecca Minkoff Regan Crossbody (currently on sale at Rebecca Minkoff! Hurry!), and I opted to add my favorite red pumps from SJP Collection too. I finished off the look with a fun statement necklace from the new Stella & Dot Summer 2016 Collection.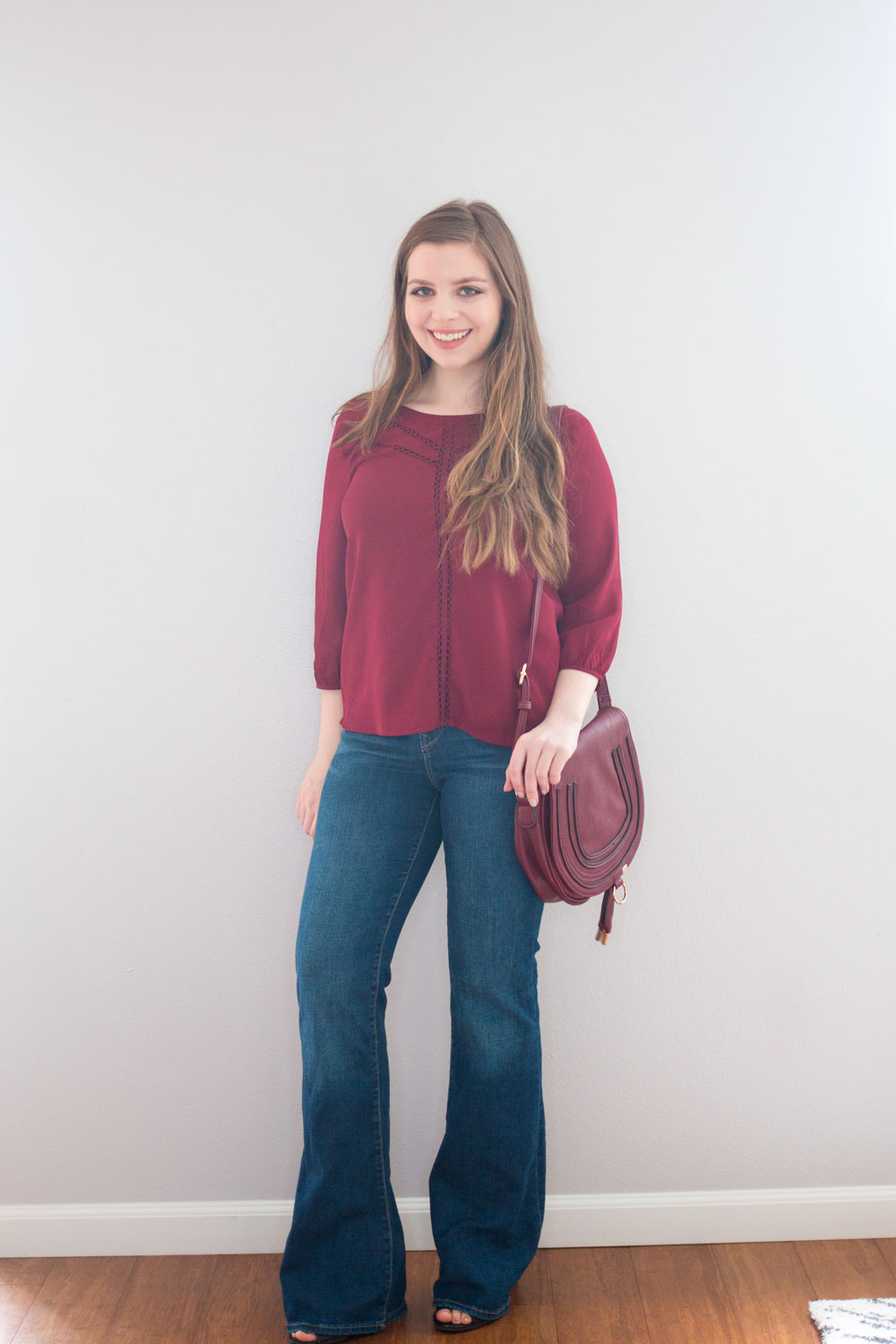 Skies are Blue Kirby Lattice Detail Blouse in Burgundy, Size Small Petite, $58
(Shop similar style from LC Lauren Conrad in Blush or try this similar white tank style from WAYF)
Last but not least, I received this cute top from one of my favorite brands, Skies are Blue. There's something slightly boho and romantic about SAB pieces that I seem always to gravitate towards. This one was no different, and had it been in a different, more spring-friendly color; I would have kept this in a heartbeat.
I've loved flare jeans for spring, which is why I paired this top with my latest Old Navy find. These jeans are longggg (I'm wearing a petite length and they just barely are the right length with 3″+ heels) but I just love the high waisted fit and the wash. The burgundy in this top made me think of my favorite saddle bag (shop similar for under $20 in multiple colors).
Overall, this month was another great Stitch Fix. I never keep every single item (because honestly, I like shopping a bit too much to let someone else do it for me entirely), but I am thrilled to add a new pair of shoes to my closet this month! I can't wait for what's in store for me in May. If you're interested in trying out Stitch Fix and haven't already, I'd sure appreciate you using my affiliate link. It helps me continue to bring you these reviews every month (since I pay for them myself!).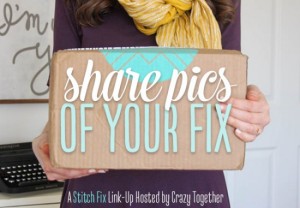 '
Linking up with Crazy Together
What have you received in your Fix lately? Which piece(s) were your favorite or least favorite in mine? I'd love to hear all about it in the comments!