After an intense heat wave of 90+ degree days last week, this week has shocked my system. A string of crisp, cool mornings and gray cloudy skies have me realizing that summer is most definitely coming to an end. (Seriously, how is it almost the end of August?!) One of the hardest parts of the change of seasons is feeling like I can't (or shouldn't) take my favorite clothing pieces into the next season, especially when I'm just discovering them!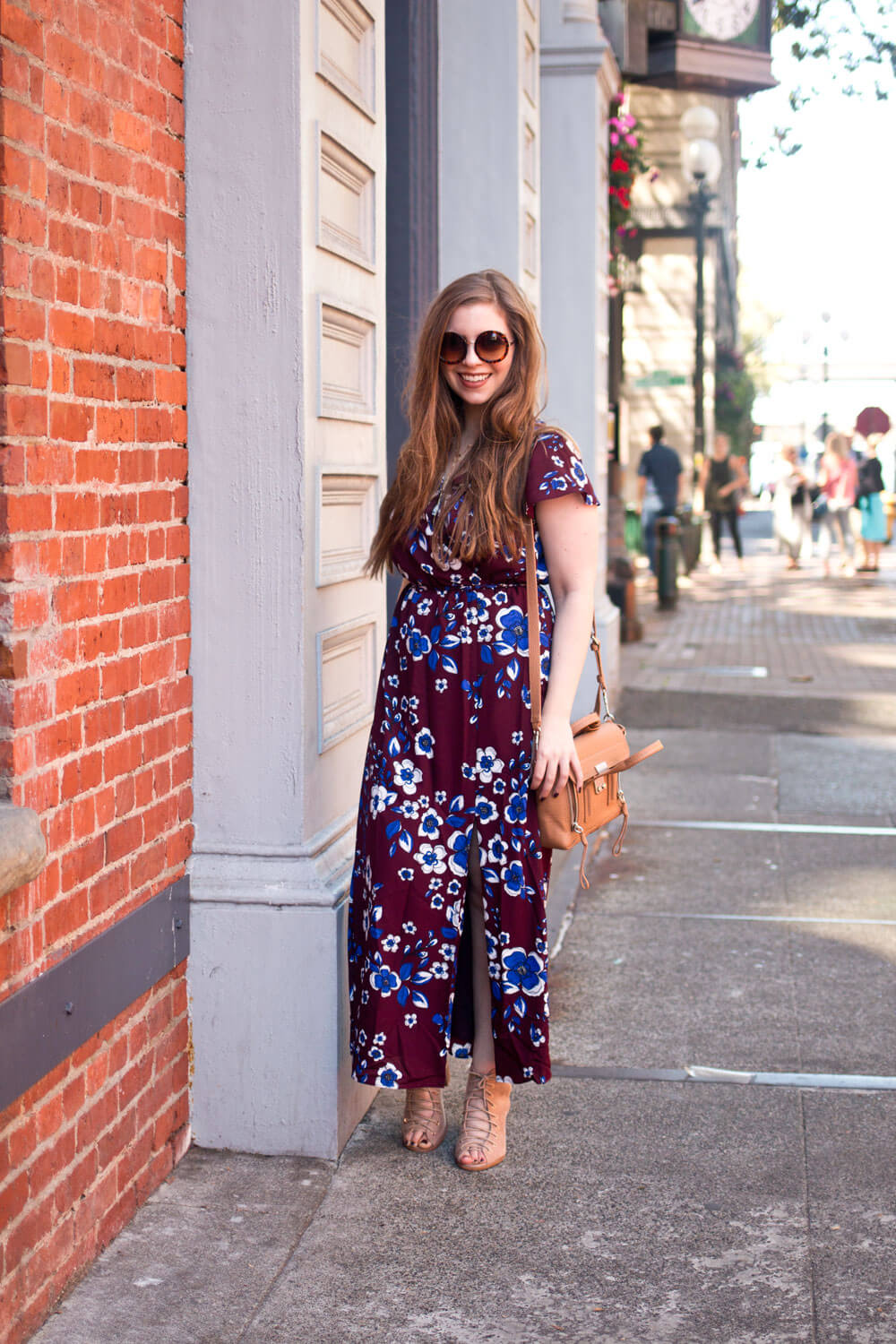 Disclosure: Thanks to Banana Republic for partnering on this post. Some items in this outfit were provided courtesy of (c/o) the brand. All thoughts and opinions are my own!
What I'm Wearing
Dress: Floral Maxi Dress c/o Banana Republic
Sweater: Lace Up Vee Pullover c/o Banana Republic
Booties: Top Guy Palm Lace Up Bootie via Nordstrom Rack
Bag: 3.1 Phillip Lim Mini Pashli Satchel c/o Shopbop
Necklace: LUV AJ Pave Tusk Lariat via The Zoe Report Box of Style Summer
Ring: LUV AJ Open Crescent Ring via The Zoe Report Box of Style Summer
Photography by Lisa Dawn of Story of My Dress
How to Wear a Maxi Dress for Fall
However, if there's anything that living in an unpredictable climate area like Seattle has taught me, it's that I can most figure out a way to make some of my favorite pieces work for the entire year. Today I thought I'd share a few ideas I have for how to wear your maxi dress all year long, but most especially figuring out a way to transition it from summer to fall. The best news? You more than likely don't need to buy anything new. However, I have one piece in particular in today's outfit (other than this stunning maxi dress of course!) that might be a little hard to resist. ;)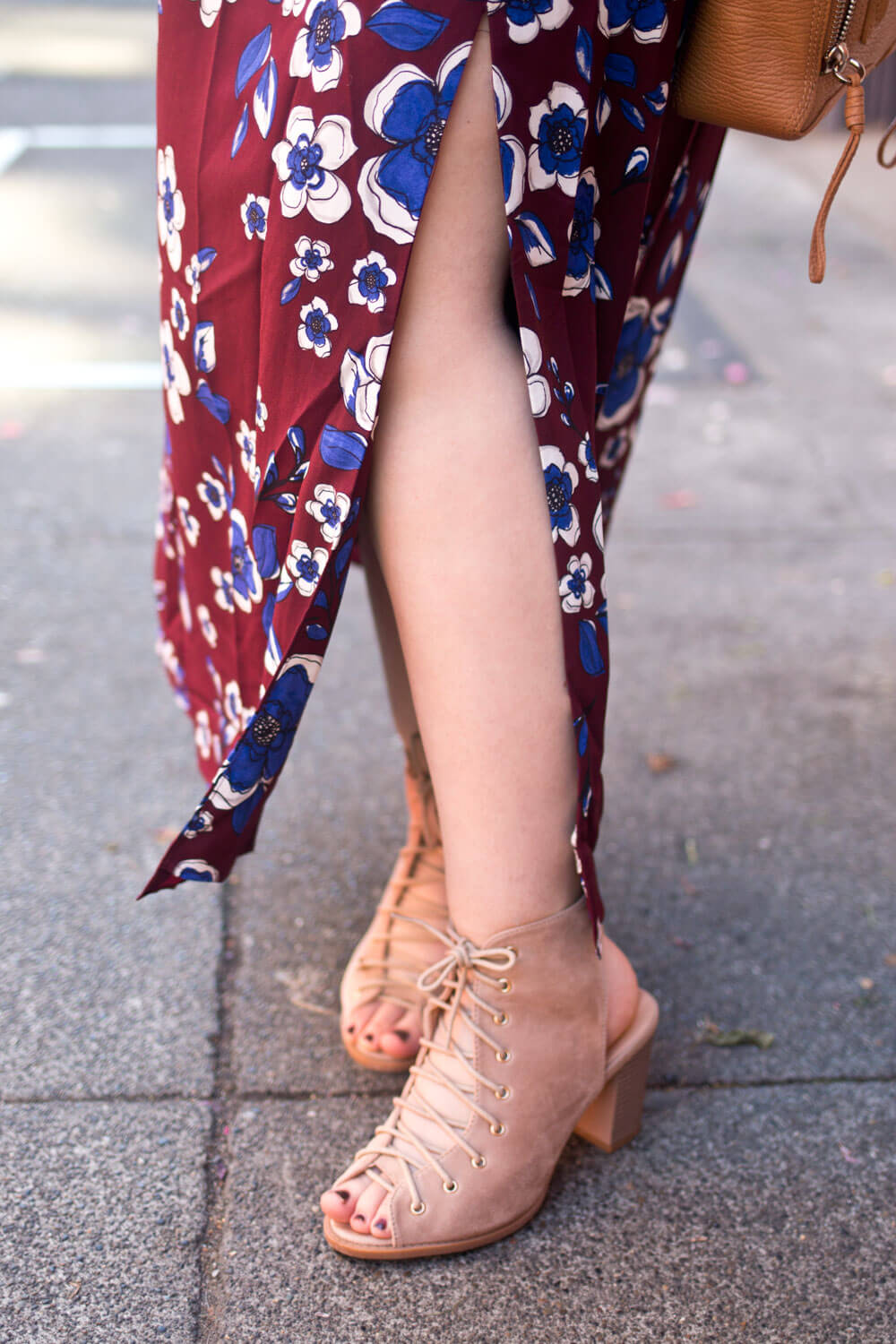 The first thing you'll need in your recipe for your maxi dress outfit is the perfect maxi dress, of course! My pretty maxi dress is c/o Banana Republic and what I loved the most about it is the beautiful fall colors it incorporates. Beyond that, Banana Republic also offers many of their dresses in lengths appropriate for average, petite, and tall women. This one fits me perfectly straight out of the box and I couldn't be more thrilled. The only thing worse than an ill fitting dress is one that you end up stepping all over and ruining!
Add a Pair of Boots
Your favorite ankle boots will look beyond chic with your favorite summer maxi dress! And if you have a maxi dress like this one I'm wearing with a slit up the side, how fun would it be to have your favorite over the knee boots peeking out? With boots, your options are endless; from edging up a pretty maxi with a pair of combat boots to keeping it simple with a pair of riding boots, every pair of boots in your closet can find their perfect maxi match.
Layer on a Sweater
The easiest trick I know for making any piece transition into cooler weather is a sweater. The best thing about sweaters is they don't have to be necessarily worn traditionally either to make you look fall appropriate. Tying a sweater around your waist or shoulders will give you a fashion forward look that is suitable for the cool weather, and if you end up getting chilly, just untie it and pop it over your dress. Plus, coming in a wide variety of materials, sweaters can make a statement (think fringe and bold colors) or fade into the background (think cardigans and waterfall styles).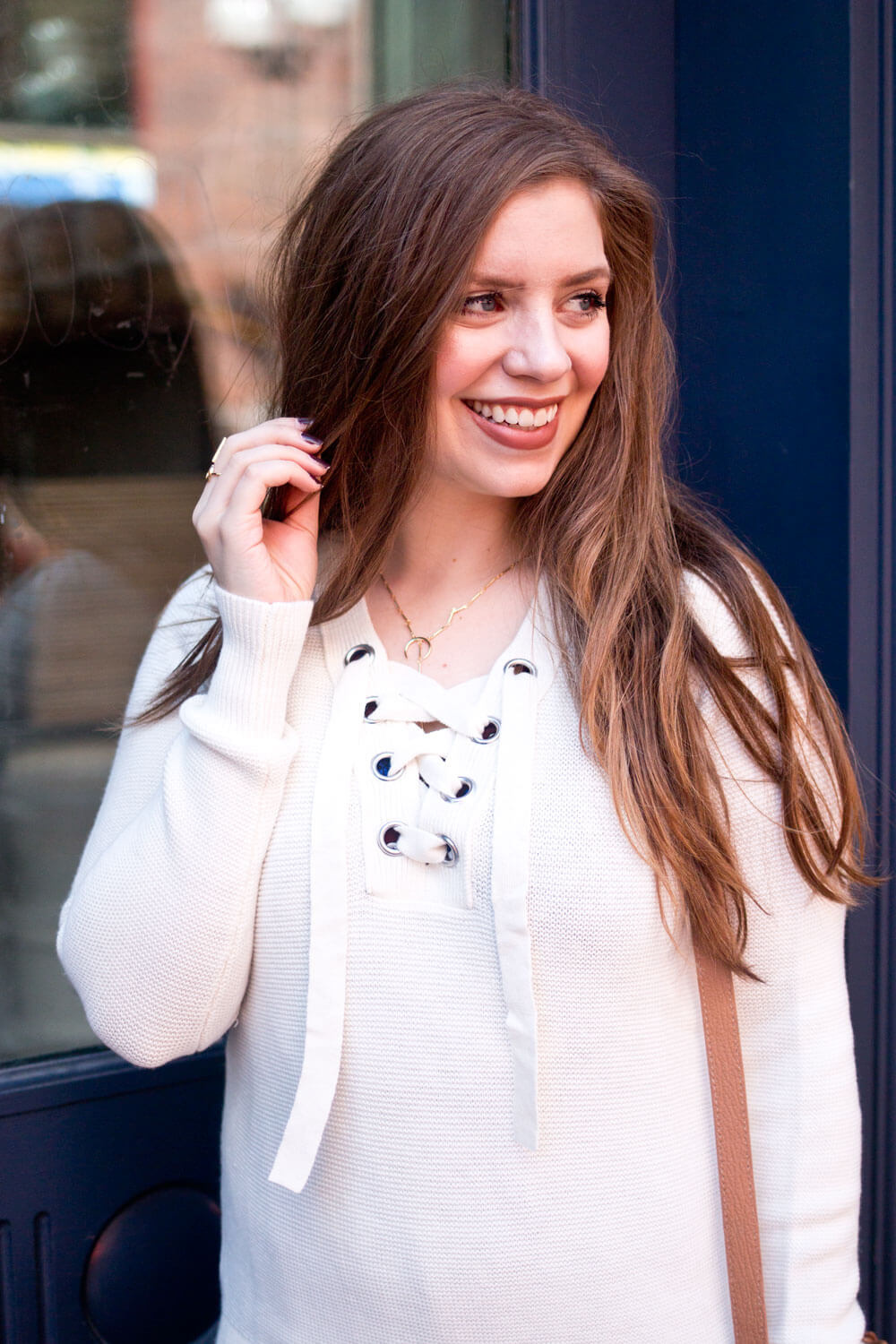 This sweater from Banana Republic is one you're going to want in your closet. The weight of the material makes it warm enough for the chilly months, yet the tie up detail on the chest makes it look way beyond its price tag. I love unique sweaters for layering because if you're going to cover up part of your dress, you might as well pick a pretty one to do it with!
Layer, Layer, Layer
Whether it means throwing a turtleneck under a strappy maxi dress or layering a pair of leggings underneath for warmth, layering gets me through even the coolest months of Fall. The perfect thing about maxi dresses is the long length makes them the perfect candidate for layering without being incredibly obvious that you're doing so. The opportunities to layer are endless; choose a thin sweater or long sleeve tee to wear underneath, or for those in warmer climates, a basic white tee could give the fall vibe you're craving!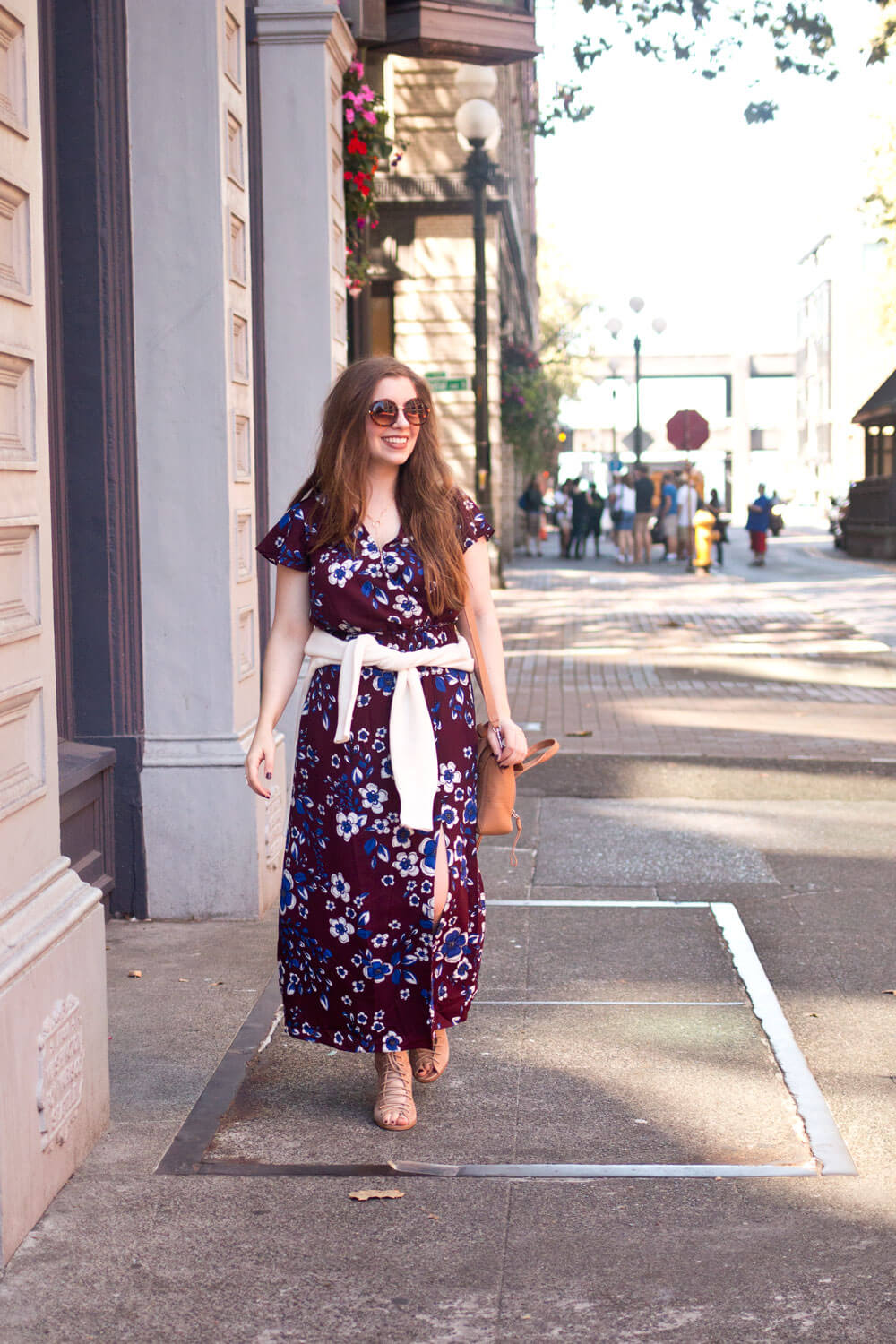 Tie Your Shirt On
Have a favorite button down or denim shirt? Put it on over your maxi dress, grab the two tails of your shirt, and tie it in a knot at your waist. This simple trick will keep you nice and warm yet look effortless and fall appropriate. Not into the tied up look? A denim chambray is a great lightweight alternative to a denim jacket and can give any maxi dress an entirely new look.
Put a Coat on It
Have a favorite trench coat or moto jacket you bring out every fall? Don't forget it will make your maxi dress look fall ready! This outfit featuring my favorite moto jacket over a maxi dress is probably one of my favorite outfits of last fall.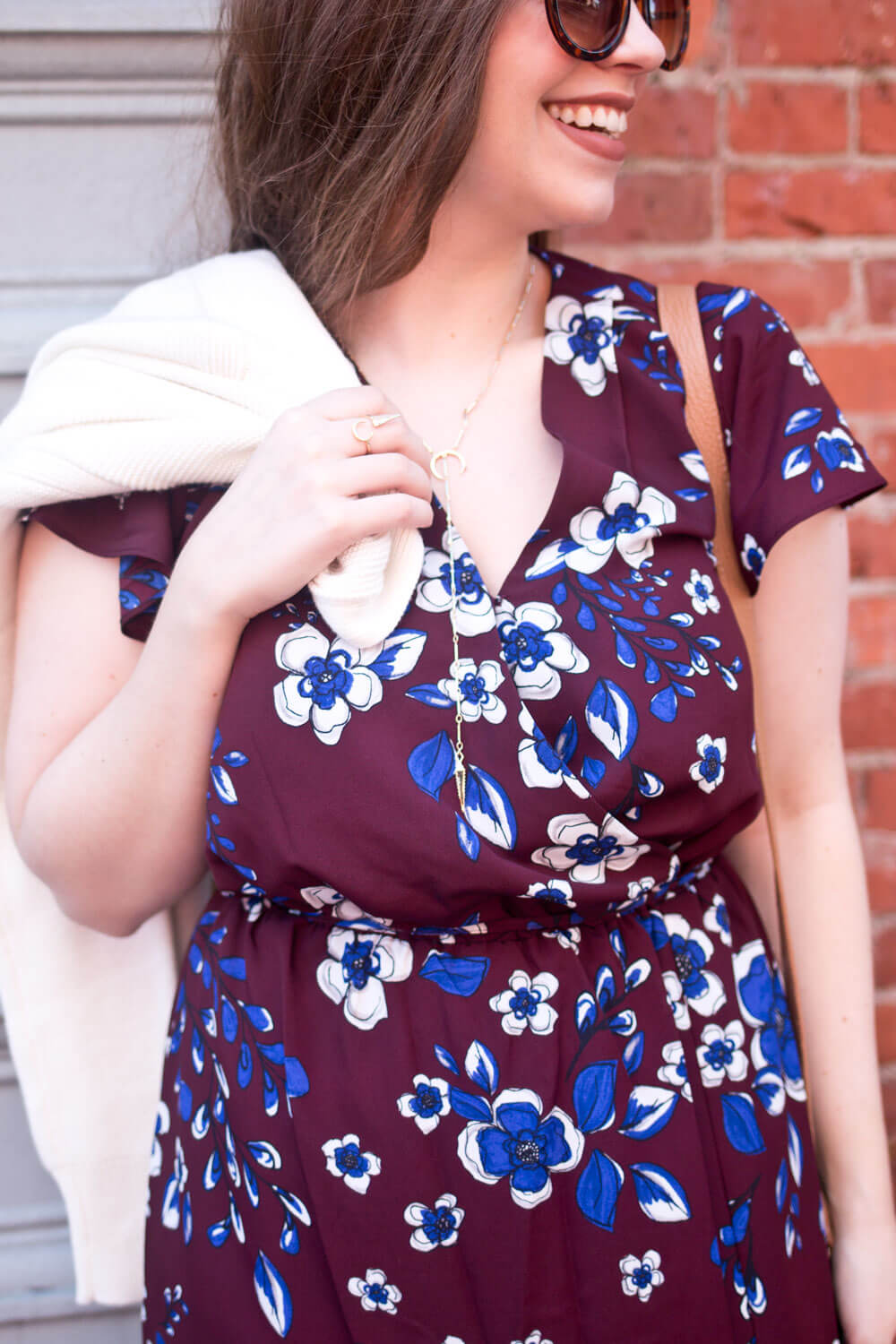 Add a Pair of Tights
Don't forget about tights as a layering piece! Just because your legs are covered by your dress doesn't mean your legs will be warm! With a wide variety of tights available, you can wear a simple black sheer pair or opt for a thick pair lined with fleece to make your maxi work for the even cooler months ahead. Depending on the detail and length of your maxi, you can also use tights to make a statement. There are so many fun patterns and colors available that the options are endless!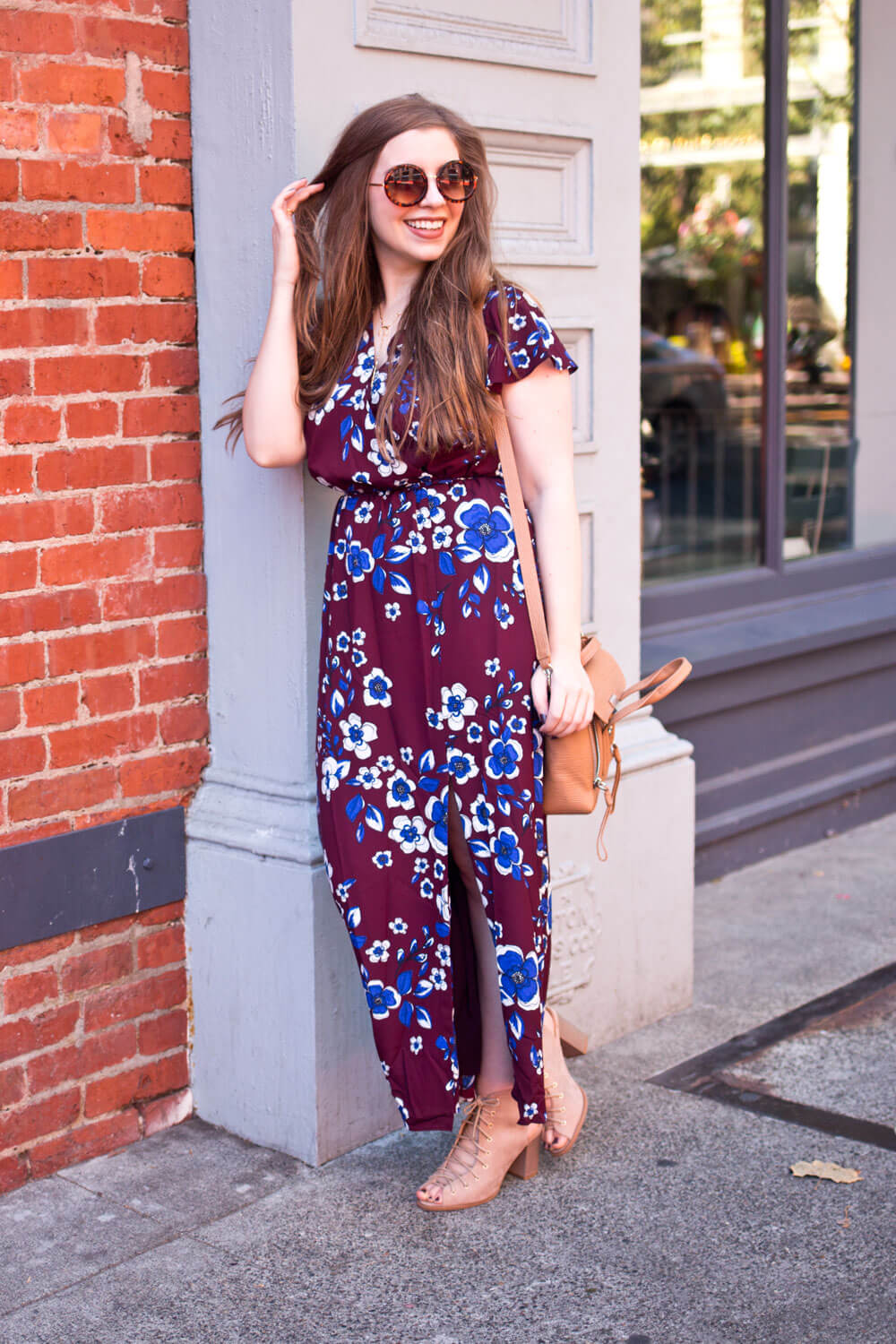 Top it off with a Hat
The ultimate accessory for fall? A hat, of course! I feel like wool (and wool-like) hats make any outfit look more fall appropriate. That favorite maxi dress outfit from last fall also featured a hat, and I feel like it just gave off the perfect autumnal vibe. Plus, hats come in so many shapes, styles, and colors that there is most definitely one for you. And even if a hat won't work, consider a beanie! It will keep your head just as warm, make your outfit look fashion forward, and you'll be cool weather appropriate.
And that's it! Hopefully, you've been inspired to style your maxi dress in a few new ways and have learned how to wear your maxi dress in the cooler months of fall and maybe even winter! The key to making any piece work year round is to get creative and experiment. Not every suggestion will work with every maxi dress, but trying a few options will lead you to your perfect outfit!
Do you reserve your maxi dresses for summer, or do you like to wear them in the cooler months too? Do you have any tricks for making it work? I'd love to hear your thoughts in the comments below!