Product Sample: I received complimentary product from Orvis for this review. All opinions are my own, of course! :)
I feel like there's something that every woman has in her closet. Maybe it's not the same cut, color, or length, but if you don't own it, you probably should. It's the striped dress, and really, it's perfect for every single body.
I remember being told many years ago by someone who thought they knew everything that stripes aren't for short people. "They make you look wide and even shorter!" they said. I never took this to heart and have rocked stripes of all sizes for my entire life. Stripes and florals for spring may not be groundbreaking, but they are a classic that needs to be in everyone's wardrobe. Stripes pair perfectly with florals, both big and small, dressed down with chambrays, white denim, jeans, or sneakers, or dressed up with heels. Honestly, stripes go with just about anything making it a wardrobe essential that I believe looks good on everyone.
So why all the striped dress talk? Because I found the perfect one from Orvis, an outdoor retailer who apparently also carries the softest dresses known to womankind. I'd driven by the store in Bellevue a dozen times over the years and never gave it a second glance if we're perfectly honest. I happened to be perusing the eBates website one day when I noticed they had an offer for cashback. Being the nosy person that I am, I clicked on it and was shocked to find so many Pacific Northwest staples. Cargo jackets, raincoats, and boots of all kinds were mixed in with cute bracelets, beach totes, and swim cover-ups. If you want staples that will last for years to come, Orvis is your place. They've been making outdoor gear for over 150 years, so you know there's something to it.
How to Wear a Striped Dress this Spring
While I truly believe you can wear this boatneck striped dress just about anywhere and however your heart desires, I thought I'd provide three different occasions and styling suggestions. I always find it useful to create at least three different looks with one piece before I add it to my wardrobe. It's prevented a lot of impulse purchases, but I've also been able to add a lot of style staples to my closet that way!
For running errands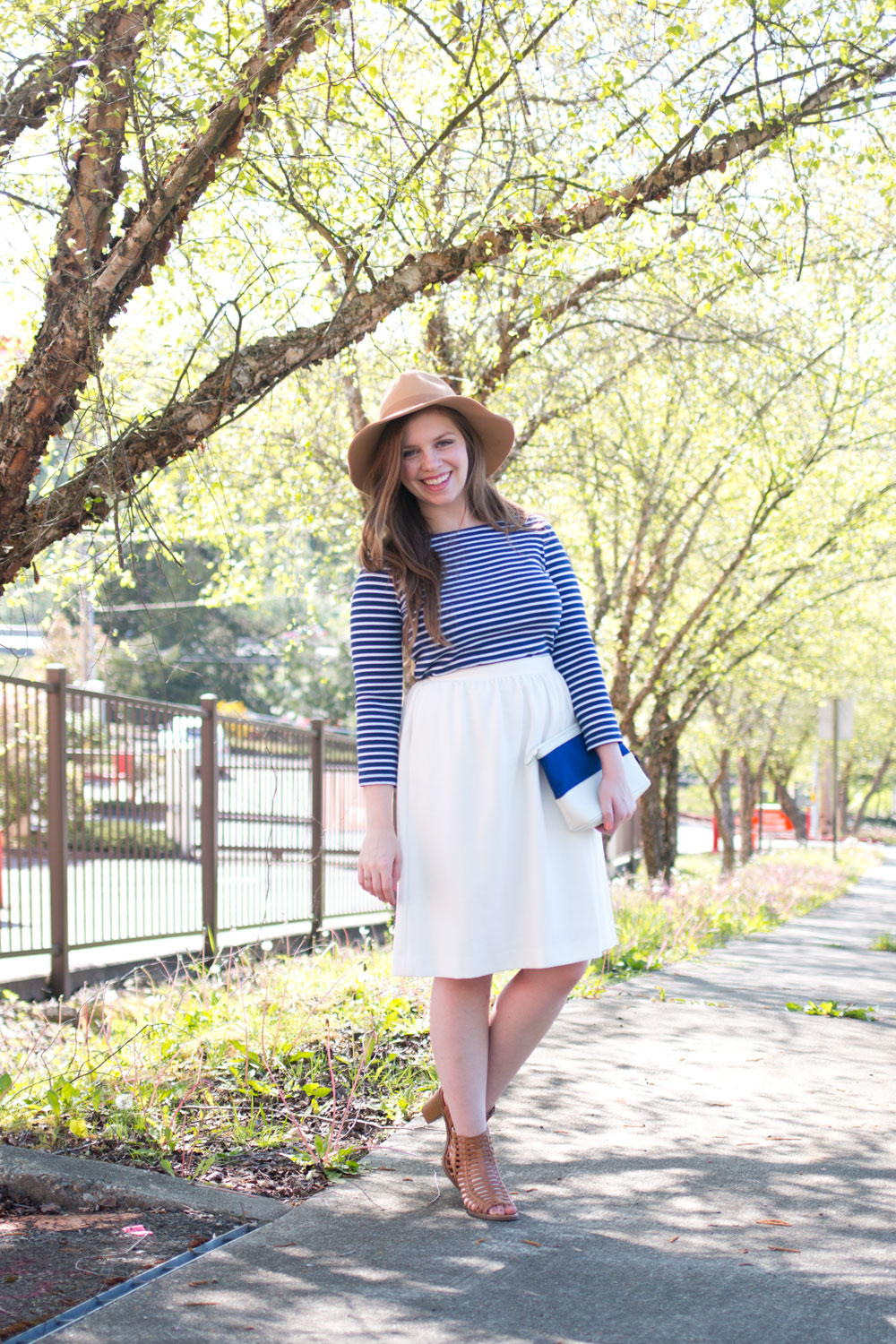 What I'm Wearing
Dress (worn as top): Striped Perfect Tee Boatneck Dress c/o Orvis
Skirt: Chelsea28 (similar)
Sandals: Mossimo (similar)
Hat: Fred Meyer (similar)
Clutch: Colorblock Fiji Pouch c/o Orvis
While a dress can definitely be worn just like that, it can also be converted to a top when paired with a skirt. This is one of my favorite style tricks for getting even more mileage out of the dresses in my wardrobe! I love the way this white skirt breaks up the stripes and adds such a feminine flair to this piece. I paired the skirt and dress combo with my favorite caged sandals as well as this adorable striped clutch. I love how the clutch provides enough contrast to the size of the stripes yet still goes with the outfit. Simple jewelry finished the look, because I don't know about you, but a ton of jewelry when I'm wearing patterns just isn't my thing.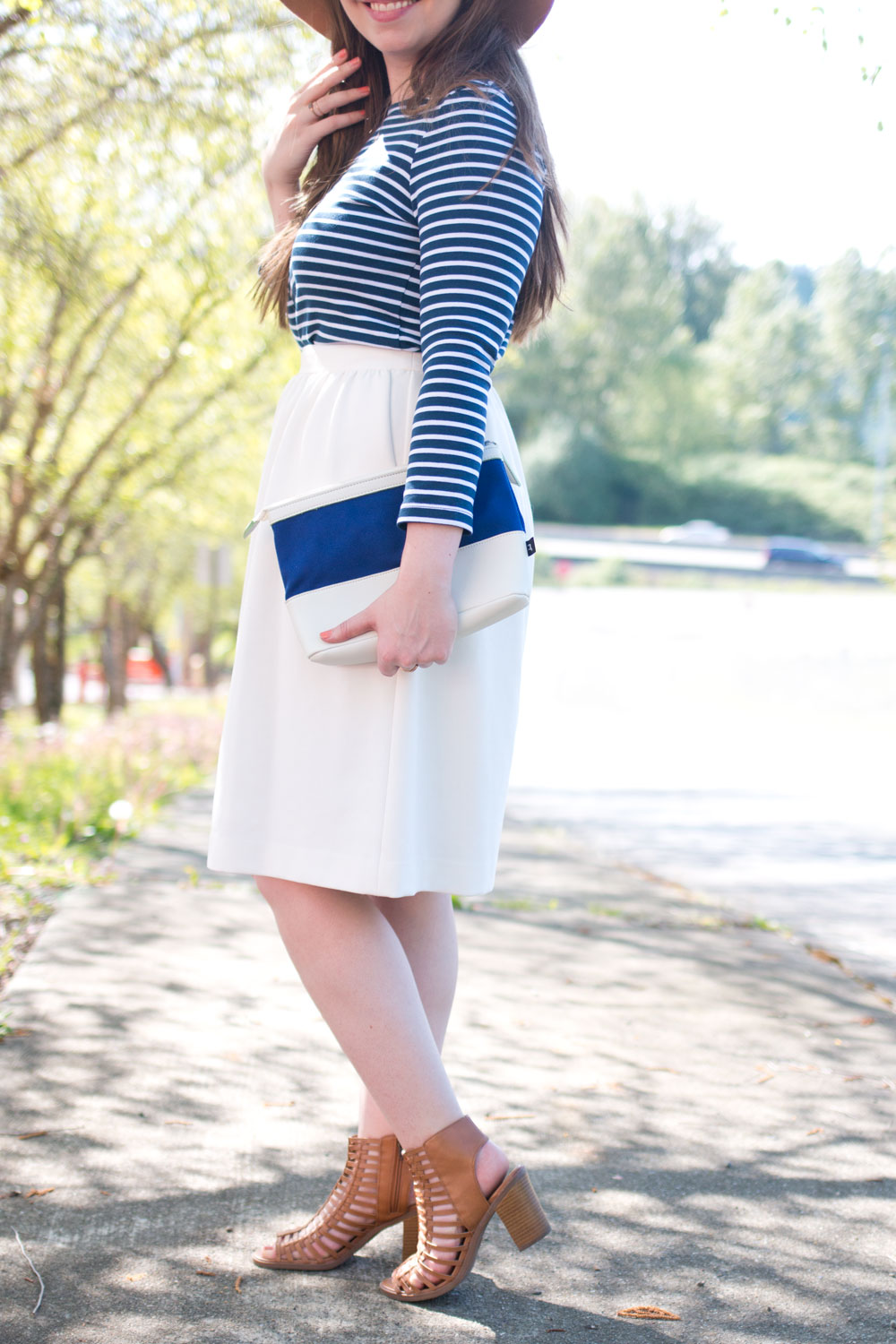 For a walk along the pier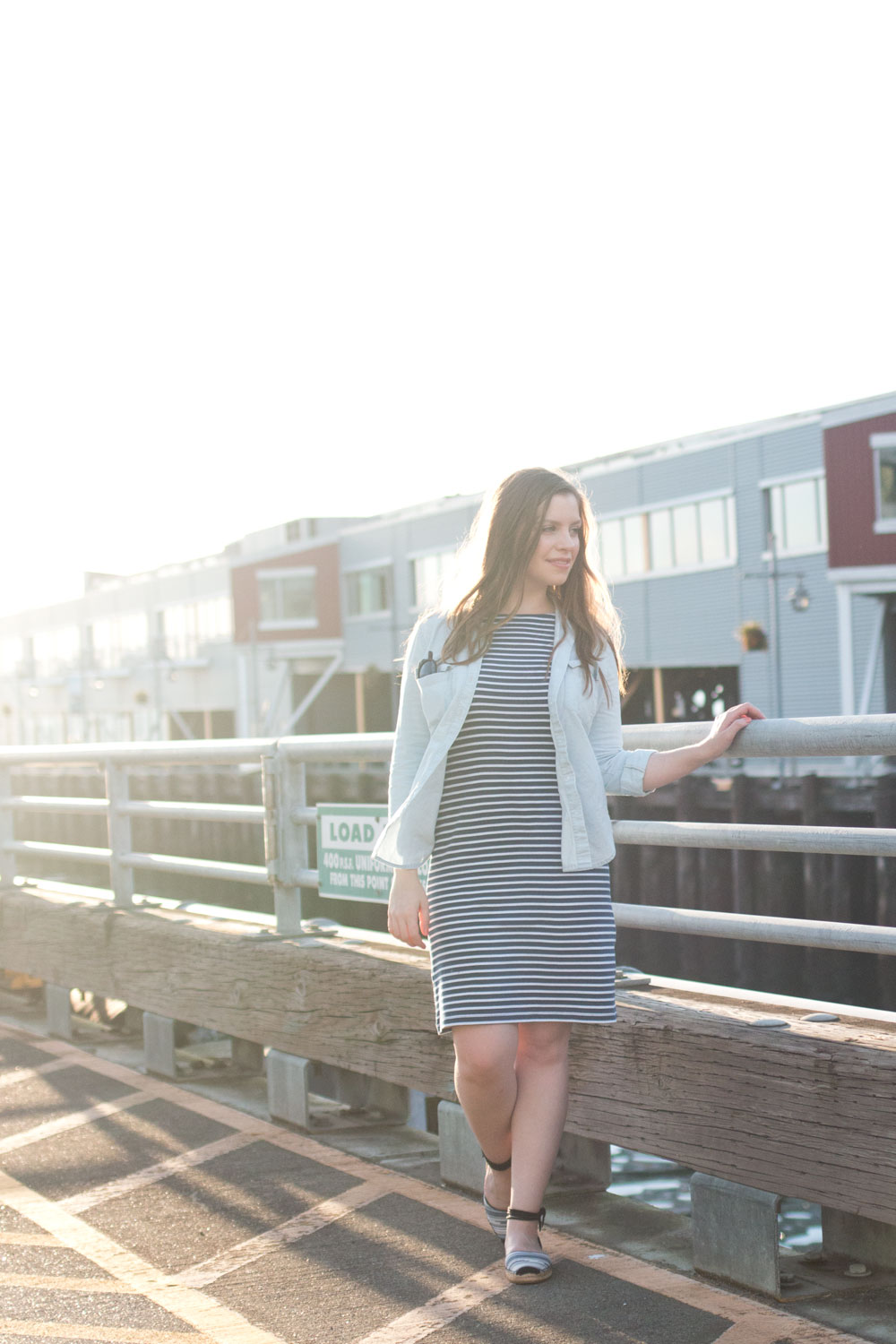 What I'm Wearing
Dress: Striped Perfect Tee Boatneck Dress c/o Orvis
Chambray: Old Navy (similar)
Shoes: Ugg Libbi Espadrille c/o Orvis
Hat: Fred Meyer (similar)
Seattle is home to an absolutely beautiful waterfront, and when the weather heats up, it's one of my favorite places to stroll during the evening. To prevent any chills, I layered a denim chambray with my striped dress and added a pair of lace-up espadrilles. These lace up espadrilles are both cute and comfortable, and because they're from Ugg, they have sheepskin at the heel to prevent any blisters.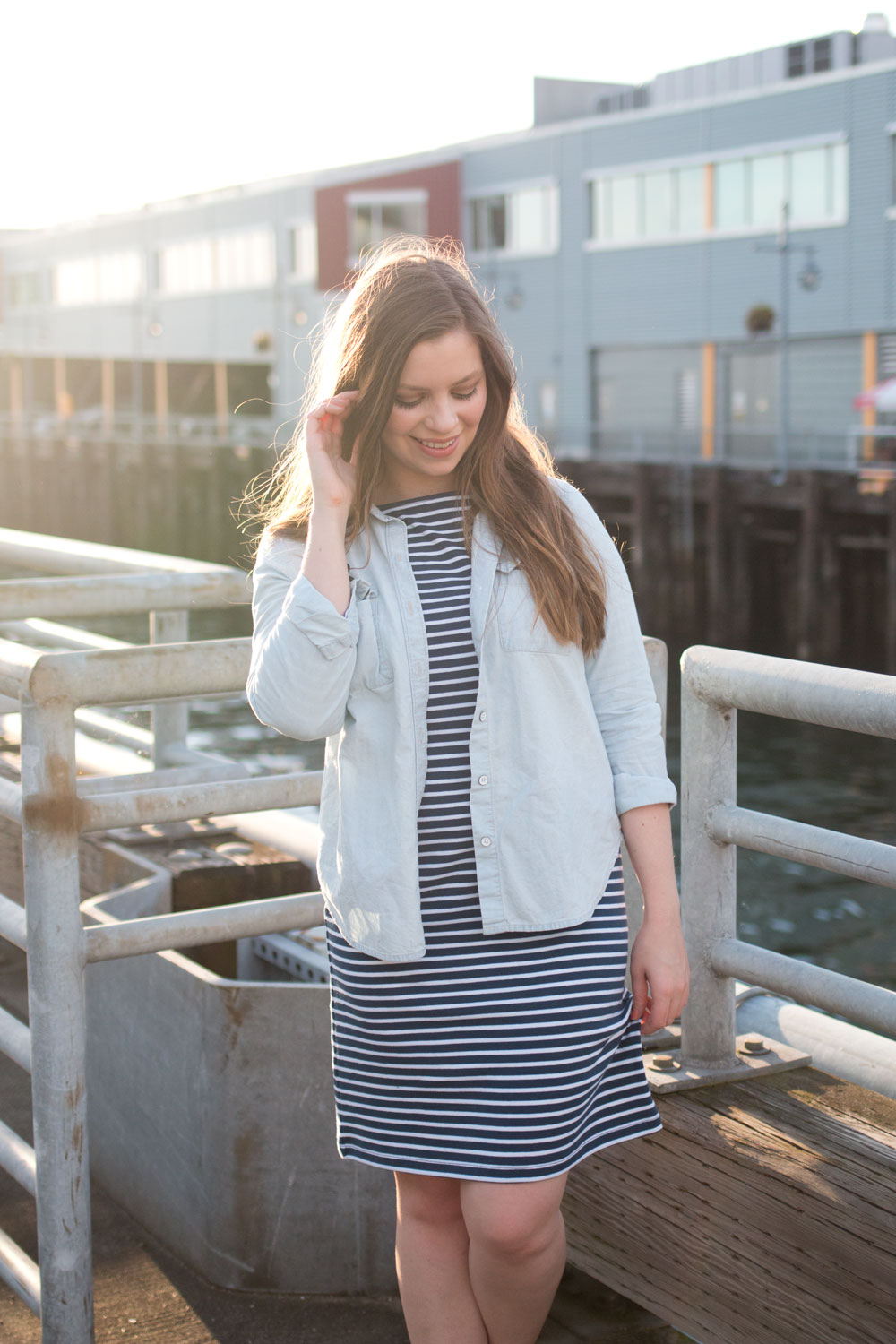 For a stroll through the park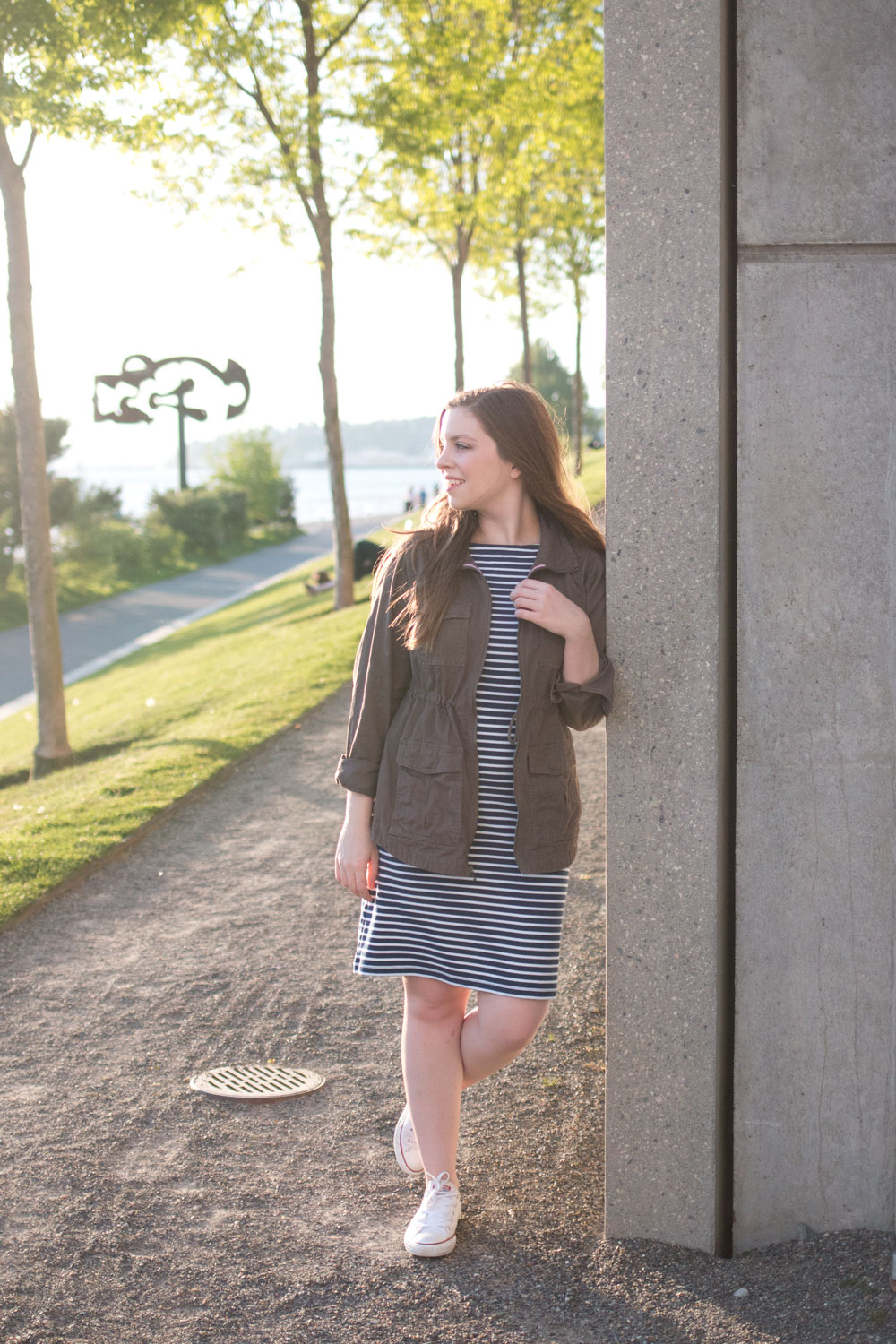 What I'm Wearing
Dress: Striped Perfect Tee Boatneck Dress c/o Orvis
Jacket: Columbia Sportswear (similar)
Shoes: Converse Low Tops (similar)
Another thing I love about this time of year is getting out and enjoying the natural scenery. We have some beautiful parks in the Seattle area, and when it's nice, I skip the gym and opt to do my exercising outdoors. While I wouldn't suggest going for a run in this outfit, it is perfect for an evening power walk or a leisurely walk with your dog.
I paired my striped dress with a canvas utility jacket for the cooler night temperatures and my white Converse Low Tops for comfort. If you don't already own a utility jacket, I'd highly recommend checking out this one similar to mine, or this linen version. I never knew how much I would wear it until I added a military green one to my wardrobe last year, and added another one in a different shape to my wardrobe this year. It comes in handy this time of year because the temperatures are fluctuating. This style of jacket is lightweight enough to keep you from overheating but can also be layered when it's chilly.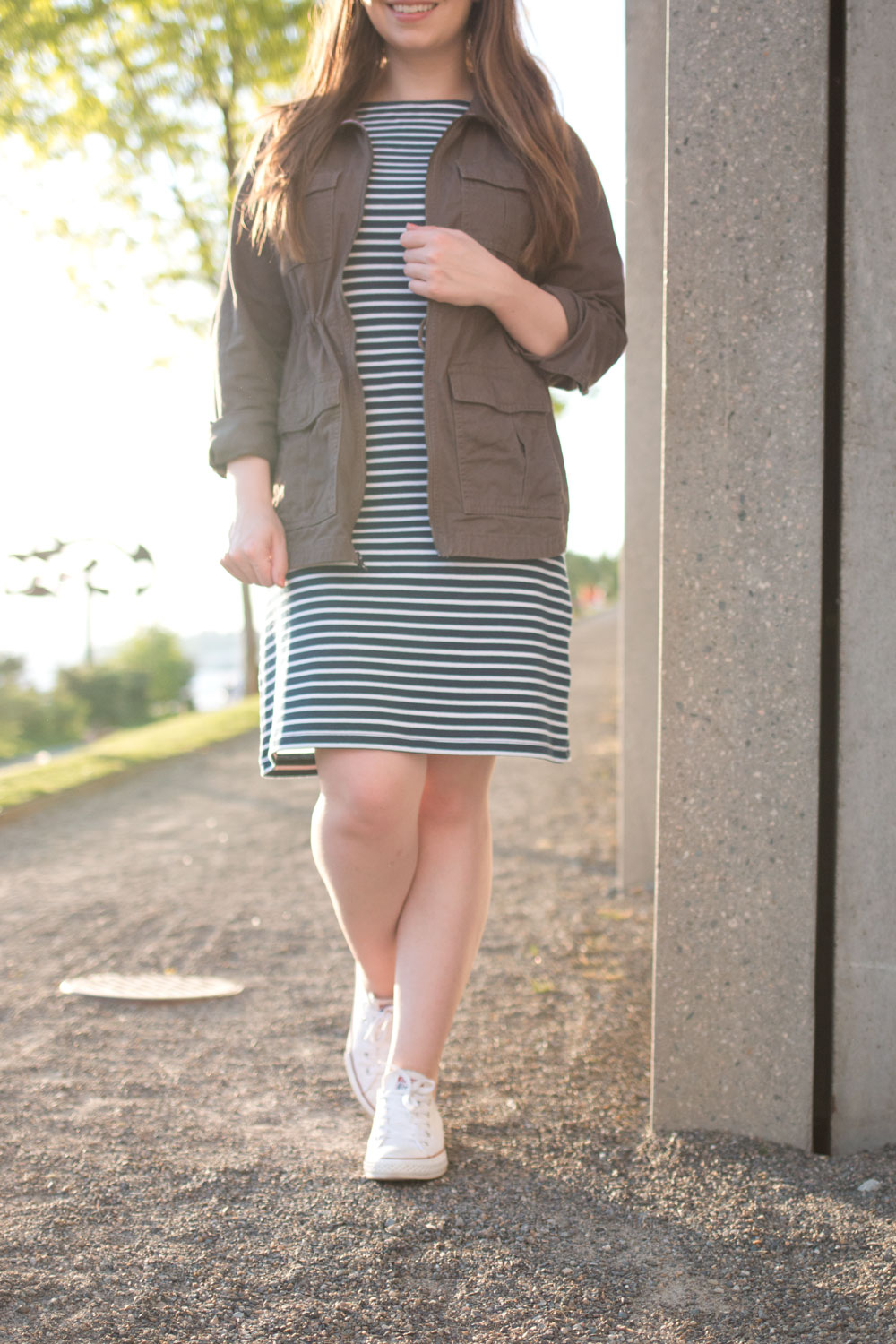 Orvis has just released their new spring collection with tons of outdoor-ready looks. Add something simple like my blue and white striped clutch for a nautical vibe to your wardrobe, or select a more classic piece like this travel dress or this silk camp shirt that my friend Julia rocked in her recent outfit post. Each item in the collection can easily be paired with items already in your wardrobe, and can take you from an afternoon hike to a day at the beach in no time. The pieces that I've tried have all been high quality with incredibly soft fabrics. For your spring purchasing, Orvis has offered a code for $25 off a purchase of $50 or more through September 30th, 2016. Just use code ICSPRING at checkout. (Not an affiliate code, I don't get any compensation if you use it… but it's a great deal!)
If you'd like a chance to try some of the Orvis Spring Collection pieces for yourself, don't miss a chance at one of ten $100 gift codes by entering below!
Orvis
Refresh Your Wardrobe Giveaway

I-C will randomly select 10 winners from all program entries and will handle fulfillment of the winning prizes.
How do you like to style a striped dress? Have you shopped at Orvis before? I'd love to hear all about it in the comments!