Referral Links: I may receive a credit on my next order if you sign up through my link. I purchased these products myself for this Honest Beauty review. 
Several years ago, I joined the Honest Company Bundle program, and I've never looked at household cleaners the same. They just show up every couple of months to my door; I know that they're going to be safe to use in our home, and I'm a happy camper. When I heard rumblings that Honest Company was going to be coming out with a cosmetics line, I was super stoked. Even though the majority of the makeup I wear is not green/natural/organic, I'm always looking for healthier options to try.
When Honest Beauty was released, I honestly didn't see much about it. Slowly, I started seeing bloggers and vloggers picking up the line and giving a nod to certain products, so I decided to place my order. Honest Beauty offers a bundle subscription program. For $50 per bundle, you will receive three makeup or skincare products. Want more? Add items to your bundle for an additional 25% off discount.
I also had the benefit of receiving a few items in the winter Zoe Report Box of Style, so I already had an idea that the products weren't completely awful when I placed my first bundle order. I opted to start with the trial membership first, which signs you up for a small makeup bag filled with skincare samples for the cost of shipping ($5.95). Honest Beauty has you select your skin type (oily or dry) and sends you slightly different products accordingly.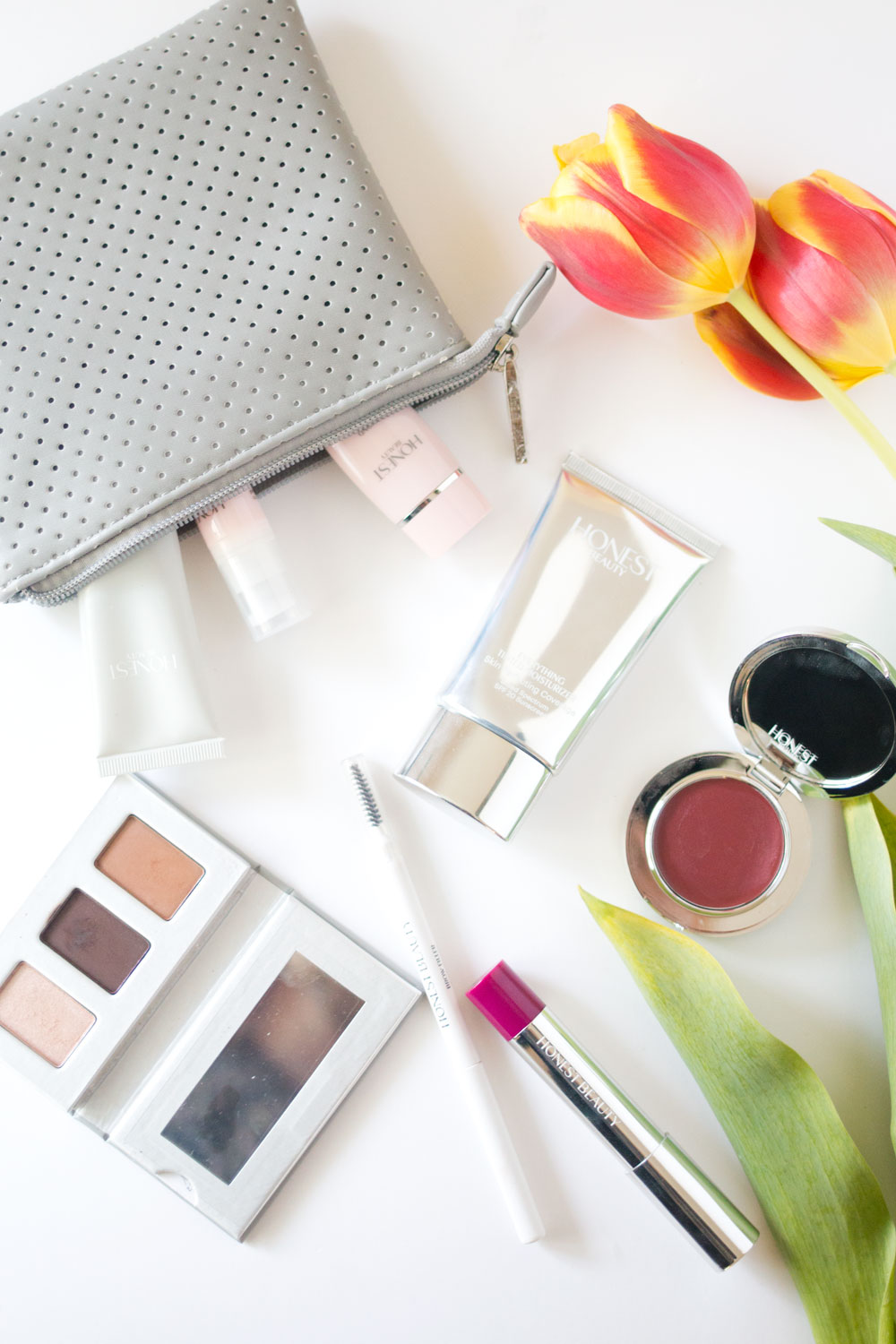 Honest Beauty Review & Demo
Once I received those items, I had about a week to cancel my bundle before it auto renewed and shipped me my first $50 bundle. I added an extra item to receive the 25% discount since I wasn't sure how long it would be until I needed to order another bundle. (If I decide I don't need a bundle of either Honest Beauty or Essentials, I just push out my ship date as late as possible. They send email reminders a few days before they ship your items.) So, now that you know all about The Honest Company and how it works, let's get into the full Honest Beauty review and see if this line is worth the spend or not. (P.S. if you're more of a visual person, you might like the demo video! Skip to it here.)
Honest Skincare
Makeup Remover Wipes: I've tried both the makeup remover wipes in the Honest Essentials bundle and now the ones available from the beauty line. They're the same ones, and both are awful. They work fine to remove makeup and are nice and moist, but the taste they leave when removing product from your lips is disgusting. For that reason alone, I can't recommend these.
Refreshingly Clean Gel Cleanser: Well, the name is accurate. This definitely gets your skin squeaky clean, which for me wasn't so good. For dry skin, I prefer a milky or lotion type cleanser, and this left my skin feeling incredibly taut and parched. This would be excellent for oily skin types, but if you're on the dry side, I would take a pass.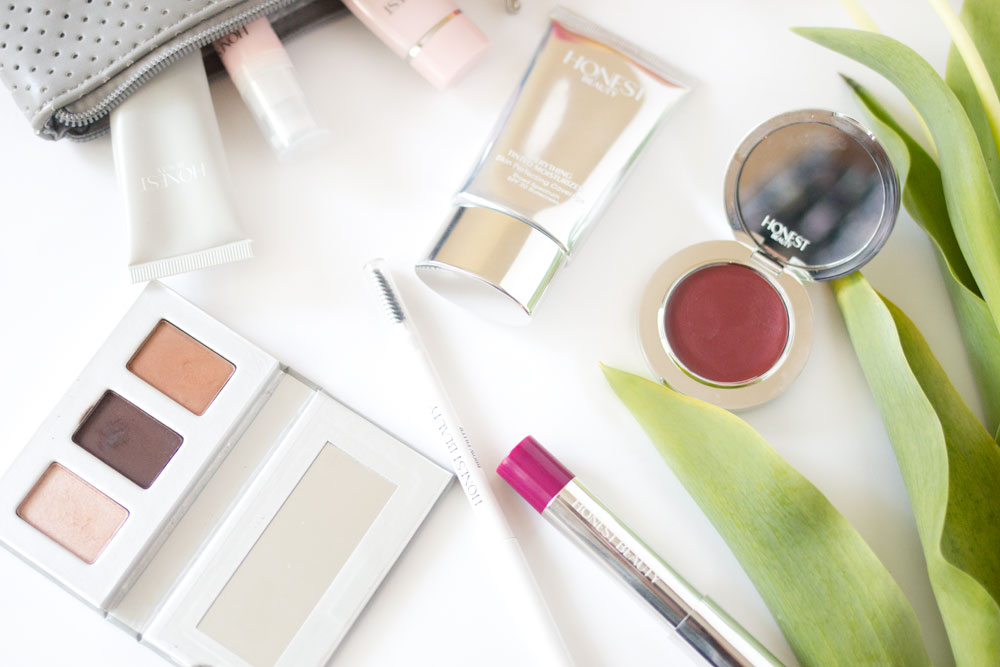 Beyond Protected Sheer Tint Daily Beauty Fluid SPF 30: This is an incredibly lightweight moisturizer that can be used alone or under makeup. Don't let the tint in the name fool you – this is virtually just an extremely lightweight moisturizer and does not provide any foundation-like coverage. I liked this product but found my skin needed something with a little more moisture. If your current moisturizer feels too heavy or greasy for you, you will probably love this. It sinks into the skin almost instantly.
Younger Face Deep Hydration Cream: My biggest issue with this is that the only time I can use this is at night. Whenever I tried to apply this in conjunction with the Beauty Fluid and underneath makeup, it balled up on me and created a horrible base. I used this product sample up, but I didn't feel that it was hydrating enough for a night cream for my skin or good as a moisturizing base in the daytime.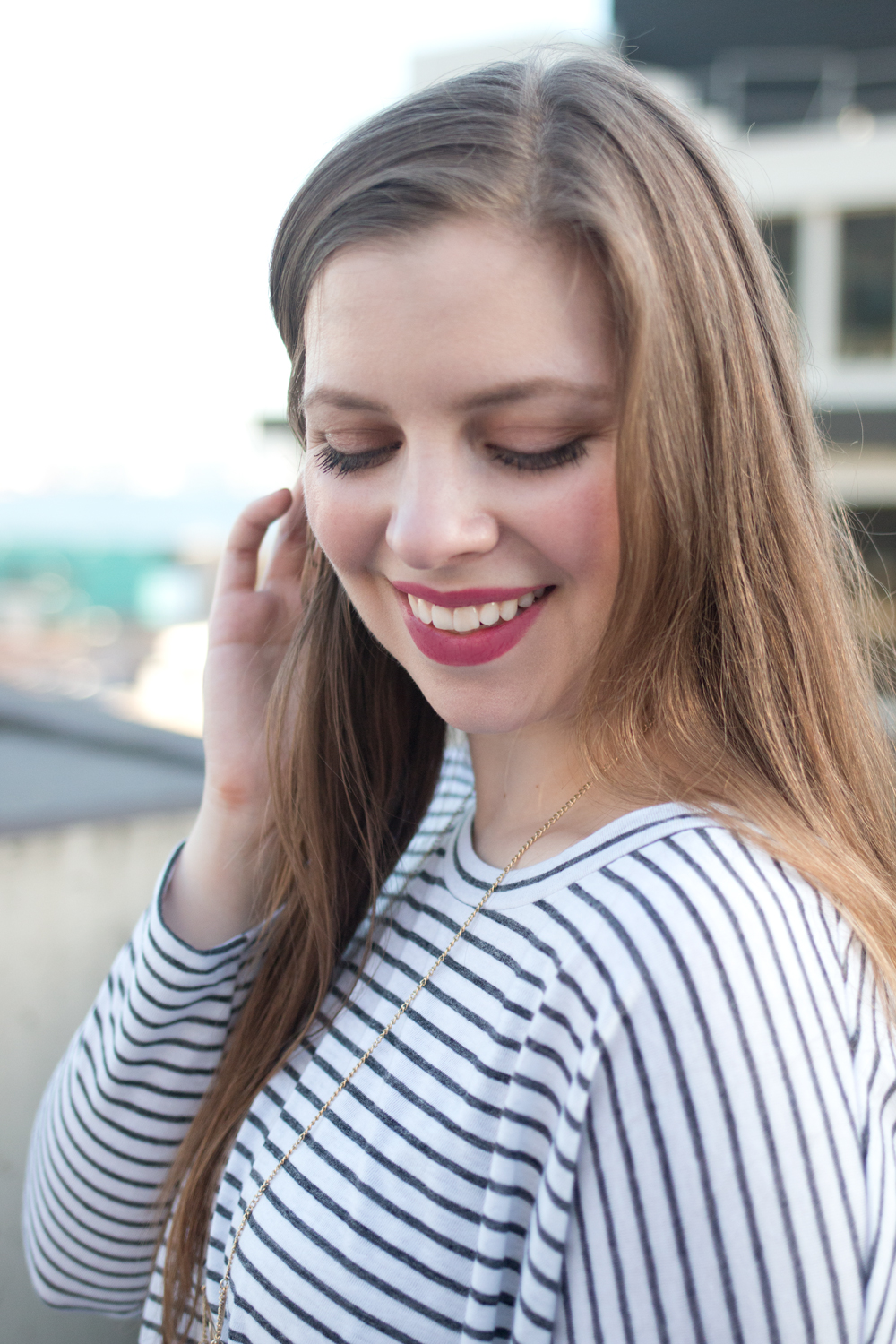 Honest Makeup
Truly Kissable Lip Crayon in Mulberry Kiss: One of my absolute favorites, the color of this is a beautiful plum berry with bright pink undertones and is perfect for spring. While this is not the longest lasting (it's not going to hang around if you're eating and drinking) it does feel very comfortable and moisturizing on the lips.
Everything Tinted Moisturizer Skin Perfecting Coverage SPF 20 in Honestly Alabaster: For a tinted moisturizer, this is very, very thick. In fact, I'm not sure if I've ever used a foundation type product that was quite this heavy feeling. I find that this sets quickly and can be difficult to apply with a brush or fingers. I think the best application came from a Beauty Blender. The coverage is light to medium buildable coverage, and I find this tends to cling to dry patches, cakes up in drier areas throughout the day, and accentuates any fine lines. I would say this would be better for normal skin types.
Creme Blush in Truly Daring: I'm not normally a big fan of cream blushes, but this one blew me away. It lasted for at least 8 hours without reapplying and is very pigmented. (Normally I find cream blushes disappear rather quickly on my skin.) A little goes a long way, and the nice thing about cream products is that they're great multitaskers. I could see wearing this as a lip color too!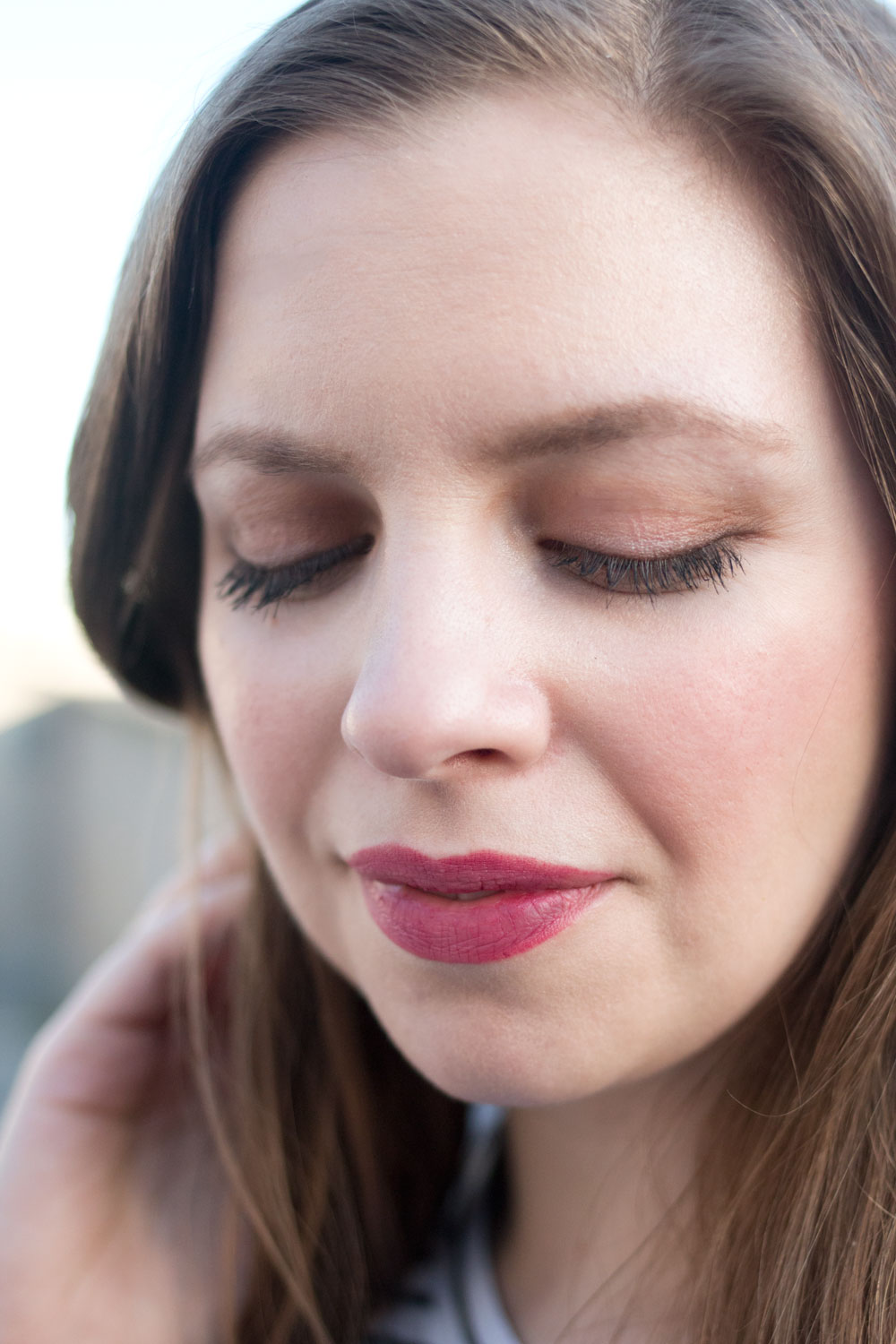 Eyeshadow Trio in Truly Effortless Soft Sand: I honestly wasn't expecting much from the eyeshadow trio, but was pleasantly surprised by the excellent pigmentation and staying power of all three shadows. There are two matte shadows (a medium brown and a dark brown) and one shimmer shadow  (a light beige) in this particular set, and it's incredibly easy to create a neutral eye look with this that's perfect for everyday wear. The packaging is pretty sturdy for the size which makes me think this would be excellent for travel and more than likely you wouldn't have to worry about shadow breakage.
Brow Filler in Dark Blonde: I always hesitate to order brow products labeled blonde, but when there's only no light brown option, I tend to opt for the blonde option. That was a good choice because this is a true taupe color, not too warm and not too cool. I think they nailed this product and found the application of the Brow Filler was simple and lasted all day without budging. I do find it can take a second to warm this product up because it is very waxy, so be aware it may not apply perfectly on first or second swipe, but try a couple of strokes on the back of your hand first.
Honest Beauty Makeup Demo
Overall, I'd give the makeup a solid nod and say to skip the skincare products that I tried. I believe you can find other natural options that are more effective. (I'd check out Juice Beauty, Mychelle, or Acure, which are all sold at places like Whole Food, Target, or DermStore if you're looking to green up your routine! If you're looking for better ingredients and not necessarily organic ingredients, I highly recommend Paula's Choice!)
If you're looking to create a bundle, my recommendations based on what I've tried would be the lip crayon, blush, eyeshadow trio, and eyebrow filler. At this time, Honest Beauty products are only available online, but they do offer a money back guarantee within 365 days of purchase. None of the items are tested on animals and have no alcohol, parabens, formaldehyde carriers, PEGs, MCI/MI, steareth-n, synthetic fragrances, or dyes.
Have you tried out Honest Beauty yet? What did you think about the line? And should I try out and share more products from their collection? I'd love to hear what you'd like to see next, or if there's another brand you'd like me to try out in the comments! :)