As the storm clouds roll in, it feels kind of funny to be sharing an outfit with bare legs and no sleeves. It won't be long before an outfit like this is only a distant memory from summer. However, this outfit is one of my favorites that I've worn recently, and it just so happened to be what I wore to the final day of Bellevue Fashion Week for the Front Row Fashion Show presented by Vogue.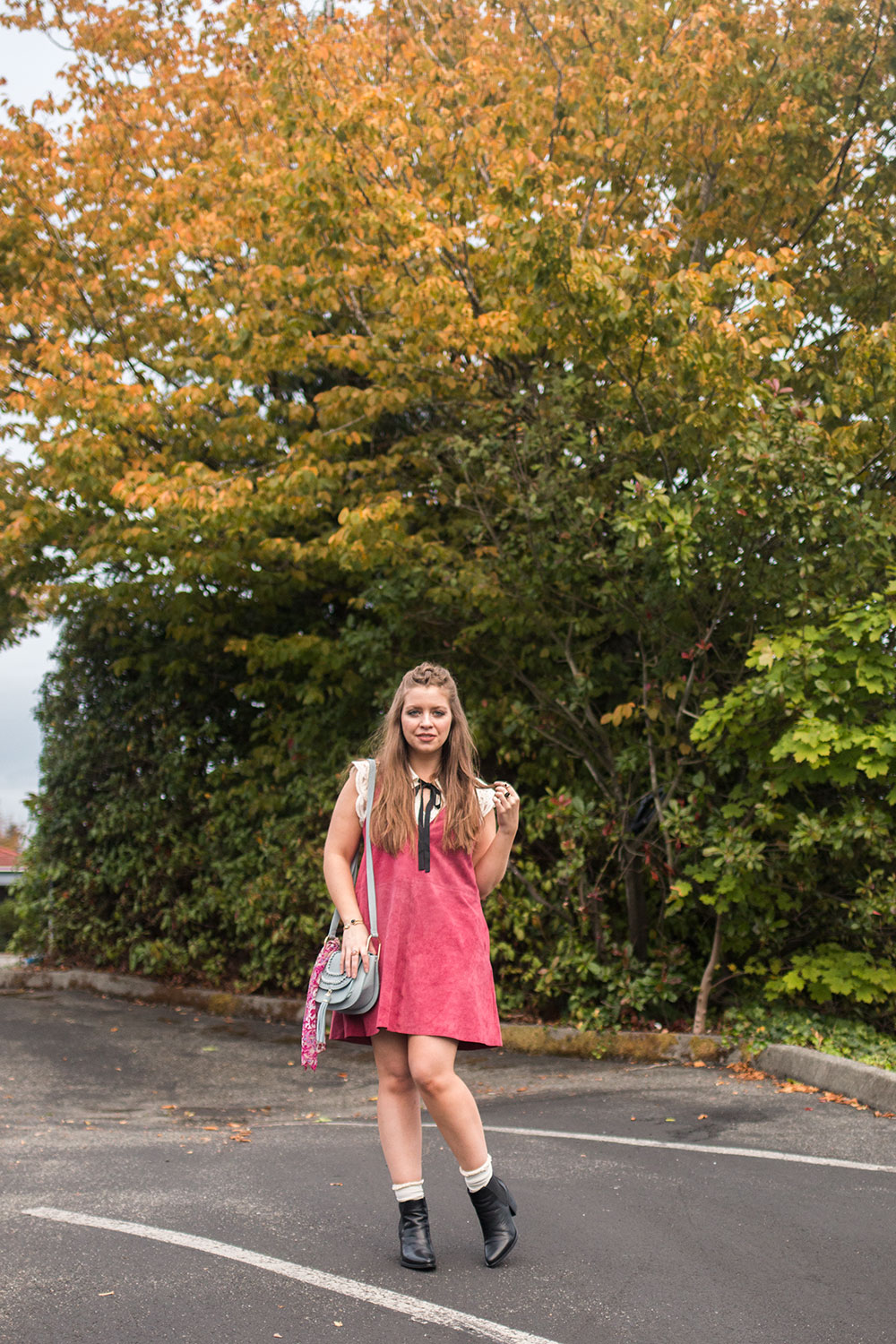 Disclosure: This post contains affiliate links. If you click a link and make a purchase, I may receive a small commission. Some of the items in this post were gifted by the brand and are denoted as "c/o." All thoughts and opinions are my own!
What I'm Wearing
Dress: Free People Retro Love Dress c/o Shopbop (On sale! See sale details below.)
Top: Lace Tie-Neck Top c/o Banana Republic (similar, on sale for $60)
Booties: Steve Madden Pistol Booties via Nordstrom
Socks: Crochet Trim Boot Socks via Fred Meyer (similar for $8)
Bracelets: Crystal Gold Bracelets c/o Superlane
Bag: Moda Luxe Nola Crossbody Bag via Stitch Fix
I most definitely look forward to Seattle's annual fashion events. It's always fun to see how everyone interprets how to dress for a fashion show. There's a lot of black, which is why I always opt for a pop of color and an interesting statement piece. (P.S. if you missed my last post, I covered five ways you too can make your own statement at your next fashion event!)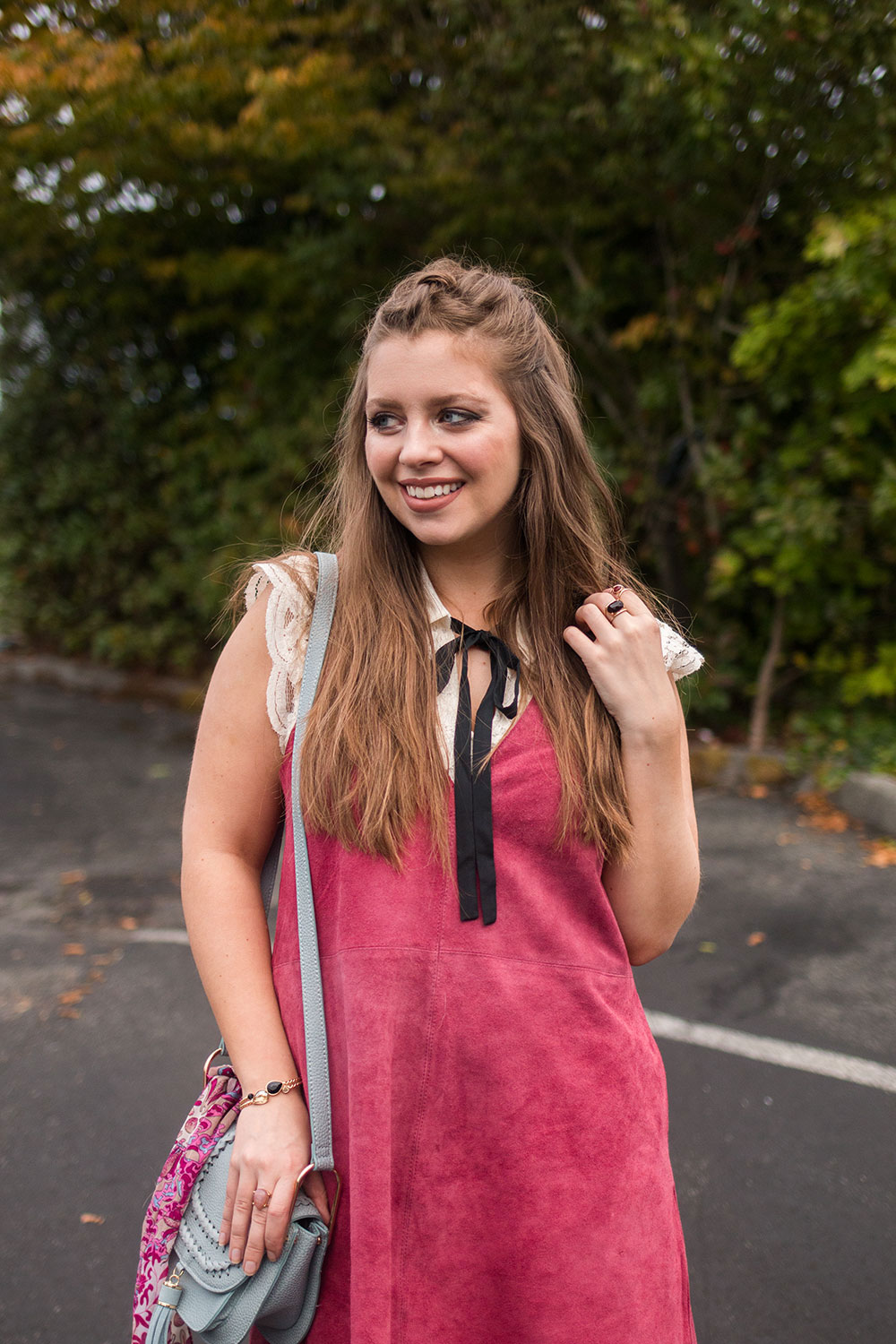 How to Wear a Suede Dress
For this outfit, I opted for a couple of new pieces combined with tried and true favorites. I've been craving a lot of textured pieces this fall, which is why this Free People Retro Love Dress from Shopbop called to me. The pretty rose color combined with the textured suede made for the perfect addition, and a brought about the challenge of how to wear a suede dress to make it worth the price. It definitely gets bonus points for being a heavy weight material and versatile. Since it doesn't have sleeves,  this dress is the perfect candidate for a variety of layering.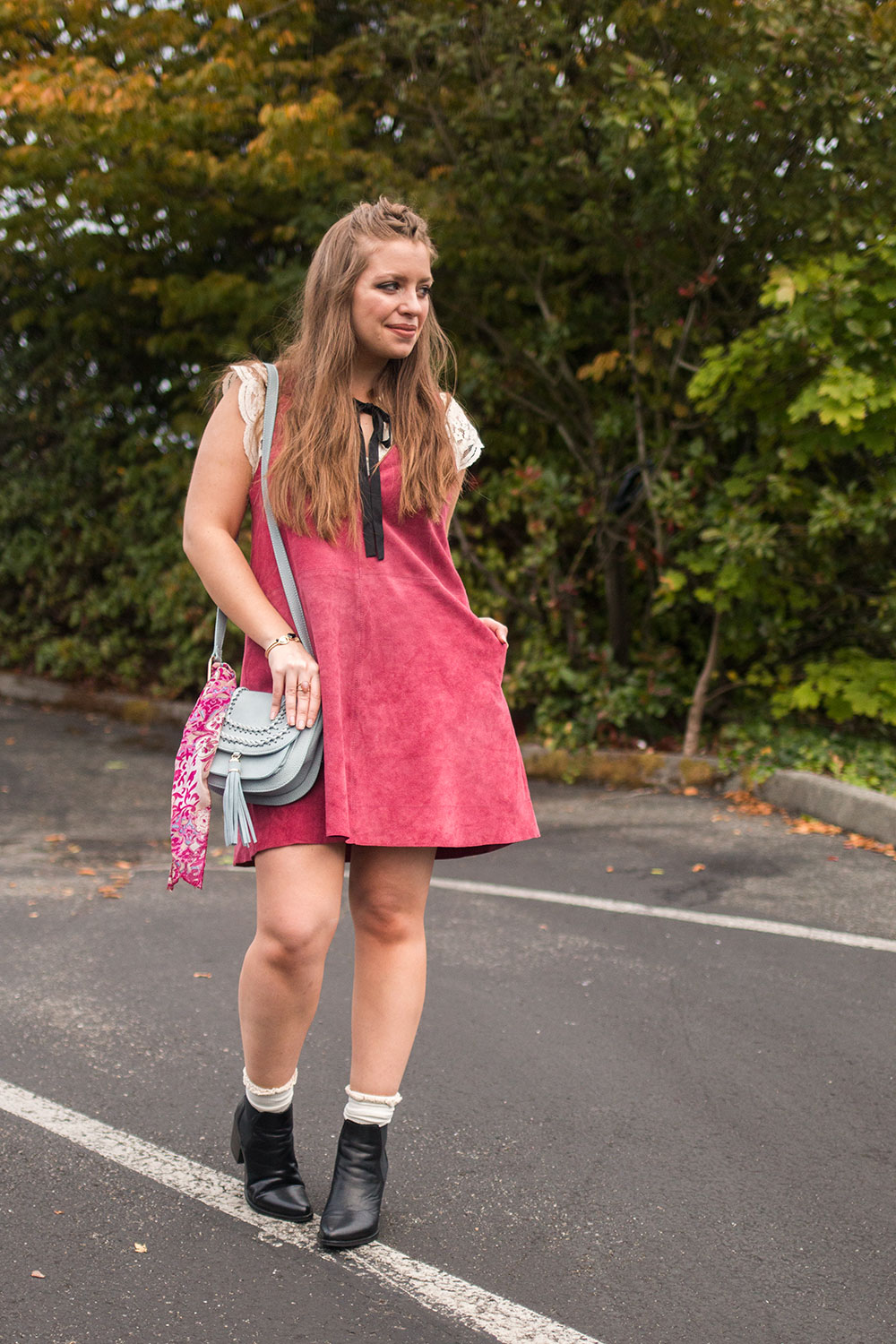 The Lace Tie-Neck Top from Banana Republic provided the perfect base layer, and I love how perfectly it fit the neckline of this dress. I originally had planned to wear this dress from Jack by BB Dakota instead, but due to it running a bit small in the bust, I opted to go for the real suede dress from Free People instead. I honestly couldn't have been happier with how it turned out. While totally chic, the black on white would have been a much less interesting outfit!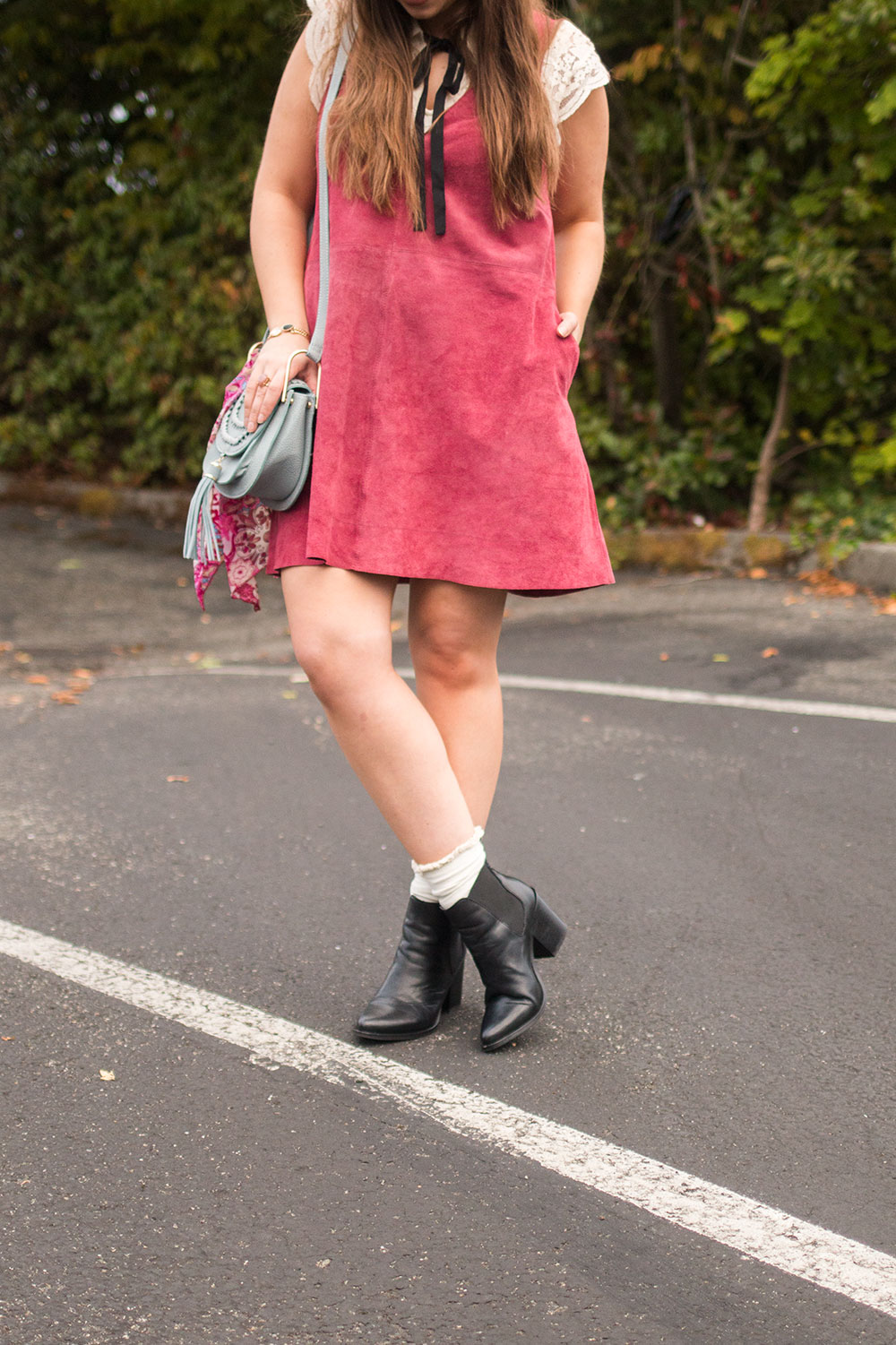 To tie the look together, I opted for a pair of scrunched crochet trim boot socks combined with my Steve Madden Pistol Booties. Because there's often a lot of lag time before fashion events start, I like to wear shoes that I can stand and walk comfortably in. To top it off, I grabbed my Moda Luxe Crossbody and tied on a vintage pink toned scarf to add a little extra color. The crossbody is the perfect size to take to events as it fits a small wallet, keys, and a lipstick comfortably, and unlike a clutch, you can wear it over your shoulders all night.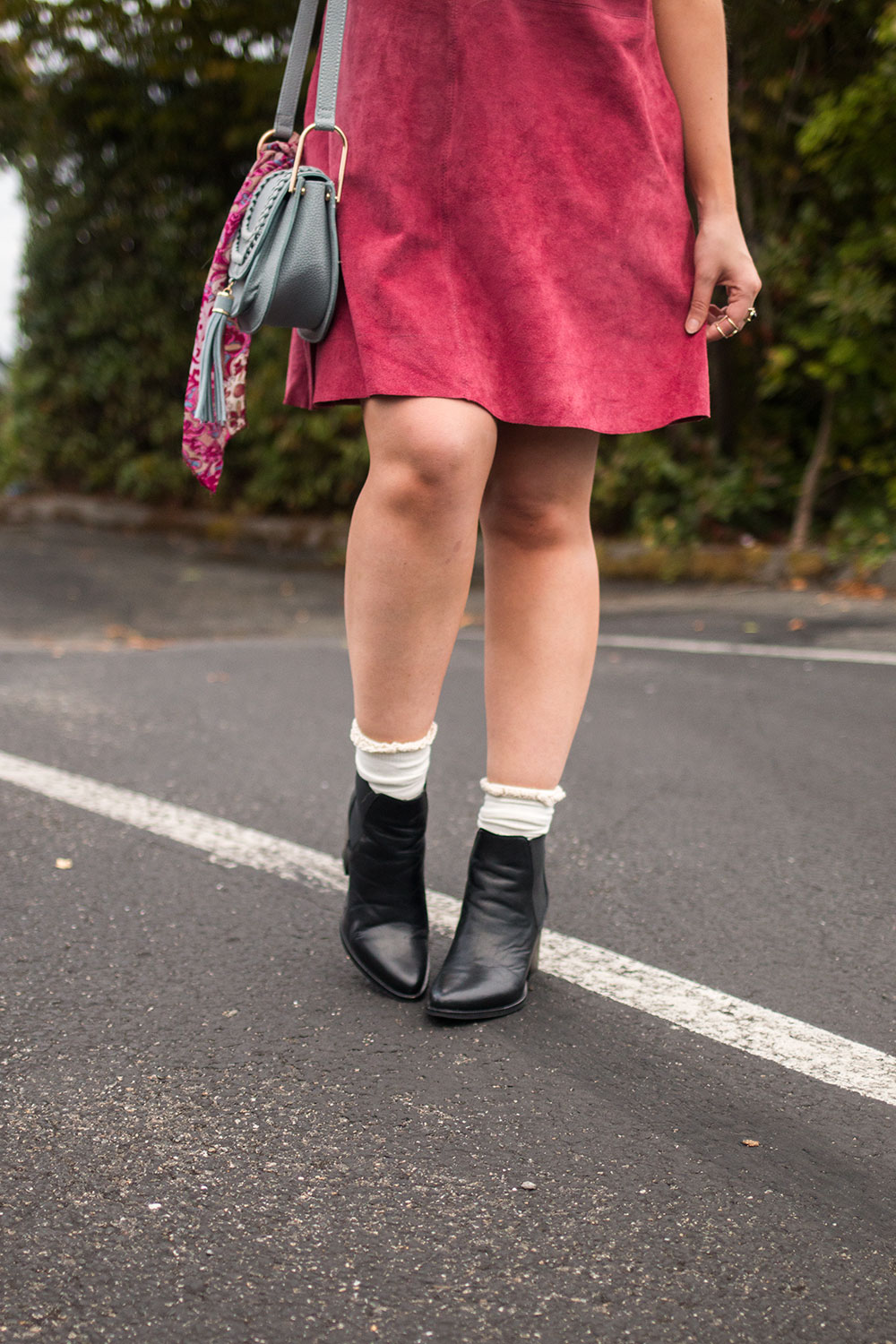 Oh, and you can't forget the beauty portion of the outfit! I kept my makeup pretty routine, but I did go for a slightly different version of the top knot. Instead of creating one mini bun, I opted to create two literal knots at the top and the back of my head using one large strand of hair. A generous amount of dry shampoo gave me volume at the crown, then I created my knots and ran a bobby pin through them to keep them in place. A spritz of hairspray meant they lasted all night too!
Also, a big shout out to Rainglow Seattle for providing me my first ever spray tan! If I look a little less pale in these shots, that's totally why! If you haven't had a spray tan before and are in the Seattle area, Rainglow in Wedgwood has you covered. I was a little nervous, but Jamie made me feel totally at ease and didn't pressure me to go any darker than I felt comfortable with. I felt extra glowy and fabulous with a little extra color! And hey, for once there was actually a little contrast between my legs and a pair of white socks. ;)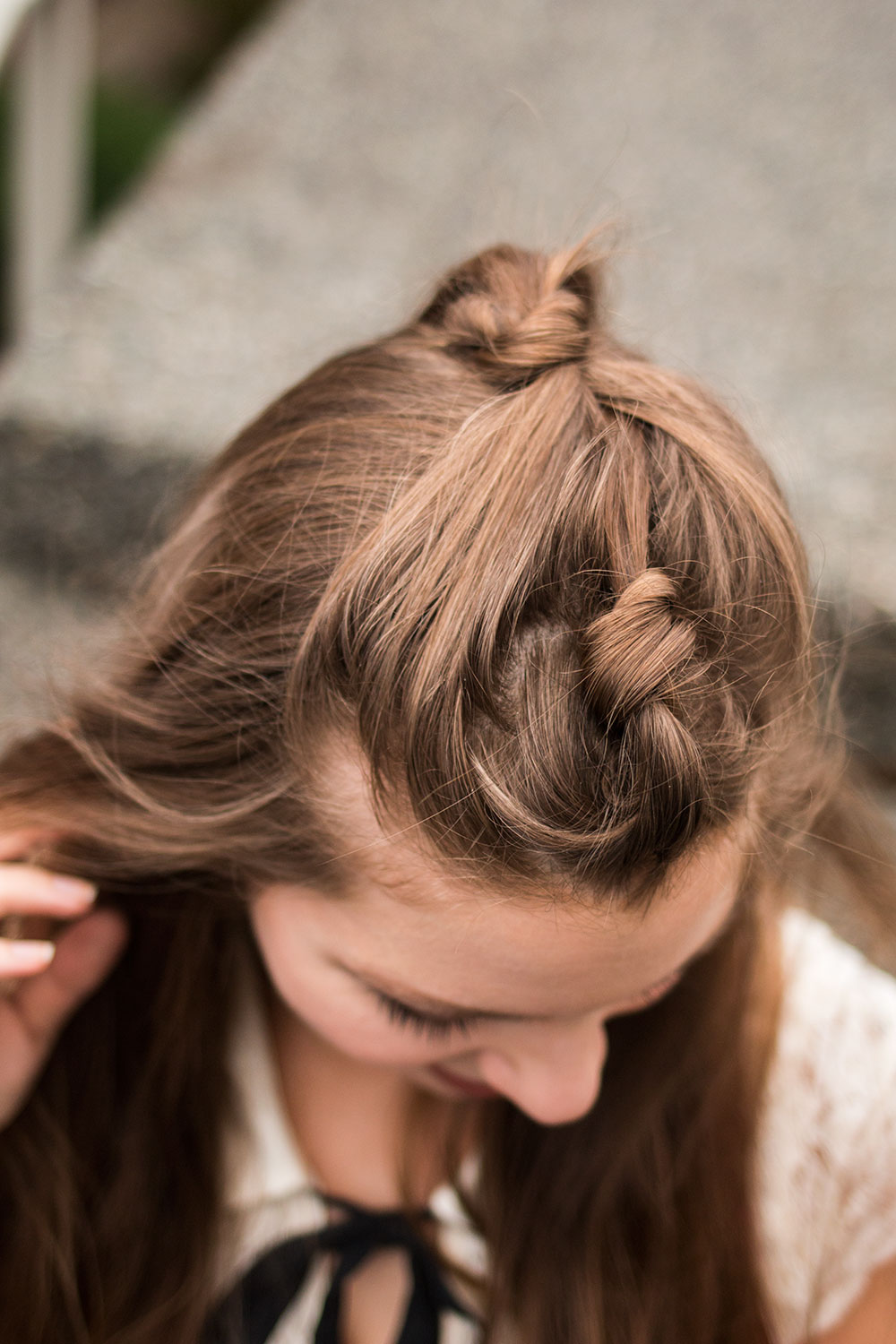 Shop my Picks for the Shopbop Sale
Speaking of new styles, I wanted to share the Shopbop sale that just went live a few hours ago to all shoppers! I've already finished my shopping, so I've created a widget below with all of the items that I think are worth checking out! (Trying to do the hard work for you, and maybe prevent you from shopping overwhelm. Shopbop has an amazing selection!)
Each of these pieces I've either purchased myself (and is on its way!) or I have bought it in the past and currently, own it or something similar from the same brand. Use code MAINEVENT16 in the promo code box at checkout to save 25% on all purchases under $500, or 30% off all purchases over $500. Hurry though, this code is only good for three days – today, tomorrow, and Friday, 10/14 until 11:59pm PST. Happy shopping!
What trends have you been loving for fall? Are you going to be doing any damage at the Shopbop sale? I'd love to hear about what you've been wearing and purchasing so far this season!