Halloween is one of my absolute favorite holidays. From having an excuse to binge on all the candy and being able to dress up in a creative costume, Halloween is a day I always look forward to. Throughout high school and college, picking out a costume took me months. I'd start planning as early as the summer to be sure I had something unique picked out. When I graduated and began working, I came to the striking realization that no one wears work Halloween costumes.
Being the rebel that I am (well, not really, but bear with me), I still like to come up with a costume that isn't super out there, but still allows me to have a little fun. I thought I'd share five work appropriate Halloween costumes that won't cost you a fortune, aren't super cheesy (well, okay, maybe a little bit), and all the items in these costumes you can wear again and again.
Work Appropriate Halloween Costumes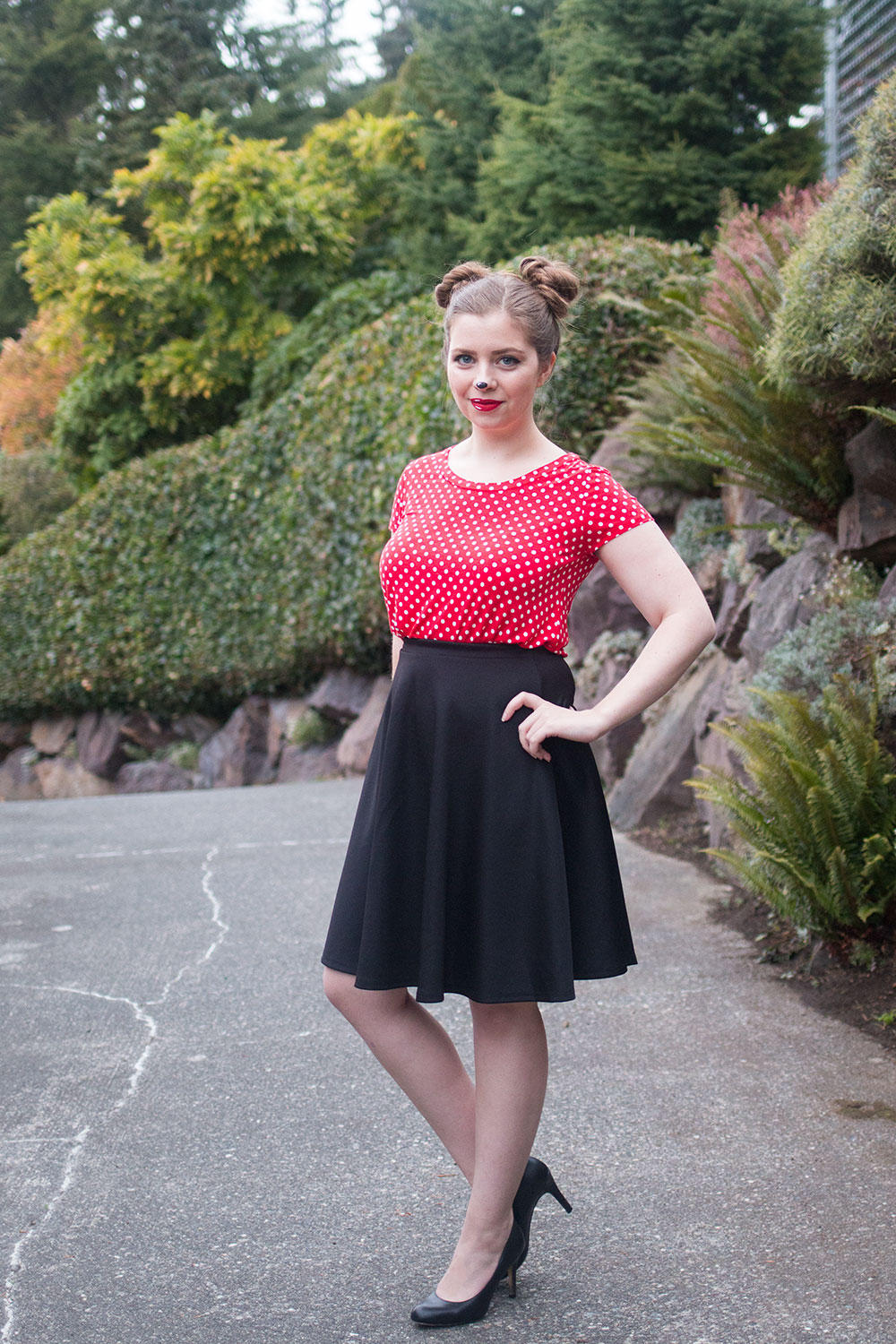 Disclosure: Thanks so much to Fred Meyer for sponsoring today's post. All thoughts and opinions are my own!
DIY Minnie Mouse Costume
It wouldn't be Halloween without everyone's favorite mouse. Minnie Mouse is a costume that doesn't require a ton of work yet is so adorable that I think you'll make everyone smile!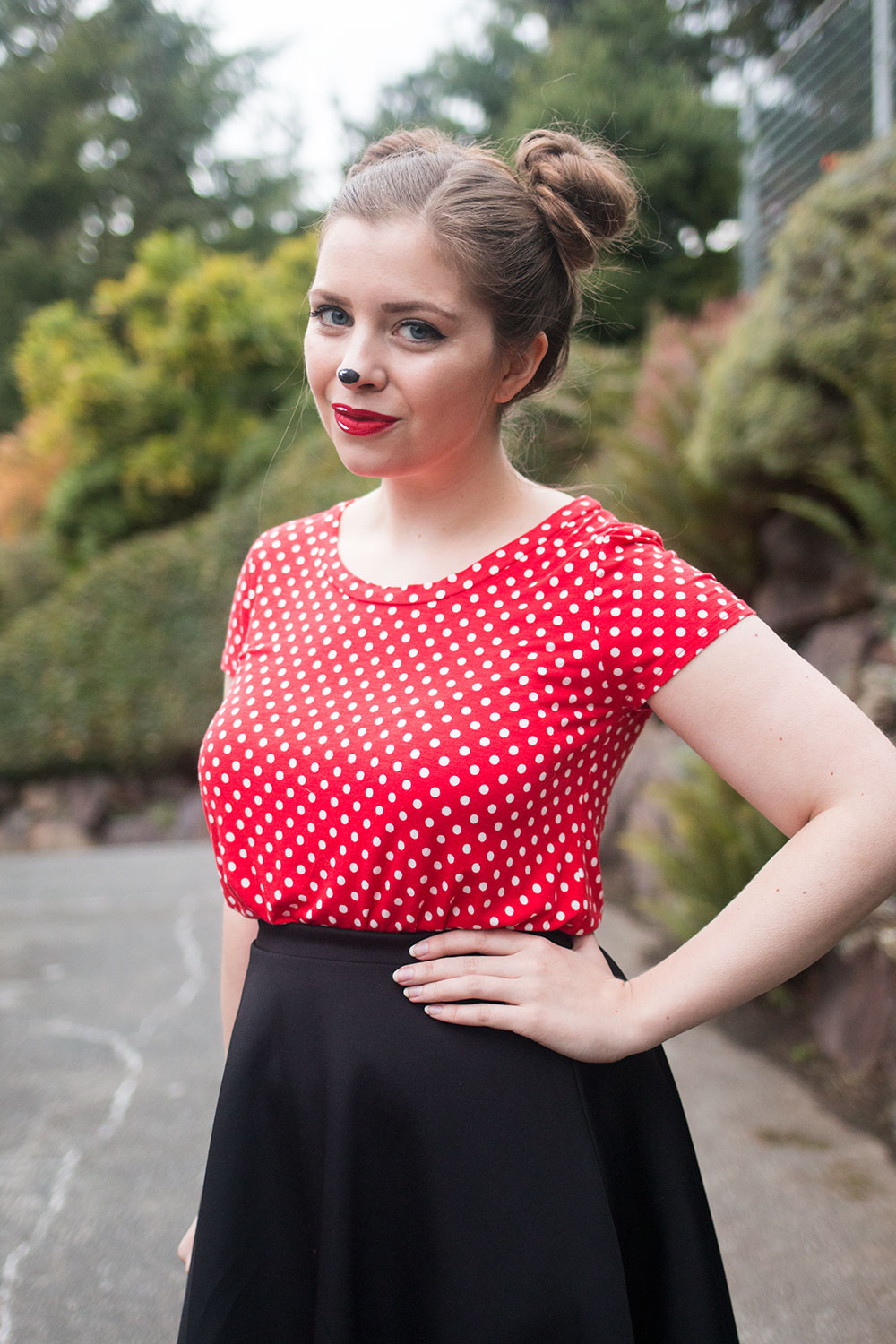 What You'll Need
– Red Polka Dot Top
– Black Skater Skirt (Find this style from GNW at Fred Meyer)
– Black, yellow, or red pumps (Find this style in black from GNW at Fred Meyer)
– Ponytail Elastics (Find these in the hair section from Goody at Fred Meyer)
– Black Eyeliner for nose (a waterproof formula like the Maybelline Eyestudio Gel Eyeliner works ideal for this and is available at Fred Meyer)
– Red Lipstick (a long lasting liquid lipstick like the Milani Amore Mattes work perfectly for this and are available at Fred Meyer)
– White Eyeliner (the NYX White Liquid Liner is durable, easy to use, and is available at Fred Meyer)
It's so easy to create this look! First, I put on the clothing part of the costume and tucked the top into the skirt. I added a pair of black pumps (probably the easiest color to find, but Minnie technically wore yellow.) My makeup was simple (black eyeliner and subtle face makeup), and I added a small oval black oval with black eyeliner to my nose. I filled my lips in with my red liquid lipstick; then I went back over both with white eyeliner to add the cartoon pop to both nose and lip. For the mouse ears, I used my own hair. Just comb your hair into two high pigtails, then twist the ends around into buns and secure with an elastic. Easy peasy!
DIY Little Red Riding Hood Costume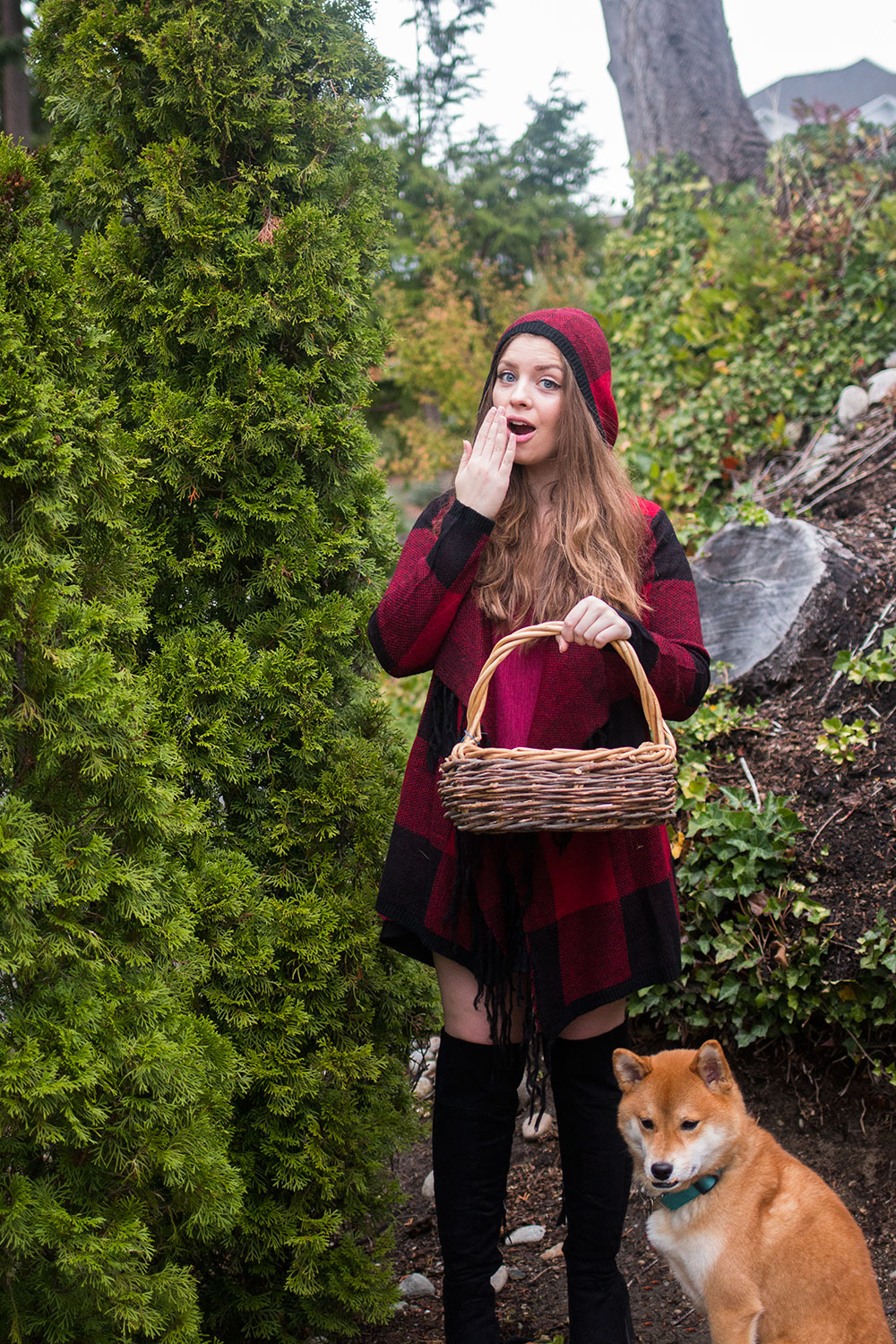 When I bought this sweater for at Fred Meyer and put the hood on, Dave casually mentioned that I looked like Little Red Riding Hood, and so this costume idea was born. It helps that I also have a "big" bad wolf. Isn't he terrifying? ;)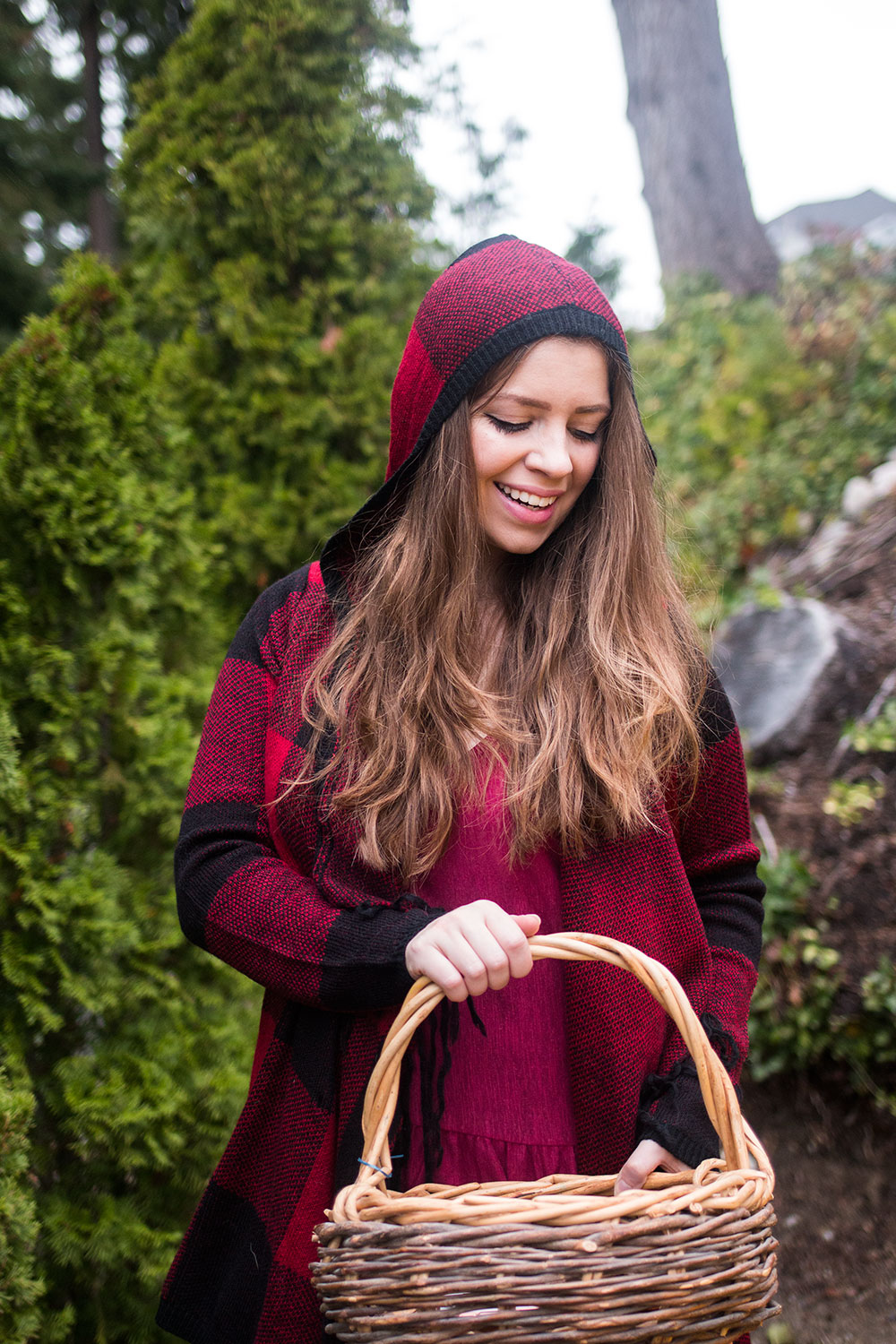 What You'll Need
– Hooded Sweater or Cape (Get this plaid one from GNW at Fred Meyer)
– Red Dress or Tunic (Get this ruffled hem version from Fred Meyer)
– Black Boots (Get this over the knee pair from Joré at Fred Meyer)
– Wicker Basket
Pop on your red dress or tunic, throw the sweater on top, zip up your boots, and put your hood on for an instant Little Red Riding Hood. Of course, this Little Red Riding Hood is super chic and is on trend for Fall too. ;)
DIY Harriet the Spy Costume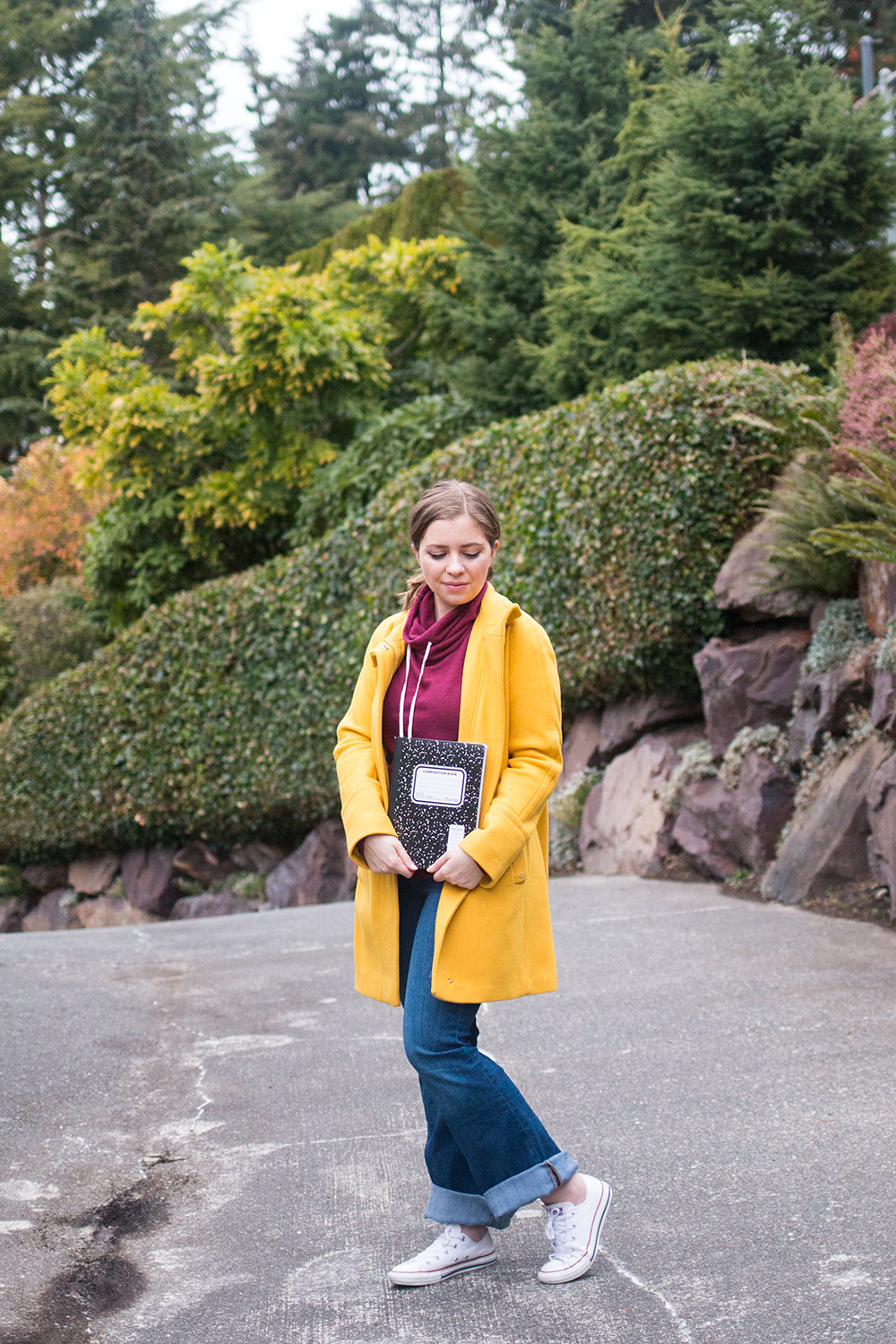 When I was thinking about Halloween costumes that would be easy to create with clothing pieces that I and the average woman already owned, this came to mind. And I couldn't help wanting to poke a little fun at myself since I still get the comments that I look just like Harriet the Spy, so here is my modern interpretation of Harriet's style.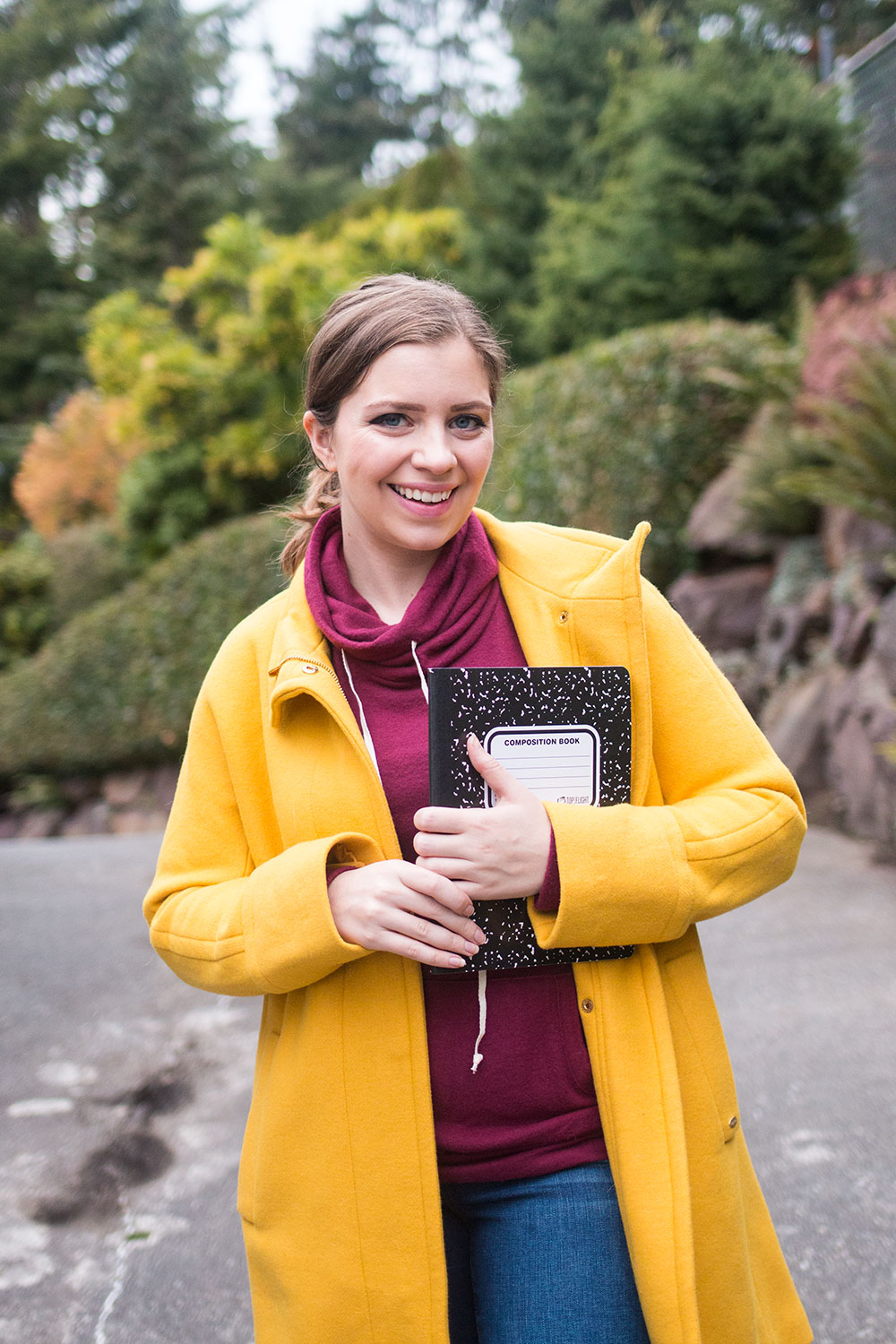 What You'll Need
– Yellow Coat
– Red Hoodie (find this one in the junior's section at Fred Meyer)
– Flare or Bootcut Jeans (find these from Levi's at Fred Meyer)
– White Converse (find these in the women's shoe department at Fred Meyer)
– Ponytail Elastic (find these in the hair aisle from Goody at Fred Meyer)
– Composition Notebook (find this in the stationary aisle at Fred Meyer)
Roll up your jeans to show off your kicks and throw a big yellow jacket over your red hoodie to give all the Harriet the Spy vibes. A composition notebook was her go-to for taking notes, so be sure to pack one of these around all day and night too!
DIY Lumberjack Costume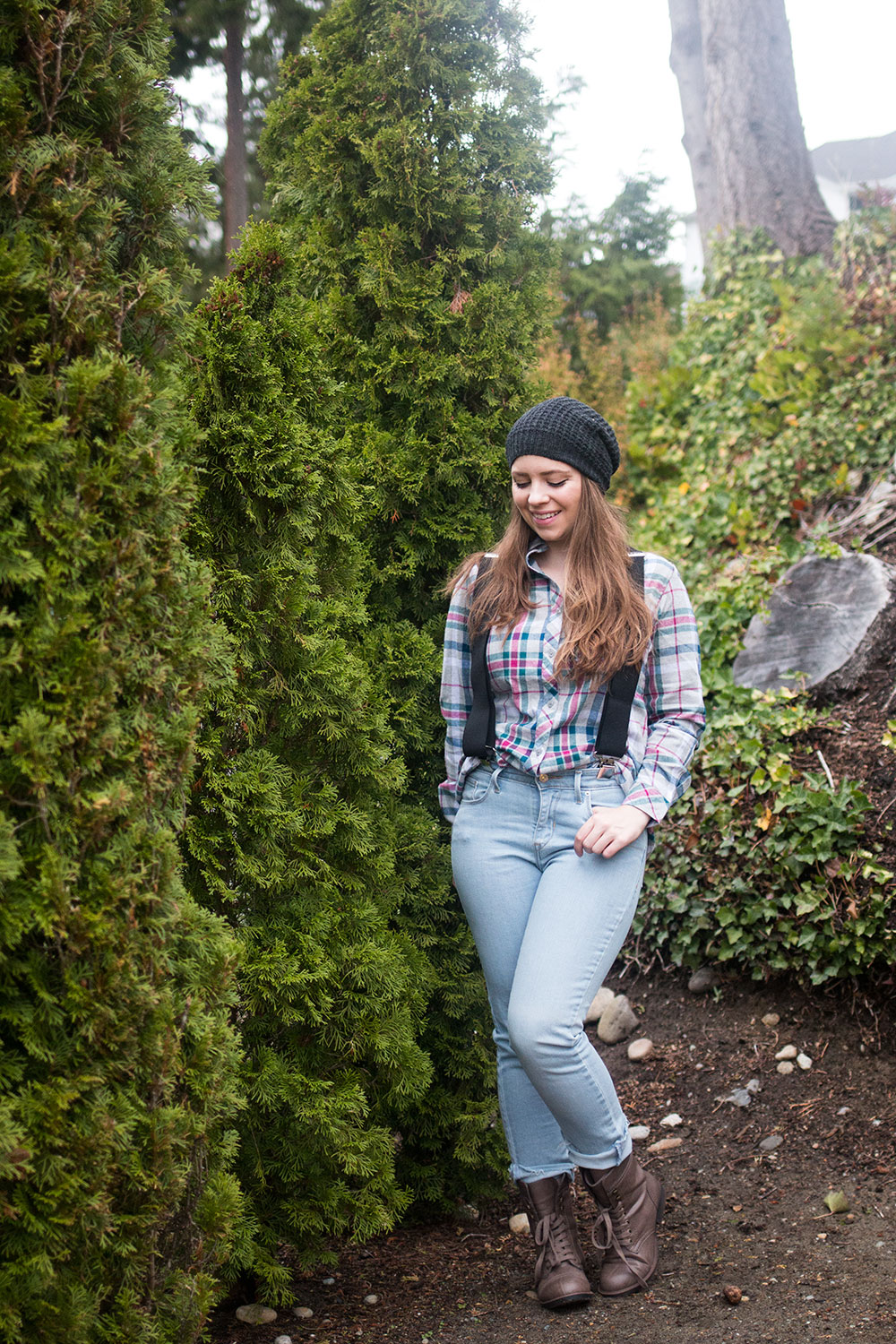 It wouldn't be a Pacific Northwest Halloween post without some flannel! Because I have so many flannels I knew incorporating them into a Halloween costume would be a smart move, so what better costume than a lumberjack? (Well, Lumberjill really!) Be cozy and warm all day in this simple costume!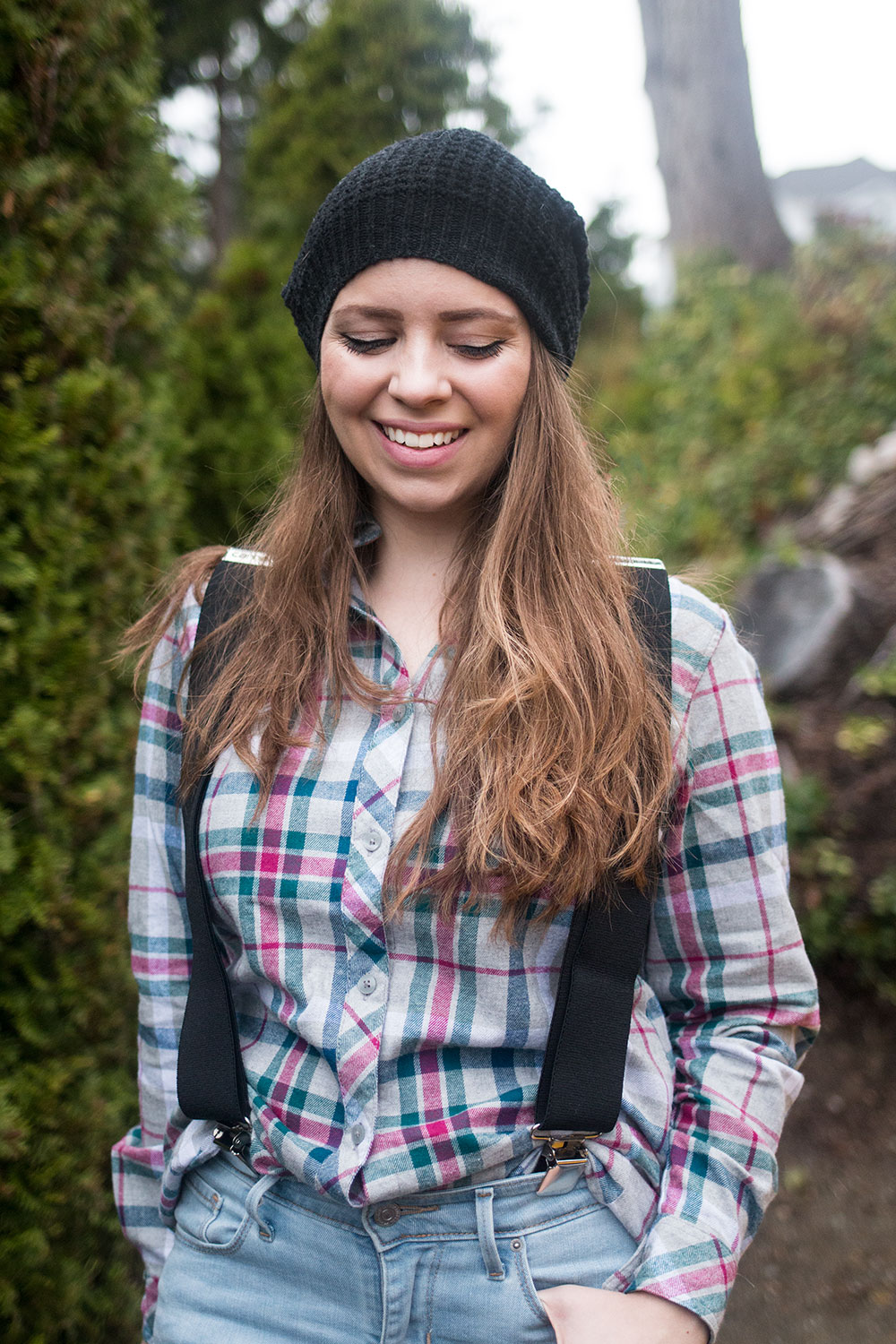 What You'll Need
– Flannel (find this one from GNW at Fred Meyer)
– Jeans (find this pair from Levi's at Fred Meyer)
– Suspenders (find this pair from Carhartt or Dockers at Fred Meyer)
– Beanie
– Combat Boots (find this pair in a few different colors from Curfew at Fred Meyer)
Pop on your favorite beanie, button up your flannel, pull on those suspenders and attach them to your jeans and you'll be good to go. Just lace up those combat boots, and you'll be looking like a very cute and chic lumberjack!
DIY Wednesday Addams Costume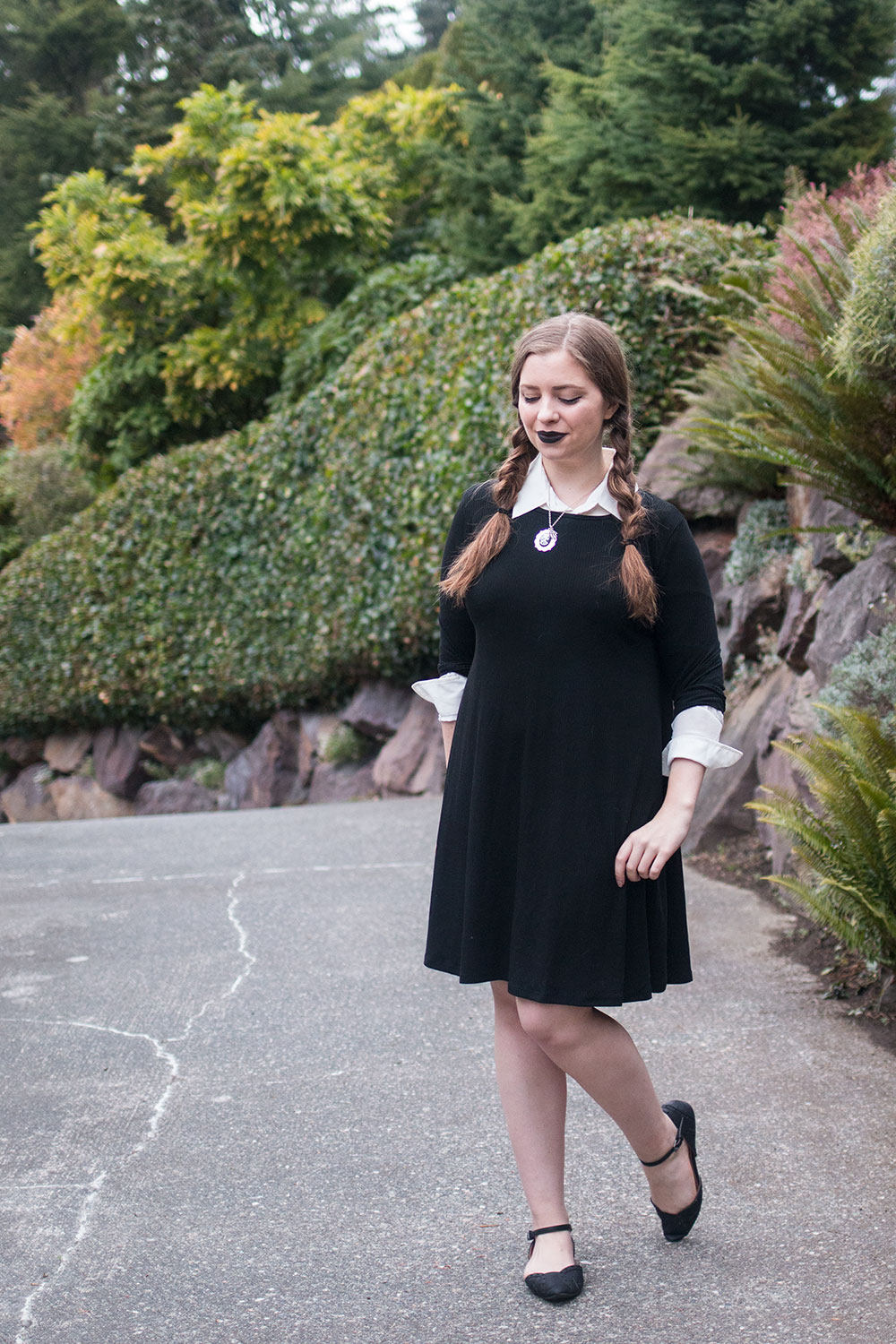 If you have longer hair, use it to your advantage by styling it into two pigtail braids for an instant Wednesday Addams vibe. We're channeling our creepy and kooky in this cute costume. Bonus points for most of the pieces being closet staples that are reworked (collared shirt + tunic dress) in this simple costume!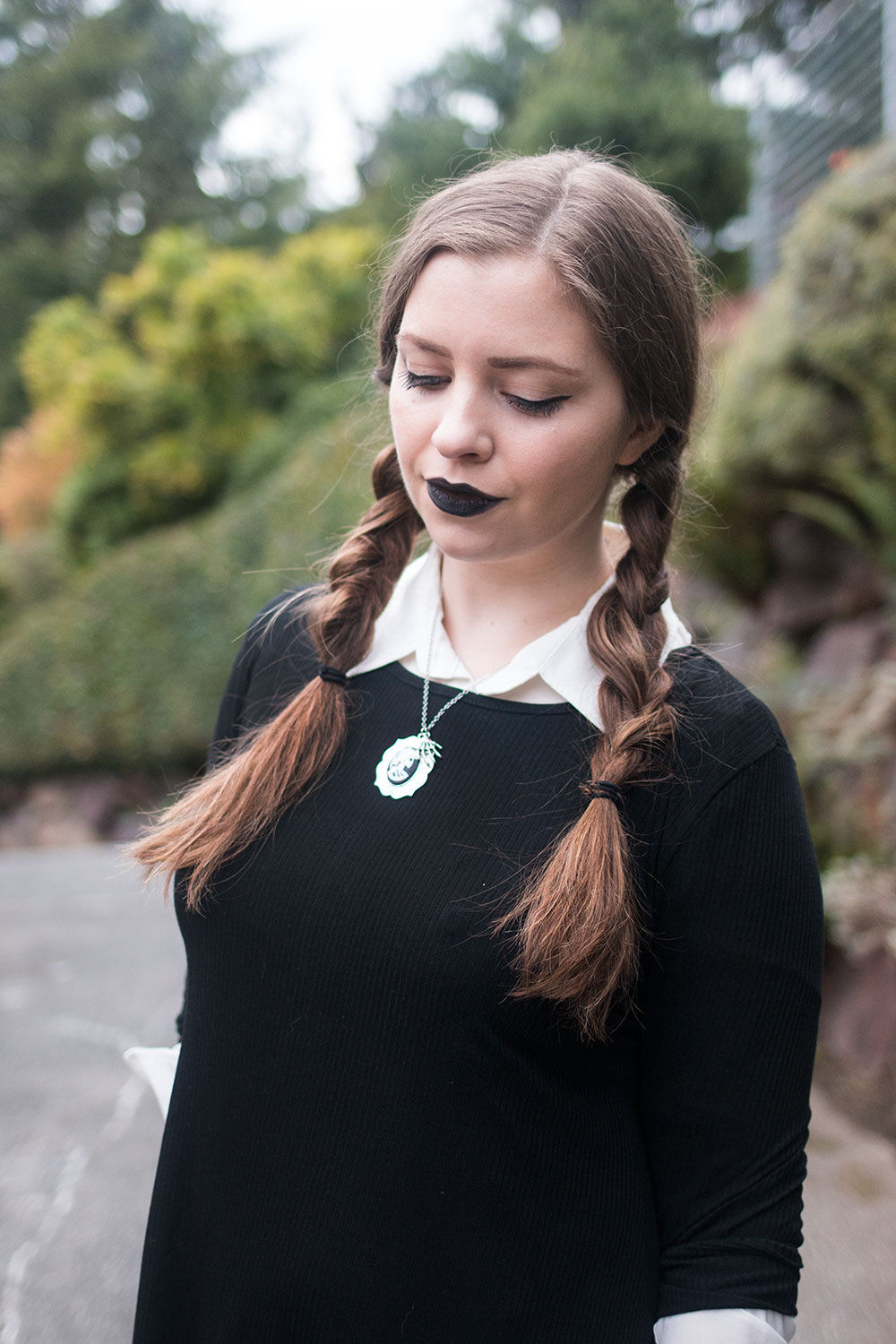 What You'll Need
– Black Dress (find this one in the junior's section at Fred Meyer)
– Collared White Shirt
– Ballet Flats (find similar in the women's shoe section at Fred Meyer)
– Halloween Necklace (find this in the special Halloween jewelry section at Fred Meyer)
– Black Lipstick (Maybelline ColorSensational The Loaded Bolds line has a great one, or check the Halloween aisle for the Wet N Wild Black Lipstick at Fred Meyer!)
You'll be looking creepy, kooky, mysterious and spooky, and all together ooky in your Wednesday Addams costume! I loved the Addams Family tv show growing up and still can't get enough of the cheesy premise and silly characters. Wednesday had a style all her own so of course, I had to make this one of my work appropriate costumes. Layer your white collared shirt under your black dress, throw on a pair of black ballet flats, and top it off with some seriously spooky black lips. If the lipstick is too much, don't worry, it's not required! Just be sure to braid your hair into two pigtails, and your Wednesday Addams costume will be complete!
Having a "grown up" job is a bummer sometimes, but for Halloween, it doesn't have to be! I hope you've been inspired to try a work-appropriate Halloween costume this year instead of completely skipping the festivities.
Let me know in the comments which Halloween costume I created in this post was your favorite! I'd love to know so I can pick which one I'll wear this year! :)