Disclosure: This post contains affiliate links and if you click them I may make a small commission. Some items in this outfit were provided courtesy of the brand. All thoughts & opinions are my own!
Do you have any trendy pieces hanging out in your closet that you swore up and down that you would never buy… until you did and loved it? Yeah, for me that's culottes. It started with this culotte jumpsuit, then I found this one, and finally, I found this pair of culottes. I don't know why it was harder for me to embrace this trend. Maybe it was that I didn't have an idea of how to wear culottes. Or maybe it was all the extra fabric that scared me away from giving it a try. But, I did, and now I couldn't be more pleased to have them in my life.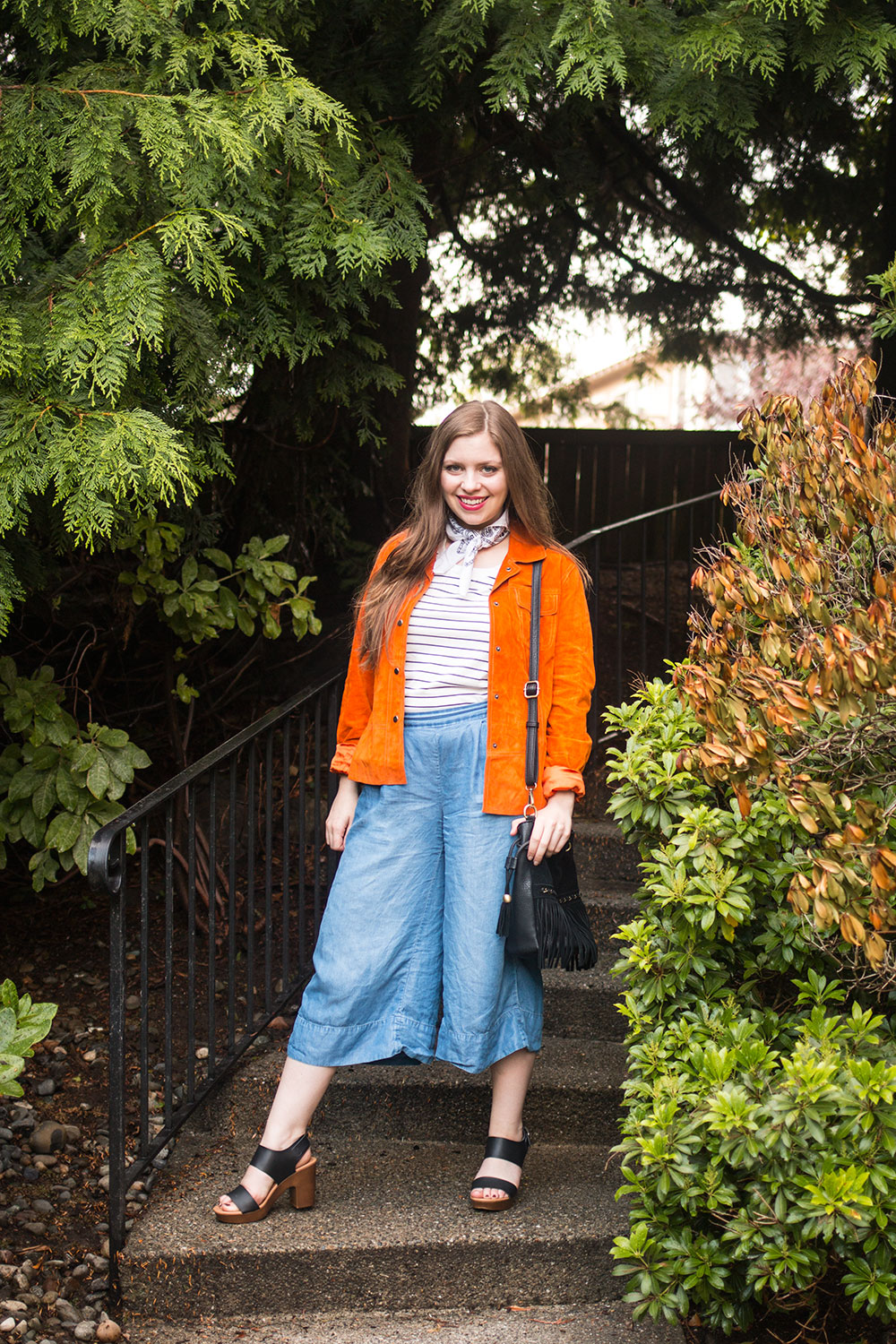 I was innocently shopping at Target when I happened upon these denim culottes. They're made of a super soft, lightweight material called Lyocell, so they're not your traditional jean material. But they look close enough, so let's just call them denim. ;) Besides their softness, I knew they would go with everything in my closet, and take a standard outfit from blah to fun. If I were to have one gripe with these, it's that they wrinkle so dang fast. I shot these photos right after I got off work, so sitting in them all day at my desk did a number on them. Womp womp.
What I'm Wearing
Culottes: Merona Denim Culotte via Target
T-Shirt: The Ash c/o Elizabeth & Clarke
Jacket: Thrifted via Value Village
Sandals: Madden Girl Lori via Journey's
Bag: Dailylook (similar here for less than $40)
Bandana: Fred Meyer (shop exact at Amazon for $3!)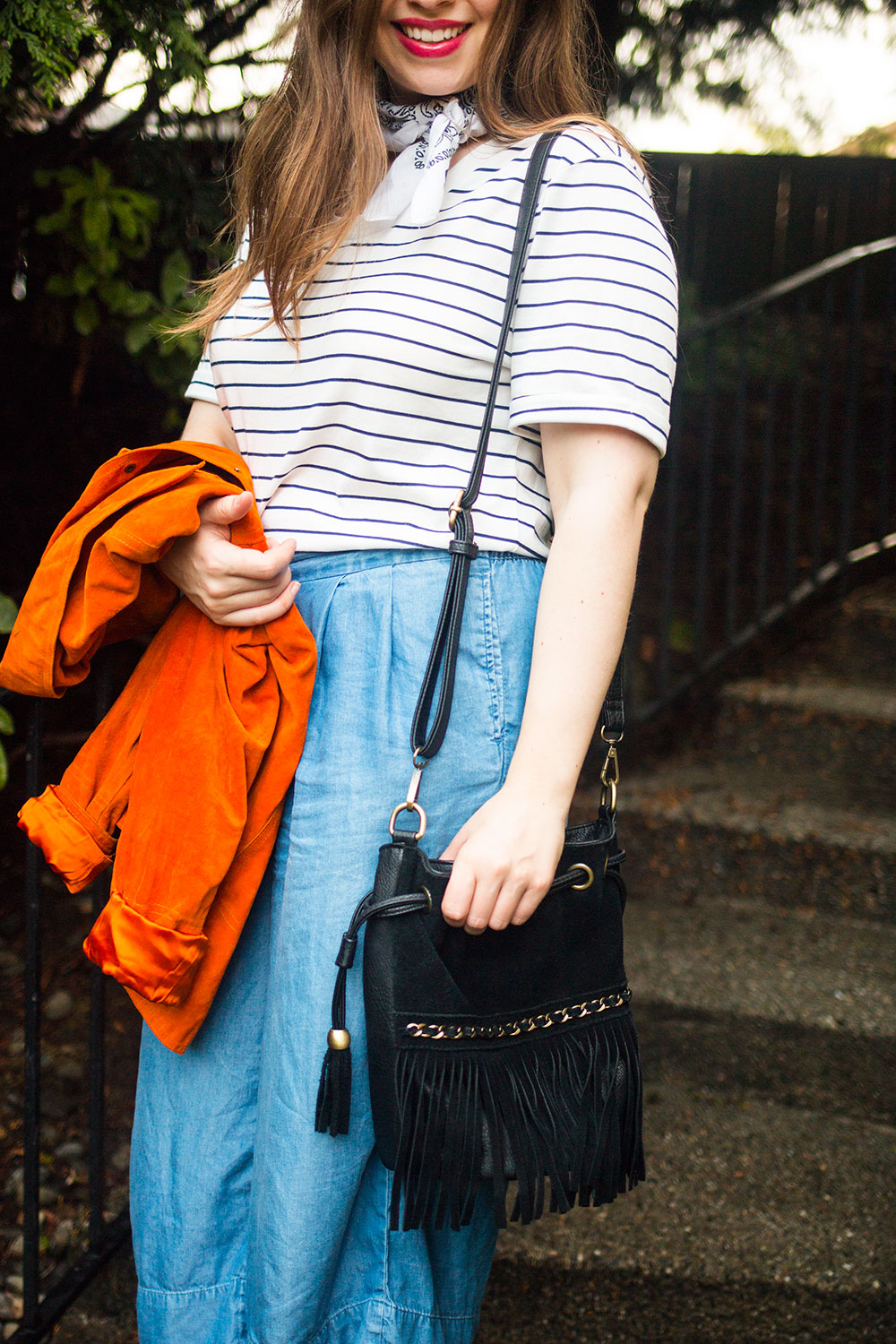 How to Wear Culottes
Not your average t-shirt and jeans was exactly what I was going for in this outfit. I was recently sent this Elizabeth & Clarke Ash Top from their Summer collection, and knew this would be perfect to pair with some denim! My daily go-to would be a skinny jean or my trusty denim jacket, but I opted to try tucking it in instead. While this is not 100% the most flattering thing on me in the world it was an outfit I felt comfortable in. It was dressier than many of my other outfit combinations I would usually wear to the office. I also liked that it was different; Seattle is slow to get on a lot of the style trains, so it's kind of fun wearing something entirely different from the other young professionals in the Downtown Seattle corridor.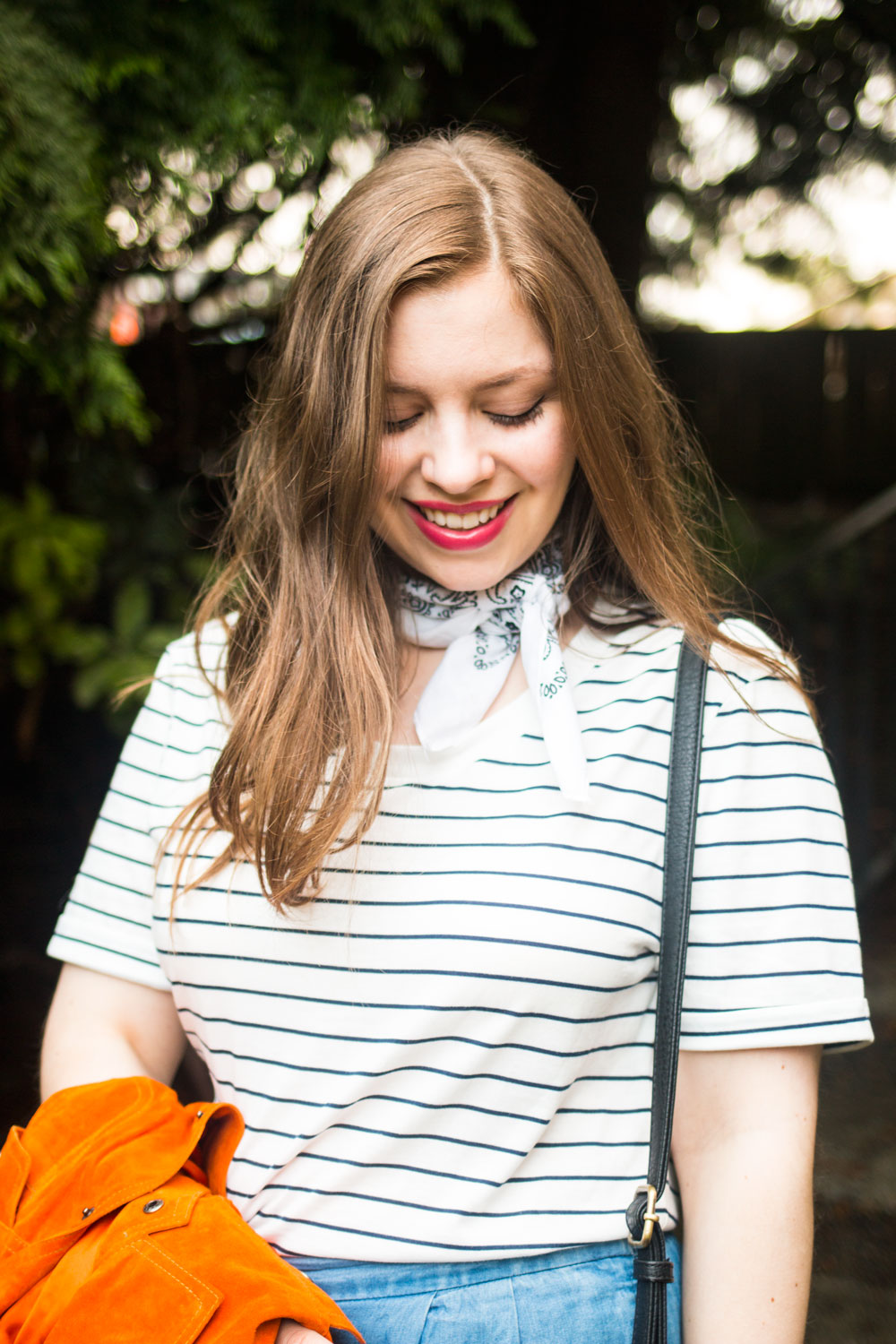 This Ash T-Shirt from Elizabeth and Clarke is going to end up in heavy rotation for my work uniform; it's the perfect oversized fit and stripes go with everything! If you're unfamiliar with Elizabeth and Clarke, it's a subscription service for those looking for the perfect tops to wear to work, or on the weekend. For $30 a month, you will receive one top, for $50 ($25 per shirt) you'll receive 2, and for $60 ($20 per shirt) you'll receive three tops. What I like about this service is that all the colors are neutral and can easily be mixed and matched with items you already have in your closet. There's something to be said for finding great basics that are just a little bit different. Be sure to check out the Fall Collection – The Chambers with its scalloped trim looks like perfection!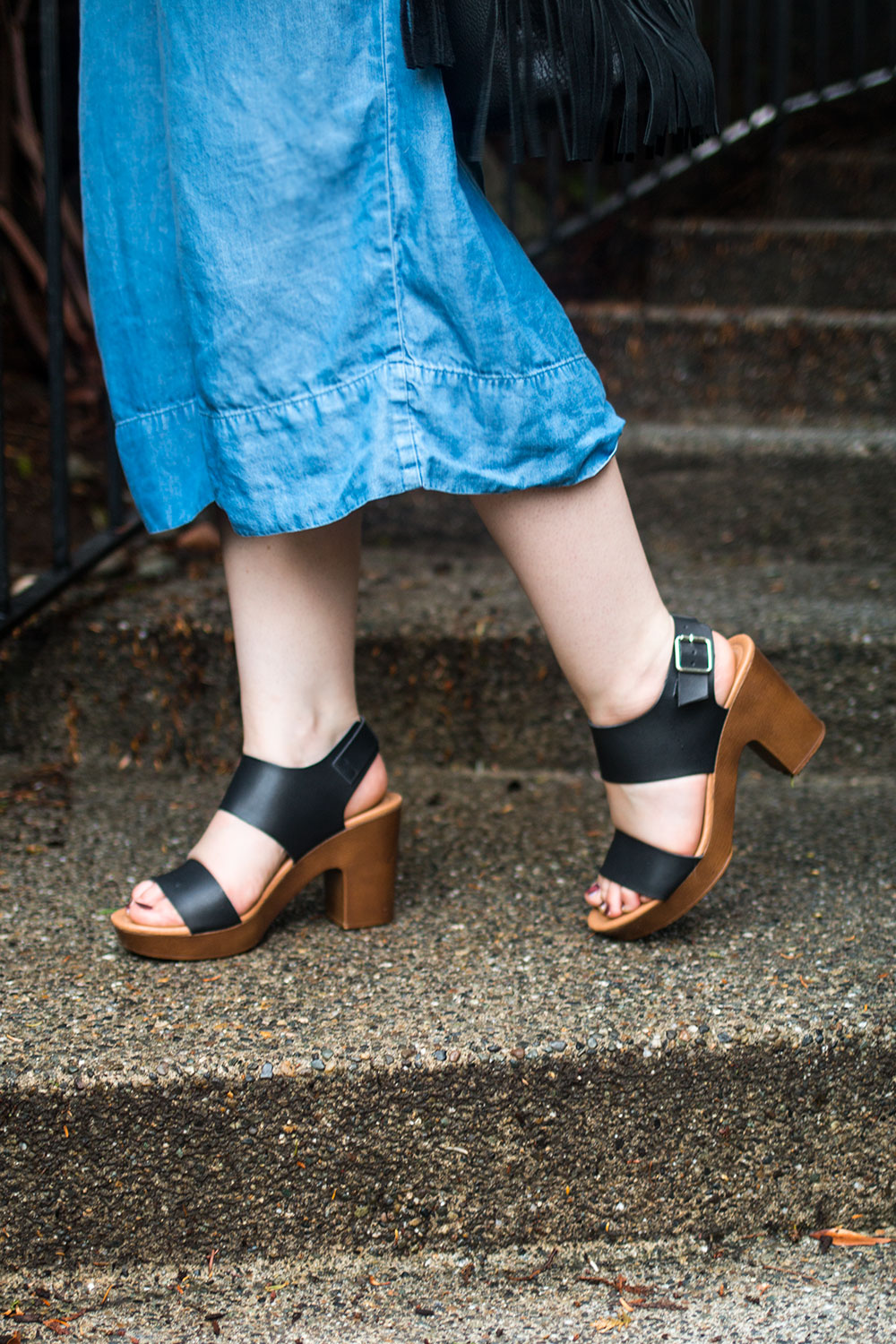 To add a little bit of interest to the look, I skipped a ton of jewelry (which I usually don't wear a ton of to work anyway) and opted for a bandana. I'm loving the neck scarf trend that is happening right now, and I love the relaxed and casual vibe of rocking a bandana this way. I also opted for a pop of color in my rust-colored suede jacket. I found this gem while thrifting late last winter and couldn't wait to wear it for fall. Lately, the weather has been so hit or miss (cool in the mornings, super warm in the afternoons) that it's been a challenge to know quite how to dress. I finished off the look with a pair of block heel sandals. I am so grateful that stilettos are mostly out, and thicker heels are in. So much more comfortable, easier to walk in, and can easily be dressed up or down.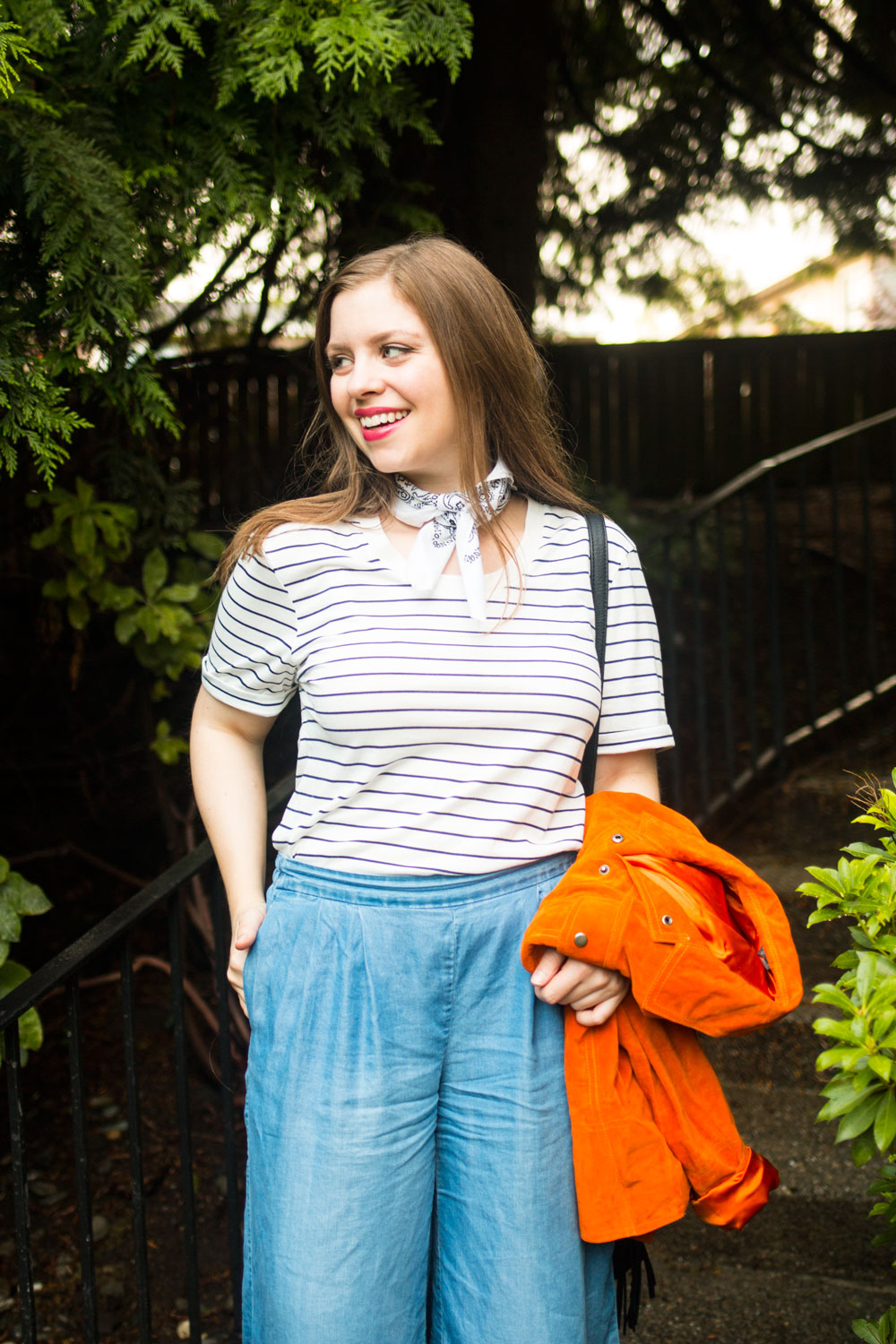 What new trends have you added to your closet recently? Have you embraced culottes yet? I'd love to hear how you're styling them in the comments below!