This shop has been compensated by Collective Bias, Inc. and its advertiser. All opinions are mine alone. #essenceEssentials #essenceAtTarget #CollectiveBias
Can you believe July is almost coming to a close?! Every time I go to Target recently, it's becoming painfully obvious that the back to school section is growing, and the summer section is going by the wayside. Womp, womp. Summer has just gone by way too quickly this year!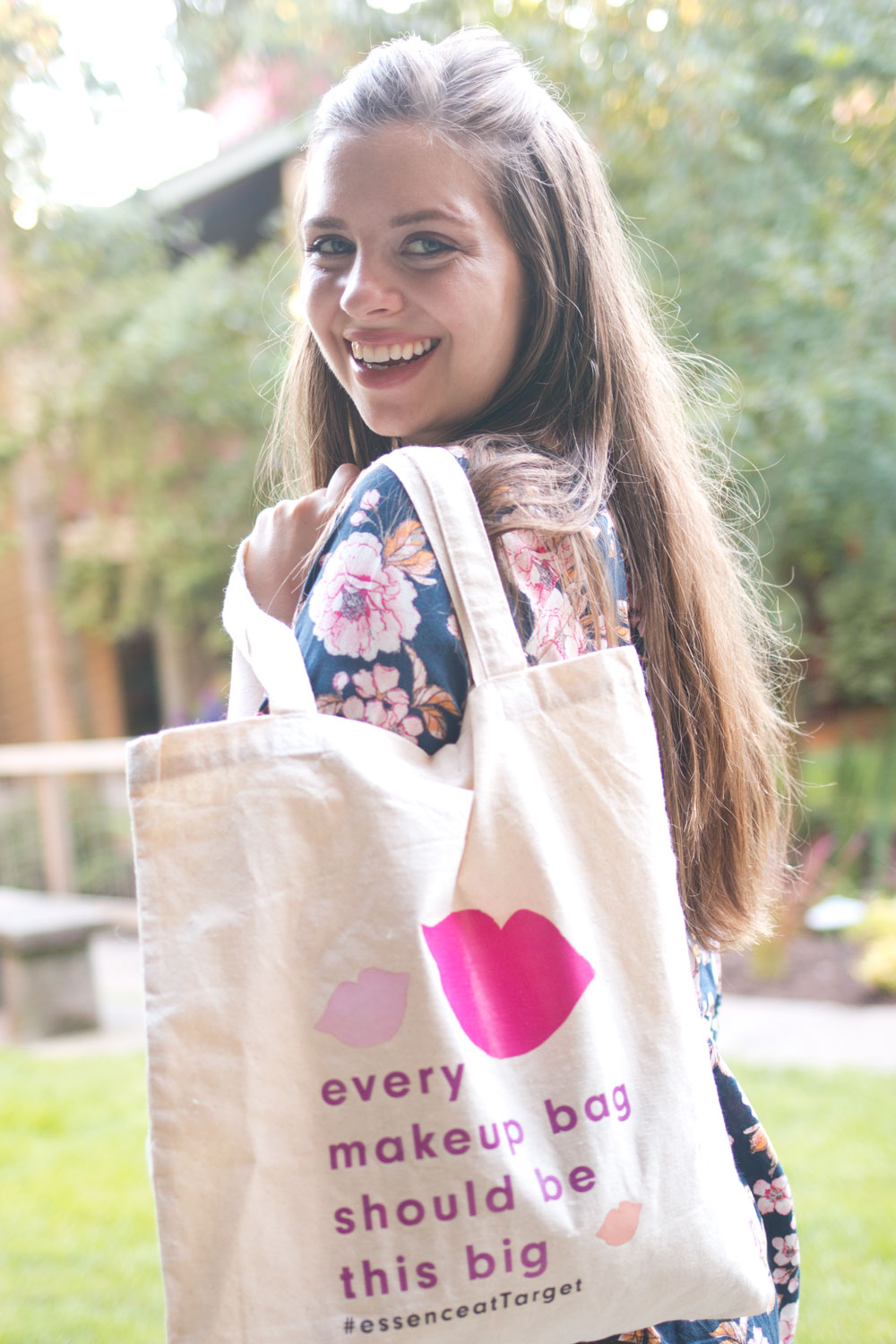 With that said, there's still plenty of time to enjoy a day by the pool, which is why I thought a "no makeup" makeup look would be perfect for the end of summer and into the back to school season. But honestly, who spends all day and night at the pool? Not me! Which is why I wanted to show you how to take that same daytime no makeup look into an evening out with your girlfriends, or maybe a date night with someone special. Best of all, each of these essence cosmetic products in this tutorial are in the $5 (or less!) price range, and you can find them at your local Target.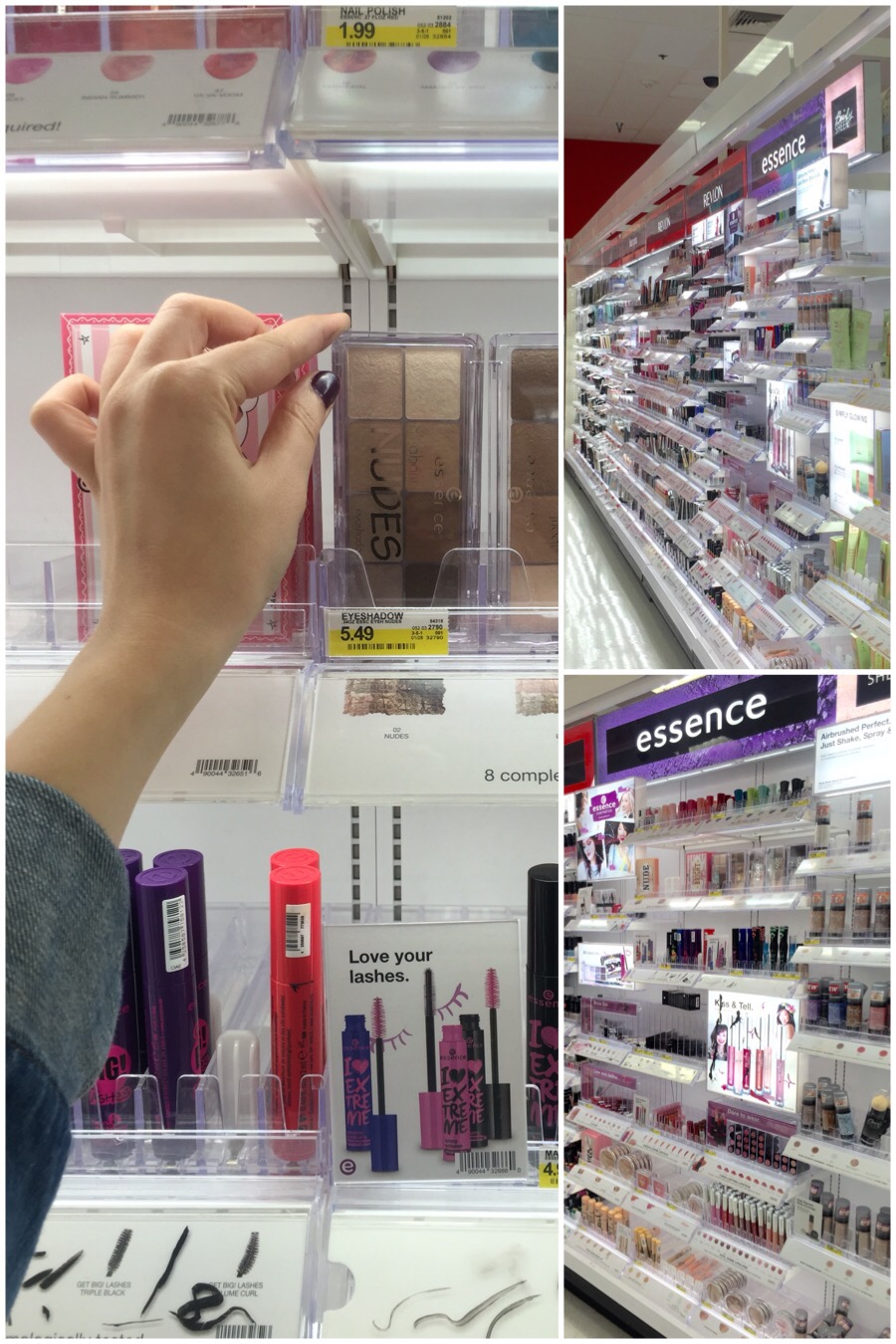 These tricks are what I use all the time when I'm leaving work and heading out for happy hour with friends or to an event. It looks difficult, but I promise these swaps will take you less than 10 minutes, and you'll look like you're wearing completely different makeup! Without further ado, let's get into the tutorial.
Daytime: "No Makeup" Makeup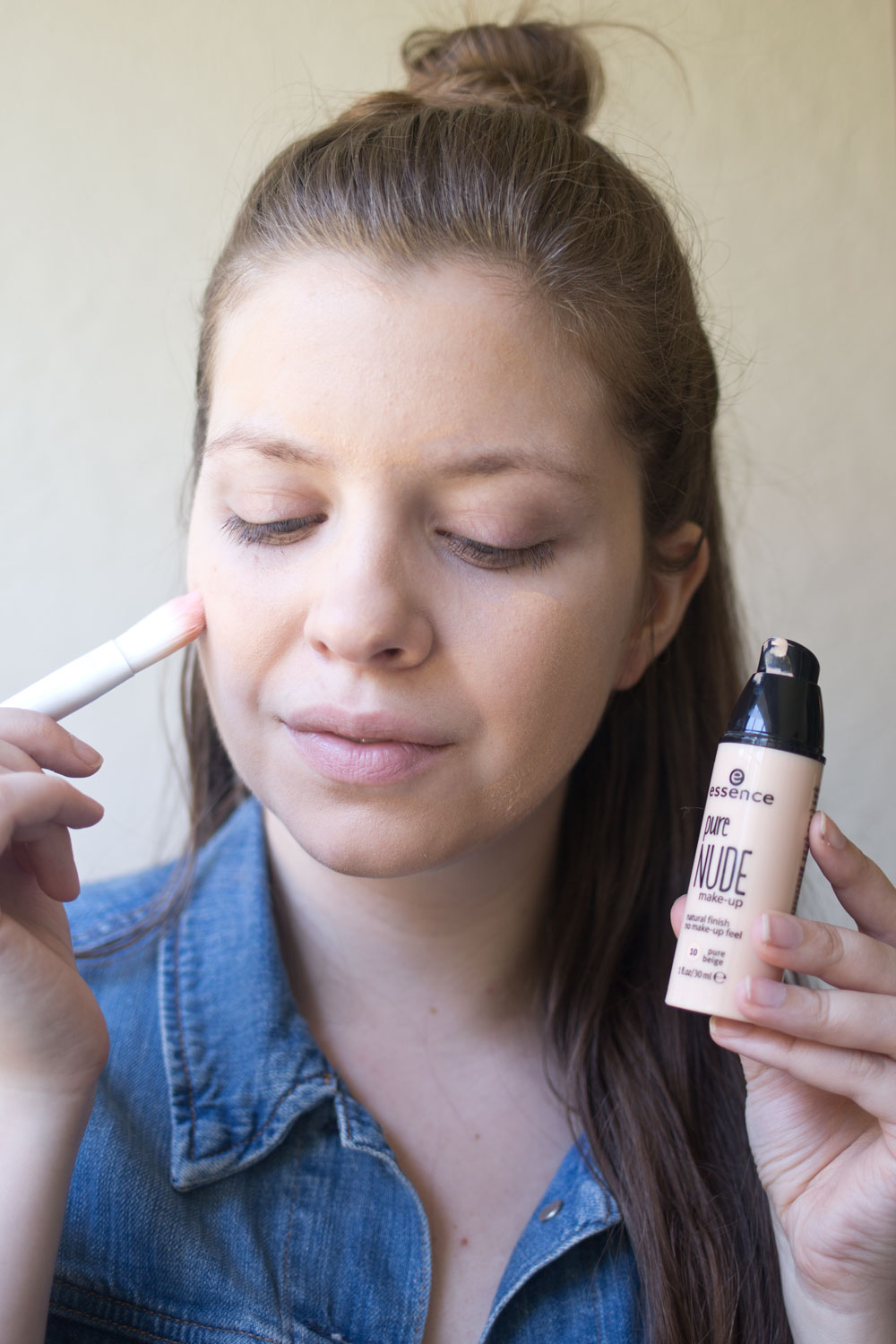 For some reason when I do my makeup during tutorials, I start with the foundation. In real life, sometimes I do, but sometimes I do my eye makeup first. Either way works, but if you're concerned your eye makeup application may get a little messy, you can skip this step and come back later.
For this tutorial, I'm using the Pure Nude Foundation in shade 10 Beige ($4.99). It's a touch too dark and warm for me, but with a lot of blending and a bit of color correcting it works. (essence cosmetics, if you're reading this, please make this in lighter neutral or cool tone shades! Thank you.) The makeup itself claims to have the feel of not wearing any, which I'd agree with and is perfect for summertime!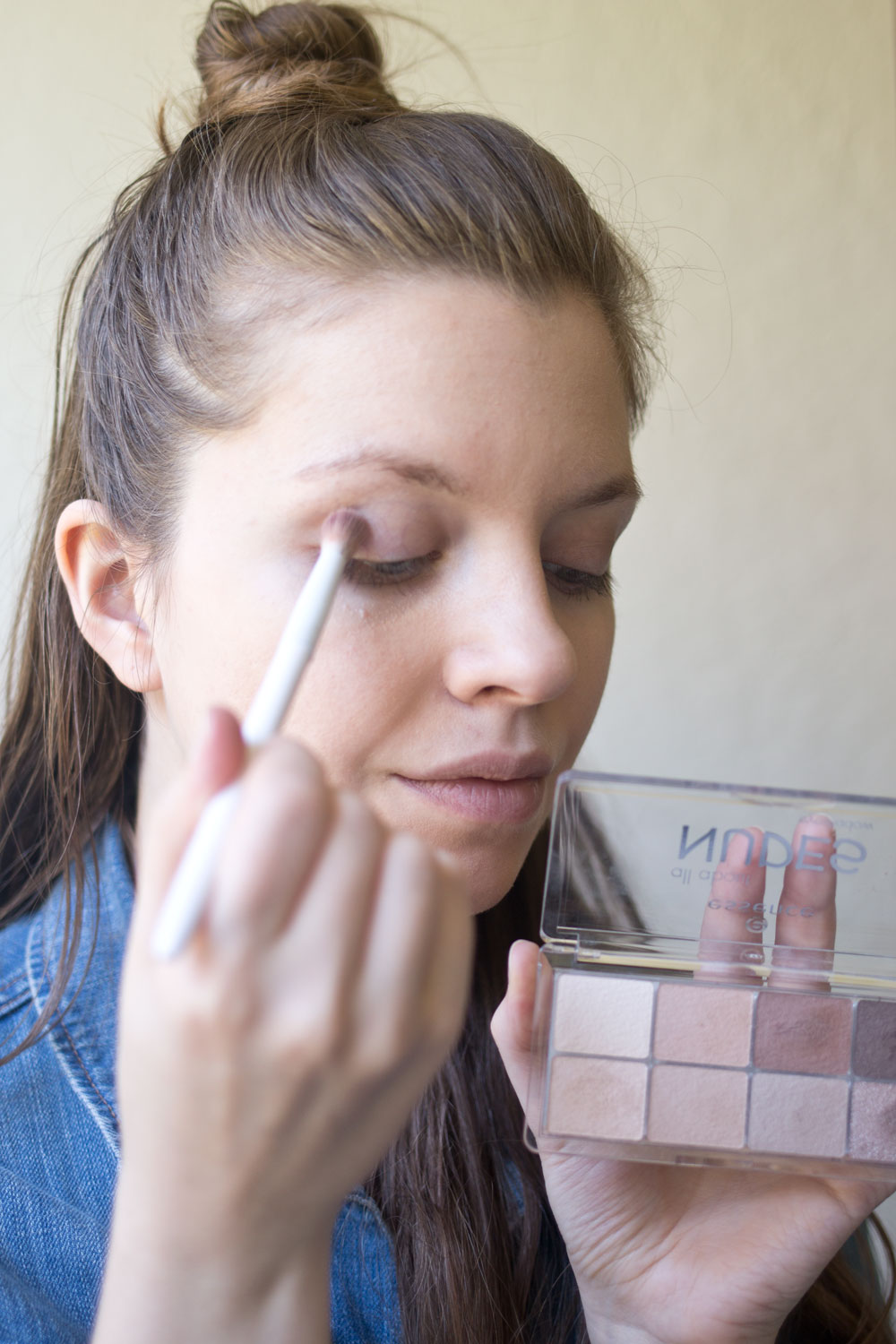 Next, I'm starting on the eyes. I grabbed the essence All About Eyes Eyeshadow Palette in Nudes which is just $5.49. It has a nice mix of satin and shimmery shades that blend well and are the perfect hues for a no makeup look! I'm starting off by blending the taupe shade into my crease.
After blending the taupe shade into my crease, I patted the second lightest beige shade onto my lid.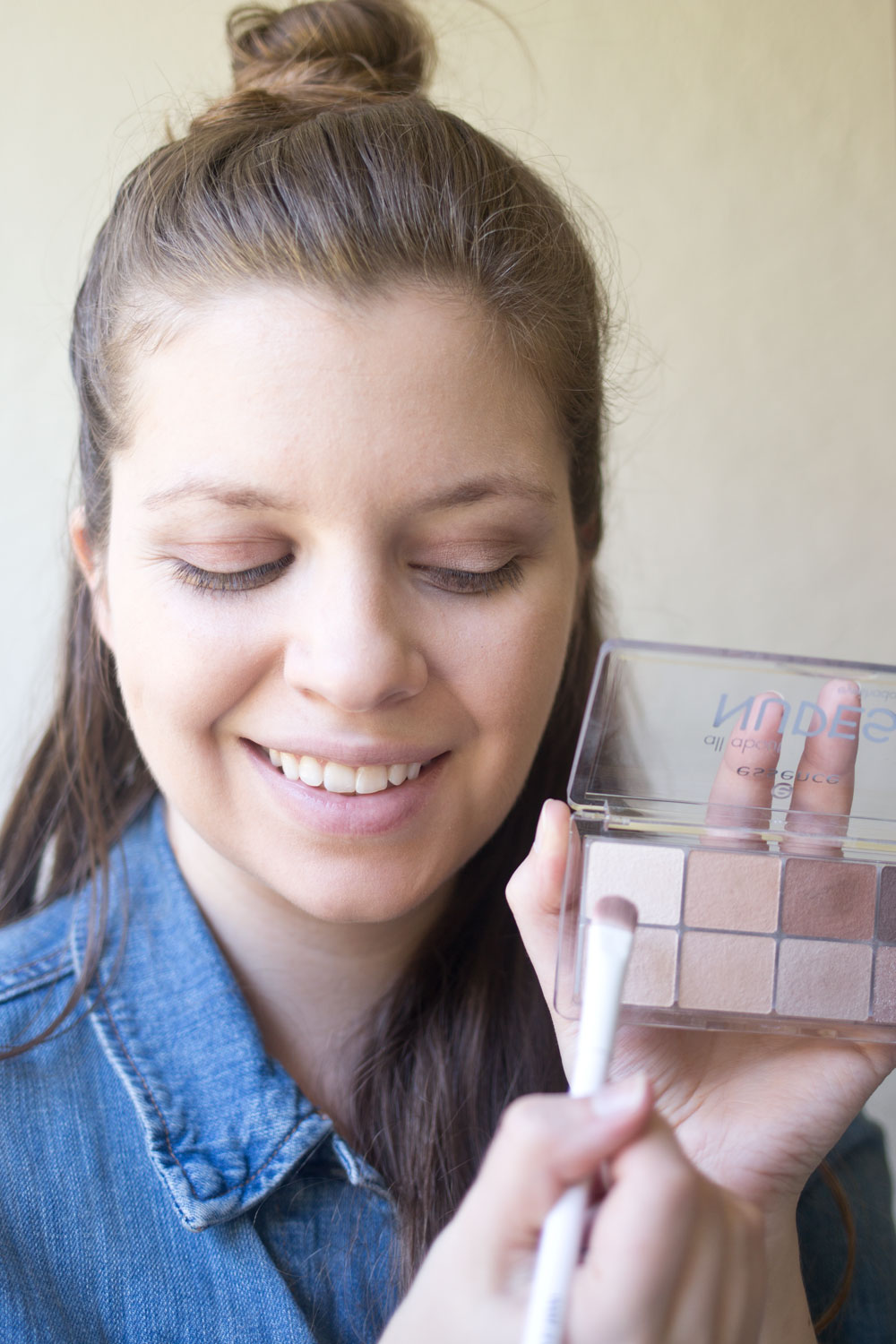 Then, to add a pop of brightness to the eyes, I patted a bit of the lightest shimmery shade into the inner corner of my eye as well as onto the center of the lid.
To add a bit of depth, I did blend a small amount of the second darkest brown shade to the outer v and blended it along the lower lashline as well.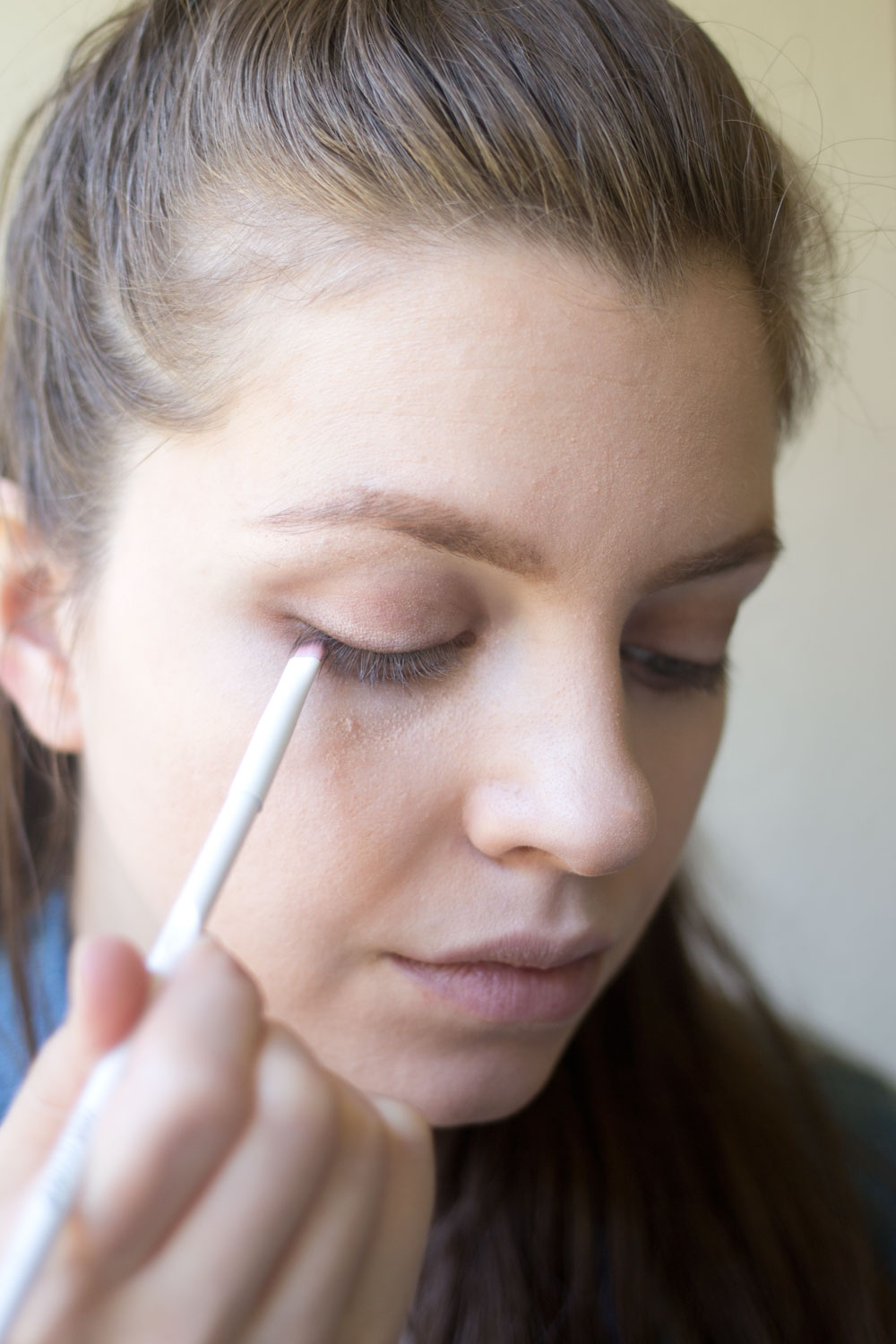 Additionally, I wanted to define the eye a bit more. I decided to take the darkest brown shade onto an angled liner brush and pat it along the base of my lash line as I would eyeliner. Because this is a no makeup look, I just wanted the liner to be subtle. If you're craving something a little more intense, you could wet your brush or use your favorite eyeliner to make it pop.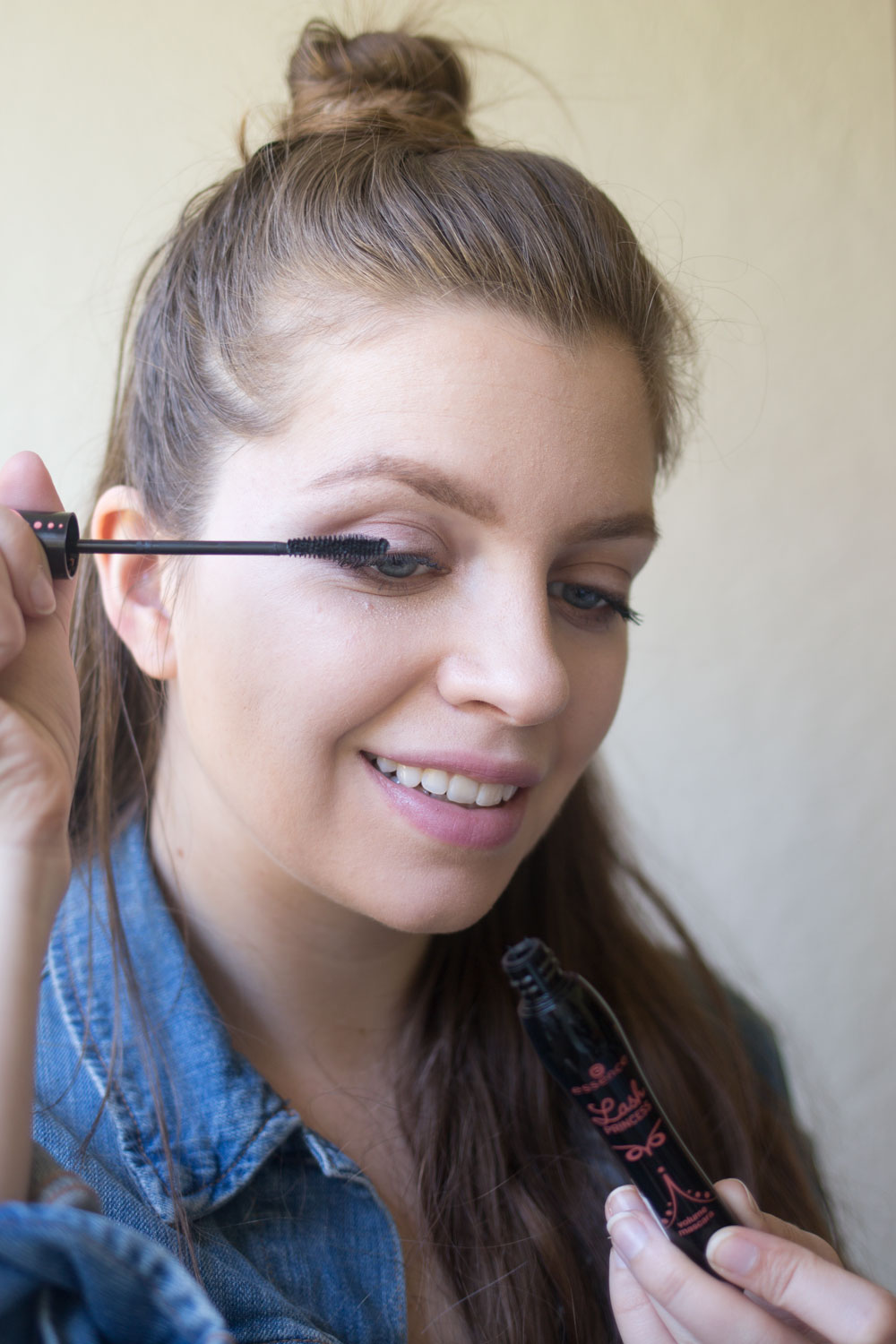 To finish up the eye look, I added one coat of the Lash Princess Volume Mascara (only $4.99!) to the top lashes and a light coat to the bottom lashes.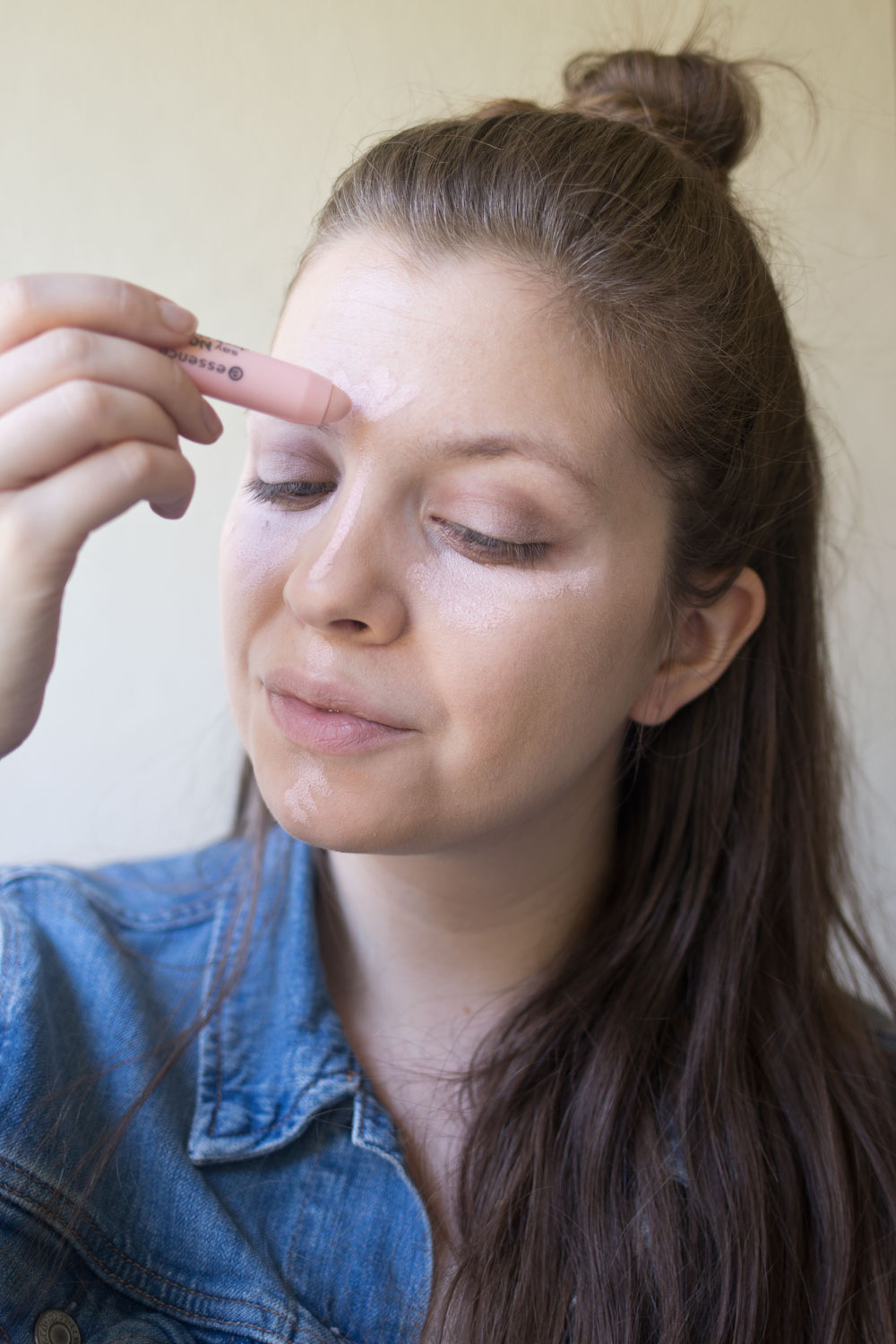 Once you've completed your eye makeup, it's time to do a bit of clean-up and color correcting! I suffer from year-round allergies, and my dark circles are a constant battle. I love the creamy formula of the No to Dark Circles Concealer ($2.99), so I am using this under my eyes to color correct, and I also used a bit of it to highlight the bridge of my nose and the other high points of my face. Be sure to blend this well; the creamy formula can have a tendency to slip if it's not blended into the skin and/or set with a powder.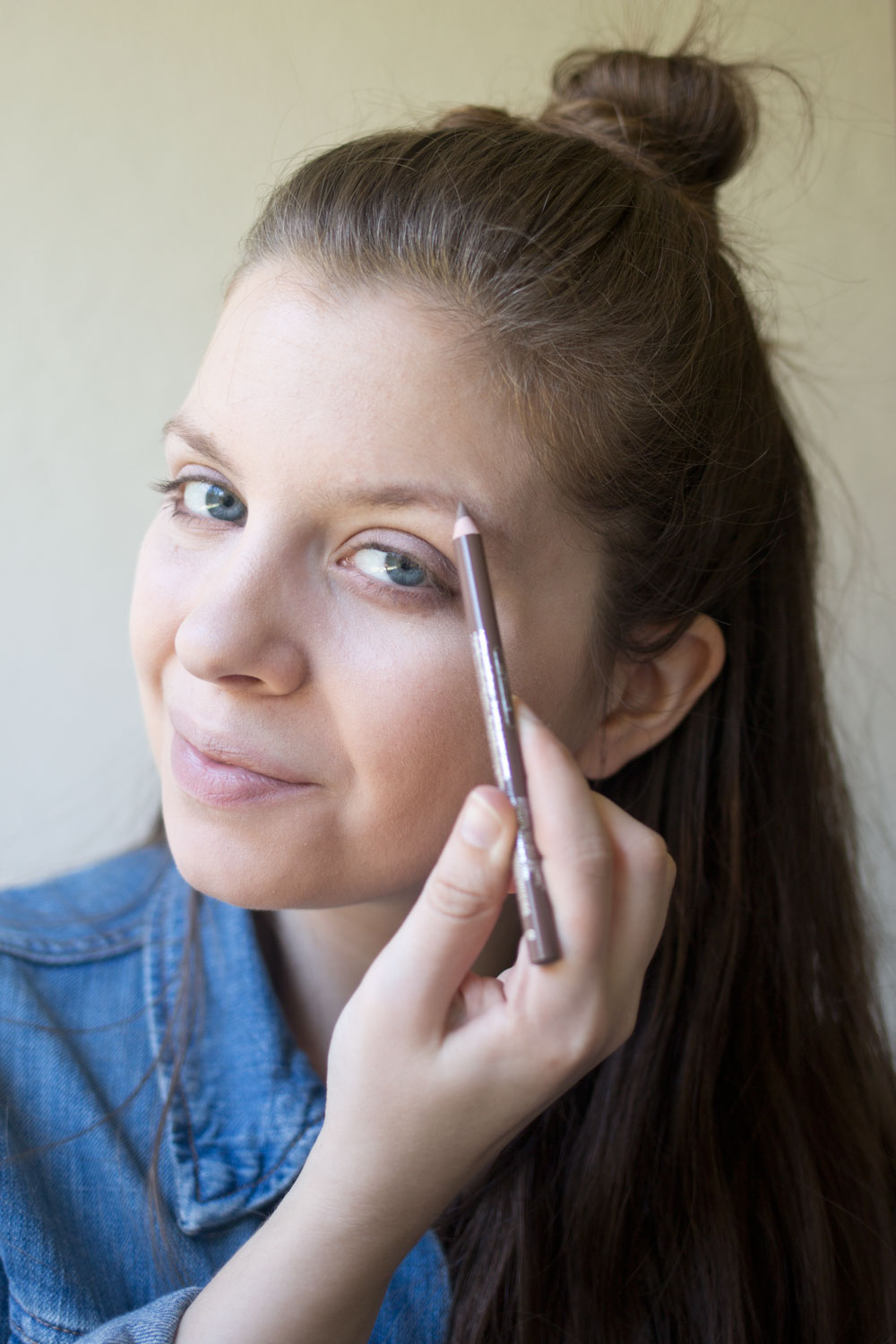 Afte cleaning things up, I opted to balance my eye look but filling in my brows. There's something weird about having finished your eye look without any brows! I'm using the Eyebrow Designer Pencil in Soft Blonde ($1.99) to fill them in. I love how soft this pencil is, and the brush on the cap make it incredibly easy to blend the product to get a natural looking brow.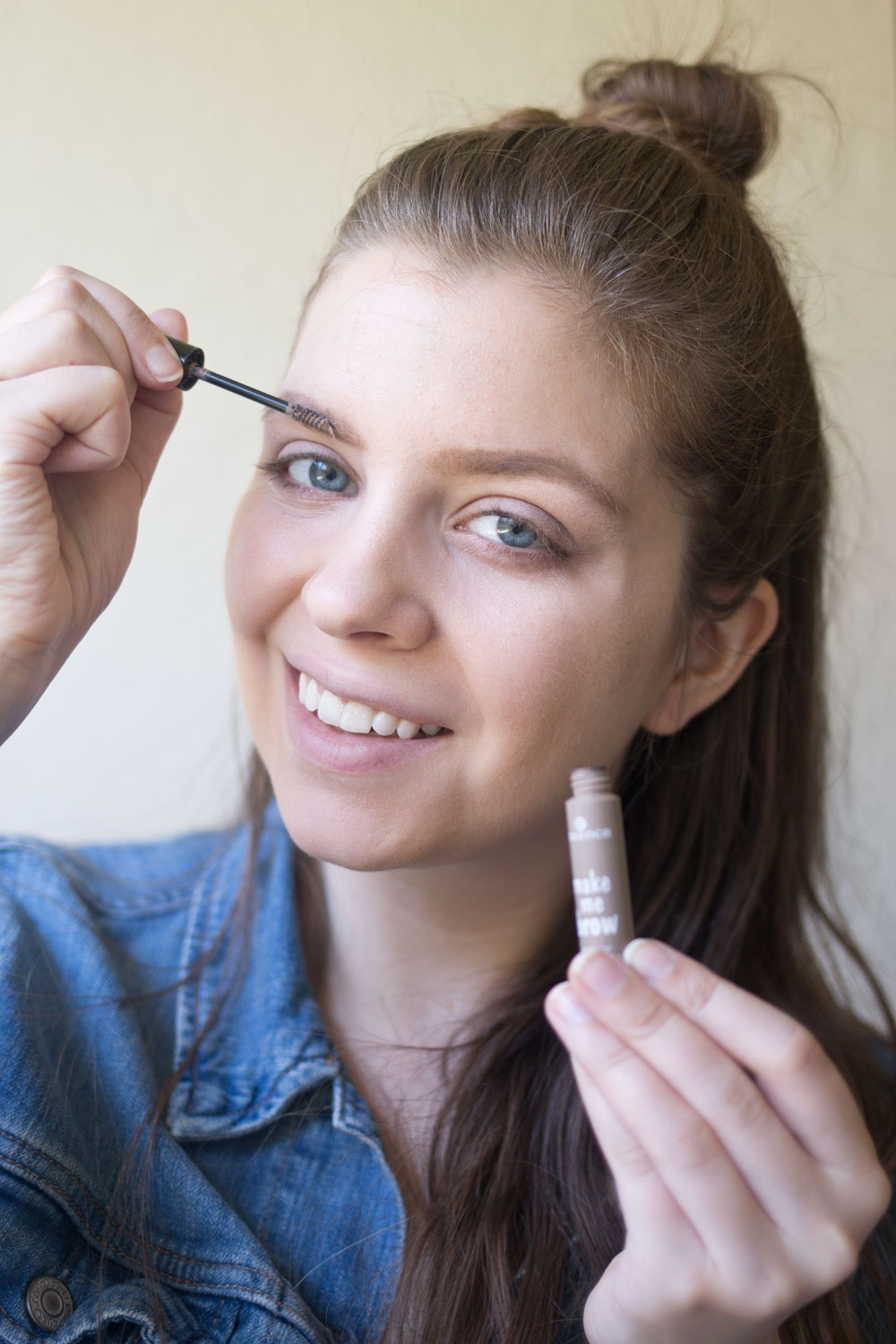 To set the brow color, I swept Make Me Eyebrow Gel in Blondy Brows ($2.99) through the hairs to keep things locked in place.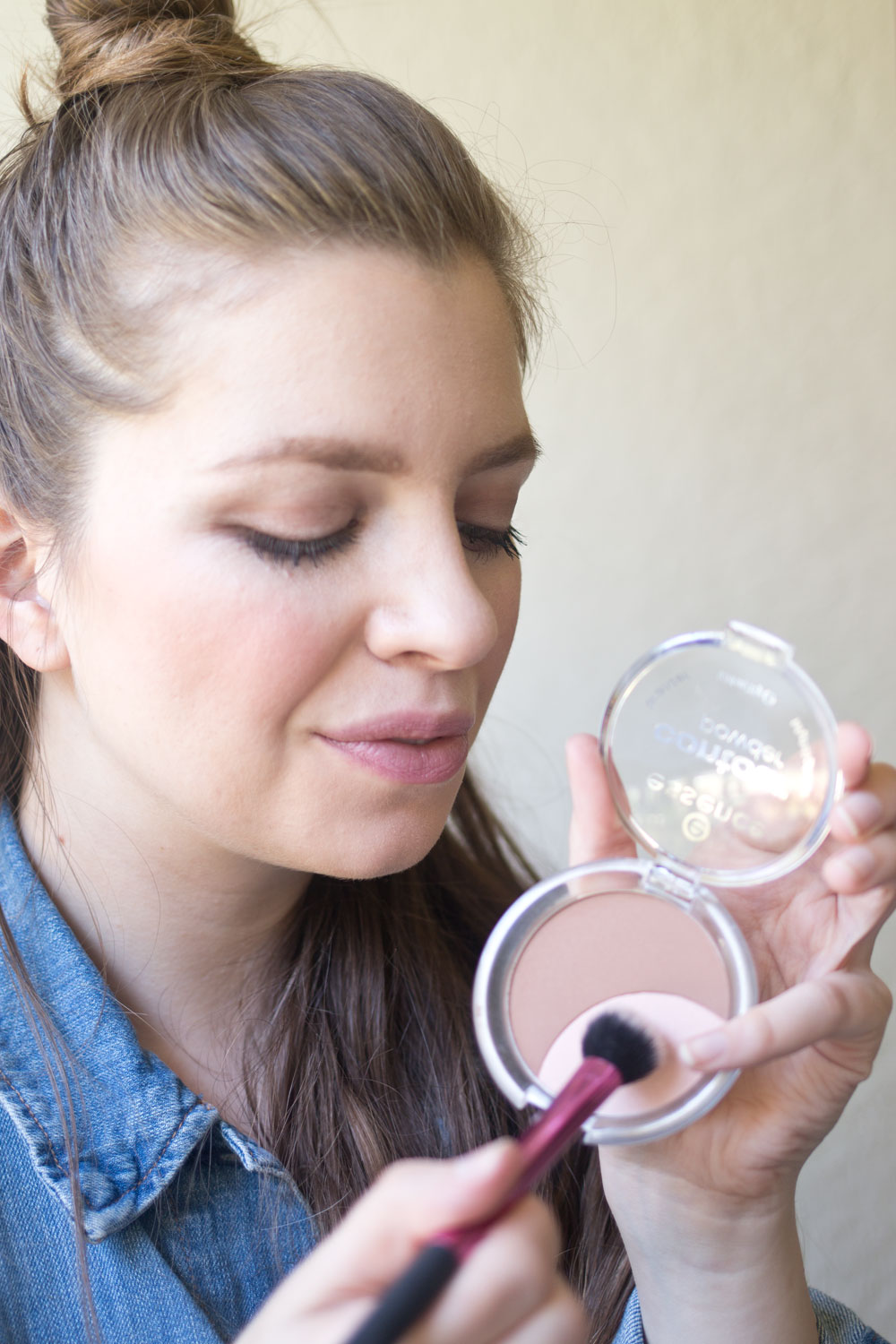 Of course, I had to add a little color to the rest of my face, so the first way I did this was by adding a subtle contour to my cheeks using the Contour Powder in Medium ($3.99). I also swept a bit of the highlight onto the tops of my cheeks and down the bridge of my nose.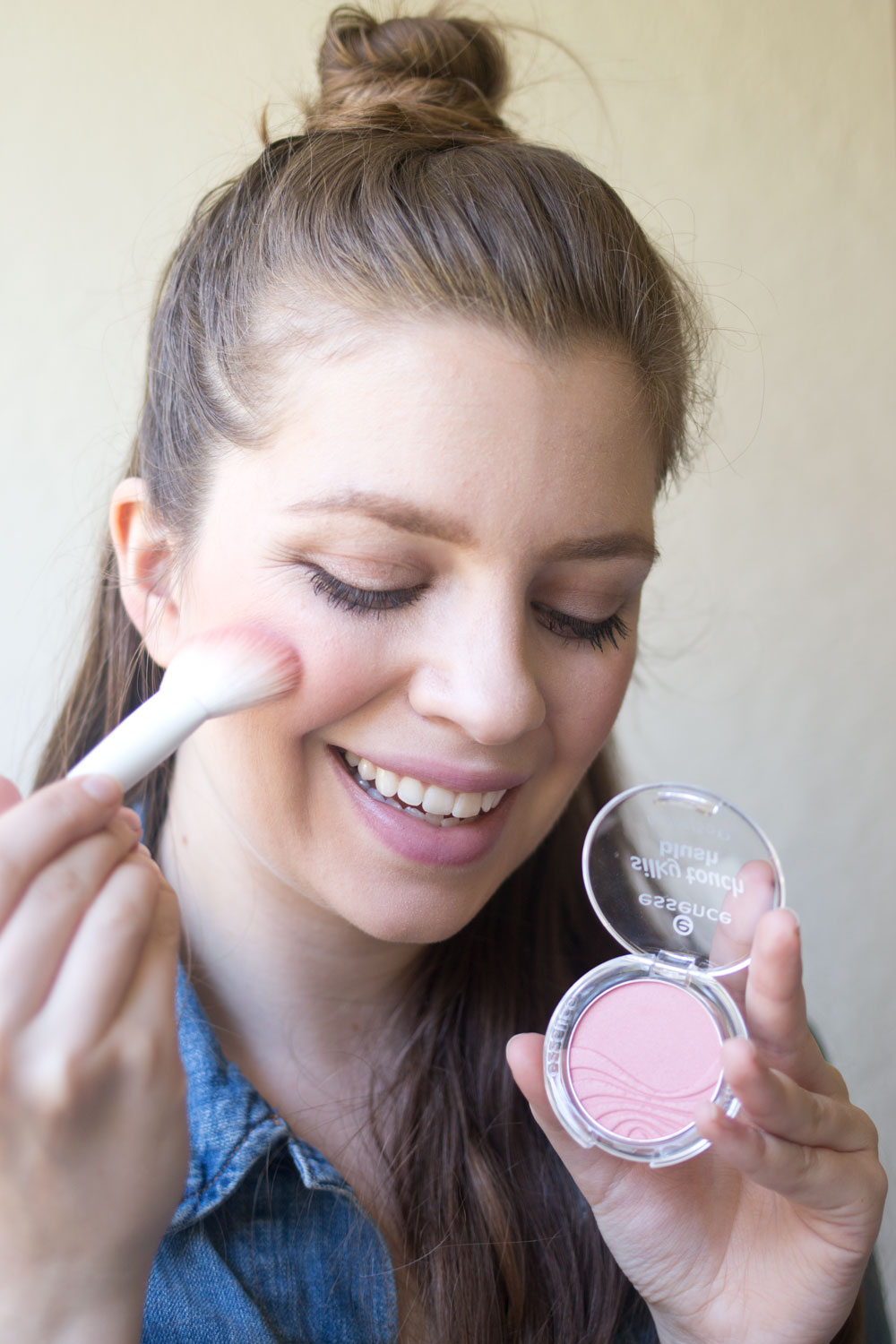 To the tops of the cheeks, I added a pop of the Silky Touch Blush in Adorable ($2.99). It's such a lovely nude pink that adds the perfect natural flush to the face!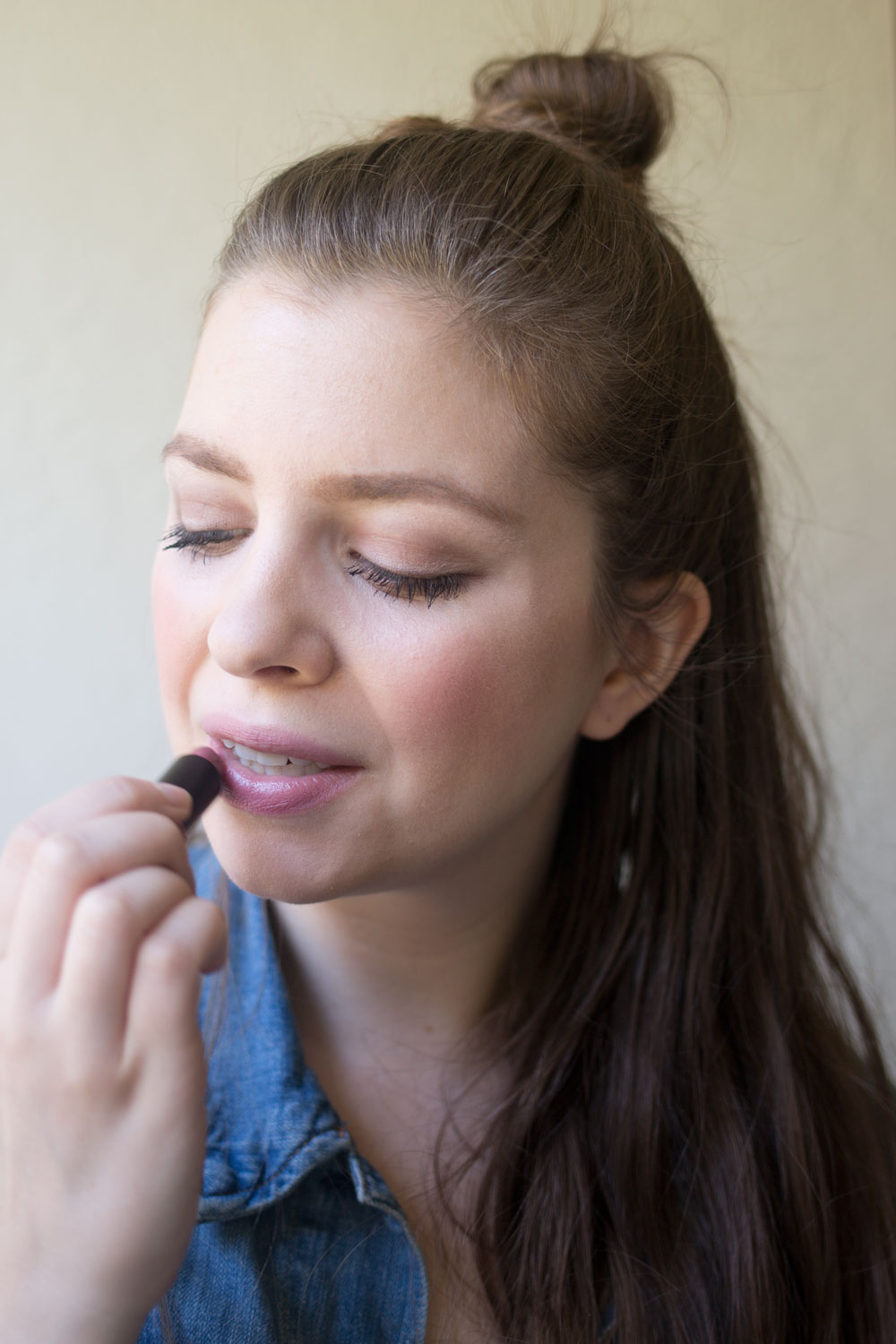 Finally, to complete our "no makeup" makeup look, I opted for a nude mauve pink lip. I love the Longlasting Lipstick in Barely There ($2.99); it would be flattering on nearly all skin tones and the creamy, moisturizing formula will make everyone happy.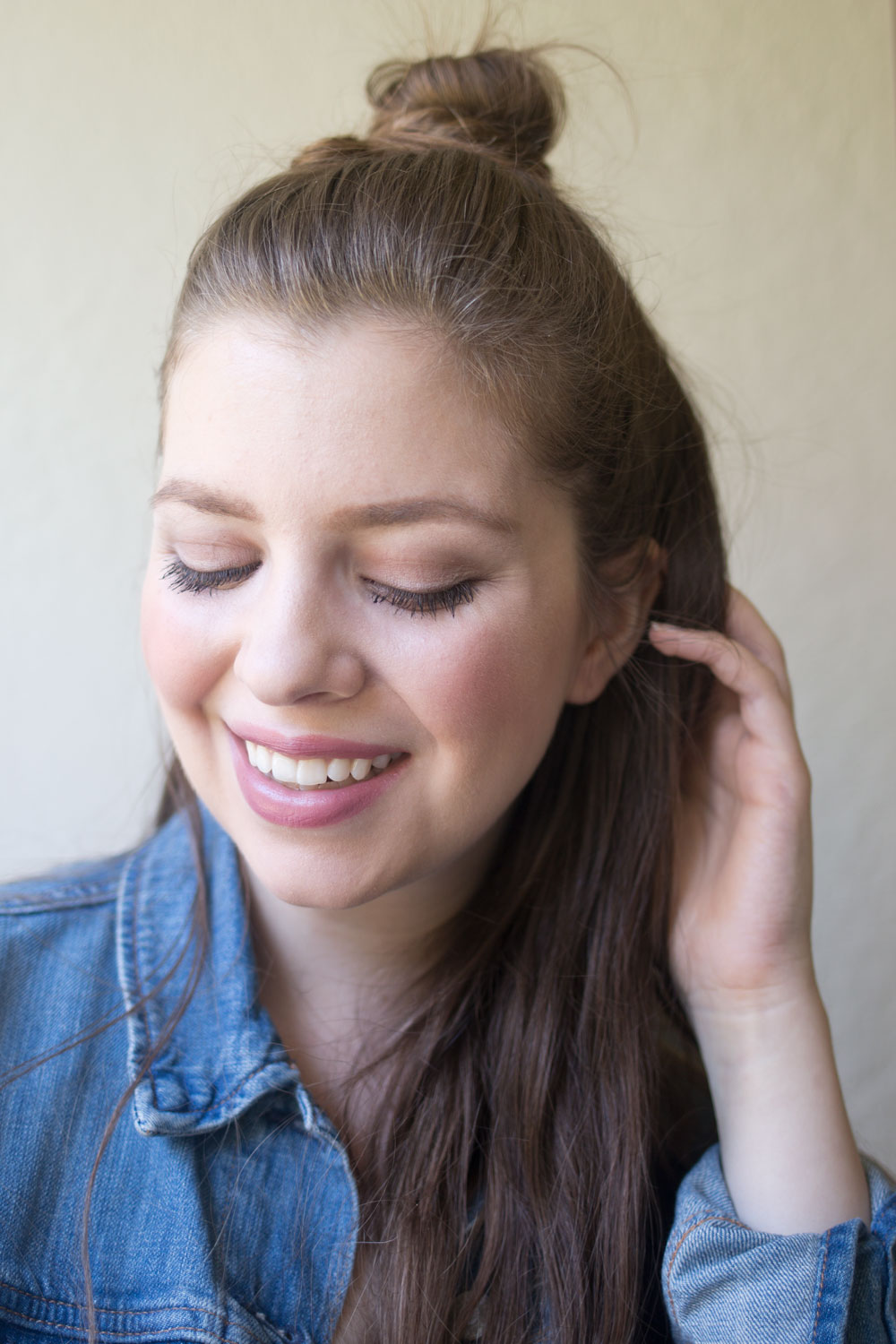 Night Time: Evening Glam
Alright, now let's say you've rocked the no makeup makeup look all day long, but now you're ready to amp it up for a fun night out. Here's how I took that look to the next level with a couple of products and just about 5-10 minutes!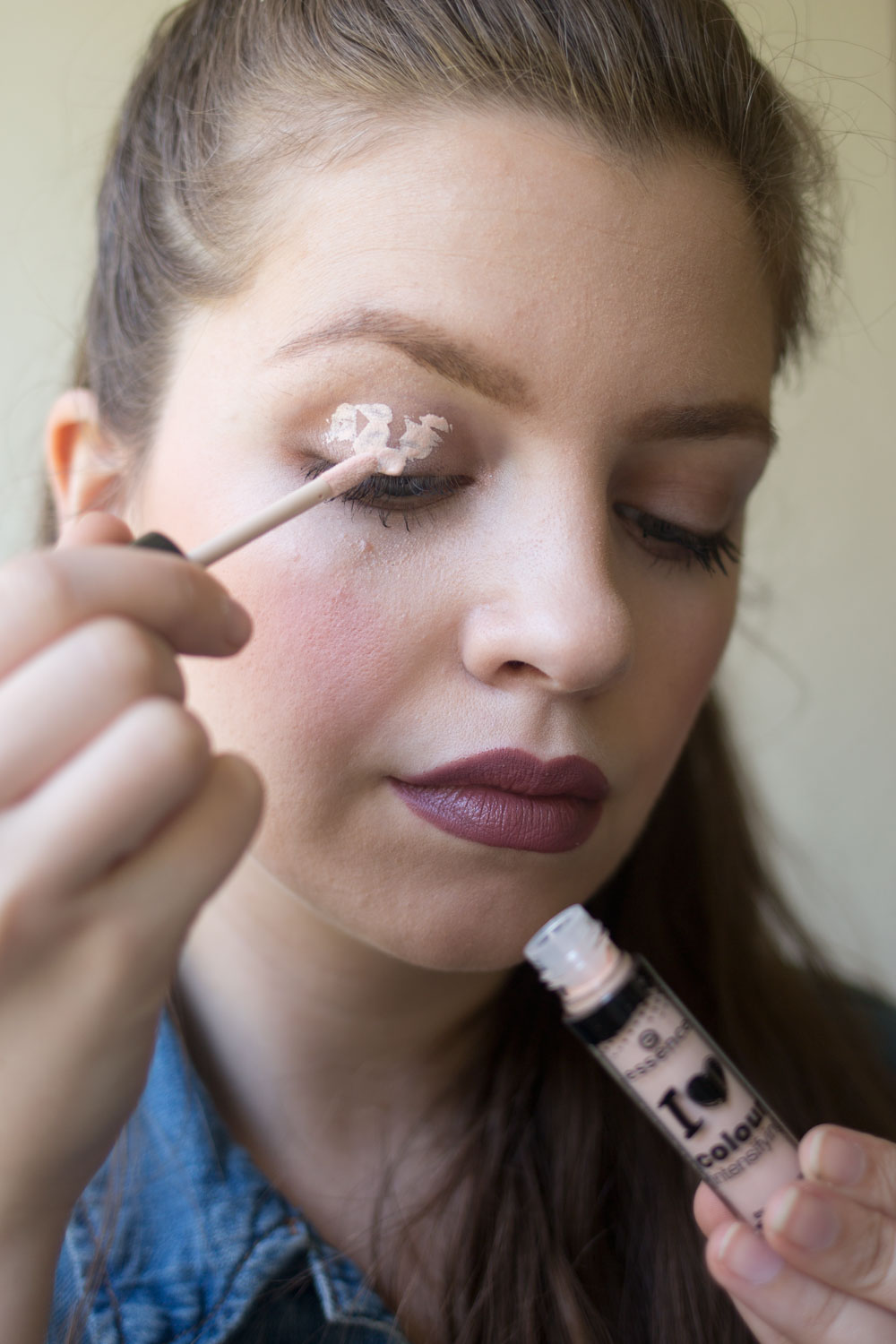 First, this look is all about deepening what we already did to the eye makeup. The best way to do this is to amp up the shades of the eyeshadow. The best way to do this is to prime the eyes, so over the top of the eye makeup, I dotted some of the I Heart Stage Eyeshadow Base ($3.49) onto my lids.
To deepen up the crease, I then blended the dark brown shade in the Nudes palette into the crease. You can also blend this dark brown into the outer v and along the lower lashline if you'd like. I love a little shimmer for any night time look, so I added one more dot of the eyeshadow primer to the center of my lid and pressed on the bright glittery shade from the bottom right of the Nudes palette. I also added a bit more of the bright shimmery shade from the upper left of the palette into my inner corner and along the first half of the lower lash line.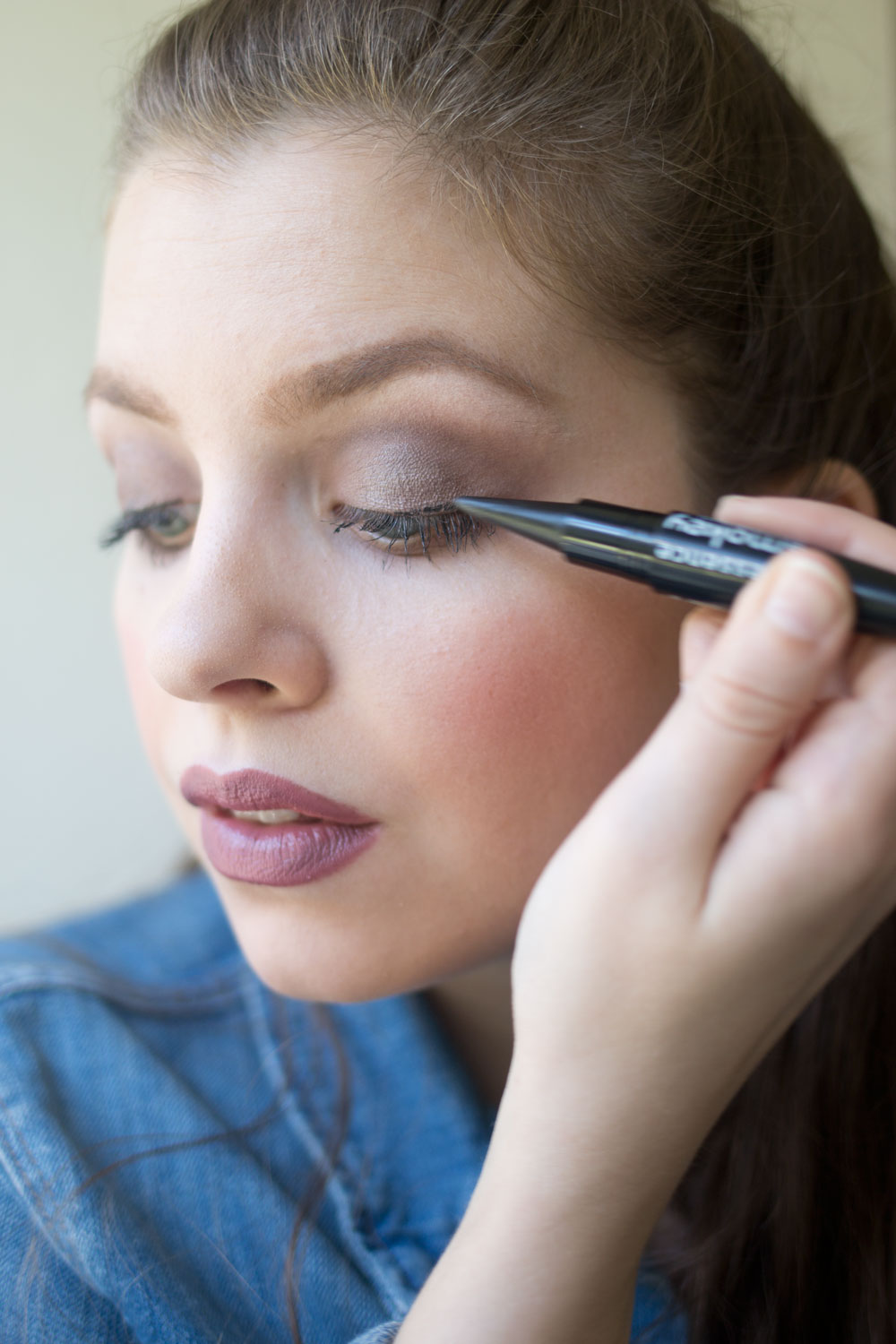 For even more smokiness, I opted to run the 2 in 1 Khol Pencil in Smokey Black ($2.99) along the upper and lower lashline. Don't worry about perfecting this because…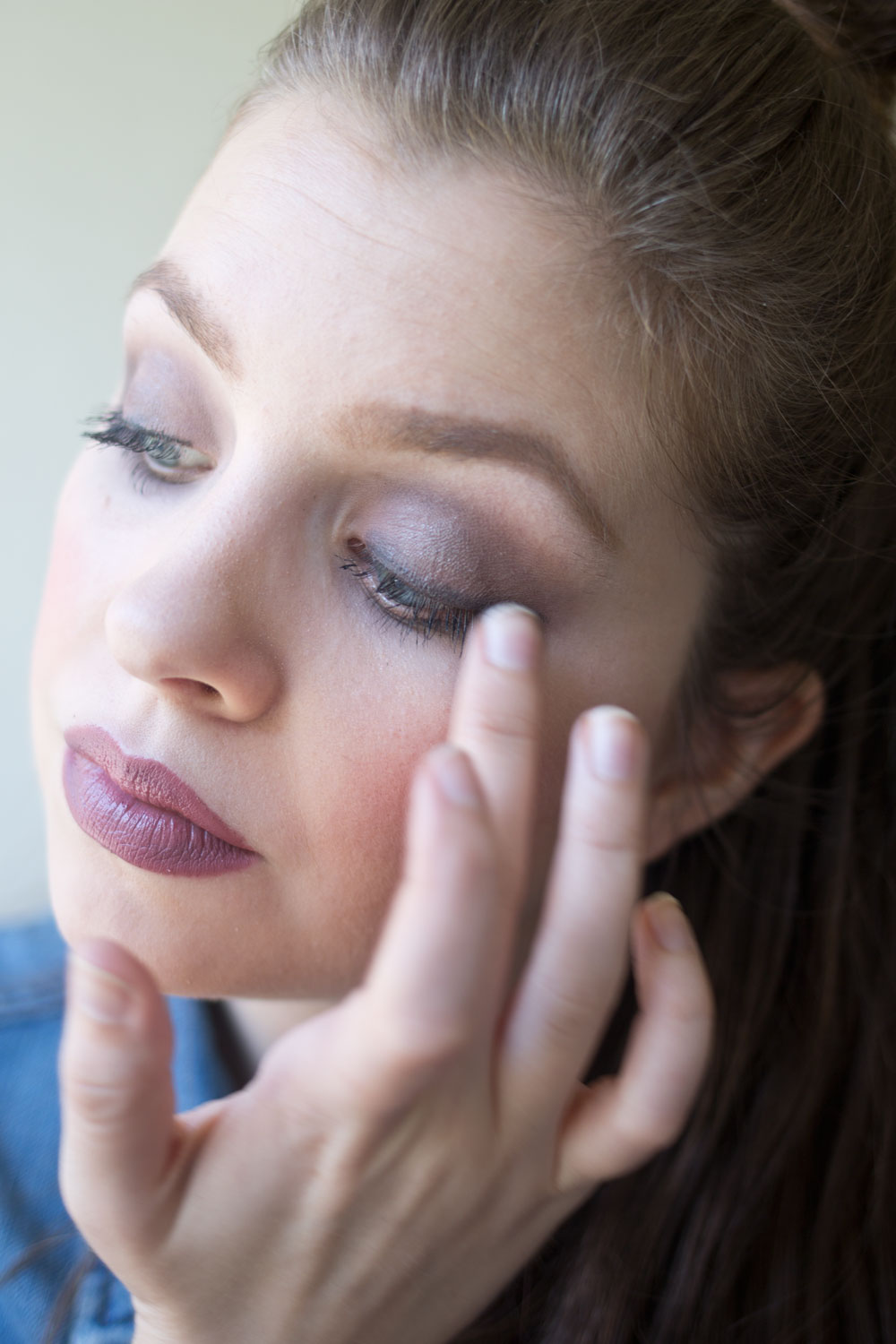 …you'll just be smudging this out with your fingertip. Super easy, only slightly messy, and gives the perfect amount of smokey to the lashline.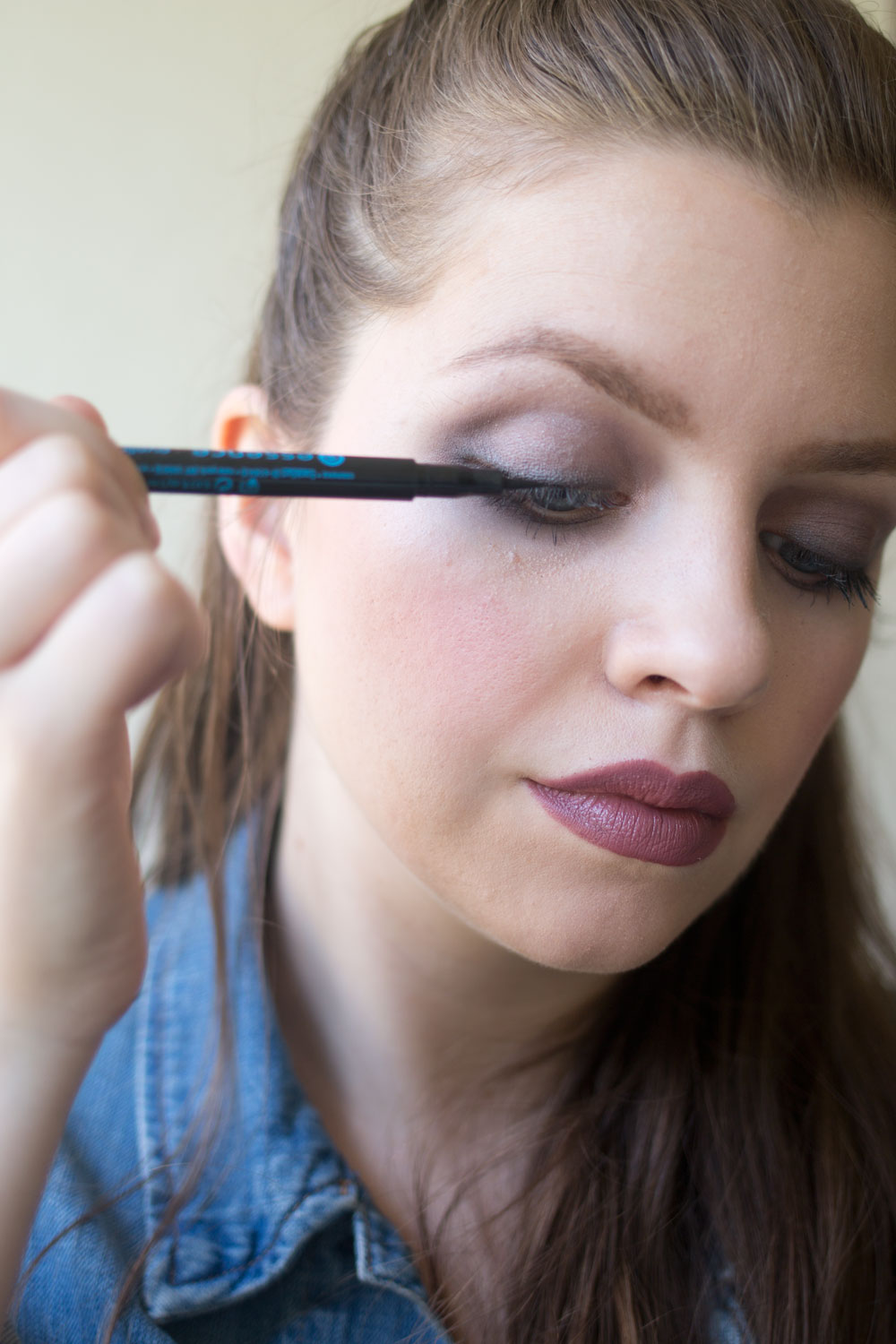 Even though we just used what could be considered an eyeliner, I wanted to add even more dimension to the eye so I grabbed my Waterproof Eyeliner Pen in Waterproof Black ($2.99). I love the felt tip; it makes application precise and easy! I created a wing along the top lash line for some drama.
Once you've completed the eyes, again we'll be cleaning things up with the No to Dark Circles Concealer again. I added a bit beneath the eyes because I may or may not have been a little too carried away with the smokiness… ;)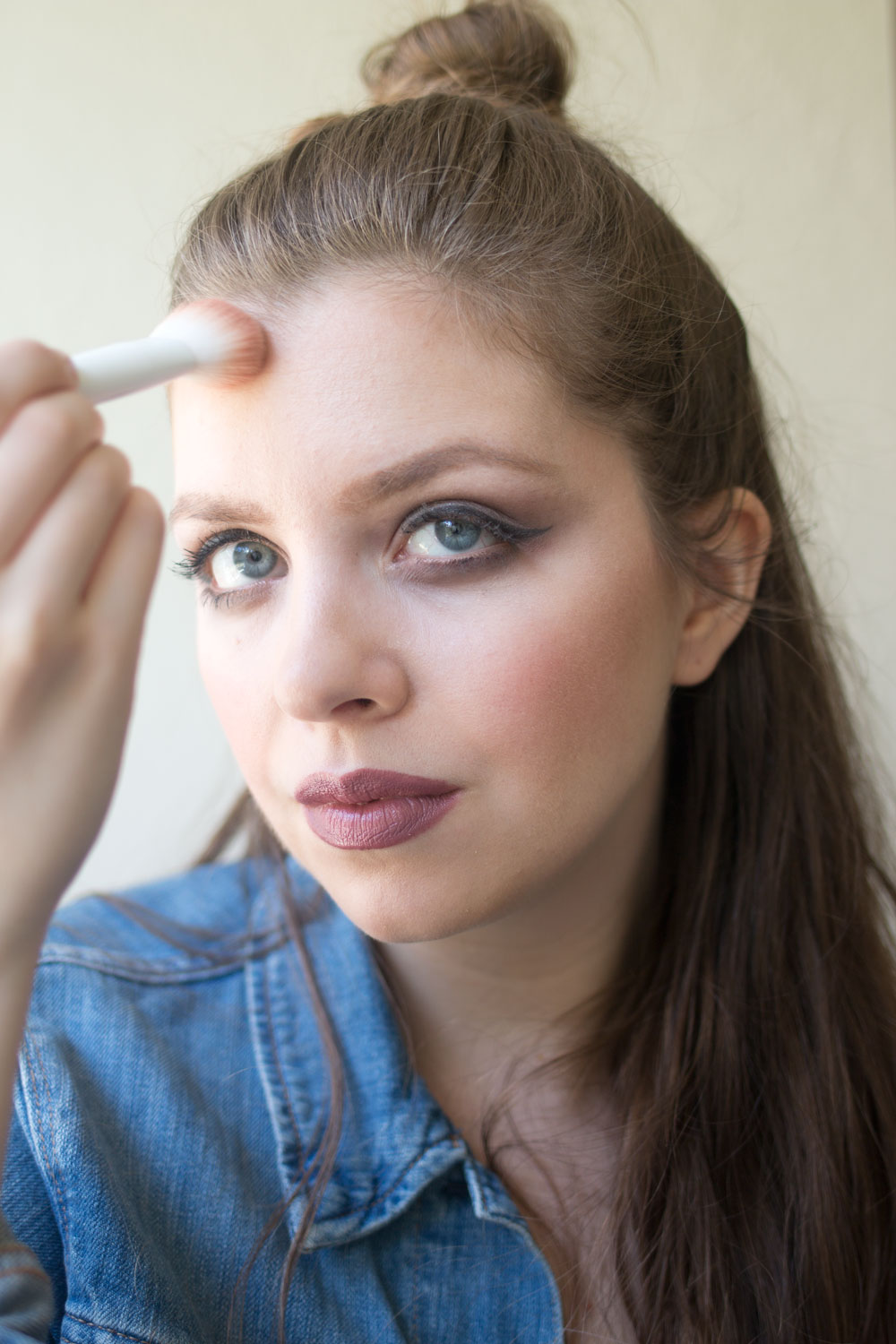 Since this look is all about amping things up, we're going to add a bit more contour. Blend a bit more of the Medium Contour Powder along the contours of your cheeks as well as along the temple and forehead. Use a big fluffy powder brush to be sure you have no harsh lines.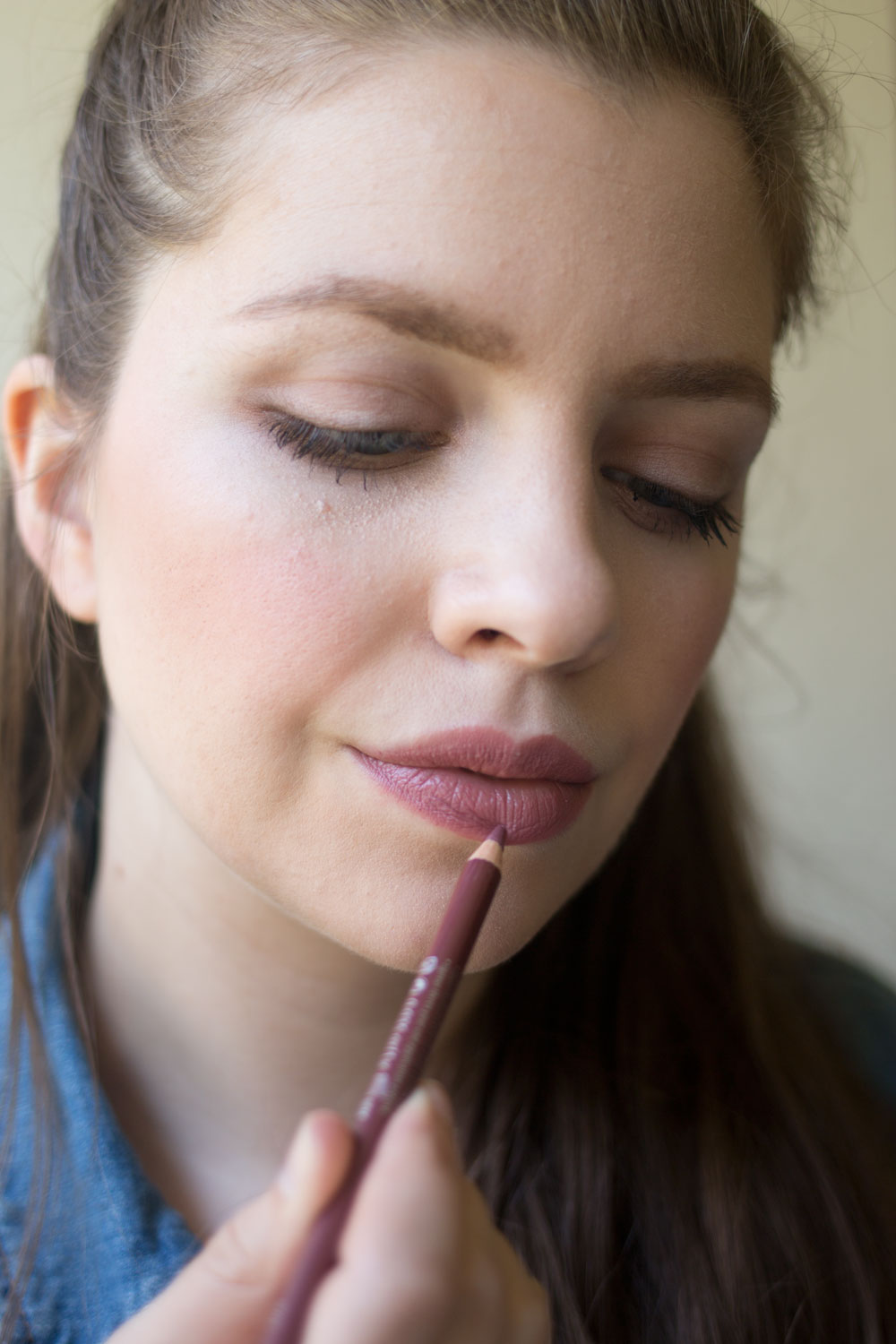 To intensify the lip, I'm adding the Soft Berry Lip Liner Pencil ($1.99) to the existing lip color. It's a deeper tone but still is in the same color family so it blends in beautifully. This lip liner is one of my all time favorites. Soft, creamy, and just $2!
I wanted my lashes to pop just a bit more, so I added one more coat of mascara. The Lash Princess Volume Mascara is fabulous for layering and doesn't make my lashes feel too sticky or clumpy.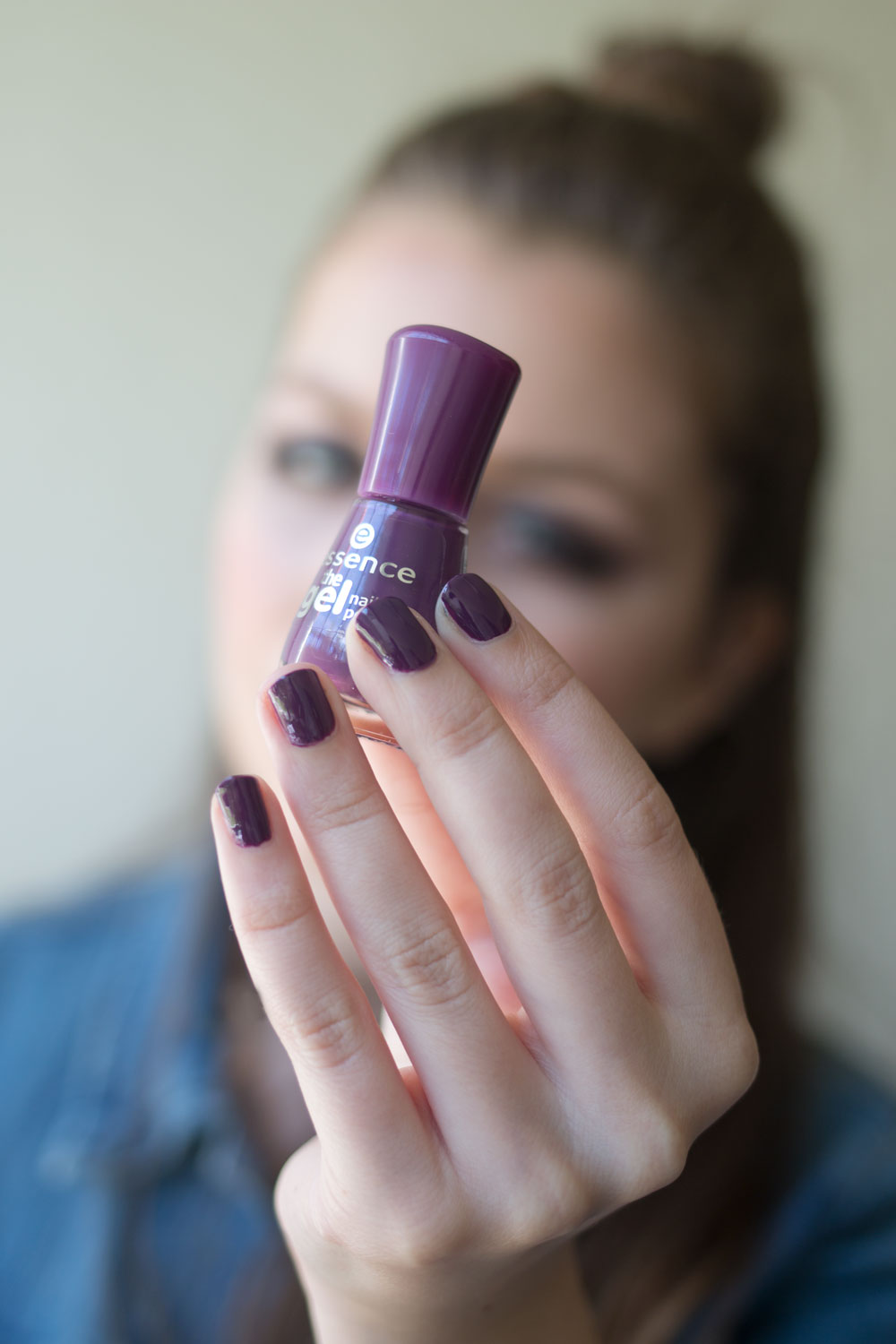 And with two coats of this beautiful purple Gel Polish in Amazed by You ($1.99), my night time look is complete!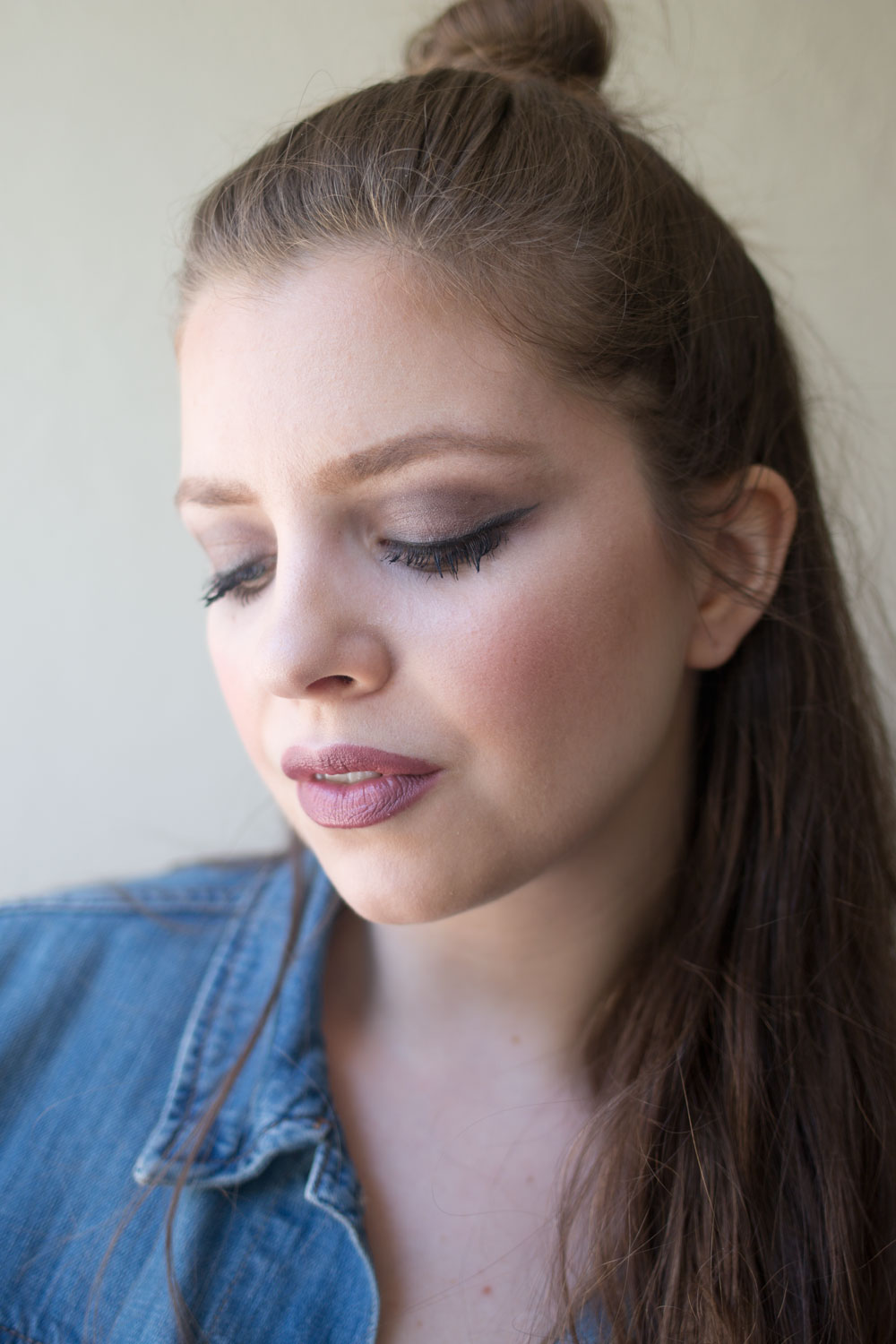 Even though it may look a little complicated to get the perfect "no makeup" makeup, I promise it's not! And glamming up the look only takes a few minutes and a couple of key products from essence cosmetics. Beauty doesn't have to cost a lot, and that's what I love most about essence cosmetics! You can create an entire makeup wardrobe with their products without spending a fortune. Speaking of, essence cosmetics has a fun giveaway going on and for your chance to win an essence megahaul, go here to enter! Good luck!
How do you take a makeup look from day to night? Have you tried any products from essence cosmetics? I'd love to hear about your favorites in the comments below!