Disclosure: Some of the links in this post may be affiliate links, and I may receive a small commission if they are used. I received some of these products courtesy of the brand. All thoughts and opinions are my own, and I was not compensated for this lazy hairstyles post.
The summer hair struggle is real: how do you keep your hair out of your face but still look cute?! Luckily, there are so many super easy things you can do with your hair to both keep you cool and still looking good. Today, I want to share three lazy hairstyles that are both easy to accomplish and will keep you cool this summer. (And if you live in a really hot area, I'll have some tips listed to make them even more friendly for the heat!) Preview the hairstyles below, then watch the video to see how I got the look!
Half Top Knot Hairstyle

This hairstyle is great for many reasons, but mostly because it's incredibly easy yet looks like you spent a lot longer doing your hair. To accomplish this, start by adding some volume to the roots by spraying some of the Bumble and Bumble Surf Foam Spray. Then, just brush out the top layer of your hair, twist, pin, and add a braid cuff from Chloe + Isabel x Jen Atkin to take this look to the next level! My friend Melanie was kind enough to send me this piece from her Chloe + Isabel shop. If you haven't shopped this collection yet, you really should. From barrettes to hair pins, there's something for every style. As an added bonus, Melanie just let me know that there's a big sale going right now, but hurry because it ends on Sunday! Be sure to follow her Facebook page for all the deets, including sale announcements and giveaways. Plus, even if you don't end up using this as hair jewelry, you can always use the cuff as a bracelet. Multi-purpose and incredibly chic? Winning!
If you live in an area where it's incredibly warm, you can always convert this into a top knot hairstyle. Just brush your hair out really well onto the center of the crown of your head. Then, use a hair tie to gather all of your hair into a high ponytail. Twist the hair around into a top knot and hold with several bobby pins or another hair tie. Want to see this tutorial in step by step photos? I have you covered in my perfect top knot hairstyle here.
Side Braid Hairstyle

I recently posted a photo of this look on Instagram and it's so simple that I had to share how easy it is to do this hairstyle as you're running out the door to work! Start by prepping your hair with a dry texture wax or dry shampoo, then separate a generous amount of hair on either side of your head into three smaller sections. Braiding in the direction you want the hair to fall, make sure you're pulling tautly on each of the smaller sections as you braid, so they don't slip out of place. Secure with a bobby pin or two, then adjust your braid with a small amount of braid cream on your fingers to keep flyaways at bay.

Too hot to wear your hair down? That's okay! Gather the remainder of your hair on the opposite side of your head, then wrap it around itself to create a loose bun. Pin the bun into place and hide the end section of the braid behind the bun using additional bobby pins.
Double Twist Hairstyle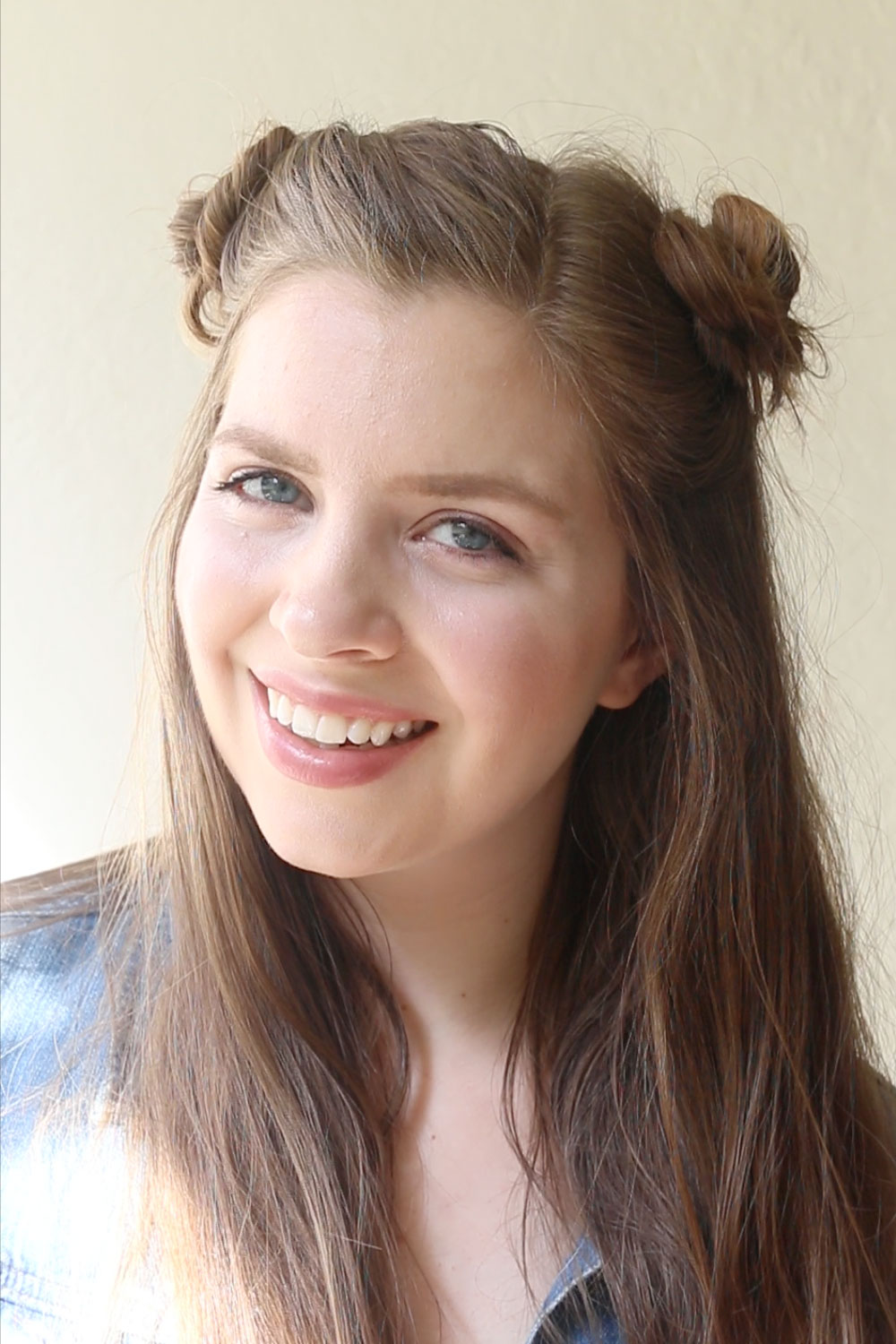 With the 90s back in action, who could forget this lovable hairstyle?! If you're feeling the Baby Spice vibes, this super simple hairstyle has you covered. Just part your hair as normal, then section your hair into two smaller pieces on either side of your head. Grab one section and twist the hair into small cinnamon roll shapes. Pin into place, then using your fingers and a small amount of braid cream, tousle the hair to give them a little texture. Then, repeat these same steps on the opposite side of your head.
Too hot? Instead of pinning small twists of your hair, part your hair all the way down to the nape of your neck, section the hair into two sections, then create two buns on either side of your head. Pin these into place and you'll be sweat free in no time!
And that's it! Three super lazy hairstyles that literally take less than 5 minutes each yet appear like you've spent way more time than that on your hair. Whether you're feeling the 90s double twist vibe or prefer a little jewelry on your head, you'll be looking fierce in no time!
Which lazy hairstyle is your favorite for summer? I'd love to hear which hairstyles you've been rocking on repeat in the comments below!