Disclosure: Some links in this post may be affiliate or referral links, and I may make a small commission. Some items in this outfit were provided courtesy of the brand; no further compensation was received. All thoughts & opinions are my own! :)
I'm pretty sure that no one would ever call me the queen of fancy dressing. Let's make something clear; Seattle is an incredibly casual city. I know of only one restaurant in the city that has any sort of dress code (sportcoat required) and during the peak business hours, the downtown core is bustling with people in mostly business casual attire. It's what I'm used to, and while I appreciate dressing up, it's just not as typical.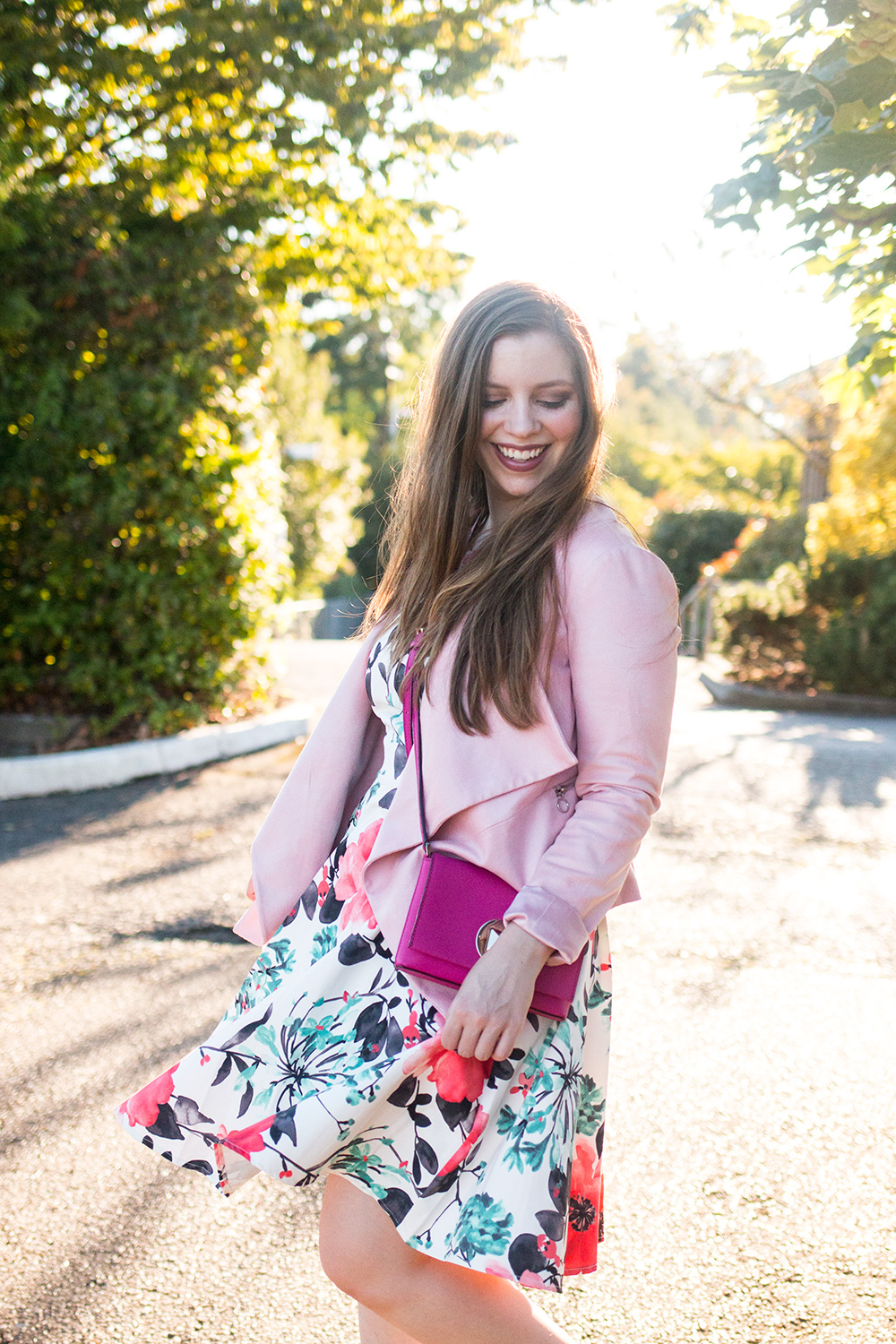 What I'm Wearing
Dress: Cream and Coral Satin Skater Dress c/o Quiz Clothing (Shop this style in Blue and Grey Floral, Poppy, or Cream and Blue Floral)
Jacket: Octavia Faux Suede Jacket borrowed c/o Le Tote (Sign up with my referral link and save $25 off your first month!)
Bag: Kate Spade Newbury Lane Sally
Shoes: JustFab (similar under $30, similar under $50, similar under $100)
That's why when I purchase a cocktail dress or other fancier looking dress, I have to have a game plan in mind of how I can wear it with other things in my closet. If I wore an outfit like this to work, I would definitely get a few comments about how dressed up I look. Some days I'm in the mood for it, and other days I'm not. When I'm not feeling like looking like I'm ready for a night out on the town, I employ a few tricks to dress down a dress. I thought I'd share those with you today!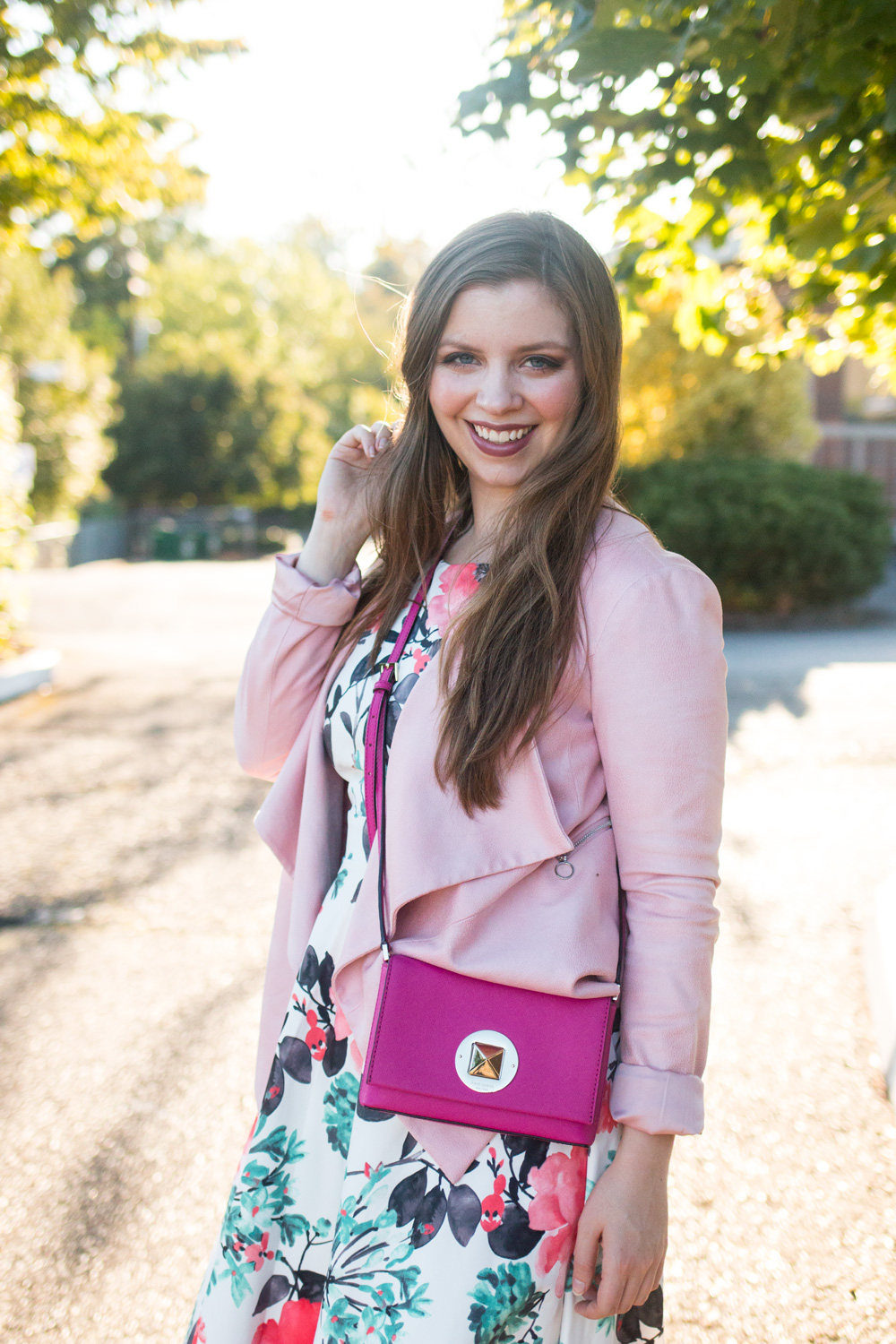 5 Ways to Dress Down a Dress
1. Cover it up
Cover up a pretty dress? Well, maybe! Try wearing a cute sweater over the top half of your dress, or pair it with a cardigan or even a kimono. Covering up the dressier parts of the dress, or minimizing the amount of the dress that shows, will help give it a more casual vibe.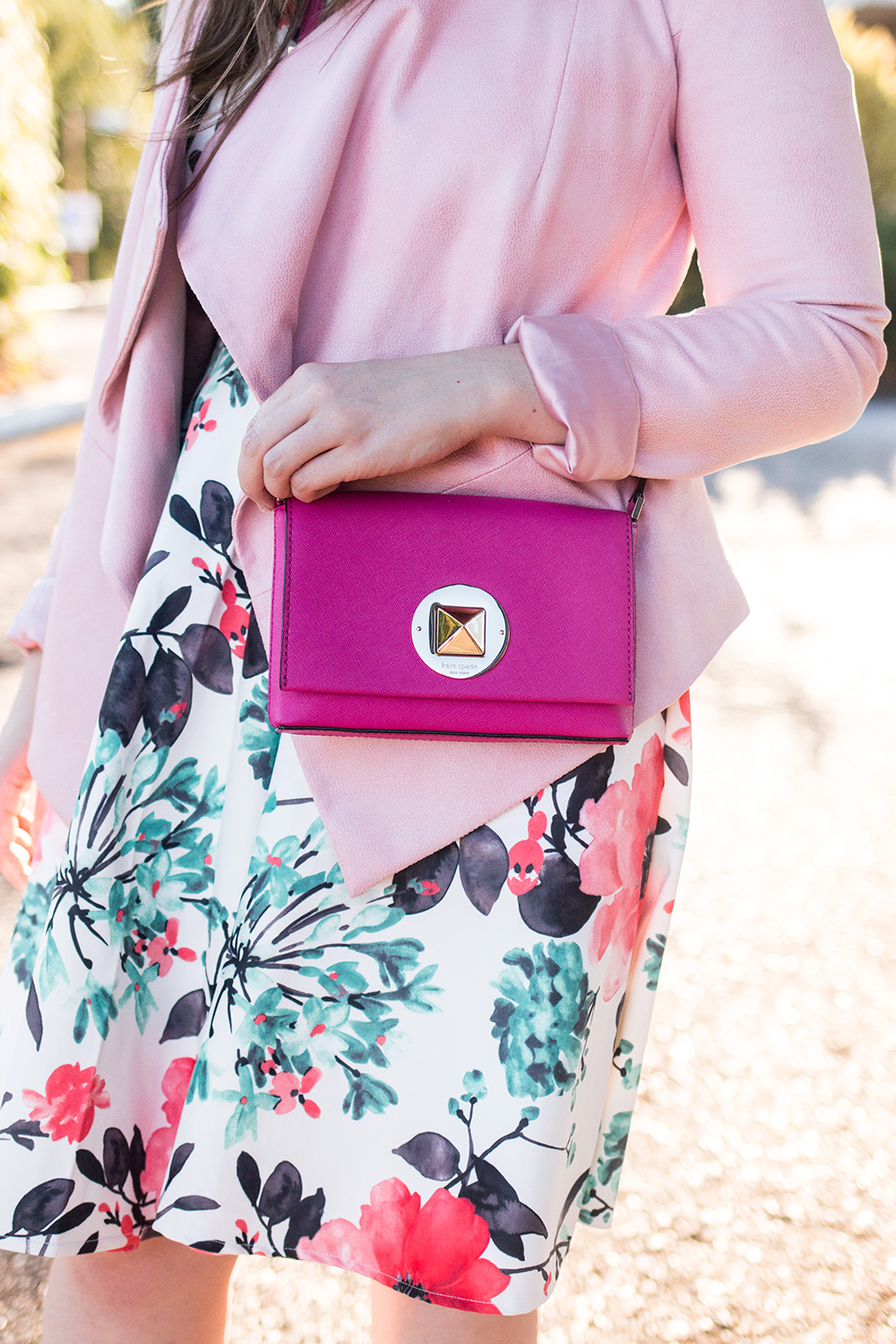 2. Pair it with a casual jacket
My favorite way to dress down a dress is with a more casual, or edgy, jacket. For today's look, I paired it with this adorable pink moto jacket that I'm borrowing from Le Tote. It's such perfection that I'm considering keeping it for myself. (If you're not familiar with Le Tote, you receive shipments of items, wear them, then return them and receive a new shipment. You can keep anything from your "tote" with a 20% discount off retail. You can check it out with my referral link here and get $25 off your first month!)
I've also paired a more fancy dress with my absolute favorite faux leather moto jacket in this look. (P.S. I see it's on sale at this year's Nordstrom Anniversary sale! Better get it before it's gone. It runs true to size. Also, check out this other great moto jacket option also from BlankNYC for just a couple bucks more. ) Another great pairing option would be a denim jacket or chambray shirt, especially for summer when temperatures are high!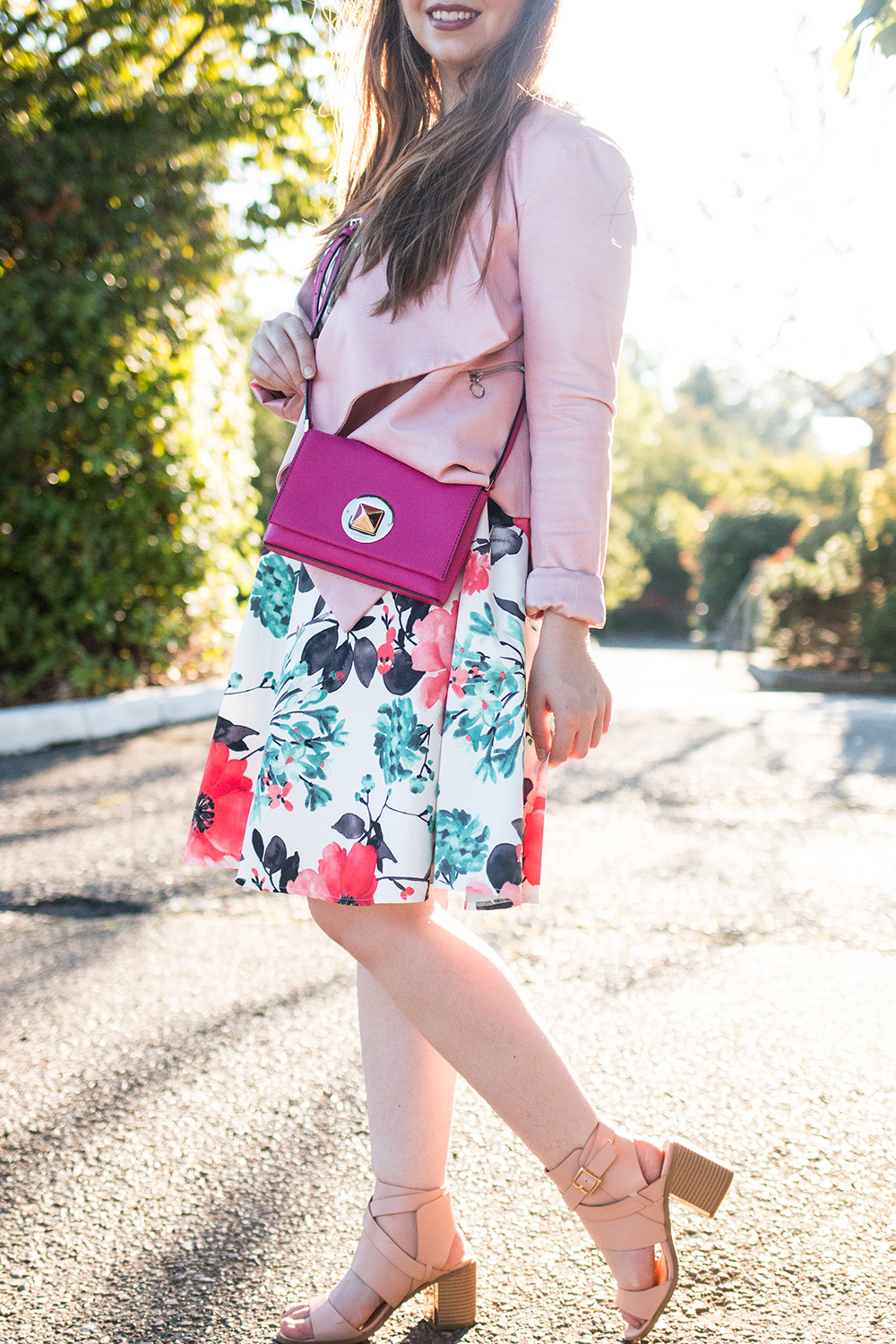 3. Remove the underskirt
This particular dress had a layer of tulle underneath to fluff out the skirt, and while I love that look on some, it's not really my style. It also made this dress look a lot more fancy, which I why I decided to clip it out. Taking a pair of scissors, I ran it along the seam of the tulle to remove it. A simple fix that took just about 5 minutes but upped this dress' wearability factor!
4. Flatten out
Pairing your fancy dress with a more simple pair of shoes is a great way to dress down your dress! Opt for a pair of ballet flats, more casual sandals, a pair of oxfords, or even a pair of sneakers! In this look I didn't dress down my shoes. However I did choose a neutral nude color that blended in with my skin tone so that they didn't stand out as much.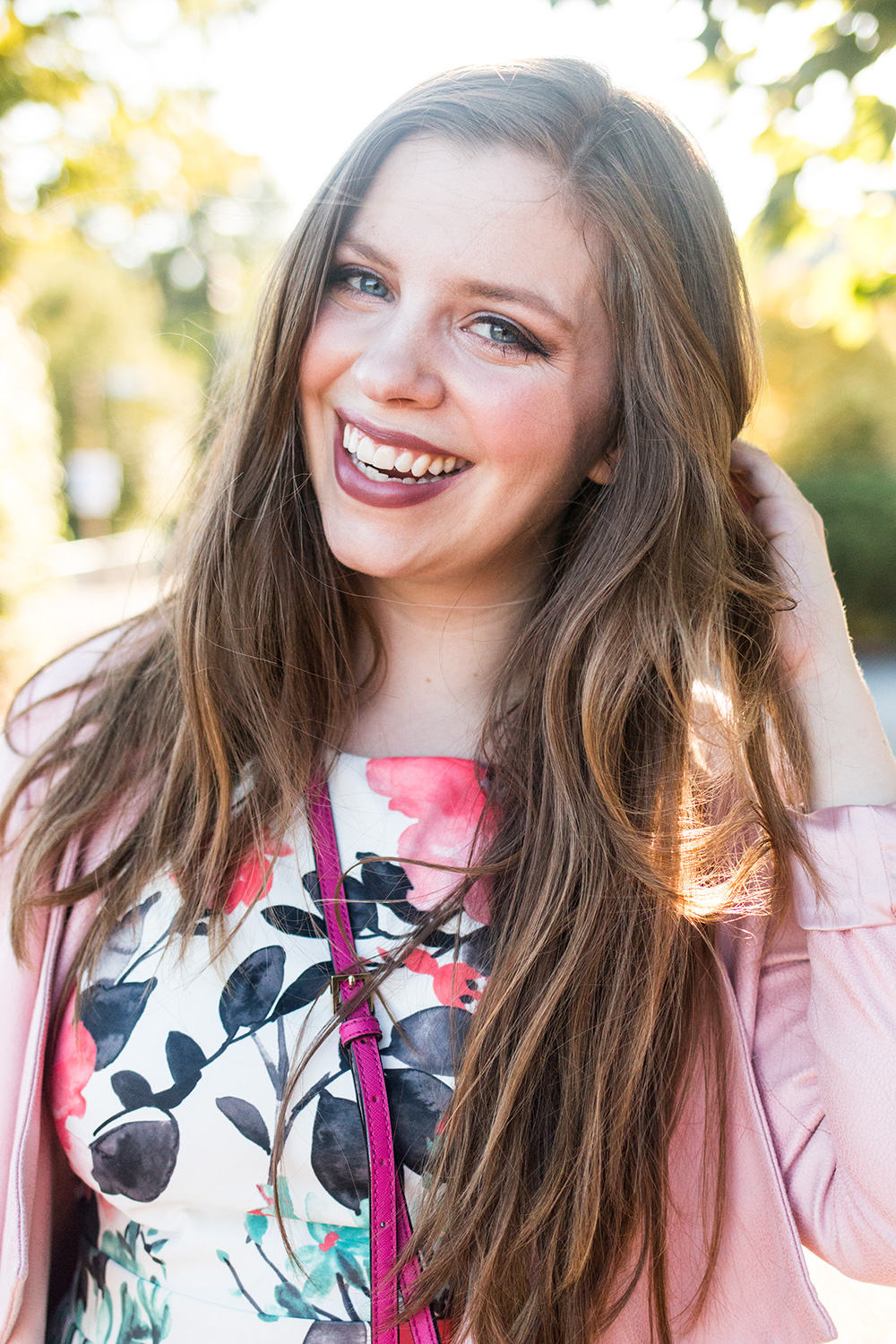 5. Just embrace it
Ultimately, if you love your dress, embrace it! Who cares if you look a little out of place? All eyes will be on you, and if you're confident, then you don't need to worry about wearing your fancy dress with anything but a big, fat smile!
How do you like to dress your occasion dresses down? Do you have any tips or tricks for wearing them in a casual office environment? I'd love to hear your tricks in the comments below!