This post was sponsored by HSN through the CJ Affiliate VIP Content Service. As always, all opinions are my own!
Growing up, fairy tales always fascinated me. It's no wonder; with monsters that transformed into humans, anthropomorphic creatures, and mystical storylines, they really can captivate an audience from young to old. It's what makes Disney movies some of my all-time favorites still to this day, and why I almost always advocate for seeing a "kids" movie when we go out versus the latest action thriller. Young at heart? Maybe, but mostly, I love getting lost in the story.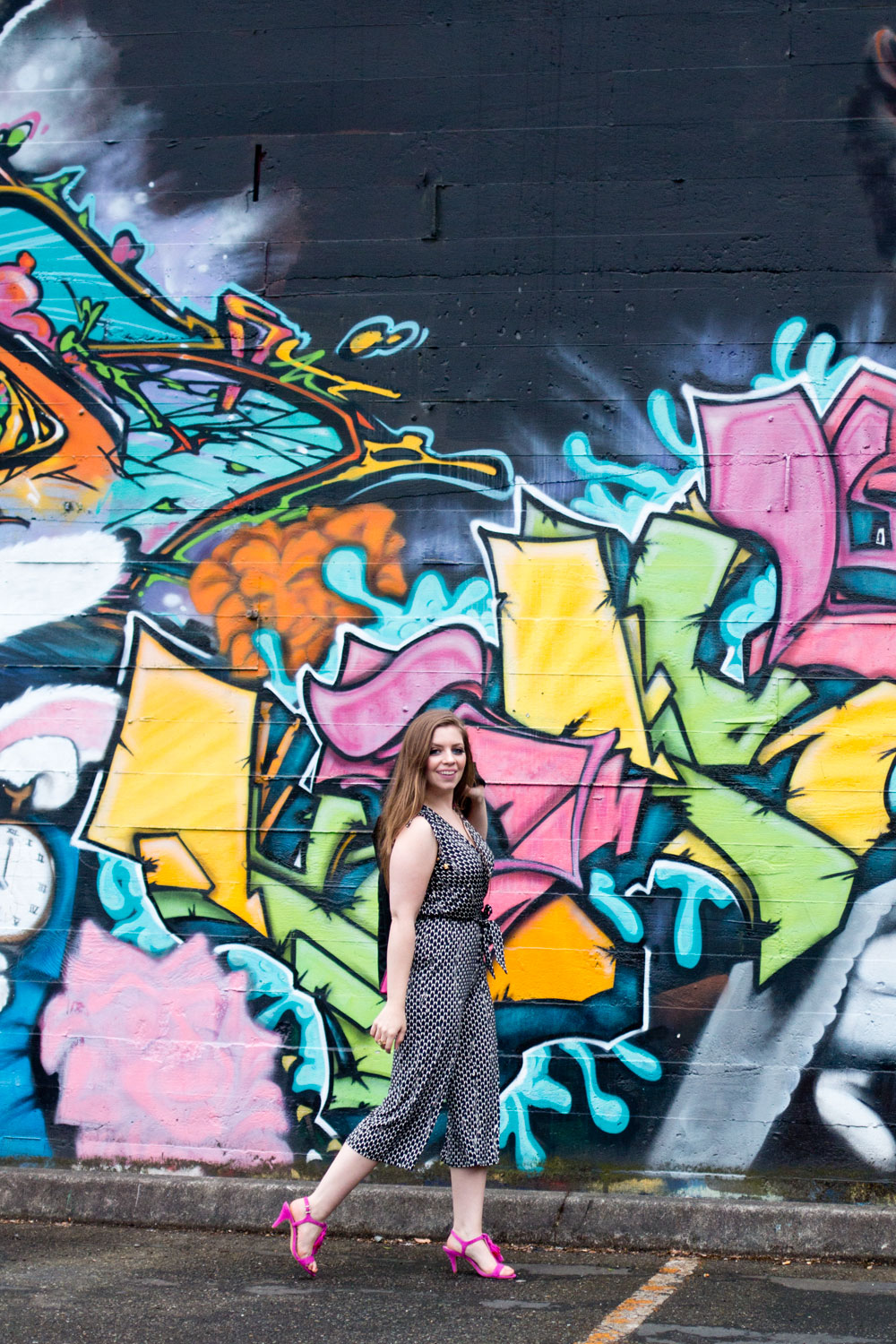 Alice in Wonderland is a great example of a storyline that for me, has improved with age. The unique set of characters, the bizarre world we're transported to, and those costumes! The costumes are probably my favorite part. It's no wonder that I was beyond excited to have the opportunity to pick a look from HSN's recent collection inspired by Disney's Alice Through the Looking Glass.
If you haven't heard, Alice Through the Looking Glass hit theaters late last month, and HSN has partnered with Disney to launch a collection that highlights clothing, beauty, housewares, jewelry, and more. Each piece from designers like Heidi Daus, Giuliana Rancic, Vince Camuto, and Urban Decay captures the magic of this fantasy adventure. Best of all, new HSN customers can save $20 off their first purchase of $40 or more (exclusions apply). Just use code 169087 at checkout!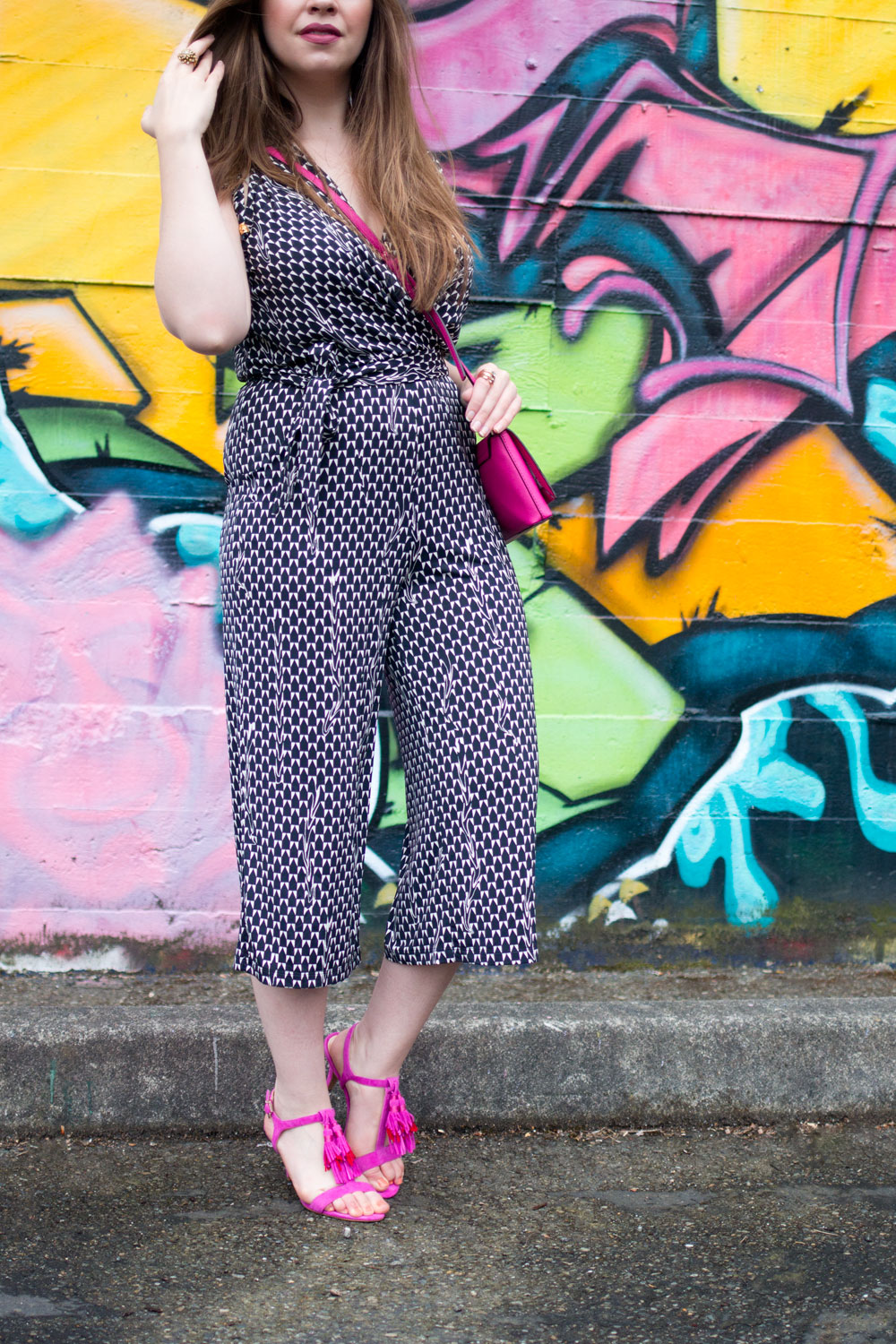 I had a hard time picking out just a few pieces from the collection, as there are so many different styles and options, from midi skirts to jumpsuits to two piece outfits. When I saw this culotte jumpsuit from Nikki by Nikki Poulos, I knew I had to have it. Made of a stretchy knit material, it's lightweight, comfortable, and the print is unique; basically the perfect combination for any outfit.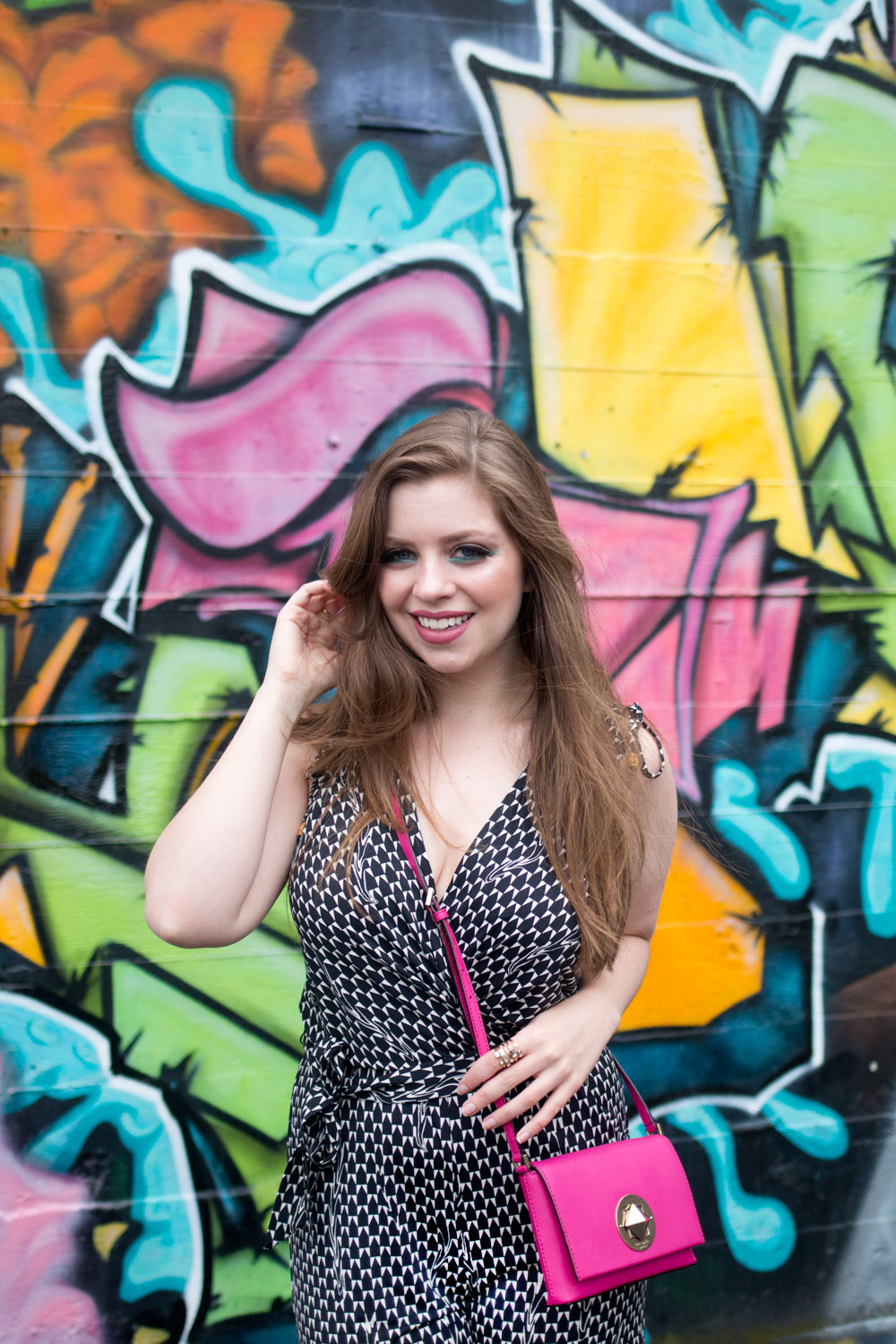 When styling this jumpsuit, I knew I wanted to add a bold pop of color and shoot in a location to really give it some edge and play on the theme of the outfit. Even though the thought of anything Alice may bring up a tea party image, I wanted to find a unique location to shoot the photos that was bold and different. I immediately took to Google to scout some local spots, and I was thrilled to find the perfect one in Downtown Tacoma. A little bit of a trek, but with some bribing and a brunch deal, I conned my poor "Instagram Husband" into tracking down this mural.
Could it be more perfect? I think not!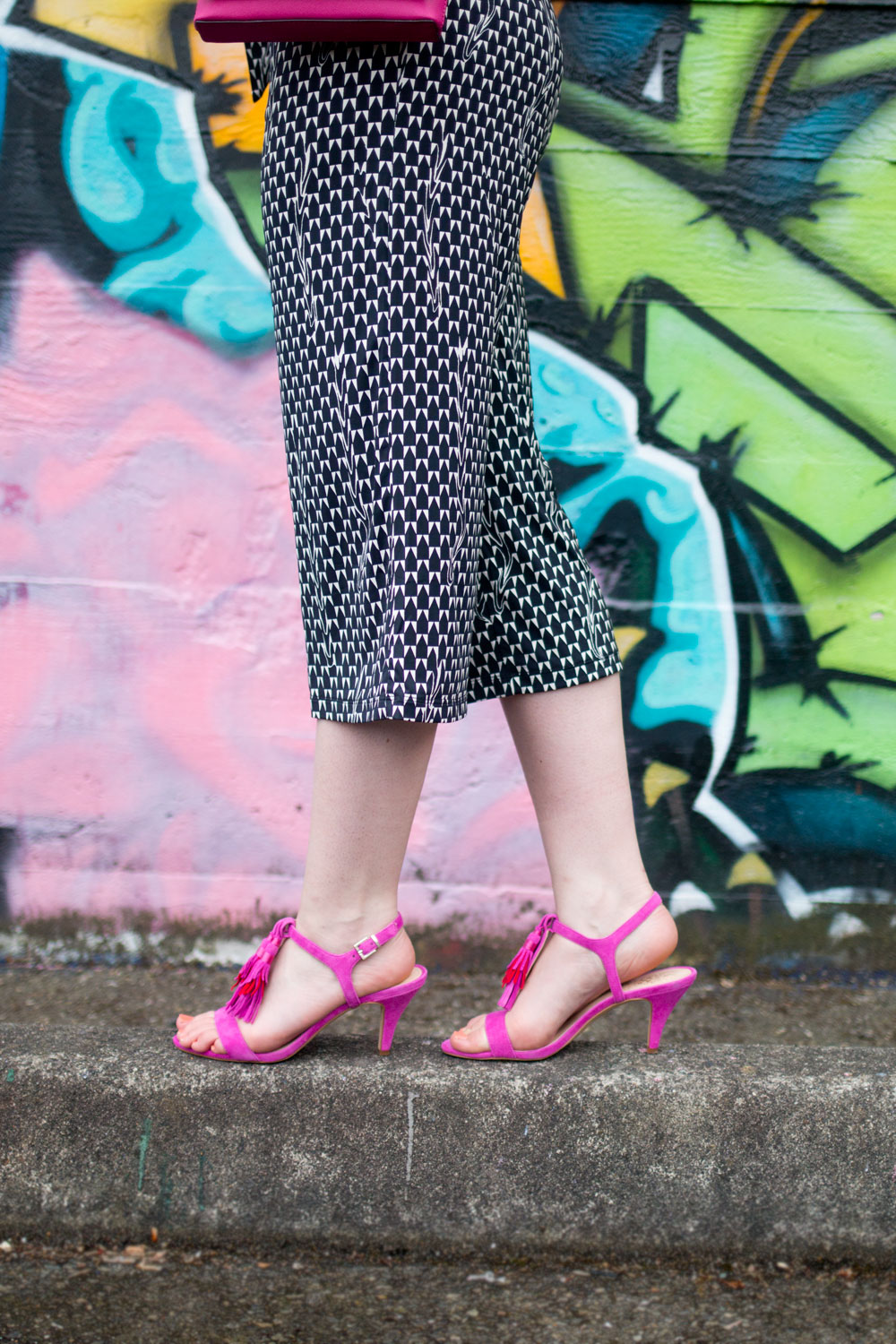 I loved the way the pattern of this jumpsuit is subtle enough to not clash with the backdrop, and the pop of pink in these adorable Vince Camuto Melsy Sandals really stand out. I topped it off with a leather jacket (because we just so happened to have a freak storm that day) and added a bag I already owned to anchor the look. As an added bonus, the jumpsuit was forgiving enough to hide a food baby from an indulgent brunch and comfortable to run errands in the rest of the day.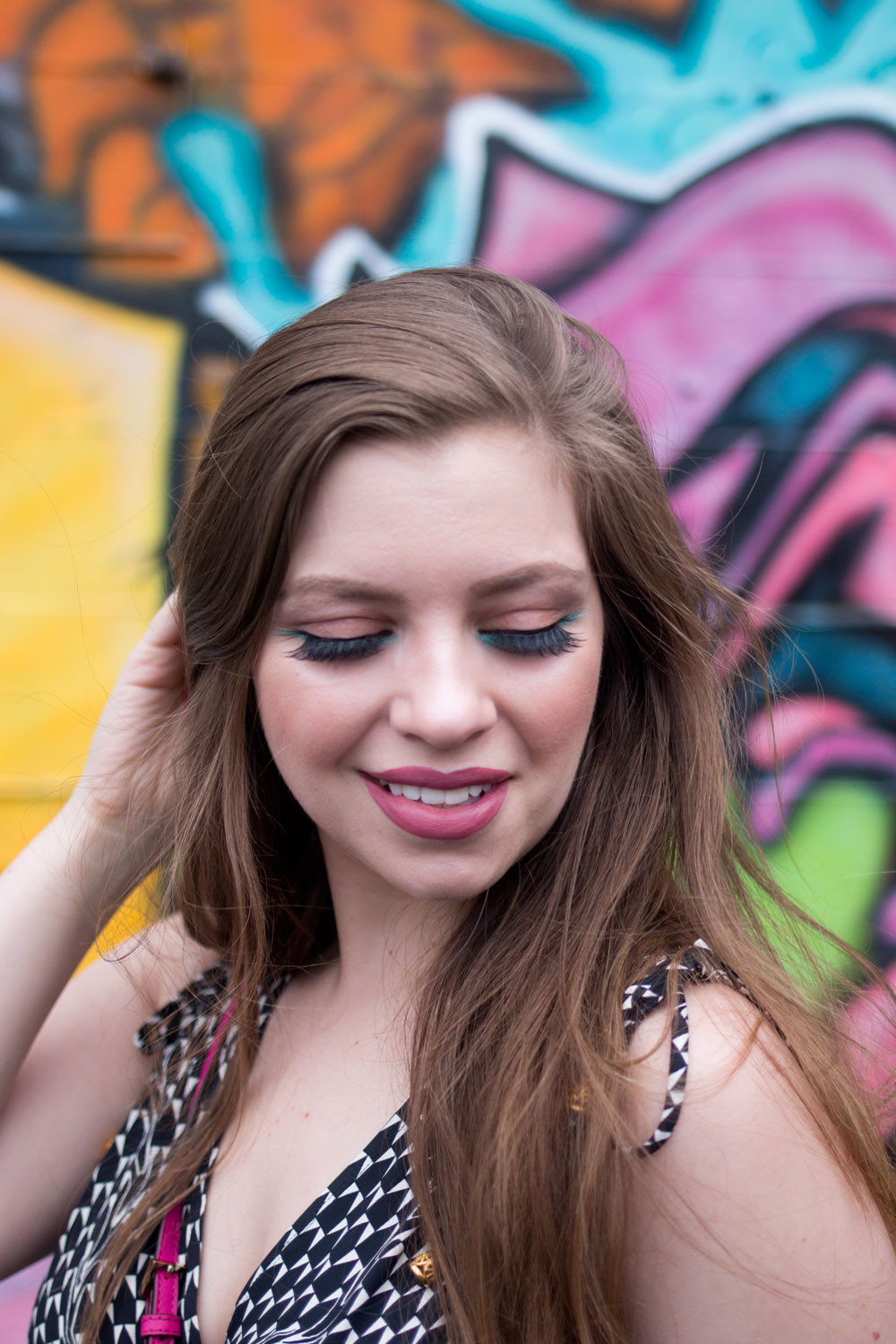 The other way I wanted to make the outfit pop was through makeup. I've been having fun playing with color as we enter into summer, and I've been loving the "pop of color" on the eye trend. I opted to go for a teal color along my lower lash line, added a dramatic wing, and popped some eyelashes on. I mean, if you're going all out, you might as well add some lashes, right?
If you're in need of a little pop of color in your makeup wardrobe, don't miss the Urban Decay Alice Through the Looking Glass Palette. The palette and lipstick collection are available at HSN for a limited time and you can use that $20 off $40 or more coupon I shared above, making it a screaming deal on a new collection like this!
Have you seen Alice Through the Looking Glass yet? Have you shopped the HSN x Alice Collection yet? It's definitely on my to-see list and maybe I'll rock my new     jumpsuit to go see it! ;)