Affiliate Links // Some of the items in this outfit were provided c/o and are labeled as such.
As spring comes to a close and we start seeing signs of summer (oh, you know, like multiple days of 80+ degree weather!) I find myself feeling the urge to  get out and about and explore the city. This year, we have a few extra things on our plate (more on this later, promise!) so we're not doing any big summer vacations. While I'm not entirely thrilled about that, there's no reason we can't do smaller weekend jaunts, which is why I'm really excited to do some staycations here locally, and head up north to Canada for a little Vancouver, B.C. adventure. As the weather heats up, I've been inspired to dress in this vacation-ready summer travel outfit.
Is it nerdy of me that one of the things I look forward to most when traveling is outfit planning? I always like to pick items that I think reflect the area I'm visiting best. When we went to Florida last year, I was sure to pack my tropical off the shoulder dress and my Mara Hoffman Sarong that's full of bright colors. When we went to Paris last summer, I was sure to pack all of the stripes. ;)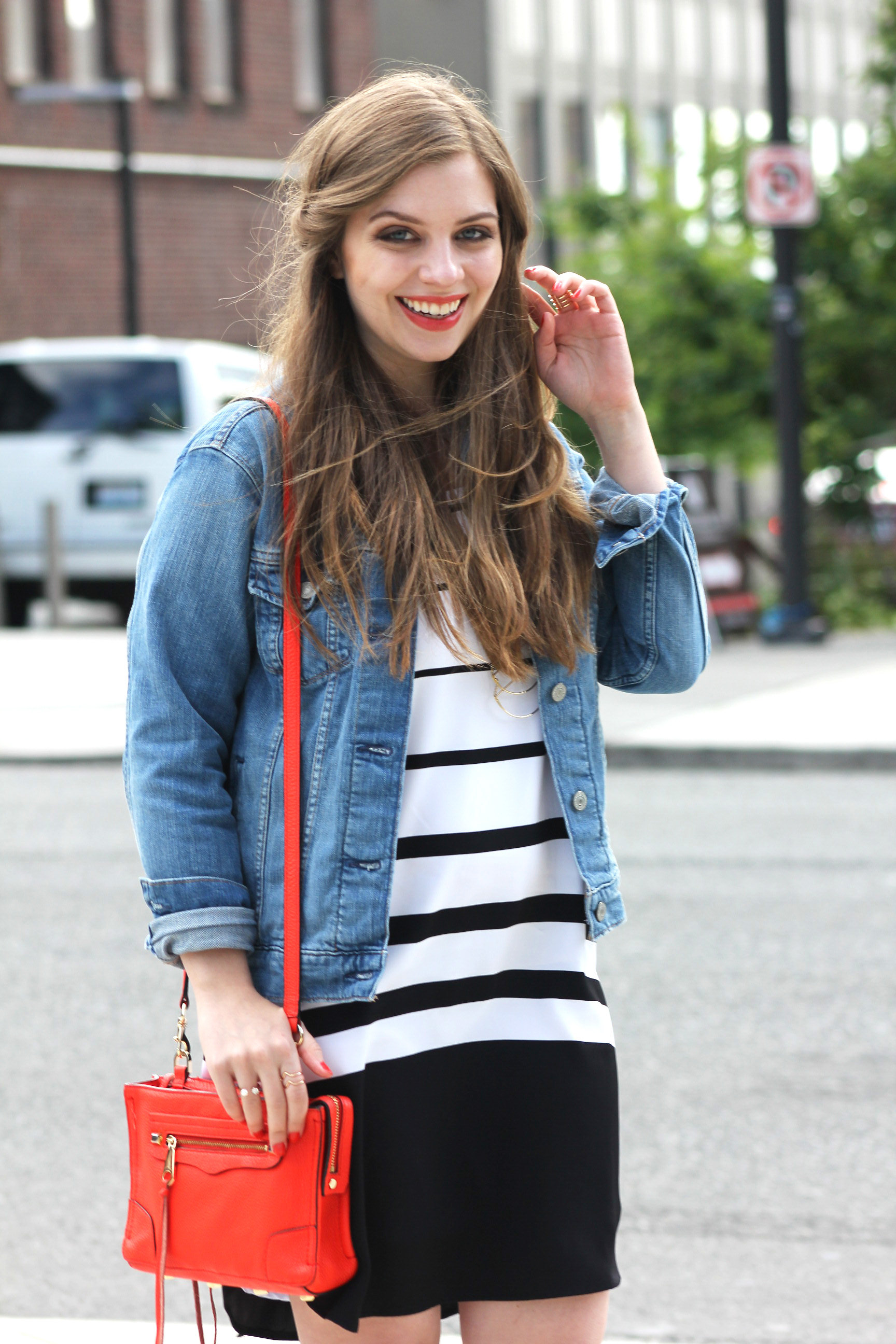 What I'm Wearing
Dress: BB Dakota c/o Schoola
Jacket: Levi's Trucker Jacket c/o Fred Meyer
Purse: Rebecca Minkoff Regan Crossbody in Poppy
Necklace: Purre Boutique (similar)
Rings: Pearl Ring, Chevron Stacking Rings
Shoes: Adam Lippes for Target (similar)
Hat: c/o Fred Meyer
Sunglasses: Betsey Johnson c/o Fred Meyer
Hair & Makeup by Sharell Katelynn
Photography by Jenna Lynn Photography
Photo Styling by SuzeAnne Steben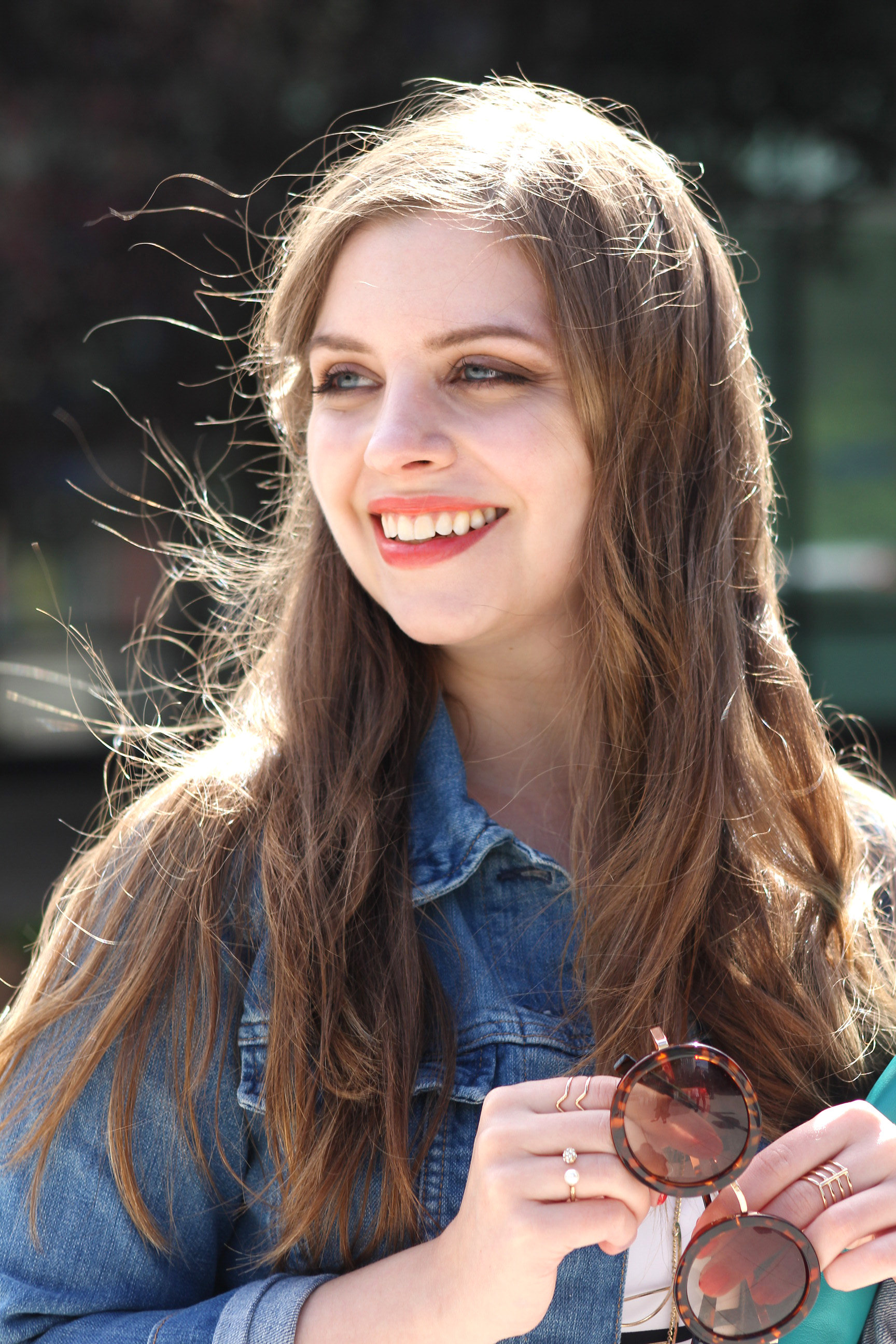 Recently I was contacted by Schoola, an online thrift store that sells clothing to benefit schools in the US and the Malala Fund internationally. 40% of their proceeds go to benefit children's education, and all of the clothing they sell is donated. Because I'm always looking for new ways to recycle my clothes, I was really excited to add another new donation source to my list. While I love donating locally, it's nice to be able to spread the love and support schools across the US and worldwide! What's even better is they'll send you a donation bag for free, you fill it up, and pop it back in the mail. All postage is paid for, and your clothes will be off to a new home! You can request your own donation bag here. Don't have anything to donate? That's okay! Your purchase supports schools too! You can sign up for a Schoola account and receive $20 off your first purchase through my referral link here.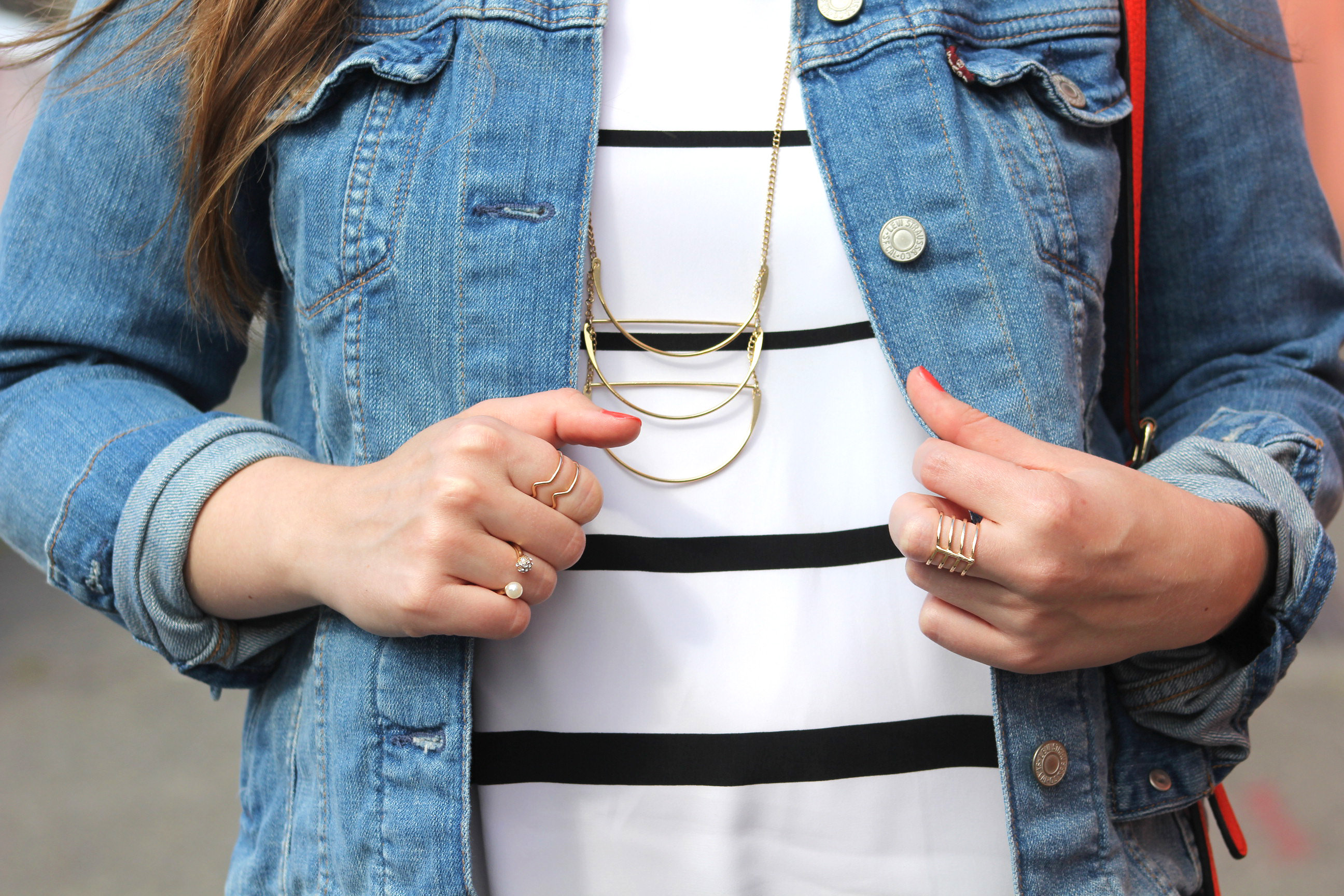 They offered to send me a few pieces from their vast collection and I was tasked with styling it into an outfit! Immediately I gravitated towards this BB Dakota monochromatic dress that was in my package. The bold black and white pattern was the perfect vehicle for bright accessories, and the lightweight tank style was perfect for a warm, sunny day in the city. This dress is also from the new Modcloth for Malala Collection, which benefits the Malala Fund and helps girls complete 12 years of education worldwide!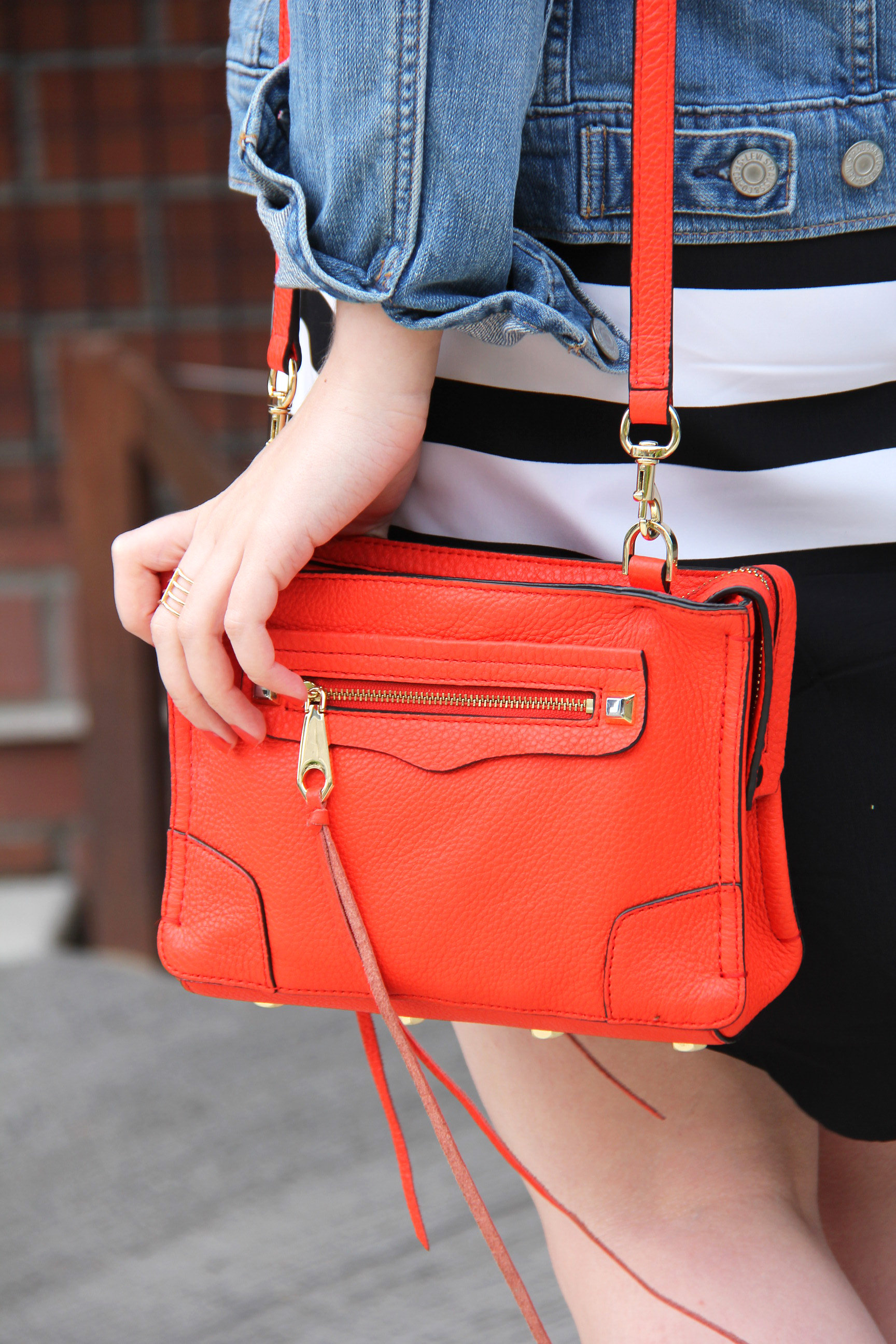 Instantly I knew I wanted to wear my trusty Levi's Trucker Jacket (because honestly, I take either this jacket or a chambray on every single spring and summer vacation for layering!) and my favorite Rebecca Minkoff Regan Crossbody Bag. The bag has just enough space for my phone, small wallet, and a lipstick or five, and is lightweight enough to wear comfortably all day long. I topped off the outfit with a contrasting pattern at my feet.
These pumps from the Adam Lippes for Target Collection are fairly tall but actually pretty comfortable! Usually, inexpensive shoes are notorious for being uncomfortable, but I've really loved these. They lasted through all night dancing at a wedding and jogging the streets of Seattle when running late for this photoshoot. (Oops!) While the collection is no longer available, these L.K. Bennett pumps are very similar and would be perfect to mix with a similar style outfit!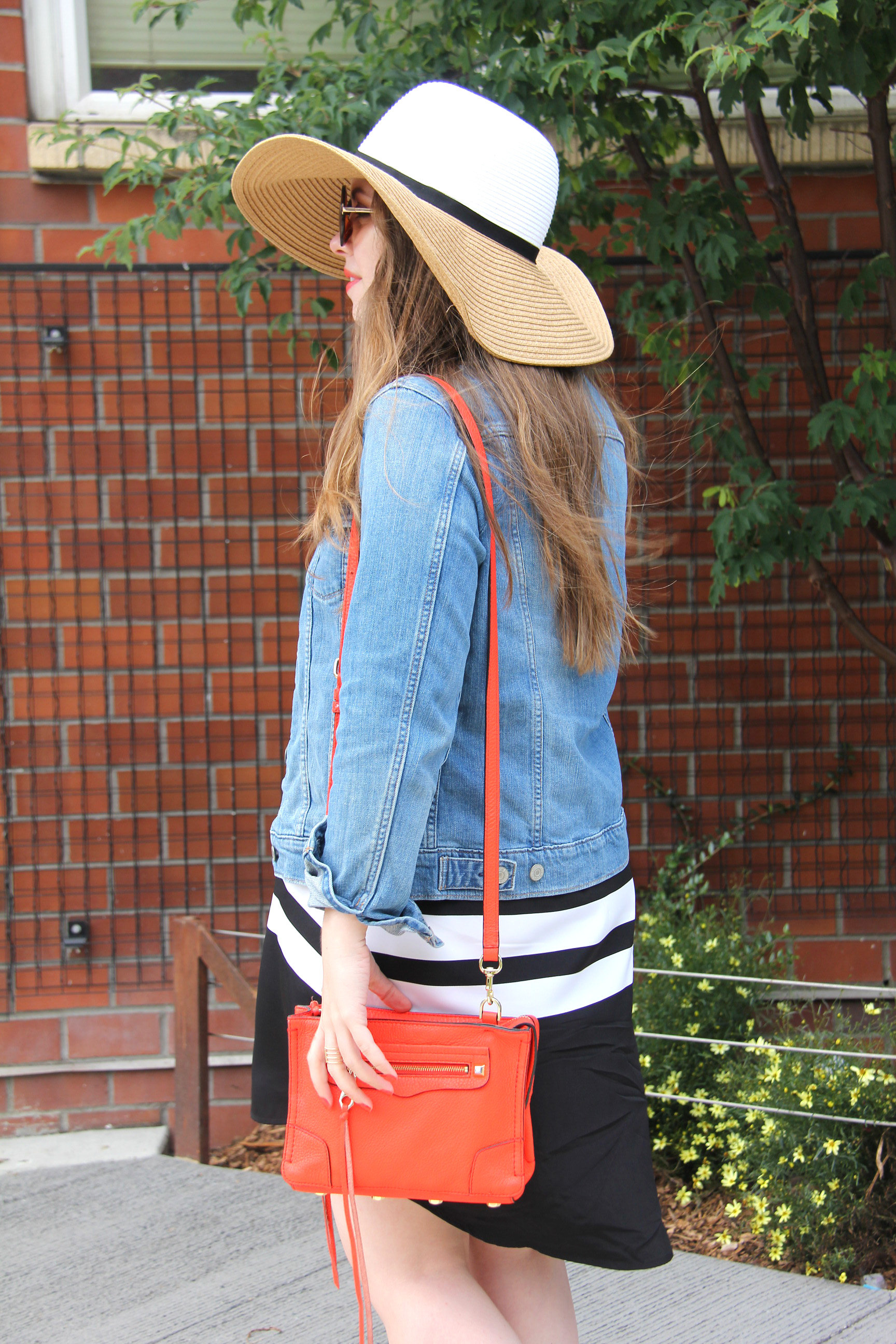 If you're doing a lot of walking, however, I'd highly recommend pairing your outfit with a cute pair of sneakers instead. Luckily, sneakers of all kinds are totally on-trend for summer and you can pull off Stan Smiths, Converse, or whatever your heart desires with any dress for a day of sightseeing!
Do you have any outfit staples that you love to pack for summer trips? Where are you off to this summer? I'd love to hear about your fun vacation or staycation plans in the comments below!