Recently, a hip new-to-me band came to town, and Dave wanted to see them. It was a Friday night after work and honestly, I was tired, but I try not to always be an old lady, so I obliged. It turned out to be an all ages show, which when you're not in your early twenties, means that it's likely you may be the oldest or second oldest in the room.
If there was one thing that stuck out to me, it was how differently kids these days dress. And yes, I really did say kids these days because they looked so young! The girls seemed to be rocking some sort of mixture between 90s grunge and a rap music video with crop tops that looked like bras, tight Mom jeans, and oversized bomber jackets. Bless their hearts, to be young again. ;)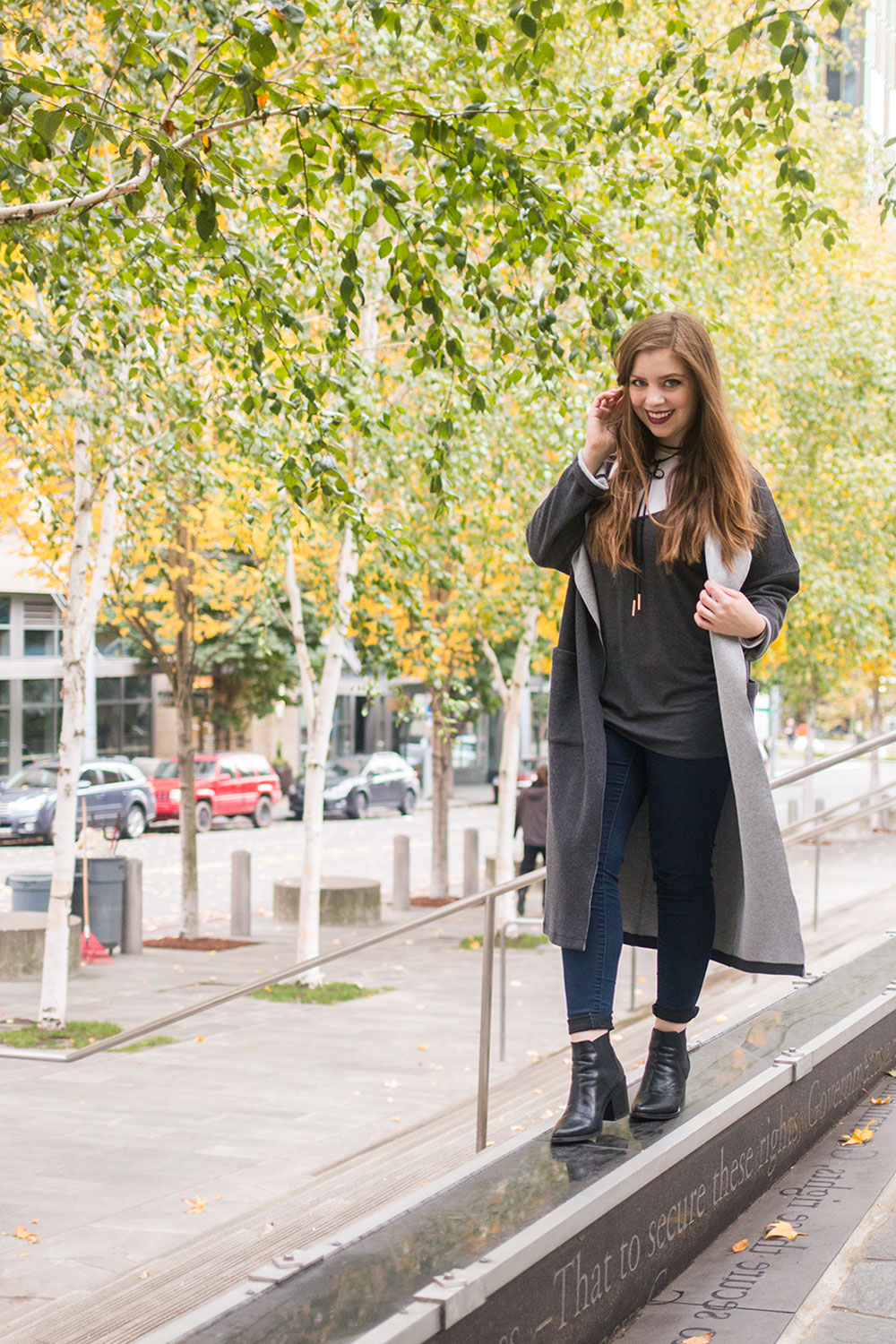 Disclosure: Some links in this post may be affiliate links, and I may receive a small commission for your click. All thoughts are my own!
What I'm Wearing
Moto Jacket: Blank NYC Morning Suede Jacket in Olive Juice (wearing a small, size up if you want to layer under it)
Coat: Buki Brand Cocoon Coat, borrowed (wearing a S/M, oversize fit)
Long Sleeve Tee: Buki Brand Shanna Tee, borrowed
Tank: Buki Brand Undercover Tank, borrowed
Jeans: LC Lauren Conrad Jeggings
Boots: Steve Madden "Pistol" Booties (now on sale!)
Choker: Boohoo Tie Cord Choker
Photos by Lisa of Story of My Dress
How to Incorporate 90s Style into Your #OOTD
It got me thinking about how much the 90s trends that I remember teens wearing when I was growing up have come full circle. Seeing it all come back again has me realizing I'm definitely getting older because this is something my mom always said would happen. And now it has. Oy. Regardless, you can either deny it's existence or embrace it and relive some of your favorite trends from the past while leaving the ones that don't suit your lifestyle for the younger generation.
Which is exactly what I intend to do! My friend Lisa and I recently popped by the Buki Brand pop-up shop to try on some of their new technologically advanced pieces. Technology and fashion? Definitely a thing. They've created a new fabric that wicks away moisture, helps to regulate your internal body temperature, and never wrinkles. When I saw this tank top and the white long sleeve tee I knew it would go perfectly with my favorite moto jacket and bring all the 90s vibes by layering them together with my choker. This outfit inspired me to share a few easy 90s styles that I believe that you can totally incorporate into your favorite #OOTDs (outfit of the day) without looking like you're trying too hard.

Dark Lipstick
Browns, vampy reds, and nudes, oh my! The lip colors of the 90s are being reimagined into a wide array of shades and undertones so that everyone can wear them. From drugstore prices, like this lipstick I'm wearing from Wet N Wild called Black Orchid, to high end, a bold lip color can give you just a taste of the 90s no matter the price point. If you think you can't pull off a bold lip color, I'm here to tell you that you most definitely can. With a smile, any lip color will look fabulous on you! If you want specific recommendations, let me know, and I'll work on a post with all of my favorite vampy shades for fall and winter this year!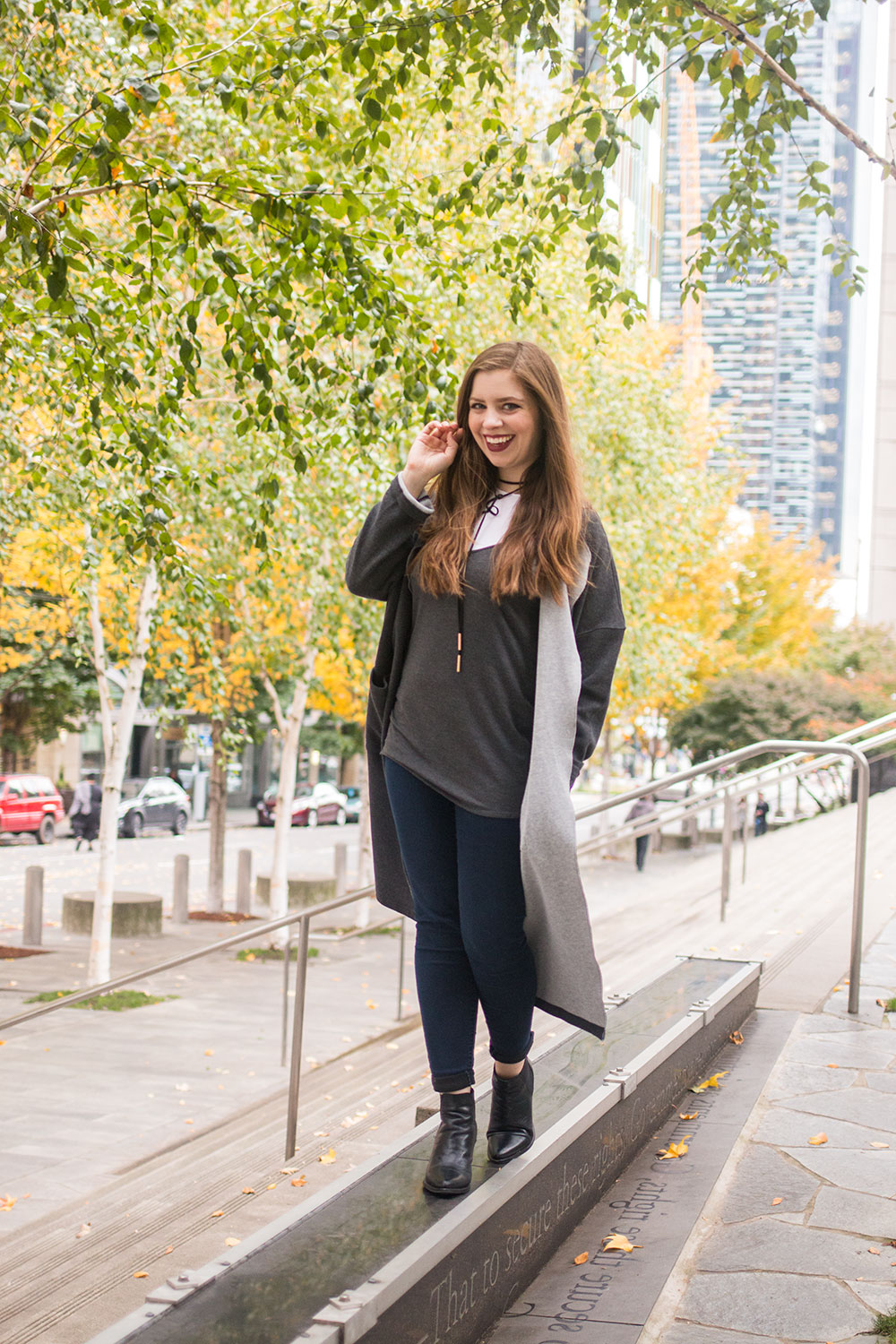 Layering
Layering isn't just a 90s trend. However, it is something that was quite prevalent, especially when it came to strappy tops. In this outfit, I opted to layer this plain strappy tank from Buki over this cozy long sleeve tee, also from Buki, for some added warmth. To rock the same 90s style, grab your favorite strappy tank, or opt for something even more edgy like a slip dress or layer a tank over a collared shirt. Need some more warmth? Well, then the next trend is for you!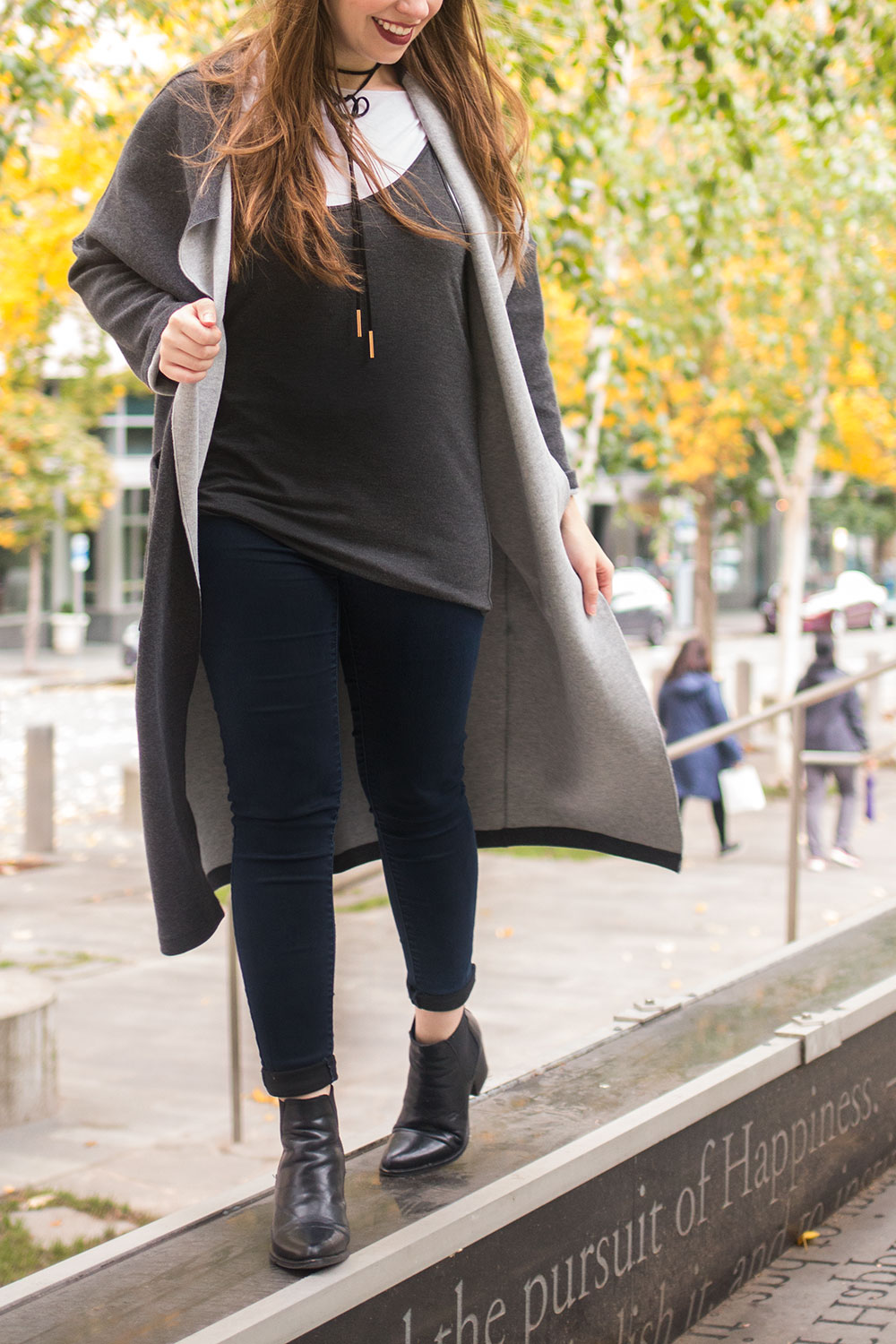 Flannel
Grunge is back! Flannel never actually vanished from the Seattle fashion scene, but now that it is back in vogue, it seems like everyone has fully embraced it. Consider layering a flannel on top of any outfit that you need some extra warmth. And hey, if you get too hot, just tie it around your waist for the ultimate 90s look. My personal favorite way to rock a flannel is with a funky graphic tee and wearing it open like a jacket. It's so comfy and cozy while also being a little bit edgy and different.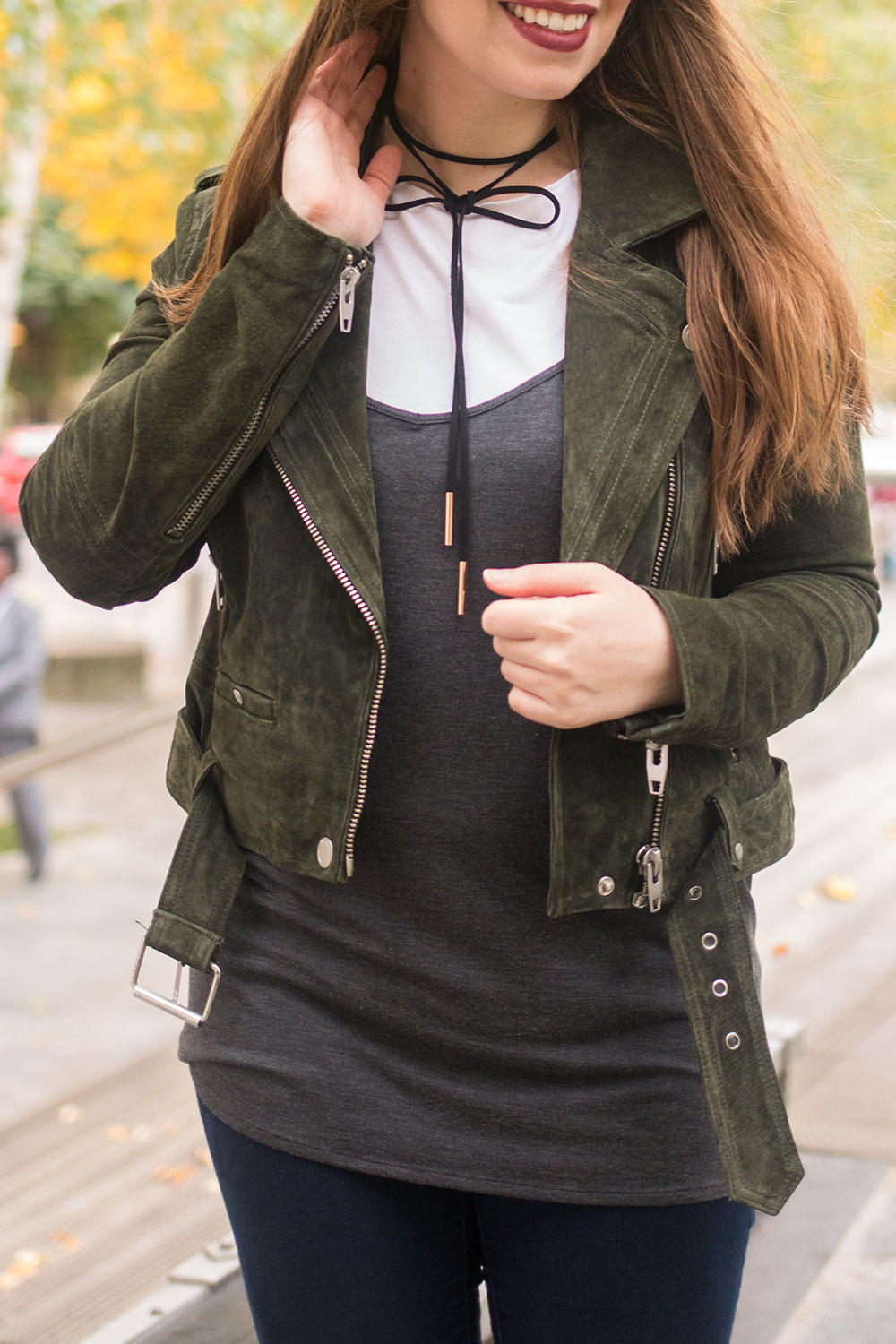 Chokers
It's no secret that this trend has been my absolute favorite of yet. This choker I'm wearing from Boohoo is one of my favorites because the long length allows me to wear it in a variety of different ways. Not a fan of having long tassels? Consider one of those fun tattoo chokers, velvet, or lace. Even a plain piece of ribbon looks totally chic and will go with any outfit!
And just roll all of those into one outfit for the ultimate 90s outfit! ;) Of course, there are many more 90s trends you could consider incorporating into your outfits too. Think edgy combat boots, floral dresses, platforms, and scrunchies. But if you're looking for just a hint of the 90s, try one or more of the trends above and let me know how it goes!
Are you embracing the 90s trends that have returned? Which one(s) have you been incorporating into your daily outfits? I'd love to hear all about it in the comments below!