Happy November! It seems like Fall is flying right by and before we know it the rest of the holidays will be here. Yikes! The start of a new month always brings me joy because it means another Stitch Fix is on its way!
Last weekend my most recent Stitch Fix arrived, and I can't wait to share what I received with you. A new month always brings a new package on my doorstep, and let's be honest; there's nothing more fun than receiving mail! ;) This month I received a Fix from a new stylist named Bianca, and I couldn't wait to see what she picked out for me.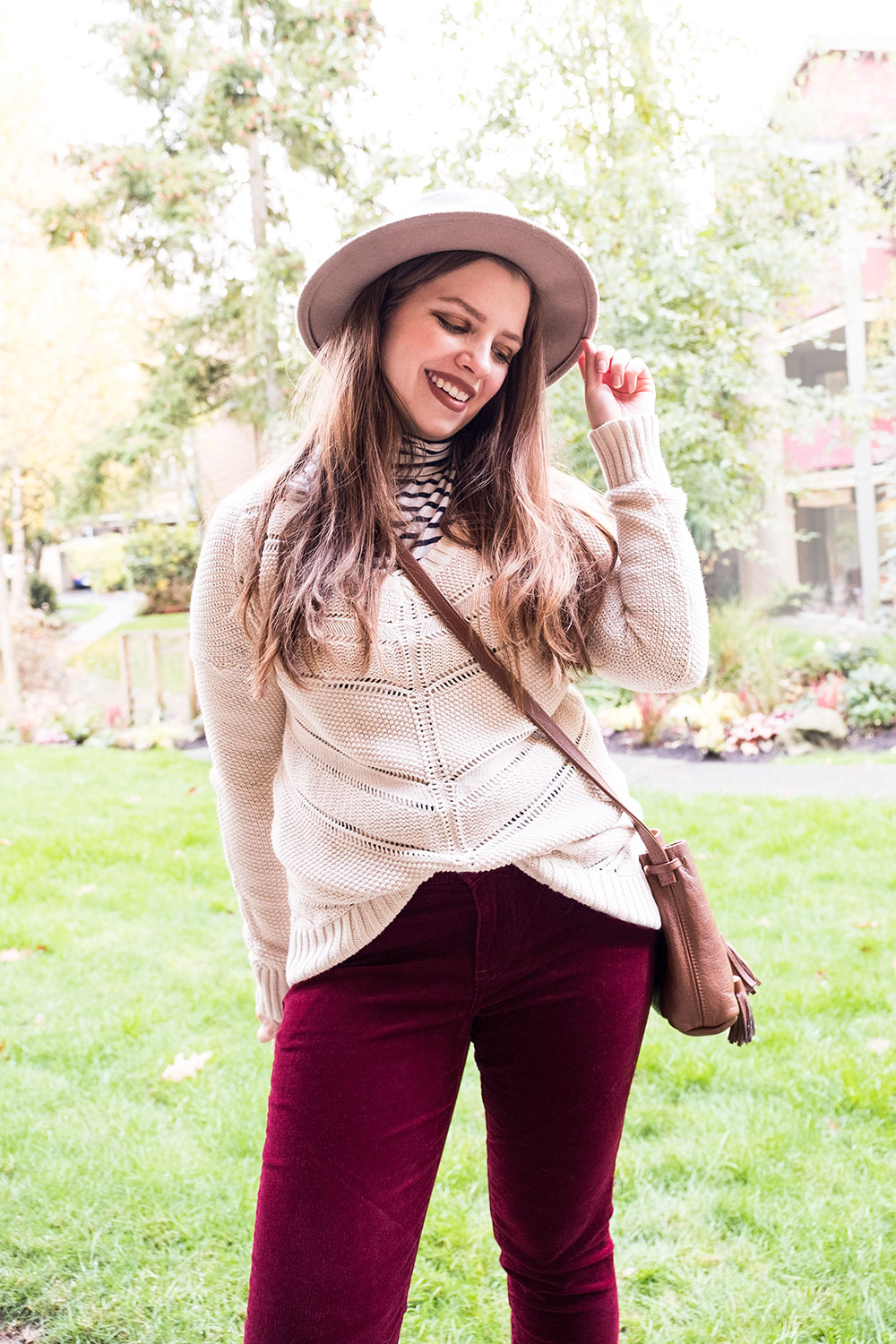 Disclosure: This Stitch Fix November 2016 post contains affiliate links. All opinions are my own, and I purchase this subscription myself.
Stitch Fix November 2016 Review
If you're new to Stitch Fix, I'll break it down real quick. For a $20 styling fee, receive a box on your doorstep containing five items – anything from clothing to jewelry to handbags to shoes based on your style profile and Pinterest style board. Send back what you don't like, keep what you do, and your $20 styling fee will be deducted from the total. Keep all five items and receive an additional 25% off. Stitch Fix also is now serving male clients too! Have a significant other or male relative in need of some shopping assistance? Send them over to Stitch Fix Men! It works the same way. With the holidays coming up, don't forget to consider giving the gift of Stitch Fix too! Gift card amounts start at just $20 and make the perfect gift for anyone who loves clothing. ;)
So without further ado, here's what came in my Stitch Fix this month!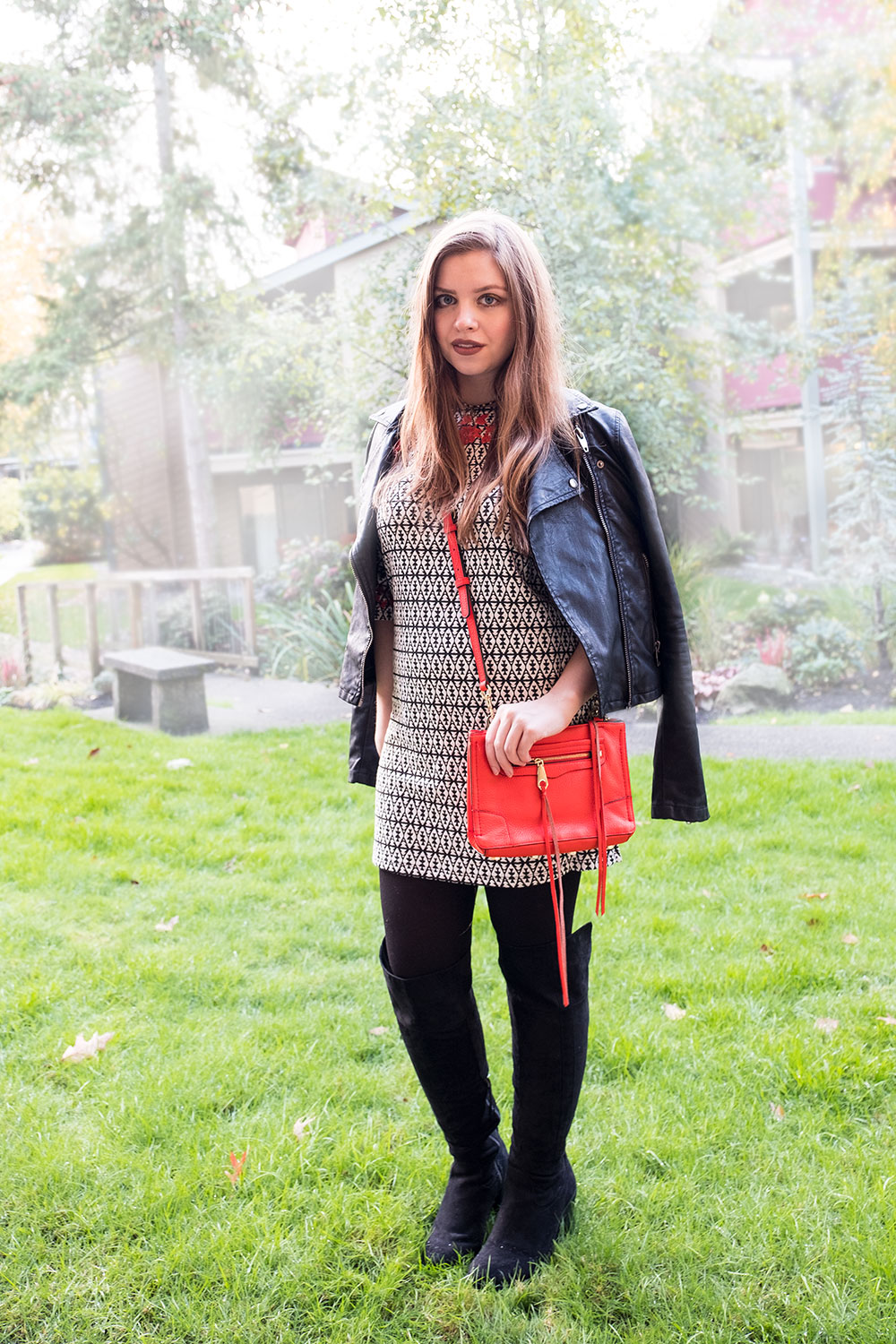 THML Carrie Knit Embroidered Dress in Black, Size Small Petite, $68
»» Similar THML Tunic Print Dress for $99
The first item I peeked at in my Stitch Fix was this adorable THML Carrie Knit Embroidered Dress. I have a thing for shift dresses and embroidery, so I couldn't wait to try this one on! The material was thick, almost a cross between a sweatshirt and the scuba-like material that was popular in dresses a few years back. The weight makes it perfect for Fall!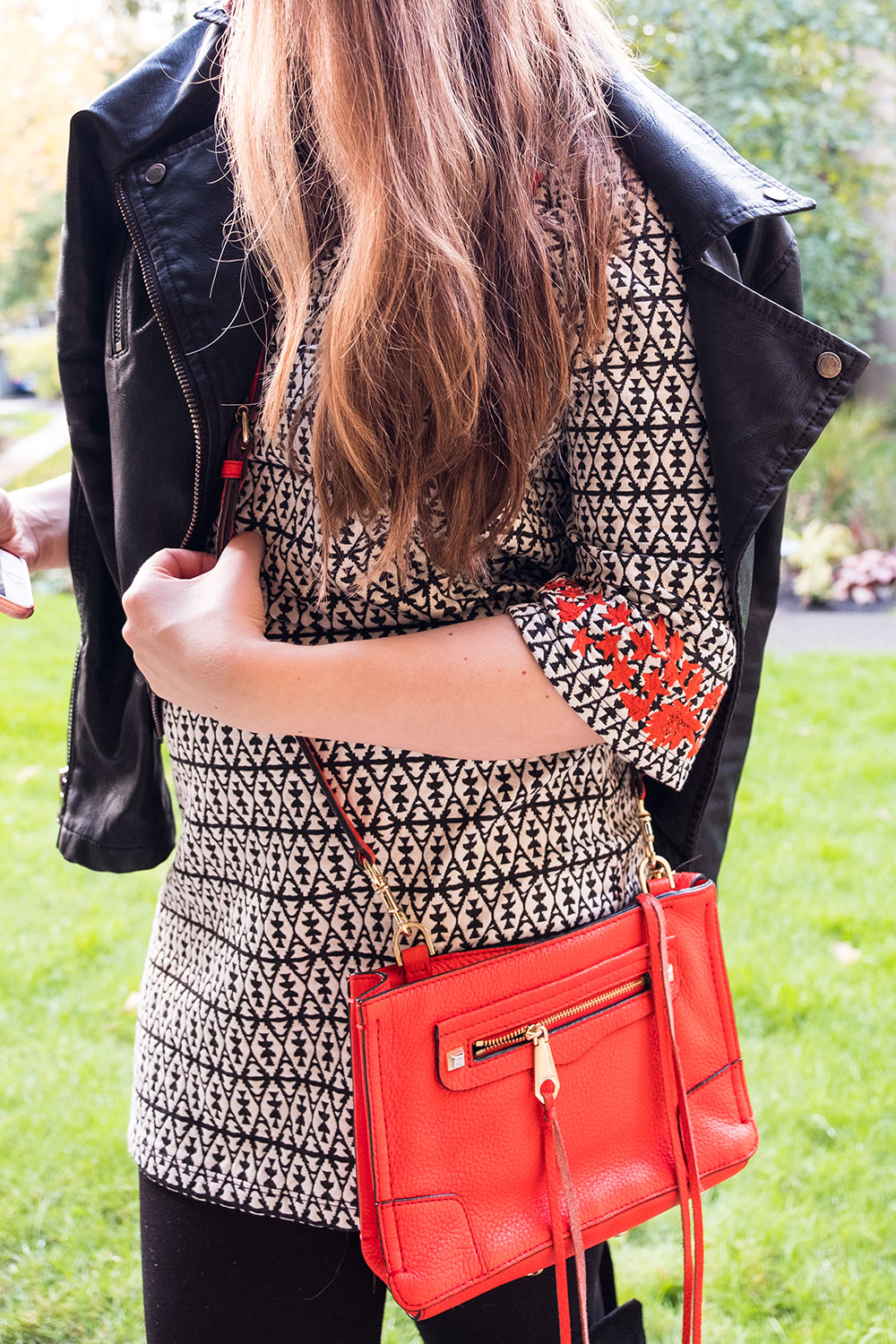 The embroidery was my favorite part of this dress, and I loved the black and white pattern all over. The cut of the sleeves was both cute and flattering too. I could see wearing this dress with over the knee boots like I've styled it here, as well as with my favorite pair of ankle boots. A pop of color with my Rebecca Minkoff bag highlighted the embroidery, and my Berkshire Cozy Tights and Blank NYC Moto Jacket kept me toasty. Personally, I felt the length was a bit too short to wear to work. However, this would be a fabulous dress to wear on the weekend!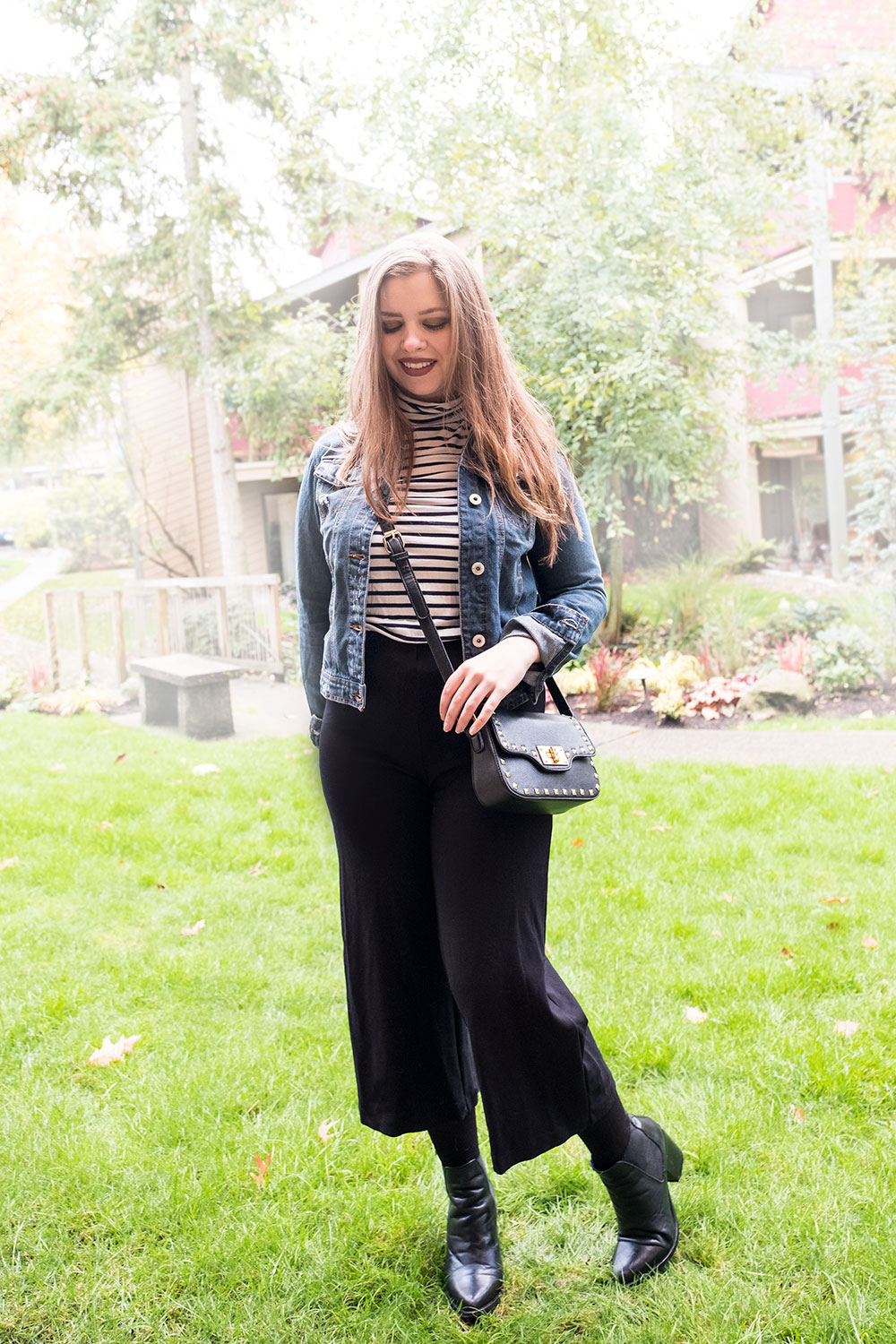 Ci Sono Sayson Denim Jacket in Navy, Size Small, $48
»» Similar Ci Sono by Cavalini Distressed Denim Jacket for $30
Denim is so hot right now that I'm not surprised Bianca selected a denim jacket for me to try! I lived in my favorite one from Levi's all summer long, so I can call it a wardrobe staple. This particular denim jacket from Ci Sono has a distressed, lived-in feel already with the stone washed pockets and rips.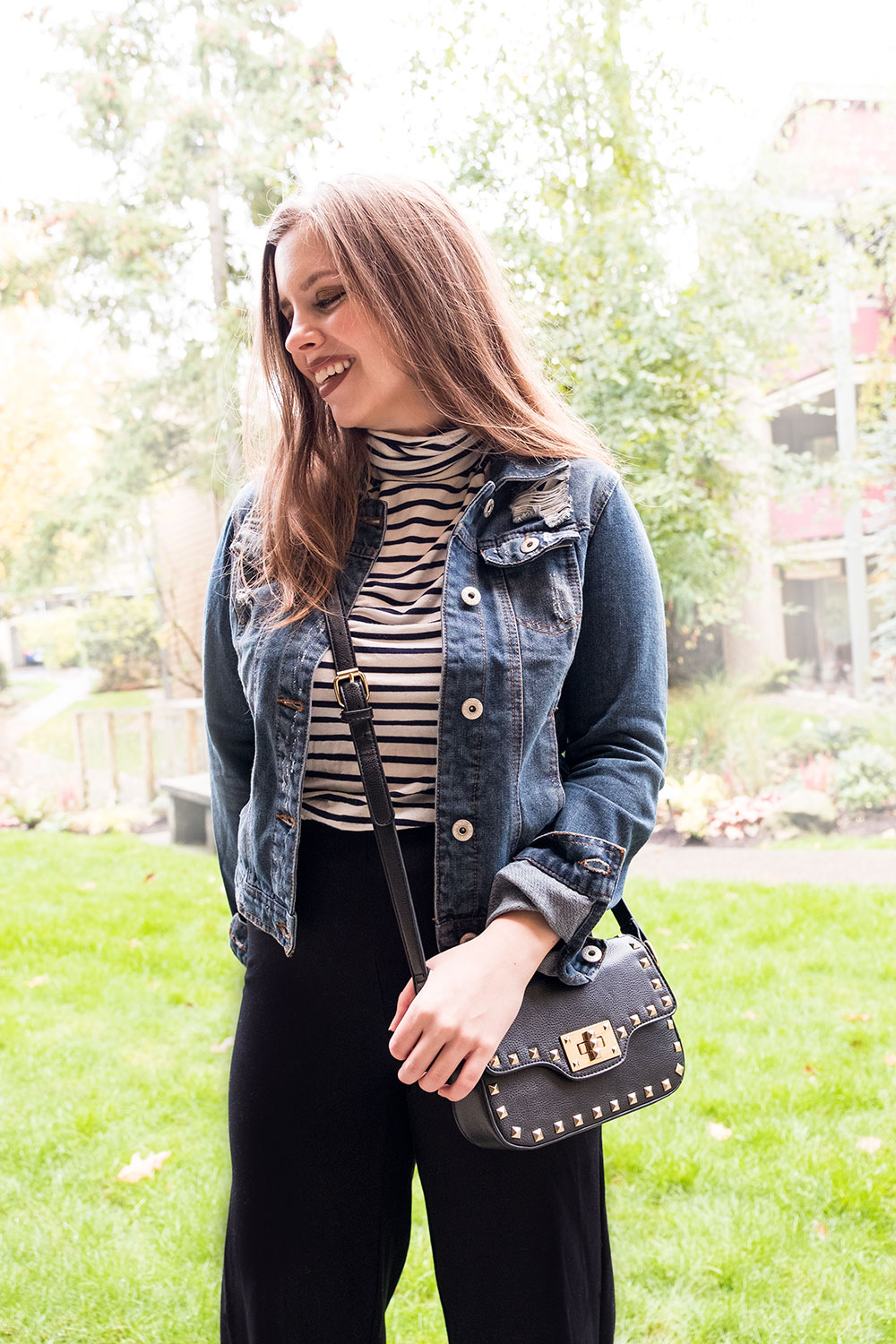 I think a denim jacket can go with anything, but for fall, I particularly like it with layering tops like this striped turtleneck. There's no reason to put away your cropped pants this fall either; here I've styled my J.Jill Cropped Pants with a pair of tights and my Steve Madden Pistol Booties so that my legs won't be too chilly. Keeping the tights and boots, the same color almost gives the illusion that my boots cover my entire calf, which is a trend I've been loving but haven't splurged on yet!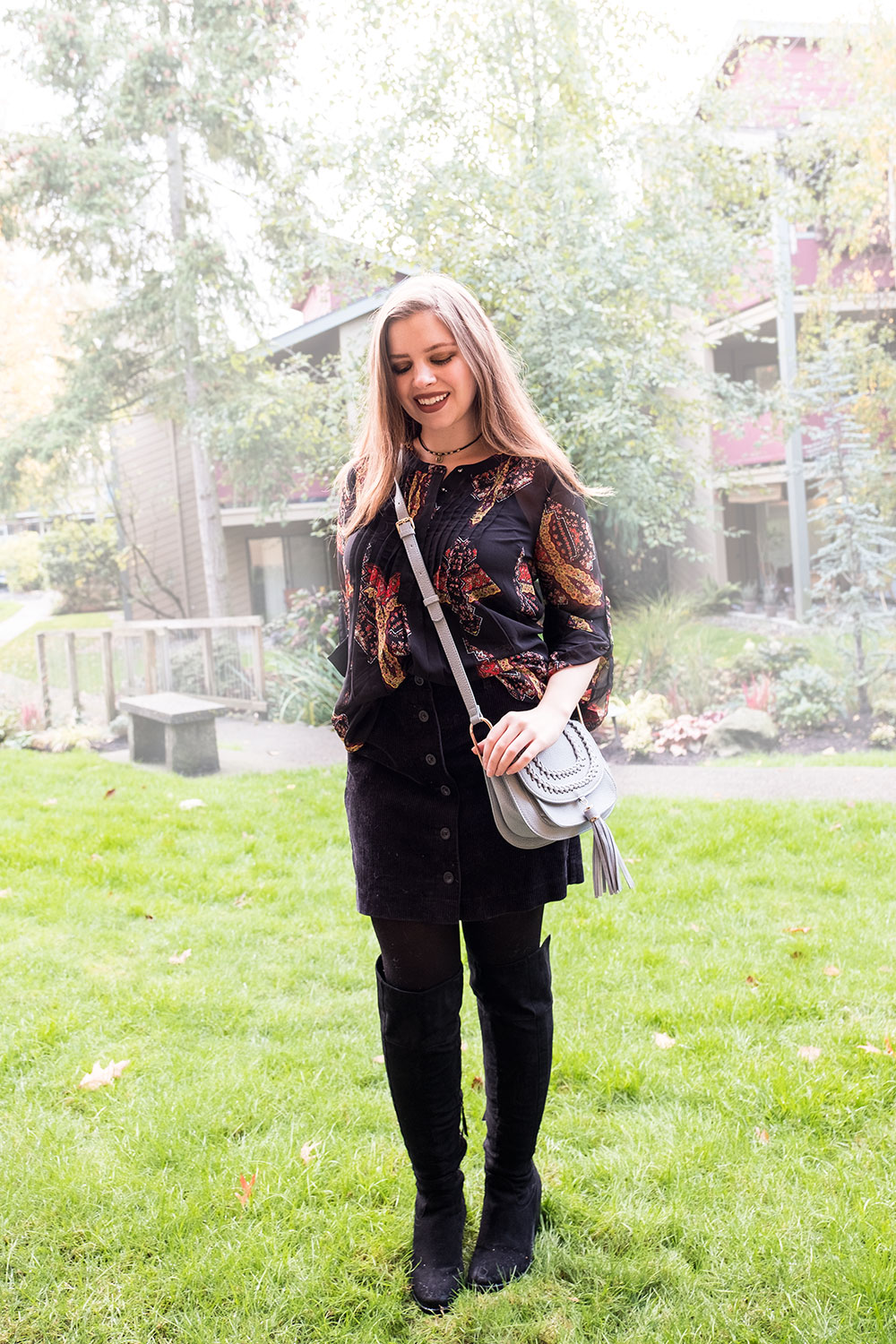 Daniel Rainn Bilson Pleat Detail Blouse in Black, Size Small Petite, $68
»» Similar Daniel Rainn Blouse for $78
When I think of fall, I totally think of prints like the one on this Daniel Rainn Bilson Blouse! Paisley is something that I know not everyone loves, but I sure do. The colors of this print are fabulous and fit perfectly into my wardrobe already.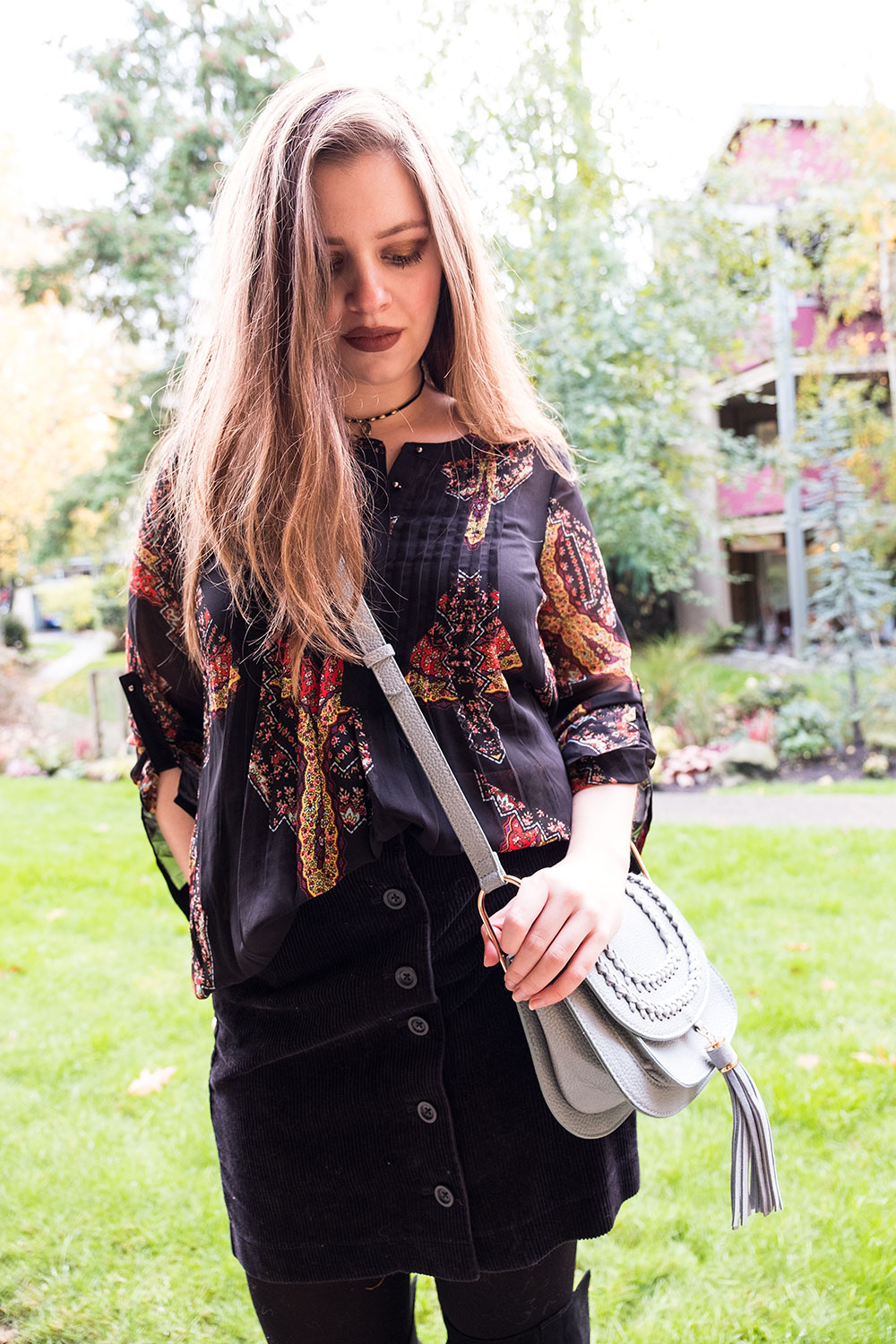 I paired it with this adorable corduroy button up skirt that I scored last year at Uniqlo. Because it's not particularly warm, I styled it with my over the knee boots and cozy tights to keep me extra warm. (I can't be the only one who starts shivering when it hits below 50 degrees, right?!) Because the outfit was feeling a little dark, I opted to pair it with my Moda Luxe Crossbody that I scored in my July Stitch Fix!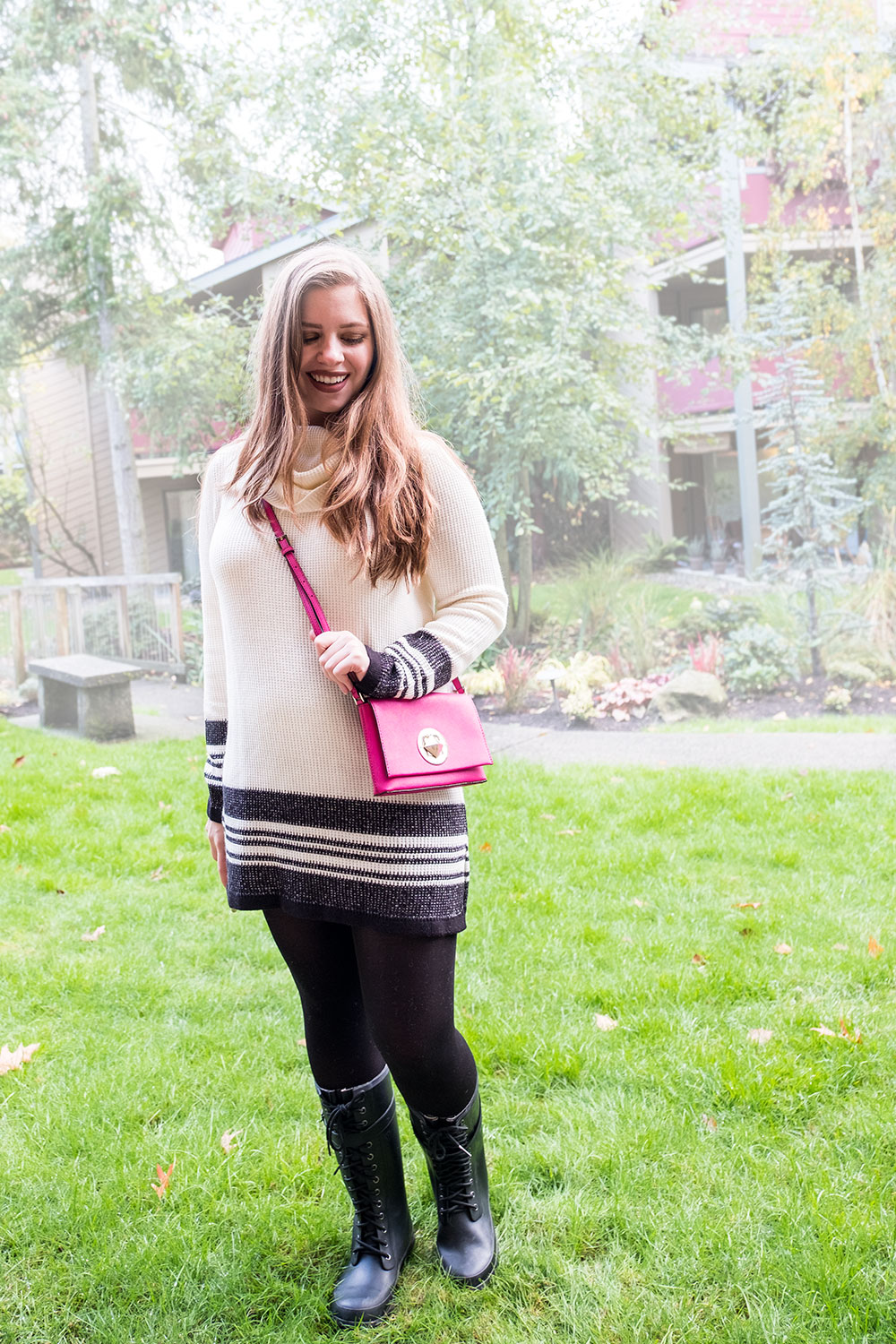 Market & Spruce Camy Textured Stripe Trim Pullover in Off-White, Size Small, $64
»» Similar Turtleneck Sweater Dresss for $89
Sweater dresses? Call me obsessed! I have been loving all things sweater this month because girl, I'm freezing! We finally turned on the heat in our condo this weekend, and I couldn't be more happy about that, because brr! This sweater tunic is thick and cozy, and I love the striped detail on the wrists and hem!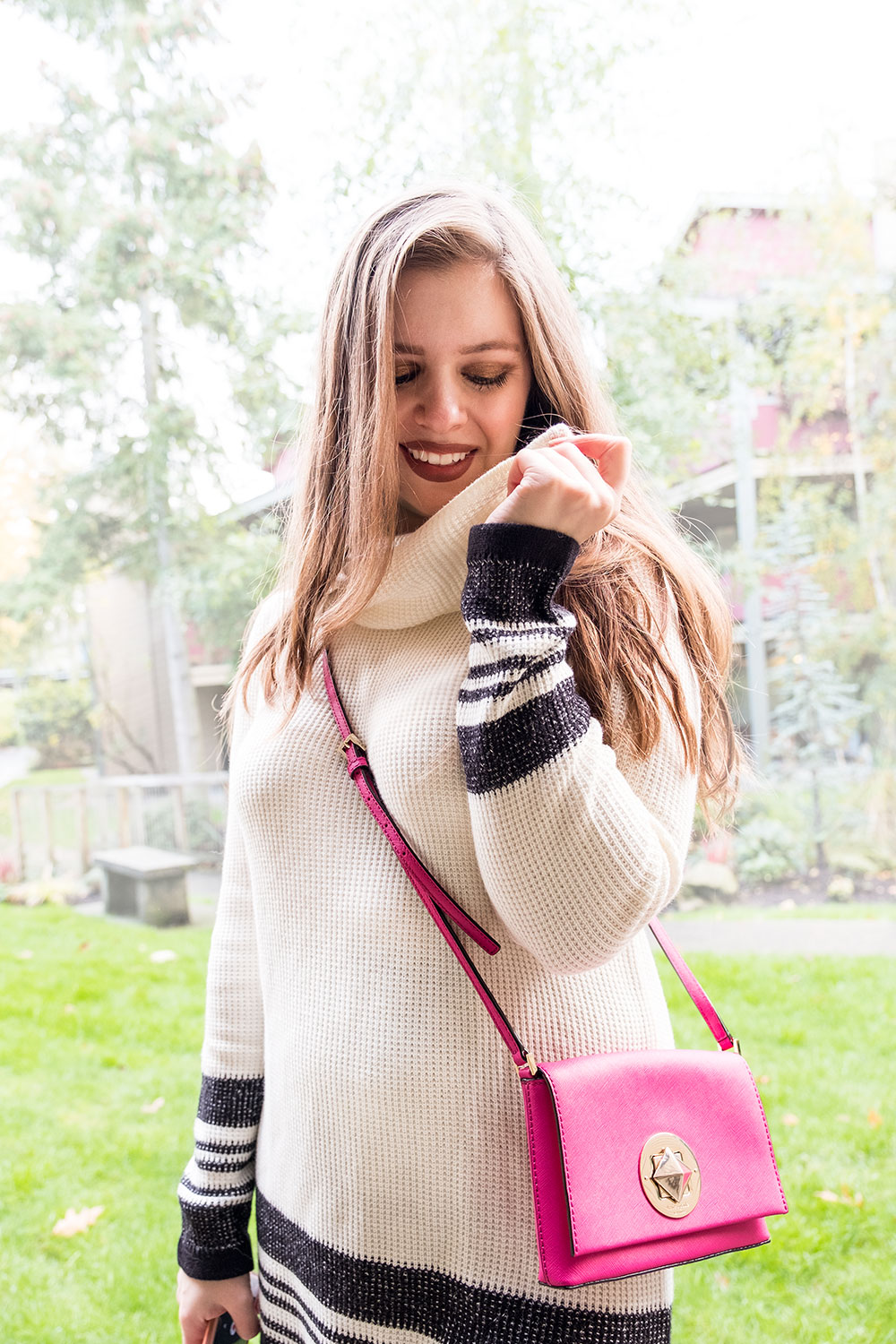 I immediately thought of pumpkin patch visits and playing in the leaves when I saw this sweater, which is why I opted to pair it with a pair of Chooka Rainboots that masquerade as combat boots. To keep my legs warm, I'm wearing the same cozy tights (they're fleece lined and feel like leggings without a ton of bulk!) Because my outfit was feeling a little monochromatic; I opted to tie it all together with a pop of pink in this Kate Spade Newbury Lane Crossbody Bag.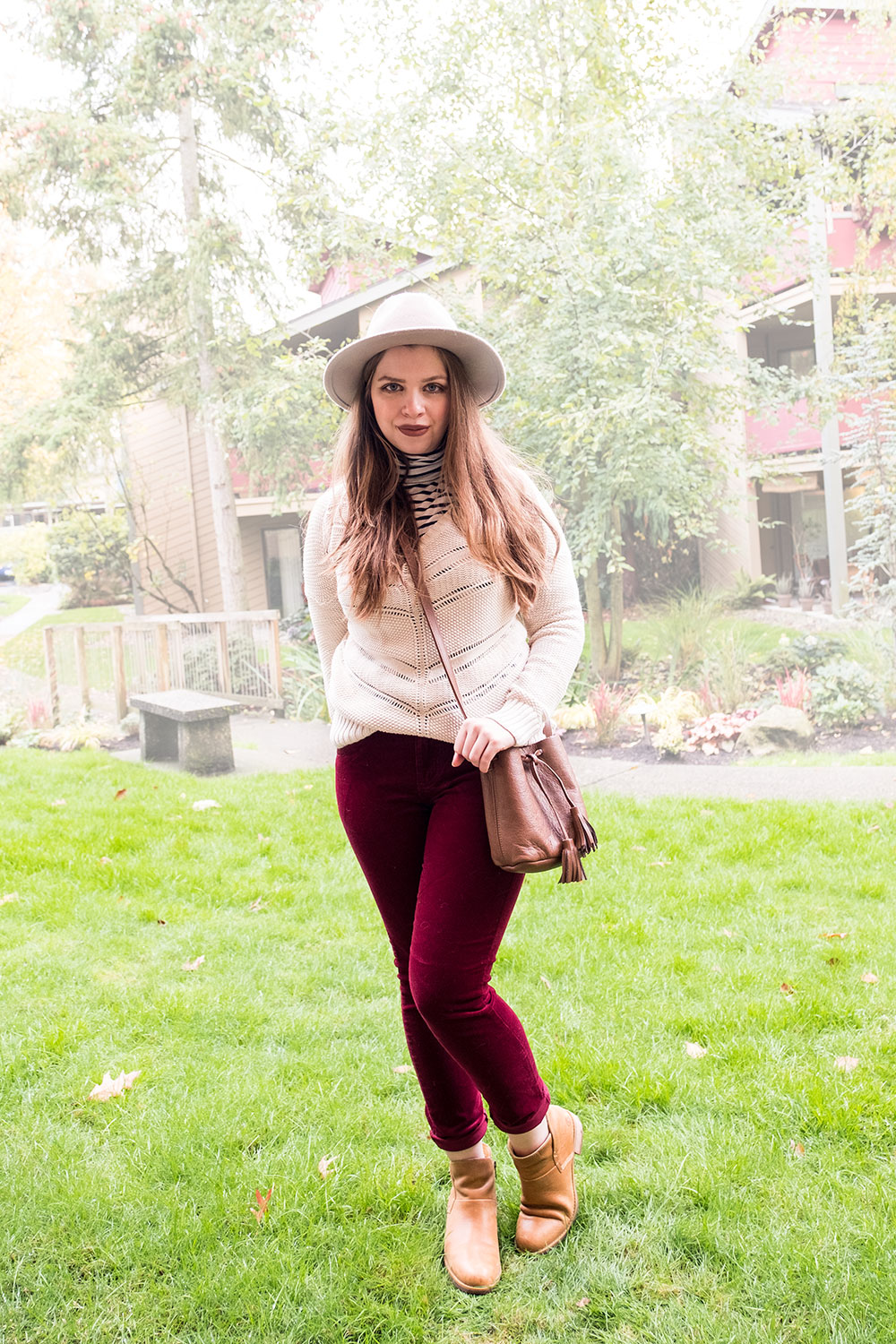 Edyson Hampton Corduroy Skinny Jean in Burgundy, Size 4P, $68
»» Similar Corduroy Pants from Kut From the Kloth for $69.50
Finally, these corduroy skinny jeans from Edyson had me feeling all of the cozy vibes. How fabulous is that color though?! Not only are they cozy and the perfect fall color, but they fit like a glove and were incredibly flattering too.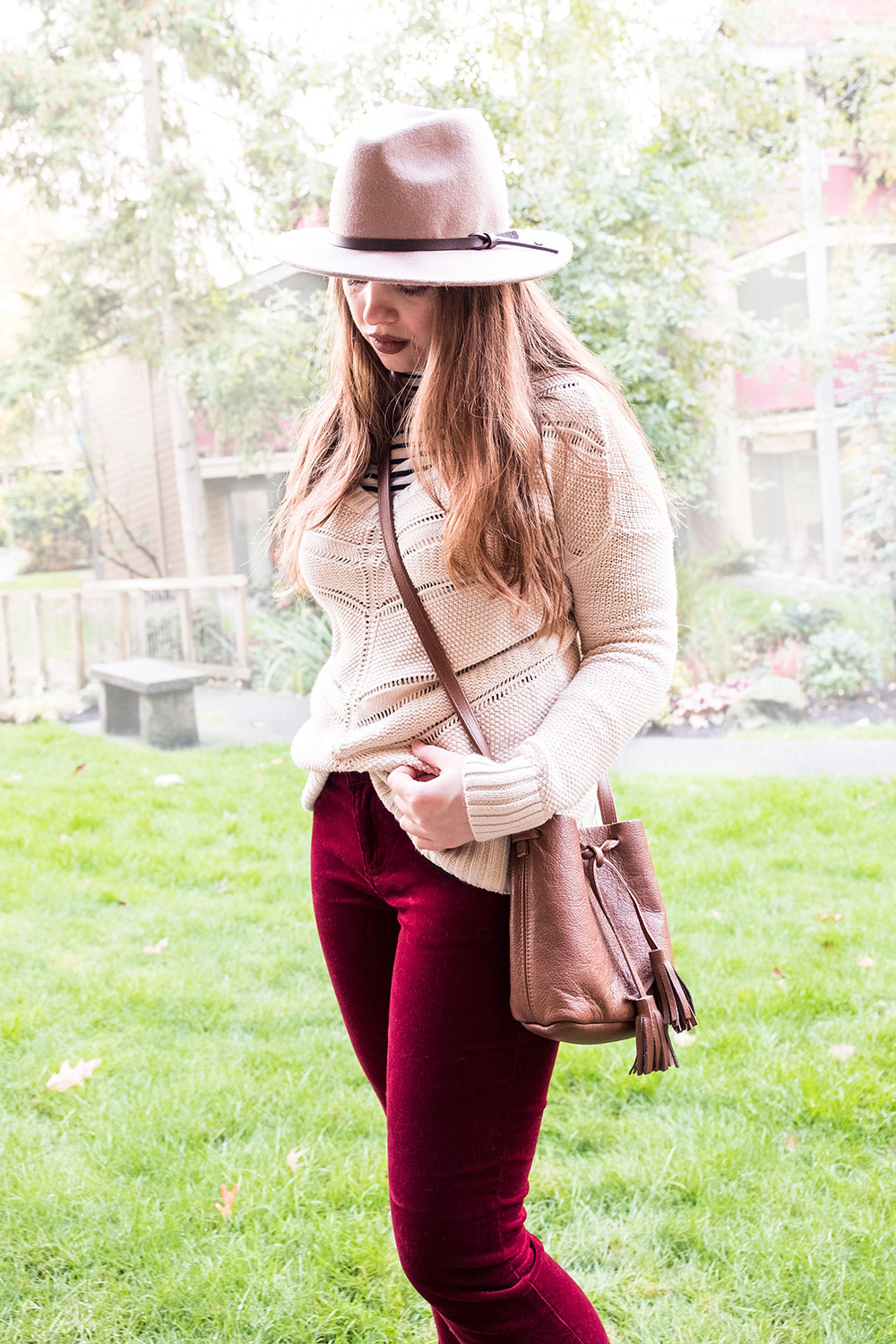 This outfit probably ended up being my favorite; the cozy sweater from Olive & Oak layered with my stripe turtleneck was the perfect combination with the burgundy in these pants. Despite not matching perfectly, I loved how my Timberland Beckwith Ankle Boots and Shaffer LA Greta Crossbody Bag paired with the colors in this outfit. To top it off, my wool hat from David & Young had me feeling extra chic.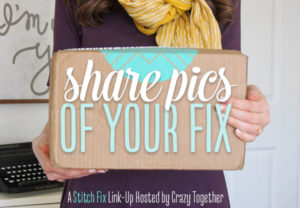 Linking up with Crazy Together
Overall I couldn't be more pleased with this Fall weather inspired Stitch Fix. Bianca did a fantastic job at selecting items for me, and I can't wait to see what my next Fix will hold! Don't forget to sign up for your Stitch Fix before the holidays, as Stitch Fix will totally come through with the perfect holiday outfit selections from cozy to dressy. Just be sure to leave a detailed note when scheduling! ;)
Now I'd love to hear from you! Which item(s) do you think I kept from my Stitch Fix this month? What item(s) were your favorite, or what have you recently received from Stitch Fix? Let me know in the comments below!