Disclosure: This post contains affiliate links. All opinions are my own, and I purchase this subscription myself.
If there were a time for me to be shocked by how time flies, it would most definitely be this month. June escaped so fast, mostly because I spent most of the month packing, moving, cleaning, painting, unpacking, stressing, etc. etc. etc. Can I just say I'm glad for it almost to be over? This month's Stitch Fix package was a welcome breath of normalcy in my life, though I'll admit in the hustle and bustle of everything I totally forgot about it.
If you're a Stitch Fix Newbie, Stitch Fix is a clothing subscription service that you schedule when you want to. For a $20 styling fee (that you can use towards anything in your "Fix") you'll receive a box of handpicked clothing, shoes, accessories, or handbags. Pin to your Pinterest board, leave a detailed note and fill out your style profile to get the best possible results. It sometimes takes a few tries for your stylist to get you totally, but when they do, you will love it.
Ultimately my decision on what to keep probably will surprise no one, but read on to find out what I kept this month! Luckily my stylist totally nailed it this month and made my selection process really difficult (but in a good way, of course.)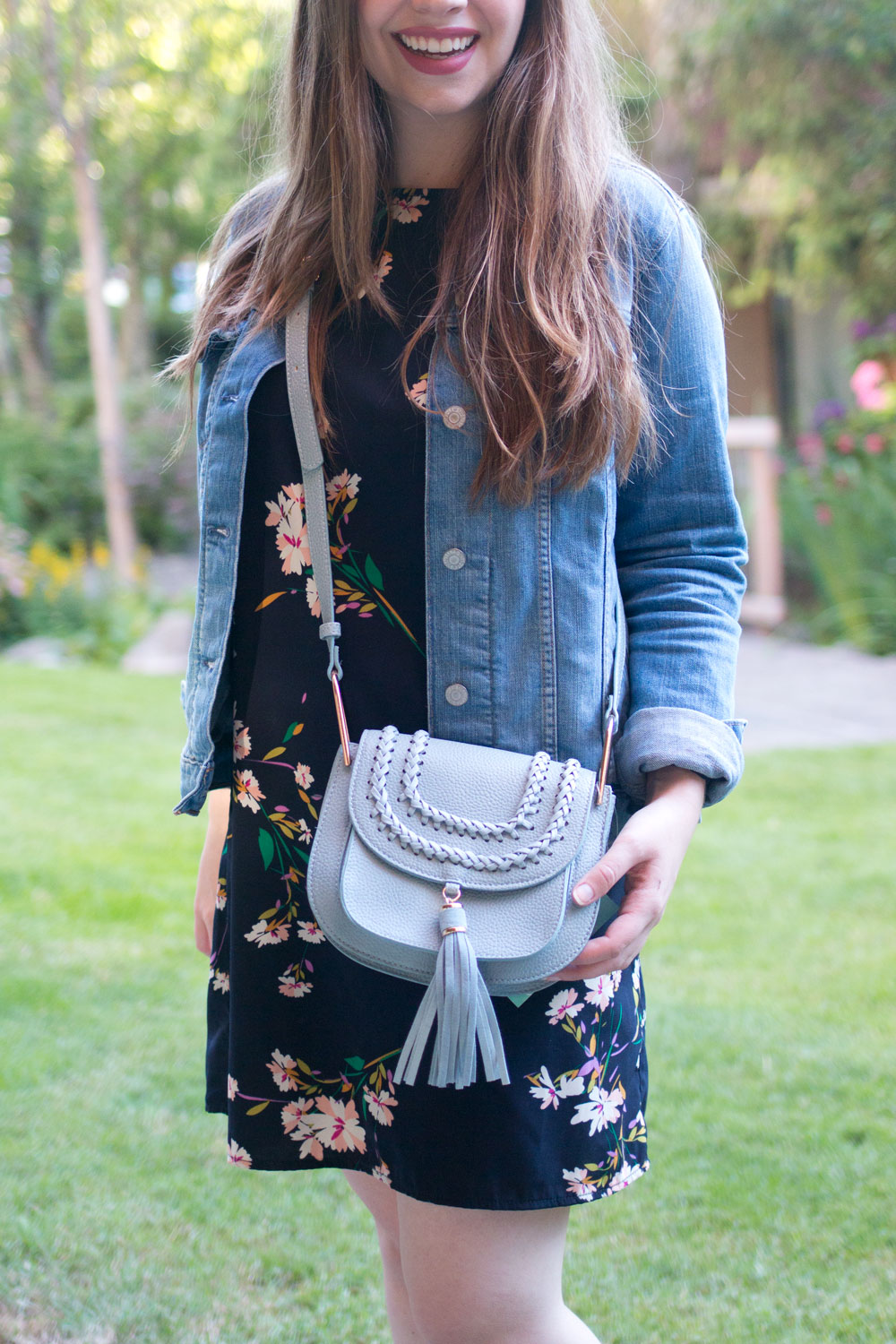 Moda Luxe Elijah Whip Stitch Saddle Bag in Light  Blue, $48
Shop similar style from DSW for $27 or exact "Nola" from Moda Luxe for $80
My stylist noted that this saddle bag bears a striking resemblance to a high-end handbag that's very popular this season. I'm sure you've seen it all over Instagram if you follow some of the bigger fashion bloggers! I love this style of bag – crossbody styles are my favorite, and this size is perfect for summer. The whip stitch detail is something I don't have on any other bag, and I also don't have a bag in this color so you know I kept this.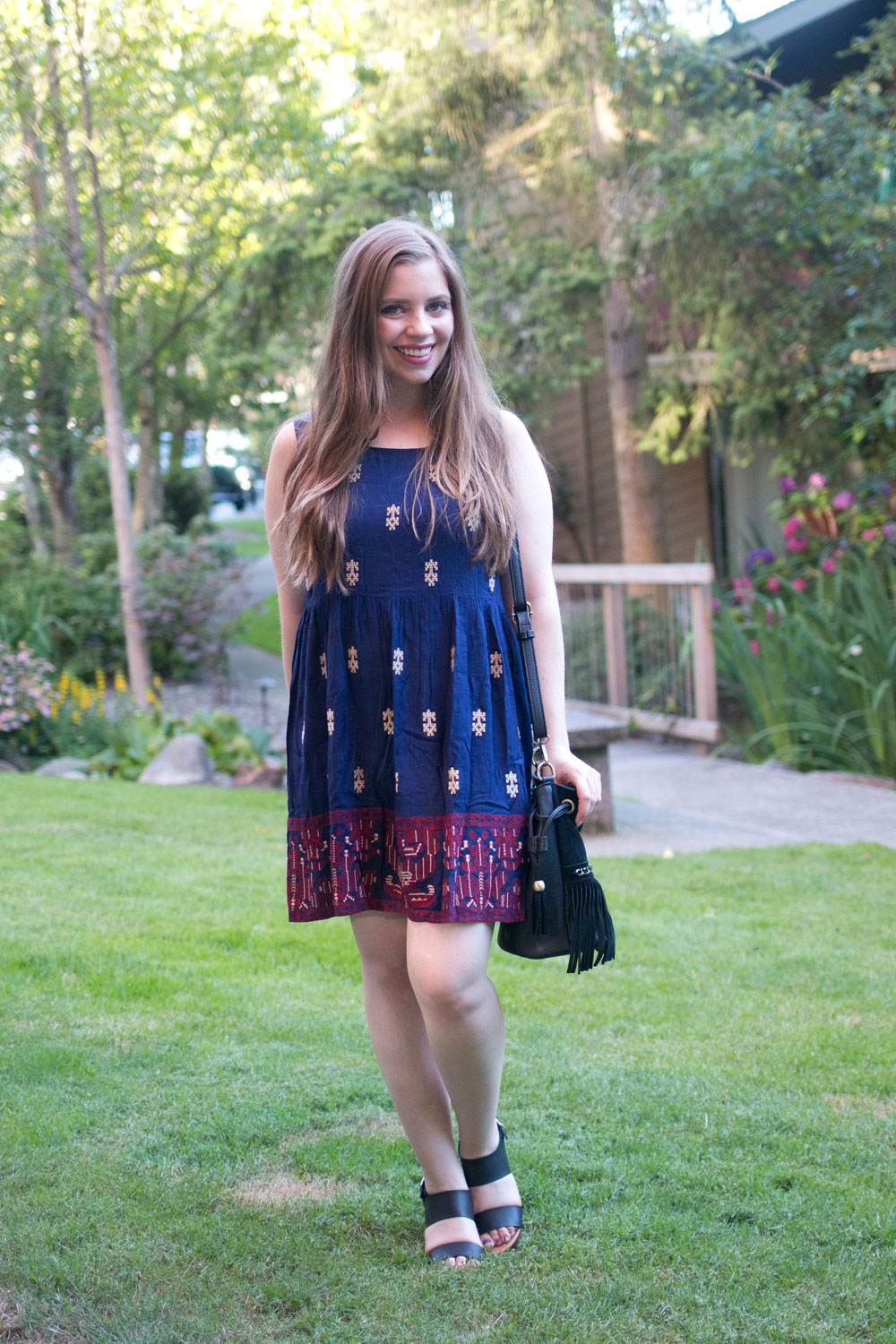 THML Ericka Embroidered Dress in Navy, Size Small, $88
Shop similar style from Amazon for $58
I was so so so tempted to keep this dress too. It's mad comfortable, looked so cute with the above bag, and had the perfect boho summer vibe that I just love. Unfornaturely the price tag scared me away. While $88 isn't more than I'd ever pay for a dress, I just didn't feel like the cost was justified in this case.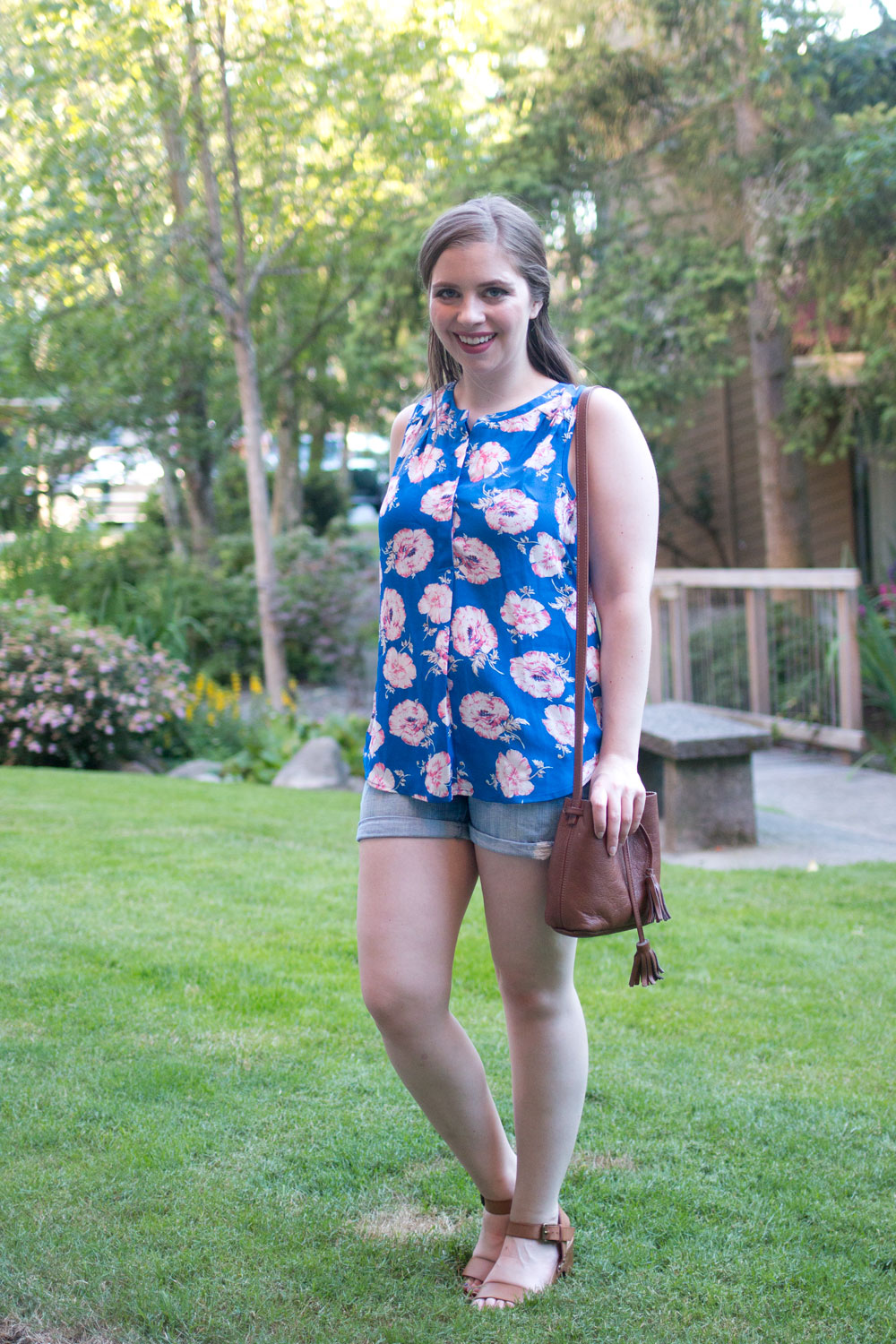 Daniel Rainn Celina Split Neck Blouse in Blue, Size Small Petite, $64
Shop similar blouses from Nordstrom Rack in prints or in plain colors for $25
This split neck blouse was very festive with its Hawaiian print. Honestly, pulling it out of the box I envisioned it looking like those horrible boxy Hawaiian print shirts that old men wear. Luckily, I thought this blouse looked much better on than I expected! The bright blue was really pretty, and it fit perfectly. (I often struggle to find button up blouses that don't gape in the chest and fit in the underarms.) I couldn't see myself wearing this very often, so I ultimately decided to send it back.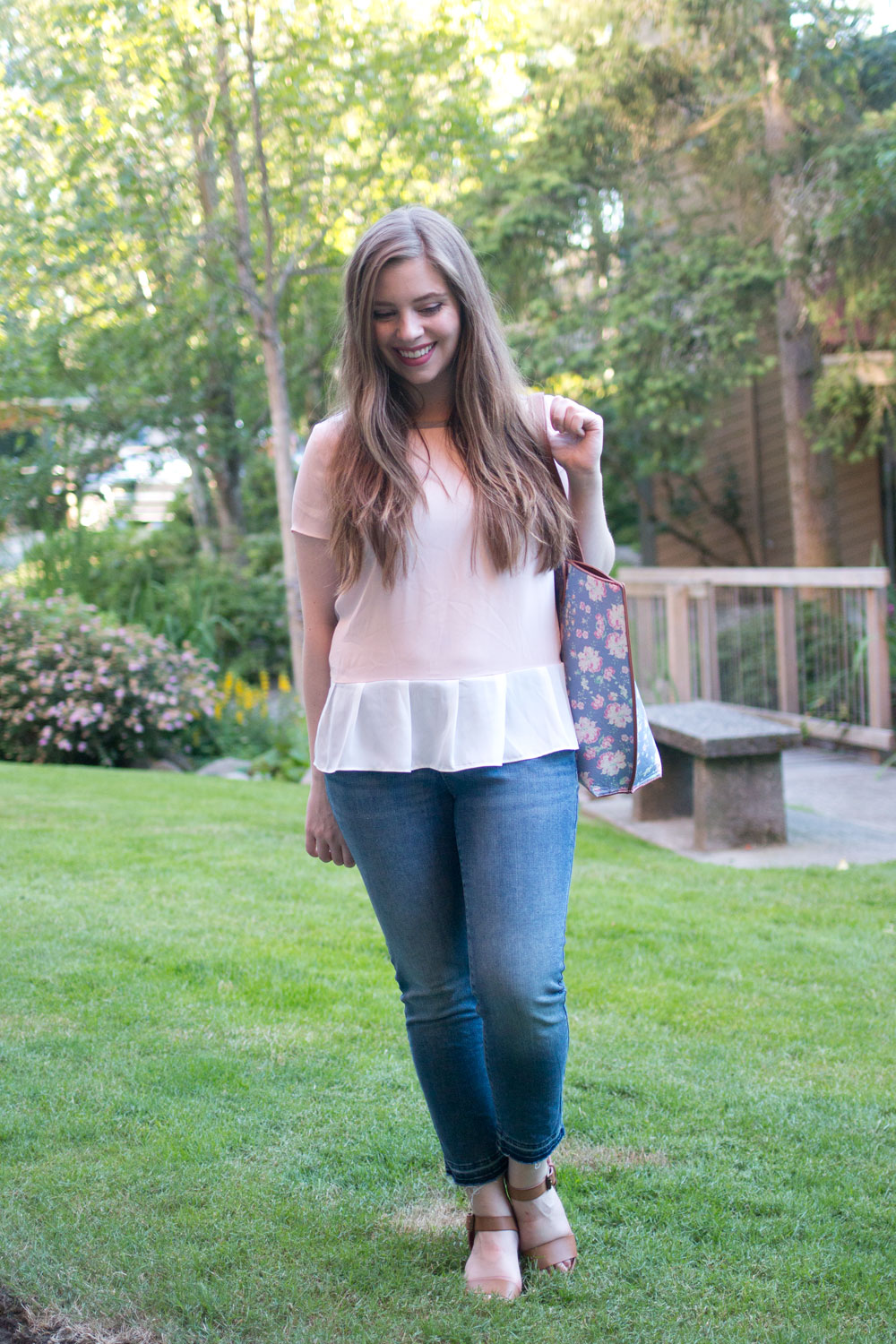 41Hawthorn Timian Peplum Blouse in Blush, Size Small, $58
Shop similar style peplum blouse from Tommy Hilfiger for $40
I absolutely loved the colors in this pretty blouse! It was hard to capture on camera, but each panel of the blouse was different tones, including the back which was a light gray. It sounds a bit odd, but it was really pretty and added interest to what could have been a blah blouse. I don't tend to wear tops that are on the sheerer side to work, so ultimately I decided to send this blouse back.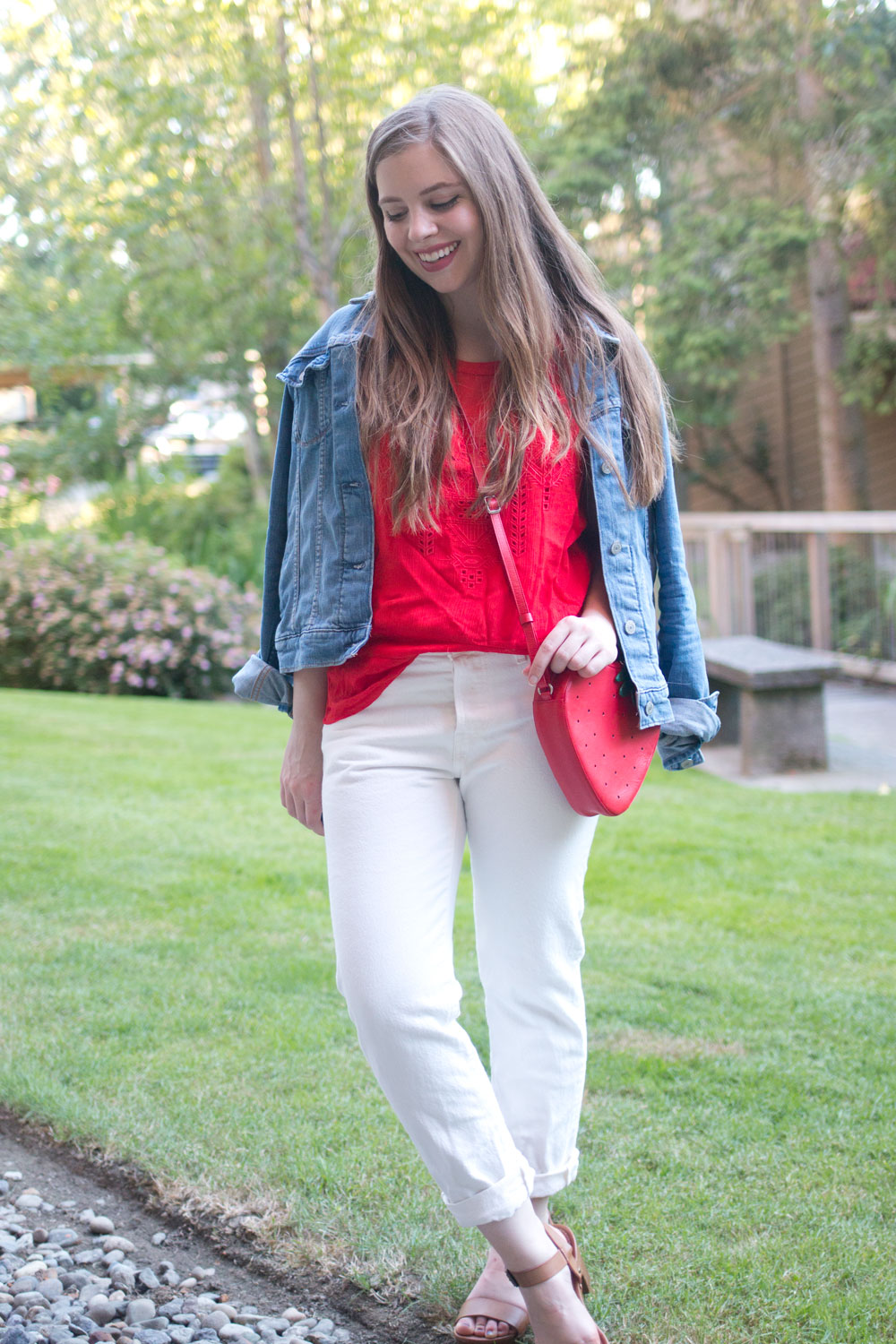 Skies are Blue Bergen Embroidery Detail Top in Red, Size Small, $54
Shop similar style sleeveless top for in red for $59 or lace trim version in coral for $28
I loved the bright, bold punch of color that this blouse brought to my box, and the embroidery detail was so cutepretty! If I hadn't just bought a red top for Fourth of July, I would have kept this one and rocked the exact outfit pictured to my family's BBQ!
So that was my Stitch Fix for July 2016! I was super happy with the variety of options in this month's fix, and I can't wait to see what my stylist has in store for me next month. If you haven't scheduled your first Fix yet, now would be a great time! I just received an email from Stitch Fix with a ton of cute pieces that I could see being perfect to transition from summer to fall. (Yes, it's already time to start thinking about fall fashion!)
Have you received a Fix recently? If so, what did you keep? I'd love to hear what you thought about the pieces I received in the comments below!