Spring has officially sprung, and for me that means it's time to take a look in both my wardrobe and beauty routine and make a few changes. One thing that hasn't changed, however, is the need for proper skin care routine! As a dry skin girl, this is something that is incredibly important for me, and falling off the wagon of properly moisturizing and exfoliating my skin can be a critical error. After all, who doesn't want their skin to look silky smooth in a new spring dress?!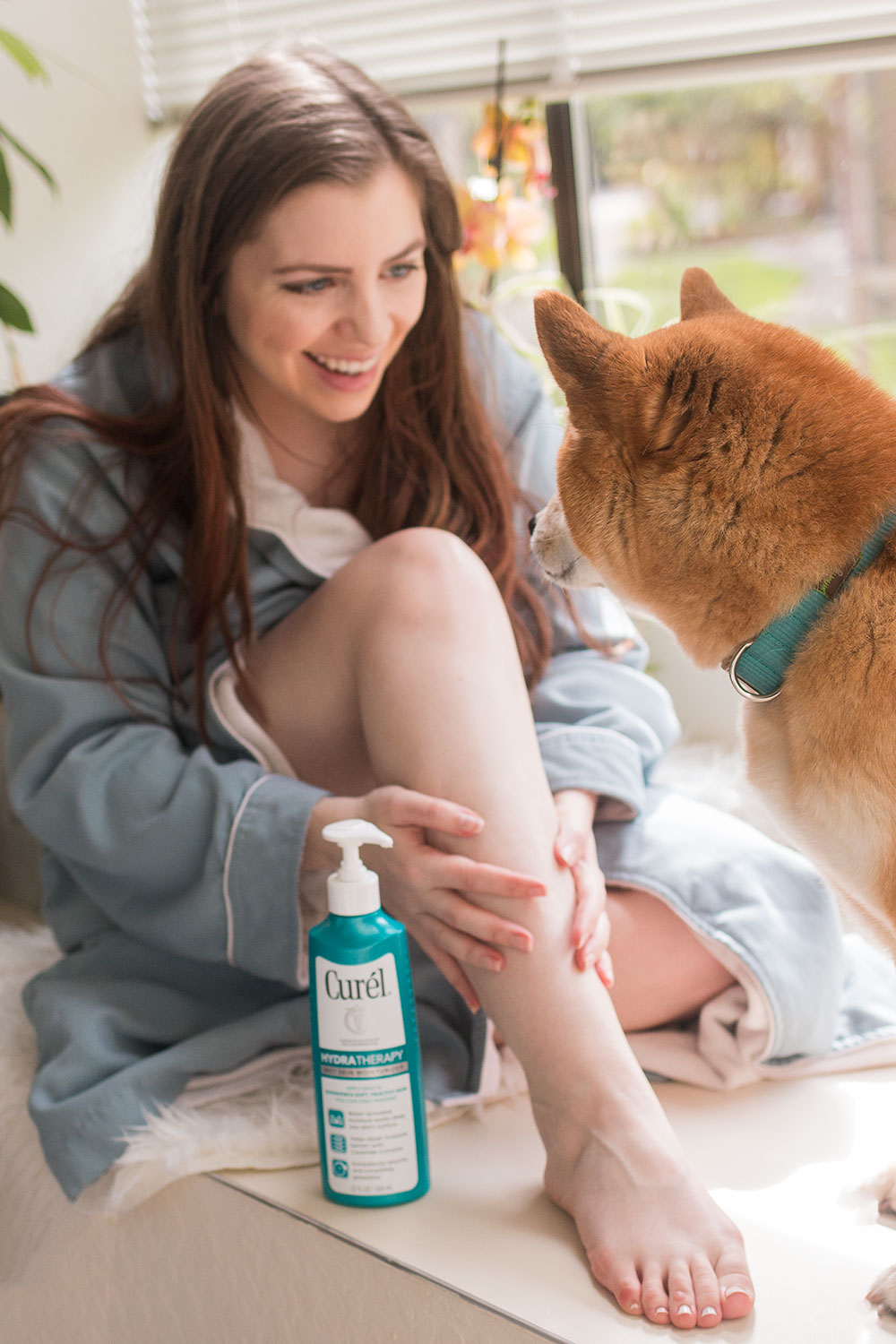 Disclosure: I'm sharing Curél® in my life as part of a sponsored series for Socialstars™ All opinions are my own! #curelskincare #enddryskin
It can be easy to start a new skincare routine, but sticking to it long enough to see results? Not always the easiest. I know I have a bad habit of going to bed with makeup on every once in awhile or breezing through my skincare in the shower and skipping a few steps when I'm in a rush. For me, however, consistency is key and when I stick to a new routine that's working, I'm always much happier with the results.
Skincare Routine for Itchy Dry Skin
So how do I stick to a new skincare routine and make sure that it's working for me? My primary motivation is often seeing the results and knowing that it's working!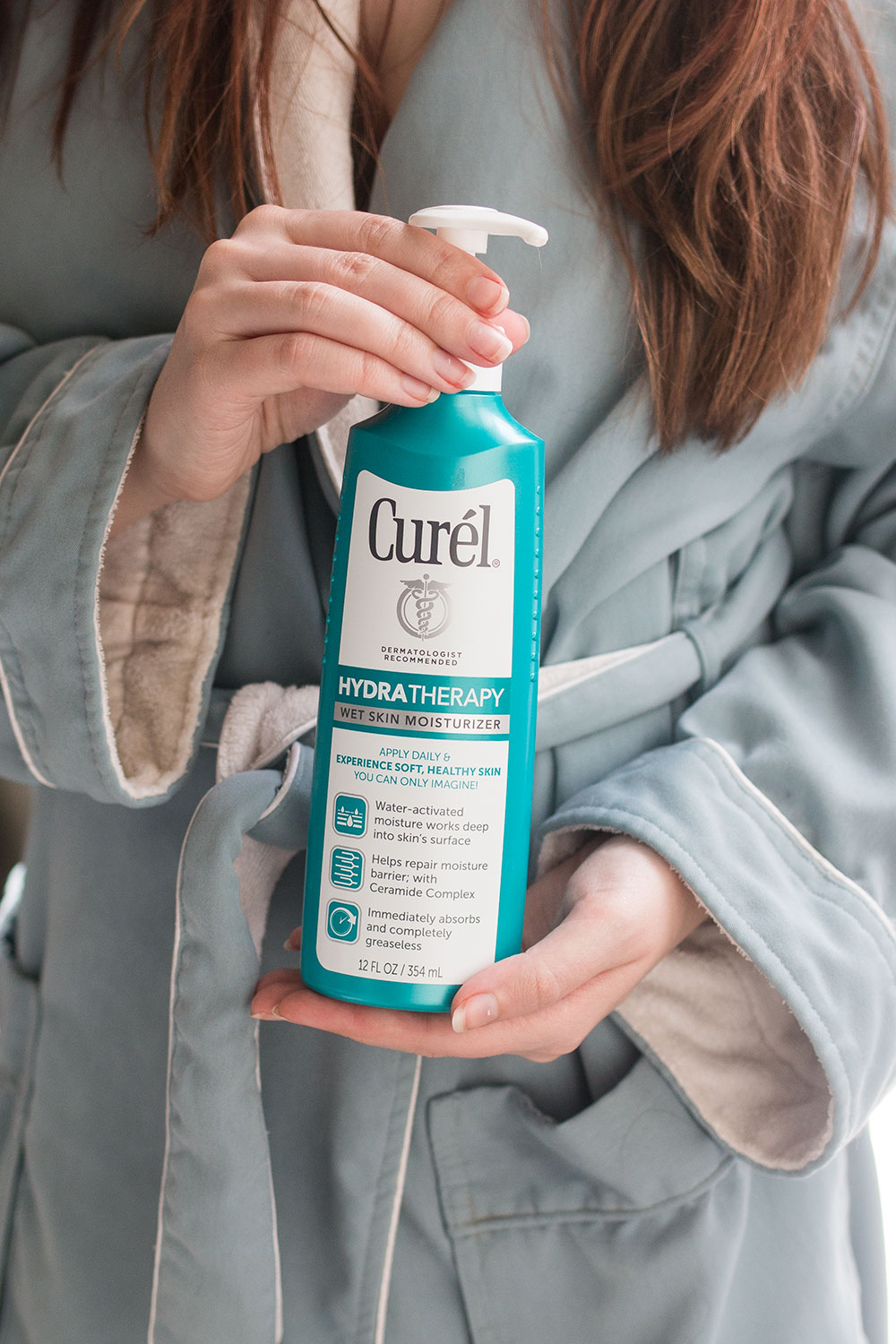 You may recall I shared the new Curél® HYDRA THERAPY WET SKIN MOISTURIZER last month and it really has made a positive impact on my skin. Not only do I have dry skin on my face, but my entire body suffers. So far, the Seattle spring weather is still a bit chilly which means my skin all over is crying out for extra moisture. Using Curél Skincare to end dry skin all over my entire body has been a serious game changer. I'll admit that moisturizing before exiting the shower was a little odd at first, but quickly it became a part of my consistent shower routine.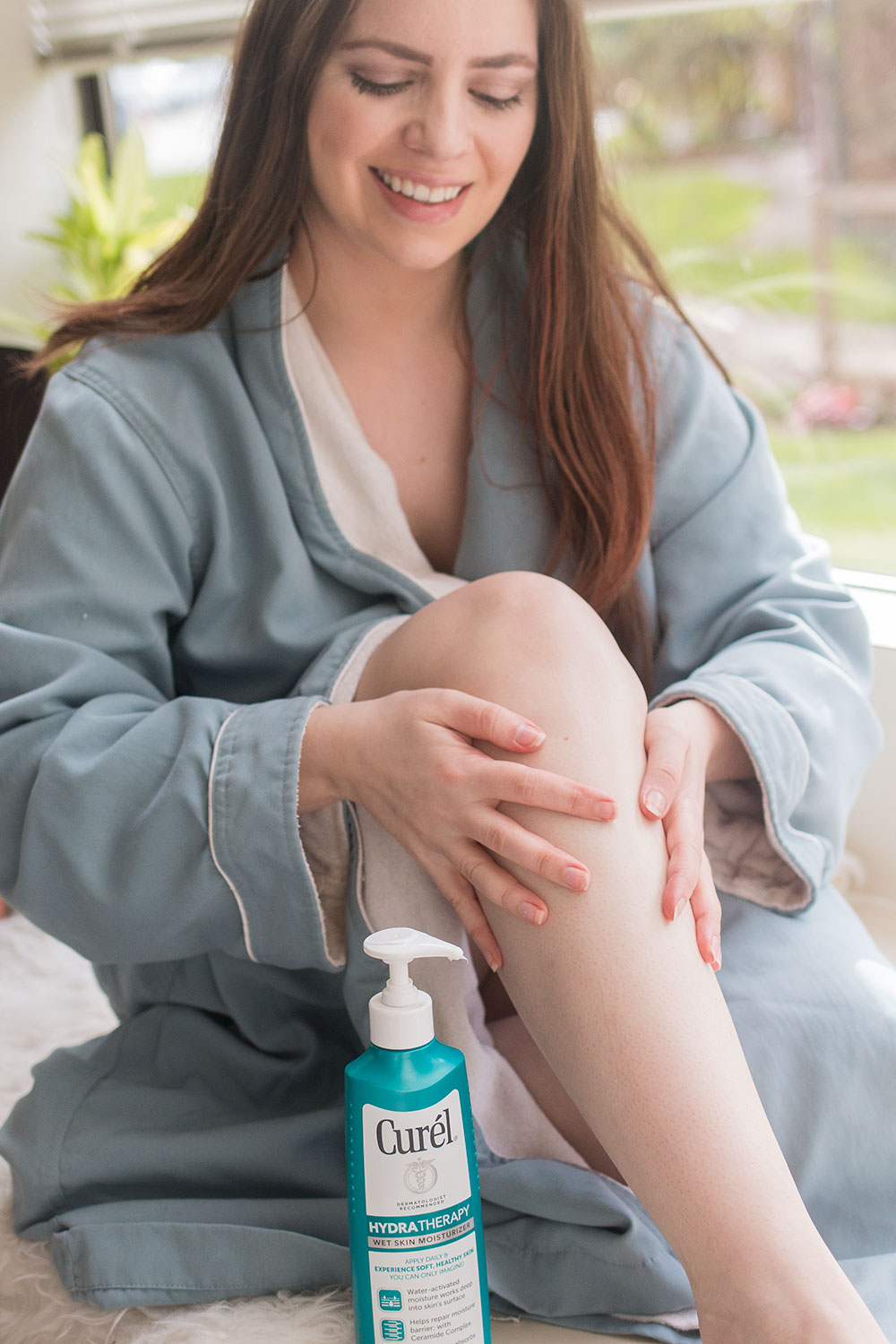 Not only do I suffer from dry skin, but I also have sensitive skin too. This can mean that overly perfumed body lotions can do more harm than good for me. I probably couldn't count on one hand the number of times I've had to dispose of a product because it was actually irritating my skin instead of doing something beneficial for it. That's another reason to love Curél® HYDRA THERAPY WET SKIN MOISTURIZER, as received the  National Eczema Association Seal of Acceptance™ and is dermatologist recommended. Sure, it may not smell as lovely as some other heavily perfumed products, but I know the fragrance-free moisture will make my skin much happier!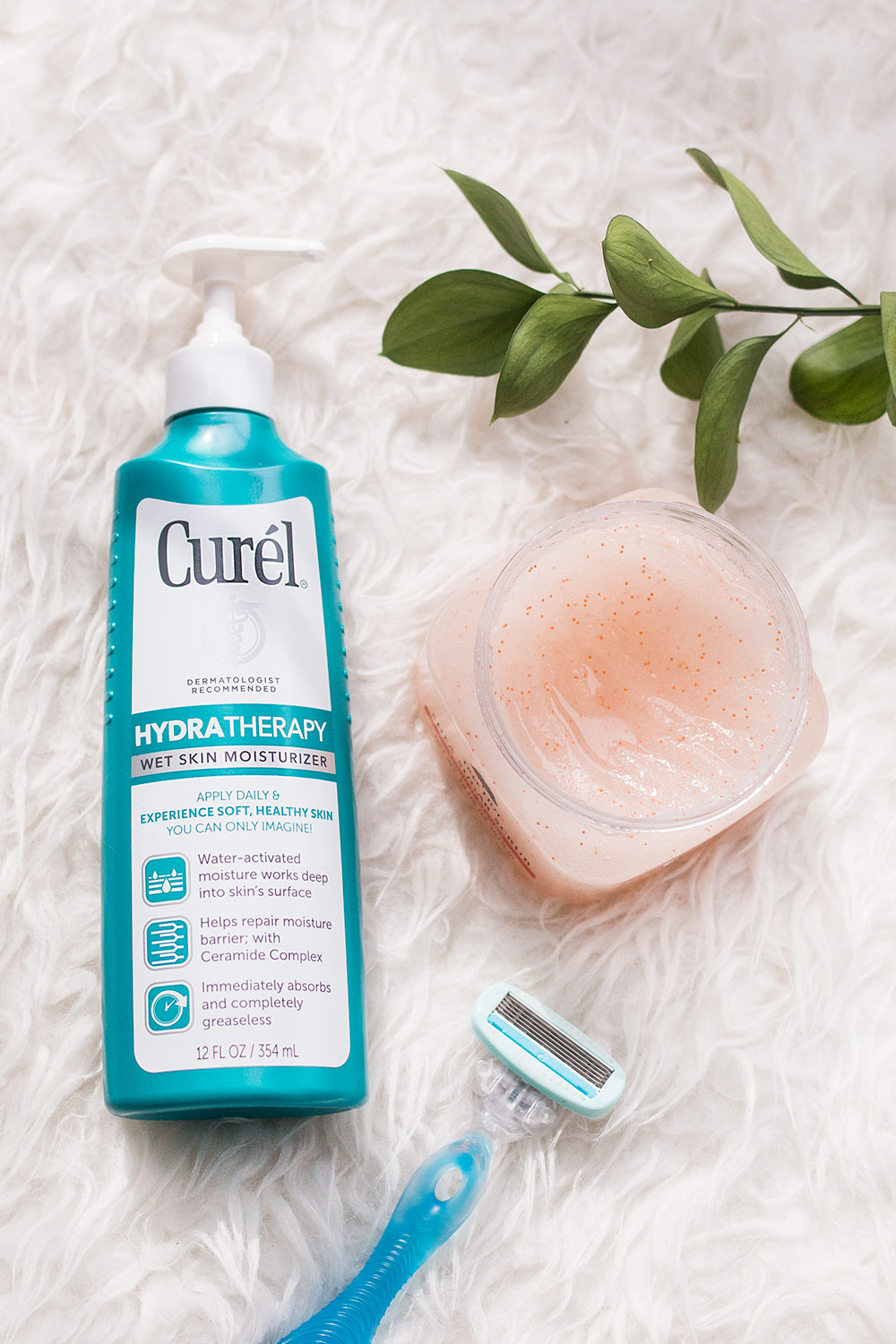 So what's my shower routine like for spring? Beyond hydration, to keep my body skin in tip-top shape for the spring weather (hello, cute dresses!) I've also been diligent about exfoliation. With dry skin, I find that I'm much more prone to razor burn and irritation when shaving, which means that exfoliating my dry skin before shaving is crucial. A gentle sugar scrub does the trick! After exfoliating and shaving, moisturizing with the Curél® HYDRA THERAPY WET SKIN MOISTURIZER ensures that I won't have any signs of irritation and my legs will be silky smooth.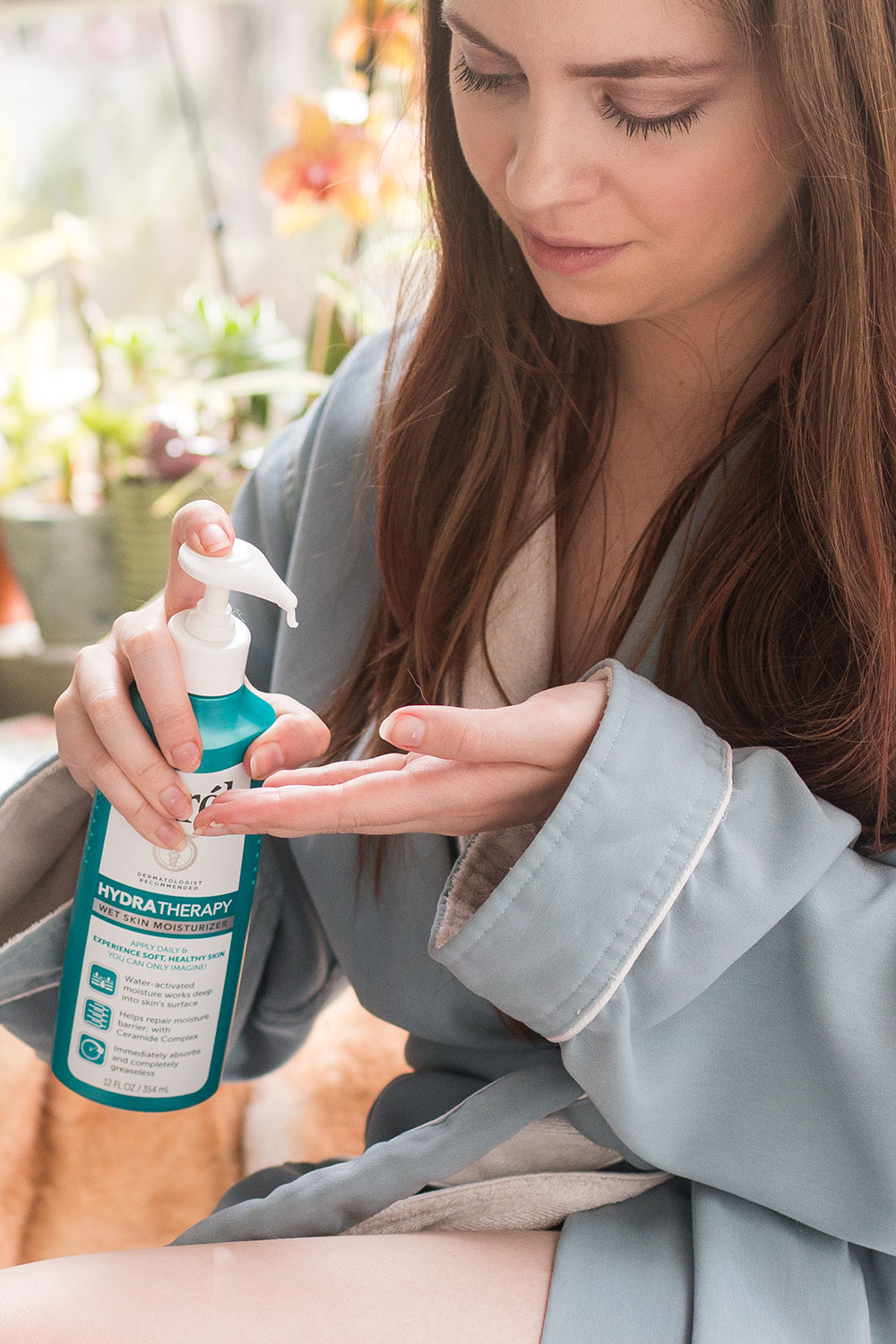 Moisturizing after showering is not only convenient but also allows moisture to absorb quickly into just-showered skin. The Advanced Ceramide complex provides vital building blocks to maintaining skin's moisture barrier, and when ceramides are lost, skin becomes dry. By replenishing this damaged moisture barrier, Curél® HYDRA THERAPY WET SKIN MOISTURIZER helps to end dry skin.
And hey, having itch-free, hydrated skin is totally worth the extra step before leaving the shower if you ask me! Do you have any tricks for keeping your skin hydrated and silky smooth for spring? What are your best tips for ending dry skin? I'd love to hear about it in the comments!