Have you always wanted unlimited outfit swaps and someone to wash your clothes for you? You and me both, girl. I remember when I was a kid, I created a closet for my Barbie that not only created the perfect outfit, but also was responsible for washing, drying, ironing, and hanging the clothes for me. While my exact dream may never be realized, the good news that it is partially possible. How? A service that I've been trying out called Le Tote.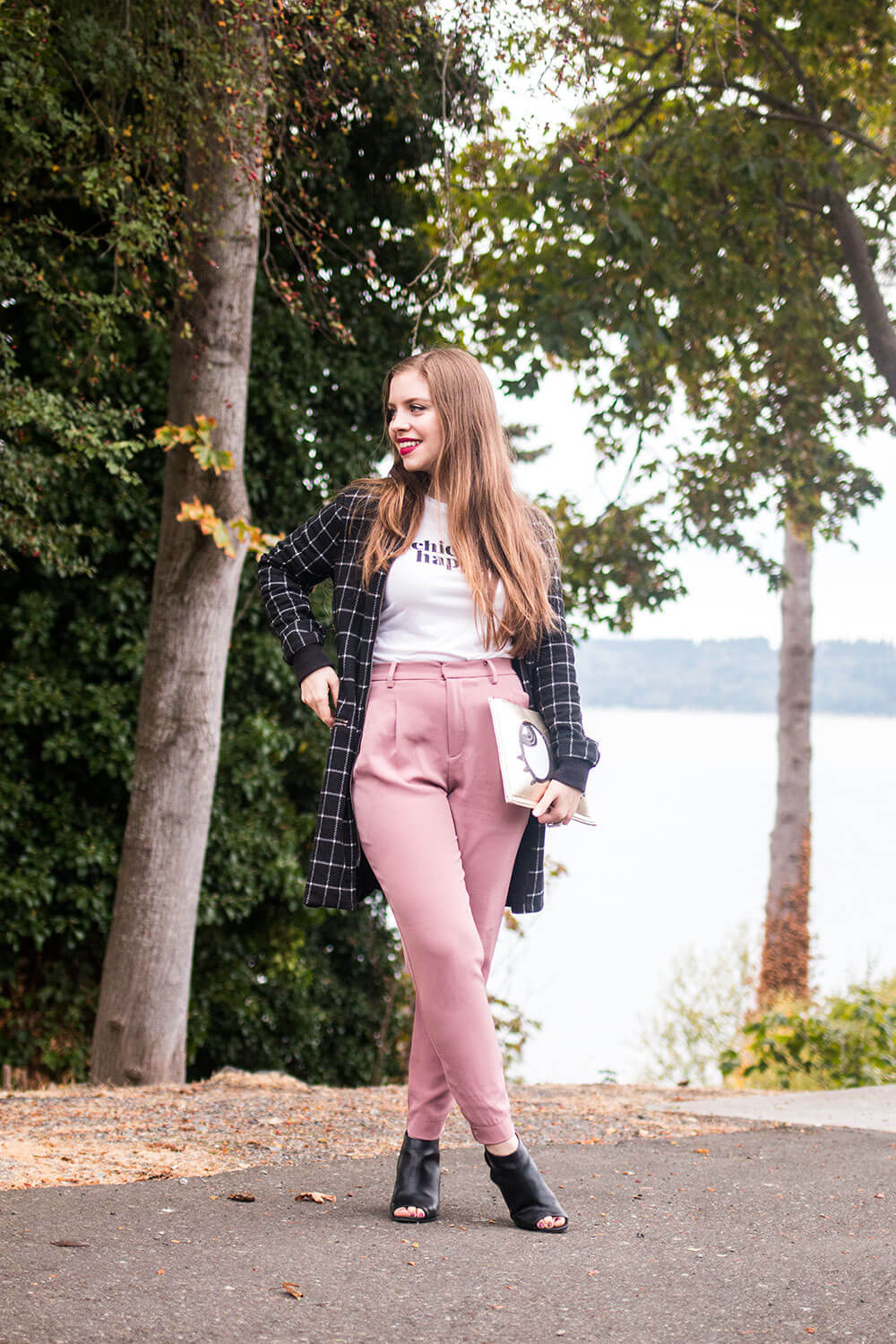 Disclosure: Le Tote provided me with a trial of their service in exchange for my honest review. No further compensation was received and all thoughts are my own! :)
For $59 a month, Le Tote will send you unlimited "totes" every month. (And with my code, HELLORIGBY, you can save an additional 20% off!) Three clothing pieces and two accessories are included; from cool coats to funky accessories. A stylist will curate your tote for you, but ultimately you have the final say in what you receive based on what is available at the current moment before shipment. And don't worry about washing the clothes before returning them – Le Tote will take care of that for you!
Basically, it's a dream come true for the girl who loves switching up their wardrobe on the regular.
Le Tote Review
Now, of course with that said, Le Tote isn't entirely perfect. It is a clothing service that has many subscribers; some items will be more worn based on how long they've been in the rotation while others will be brand new. I also found that shipment seemed a little slow to make its way back to the warehouse. My first tote return appeared to go MIA for a few days and the tracking never updated. Alarmed, I wrote to my contact at Le Tote, and while I didn't hear anything, a few days later I did get an email that my tote was ready for customization. My most recent tote was much speedier, so perhaps it has to do with when your return label is scanned in by the Post Office.
Additionally, if you fall in love with something in your tote, you can keep the item. You'll receive a 20% discount on anything you keep, and if you keep the entire tote, then your next month is free.
Now, about those items I received. In my first tote, unfortunately, I had several pieces not fit the way I'd like. However, I did discover that gorgeous pink moto blazer from Octavia that I styled with this beautiful floral dress. I wore that on repeat for the week and a half that I kept the tote, as well as a lovely stone ring from Rebecca Minkoff. I was incredibly tempted to keep both pieces but opted to wait and see what came in my next tote instead.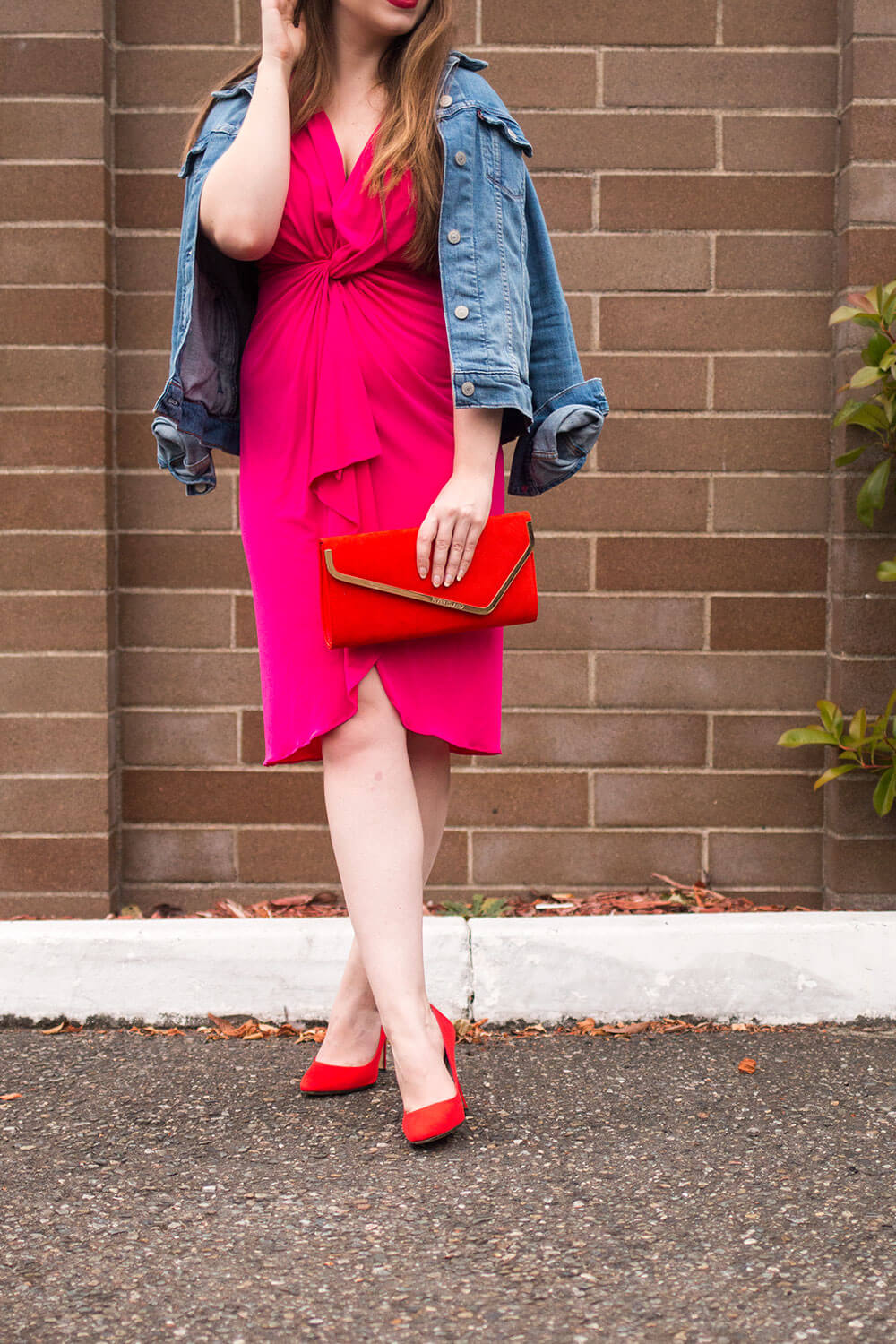 After providing some feedback about the sizing issues, my next tote arrived and everything fit. Score! My stylist picked out this hot pink dress by Cynthia Rowley for me. While it's different than anything else I own, I enjoyed the bold piece. I paired it with a casual denim jacket to dress it down a bit but added red accessories to give a fun color block effect. With a leather jacket, I could see this outfit being the perfect date night ensemble.
What I'm Wearing: Pink Color Block
Dress: Catherine Catherine Malandrino Emily Cold Shoulder Twist Front Dress, borrowed from Le Tote
Jacket: Levi's Denim Trucker Jacket c/o Fred Meyer
Shoes: SJP Lady Pump
Clutch: River Island (similar)
Earrings: Ava Kiss Kiss Studs, borrowed from Le Tote
The next piece I totally fell for was this checkered coat by Sanctuary. This was something I opted to have switched into my tote, and while it's still a little too warm to wear this, we did happen to have a weird weather change this weekend that left the air a bit chilly and even saw a bit of rain. This coat is knit so it was a great transitional piece to add a bit of warmth. Plus, I loved how this coat looked with this cute graphic t-shirt from Sookie + Co. and these blush pink pants I picked up from Uniqlo.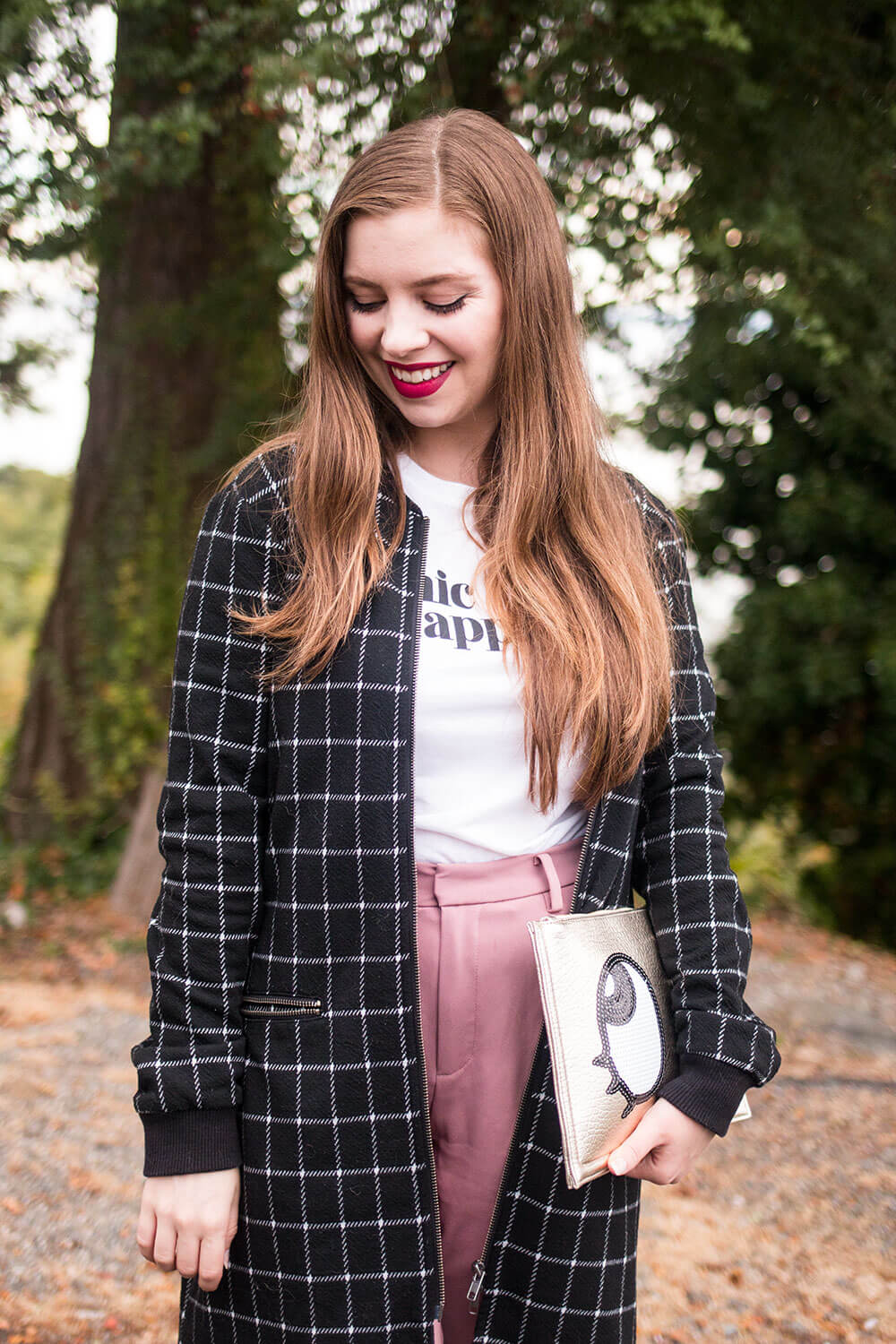 What I'm Wearing: Graphic Outfit
Coat: Sanctuary Checkered Essential Car Coat, borrowed from Le Tote
Tee: Chic Happens Bubble Graphic Tee c/o Sookie + Co.
Pants: Women's Drape Jogger via Uniqlo
Shoes: Xappeal Morgan Booties c/o Rack Room Shoes (similar)
Clutch: Street Level Sequin Eyes Crossbody, borrowed from Le Tote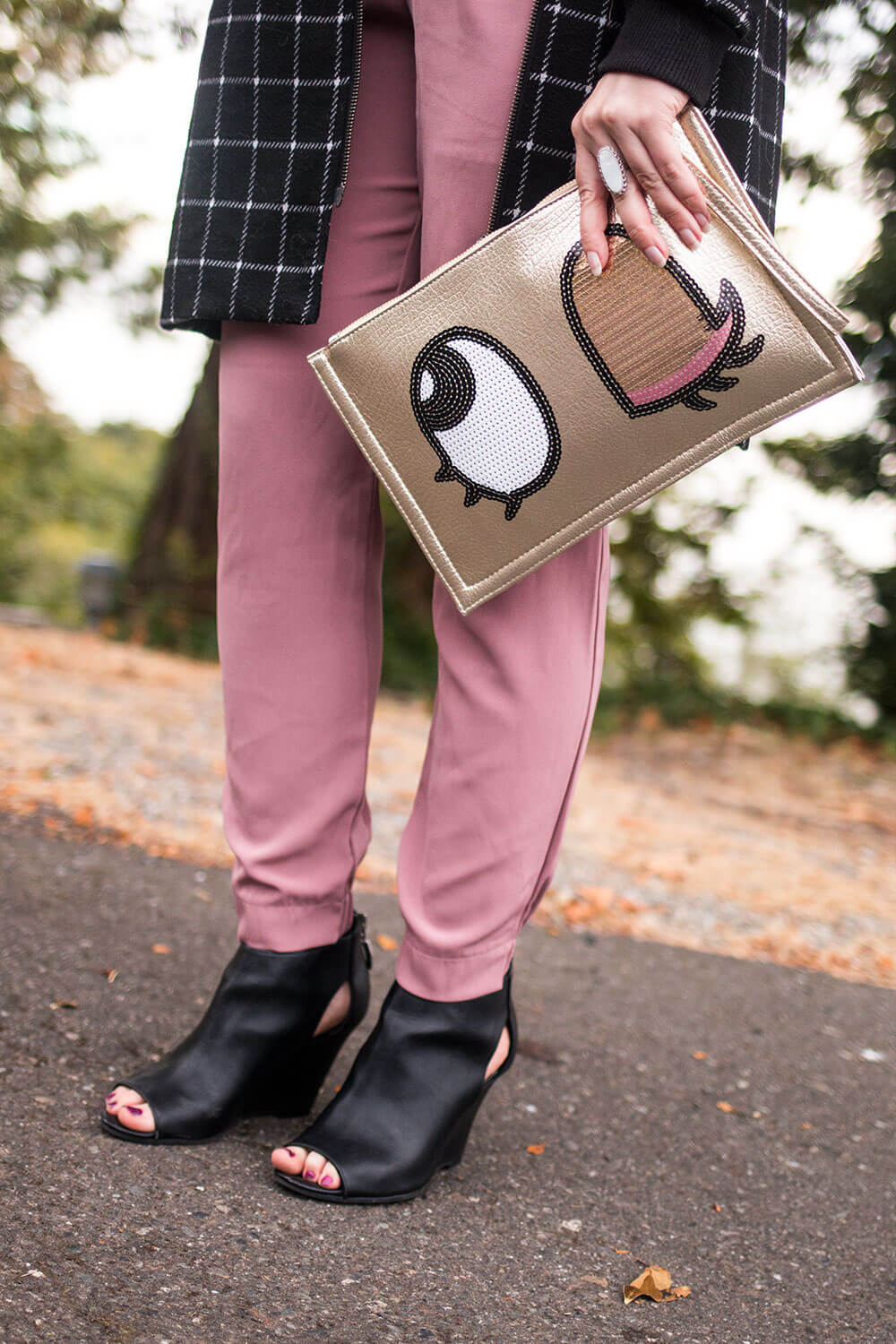 If Le Tote sounds like something you might love, be sure to give it a try! I have 3 FREE one-month subscriptions to pass along (just shoot me an email if you'd like to nab one), or you can use code HELLORIGBY to save 20% off your subscription. I just got notice today that my next Tote is on its way, and I can't wait to try everything on!
Let me know in the comments down below if you've tried Le Tote before or not, and if you'd like me to style the pieces I receive in my next tote in a similar post to this one!